The pixie cut is a hairstyle made to be short at the back and sides and slightly longer on top with very short fringes (bangs). Low maintenance short pixie haircuts are the best way to show off your facial features and keep your hair out of your face while looking stylish at the same time with minimal effort.
Derived from the mythological pixie, the pixie cut offers a perfect blend of boyishness, boldness, and effeminate appeal, and here is everything you have to know about the hairstyle, plus the best low-maintenance pixie cuts trending this year, you should probably give a trial. They last longer and do not require so much work to keep them looking good.
Low Maintenance Short Pixie Cuts For Thick Hair
Asides from the beautiful looks pixie cuts give, one of the things people have come to love about the hairstyle is the fact that they don't need to break the bank in order to maintain this hairstyle.
1. Messy Pixie Bob with Tapered Nape
This cut is never a bad idea for thick hair, in fact, it is the best bet that never goes out of fashion. What a messy pixie bob with tapered nape helps to achieve is to reduce the hair density and add messier vibes. You can try this out the next time you visit the salon.
2. Bronde Pixie-Bob
One sure way to get the pixie haircut for thick hair is actually to give it beautiful and unique highlights and this is just what the bronde pixie bob does. So much can actually be done with this bob; it can be grown into a long bob or cropped into a shorter form – it's just versatile.
3. Voluminous Pixie With Angled Sides
This is another pixie haircut for thick hair. The angles do not only work perfectly with the flattering geometric shape but also help to lift up the face. However, to achieve this angle outlook, the stylist has to keep the edge blunt.
4. Choppy Pixie
The Choppy pixie cut is a textured and piece-y, ear-length crop that is just perfect for those with thick coarse hair and sits perfectly well on virtually every face shape. To make it a little more creative and unique, the bangs could be allowed to extend further towards the eyebrows and the sideburns can extend to the ear. Another beautiful thing about Choppy Pixie is that it can be styled in different ways because of the subtle layers that form the volume and dimension and this means it can last long enough, until the next appointment with your stylist.
5. Long-Fringed Side-Swept
This pixie cut has been around for long and it never goes out of fashion and will fit those with thick hair perfectly. It is an effortlessly effeminate style that comes with slight asymmetrical appeal and a stylish side-swept bang. You can also use color to get the right balance between radiance and depth if you are considering trying something entirely new.
6. Boyish Pixie Cut
For someone with thick hair who would want to try out something unique and a little bit crazy this boyish pixie cut is definitely worth a trial. Just ensure that the top is long enough to be styled into messy curls and the sides and back are trimmed well enough to give that desired boyish frame. And guess what! just like many pixie cuts, this style is always in vogue.
Edgy Messy Short Pixie Cut
Did you ever hear that with pixie cuts the messier the edges, the prettier the hairstyles? The beauty of pixie cuts is really in the creativity that comes with them which includes bangs, messy edges, trims, etc, and messy pixies are just so easy to maintain.
Here are some messy styles that may trill you.
7. Edgy Messy Pixie With Feathered Ends
If you love low-maintenance yet edgy pixie haircuts, then you should be trying this out. It isn't just trendy and classy but it almost suits every hair type and face shape. It is also easy to style and maintain.
8. Pixie Haircut With Messy Bedhead
Pixie cut with sexy bedhead finish is another style to try if you are in love with extra short pixie hairstyles. This stylish pixie haircut also comes with sides that have been cropped short (not buzzed) to shape the look on the side and also put more emphasis on the choppy locks on top.
9. Edgy Messy Pixie With Undercut
Despite being a boyish fashion statement, this pixie hairstyle has been known to women of all ages; some men also find it comfortable enough to wear. It is also very easy to style and maintain. With just a styling paste, this live-in messy style can always be achieved and maintained.
10. Highlighted Pixie Cut With Edgy Sides
This pixie cut with a razor finish and edgy sides is definitely suitable for women of all ages. If you want to look sassy irrespective of your age, you may want to give this a trial.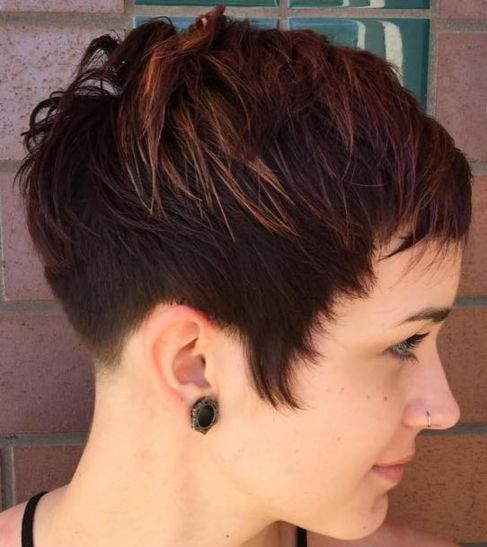 Low Maintenance Choppy Pixie Cuts
Choppy pixie cuts are basically ear-length, textured pieces crops that are worn majorly by women. It comes with tons of layers, giving the hair an extra volume and fullness. Looking for low-maintenance choppy cuts? We've got you covered, whether you love it short or long there is always a low-maintenance style for you, here you go!
11. Short Messy Choppy Pixie Cut
This short messy choppy pixie haircut is an easy-going style for anyone who doesn't have all the time in the world to style their hair every morning and because it is messy, it is easy to maintain at almost no cost. With just a styling paste or pomade, you are good to go.
12. Choppy Pixie Cut With Bang
Short pixie lovers should really be crushing over this hairstyle, not just for the beautiful bang it comes with but also because of its easy-to-style and maintain features. To keep this choppy pixie cut lasting long, all you need to do is blow-dry the front and finish up with a texture spray to hold it together and also for that live-in look.
13. Choppy Pixie Cut With Baby Fringes
By now you must be used to the phrase the messier the better! For this style, the right phrase should be – the more disconnected the better. This pixie cut with baby fringes is just everything you should be trying out this year and believe it, it's easy to style and maintain. Just blow dry it forward, add a little paste here and there and you are ready to make a signature entrance at that event.
14. Voluminous Pixie Cut With Undercut
If you have thick or voluminous hair and you love choppy pixie, you should be giving this a trial. Asides from the fact that this short, boyish cut is great for softly shaped feminine faces, it also helps you show off your best features, and top on the list, you don't need to break a bank in order to maintain the style. Be sure to keep texturing towards the ends and you are covered.
15. Choppy and Lively Pixie
This choppy pixie cut is another style you may want to try. Its features of short, spiky fringe and textured ebony lock create wild textures and also complement the olive skin tone wonderfully. The longer the locks in your choppy pixie cut, the wilder the look will be and it is pocket-friendly.
16. Choppy Grunge Asymmetrical Pixie Cut
If you are looking for something not so short or long, just something in between, you may want to try this choppy grunge asymmetrical pixie cut. The hairstyle is totally short on one side and bends into a bob length on the other side. To maintain it, the bang on the side can be blown out and styled with a round brush, giving it that lift at the root, with soft and smoothness on the longer parts.
17. Choppy Messy Pixie Cut
No matter the form it comes, a messy pixie cut can never go out of fashion, check out this sassy choppy messy pixie cut. It is appropriate for women with short hair and with a stay spray, you can keep it in shape for long days and even weeks.
18. Spiky Pixie Cut
A great idea for a unique pixie hairstyle would be to keep the locks short and give them that choppy cut to make them look a little spiky and wild. This spiky style is very unique with its slightly lengthy and textured top with tapered tips bending over the temples just above the ears. Opting for this pixie cut will give you some sort of more hair to work with while still retaining the boyish appeal of the pixie cut.
Short Pixie Cuts For Fine Thin Hair
Those with fine thin hair have often asked if there are pixie cuts to suit their hair type and the answer is a big yes. There is virtually a pixie cut hairstyle for all hair textures and types.
19. Elongated Layered Pixie Cut
This pixie cut is perfect for fine thin hair because layering adds volume and texture to the crown, making the hair appear thicker. This hairstyle is also easy to maintain.
20. Short Pixie Bob
Short pixie bobs are also perfect for fine thin hair. The wispy layers, side parts, and highlights help to add fullness, dimension, and glam to the hair. The style can also be maintained easily.
21. Platinum Short Pixie Cut
This icy pixie cut takes on a unique platinum hue and wouldn't be a bad idea for fine thin-haired women. Its dark underlayer gives it more depth and dimensions and the sides are shortened slightly, leaving the top full of short, fuzzy locks that look very appealing and convenient.
22. Short Pixie Cut With Layers
You can keep your pixie cut a bit longer giving it a layered finish. For fine thin hair, this will give it a great texture which will also help to create some sort of shattered fringe that stylishly drapes over the forehead. Pixie cuts such as these are great not only for thin-haired women but also for women looking to rock a slightly less boyish style and interestingly, they are easy to maintain.
Super Short Pixie Cut
Super short pixie cuts are suitable for women of all ages; they are beautiful, elegant, sassy, and easy to maintain. According to Stephanie Burt, a hairstylist in Draper, Utah, super short pixie cuts look even more awesome "if you do nothing at all with it".
Here are a few suggestions if you are considering going super low.
23. Swooped Golden Pixie
You can never go wrong with this super short pixie haircut that has been worn by a number of famous celebrities like Emma Watson, Jennifer Lawrence, Khris Jenner, and even Michelle Williams. To achieve this particular style after a pixie cut, you will simply brush it to one side. This will not only create a softer, more effeminate frame for your delicate hair shape but will also let you show off your features beautifully.
24. Short Pixie Cut For Thick Hair
One of the many amazing things about pixie cuts is that they are suitable for everyone and can be rocked respective of hair texture or color. For instance, this pixie cut is so cool and suitable for someone with thick hair. This is one of the easiest pixie haircuts to maintain; all you need to do is to brush it out, apply pomade and finish with spray.
25. Short Spiky Pixie with Undercut
This short spiky pixie cut is gently swooped to one side to expose the smooth, pale blonde under shave and is suitable for almost all facial shapes. The two sections create stylish textural contrast. Keeping the sides and the back that short also gives you a crispier, classic, and playful look, so if you are considering something pretty short, you can try this cut.
26. Very Short Choppy Pixie Cut With Fringe
If you are a lover of very short pixie and bangs, then you may want to try out this amazing combination of very short choppy pixie cut with bangs for that wow facial transformation, as well as low maintenance advantage.
Short Pixie Cut With Bangs
Here are more suggestions of short pixie cuts with bangs.
27. Short Pixie with Long Bangs
While some persons love short haircuts with short bangs, others love theirs with lengthy bangs, and this particular haircut is one of such. The style comes with short bangs at the side and a longer one in front and will give you all that you desire in one hair; style, beauty, and class.
28. Short Pixie Cut With Wispy Bangs
Here is another suggestion; and this can perfectly suit women with thick hair. The wispy bangs can always be trusted to loosen up the face, giving you that classy and head-turning look.
29. Short Wet-Look Pixie With Bangs
This style is fast and simple, and to add to the list, it is easy to maintain.
30. Short Pixie Cut with Bangs
Show forth your facial features with this short pixie cut with bangs and the beauty of it all is that you can tone the hair with your favorite colors such as copper, burgundy, or platinum.