Little boys haircuts are hairstyles specifically styled to suit little kids including toddlers. Examples include low maintenance, faux hawk, curly, and classic little boy haircut.
Choosing a haircut for your young champion can sometimes be a daunting task. Finding really cute little boy haircuts can be a challenge for many parents and not choosing an appropriate haircut can be discomforting for the toddlers. This article is a curation of 40 cute and stylish haircuts for handsome little boys. This list covers a variety of haircuts for various face shapes and hair textures, and as such we guarantee you a style for your little boy.
Little Boys Fade Haircut
Fade haircuts are very stylish. Just like the name suggests, the length of the hair fades from short to shorter and then to skin cut. There are three main types of fade cuts; high fade, low fade, and mid fade. High fades have longer hair on the crown. The following fade styles are suitable for stylish little boys who love to show off their haircuts.
1. Fade Comb Over with Hard Part
This is a very simple yet cute and stylish little boy haircut. The hard part by the side of the crown and faded sides and back gives the toddler a really cute look and the comb-over gives room for some customized daily styling. This comb-over style is quite common amongst kids and as such most barbers already know their way around the style. Perfect for any toddler face shape, fade comb-overs are also great for any occasion; school or party.
2. Slicked Back Faded Cut with Hard Part
Slicked-back fade haircuts are quick, easy to style, and will never disappoint, plus a hard part makes a simple haircut more stylish. For both formal and casual events, you can have the barber fade the sides of his head and throw in one or two patterns for further embellishments. Keep the top moderately long and neat.
3. Mid Fade Cut for Curly Hair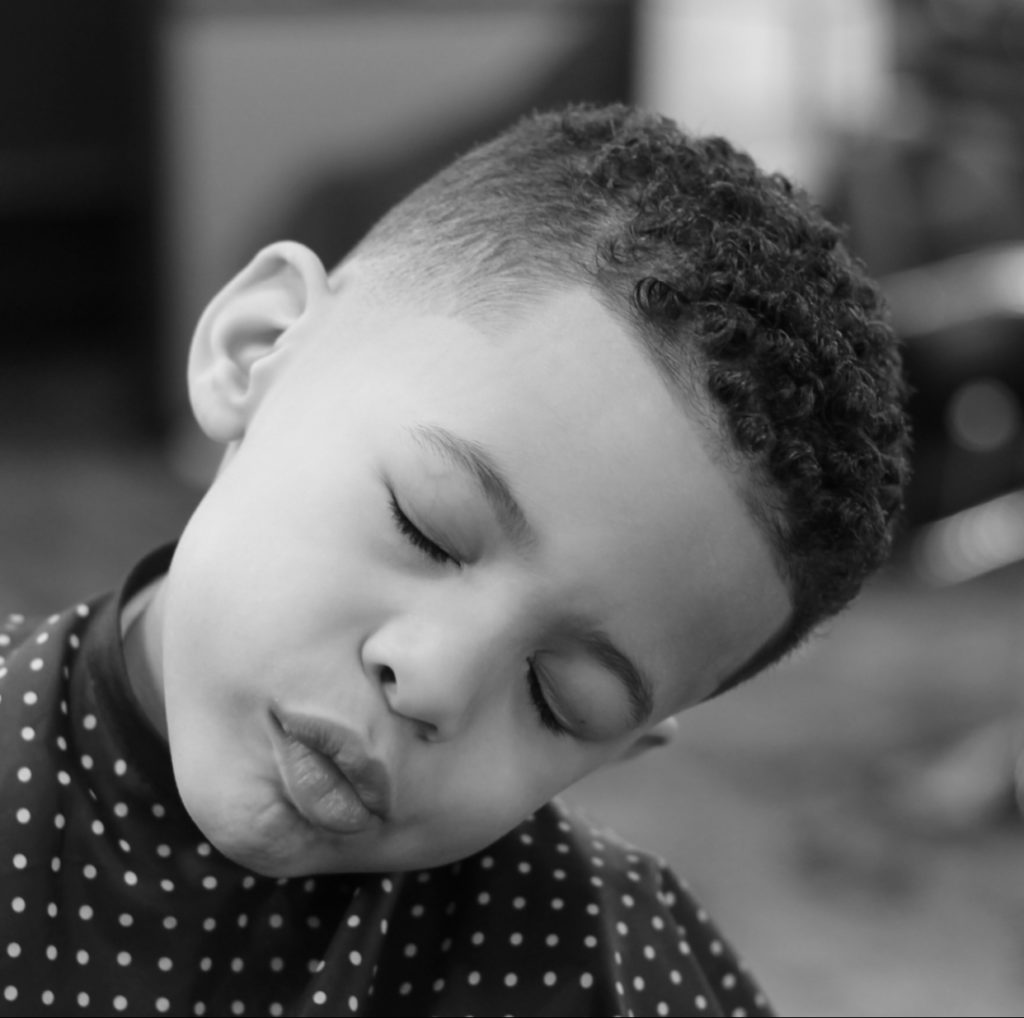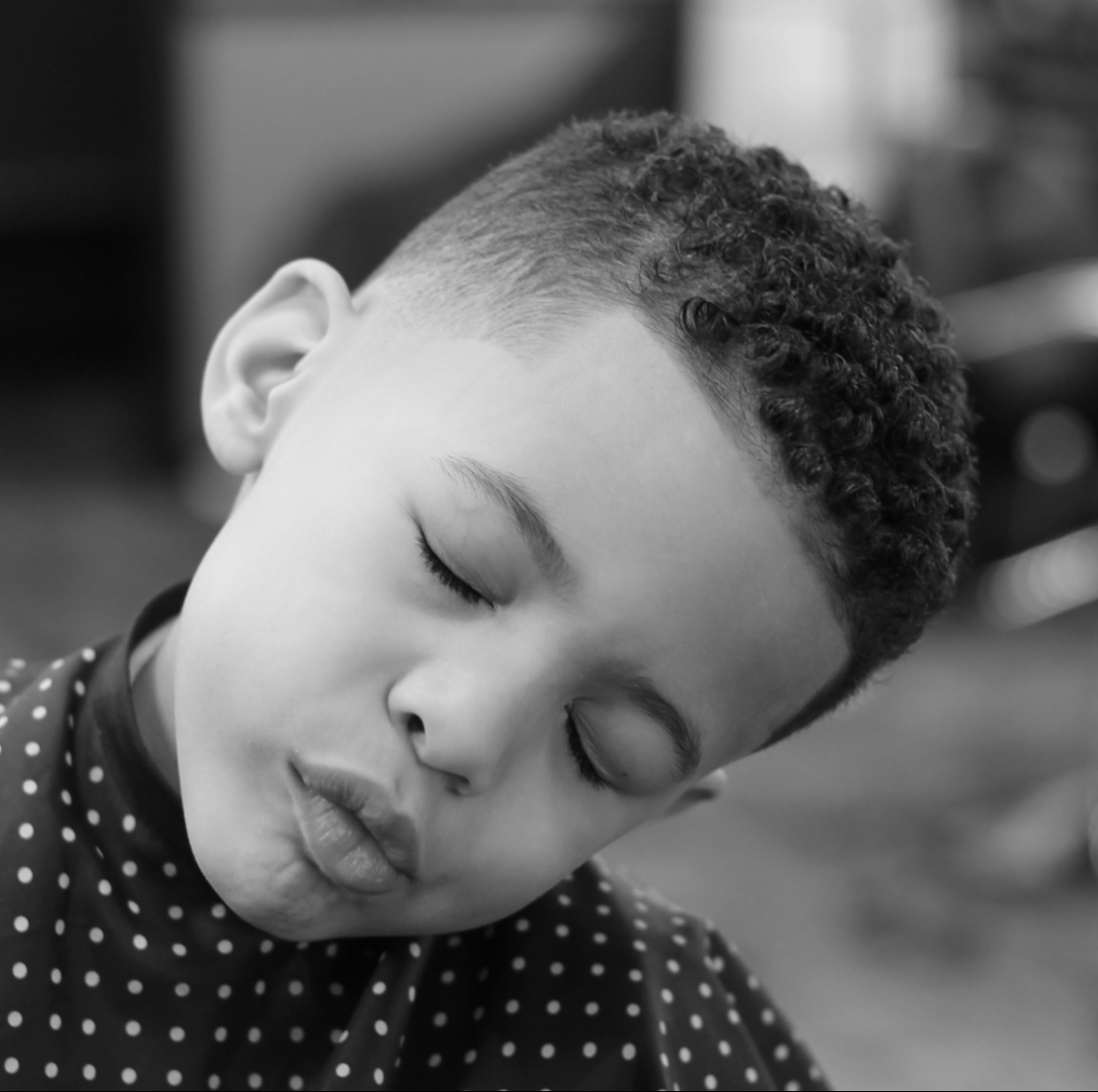 For little boys with curly hair, this mid fade cut is perfect for the kid who doesn't want any hard part on his hair. The transition from curly hair to a low cut with faded sides is sophisticated yet simple. This haircut suits any toddler's face shape and is also suitable for any occasion. The style is also quite common for little boys with curly hair, so make sure your barber has experience handling curly hair.
4. Highfade with Patterns for Afro Hair
For 4b/c textured hair, this high fade cut with patterns is a great style for parties and other informal events. You can add a little bit of temporary color or dye just like in the image above for extra effect. With or without patterns and colors, this High Fade cut for Afro hair is a great choice for little boys who don't want all their hair cut off.
5. Bust Fade 
This haircut is suitable for any hair texture. It is already very stylish on its own, however, little patterns on the faded sides will not hurt. Bust fade haircuts are for kids with a growing sense of style. The sides should be buzzed smooth to emphasize the bold yet adorable look. This haircut is perfect for any occasion. Your stylish toddler will love this style plus it suits all face shapes.
Little Boy Long Haircuts
This haircut is the "eat your cake and still have it" style for kids who want to have a hair cut without actually cutting off their long hair. Long haircuts for little boys also gives room for styling and grooming of your little one's hair whilst making it suitable for both formal and informal events. These haircut styles are suitable for kids who want to style and keep their long hair in check. Long haircut styles are a win-win for boys with long hair; getting a haircut and still keeping their long hair.
6. Long Side Sweep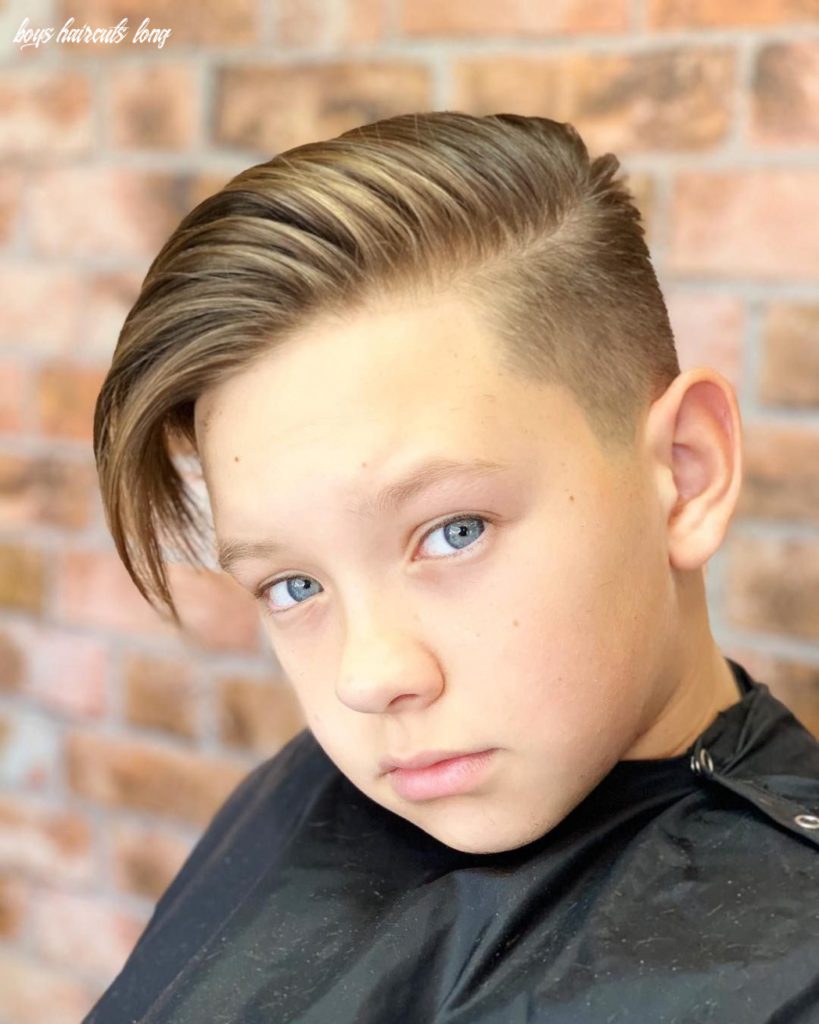 Fun, stylish, groomed, and long. This side sweep haircut for long hair is perfect for little boys who want to have fun with their long hair. This style is texture-driven, and as such, it is not recommended for thick, curly, or Afro hair. Spice up this haircut for parties by coloring the tips of the side with a temporary coloring.
7. The Fountain Cut
With long hair dropping from the crown like a fountain to the sides of the ear, little trim at the tips, and some hair at the eye level on one; Fountain Cuts are a perfect hair cut for long hair. If you are very reluctant to reduce your boy's hair length but still worried about neatness, a fountain cut is perfect. It can also be a signature style for your kid that they can grow into. Looks great on little boys with oval-shaped faces.
8. Curly Bohemian Cut 
Long haircuts are not only for straight or wavy haired boys. Pop those curls for your little boy with this bohemian long haircut. With just a little trim at the tips, and fluffed out hair and curls, your curly little boy is good to go! Showcasing those curls and keeping them trimmed to avoid discomforting the kid. If you are going to a  party with your little boy and want to show off his hair? A bohemian curl cut is perfect!
9. Side Part Running Ringlets
You want to manage your little boy's long cute ringlet without messing with the length? Say no more! This side-parted style trims out extra ringlets from your boy's face with a side part and then lets the ringlet mane fall on both sides of the ear. This style is very stylish and easy. Maintain with moisturizer and little trims to avoid hair on his face.
10. Layered Bob Cut
Showing off his hair and texture without it getting in his way during games or blocking his face thereby causing discomfort; this layered bob cut for long hair is perfect for sporty little boys with long hair. The layered cuts add style to the hair cut and as such it is not the regular or common bob cut, yet serves its purpose. Round/oval-shaped face boys look adorable in this haircut.
Low Maintenance Little Boy Haircuts
Just like the name suggests, low-maintenance haircuts are cuts that need little daily attention. No daily styling and great for school. In fact, a low-maintenance haircut is another name for school haircuts. No coloring, no time-consuming combing or styling, and your little boy can handle his hair after the haircut by himself. Here are a few low-maintenance hair cuts for all hair textures.
11. Buzz Cut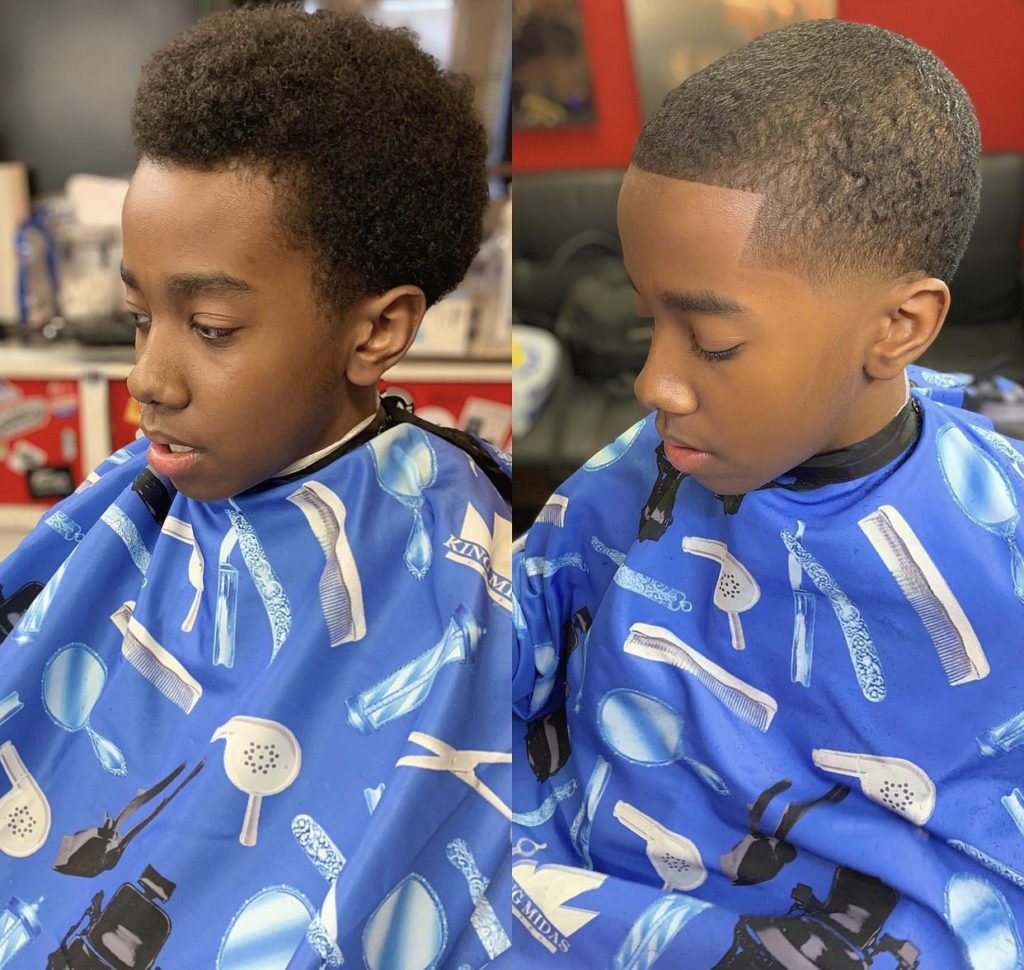 Buzz cuts can be achieved with the use of only clippers. They are very minimalist and low maintenance. They are great for all hair textures, face shapes, and any occasion most especially school. Just a little hair cream and mild hair brushing are all your little boy needs to get his hair ready for school.
12. Crew Cut
Popularized by Ivy League crew teams in the 1920s, crew cuts are very simple and require low maintenance. They are quite similar to buzz cuts only that for crew cuts, the hair on the crown or towards the forehead is slightly longer than the rest of the head. They are very simple to carry and are very common amongst kids. Crew cuts fit any face shape and can be worn to any occasion.
13. Low Taper for Curly Short Hair 
For little boys with a head full of curly short hair, a low taper cut that highlights the curls are great. This low-maintenance hairstyle only requires regular curl hair care before school and they are also great for any occasion or outfit. Little boys with short curly hair always look very handsome in this. This haircut is great for all face shapes.
14. Mullet Cut
Low maintenance doesn't have to be boring. If you are looking for something that will make your little boy stand out, a classic mullet will do just fine. This can be achieved by trimming the sides while focusing the length towards the back of the head. Slimmer face shapes go well with mullet cuts and require only regular combing and moisturizing.
15. Toddler Fringe Cut
For toddlers who just had their big chop or toddlers in kindergarten, this low-maintenance fringe cut is perfect and it suits all toddler face shapes. A little mousse or gel to the fringed parts regularly is all the haircut needs.
Little Boy Faux Hawk Haircut
Faux hawk haircuts are a very stylish variation of mohawks, but unlike mohawks, faux hawks still retain hair at the sides of the head and not almost clean-shaven like mohawks. These funky haircuts are a favorite amongst kids and parents. Round and oval face shapes are best suited for this haircut. Faux hawks are suitable for any hair texture.
16. Spiky Front Colored Tips Faux Hawk 
A great holiday hair cut, spiky faux hawk cuts with colored tips are perfect for cool kids who love a bit of color on their funky hairstyle. Leaving a sizeable portion of spiky hair at the top of your child's head opens an avenue for trendy styling options. The spiky crown goes well with the trimmed sides and back.
17. Faux Hawk Locs
For boys who have locs on their hair and want to style it, a faux hawk highlights the locs perfectly. This haircut is very trendy and stylish and announces itself. If your little boy has locs and is bored of the regular styling of his hair, a faux hawk loc is a great choice. This style is best for the holiday season as it gives room for diverse styling options that may be too time-consuming for school.
18. Spiky Mohican Faux Hawk
For a non-regular faux hawk hair cut, let the spikes run down to the nape of your boy's head as this gives a feeling of actual Mohican styled hair cut. The spikes add some activity to the hair for kids who do not like "simple" haircuts and want their cuts extravagant.
19. Fro Hawk with Patterns
Fro hawks are faux hawks for Afro-textured hair. Throw in some patterns at the sides to highlight the faux hawk. Additionally, you can let your child choose a pattern of his liking to make them look even more stylish for him.
20. Hard Part Low Faux Hawk 
This haircut is a great stylish haircut for school. Nothing beats the stylish allure of its neatly styled top with a trendy hard part. The cherry on top is the exquisitely styled Faux hawk hair bordered by a hard part on the side. Looking for a Faux Hawk style that suits formal occasions? This is it. Keep the sides well-trimmed to ensure the cut lasts longer.
Little Boy Curly Haircuts
Curly hair can be quite a handful to handle or maintain. Choosing the right haircuts for boys with curly hair can be quite confusing as well as emotional because those curls are usually too cute to be cut off. However, with the right choice of hair cuts, your little curly boy can rock very cute cuts that preserve his curly hair. Here are some curly haircut styles for both long and short curls.
21. Trimmed Sides Curly Cut

A simple solution for young boys with naturally curly hair would be to trim the sides in order to shape the look into a stylish haircut with more volume at the top. This way, you can rest easy that your child will always look good whenever and wherever. This haircut works well for short close to the scalp curls and suits all face shapes.
22. Faded Sides High Top Bun
Flaunt your little boy's curls in a high-top bun and faded sides. This haircut is very stylish and also a favorite amongst curly boys who are grooming their hair. Perfect for both school and parties, the curls at the top packed into a bun with razor-cut edges give your boy a very handsome and sophisticated look. This cut is a great fit for boys with slimmer faces.
23. High Top Loose Curls
Flaunt your boy's loose curls into a high top with mid faded sides to enhance his looks and preserve his curls. Perfect for any occasion, this haircut is great for little boys who want to run their hands through their curls and still enjoy fresh air on their scalp. This is a stylish look that is easy to pull off and is suitable for all face shapes.
24. Tapered Curls
Give your little boy's hair a unique shape with slightly tapered sides and a little mullet action of fuller napes. This is a very cute style for stylish curly-haired boys who don't want their hair getting in their face. Perfect for all occasions, wherever and whenever. Suits any face shape.
25. Head Full of Bouncy Curls
There is no need to cut off all the hair on your curly little boy if he has a head full of bouncy curls. Simply maintain length and neatness by trimming the curls at chin length and a few strands on curls at the forehead to create an idea of bangs. This is a simple yet intricate style that needs moisturizers, combs, and scissors to maintain. You do not need a barbershop if you can carefully do it yourself. Suitable for all face shapes.
Little Boy Haircuts for Thick Hair
Just like curly hair, thick hair can also be quite challenging to handle and maintain. Oftentimes, parents prefer simple haircuts for thick hair for easy maneuvering as well as sparing the little boy the discomfort of complicated haircuts. But, haircuts for thick hair can be easy, simple yet stylish.
26. Flat Top Afro
The Afro haircut is one of the most suitable haircuts for thick 4b/4c hair texture. Throw in some extra style with a flat top and a curved razor part. This haircut is perfect for any occasion and is one of the cute little boy haircuts that a boy with thick hair will enjoy. For both school or parties, have your boy show up comfortably in this haircut without a worry of discomfort. Afro cuts are suitable for all face shapes.
27. Patterned Textured Wavy High Top 
For wavy thick hair, this textured hightop with patterns is very cute. It is one of those cute little boy haircuts that are perfect for very thick hair. The volume makes the style very attractive and the patterns command attention. With the razor-sharp faded edges and thick wavy high top, this haircut is great for any informal occasion and will have your little boy feeling like a model. This style works well for oval face shapes.
28. Side Swept Crop Cut
This is a very cute hairstyle for boys with straight thick hair. A side-swept crop cut works like a charm and gives the little lad a gentleman's look. This is one of the cute little boy haircuts where a longer bowl cut with bangs is tossed and swept to one side of the face. Works great for thick hair and suitable for all face shapes and occasions.
29. Fringe Medium Bob Cut
You can never go wrong with a fringe bob cut for straight thick hair. Maintain the fringe trim ends at the eyebrows to avoid discomfort for your little boy. Mostly very suitable for round face shapes, this fringe bob cut gives your thick-haired boy a comfortable look that can be worn to any occasion both formal and informal.
30. Tapered Wavy Cut with Half Moon Part
For parents and kids who do not want to constantly deal with maintaining thick hair after a haircut; this leveled-down tapered wavy cut with a half-moon part is perfect. The wavy finish adds style and sophistication. This is one of the cute little boy haircuts that your boy will enjoy wearing because you don't get to fuss over their hair for the time being. Keeps their hair well-groomed and neat plus the moon cut for an extra trendy feel. Suitable for all face shapes and all occasions.
Little Boy Haircuts Long on Top
For the cool stylish kids who love flexible hairstyles, long on top hair cuts are perfect. The emphasis of these styles is on the longer crown part which gives room for creative versatility. From coloring to knotting, these are several stylish little boy haircuts for long on top styles for every occasion.
31. Straight Hair Top Knot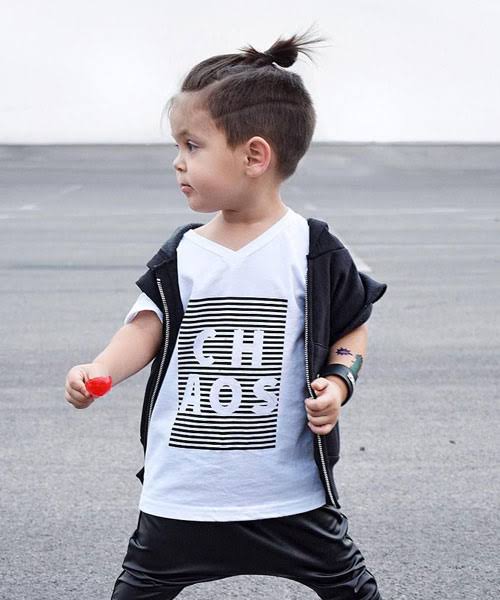 A tiny top knot on your toddler's straight long crown is very trendy and perfect for any outfit and any occasion. This simple yet preppy suave Viking-inspired haircut is one of those cute Little boy haircuts that don't need too much styling. Simply buzz the hair sides short or skin and let the crown flow with your toddler's long hair so you can knot the baby bun. With this haircut, all face shapes are welcome.
32. Curly Hair Samurai
Also known as the man bun, the Samurai cut for curly hair is trendy at the moment. If your toddler is a child model, this look will work perfectly for ripped jeans and Timberland boots. This is one of the cute little boy haircuts for suave toddlers who will grow into very stylish young men. Suitable for informal events, parties, and photoshoots, the curly hair samurai cut suits all face shapes.
33. Soft Afro Curly Hightop 
For little boys with soft afro curly long hair, highlight their beautiful crown into a high top with an undercut and accentuate with a sharp diagonal cut at the front. This haircut is trendy and very cute. For parents who want some hair activity going on after a cut, this style gives you space to be creative as the days go by. Suits all face shapes and is perfect for all informal occasions.
34. Locs Hightop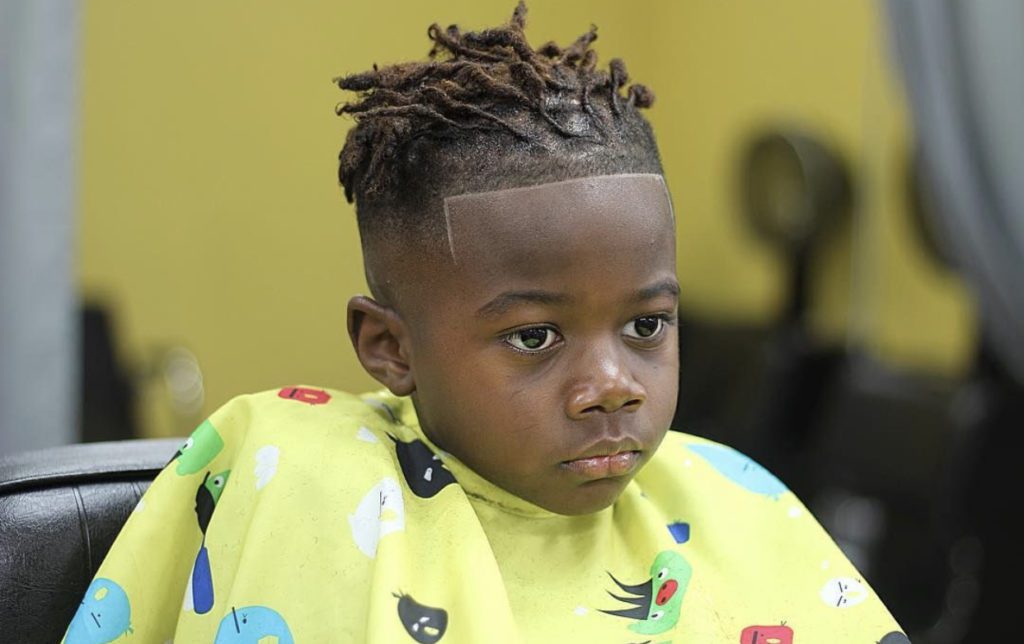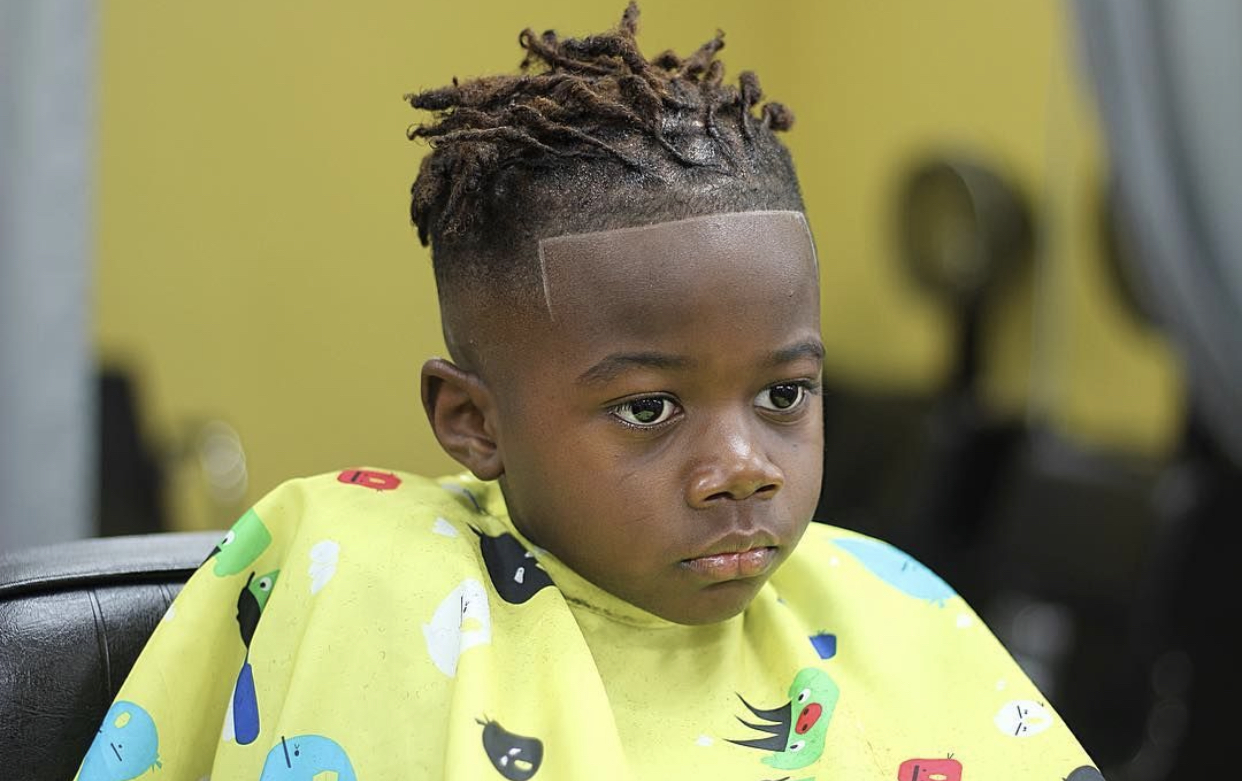 For toddlers with dreadlocks, this loc hightop fade is very stylish and convenient. It keeps the locs out of your toddler's ears and face. Suitable for all toddler face shapes and can be worn to any occasion, this haircut is very cute, stylish and trendy.
35. High Top Fohawk
Get some funky suave activity into your toddler's haircut with this high-top Fohawk. Keeps his long hair out of his face and is perfect for any occasion, especially for outdoor activities. Suits all face shapes and works perfectly on straight hair.
Classic Little Boy Haircut
Choosing a classic haircut for your little boy should not be much of a chore. Classic haircuts are familiar yet ever stylish and fashionable. Classic haircuts make a statement and can turn your shy little boy into a kid model.
36. The Pompadour
This is an excellent choice for parents who are looking for more than just a haircut for little boys. Named after Madame de Pompadour, who was a mistress of King Louis XV of France, the pompadour is very easy to style, easier to maintain, and leaves your son looking sharp and very stylish. You will also have to worry less about matching his outfits with his hair as the style goes with almost anything, the haircut also suits any face shape and is great for straight thick hair. This is one of the classic cute little boy haircuts that are timeless. A go-to style for kid models.
37. Cornrow and Undercut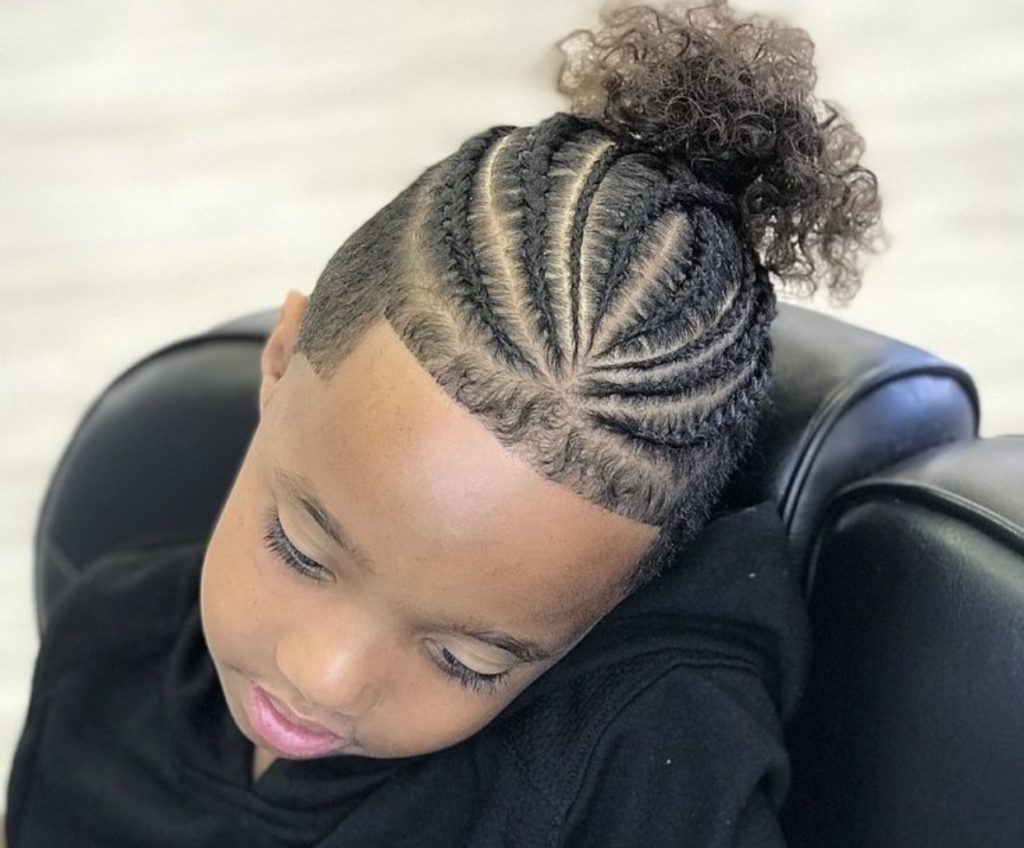 This is one of the classic cute little boy haircuts that your stylish son will enjoy and also flaunt with cornrows on the top of his head, pulled straight back from his face and skin or medium fade to keep the look interesting. Also, a knot or a bun on cornrows at the back of the head is a great way to keep the cornrows out of his face as well as ensure the style remains sleek and professional for formal occasions. This haircut is suitable for all face shapes and hair texture.
38. Fine Haircut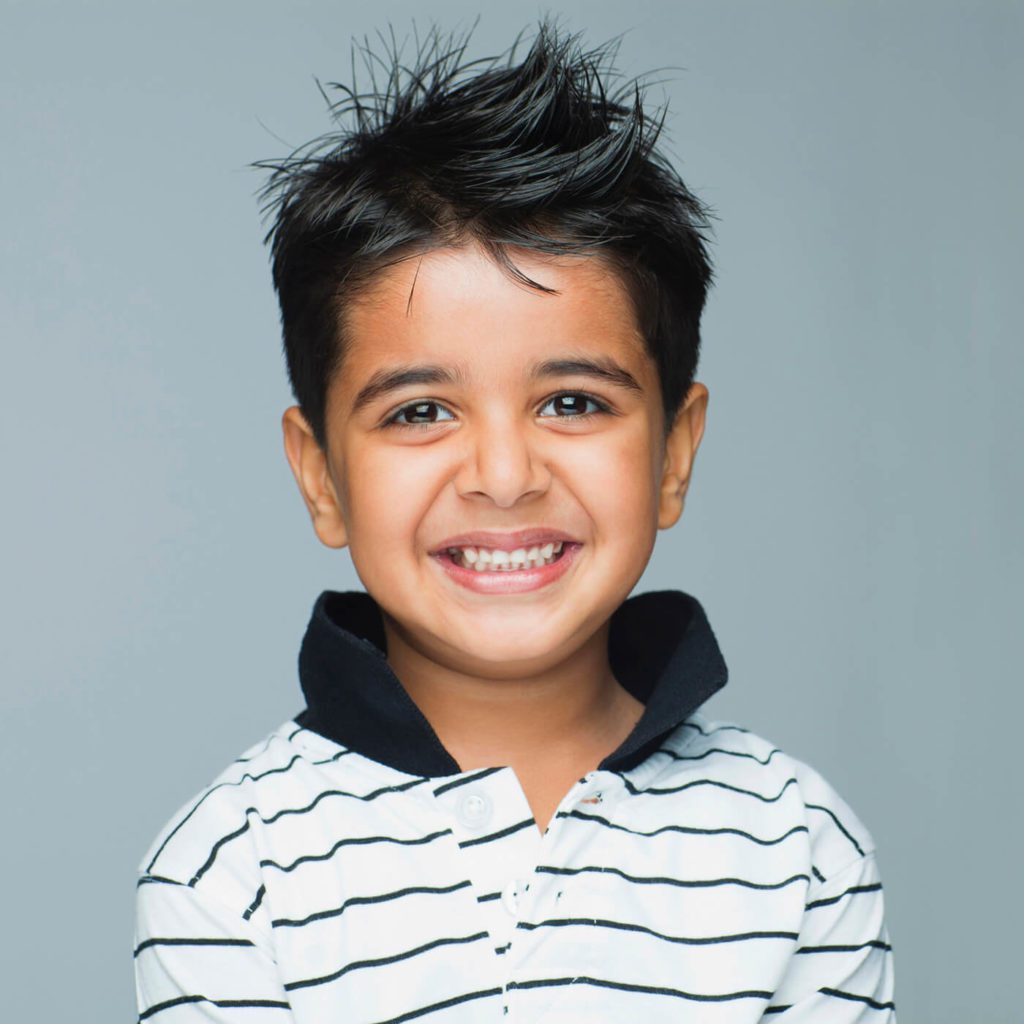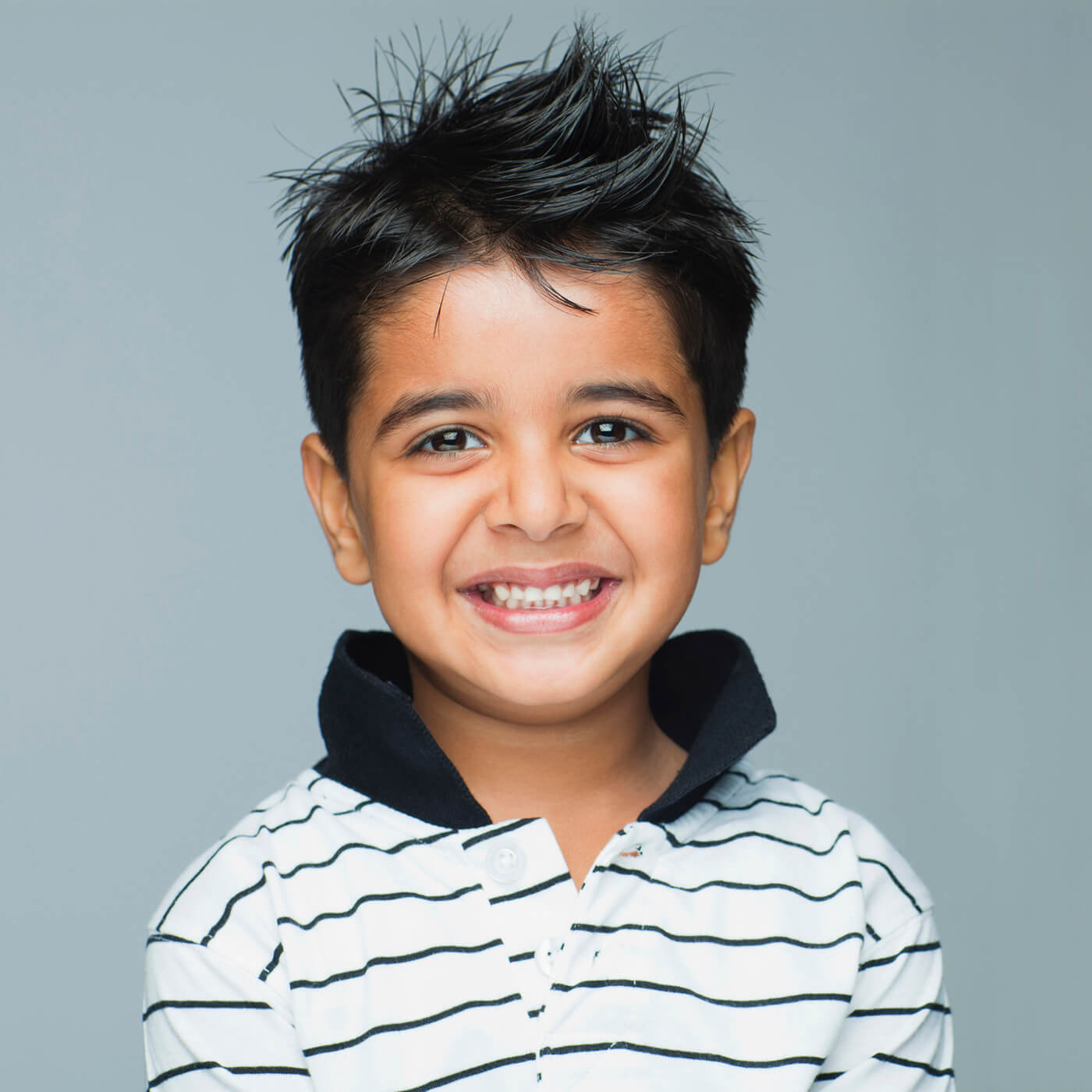 For boys with fine straight hair, a classic haircut with both sides and back closely cropped; with a longer length on top is an ideal style for all occasions and activities. This haircut suits all face shapes and is very easy to manage. It is also one of the cute little boy haircuts that are very versatile because the fine hair on the crown can be combed over to the sides or left neutral and even slicked down with mousse or styling gel.
39. Classic Short and Simple Low Cut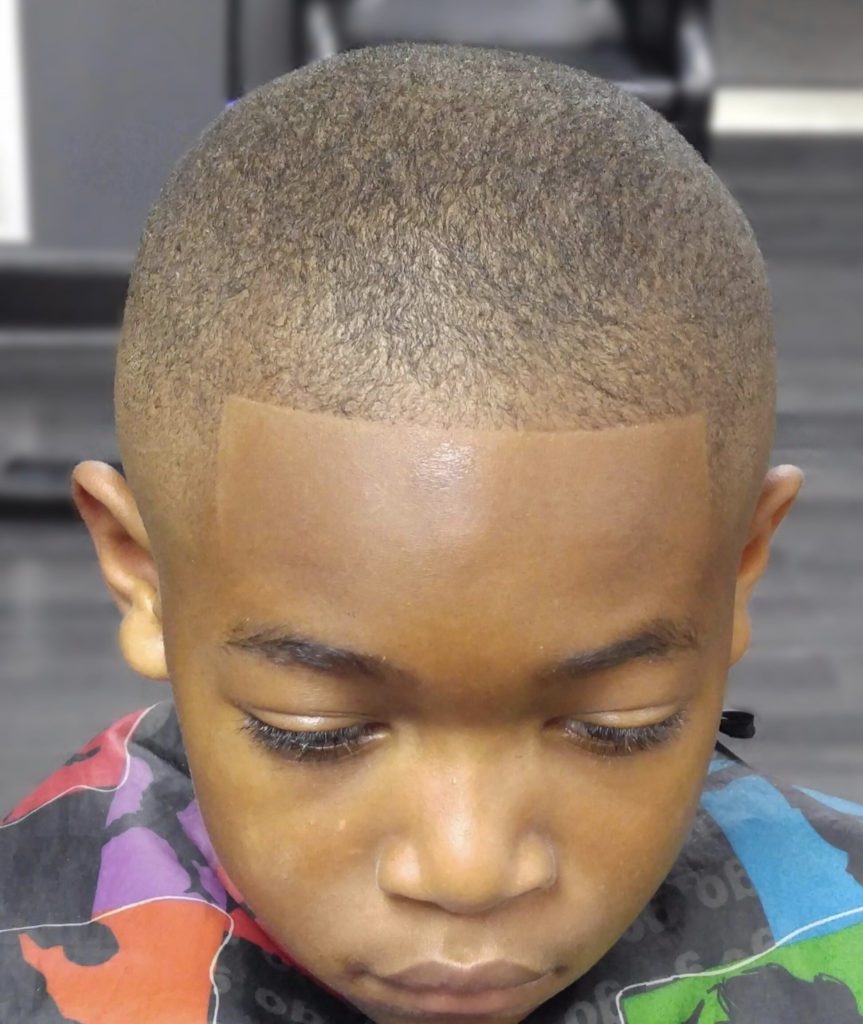 For a parent hesitant about going for the more audacious styles, a classic short and simple low haircut will do just fine. This cut will allow your little champ's hair to grow out naturally without needing intensive daily care routines. Perfect for all face shapes and all occasions and dress codes. You can always count on a classic short and simple little boy haircut.
40. Classic Long Hair Trim Cut
For boys with groomed straight long hair, a classic regularly trimmed haircut maintains an attractive shape and reduces weight. Although styling can be versatile, this classic long hair little boy haircut can be made into a signature look that fits any occasion. Sweep the sides towards the ears to increase hair volume towards the nape and an oval face-shaped little boy will look even more handsome.