L'Oreal hair products have gained vast ground in the beauty world as most of them have become irresistible, especially hair products. These products are taken through several test procedures to ensure the health and safety of the users.
L'Oreal hair products work the magic when you need to change your hair color into a natural dark, cover-up gray hair, or maintain a better effect on your natural hair. To achieve healthy hair that gives you the perfect desired look, you can go through our list of the best L'Oreal hair products available globally for customers and make your choice.
Best L'Oreal Hair Dye/ Color
The best L'Oreal hair dyes are segmented into permanent hair dye, semi-permanent hair dye, temporary hair dye, root touch up.
Go through the tips and inspiration below and be sure your new permanent hair color is oozing with brilliance and glamour.
L'Oreal Permanent Hair Dye
It is one of the best L'oreal hair products that help you sublimate your allure to underline your personality with the entire range of permanent hair colors. Brunettes can draw out the most striking looks while blondes will perfect their radiance to accentuate their femininity and beauty. The products under the permanent hair dye include:
1. Preference Cool Blondes 7.1 Iceland Ash Blonde Permanent Hair Dye
The hair dye gives perfect luminous hair color, and it is produced with a shine gel that helps the color give out reflect effect. Apply the anti-brassiness purple mask to have the best of your natural blonde color through this dye. It will neutralize all the yellow undertones, which can keep your blonde hair for up to six weeks.
2. Preference 6.35 Havana Light Amber Red Permanent Hair Dye
Shade 6.35 Havana is a brown with amber reflects inspired by Cuba's fascinating capital known as Havana. This shade reflects the beauty and intimacy of the old town's colorful houses. Luminous color full of reflects (transparent gel formula that comes with the new precious oil drop) is an intensive treatment that nourishes and protects the hair while brightening and enhancing the color.
It provides long-lasting shine and radiant color. The formula can only be found in a few dye products and helps strengthen and reinforce the hair from the inside out.
3. Colorista Effect Bleach
By simply applying the Colorista DIY Lightening Kit to your hair and following the included instructions, you can have a new and vibrant look in a matter of minutes. The gentle formula colors hair to create a shine and brighten the tone, and the after-care conditioning formula nourishes hair, leaving the hair soft and shiny.
4. Excellence Creme 01 Supreme Lightest Natural Blonde Permanent Hair Dye
The hair dye is very active in three significant aspects: color, scalp, and hair. First, its coconut and argan oil-enriched color cream provides exhilarating, multi-tonal color for the color. It is enriched with pro-keratin for long-lasting, shiny hair. Finally, its caring lightweight hair mask is an intensive treatment that nourishes the hair while you relax.
5. Rose Gold Permanent Gel Hair Dye
This is a high-intensity, extremely bold, fade, and water-resistant color that takes metallic to a new level. This innovative formula contains pure dyes and premium pearlescent pigments. It also includes real silver and gold suspended in a unique film form to give off that shimmering effect and provide optimal coverage.
6. Excellence Cool Creme Permanent Hair Dye 4.11 Ultra Ash Brown
A concentrated solution containing a water-in-oil emulsion of high pigment content brightens and colors hair. Thanks to the lightness of the formulation, a new technology that leaves the hair feeling light and not sticky. In addition, it is formulated with delicate cleansing agents that remove residues and smoothen the hair to give it radiant colors.
7. Age Perfect 10.13 Very Light Ivory Blonde
A rich crème that brilliantly blends a sunny, natural tone of blonde hair with silvery grey, creating highs and lows as if highlighted. It is one of the best L'oreal hair products formulated with pro-collagen ad pro-ceramide to make the hair feel replenished and extra smooth.
L'Oreal Semi-Permanent Hair Dye
In this section, there are only two products by the L'oreal brands of hair dye, and they are:
1. 500 Medium Brown Semi-Permanent Hair Dye
The semi-permanent hair dye formulated with no ammonia is a smooth and creamy formula that works to extend the life of color. Its no-ammonia formula blends away grey hair, providing a luscious smell while giving you salon-quality results. In addition, the crème offers tailored precision for maximum coverage and color retention.
2. Washout Hot Pink Neon Semi-Permanent Hair Dye
It is among the best L'oreal hair products formulated with chroma-cream color conditioners. It helps you create natural-looking colors using a nourishing hair-mask base, vibrant color pigments, and at the same time, conditions your hair.
L'Oreal Temporary Hair Dye
Temporal hair dye is a perfect hair dye to use when you desire to change your hair color but doubt if it will give you the desired fit. The temporary hair color is there to help you discover that perfect hair color. There are three products in this category, and they include:
1. Hair Makeup Cobalt Blue Temporary Blonde Hair Color
Not your typical hair dye, our color experience is designed to be like make-up for your hair. As washes fade, texture from the underlying pastel fabric will appear, providing a long-lasting, fashion-forward effect on your hair. It's not just a dye; it's the future of fashion in hair color.
2. Color Care Silver Grey Hair Toner
This formula instantly neutralizes the appearance of grey. This grey hair toner is non-permanent, lasting two shampoos on average. It is applied like a hair mask – best left in for 5 minutes before rinsing out. The innovative applicator makes reaching your roots easy and quick.
3. Spray Hot Pink Hair Dye
These innovative products deliver multi-dimensional color using revolutionary micro-powders that don't leave a noticeable residue on the hair. It can be used for day or night looks. In addition, it lasts for one day before washing out.
L'Oreal Root Touch Up
The L'oreal root touch-up instantly covers the root of any dyed hair. It comes in various colors to give the hair a lustrous look.
1. Light Blonde Instant Dark Root Touch Up Spray
The dark root concealer spray is manufactured explicitly for blonde shades. It uniquely blends with hair edge and gives a natural color that lasts until you use shampoo.
2. Dark Brown Root Touch Up
This low commitment spray makes it easy to hide greys and maintain a salon look from the privacy of your home. The root touch-up is designed to help fill in those greys and match your natural hair color. The soft micro-diffuser precisely targets greys, and the temporary formula blends seamlessly with your hair color. It helps to reduce hair fading, keeping your look fresh and on-trend until you wash it out with shampoo.
3. Black Temporary Instant Grey Root Concealer Spray
This spray dye is classified as one of the best L'oreal hair products that give optimal results. It is among the spray dye formulated with ingredients that conceal the temple and scattered greys instantly.
Pros
It doesn't produce a bad odor like other hair dyes
Its non-drip formula is perfect
Cons
It is difficult for brown hair to get a blonde look without having the hair undergo a bleaching process before using the hair toner
Permanent hair dyes have the highest presence of peroxide, which can damage the hair in various ways
Best L'Oreal Hair Color Remover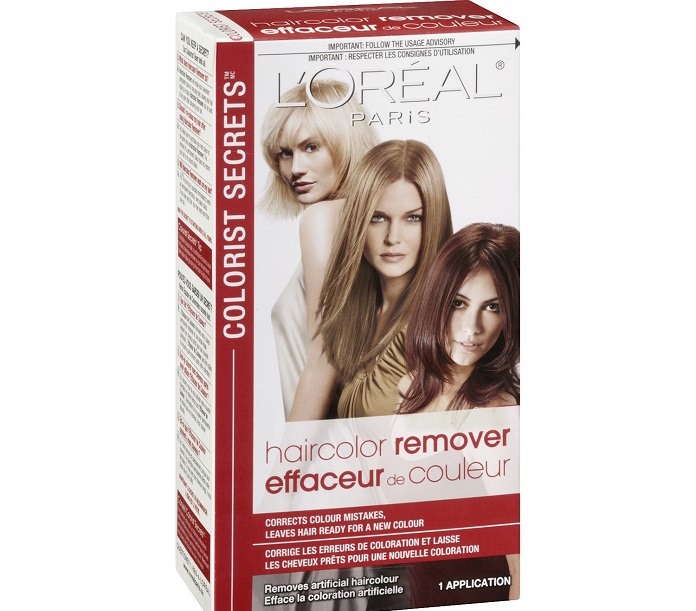 The product stands as one of the best L'oreal hair products formulated specifically to remove hair color. Therefore, it is very useful when applying a different color.
Colorist Secrets Haircolor Remover
The Colorist Secrets Haircolor Remover is a product that helps one correct hair color mistakes or effect changes in hair color. It only removes artificial hair colors and is not a product to restore the original color of the hair. The hair color remover only prepares the hair for a new color application.
Pros
It is perfect for removing artificial hair colors
Cons
Some users confirmed that it works like normal bleach with the possibility of getting your hair damaged
The product is not to be used by non-professionals, especially novices in hairstyling
Best L'Oreal Hair Color Spray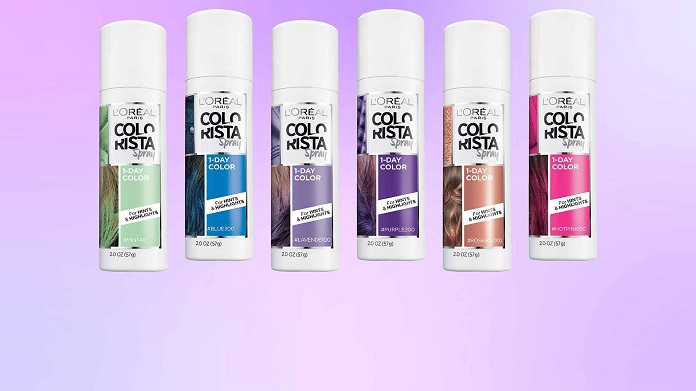 This is a temporary color spray with a maximum lasting limit of a day. As it gets dried, the color appears more visible. Below is the product under the L'oreal hair color spray:
Colorista 1 Day Hair Color Spray
This color spray gives the wearer a new bold hair look immediately after use. This is perfect for users that don't intend to wear the color for more than a day. It doesn't require any form of bleaching and can appear in different colors. Its colors are modified to give a perfect fit to any hair and skin tone.
Pros
It doesn't require any hair bleaching as a temporary formula, thereby guaranteeing longer, healthy hair
It comes in almost all colors
Cons
As much as the hair spray works, it first makes the hair half stiff and tangled
It doesn't give a long-lasting stay on the hair
It requires a constant reapplication on the hair
Best L'Oreal Hair Gloss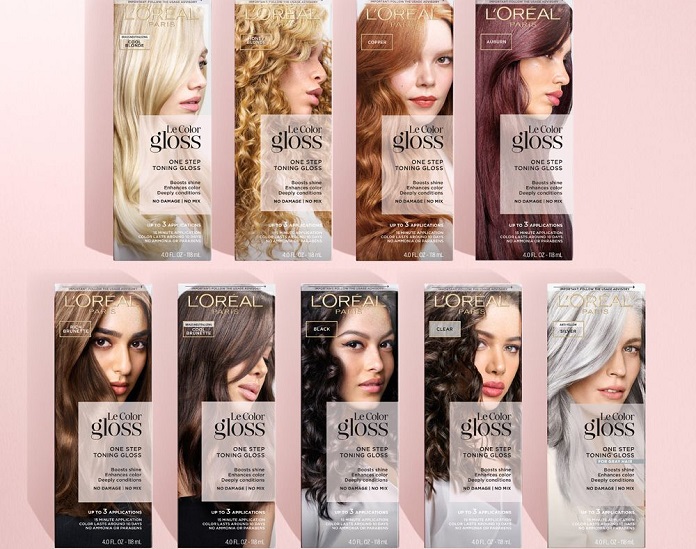 The product is a formula designed to enhance tone, boost shine, and to a large extent, condition the hair to make the color look gorgeous and glossy. Below is the product from the L'Oreal brand under this category:
One Step In-Shower Toning Gloss
The in-shower toning gloss remains one of the best L'oreal hair products that help keep the hair healthy and give a fresh hint of color. It is perfect for any hairstyle ranging from textured, color-treated, or natural hair. The hair gloss doesn't demand any mixing nor to be applied with gloves. This hair gloss is formulated with a coconut oil-infused deep conditioning base, color, vegan, and keratin safe. It doesn't contain any particles of parabens, ammonia, sulfates, mineral oils, and phthalates.
Pros
It stays up to 10 days in 3 applications from one tube
Cons
For color-treated hair to determine frequent usage is challenging
It will never serve as a lifting, cover, or lightning gray agent
Best L'Oreal Hair Masks
L'oreal hair mask is produced as a hair treatment agent that works irrespective of your hair type or the hair need. In addition, it is designed with extra ingredients for healing damaged hair and keeping a radiating hair color. Below are the products under this brand:
1. Extraordinary Oil Mask Pot
This oil hair mask is a collection of 6 different luxurious flower extracts. It is formulated to give shine to the dry tips of the hair and at the same time ensure the voluptuous softness of the hair. Moreover, unlike other products, it provides a complete weightless touch on the hair.
2. Color Protect Anti-Brassiness Purple Mask
Elvive Intensive Purple Mask is a premium, weekly intensive mask treatment that instantly neutralizes unwanted yellow and orange tones to reveal a purplish hue. The highly concentrated purple pigment also helps protect hair against UV damage. The UV filter protects your hair color from fading when you wash your hair. Its highly pigmented formula is intensely rich and luminous, correcting brassiness while providing a natural shine.
3. Botanicals Ginger and Coriander Fragile Hair Vegan Hair Mask
This luxuriously lightweight leave-in conditioner is infused with premium ginger extract and coriander oil to help strengthen and detangle without weighing down delicate strands. This fast-absorbing formula is perfect for hair that typically breaks due to over-styling or chemical processing. Plus, it's infused with a fresh, invigorating fragrance for a salon-inspired hair experience you'll love from root to tip.
4. Botanicals Lavender Sensitive Hair and Scalp Vegan Hair Mask
It is crafted with soothing lavender essential oil, leaving hair soft and hydrated. For medium to coarse, flat to fine-textured hair, this natural formula will not weigh your hair down or leave residues weighing you down. After using this product, your scalp will feel nourished and healthy, promoting healthier-looking hair growth.
5. Botanicals Rose and Geranium Colored Hair Enhancing Vegan Hair Mask
The L'Oreal botanicals geranium mask is crafted with fresh, natural formula, free from silicons and other synthetic agents. Infused with a fresh, floral fragrance, it helps to improve the condition of dull and colored hair, thanks to the power of rose extract and geranium essential oil. It also creates a healthy glow while refreshing the senses.
6. Botanicals Arnica Damaged Hair Repairing Vegan Hair Mask
Made with organic and natural ingredients, the L'Oreal botanicals arnica hair repairing mask seals split ends and infuses a fresh, calming fragrance into hair after just one use. In addition, the vegan, 94% biodegradable formula helps to leave hair feeling softer and more robust.
7. Elvive Full Restore 5 Mask
Nourish your hair with Elvive full restore 5 mask, made with a smooth cream that reinforces each hair fiber to provide the strength to resist daily wear and tear. The unique formula, enriched with pro-keratin, ceramide, and active serum, is infused into each hair strand to instantly restore part of its softness and vitality. This leaves the hair full of softness and vitality.
8. Elvive Extraordinary Oil Coconut Hair Mask
The extraordinary oil coconut hair mask melts instantly into hair, transforming from balm to oil upon contact with warm water or steam in the shower. It helps maintain soft, silky, weightless hair. The luxuriously replenishing serum and oil formula, rich in nourishing coconut extract, vitamin E, and keratin proteins, melts effortlessly into strands for an instant pre-shampoo treatment that does not weigh down.
9. Elvive Color Protect Masque Serum
Elvive color protect masque with concentrated nourishment and UVA/UVB filters offers extreme care for delicate colored hair. The color-protecting elixir helps protect the radiance of colored hair. Its rich and creamy texture transforms the look of the hair; giving it a silky feel when touched. Use once a week for semi-permanent color and twice a week for permanent color.
10. Elvive Full Resist Fragile Hair Multi-Use Hair Strengthening Power Mask
This multi-use hair strengthening mask is made to ensure maximum efficiency, thanks to its lightweight formula and moisturizing, smoothing and regenerating properties. It strengthens and protects the hair, preventing it from breaking, snapping, and tangling. This hair mask rebuild reinforces and restructures your hair, making it shine more and look healthier.
11. Dream Lengths Long Hair Mask
Featuring a cocktail of vitamins, castor oil, and keratin to leave hair feeling nourished and looking shiny, dream lengths long hair mask helps rescue locks that feel damaged. Infused with a combination of ricinus communis seed oil, castor seed oil, hydrolyzed corn protein, olive oil, and coconut milk, the hair mask will deep condition the hair.
12. Dream Lengths Long Hair Heat Hair Mask
Suitable for all hair types, long hair heat is enriched with a mix of castor oil and vegetal proteins which makes it the perfect remedy for dry and damaged hair. Just wrap your hair in the heated tissue envelope, and you'll be left with long, healthy locks that are incredibly shiny. In addition, a long hair heat temporarily enables you to straighten your hair in a few minutes.
Pros
As much as it is formulated to offer soft effects on the hair, it also presents hair healing abilities for damaged hair
L'Oreal formulated the hair mask in different designs with different ingredients for special effects on the hair
It is formulated with a nice flower smell
Cons
It has a procedure to be followed to achieve the desired results – meaning it is not advised to be used by a novice.
Best L'Oreal Hair Oil
The hair oil is an indulgent treatment oil that smooths and shines while leaving hair manageable and flyaway-free. It is created with essential oils to moisturize and condition normal or colored hair. It can also be used as a detangling aid while preparing hair for salon treatments, such as hair coloring or relaxing. Below is a list of the best L'oreal hair products under the L'oreal hair oil category:
1. L'Oreal Radiance Oil
The all-in-one radiance oil formula comprises natural ingredients that work to treat and repair damaged, color-treated hair deeply. It is made without silicone for a natural hair feel; this formula maintains the shine of the color-treated hair up to 28 shampoos.
2. L'Oreal Nourishing Oil
It is a 100% natural & vegan hair oil that supports long-lasting, healthy hair growth, restores shine, and smoothes frizzy, wavy, and curly hair without weighing it down. Its naturally derived formula is fortified with vitamin E to nourish the hair and scalp deeply. Apply 3-6 drops to damp or dry hair for a silky, soft feel or preheat with the blow dryer for a smooth, radiant style.
3. L'Oreal Emulsion Ultrafine
This ultra-fine emulsion, concentrated with a 10% blend of avocado oil, jojoba oil, and osmanthus extract, is applied by the hairdresser in layering with the masque or alone. Formulated with ultra-fine oil particles, it smoothens the look of the hair fiber and adds sublime fluidity. This product is suitable for any hair type and is excellent to invigorate lifeless hair.
4. L'Oreal Shine Perfecting Blow-Dry Oil
The shine perfecting blow-dry oil helps seal the hair and provides a long-lasting, anti-humidity shield to control all levels of frizz. A light, water-soluble formula that is non-greasy and 100% color-safe is the secret weapon for achieving shiny, smooth blow-dried hair without the shine serum drop for complete frizz control.
5. L'Oreal Huile Radiance Oil
Radiance oil is a lightweight and concentrated formula that cares for your color-treated hair and protects it thanks to an SPF filter. Argan oil and cranberry oil blend provides ultra-nutrition ideal for detangling hair after shampooing and adding radiance before or after blow-drying.
6. L'Oreal Huile Initiale Pre-Shampoo Oil
This hair oil nourishes, protects, and enhances the coloring process. Its formula has 10% pure, refined colza and safflower oils to smooth hair fiber. Its additives combine the protective functions of silicons with the moisturizing capacity of vegetable oils. The hairdresser applies the hair oil as an initial gesture before using the shampoo to protect the hair fiber better.
7. L'Oreal Huile Richesse Oil
The hair oil is a specially formulated product that nourishes the hair, softens it, and maximizes curls. Its rich texture facilitates hair-drying for magnificent controlled hair. Argan kernels and apricot oil intensely nourish the driest hair and reduce the frizz. This effective formula reduces lather build-up in the hair, making the styling more effortless and efficient (less lost volume). Perfect for detangling hair after shampooing and adding suppleness before or after blow-drying.
8. L'Oreal Huile Originale Oil
Huile Originale is designed with argan oil and viscous. The original huile in the range offers all the benefits: it gives 48 hours protection against humidity, is anti-frizz, softens, and protects hair. In addition, its lightweight texture facilitates hair-drying for magnificent silky hair from root to tips. Ideal to detangle hair after shampooing.
9. L'Oreal Huile Scintillante Oil
Scintillante oil is a highly concentrated formula with all-natural sesame and almond oils infused with unique minerals. These minerals create a perfectly smooth, soft shine for the entire length of your hair. The luxurious feel on your hair gives it an unbelievable shine and leaves hair magnificent.
Pros
Hair oil helps get dangling hair ready for a salon treatment
It gives the hair a shiny look after application
The hair oil adds nourishing effects to the hair
Cons
It demands a daily application to keep up with shiny hair
Best L'Oreal Hair Serum
Below are the brands under the L'oreal hair serum:
1. L'Oreal Paris Total Repairs 5 Serum
L'Oréal laboratories have created this repairing serum to target the five signs of damaged hair, including hair fall, dryness, roughness, dullness, and split ends. In addition, this repairing serum helps reinforce natural cement and cohesion, making hair strong and resilient.
2. L'Oreal Professionnel X Tenso Care Serum
The L'Oréal Professionnel Xtenso Care Straight Serum is an intensive, shine serum for straight hair. It adds long-lasting smoothness and massive shine to dry, damaged, or stressed-out hair. In addition, it provides ultimate protection from external agents; this unique and concentrated formula rebuilds internal structure and gets to the heart of the issue, preventing breakage and dryness. So the L'Oréal Professional Straight Serum is perfect for anti-drying, anti-breakage treatment of damaged hair with a mirror shine finish.
3. L'Oreal Professionnel Serie Expert Liss Unlimited Serum
This anti-frizz serum is a must-have for all hair types. With its formula enriched with glossing agents, you will transform dull locks into beautiful, shiny tresses that move with effortless style and lustre to reveal more volume and a more homogenous texture.
4. L'Oreal Paris Extraordinary Oil Serum
Sunflower hair serum replenishes your scalp's natural oils and restores your natural shine. In addition, this unique formula helps to combat itchy scalp and flaking dandruff. It is infused with a blend of 6 rare flower oils, including sunflower oil (helianthus annuus), lotus flower oil, flax plant/flower oil, cocos nucifera oil, matricaria flower extract, and german chamomile extract (bisablol and chamomile recutita extract).
5. L'Oreal Paris Elseve Extraordinary Oil Serum
This lightweight formula is ideal for hair protection before styling or adding shine. The formula is multi-use and can be used directly on damp hair to provide illumination and nourishment or added after shampoo and conditioning as a serum. This formula is proven to add deep nourishment to the hair without weighing it down.
6. L'Oreal Paris Smooth Intense Serum
It is enriched with a powerful blend of soothing anti-oxidants; this intense smoothing serum is formulated to protect the hair against humidity while contributing to manageability and shine. Calming and soothing, it helps protect against frizz even in humid conditions, resulting in strong, less prone to damage hair. It is also suitable for dry rebellious hair.
Pros
The products prevent hair fall, dryness, roughness, dullness, and split ends on any hair
L'oreal oil serum adds glamouring shine to the hair
It doesn't involve any advance procedure of application
Cons
If applied in excess, the only possible bad effect is too many oily effects
Excess use can lead to hair fall
Best L'Oreal Hair Bleach
Lighten your hair without damaging it with L'Oreal hair bleach. Available in several variations, including one for sensitive scalps and one for natural tones, this hair bleach gently lifts color without affecting the integrity of your hair follicle. Formulated never to leave your hair dull or flat, this hair lightener delivers even blonding from root to tip. Below are different L'oreal hair bleach products available for users worldwide:
1. L'Oreal Colorista Bleach
The L'Oréal Paris Colorista Hair Bleach kit lets you lighten all over, get gorgeous highlights, or create any look you want with its color-boosting formula. You can also use it to bleach your hair before getting a professional hair color for long-lasting results. As a reminder, do not use this hair bleach on relaxed hair. The hair color shades give it at least 14 days after that last bleaching.
2. L'Oreal Super Blonde
The advanced super-lightening system cuts through even the densest color to gently lighten the hair. In addition, the super-rich cream maintains the hair's suppleness and its natural shine. This kit provides you with everything to lighten your hair to a perfect shade of blonde.
3. Feria Hyper Platinum Advanced Lightening System Bleach
It is one of the purest platinum shade lifts to 8 levels lighter than other products. As a result, the color looks ultra-natural, highlighting the ideal blend of porosity and darkness unique to each hair. Anti-brass conditioner with purple pigments eliminates brass while reinforcing solid hair care.
4. Feria Multi-Faceted Shimmering Permanent Hair Color
The hair bleach highlights provide more stunning color results than any Feria shade. It can be attributed to its unique pearlescent base. This effect delivers intensified brilliant results with a new plumper gloss effect and glossy shine that lasts. The formula contains no ammonia, peroxide, or bleach. So it is safe for color-treated hair and natural hair.
Pros
It is easier to get the required highlighting result on a single application
It is required on hair with artificial color and requires the application of new color
Cons
Too much application can cause damage to the hair
It can fade the natural hair color
Excess application on the scalp can lead to inflammation
Best L'Oreal Hair Shampoo
The L'oreal hair shampoo has been modified into many brands which are:
1. Instant Resurfacing Shampoo
L'Oréal Professionnel Instant-Resurfacing Shampoo is one of the best L'oreal hair products that is infused with GOLD QUINOA + PROTEIN. It is a professional formula that sweeps away impurities and rebuilds hair from the inside out.
2. Illuminating Gloss Shampoo
The shampoo is enriched with the Açai berry extract containing polyphenols and vitamin E, essential nutrients for the hair fiber. As a result, it helps in enhancing the structure of the hair.
3. Anti-Breakage Shampoo
It contains a unique strengthening formula fortified with biotin, vitamin B6, and tea tree oil to create strong, healthy hair. In addition, the plant-derived shampoo helps prevent hair breakage as it cleanses and stimulates the follicle for a fuller look.
4. Metal Detox Shampoo
The shampoo cleans fibers and removes the accumulation of metal particles. It is a unique technology that generates high foam, foaming action. Easily rinses clean, leaving no residue behind.
5. Pro Longer Shampoo
Series Expert Pro Longer Lengths Renewing Shampoo is for those with fine to thinned ends who want to turn back the clock. Its formula contains keratin to give your hair natural strength and elasticity. In addition, the specially developed conditioners and oils add vibrant moisture while strengthening strands.
6. Source Essentialle Nourishing Shampoo
The product contains natural & vegan ingredients and is free of animal ingredients or by-products. It also does not contain silicone for a natural hair look.
Other L'oreal shampoo products with above similar functions include:
Hair spa Shampoo

Homme Energic Shampoo

Homme Fiberboost Shampoo

Homme Grey Shampoo

Homme Tonique Shampoo

L'oreal Instant Clear Shampoo

Sensi Balance Shampoo

L'oreal Silver Shampoo

L'oreal Volumetry Shampoo
Pros
The products help in fighting hair dryness and hair fall
It also removes dirt, oil, dust, and pollutants
L'oreal hair shampoo helps keep the hair smooth and silky
Cons
It often causes vertigo soreness in the eyes, throat, and nose
It causes hair loss and reduces hair growth if applied often
Best L'Oreal Hair Conditioners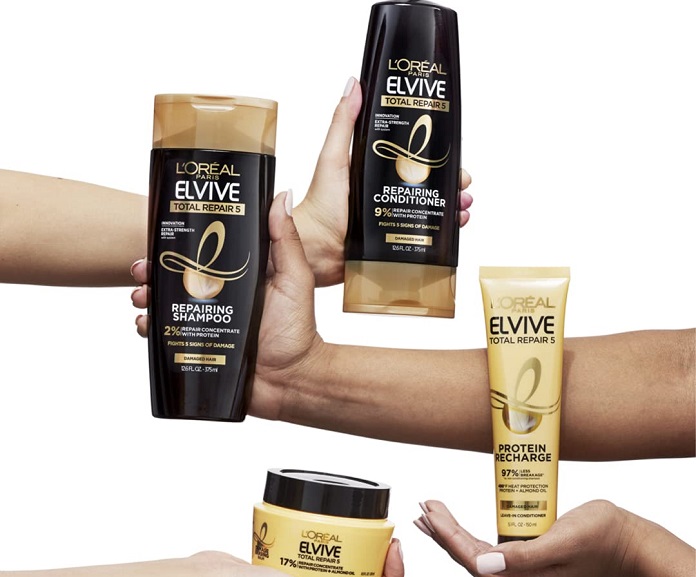 Hair conditioner is applied to wet hair following shampooing as a means of locking in moisture, nourishing the hair, and creating a soft, shiny, luscious appearance. L'Oréal has developed a conditioner line that adds intense moisture and nourishment to hair, making it more manageable and more accessible to style. Below are some of the products under the L'oreal conditioners:
1. L'Oreal Total Repair 5
L'Oréal Paris Total Repair 5 helps fight five signs of damaged hair. It repairs damage, detangles, moisturizes, smooths, and shines without weighing hair down. The two major products under this category are:
Total Repair 5 Conditioner (192.5 ML)

Total Repair 5 Rapid Reviver Deep Conditioner (180 ML)
2. Fall Resist Conditioner
Fall Resist 3× Anti-Hair Fall Conditioner provides a triple-action approach to reducing hair loss nourishment, strengthening the roots, and restructuring hair fiber.
3. L'Oreal 6-Oil Nourish
L'Oréal Paris's 6 Oil Nourish Conditioner provides complete hair nourishment from the scalp to the ends. Providing benefits of six nutritive oils. It is one of the best L'Oreal hair products which can be used on the scalp. This hair conditioner is of two types, and they are:
6 Oil Nourish Conditioner (192.5 ML)

6 Oil Nourish Rapid Reviver Deep Conditioner (180 ML)
Pros
It gives a long duration of a hair conditioning effect
The products, mostly the spa, helps adjust kinky hair
Most especially the price of the products is very affordable
Cons
It isn't easy to rinse
Most of the products come with a bad odor
It consumes time
The application process demands an experienced user