As a blush fiend, I LOVE when there's something new in a blush. I LIVE for it. The new "now" thing seems to be that you can use your blush on your lips. Personally, I'm a blush-purist. I want my blush to be blush, my lipsticks to be lipsticks ya'know? But old-fashioned me needs to get used to this new idea I guess because I bet there'll be more of these from other brands soon. Just a little blush bet there, hahaha.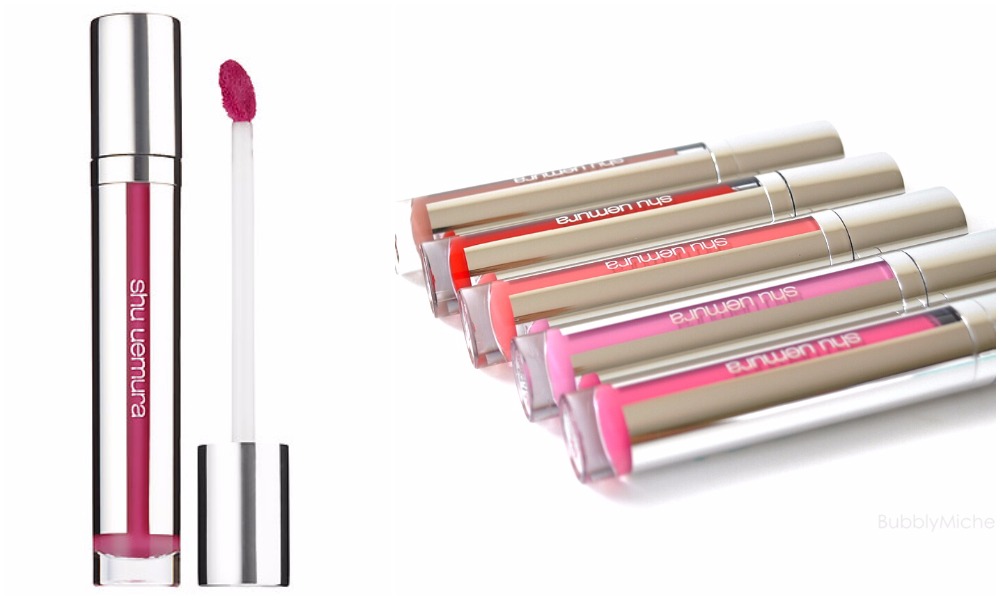 The new Shu Uemura Tint In Gelato Lip and Cheek Colors are going to be a permanent addition to the Shu line-up, but it's debuted with the Mika For Shu Collection. No hurry to get them if they do interest you though! They are supposed to have a smooth and creamy gelato-like formula, that allows you to adjust the thickness of layers to get the look you're after. There are 12 gelato-inspired shades so there's something for everyone!
They have a soft, doe-foot applicator which I like. The Gelatos are apparently a perfectly calibrated trio of applicator, wiper, and formula to get the smoothest glide and spreadability that gives ultimate color payoff. It's really soft that's for sure! And thicker than most doe-foots.. feet? Whatever. I still don't know haha.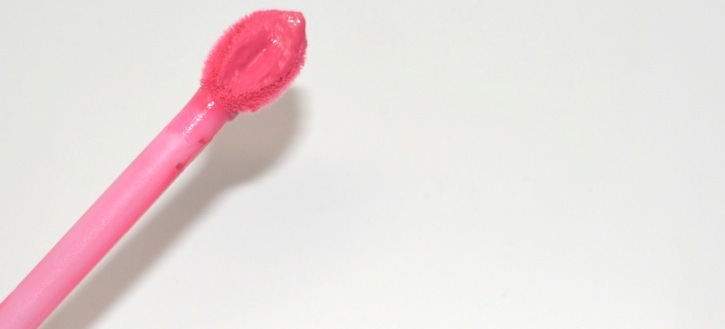 The Shu Uemura Tint in Gelato formula consists of elastomeric gel made of-can you guess? Silicon-type-polymers. Sigh. You can't get AWAY from the stuff lately I tell ya! The silicons give the formula a silky smooth texture and have a filling powder that creates a smooth effect upon application. And it also allows for that controllable layering thing I mentioned earlier.
Thin layers give a semi-matte look with a natural sheen finish, while delicate layering(not sure what Shu means there) gives more intense color payoff. Personally, I find thin layers is the way to go, for the cheeks at least. Lips-well that's another story.
Swatch Time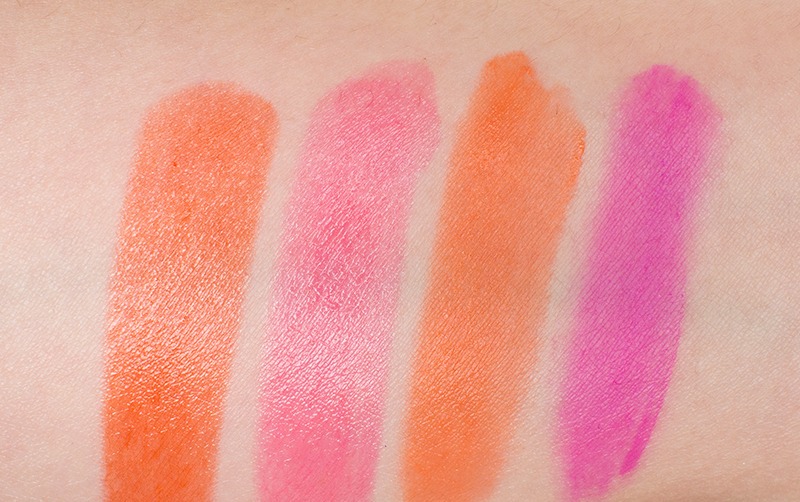 The Shu Uemura Tint in Gelato swatch amazingly well! They look so smooth, creamy, opaque-you'll fall in love at first swatch!
Swatch AND Blendy Time
Well, they're for cheeks too and you gotta blend for THAT otherwise CRAZY OLD LADY CHEEKZ and nobody wants that business…yet. I do think when I'm in a nursing home, Imma gonna BE that old lady though.
So, I don't mind the Shu Uemura Tint In Gelato Lip and Cheek Colors on my cheeks. They're not my favorite cheek product though, because of well-the silicons (and no, that's how Shu spells it in my PR release). I'm just not a huge fan of the heaviness they give to products.
I can FEEL them on my cheeks, and even though I am a blush fiend and love my blush-I don't care for feeling it on my face. Also, they take a bit of time to 'set' for me, and truth be told they feel a little dry too. I have dry skin, so yeah. If you have oily skin, you will LOVE LOVE them.
Fingers work best for applications too. Just dab a bit on your fingers and blend, blend, blend. Remember though-thin layers is the key. They do last a good while though! I think it's the whole thin layering application that helps with that a lot.
BUT-I really don't care for the Shu Uemura Tint In Gelato Lip and Cheek Colors on my lips at all. Nope. Not one bit. For one thing, the mousse texture doesn't really sink into your lips and set. It kind of floats and moves around on lips. A lot. You know what they remind me of? Those LUSH lipsticks I didn't and still don't like. Pretty much the same feeling for me. But if you like those, you'll like these then that's for sure.
They're not hydrating and not extremely drying on the lips. Just sort of…there. I find they work best if you apply, and then blot down-at least for me. I don't like that moving around and sliding business on my lips. I keep thinking I'll look in the mirror and my lips will be on my chin and that's just not a good look, right? Right.
So I thought Shu Uemura Tint In Gelato Lip and Cheek Colors CR01 was going to be my fave, but it really changes color on me. It becomes a light, warm coral pink and most of the orange gets lost. Where? I don't know. Maybe my face repels orange now because of the pink hair HAHA. That's my theory.
And face closeup to see the cheeks together with the lips blotted down. On the cheeks, it's a bright coral flush. I like it on my cheeks! Really brightens up the face!
Shu Uemura Tint In Gelato Lip and Cheek Colors PK01 is bright pink. It can look more fuchsia in some lights and depending on how much you layer on. Here is one layer on my lips
Shu Uemura Tint In Gelato Lip and Cheek Colors PK01 layered twice on my lips to get the more intense fuchsia shade. I'll give the formula that much! You really can control the shade. It's on my cheeks as well.
Surprisingly, Shu Uemura Tint In Gelato Lip and Cheek Colors CR04 is my fave of the bunch! This nude coral is the best of the 3 I have. It seems to be more moisturizing and dewy in the finish as well.
On my cheeks, it's a lovely coral that goes with everything! If you're going to get one Shu Uemura Tint In Gelato Lip and Cheek Color, this is the one I recommend for sure!
I do recommend swatching the Shu Uemura Tint In Gelato Lip and Cheek Colors in person before you buy since man-you can't really predict what the color is going to look like on you without actually trying it. A shade you might not have considered before might be the most appealing to you and look the best on! I've seen them on other people with different skin tones, and they all look so different depending on lip pigmentation and skin tone.
Like I said, they are permanent which is a good thing! You can find them wherever Shu is sold-online, at select Sephoras, at Holt Renfrew and I think some Bays carry Shu as well(at least out east they do I think).
Have you tried these yet? Will you? What do you think of this one product for lips & cheeks thing happening? Like I said, I'm a blush-purist. Partly because I've never found something that works well for BOTH lips and cheeks. At least for me. Have you?