Getting the perfect wedding gifts for newlywed couples can be an arduous task, especially if they have no registry. Besides gifts given at the showers, the choice of what to gift them would of course vary depending on how close you are to the couple, what your relationship is with them and how well you know what they would possibly appreciate. Besides all of the above, there is also the matter of how much you are willing to part with to make this gift memorable.
The good news is that whatever budget you are working with, you'll find a gift below that not just matches what you have, but would also be perfect for whatever goodwill you wish to convey to the happy couple. So rather than giving them a wad of cash that would soon be forgotten, check out the list below for something more memorable.
What Makes Good Wedding Gifts For Newlywed Couples?
Certain things come to mind when one is trying to get the right wedding gifts for newlywed couples especially as regards making sure that your gift would be put to good use. Some couples take the trouble to craft out a personalized registry for guests to pick from to avoid the hassle of trying to decide what will be of the best use. However, in cases where the registry does not come to your aid, know that a good wedding gift should be practical, useful, and not overly expensive. Keep the following few things in mind so you don't stray too far:
Be Practical with the ideas that come to mind – while it is important to get the couple a gift that resonates, be absolutely sure it resonates with them too and not just yourself. In this regard, you could simply go classic with appliances like a waffle maker, a vacuum cleaner, or even simple wine glasses.
Attempt to find out what they would possibly prefer. This requires a lot of stealth depending on how close you are to the couple, their siblings, or their friends. For instance, some couples would rather receive monetary gifts than a baby-maker blanket.
Try not to go over the top with how much you spend on a wedding present especially if you are not very close to the couple. Such gifts often stick out like a sore thumb.
Consider the disposition of the couple in question. This will enable you to customize any gift you are getting to their personal taste.
Finally, if you want to give gifts that have to do with honeymoon and getaways, be sure you know the couple well enough to know where they would want to go and how adventurous they are. Other more common gifts in this category are stuff like Travel bag sets, insulated picnic backpack for two, hike tickets, etc.
To Buy a Gift or To Cut a Cheque?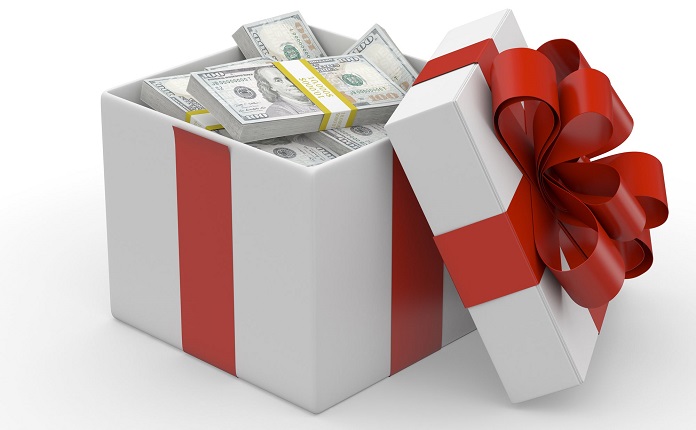 While some people are skilled and good in the art of giving gifts, some others would rather gift the couple some cash and let them decide what they would prefer to spend it on. Even though this is frowned upon in certain quarters, it is totally okay and acceptable to use money as wedding gifts for newlywed couples. Take a look at some of the many arguments that support giving money as a wedding gift:
Most intending couples oftentimes get and furnish the house they will live in before the wedding.
Planning a wedding will require every financial assistance a couple can get.
Monetary gifts can contribute to the funds for the honeymoon
These days, everyone appreciates a little something added to their savings.
How Much is Appropriate To Give or Spend on a Wedding Gift?
Whatever route you decide to go on the gift, there is still the question of how much money is appropriate to spend as wedding gifts for newlywed couples. To buy the appropriate gift, make a budget that begins with $25 which is the lowest end of the spectrum mostly for casual acquaintances who just happened to get invited to the wedding but have no real relationship with either of the wedding couples. If you are a work colleague, consider moving the budget up to between $50 and $75 especially if you are bringing a date.
Note that the closer your relationship is to the wedding couple, the more you are expected to spend on the gift you'll get for them. On that note, if you are a close friend or relative of the bride and groom, consider budgeting between $100 and $200. With this budget, you can get gifts like a love seat, a wireless essential oil diffuser, or even something as simple as a matching hoodie set.
If you do decide to cut a cheque for the happy couple, the budget above will not apply strictly because the bars are a bit higher. What this means is that whether you are a casual acquaintance or a family member, you should not go lower than $50. While you are not expected to match the obsolete idea of cost per head, it is important that your cheque be really meaningful. The ideal amount for cutting a check would be anything from $75 upwards depending on your financial capabilities.
What Do You Get a Rich Couple That Has Everything as a Wedding Gift?
Being rich does not often mean a person has everything as we often like to think, but even in situations where that is the case, you can still get the perfect wedding gift for that wealthy couple. Bear in mind that rich people often value personalized gifts and may prefer the simple things of life. This means that you don't necessarily have to break the bank in an effort to get a good gift for a couple, just pour your heart into it and you will achieve the desired effect faster.
For wedding gifts for newlywed couples who have everything, consider getting them customized journals, a customized wine decanter, or a Deluxe grilling toolset. To make it even more memorable, consider gifting a wealthy couple an experience rather than a physical item. You can go for tickets to an attraction, a complimentary facial and massage at a high-end spa, museum membership, a gift card to a restaurant they love, or a donation to their favorite cause in their name.