The process and progression of school eventually ends with graduation and this is such a big accomplishment that every student looks forward to. The day of graduation is one that comes with a sigh of gratitude after completing an important phase in your life. However, this day also has a mix of trepidation and relief as those graduating are not necessarily certain about what the future holds for them, this is where your words of encouragement come in.
One of the ways this support comes is usually in the form of goodwill messages, congratulating them for their achievement and wishing them a future filled with blessings. Having trouble coming up with encouraging messages for the people in your life who just graduated? Here are some tips to help you out.
Tips For Writing The Perfect Graduation Messages
So you have chosen to send a card and you are struggling with writing something on the card. While there are lots of things to write, especially to loved ones who have achieved great strides, it is important to note that even in graduation euphoria, certain vital information about tackling the future are needful to prepare the graduate for the task ahead. Here are a few tips to help you know what to write on a graduation card:
The first thing to do is to identify their achievement and congratulate them on that.
If you are writing a casual message, you can go ahead to share a fond memory that both of you share, this is bound to make the graduate smile. If your relationship with them is still young, add something about them that resonates with you.
Round up the card by offering advice for the future, do make sure that you try to assuage any fears that you think they might have.
Short Graduation Messages You Can Send To Anyone
If you are someone who does not like writing long epistles, there is no need to fret as graduation messages do not necessarily have to be very long in order to be meaningful and heartfelt. You can still pen down short messages to convey your wishes and put a smile on that special someone's face. Here are short messages that are perfect for the occasion.
May God continue to bless you as you step into the next phase of life. Happy graduation!
You have always shown the potentials to succeed. I am proud of your achievements. Congratulations.
Keep on working hard and more victories will come your way. Happy graduation.
All your nights of hard work have paid off. Cheers to you and many more wins!
You are pretty smart and today proves that. Happy graduation brainiac!
I wish you the very best in your next endeavors and may your future be very bright. Congratulations graduate!
Your hard work and determination are worth celebrating. Happy graduation.
You have accomplished a remarkable milestone graduating top of your class. I celebrate your hard work.
Way to go! You have successfully completed your course. Happy graduation!
The world is your stage, be your best. Congratulations graduate.
High School Graduation Messages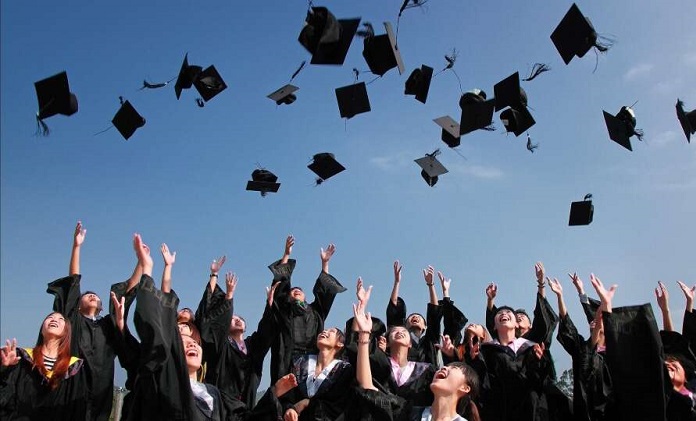 The end of high school education is significant as it is the penultimate lap to the end of a phase in the formal education ladder. Sometimes, it is not unusual for people to disregard it and not see the importance of the occasion, but it is the perfect time to show your care and wish the youngster well as he/she moves on to college.  Some warm wishes you can send to congratulate high school graduates include the following:
You have finally finished high school! Wear your gown, put on your cap, and march into the next phase with pride. Congratulations.
Congratulations on your high school graduation. My warmest wishes go to you as you aim to achieve higher success in your other educational pursuits.
It's time to celebrate and announce your success in town! Happy high school graduation, I will not miss your grand party for anything.
With the success you have achieved as a high school graduate, I bet you will do well in the future and record remarkable heights in life.
We are happy you made it to graduation day! All the best in your next life pursuits, we trust you will be even more successful. Happy graduation.
You entered high school with a lot of excitement and since your first day, you have been working hard. Your footprints finally got you here. We are proud of you. Congratulations graduate!
There is always a prize for hard work and good things await those who strive to thrive. Your graduation is a stepping stone to higher heights and new opportunities. Keep soaring graduate!
As you graduate today, I extend my congratulations and wish you a fruitful future ahead. Cheers!
Congratulations on the successful completion of your high school graduation education. May new doors open for you with better opportunities as you pursue your dream career.
You have had quite an impressive student career and now that you have graduated, may your hard work usher you into better opportunities. Happy graduation!
College Graduation Messages
Graduating from university is one of the biggest milestones in a long-term education journey that the graduate had been on for more than a decade. The congratulatory messages for this should be occasion centric and convey how proud and happy you are for them.
Congratulations high flyer! You finally have the piece of paper to unlock doors of opportunity as you build your career.
Happy graduation! You have not only earned yourself the most expensive paper you might ever own but also the 'graduate gut' to go with it. May it help you all through the coming years as you chase your dreams.
Successfully completing college is a great achievement worth celebrating. You did it! Congratulations graduate.
You are a true definition of beauty with brains. Your degree is now an added advantage. Congratulations grad! The world is your stage.
May your college certificate open new doors and bring lucrative offers your way. Congratulation, wish you the very best.
Upon the completion of a student career, one is launched into a brand new voyage in the labor market. I wish you only good things as you face your new life. Congratulations graduate.
Congratulations for not just being a graduate but also graduating top of your class! I am very proud of you. May the coming years usher in more accomplishments.
Having a degree is honorable and you, my friend has achieved that. I wish you a wonderful graduation ceremony and I know you are ready to take on the world. Congratulations graduate!
It's official, you're now a graduate! Congratulations and cheers to a great future.
Hey, graduate! You have made us all proud by getting your college degree. Your ticket into the elite club of people with that unique trait is your certificate. May it bring you good luck. Cheers!
Your years of hard work have finally paid off and I am sending my heartiest congratulations to celebrate your success. I wish you a bright future. Enjoy your success!
 Wishing you the very best as you graduate today. May the future unfold only pleasant things for you. Congratulations!
 Today is a moment you should be proud of because you deserve it! Cheers to many more celebrations and for this great performance.
College did not just sharpen your mind but also your personality and we admire the person you have become. Way to go! Congrats son!
Cheers to a wonderful ending and the beginning of a new phase. May all your endeavors bring you fulfillment and more success. Congratulations Princess!
Special Graduation Messages For Your Child
As the parent of a child who is graduating, this is equally the end of a journey for you and the start of a new one. Although the event is not about you, the significance of it bears heavily on you as well. However, in the midst of all the activities, composing congratulatory messages to your child on their special day will show your child how much the occasion means to you. A list of sample graduation wishes for your child includes the following:
Heartiest congratulations on your graduation, son. I wish you a successful future as you pursue your career passionately.
With the successful completion of your graduation, I wish you a prosperous future, and may you land your dream job. Congratulations cupcake!
Congratulations on your graduation. As you celebrate this special day, may you have a brighter career and great opportunities.
You have made us proud! Congratulations as you receive your college certificate today. May your next phase be a smooth sail.
Amongst all the stars we know, you shine brighter in our eyes! We send our heartiest congratulations to you as you graduate today.
As you transit from high school into college, may you experience your best days so far. I am proud of your achievement and wish you a bright future. Congratulations son.
I celebrate your success today and may your graduation open doors to more opportunities in the future. Congratulations son!
Congratulations on your graduation success. Your future is already bright with tons of lucrative opportunities. Enjoy the ride!
Way to go! Your thrive to excel has paid off. Keep reaching for the stars, you can achieve anything! Congratulations.
You have sacrificed a lot to get this certificate and we are proud you made it! Congratulations and cheers to a brighter future.
Messages To Send When You Can't Attend The Graduation Ceremony
Sometimes reasons beyond our control may hinder us from attending the graduation ceremonies of loved ones. However, such circumstances should not hinder us from celebrating with the graduate. You can simply make mention of the fact that you won't be at the graduation ceremony while sending a card with your warm wishes. Here are a few ideas you can use:
Even though we would not be there to see you in your graduation cap and gown, our hearts are with you and we want to send the heartiest congratulations to you. We are proud of you champ!
We send our warm thoughts and wish you a bright future as you launch into the next phase. My apologies for not being present at the graduation ceremony.
I am filled with love and pride today as you celebrate this remarkable day. Although distance will prevent me from being there, I want you to know that you are always in my mind. Congrats!
I wish I could be at your graduation ceremony to celebrate your success, nonetheless, know that I am very proud of you and what you have achieved. Way to go champ!
We celebrate you as you graduate and we really wish we could have been there with you. A party will definitely be organized as soon as we see. Congrats dear.
Why Sending Graduation Wishes Is A Big Deal
Congratulations are extended when people achieve a significant feat in their life. Graduating from any level of education is a hallmark event that holds a lot of significance for whoever does it. If you care for the person who is graduating, you need to show them that you are thinking of them and the least courteous thing you could do is send in a graduation wish.
More so, sending in heartfelt graduation messages goes a long way to encourage the graduate as they transit into a new phase. It makes the recent accomplishment sink in and they aim for even higher heights in the future.
How Should You Send Your Graduation Wishes? Give A Card or Send A Message?
There are many ways to congratulate people when they graduate and it often depends on the situation at hand. In the event that you won't be able to attend the graduation, you can send a card in your absence. The card should also express how you wish that you could be there for them on their special day and remind the graduate that you are thinking of them.
A simple message sent via email or text can also serve the same purpose but a card always comes with a personal touch. More so, you can go a step further to attach a gift in cash or any other item along with the graduation wishes to celebrate the graduate's achievement. You can even offer to throw the person a grand graduation party and invite family members and friends to make the big day even more memorable!