For decades, many activists and media commentators have sprung up with each of them choosing different paths (from political, to societal and other issues) that define their beliefs. Ann Coulter is one of those women expressing their political opinions against all odds. She is also an anti-abortion and anti-gay activist. Popularly famous for her controversial and sometimes outright provocative speech, the hard-right expert has, over the years, gained a reputation as a writer, lawyer, syndicated columnist, conservative social and political commentator. Find out how she's been able to balance up her love life and career.
Ann Coulter's Bio (Age)
Ann Coulter's real date of birth has always sparked controversies. In 2002, she took issues with suggestions that she was 40. But according to a birthdate which she provided many years ago when she registered to vote in Canaan Connecticut ahead of the 1980 presidential election, she was born in 1961. However, a driver's license issued a few years later showed that she claimed December 8, 1963, as her birthdate. The outspoken social and political commentator, till date, has not confirmed or denied either of the dates for privacy concerns though generally, it is assumed that she was born on December 8, 1961, in New York City.
That said, Ann grew up in Canaan Connecticut where she lived with her Republican parents, John Vincent Coulter and Nell Husbands Martin. She attended New Canna High School and finished from there in 1980. She joined Cornell University, majoring in History. It was at this time that her conservative interest became more intense. In 1984, Ann graduated excellently with a Bachelor of Arts degree. Having successfully helped the school to establish a student new paper named The Cornell Review, she became a renowned editor of the Michigan Law Review in the University of Michigan Law School where she had joined in pursuit of Juris Doctor. This role won her the opportunity to be trained at the National Journalism center and to rule as the president of the Federalist Society of the school. In 1988, she obtained her aspired degree.
Immediately after school, she served as a law clerk in both private and public practice before gaining massive notability in the 1990s for making disapproving opinions about Clinton's administration. Today, some of her achievements include being known as a very outspoken political commentator with numerous TV appearances and radio talk shows. In addition to that, Ann is the author of over 12 books and has worked as a legal correspondent for MSNBC. As well, the conservative columnist has appeared in three films in 2004. With these and other engagements, she, over the years, piled up a net worth of $8.5 million.
Read Also: Sarah Huckabee Sanders Husband, Family, Kids, What Happened to Her Eyes?
Family
Ann Coulter was raised in a conservative and Republican family, thus, she identified as one of the packs as a child. She also began reading Republican books quite early. This fired up her desire to become a writer. Her Catholic father worked as an FBI agent. He is of Irish-German roots and a native of Albany, New York while her mother is from Kentucky. She belongs to the Presbyterian denomination. Ann grew up with two older siblings named James and John.
Is Ann Coulter Married Or Dating, Who Is Her Husband Or Boyfriend?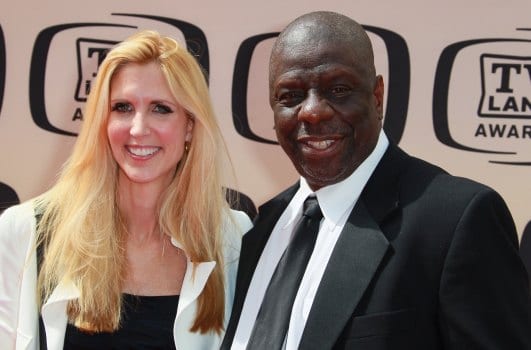 While Ann Coulter has accomplished so much in terms of career, the same may not be said about her relationship. While it is uncertain if the TV personality is dating someone presently, she has been in a good number of relationships with different men from all corners of the entertainment industry, from actors to writers, and TV personalities. But none has yielded something very serious. One of the famous personalities she had dated include actor James Tully. Their relationship lasted for only a year before she began dating an equally controversial personality Bob Guccione Jr. Many fans endorsed her affair with Bob and opined that they deserved each other. But what seemed like a perfect relationship ended eventually and Ann was rumored to be dating Dinesh D' Souza.
Other people, she has allegedly been linked to romantically include David Wheaton, Jimmie Walker, Bill Maher, and Andrew Stein. She apparently debunked having an affair with Jimmie but never denied others. She has also been rumored to be engaged three times. Like we mentioned earlier, none of those engagements has gotten her to the altar. Probably none of these men matched her political orientation or shared the same political stance as hers. Consequently, Ann remains practically single.
 Ann Coulter's Height, Feet
Irrespective of Ann's controversial reputation, there is no denying that the activist and writer is drop-dead gorgeous and physically intimidating given her 6ft height. When it comes to body size, she is doing great to maintain her slim figure. At over 50 years of age, the activist and writer weighs only 66 kg. Her bust, waist, and hips measure 36-24 and 33 inches respectively. She has really big feet that fit in a US shoe size 12.