The name Anne Hathaway does ring a bell to the lovers of English poems and plays, especially that of the world's pre-eminent dramatist, Williams Shakespeare. Although they share no blood relation, the young actress shares the same name with the wife of the great writer.
Anne Hathaway is an American actress and singer who was born on November 12, 1982, in the Brooklyn borough of New York City. She attended Brooklyn Heights Montessori School and graduated from Millburn High School, a public high school where she played soccer before transferring to the American Academy of Dramatic Arts in 1993. Her journey into acting started quite early as she became the first and only teenager to be accepted into The Barrow Group, a New York City-based theatre company and acting school.
Hathaway earned her first TV role in the comedy-drama series Get Real which was aired on Fox Network between 1999 and 2000. Her first starring role followed in 2001 when she starred as Mia Thermopolis in the Disney comedy titled The Princess Diaries. The young actress has featured in many more TV series and movies. Some of the films she has featured in include Get Smart's Bruce and Lloyd: Out of Control, Bride Wars, The Dark Knight Rises, and Alice Through the Looking Glass. Her most recent appearances are in Ocean's 8, Serenity, The Hustle, and The Last Thing He Wanted. The last three are scheduled to be released in 2019.

Also, you will find her in series like Elmo's Christmas Countdown, Family Guy, and lots more. Anne's music albums include Ella Enchanted which has songs like You Make Me Feel Like Dancing and Somebody to Love.
Anne Hathaway's TV roles have earned her so many awards and accolades, she is not just one of the accomplished young actresses of her time, but also one of the highest-paid actresses in Hollywood, this is according to Forbes' estimate of 2015. Hathaway has garnered for herself hundreds of awards and nomination. 2012 seems to be the peak of all her achievements as she received over thirty awards. These awards include the Golden Globe award, Academy Award, British Academy Film Award, and an Emmy, to mention a few. Her net worth stands at around $35 million, much of which she earned from her acting career.
With all these achievements, one part of her life seems to interest most of her fans – her personal life. The following are the things you'd love to know about the TV star's personal life, including her parents and siblings.
Anne Hathaway Family: Husband, Son, and Parents
The American actress is a married woman. She officially got married to Adam Shulman, a jewelry designer on September 29, 2012. Prior to Shulman, Anne had romantic relationships with a couple of influential men including the Italian real estate developer, Raffaello Follieri who was arrested and sentenced to prison for misappropriation of investment worth $50 million through his Manhattan-based foundation.
Although there is no information about how Anne and Shulman's love life started, it is crystal clear that the two do share deep feelings for each other. The couple solemnized their union in a Jewish traditional style in Big Sur, California.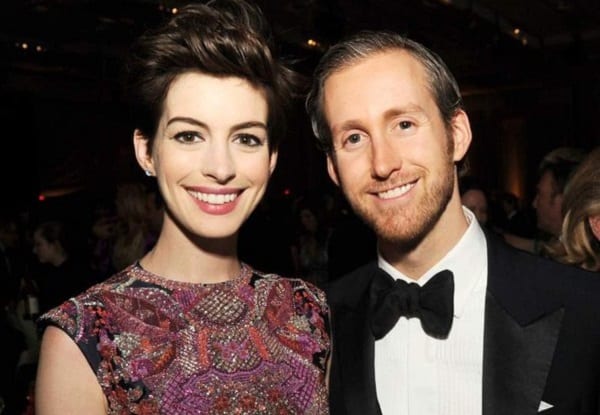 Not only does Anne share the same name with the wife of 16th-century poet and playwright William Shakespeare; there are talks that her husband Shulman does resemble Shakespeare.
Anne gave birth to their first child, a son named Jonathan Rosebanks Shulman, on March 24, 2016. The family lives at their apartment in the Manhattan neighborhood which she purchased the same year she had her son. The apartment was worth $2.55 million at the time Anne purchased it.
Anne Hathaway is the daughter to Kathleen "Kate" McCauley Hathaway and Gerald Thomas Hathaway. Her love for stage performance came from her mother who was an actress. Her father, on the other hand, is a labor attorney.
Anne has two brothers, her older brother is named Michael while the younger one is Thomas. Her mother Kate is of Irish descent while her father Gerald has an Irish, French, English and German ancestry.
 See Also: Kaley Cuoco Age, Sister, Husband, Dating, Boyfriend, Parents
Height and Measurements
Anne was ranked among Billboard's Hot 100 in 2013, not just because of her acting skills and beautiful appearance, but also because of her great figure which can perfectly fit into almost any role she is meant to portray.
The actress is 5 feet 8 inches (1.73 m) tall and her body weight which she maintains with continuous workouts including dance and stunt training has trimmed down to 56 kg (123 pounds). In all, she measures 34-25-35 inches.