Modeling is not for the slim and skinny beauties alone, Ashley Graham has gone a long way to prove this. The American model who has made it on the cover of many celebrity fashion magazines like Glamour, Elle, Harper's Bazaar, and Vogue, has created a niche for herself in the modeling industry as a model with a distinct figure, a plus-size model.
The Nebraska native has made several TV appearances where she spoke about her confidence in her body size and how she has ushered in a new perspective to the world of modeling; being the first plus-size model to grace the cover of Sports Illustrated's swimsuit. Graham also speaks of how well she was able to defeat all obstacles that stood on her way to success. Let's find out more about this successful plus-size supermodel.
Ashley Graham's Bio
Asley was born on October 30, 1987, in Lincoln, Nebraska, and she grew up with her mother and younger siblings who supported her decision to become a model even as a chubby little girl. She attended Scott Middle school where she graduated in 2002 before joining Lincoln Southwest High School the same year. Her journey towards becoming a great star in the modeling industry luckily began just after her graduation from High School in 2005. She was spotted by an I&I modeling agent at a local mall in Nebraska and at that time she was just twelve years of age.
Asley Graham became a public figure after attending a model convention. Her first deal as a model was with Wilhelmina Models in 2001 after which she joined Ford Models in 2003. Graham was almost left helpless after Ford Models shut down, but as luck is on her side, she was hired by IMG, another top modeling agency.
Ashley's first breakthrough was in 2007 when she was profiled by Vogue magazine. She appeared in many more magazines including Glamour, Bust, Addition Elle, Target, and Sports Illustrated magazine where she appeared as the first curvy model in a cover of its Swimsuit issue. In addition to her appearances in magazines, Ashley has been featured in a good number of TV shows including The Tonight Show where she became a household name and was commended for her confidence in her body size. The chubby beauty even appeared as a coach for aspiring plus-size models on MTV and was hired by Jennifer Lopez for her Plus-size clothing line. Her numerous photo shoots, contracts, and brand endorsements have earned her as much as $5.5 million, this is according to Forbes' estimate in 2017.
Her Parents and Ethnicity
Ashley grew up in a loving and very supportive family which include her mother Linda Graham, her two younger siblings, and maternal grandparents – John A. Friesen and Leora Siebert. Although nothing much is known about her father, Ashley had once revealed during an interview that her father, who is a database marketer was not in support of her becoming a plus-size model. When she was 15, the man encouraged her to lose weight if she wishes to become a model.
Unlike her father, Ashley's mother was one of her biggest fans. She strongly supported her daughter's decisions regarding her career. Ashley also revealed that her mother often made her see how beautiful and curvy she is, like many other women in the world. Thanks to all the love and support from her family, Ashley has transitioned from the girl with attention deficit hyperactivity disorder (ADHD) and dyslexia to a supermodel, designer, and body positive activist. As per her ethnicity, the American-born has a German and English heritage but she is married to an African-American.
Who Is Ashley Graham's Husband?
Ashley Graham is married to a videographer whose name is Justin Ervin. She met and fell in love with the African American in 2009, at her church in New York City. The two decided to have a sex-free relationship due to Ashley's experiences in her past relationships. While they were dating, Everin encountered difficulties with Ashley's parents who were not comfortable with the fact that he's racially different. However, their love for each other surpassed the race issue as they eventually tied the knot in 2010.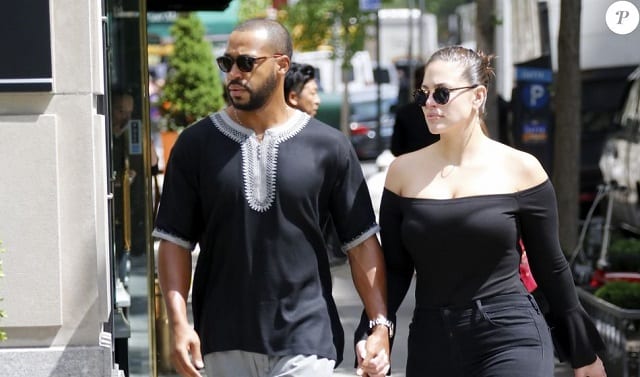 Despite being married, Justin Ervin was only able to break the racial difference between himself and his in-laws after about six years. The young cinematographer has been able to keep a good relationship with his new family ever since then. The couple, however, is yet to welcome children of their own. During their 8th marriage anniversary, Ervin was asked about their plans for children and he replied by saying that the kids will come as part of the brand building.
See Also: Shakira Age, Husband, Kids, Family, Parents, Biography, Where Is She From?
Weight and Measurements
Despite being chubby, Ashley Graham does a lot of workouts to ensure she is fit. The supermodel is 5 feet 9 inches tall and her body weight is 91 kg. To burn some calories as well as make her body as flexible as possible, the supermodel recently engaged herself in some good indoor and outdoor exercises. Her bust, waist, and hip measurements are 42, 30, and 46 inches, respectively.