Balayage is a hair color technique whereby highlights (dye or lightener) are hand-painted or swept on the surface of the hair randomly. It starts midshaft and then becomes denser as it moves down the random section of hair to the ends.
Balayage hair is definitely not going anywhere anytime soon. The hair highlighting technique has been thoroughly accepted by both stylists and women who prefer its soft, natural touches of color to the stiffer dip-dye technique. Though sometimes confused with traditional highlights, balayage has a subtle distinction from it. The hand-painted hair color technique normally leaves the hair with a natural sun-kissed glowing effect.
Little wonder, the hair trend has taken the red carpet by storm as it's quite popular with celebrities; from Beyoncé to Julia Roberts and Jennifer Lawrence. For women who love to wear effortlessly cool hair swept with warm or bright colors, herein are the best examples of expertly pulled off balayage highlights for blonde, red, caramel, and any other hair type. But before that, let's explore what balayage is all about.
What is Balayage?
Pronounced as "baa-lee-ahge", the hair color technique – balayage is derived from the French word "balayer" which means to sweep. It made an early appearance in the 1970s, at a Paris-based salon called Carita salon. During such time, it was known as 'Balayage à Coton' because the hair highlighting technique was achieved using strips of cotton which separated the colored hair from the untouched hair.
To achieve a lighter look all around, some women prefer to apply balayage throughout their hair and the style is called full balayage.
There is also partial or mini balayage which involves hand painting of hair color at the upper area of the hair or around the face. Unlike other hair lightening methods (traditional highlights, lowlights, babylights, and ombre), balayage is considered an effortlessly cool hair trend by many women as it seamlessly blends with natural hair color. Also, it is easy to maintain and doesn't require frequent maintenance of inevitable root grow out.
42 Balayage Hair Colors You Should Try
It is noteworthy that every balayage has different techniques as the placement, gradation, and color depend on natural hair color, length, and texture. Thus, it is personalized for each client and here are gorgeous styles you can choose from.
1. Blonde Balayage on Brown Hair
When next you visit a salon, forget the foils and go for balayage highlights as the trending hair color technique will leave your hair looking sun beached. You can be sure to show off your girly side with this blonde balayage on brown hair rocked here by actress Jennifer Lawrence. The brown root not only gives the style a cut depth but makes its maintenance quite easy when it grows out.
2. Strawberry Blonde Balayage
For ladies that wish to wear red hair color but don't know which balayage highlights would fit, this strawberry blonde when swept skillfully through your mane will be the perfect transition color. It's a unique natural balayage highlight that will flatter your hair features without overpowering them. The warm tone captures a fabulous creamy red shade that is hard to resist.
3. Caramel Balayage
There are as many varieties as you can imagine for brunette balayage. Thus, caramel tone is a worthy choice for those that prefer wearing a natural look of sun-faded locks on their brunette hair. The warm shades will breathe new life into your ordinary hair. Interestingly, the style doesn't require a routine 6-week touch-up as the big and loose waves can be kept fresh with a wide barrel curling iron.
4. Brown Hair Balayage
This hair color choice will be particularly amazing on ladies with warm complexions. Though balayage highlights for brown hair can be performed with some bright color tones, this style looks gorgeous without any tones involved. The mane is obviously made to drive someone crazy and the long luscious waves are very eye-catching.
5. Balayage on Dark or Black Hair
Sometimes applying balayage on black hair may need some special attention if you are going for a lighter highlight. However, going for a subtle lift with chocolate brown balayage makes it easier and will definitely make a statement. Though there is a tendency for hair coloring to damage your locks, you can keep it well-nourished with lightweight oils and lotions. This will create healthy and shiny waves.
6. Brunette Balayage
Nowadays that balayage hair is very popular, you can go with a few hints of caramel tones on your brunette hair to create a brighter complexion. Most women with deep brunette hair normally become hesitant about rocking balayage since most highlights are usually done with light blonde shades. But this hair color choice is particularly flattering for brunettes.
7. Red Balayage on a Medium Dark Hair
Desiring to throw in some bangs for an added depth and texture, this red balayage on dark hair is a classic combo. Despite not being your natural hair color, it produces a subtle natural look. The casual feeling can be further accentuated by combining a balayage highlight with a medium hair cut as seen here.
8. Platinum Blonde Balayage
For a more noticeable effect, you can add heavier highlights such as platinum blonde balayage to your hair. This helps to brighten up your skin tone and can be worn with waves or straight. You can be sure to create varying dramatic effects with your hair just as you want them with balayage highlights.
9. Purple Balayage
As evidenced by this striking purple hair color choice, dark hair and balayage highlights complement each other amazingly. With the dark base being combined with purple highlights, the style has a dazzling appearance and it's absolutely fuss-free. The well-patterned waves also help to keep the look fresh and modern. This hair color choice will be ideal for women with dark skin tones.
10. Ash Brown Balayage
It's no longer news that every hair works with a balayage highlight. Hence, it's advisable to go with the right hue that complements your natural locks and equally creates the vibe you so much desire. So, if you are looking for a hair color that is a little more understated or subdued and would perfectly lighten up your look, then this ash brown balayage would be the best fit.
11. Copper Balayage
You can rock subtle highlights and still be stylish as balayage hair doesn't have to be overly noticeable or dramatic. This copper balayage creates stunning shades that can be rocked for casual outings or even social functions. The waves further give the balayage hairstyle some fullness and the lighter ends create a sun-kissed appearance.
12. Pink Balayage On Light Brown Hair
To pop up your light chocolate hair, you can go with this bright pink balayage highlight. The hair lightening will brighten up your skin tone and equally create a dazzling effect. Having a tone gap between highlights and base color has a tendency of gaining huge admiration.
13. Rose Gold Balayage
Everyone will request the contact of your hairstylist after seeing this perfect blend of rose gold balayage swept skillfully through your mane. Light brown base with the rose gold combo is often a superb choice for girls with naturally light locks. The gorgeous style can be worn straight or with waves.
14. Silver Balayage on Dark Hair
These days, silver balayage is a fashionable trend for women of all ages. The hair color looks exceptionally stunning and classy with darker roots that gradually blend out into lighter tips. To get a more classic look, the coloring technique can be done with both grey and lilac tones. The balayage hairstyle even looks more natural when the hair grows out.
15. Burgundy Balayage
As burgundy hair isn't going anywhere, you can enhance a millennial grunge wardrobe with a burgundy full balayage hairstyle. The hair color really pops and the shades bring richness to the glossy waves. The style can be worn by ladies of any skin color, but those with dark skin tones are considered the perfect fit.
16. Auburn Balayage
For some time, auburn hair has been trendy among young women and is not showing any signs of slowing down. This balayage highlight perfectly combines with the brown hair base, giving the natural locks a fresh and cool appearance that is not over-the-top.
17. Dirty Blonde Balayage
Whether you want to show off your base color or experiment with full subtle balayage highlights, dirty blonde hair color is an exquisite example of subtle balayage that every lady can try out. By slightly brightening the hair tips, as well as the face-framing strands, you can get a more modern and charming look.
18. Brown Balayage On Black Hair
Different shades of brown highlights look so amazing on dark-haired women and this balayage technique really gives it an over-the-top appearance. To keep things natural on your black hair, it is ideal to request chocolate, honey-colored, or dark brown streaks.
19. Balayage with Striking Color Blend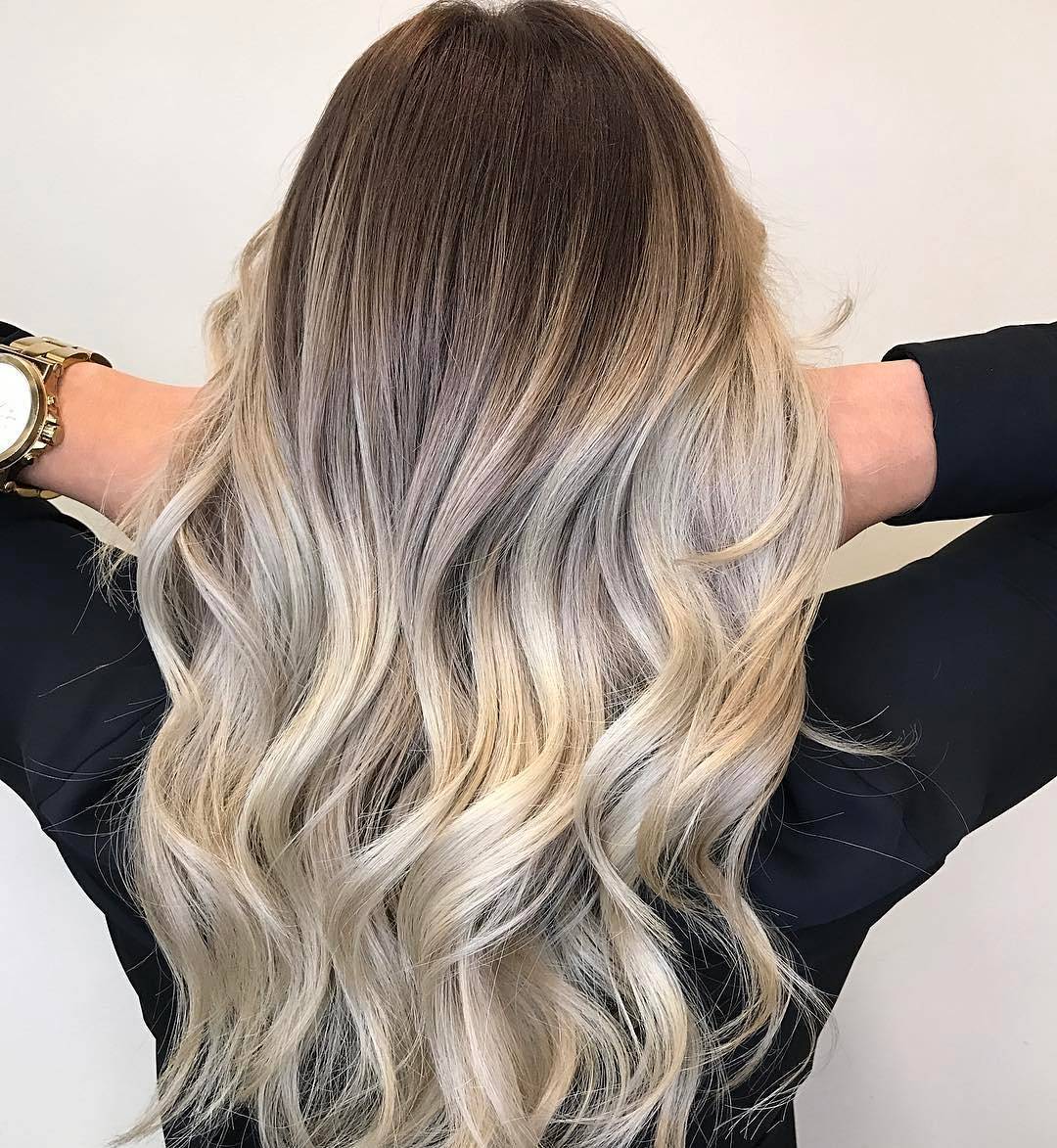 The balayage hairstyle is famous for its ability to give hair an exquisite appearance while keeping it tastefully natural. The darker roots in this example complement the wild, sculpted waves which have been given a stunning blonde balayage finish that makes them extra radiant.
20. Radiant Balayage Bob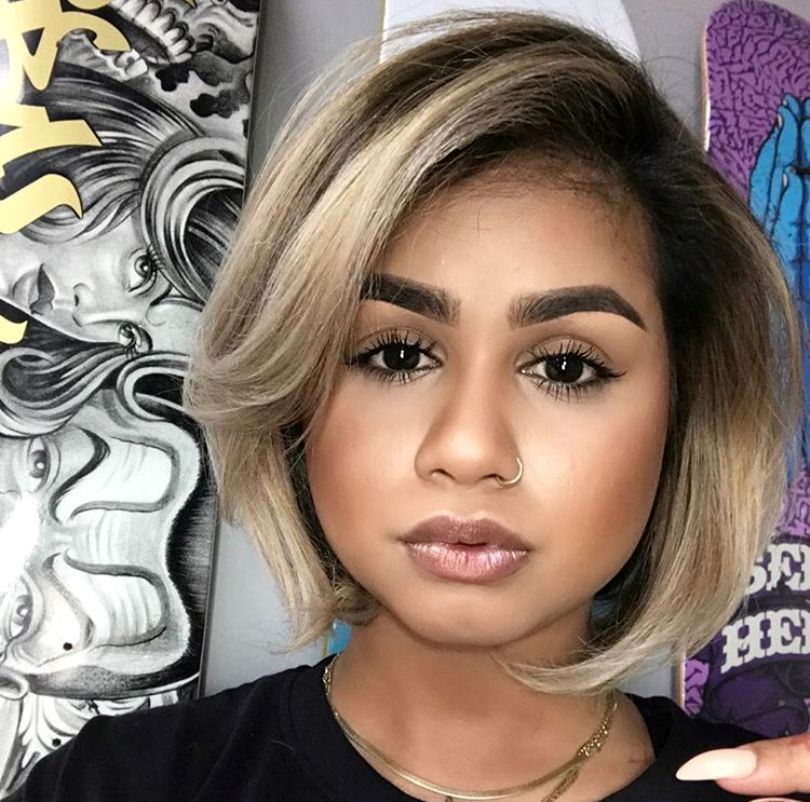 This short balayage hairstyle is a testament that you can do anything to your hair no matter how long or short it is. The carefully darkened roots give it a beautiful color gradient that tapers from black to a radiant golden blonde towards the ends of the curled-in locks.
21. Simple Beach Blonde Balayage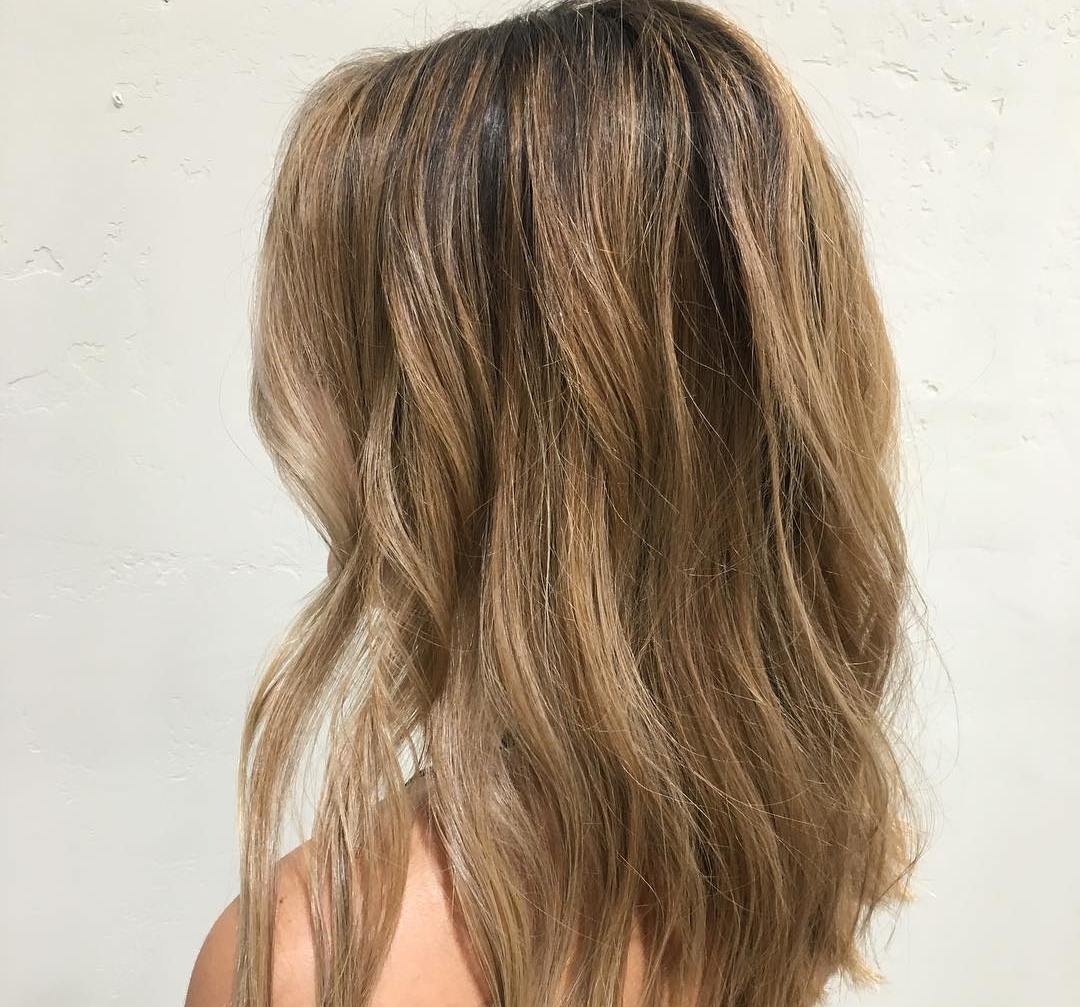 Beautifully dyed to resemble sun-bleached locks, this beach blonde hairstyle exudes fun and flirtiness. The perfectly textured and slightly tousled locks finish off the gorgeous hairdo amazingly.
22. Radiant Blonde Locks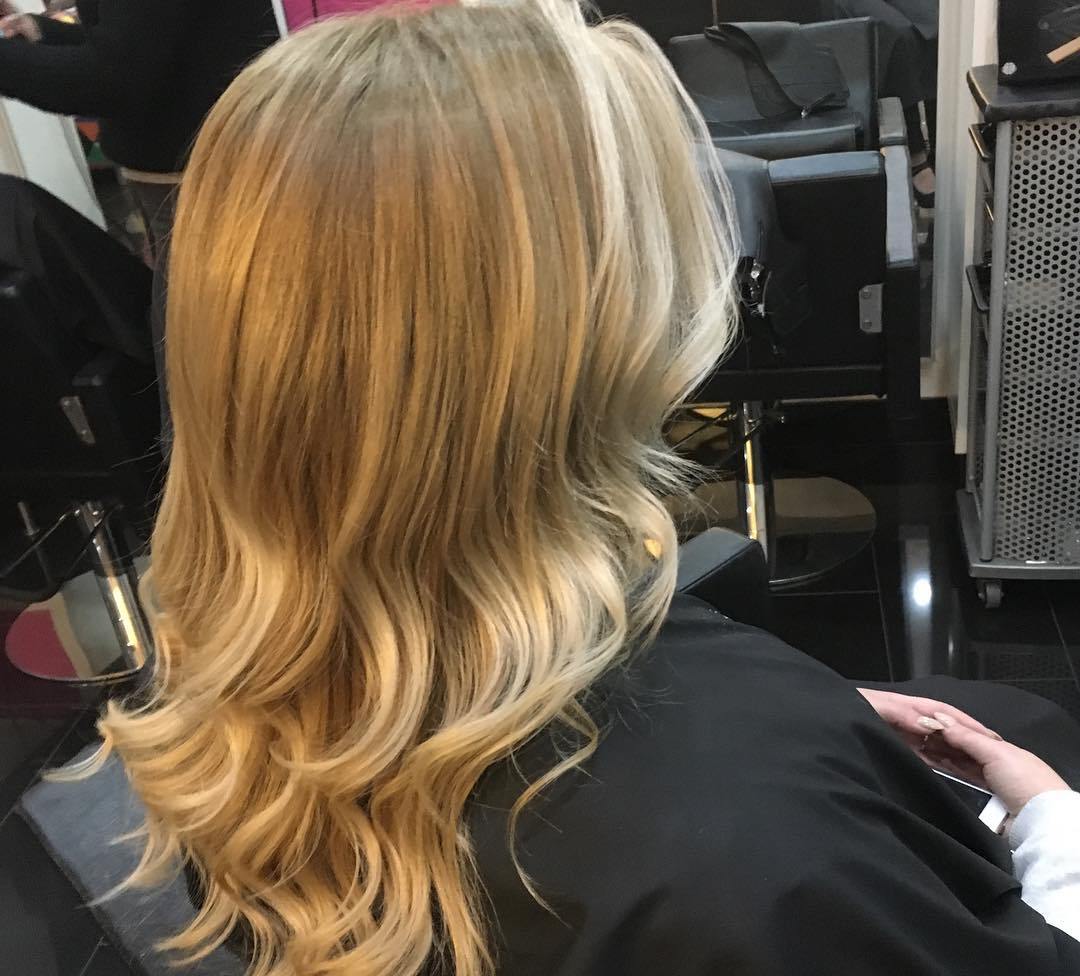 This is one of the simpler versions you can go for. The wavy golden locks have been given just enough color to make them ravishingly radiant while enhancing the depth and volume of the hair.
23. Balayage Blonde Streaks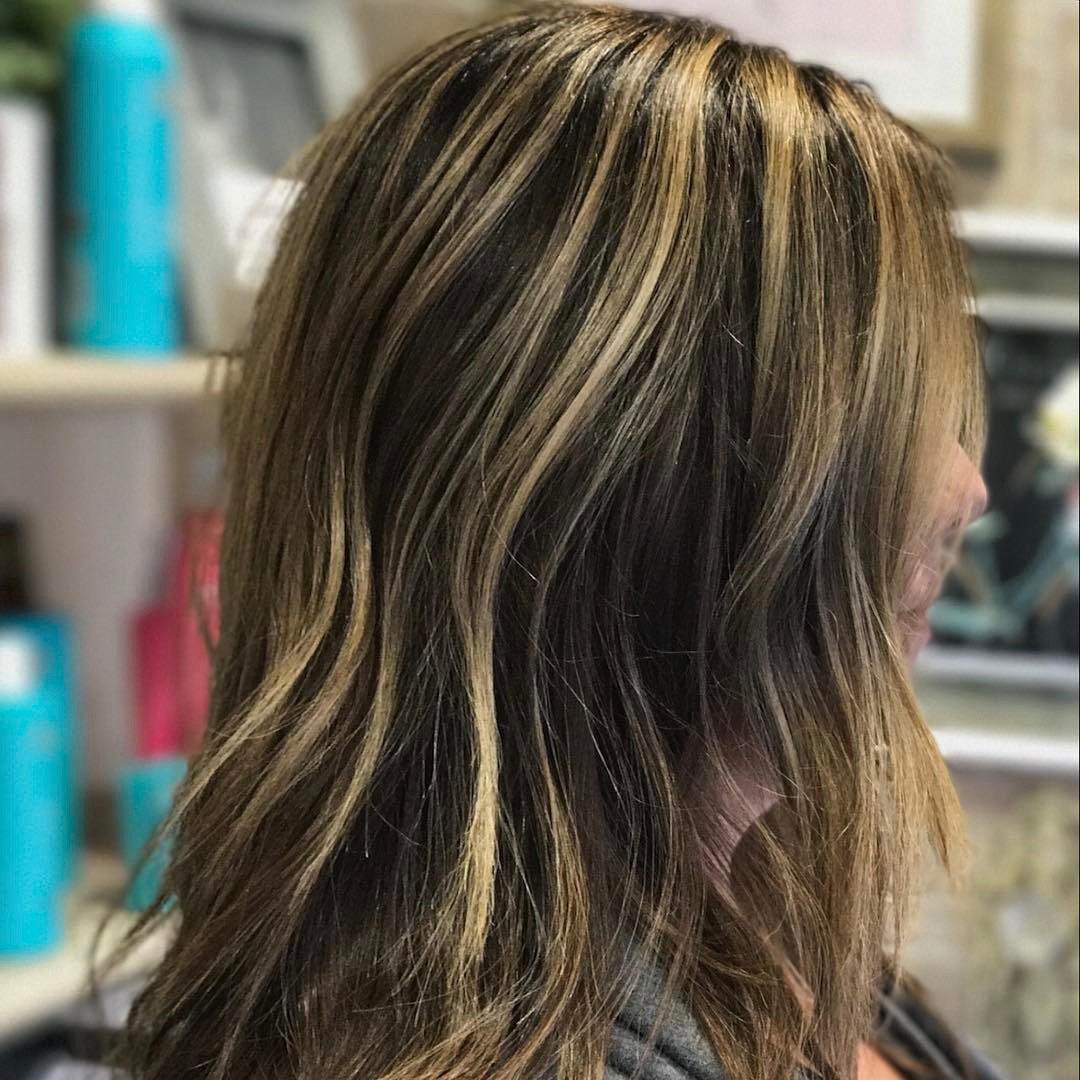 If you're dealing with black or brown hair, you can always throw on a bit of blonde to give it a more exciting and colorful finish. Streaking the blonde highlights in the dark hair makes it more interesting while maintaining its simple natural appearance.
24. Tousled Red Balayage Bob
If you're working with shorter lengths, unleash the full volume of your hair by going for some volume-enhancing curls and textures. The expertly infused shade of copper red comes in with a stylish color gradient which leaves the roots darker and the bouncy curls beautifully light and radiant.
25. Rich Red Balayage Hair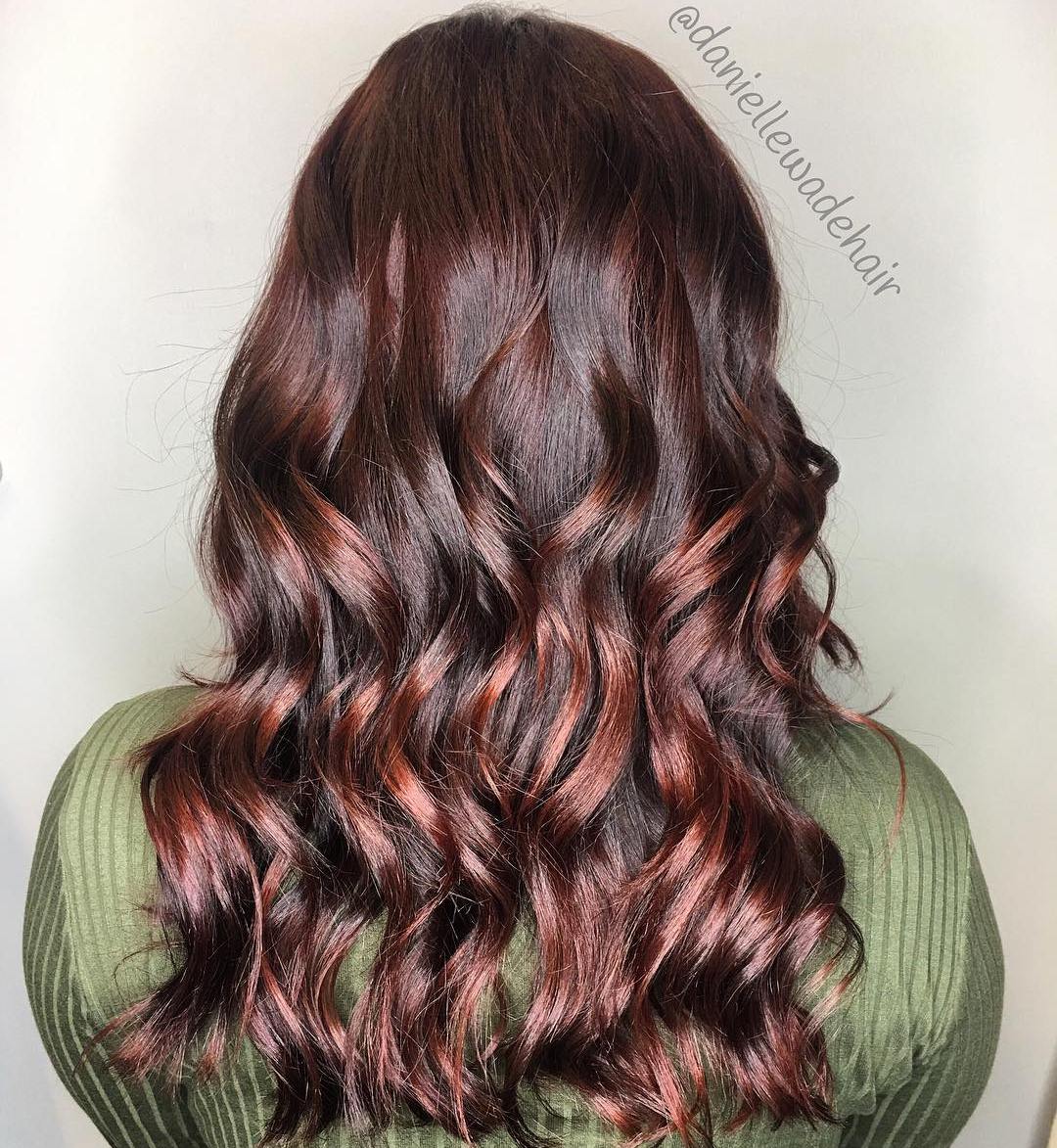 This spectacular hairstyle shows off the glossy red curls in the best way possible using soft touches of balayage. The color has been spread out evenly throughout the hair to retain its naturalness and used to highlight the curly locks magnificently.
26. Honey Blonde Highlight On Brown Balayage Hair
Rocked by music icon, Beyoncé, honey blonde highlight on brown balayage hair creates a super bold appearance. It is a perfect style for those who like their total look to be a little edgy as it is a combination of two hair color techniques. Going with easy waves, the style helps to keep things somewhat soft and feminine. It can be rocked by women of any skin color.
27. Fiery Red Balayage Hair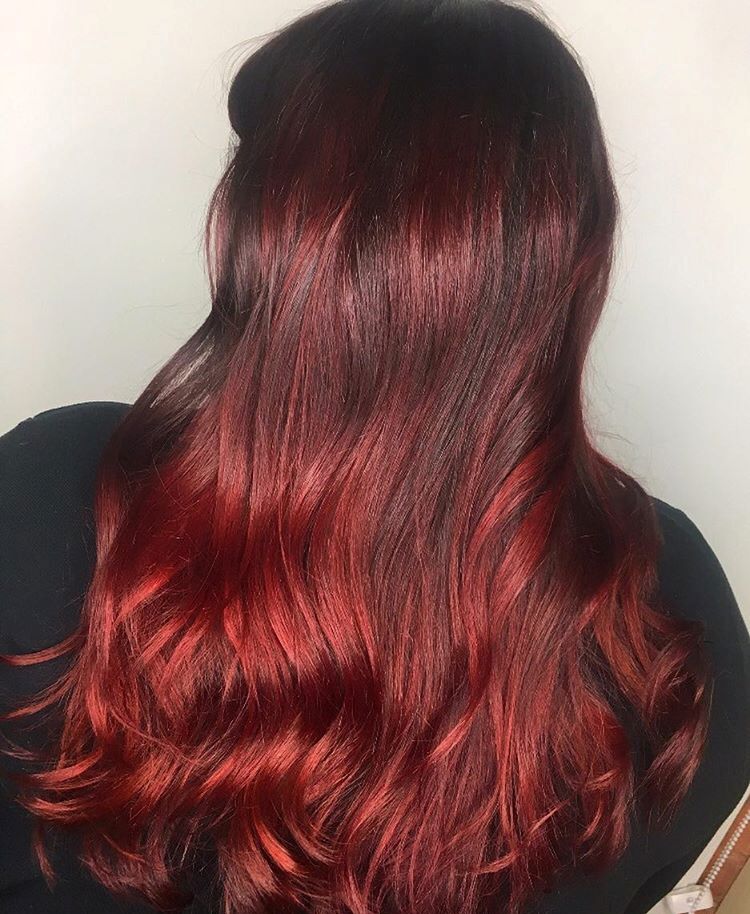 Brighter shades of red look even more appealing on dark hair. Brunettes can go for this hairdo which features two contrasting sections of hair: the dark roots and the vividly red flowing locks which have been joined by a smooth color gradient.
28. Red Gold and Copper Hair Color Blend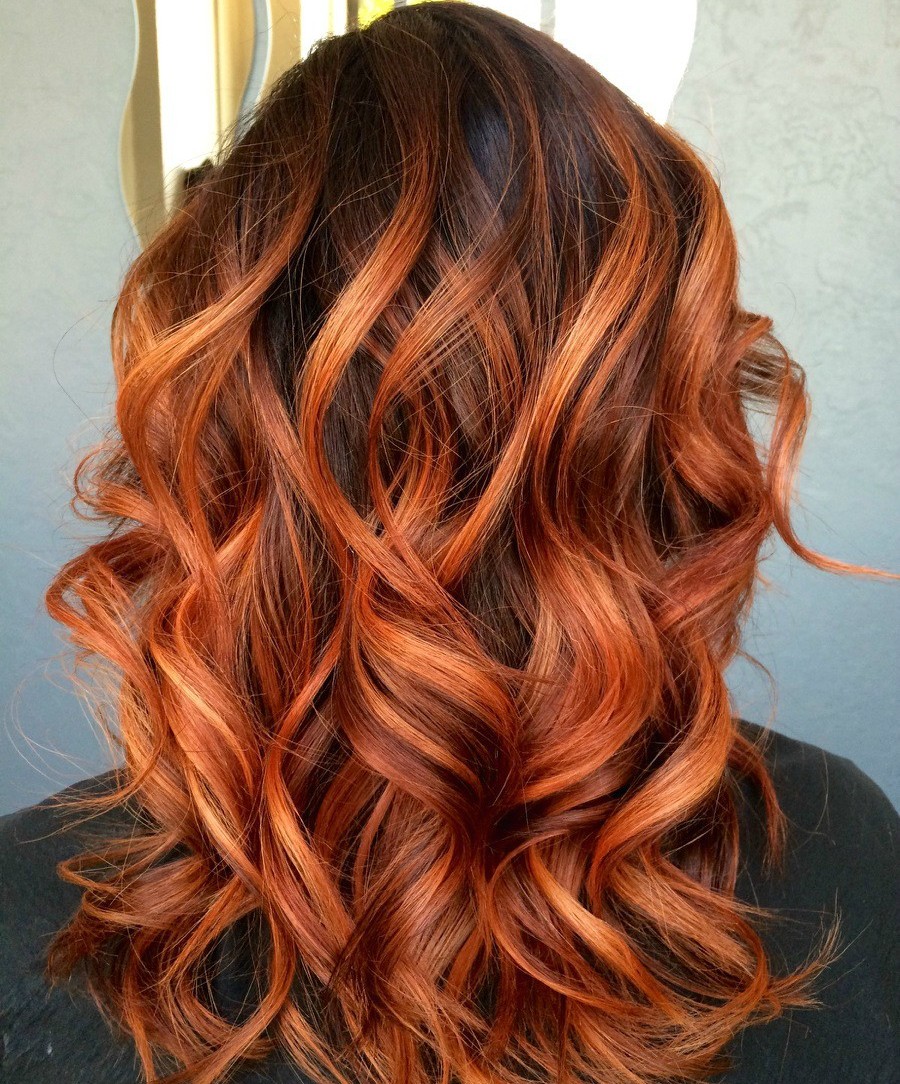 This expertly combined trio of colors results in one of the most tasteful red-haired looks for hair of any length. Touches of gold and copper give the hair a magical radiance while dark roots are a great way to hide growth.
29. Auburn Balayage Highlights on Brown Hair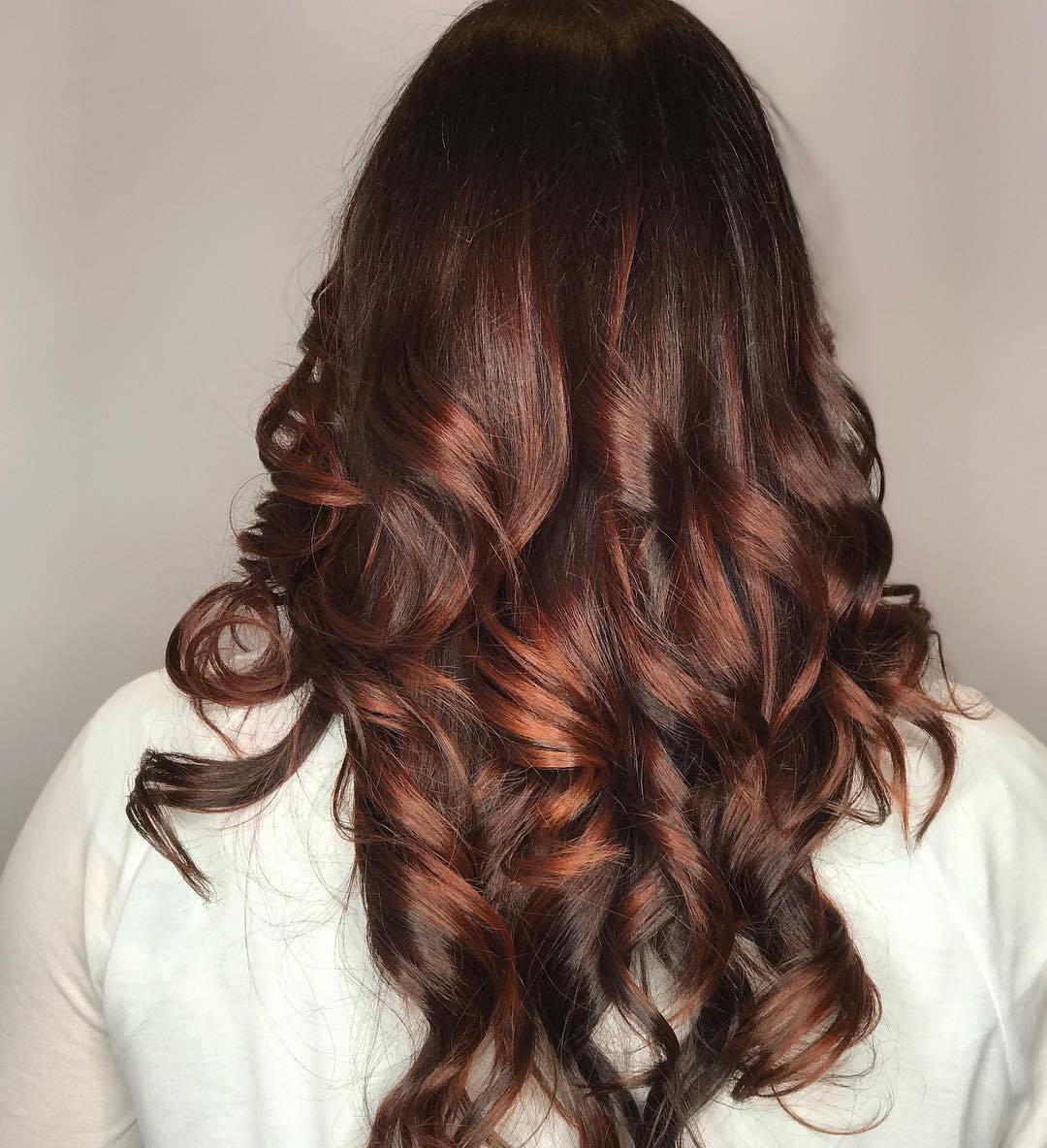 Even the subtlest of touches of color on dark hair can create amazing results. The gorgeous curls in this example exude beauty and radiance which has been brought on by giving them slight touches of auburn around the edges.
30. Sunny Caramel Balayage Highlights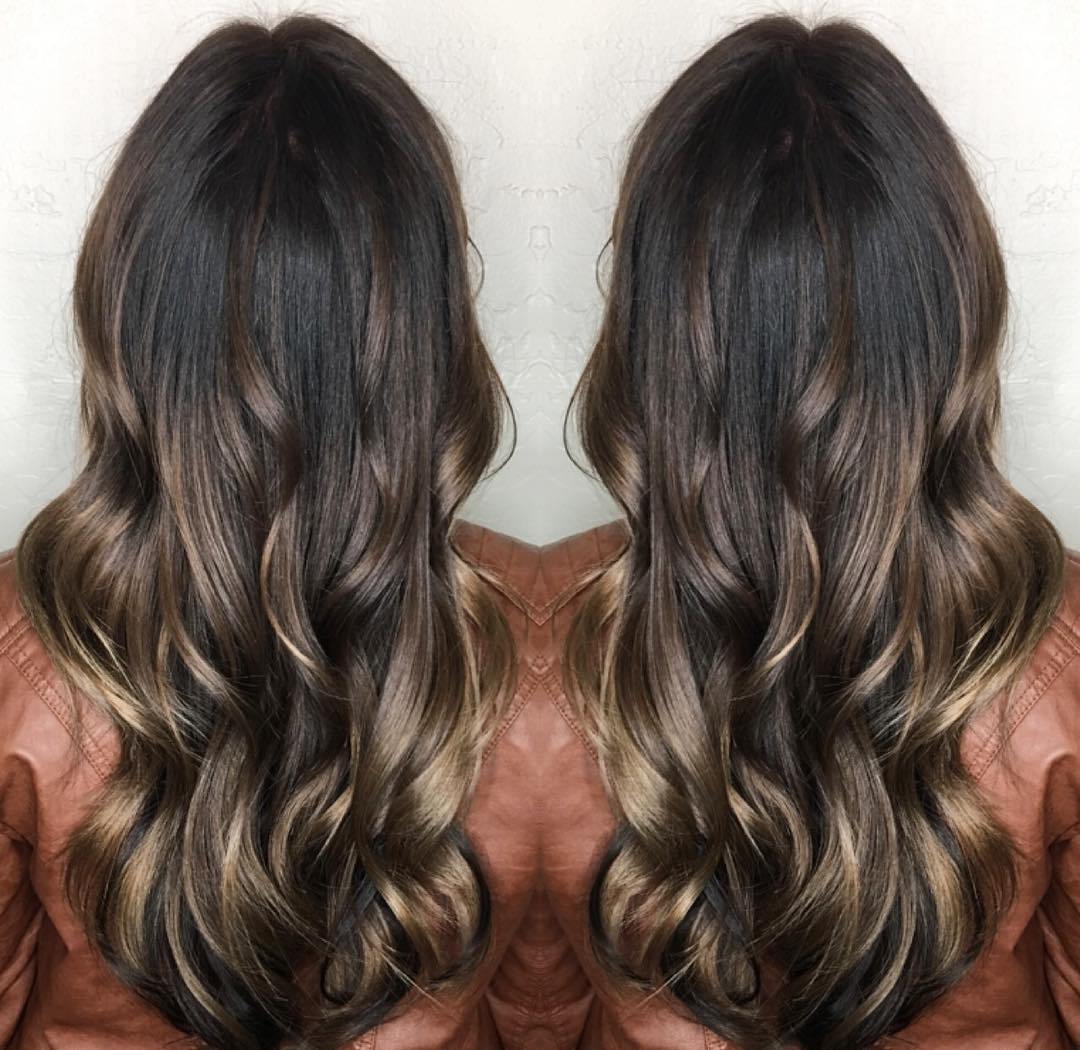 Caramel highlights on pitch-black hair can only result in a look that is as unique as it is irresistibly radiant. While the roots have been left dark, the caramel highlights have been used around the edges of the curls to enhance the volume and the radiance of the hair.
31. Caramel Balayage Color Blend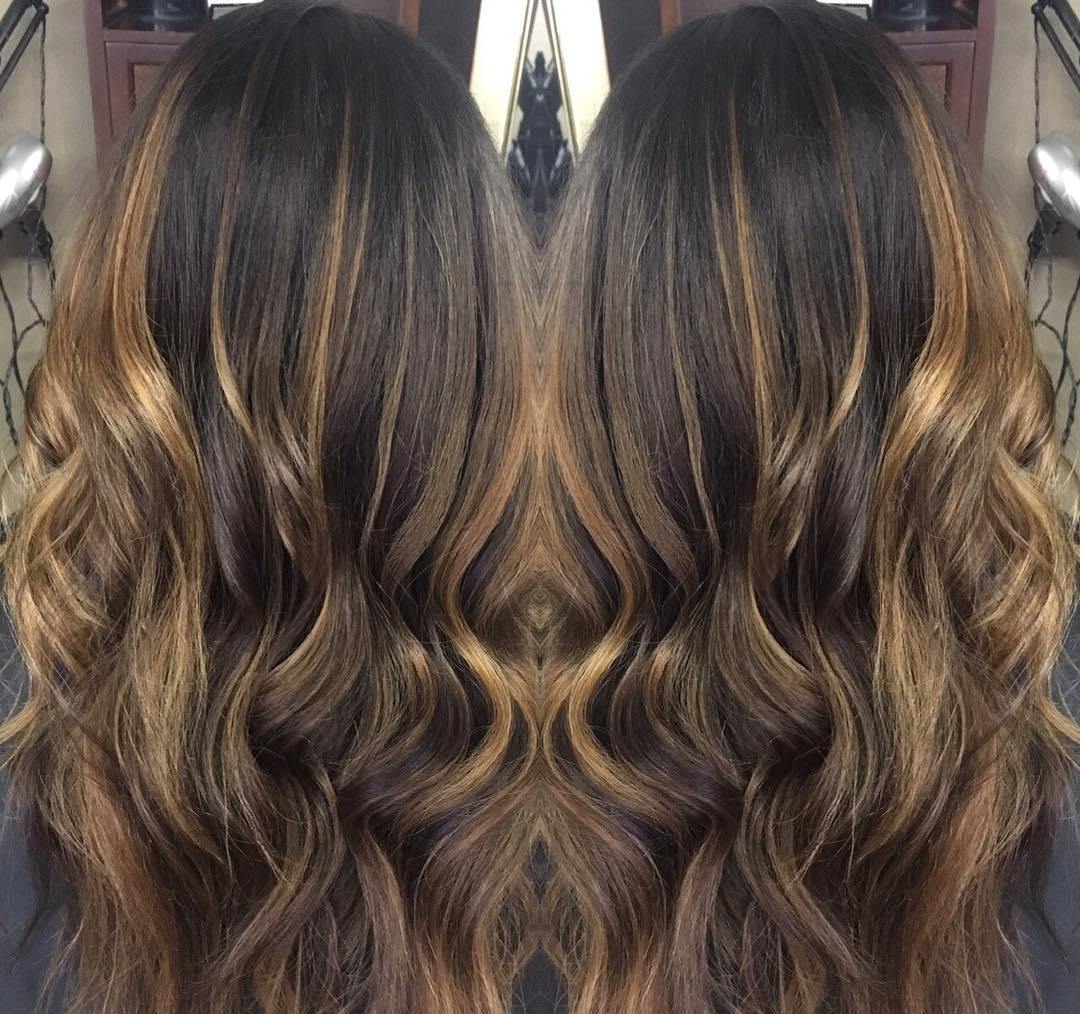 The key to a fantastic balayage hairstyle is knowing exactly how to blend the color with your natural hair color. Superbly achieved in this example, the tasteful streaks of caramel complement and highlight the dark hair amazingly.
32. Smooth Caramel Highlights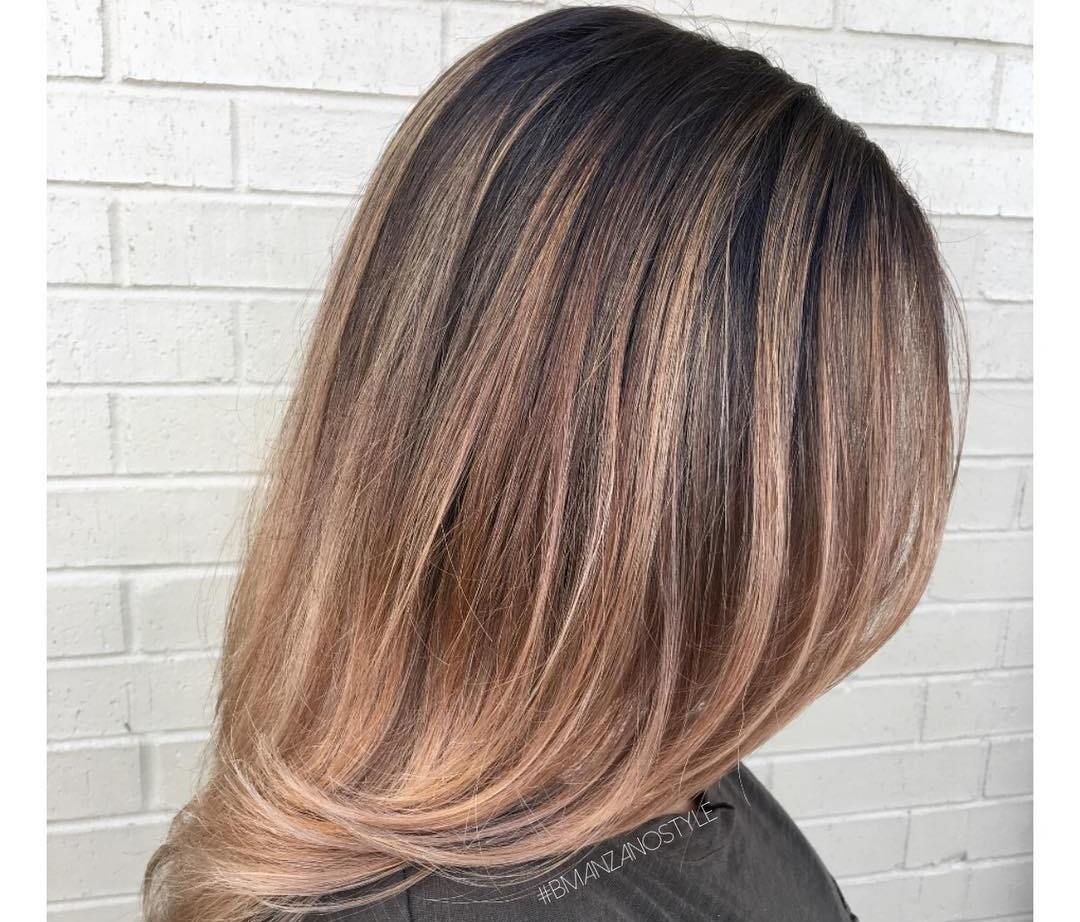 Straight hair will look just as amazing with the right kind of caramel touches. Smoothly blended with the hair using soft and gradual balayage touches, the streaks of color help to keep the two tones looking more natural.
33. Harmonious Caramel Hair Color Blend
Bright caramel streaks do wonders to the long, flowing curls in this example. Besides bringing them to life, they have also been used to enhance the volume and the depth of the body for a lusher look.
34. Mild Caramel Color Highlights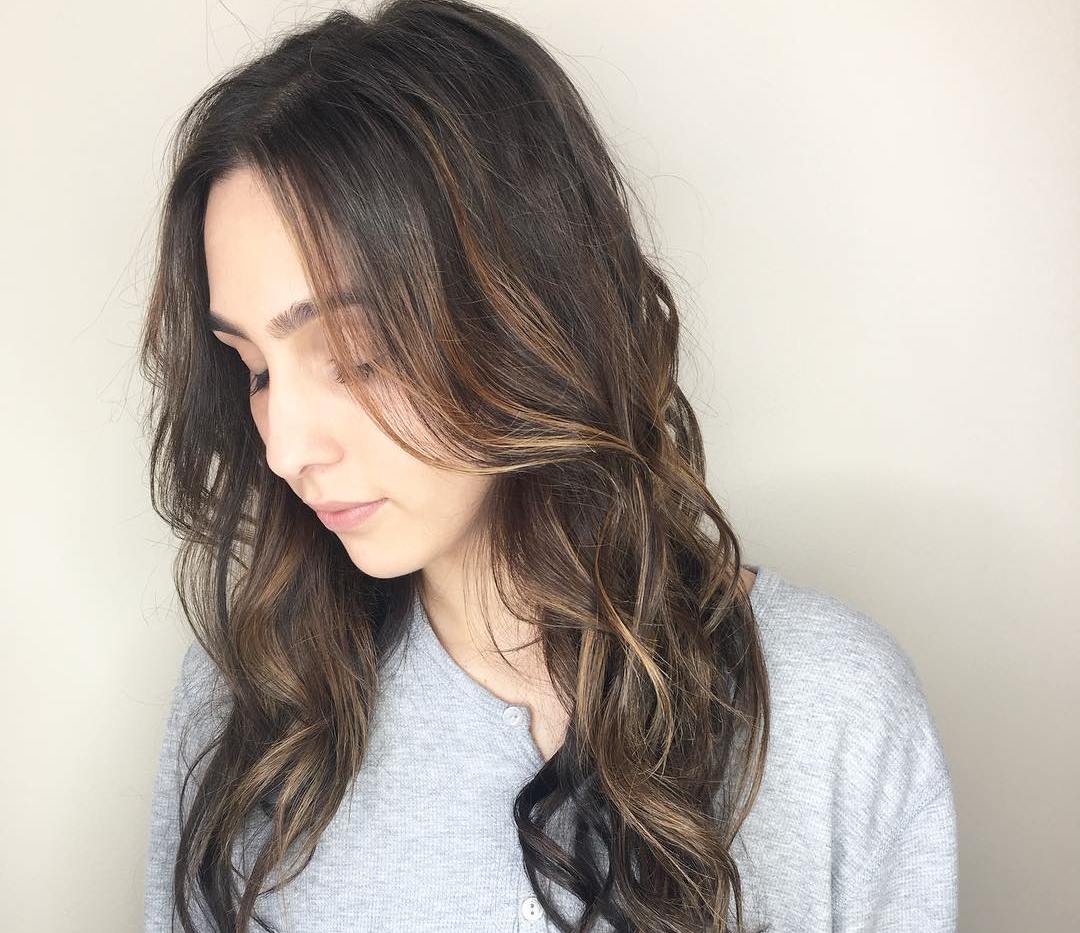 When it comes to color, sometimes less is more. This beautifully executed caramel hairstyle uses just a few randomly placed streaks of color to bring the black tangled curls to life in spectacular fashion.
35. Ashly Silver Balayage on Dark Hair
Possibly a prime example of balayage hair that does suit everyone, this ashly silver tone on dark hair when perfectly hand painted is a sweet combo loved by many young women. However, there is a high contrast between the two tones. Thus, the services of a skilled colorist are well needed for the seamless blending of both into each other.
36. Dark Auburn Balayage Hair
For ladies who wish to change up their looks but don't want a completely new hairdo, this dark auburn balayage hairstyle worn by actress Julia Robert is a good choice. The full balayage style will help freshen up your hair, giving it a modern look. It will also keep things somewhat toned down as the hair color can be in tune with varying skin complexions and equally fit different face types.
37. Golden Highlights on Brown Balayage Hair
You can achieve a perfect glow on your hair by adding golden highlights to brown balayage. The result is usually remarkable and the beautiful center part with waves cascading down around the shoulders is a great idea for a date night or special outings. The balayage hairstyle seems to fit those with oval faces.
38. Copper and Caramel Balayage Highlights
These balayage highlights produce lovely shades to admire. The trick to achieving this is to blend high contrast colors using transition hues such as copper and caramel seen in this example. It will definitely create shades that best suit your skin undertone and face type as well.
39. Light Brown Balayage Bob
On many occasions, subtle balayage highlights have proved to be a stylish match to a brown base. A subtle contrast of brown highlights on brown hair is always cute and the bob style adds more dimension to the hair. This is a great style to rock if you are looking to add some vibes to your locks and not make it over the top.
40. Metallic Blonde Balayage Hair
Desiring to try something different with a noticeable effect on your long hair? Then try metallic bronde balayage highlights. Not only does it give a sophisticated look, but it's a great way to try a statement color that will make you stand out from the rest.
41. Caramel Balayage On Dark Brown Hair
This caramel balayage on dark brown hair looks stunning. It breaks up the thick brown hair and illuminates it with streaks that add dimension and volume to the hair. Besides caramel tone, hints of amber and rose gold are usually flattering on brown or black hair as it also produces striking transition shade seen in this example.
42. Multi-Colored Balayage
With gorgeous color blends that show off a collage of shades, multi-colored balayage creates different tones that look super charming. Giving the style a wavy finish truly makes it a masterpiece and is perfect for special occasions. This balayage style will always make you look your best.
What Is The Difference Between Balayage And Highlights?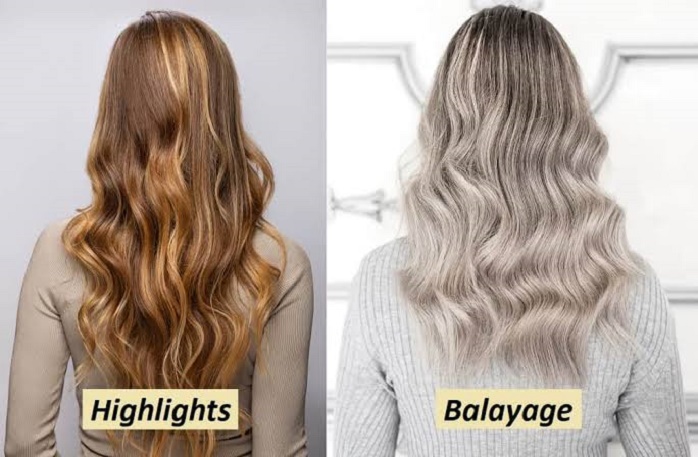 Though both balayage and traditional highlights are hair color techniques, they are differentiated by the processes involved and the results achieved at the end of the process. While balayage highlights are achieved by hand painting techniques, traditional highlights involve the use of aluminum foils to lighten the hair from the root to the tip to achieve a more intense lightening effect. Their differences are further highlighted in the table below:
| | |
| --- | --- |
| Balayage | Highlights |
| Hand-painted on the surface of random sections of hair | Aluminum foil is used to wrap precise strands of hair from root to tip |
| Seamlessly blends into natural hair color | Produces a pronounced contrast between the lightened strands and the hair base color |
| With lightening becoming gradually denser while moving down, the tips of the hair are the lightest | Strands of hair are evenly saturated from root to tip |
| No need to maintain obvious root growth, thus, it can be worn for months without needing a touch-up | It requires a frequent touch up to combat obvious root growth |
| Lasts for three to six months | Lasts only for a couple of weeks as root color will become obvious |
| Produces a sun-kissed glowing effect | Produces a more structured pattern of lightened hair |
How Much Does Balayage Cost?
The cost of the modern form of hair highlights differs based on some factors namely, the expertise of the hairstylist, salon location, the length of hair, and the technique involved in the style of balayage selected by the client (full or partial balayage). The price list is as follows:
Short hair balayage: $70+
Partial or mini balayage: $150 – $200
Full balayage: $250 – $500
Full head highlights: $60 – $150
Also, there are other types of hair lightening techniques with varying prices. They include:
Babylights ($50 – $200) – Babylights are super thin highlights that look more like a child's natural highlights. It creates a super subtle, sun-kissed result.
Lowlights ($50 -$100+) – This hair color technique makes use of colors darker than base hair color to achieve complexity in the tone of the hair.
Ombre ($100 – $200+) – This highlighting technique produces two-toned looks which are darker at the roots and fade to a lighter color at the ends, creating a dramatic finish.
How Long Does Balayage Take?
Before applying the hair color technique to the hair, a stylist first examines the condition of the hair to determine how long the balayage highlights will take. To get a beautiful balayage hair that gives your locks natural depth and dimension, it can take a stylist a minimum of 45 minutes and a maximum of 5 hours.
This is because shorter hair takes less time while longer hair takes a longer time. Also, the number of highlights clients select influences the timing as a simple few hair lightening can take about 45 minutes whereas layered balayage highlights can take about three to five hours.
Furthermore, the current condition of the hair affects the duration. For instance, If a traditional highlight was done on the hair, the stylist will first need to blend the hair color with a customized root tinting which corrects the sharp contrasting line in the hair produced by root grow out before sweeping colors down the hair.
Conclusion
Balayage still remains the most popular cool hair to rock any time, any day. The unique hand painting technique brings to the table – hair that looks like a work of art, full of dimension with super gorgeous color blends.
However, it's not as easy as it looks as the hair colorist must be very skillful, having a sense of hair movement and texture. Balayage highlights that look the most random have proven to be the ones with the most natural-looking results.