Contrary to popular beliefs, our sweats don't actually produce body odours (BO) Rather, BOs are caused by the activities of bacteria in our armpits/underarms acting on sugar and protein present in human sweats. These bacteria act on our sweats and in the course of their activity, BO's are produced as by-products of their metabolic breakdown of human sweat. At this point, we all stand a very good chance of having dampness and sweat stains in the underarms of our clothes with their accompanying unavoidable odour. The extent of sweats and body odour produced by individuals vary to a very large extent based on gender, the individual's biological makeup, nature of work, exercise routine, general lifestyle, etc. While these differences abound, women share the common desire to significantly control the level of perspiration their body produces by using recommended antiperspirant for women and remain shower fresh all day long. This gives rise to the question: What is the Best Antiperspirant for Women?
Antiperspirants are made mainly with Aluminium salts, as this salt works by forming a gelatinous plug that stops our sweat glands from producing more sweats, thus preventing more perspiration from seeping out of the skin. Without sweats, bacteria will have no sugar and protein to act on – hence no body odour will be produced.
In order to find the best antiperspirant for women you have to go through lots and lots of products in the market, both the good, not so good and bad product categories. Each of these products has been manufactured having the consumers purchasing power (money) in mind. Various products, therefore, come with various price tags with further promises of outperforming a competing product with one or more properties and/or features.
However, the most important consideration to be made for any penny or dollar spent is an absolute value for the money's worth of the product/s being purchased. Having this at the back of our mind, we came up with a well-researched list of 'Best Antiperspirant For Women'. The likes of ZeroSweat Antiperspirant and Right Guard Xtreme Defense are among our top recommendations, while Secret Original Shower Fresh Scent, Secret Clinical Strength Deodorant and Antiperspirant, Lady Speed Stick Antiperspirant Deodorant and Degree Women Antiperspirant Deodorant are all good products we recommend as worth spending your money on. Rest assured, these products will prove valuable for the money spent in purchasing them as I have personally used each of these antiperspirants and attest to the fact that they will deliver exactly what their label says.
Best Antiperspirant For Women
Secret Original Shower Fresh Scent Antiperspirant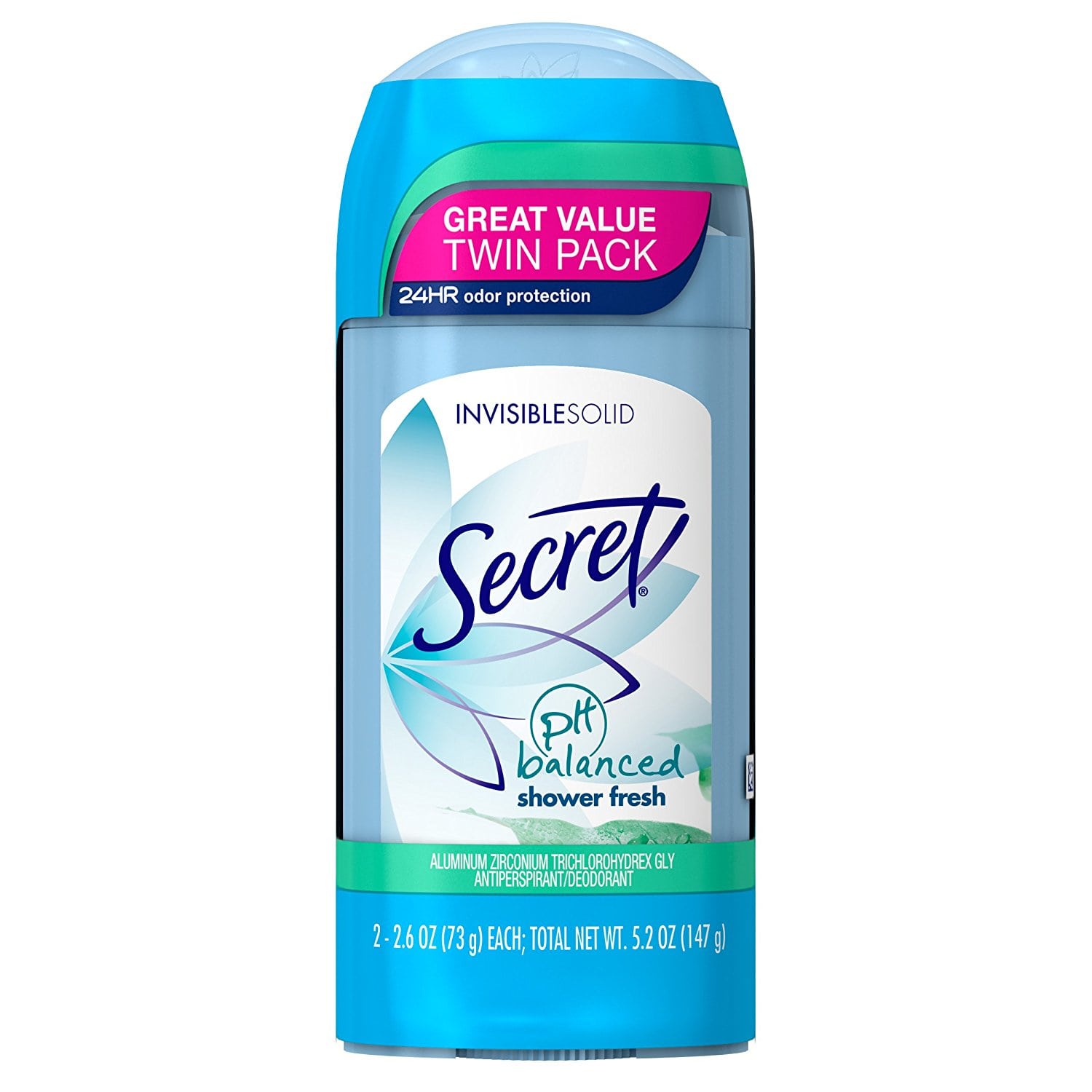 Secret original shower fresh scent for women comes with antiperspirant and deodorant properties. Its pH-balance protection formula will work with your body's natural chemistry to keep you dry, fresh, sweatless, shower fresh and confident all day long.
The active ingredients used to manufacture this product include Aluminum Zirconium Trichlorohydrex Gly.
Inactive Ingredients include Cyclopentasiloxane, Stearyl Alcohol, C12-15 Alkyl Benzoate, PPG-14 Butyl Ether, Hydrogenated Castor Oil, Petrolatum, Phenyl Trimethicone, Talc, Cyclodextrin, Fragrance, Mineral Oil, and Behenyl Alcohol.
Pros:
Cheap
Pack of 6
Mildly scented
Has deodorant
Shower fresh scent
24 hours odour protection
Cons:
Might leave white marks on clothes
Verdict:
Secret original shower fresh scent goes on dry and stays on dry. The product is ideal for women of all ages, especially those who would prefer an unscented or rather mildly scented antiperspirant, this is an ideal product that keeps you shower-fresh and confident all day long.
Secret Clinical Strength Deodorant and Antiperspirant for Women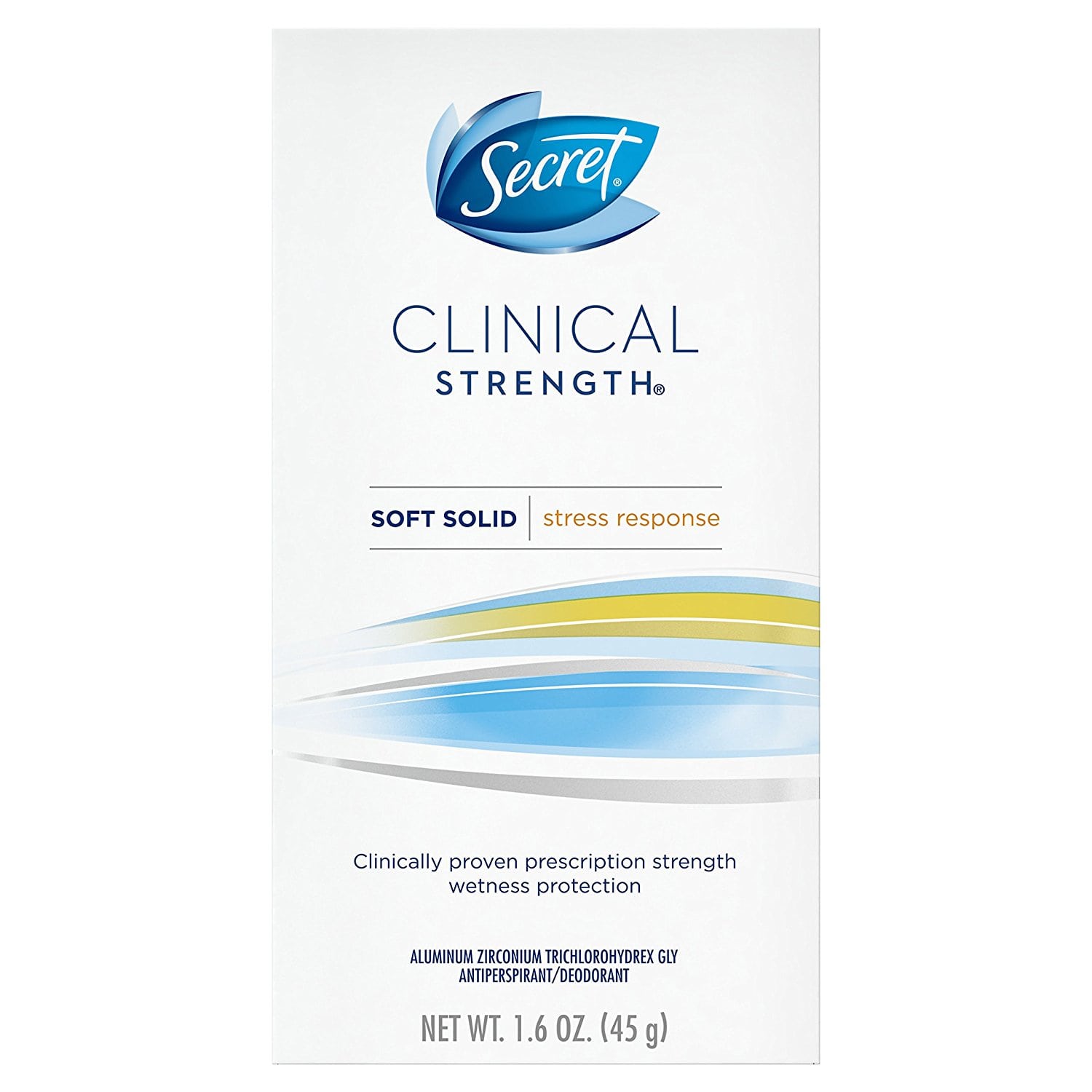 Are you having a low self-esteem due to uncontrollable underarm perspiration and its antecedent BO? Clinical strength deodorant comes to your rescue with 2X better sweat protection and 4X stress sweat protection capabilities. This keeps you fresh for 48 hours more than what most ordinary antiperspirants will promise you.
Clinical strength was formulated with the best skin-soothing conditioner to reduce irritation and soothe your dry, tender underarm during and after use. This extra value it delivers qualifies this product as undoubtedly one of the best antiperspirants made for women desirous of restoring their self-confidence.
The Active Ingredient used in Secret Clinical Strength Deodorant and antiperspirant for women include- Aluminum Zirconium Trichlorohydrex Gly 20%. For the best outcome in using this product, it is recommended you apply two clicks of Secret clinical to underarms at bedtime.
Pros:
Pack of 3
48 hours odour control
Sweat stress protection
48 hours perspiration control
Cons:
Stiff wheel during application
Verdict:
Research has shown that stress is another factor that causes sweating. In fact, stress sweat smells the worst because it comes from a different gland, causing more bacteria and more odour. Secret clinical strength antiperspirant was formulated to effectively tackle this stress sweat with 4X the strength of regular antiperspirants. This is the best antiperspirant for women guarding against stubborn sweating and BO on their most stressful days. Most men have also taken a liking to this product.
See Also: Top Facial Cleansing Brushes For Women Who Love Makeup 
ZeroSweat Antiperspirant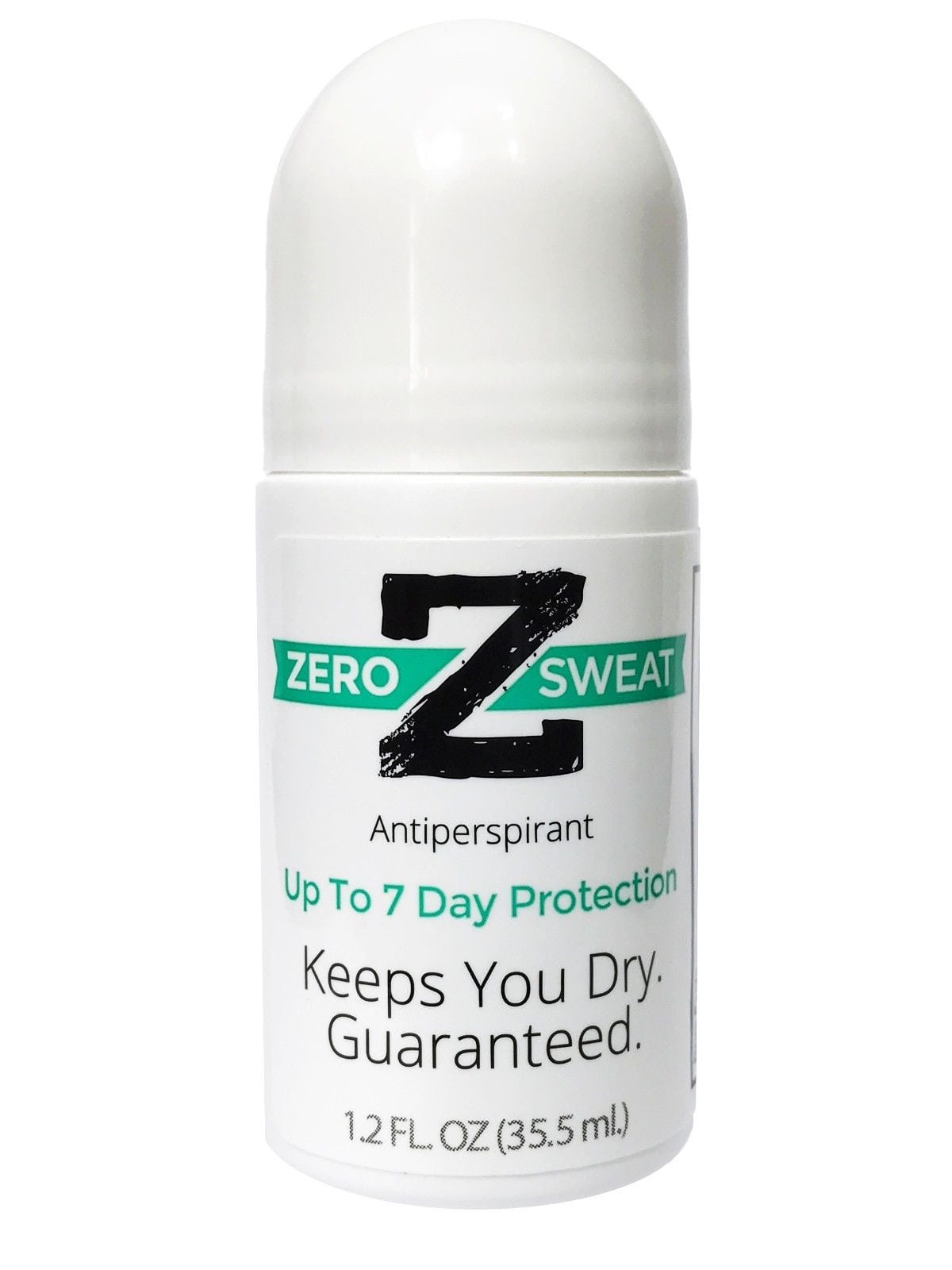 With an assurance to give you up to 7 days protection per-use, no mess on applying on your underarm and 1 bottle to last you up to 2 months after purchase. ZeroSweat antiperspirant is a product that encourages you to raise your arms confidently in public with no worries of showcasing pit stains or sweat marks let alone exuding body odour. Where other products fade away after few days of applications, ZeroSweat extra strong antiperspirant gives you extended protection and reduces sweat for up to 7 days per use. It is composed of 15% Aluminum Chloride.
Pros:
Lasts long per use

FDA compliant formula

Effectively treat hyperhidrosis
Needs application only at night
See Also: Best Perfumes For Women
Cons:
Harsh on sensitive skins
Never use after a shave
Verdict:
Most women might find it difficult to believe that an antiperspirant product that lasts 7 days actually exist. The truth is, yes it does exist and ZeroSweat antiperspirant is the first wonder product for your underarm. Have in mind though that this product is extremely powerful and might cause skin burns if not used as directed. Therefore use as instructed.
Degree for Women Antiperspirant & Deodorant Invisible Solid, Sheer Powder, 2.6-Ounce Stick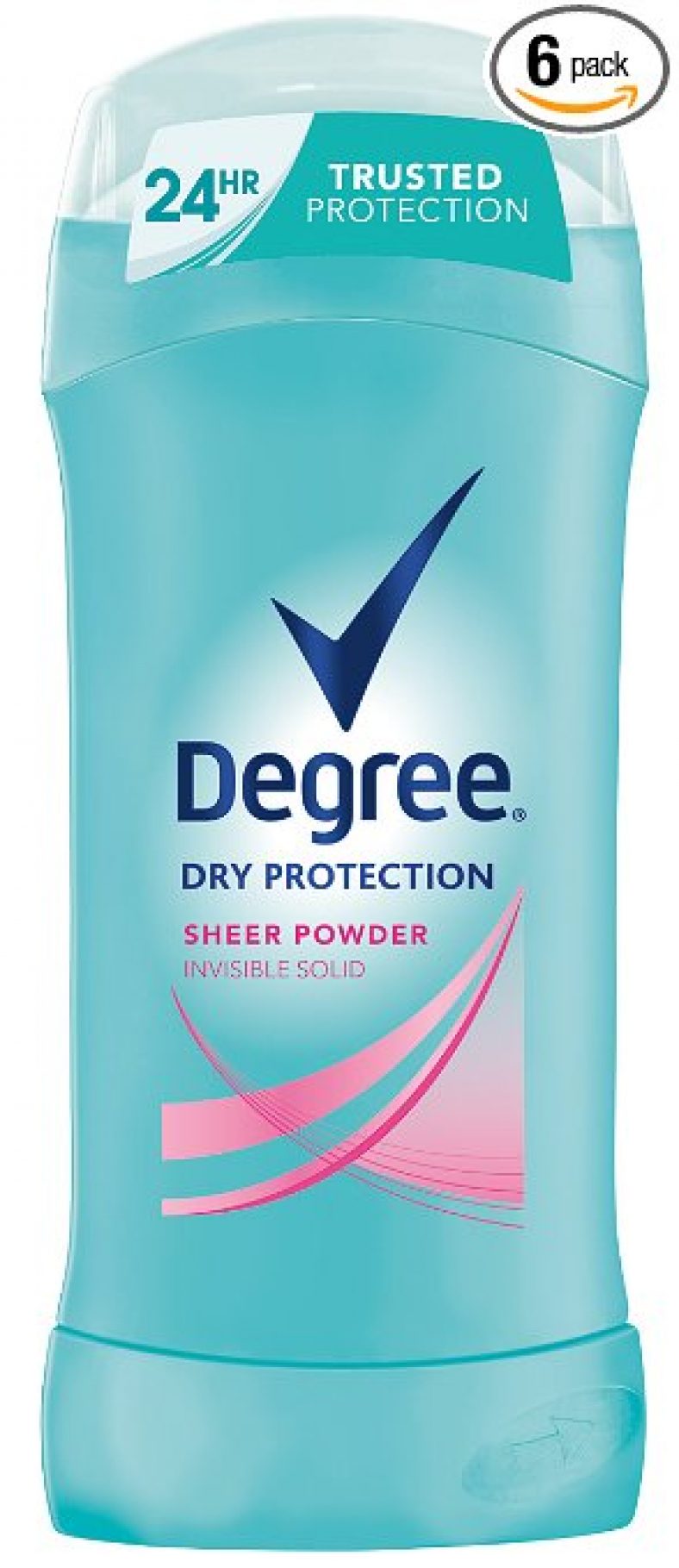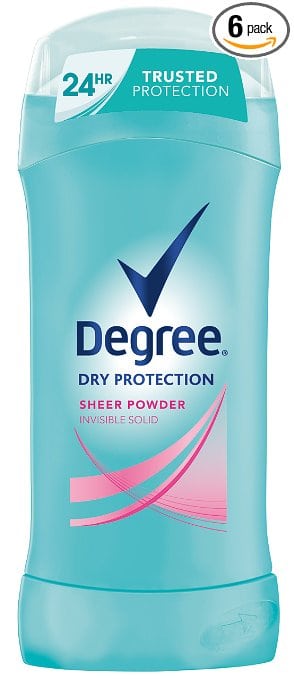 One of the best antiperspirants products for women is Degree Dry Protection Sheer Powder with 24 hours trusted protection.
It specifically reacts to your body's heat. Also, it is gentle on sensitive skin, while it works marvellously on hard skin and does not cause any irritation when and after being used.
Pros:
Pack of 6
Mild Scent
Lasts 24 hours
Non-irritant antiperspirant
Good odour and wetness protection
Cons:
Verdict:
With 24 hours sweat and odour control, degree for women dry protection antiperspirant deodorant was formulated to give you all day long protection. It is perfect for every day use and can be incorporated into your daily grooming routine with no adverse effects. This product is totally gentle on sensitive skins and you have no reason to worry about using it.
See Also: Deodorant For Women that Lasts All Day Long
Right Guard Xtreme Defense 5
This is a product that typically, on the outside, does not have a female appeal. However, women who have gone out of their way to use this product attest to how efficacious it is in effectively handling underarm sweats and body odour.
Right guard extreme antiperspirant works on your underarm in 5 targeted ways. It blocks sweat pores effectively, long-lasting odour protection, targets bacteria that cause odour, neutralizes odour with its PROTECTATE technology and gives you up to 48 hours dry underarm and 72 hours odour control.
The active ingredients used to formulate this product are perfectly healthy choice for women and will not have any adverse effect on your tender feminine skin: Cyclopentasiloxane, Stearyl Alcohol, Ppg-14 Butyl Ether, Hydrogenated Castor Oil, Fragrance, Myristyl Myristate, Silica Dimethyl Silylate, Zea Mays (Corn) Starch, Silica, Chromium Hydroxide Green, Yellow 5 Lake.
Pros:
Comes in packs of 6
Has an ice effect
Pleasant fragrance
Cons:
Unattractive feminine package
Verdict:
If you wouldn't mind the fact this product wasn't outrightly tagged an antiperspirant for women, and would further cope with its unfeminine packaging as you are primarily concerned with taking care of underarm sweats and BO. RightGuard Xtreme Defense 5 Antiperspirant is unarguably the best product to purchase right away.
Read: Best Running Shoes For Women
Lady Speed Stick Antiperspirant Deodorant for Women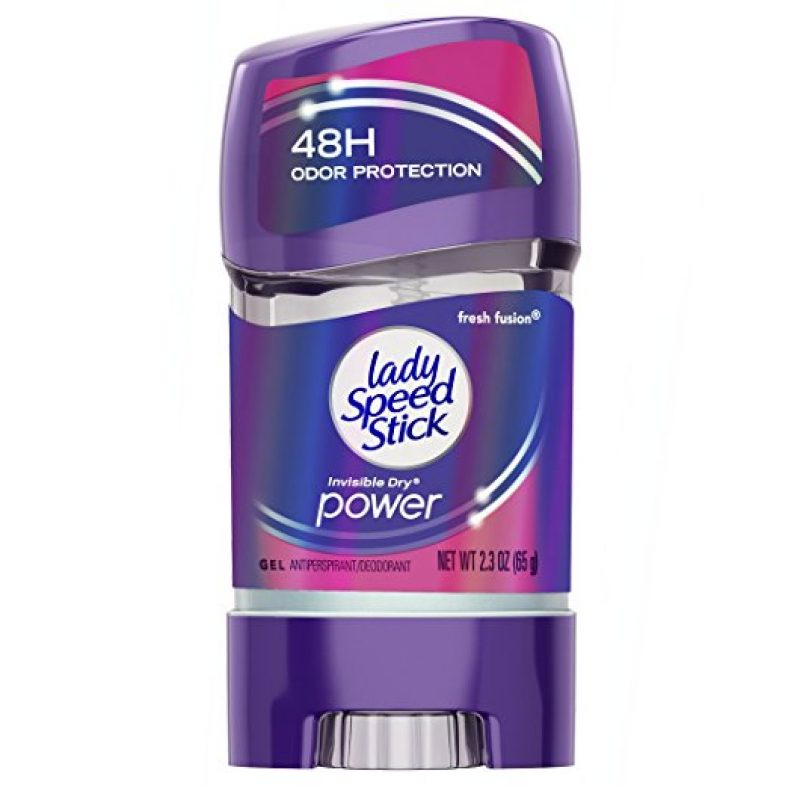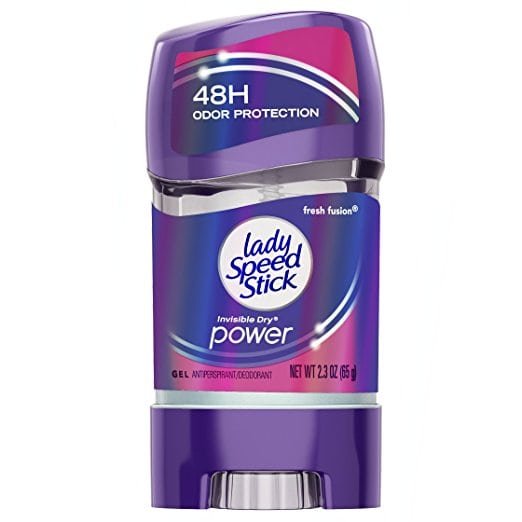 Lady speed stick antiperspirant deodorant is a product that uniquely keeps you fresh from morning until night. It contains micro-absorbers that neutralize body odours for as long as 48 hours. Lady speed comes as a gel with a pleasant fragrance that is not in anyway overwhelming. This product is mild and gentle on sensitive skin and it is ideal and for women who have had negative skin reactions to other antiperspirant products.
Pros:
Pack of 6
Very affordable
Doesn't leave any residue
Cons:
Verdict:
Coming at a price that is quite affordable in a pack of 6, Lady speed stick antiperspirant deodorant still provides value for money. It is not heavily scented and it is quite accepted as a favourite best antiperspirant for women. I particularly like its bold purple design.
Conclusion
If you have combatted persistent underarm sweating and stubborn body odour, look no further and make a purchase from my list of well researched best antiperspirant for women.
Don't Miss: Best Pore Minimizers for a Flawless Skin
The products listed here were mainly hand-picked based on personal experience having used the products more than once. Many other brands did not make this list for their obvious deficiency in one vital consideration or the other. Therefore the best antiperspirants for women listed here also come highly recommended among what you will find on the market.