If you always spend time at the gym building your muscles or engaging in harsh exercises, then you know how vital BCAAs (branched-chain amino acid supplements) are especially in terms of muscle strength.  But in case you still don't know, the series of amino acids which most of them posses, such as valine, leucine, and isoleucine help you avoid soreness, recover quickly from strenuous or harsh workouts as well as energizing you so you achieve your workout goals fast. And the troubling thing is that the amino acids are not naturally produced in the body using other amino acids. This means you have to ingest the supplements or certain kinds of food to provide them for the body. In this research, we bring you six best BCAA supplements for women in the fit family that can save the moment. They don't have to be digested like food so are great for use in the fitness industry. Also, the amino acids don't have to be processed by the liver and gut, which means they go straight to the blood and muscle cells to help with recovery and building.
Our roundup is based on a careful review carried out by a team of women who actually understand the connection between muscle building and BCAAs.
Besides our personal experiences, we also consulted different sports trainers who at one point have had to use Bcaas. With those considerations, formulas like Scivation Xtend BCAA, Natureganics Mega BCAAs, BPI sports BCAAs and three others on the list won our hearts for many cool reasons. First off, because they offer more than just muscle strengthening and building features by ensuring you stay hydrated during the routine. Secondly, they make your time at the gym worthwhile by helping you get results of your efforts at the gym. See list below
The Best BCAA For Women
BPI Sports Best  Branched Chain Amino Acid (BCAA) Formula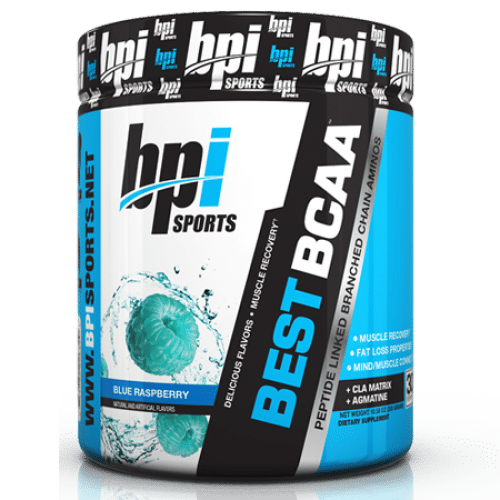 BPI sports muscle formula uses Oligopeptide-enzymatic technology which functions as a great transport vehicle for quicker and better absorption. The amino acid supplement features a bonded chain of three key amino acids including leucine, isoleucine and valine. These acids promote muscle building and strength by discouraging protein catabolism. It takes this action to protect and strengthen lean muscle mass. It also has Agmatine Sulfate – a compound that battles body pain and also increases the power or effect of painkiller taken when recovering from injury. Again, it has Conjugated Linoleic Acid that can help you easily lose fat while building your muscle. Thus, overall BPI sports is a formula that allows your body enjoy three key things; efficient metabolization, better bioactivity and faster recovery.
Pros:
Promotes muscle building
Strengthens  and helps in developing lean muscle
Gives you adequate energy for your effective workout time
It repairs muscles and reduces soreness.
It is clean and efficient
Enhances after workout recovery
It is affordable yet efficient
Enhances hydration
Has no sugar
Cons:
It is just a supplement so does not treat any illness.
Verdict
This is a supplement to help you achieve your fitness goals no matter how unconvincing they may seem. We think so based on how the formula helps you take on your goal with great intensity. It also boosts your endurance level which essentially increases your performance for quicker and lasting result. Plus we assure you the nice flavours it comes with will tease your taste buds.
Read Also: Best Hiking Boots For Women: Quit The Burden On Your Feet
Rich Piana 5% Nutrition BCAA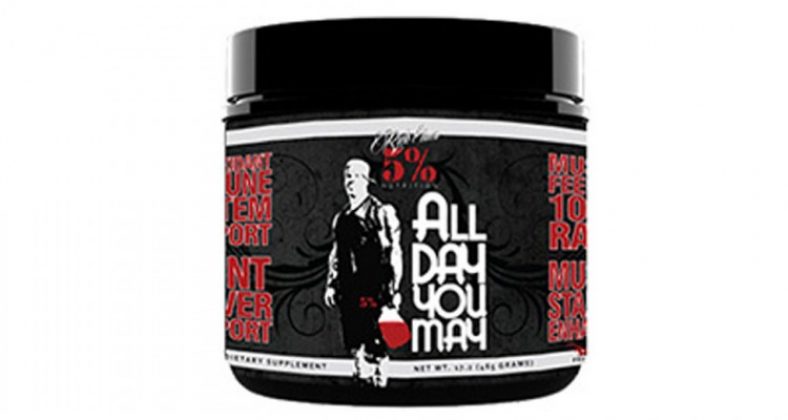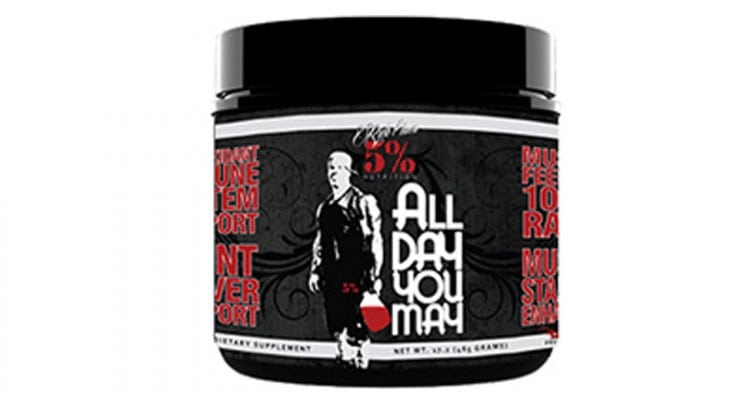 Rich Piana AllDAYUMAY supplement, for us, isn't made to serve as just a pre-workout formula but also a post-workout blend. The first thing we noticed about the supplement is the way it promotes energy levels, and total performance when taken before exercise. Between the exercise, we found that it keeps you hydrated and protect the muscle from soreness. As for post-workout recovery, it is a bliss and happens in a short time. So unlike many supplements in its category that fail to care for periods in between workouts, this Nutrition BCAA cares for you all day long.
Another cool thing about Rich Piana Bcaa is that it supplies additional nice amnio acids for more benefits. Among the amino acids is leucine which stimulates the muscle building and also L-Glutamine that aids muscle repair. Glutamine also ensures your body stays in positive nitrogen condition and in a consistent muscle building mode.  Additionally, the compound additionally keeps the body's immune system fully energized so that you stay strong throughout the routine. After an intense workout routine, you will have no need to worry about lost as the formula will help replenish the lost Glutamine in the body. What makes it stand out all the more is its anti-catabolic quality which is also very useful in maintaining muscle mass when dieting. In terms of how it tastes, Rich Piana AllDAYUMAY generally has different flavours you can choose from and fortunately, each of them tastes quite exciting.
Pros:
Promotes digestion
Helps to support healthy joint
Promotes optimal hydration
Offers additional amino acids for more result
Enhances muscle protein synthesis
It is in powder form but mixes perfectly
It boosts your energy
Helps you stay focus so you perform as anticipated during the routine.
Cons:
Not the cheapest on the list
Verdict
Overall we love this supplement because we think it provides a lot of value. It eliminates sluggish feelings but of course, won't make relaxation difficult. Plus It is a product you can trust when you need all day catering.
Read Also: Creative Stocking Stuffers For Kids
Optimum Nutrition BCAA Capsules
Optimum Nutrition BCAA Capsules make a whole lot of difference when it comes to reducing sores after a workout, improving body energy and overall performance during workouts. The capsules are best used either before or after an intense workout. When used before endurance (usually in the morning or 30 mins ahead of the time or after), the leucine, isoleucine and valine in the mix help in protecting the muscle. The compounds make protein synthesis more active after strength training which is vital for muscle building. They also posses anti-catabolic and anabolic tendencies which reduce muscle breakdown and encourages muscle building plus maintenance of the muscle mass. The formula comes in capsules with each serving supplying the body with 1000 mg of BCAAs in the preferred 2:1:1 ratio of the three amino acids it contains.
But we didn't like that it can only be taken rather than be mixed the way the first two (BPI sports BCAA and Rich Piana) are mixed. This is because most people would love to sip them at the gym instead of having to swallow down the capsule. The compensating factor, however, is that it can be taken with anything you prefer including favourite beverage or protein shake. Moreover, they are a lot easy to swallow. There is also a powder version you could get and that is if you really hate capsules; Optimum Nutrition BCAA 5000 powder instead. On the other hand, if you really don't care about the form they come in, just get the capsule and get to work immediately.
Pros:
Easy to swallow
Revives and restores muscle fast
Improves endurance level
Enhances body energy for cognitive function, alertness, and focus
Good value
Premium BCAA
Cons
Not everybody would prefer capsule BCAA
Verdict
This is an easy way to have BCAA, especially if taking capsules is your thing. The formula saves you from sores even after heavy or intense workouts. It is reasonably priced yet delivers value that can't be found in regular traditional BCAAs.
Cellucor Alpha BCAA Performance Aminos
Cellucor Alpha BCAA is one of the best investments you can make for your fitness and health. The formula has a nice ingredient profile offering up to 14 important amino acids that will cater to your muscle's every whim. The ingredients ensure you charge up your inner muscle strength so that recovery after a really tough workout will seem fun. Cellucor Alpha Bcaa uses 3x Leucine Matrix which is a combination of instantized L-Leucine, Leucine Nitrate and Leucine Peptides. The compounds altogether increase the degree to which the supplement promotes body's strength and fuel up your skeletal muscle glycogen stores while minimizing protein breakdown. On a side note, the ingredients are distributed in the preferred 2:1:1 ratio and this works just fine. Furthermore, Cellucor Alpha has taurine which serves as a vital nutrient for muscle growth.  200mg electrolytes, about 70mg each of phosphorus and potassium and little amounts of magnesium and sodium which are great for hydration. So you could see it does more than muscle maintenance, endurance, and recovery. We love that it comes in a powder form with extremely interesting flavours that are irresistible and can easily be mixed.
Pros:
Prevents muscle breakdown during recovery
Mixing is  fun and it has great taste
Helps you drink more water promoting healthy fluid balance in the body
Amazing recovery
Energizes you to endure strenuous exercise
It has zero carbs, sugar and calories
It is rated high for its effectiveness
Cons:
 It contains sucralose and acesulfame potassium (artificial sweeteners)
Verdict
If you are a die-hard long distance runner, this would be the best option for you. This is because the formula gives you sufficient energy to not quit halfway through the run and still fuel your recovery. It is a hydration, performance and recovery formula for all sports lovers. The manufacturer also won our hearts also for the product's warranty and money back policy. It, however, has some artificial sweeteners and with such components, concern exists over their safety. Note that they are FDA approved as authority suggested they are safe.
Read Also: Best Southwestern Beddings You'll Definitely Love
Natureganics Mega BCAA Supplement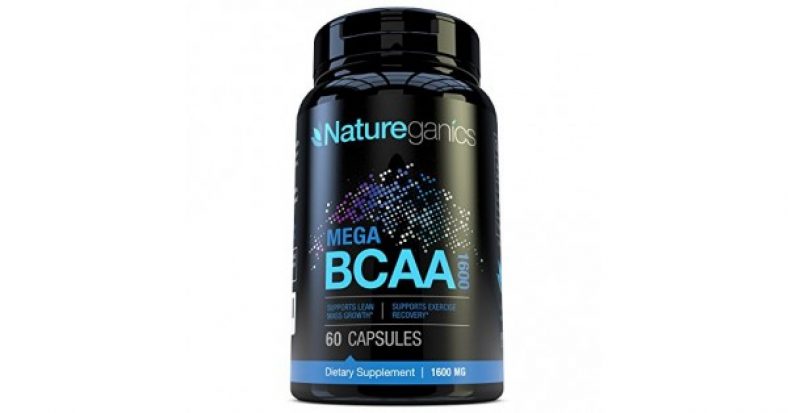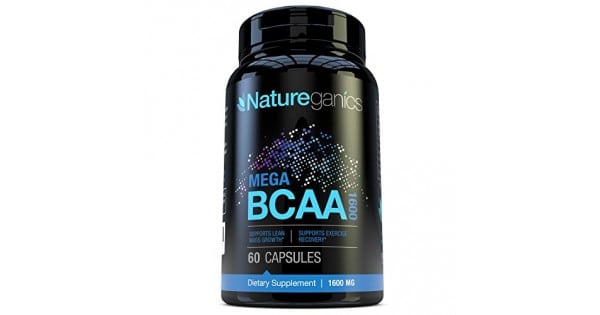 This is another reasonable way to get your muscle replenished and recovered after a gruelling exercise. One of the amazing things about this Natureganics Mega BCAA Supplements is their ability to allow natural muscle building. The formula keeps off the catabolic effect which usually happens after workouts while at the same time offer the nutritional building blocks necessary for muscle growth. It contains a reasonable blend of different ingredients and enhancers to offer additional benefits such as more energy boost and better weight loss. It also reduces soreness to enable you to achieve your workout goals.
Pros:
It burns fat and build energy
Stops muscle breakdown
Enhances muscle growth
Gives you the strength to endure during prolong exercise
Quick muscle recovery
Helps you perform better before the activity
Helps you recover a lot faster
It is Gluten free, Vegan and Non-GMO
Helps you stand strenuous exercises
Cons:
Not many like sports supplement in capsule form
Verdict
This may be worth getting if it suits your workout habits or goals you have set such as gaining more muscle or losing weight more effectively. We like that it sells at a reasonable price and yet performs the work.  However, it comes in a capsule which may not please those who hate to swallow capsule supplements.
Scivation Xtend BCAA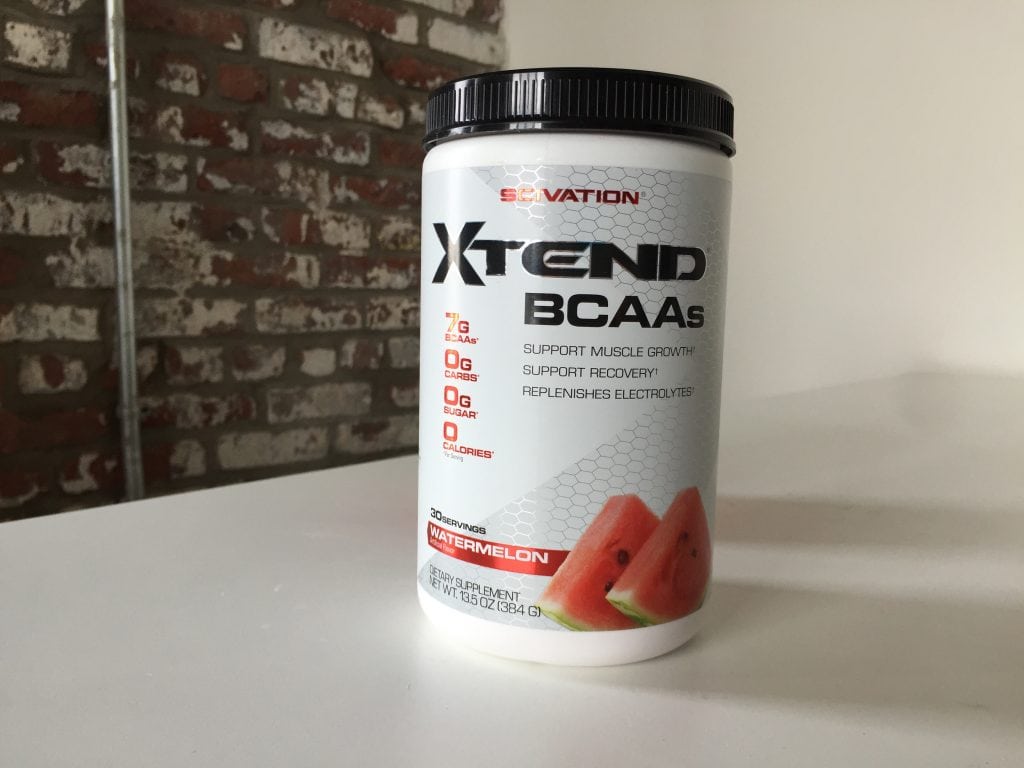 Scivation Xtend BCAA is a healthy supplement that features a number of organic compounds.that help in cutting down muscle fatigue, building muscle mass, muscle recovery and more. It is one of the most dietary supplements sold for plenty of reason. First off it has leucine which is available in a reasonable quantity (3.5g) for adequate muscle building. Again it has L-Glutamine and Citrulline Malate which supports muscle development as well as intracellular metabolism. It also encourages intra-workout catalyst plus plenty of electrolytes to induce hydration during exercise. Hydration is vital for optimal performance, so it means reaching whatever goal you've set.  It comes in powder form with different fascinating flavour. And the best part is its mixability which we found quite exciting without any crump.  It does not have sugar, carbohydrates and calories but it does have sucralose and acesulfame potassium (artificial sweeteners). These compounds have raised some concerns among health critics but they remain acceptable by FDA. With that said this is a great product when muscle strength matters to you.
Pros:
It discourages breaking down of muscle mass when dieting or working out
Allows faster muscle recovery which is great for constant heavy-lifting schedule
Allows for more intense exercise by reducing tiredness.
Fuels your muscle during workout
It mixes perfectly
It has nice flavours  and a great taste that will satisfy your taste buds
No calories, carbohydrates and sugar
Just like others on the list, it has not be reported to have caused any adverse side effect
It may improve blood  circulation and muscle retention
Cons:
Does not have stimulants, so may not be the best for pre-workout if you do really intense exercise.
Contains Sucralose sucralose and acesulfame potassium.
Verdict
This is an amazing product that is worth the investment. It is the best when you are looking for extra recovery after workouts.It doesn't cost much but gives you the result you need to stay healthy after a back-breaking routine.
Conclusion
We believe that this review has provided you with sufficient information you need. We all know that some supplement companies can be exorbitant with their claims regarding the efficiency of their products, the reason we ensured that we give you nothing but an unbiased report that will guide you in all sincerity.  We are certain these products will help your workout schedule by protecting and supporting your muscle. Some are available in capsules while others are scoopable. But whichever one you prefer, one thing that is guaranteed is matchless enjoyment. We hope you do have fun in your next exercise working with these brands!