Blackheads are dark spots on the skin that is usually caused by an oxidized build-up of sebum or oily secretion in a hair follicle which the skin produces naturally. These seemingly tiny facial marks usually make most women feel self-conscious about their appearance. And in a bid to change this, most women have come in contact with many products promising to clean off these impurities; from scrubs to cleansers and masks that stick to our faces. But some of these products rather than remove these marks, make them seem worse, leading to excess oil secretion and opened-out pores. That's why, if you must extract, you need to use harmless and fun masks such as Pure Body Naturals Dead Sea Mud Mask or tools like Channy Blackhead Remover. You can also check out below for other noteworthy best blackhead remover tools and masks for getting rid of your blackheads which have been proven to work.
The Best Blackhead Removers
Elizavecca Milky Mask Blackhead Remover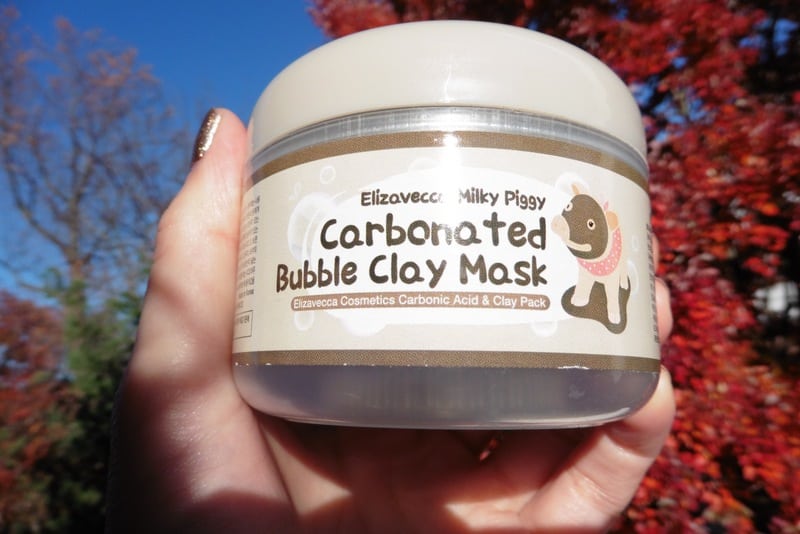 Elizavecca Milky mask comes as a pore mask and a carbonated mask. It is a powerful pore treatment brimming with ingredients like charcoal powder, Green Tea, Collagen and Pomegranate extracts. The blend doesn't just exfoliate dead cells but also cleans pores while supplying nutrients deep into the skin. The formula gets you ready for the day with a tighter, evened out complexion. Once applied on the face, it begins to fizz, bubble and foam up for a brighter and smoother result. Also, the excessive sebum-control helps curb future clogging. You will just have to bear the feeling from the bubbling which can be tickling for some people, although it is not too much to be dealt with.  For us, the mask is basically the best choice when you have a really oily skin. Keep in mind that wash-off cleansers or masks like this don't have anti-ageing properties nor are they cleansers which bring us to recommending buying alongside Elizavecca Milky Piggy Kangsi Pack Wrinkle care Deep Cleansing Mask and Elizavecca Hell Pore Control Hyaluronic acid Serum. The items all together will provide you with transformative experiences.
Pros:
Excellent at clearing out clogged up pores
It is perfect for all kinds of skins especially oily and sensitive skin
Delivers amazing result.
It will leave your skin clean and better
No breakouts
It comes with a towel for easy application
No reports of adverse effects
 Cons:
Not the best mask for dry skin
Can be ticklish when applied
It requires a little more effort to wash off the face.
Verdict:
Elizavecca Milky mask cleans the face without making it excessively dry or tight. We recommend this fun choice for every woman especially people who have really oily skin. Although it may require some scrubbing to wash off and it is a bit ticklish when applied, the result is always worth it.
Olay Regenerist Microdermabrasion and Peel System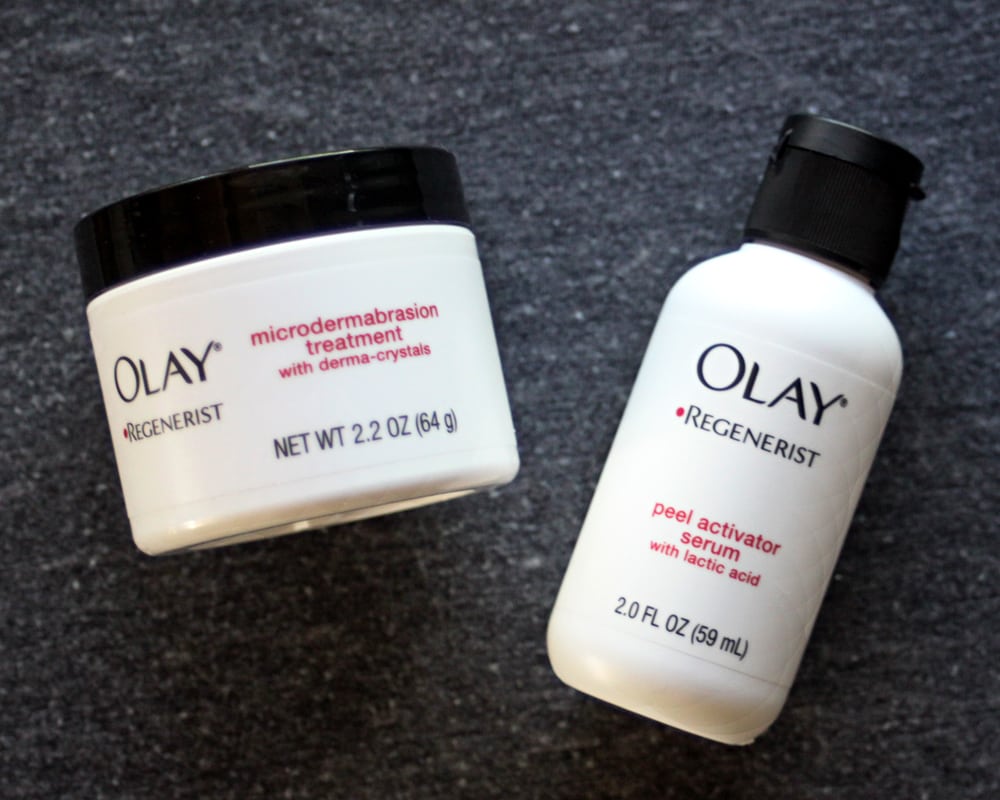 Starting out since 1952 as Oil of Olay, Olay is currently the principle player in many countries when it comes to skin care line. For this reason, the company has done so well in gaining consumer's trust and this Regenerist with unique formula is as just marvelous. With two-step Microderm system, the treatment aids the skin's natural renewal process by penetrating deep into the skin to soften, remove dead skin while reducing the appearance of fine lines and wrinkles. The mask cleans without stripping the skin and has a peel activator serum which helps put a new coating on the skin for better texture. In all, the charming mask cleans the skin while providing it with a hydrating comfort.
Pros:
Delivers instant result
Softens the skin and no flaking
Reduces appearance of fine lines and wrinkles
Removes scars and blackheads ideally
It is affordable
No lasting effect
Cons:
It can get messy when applied
Verdict:
This Olay kit will leave your skin not just smoother and brighter, but also younger and hydrated. Just like most masks, things can appear a little messy after application, but in the end, it is going to get smoother and brighter. Plus it is a great value.
Read Also: RECOMMENDED RAZORS FOR WOMEN WHO WANT A SHINING AFTER SHAVE SKIN
Pure Body Naturals Dead Sea Mud Mask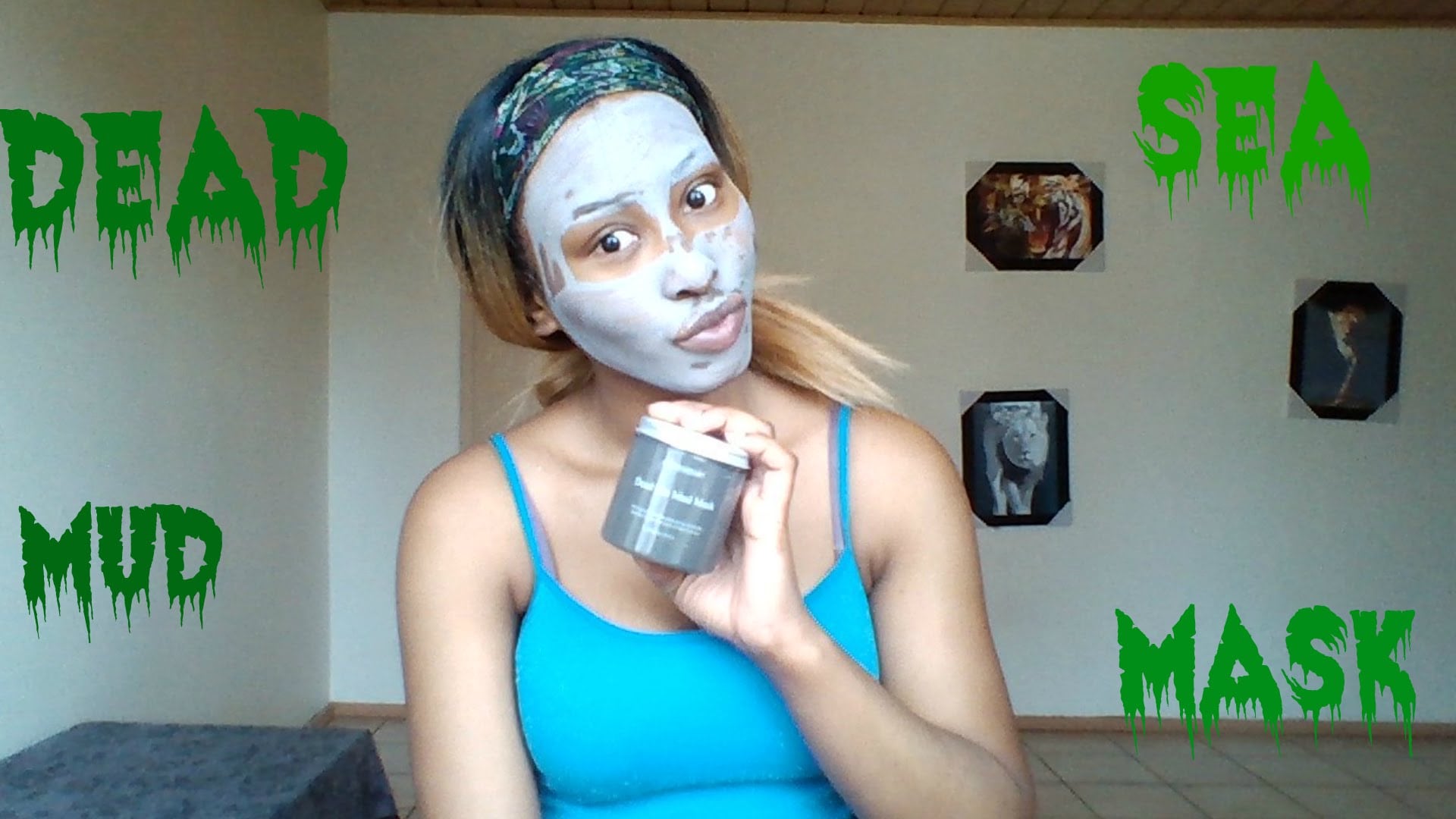 This clay jar is another strong wash off mask for a flawless skin texture. Made with natural ingredients including salts and minerals (magnesium, calcium, potassium), the Sea Mud Mask fights blackheads, acne and pimples. Other ingredients include vegetable glycerin, shea butter, sunflower and jojoba oil, aloe vera juice and of course the dead sea mud.
The blend also has a way of shrinking pores or acne scars. The mask prevents ageing and moisturizes skin by ensuring that dirt, dead skins, as well as toxins, have no place on the skin. You can also deep cleanse your face with Artec Secret Indian Healing Clay Pore Cleanser before applying for an enhanced result. The application can also be done with Hansderma Skinsoft Facial Mask brush. However, the mask can still work magic if you don't need these extras.
Pros:
It reduces pores, wrinkles and fine lines.
It stimulates circulation
Remove impurities
It has natural ingredients, making a user-friendly option
It is rich in vital nutrients
It removes cellulite like a pro
It improves overall complexion
It is safe to use both in the face and body
Cons:
More information is lacking about its ingredient.
Verdict:
This is ideal for even the most sensitive skin. For its natural ingredients, the clay mask doesn't cause breakouts or adverse effects on the skin. As a matter of fact, it helps clear out breakout marks and cleans the pores.
Read Also: BEST PERFUMES FOR WOMEN: J'ADORE, VICTORIA'S SECRET, VERSACE, AND MORE
KINGDOMCARES Blackhead Remover Pore Vacuum Extraction Tool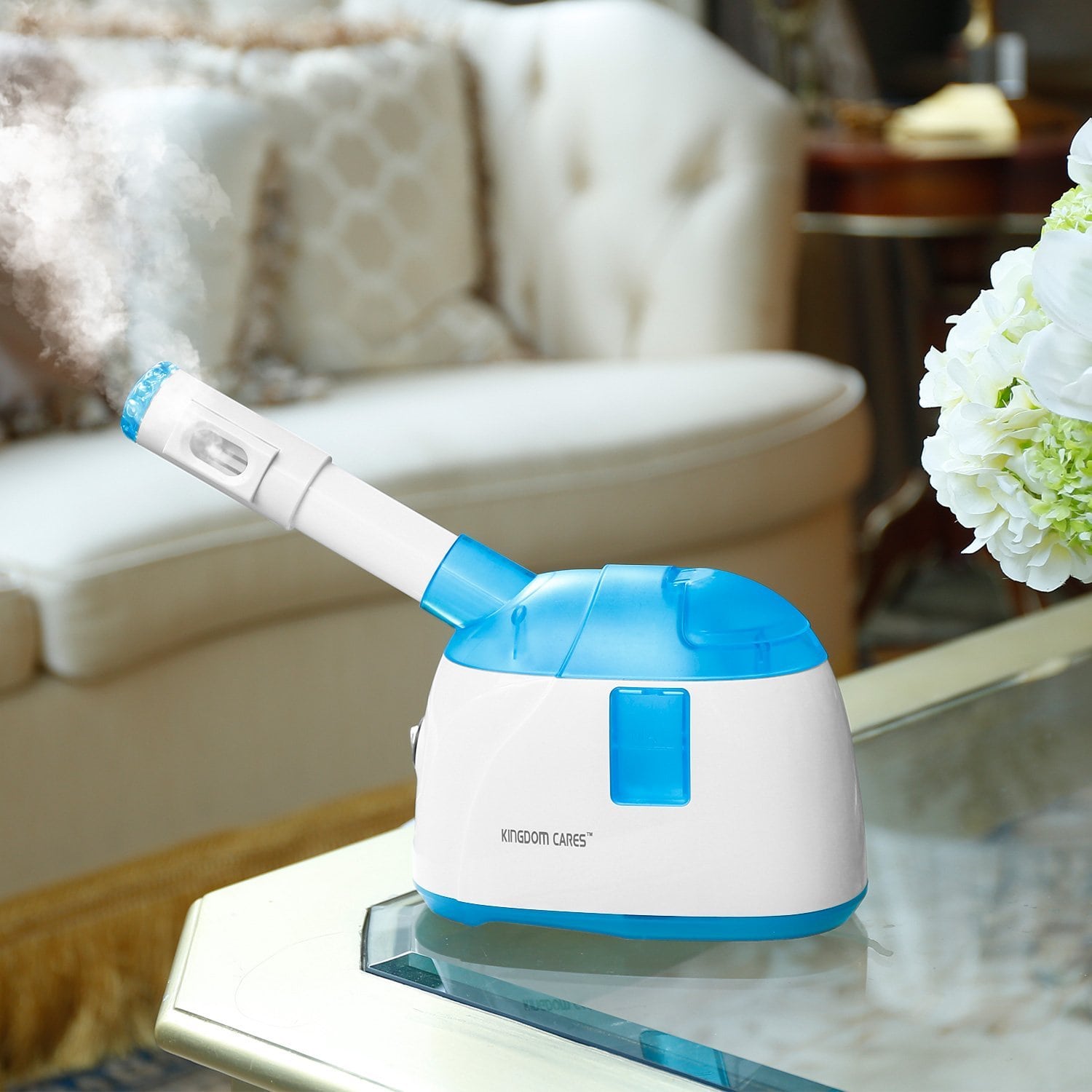 Probably the most advanced blackhead remover on our list is Kingdomcares blackhead tool on our list (keep in mind that we use the blackhead remove lightly because it is very easy to use and painless). By this we mean it safely removes the blackheads without squeezing or hurting the skin. Designed mainly to handle blackheads, the tool works in three steps, literally, and they include cleansing the skin, hot steaming it before sucking blackheads, dirt, dead cells, and oil through its nozzle. the process improves skin elasticity by lifting and firming it as well as reducing fine and saggy facial lines. What we like more about the unit is its ergonomic and painless feel it gives during usage.
Pros:
Works effectively
Grants ease of use
It is portable and compact
It is multi-purpose, supplying user with four beauty heads
It is rechargeable
No flaking or scaling.
Cons:
Takes some time to charge just like most rechargeable gadgets
Verdict:
If your aim is to get works instantly done and to get the flawless skin you desire you might want to opt for this tool.  It suits all skin types but we advice you read manual before use. We like that the heads are replaceable. However, keep in mind that since it isn't a manual tool, it will take some time to get recharged.
Read Also: BEST FACIAL CLEANSING BRUSH FOR WOMEN: NO MORE ROUGH SKIN
Channy Blackhead Remover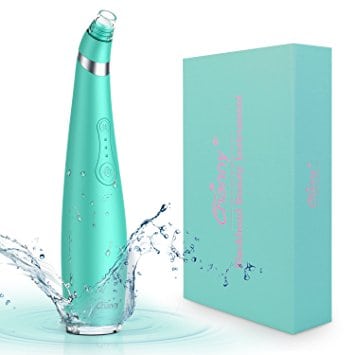 This is a really versatile and durable tool that does the job. It removes acne, blackheads, blemishes and even pops pimples. It can also be used for pore cleaning, dermabrasion and for facial tightening. What's quite fascinating is the gentle massage that you feel on your face while it gets all cleaned up. You don't have to worry about getting the face treatment in the bathroom since it is water-resistant. You will also love the high-quality silicone coating that makes gripping quite safe and easy.
Pros:
It can easily fit in your travel bag
Is handle is non-slip and comfortable to work with.
It is versatile and durable
Reduces skin ageing effects such fine lines, etc.
Evens skin tone
Increases skin's firmness and elasticity.
It reduces the volume, visibility, and density of age spots and dark circles.
Cons:
Sells a little higher than manual tools
It may easily make marks on your face when not careful
Verdict:
The price may sound like quite a lot for a small facial tool but the result will be quite compensating in the end because you will get nothing short of a smooth and youthful glow that will worth it.
MiroPure Electric Blackhead Remover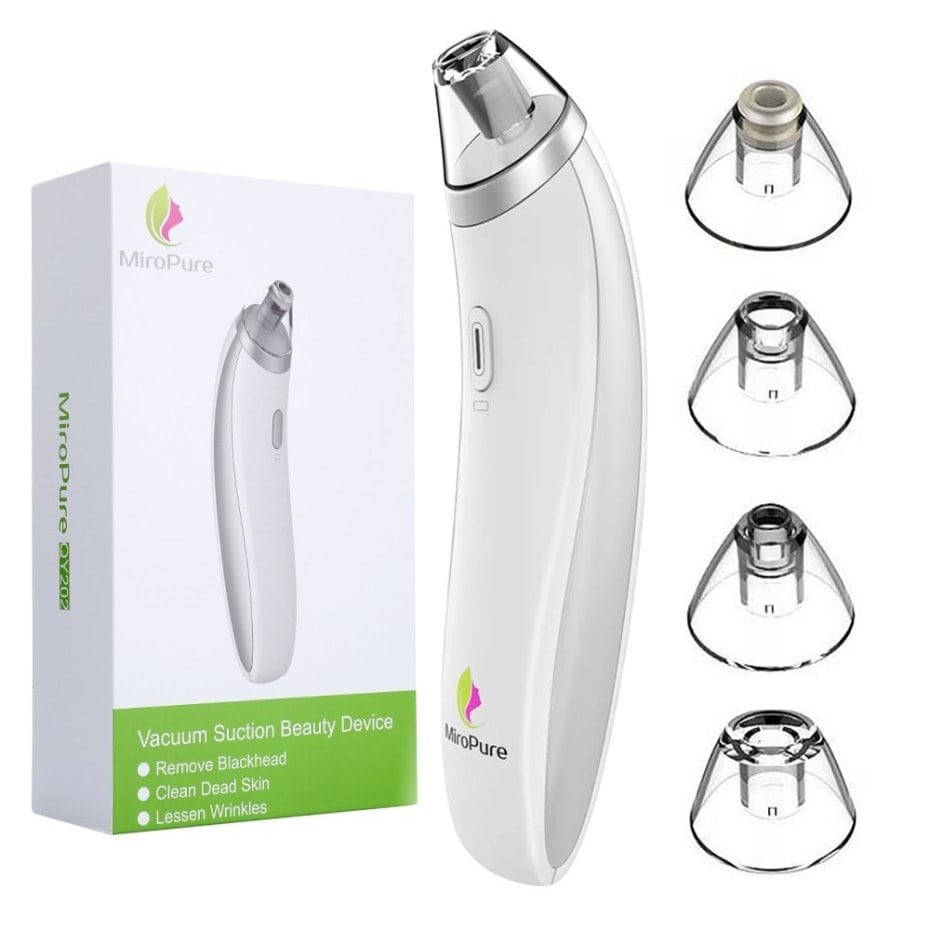 MiroPure Blackhead remover makes cleaning huge oily pores seem very effortless. It is adjustable so you can easily clean up different facial areas at the same time. The electric tool uses four probes in removing dead skin as well as reducing the visibility of wrinkles for ultra-skin glow. It has soft edge probes that are tender on the skin, so you won't have to worry about bruises. What is paramount is the manufacturer's confidence in the product backing it with a 30-day money back guarantee and one year warranty. For more convenience, the tool comes with replacement suction heads, USB cable for charging, a replacing filter and finally blackhead remover machine.
Pros:
Cleanses the face effectively.
It is safe to use
It is a flexible tool that can be adjusted to clean different facial areas.
Handles different facial problems.
Cons:
It doesn't hold-up charge compared to some others on this list.
Verdict:
This is a simple easy-to-use product. All you need do is to open up the pores for like 3-5 minutes using a hot steamer or hot towel, choose a nozzle and then start getting a glow therapy. However, it is advisable that you do not use the tool on one area for more than 3 seconds to avoid marks or bruises.
HeyBeauty Blackhead Tweezer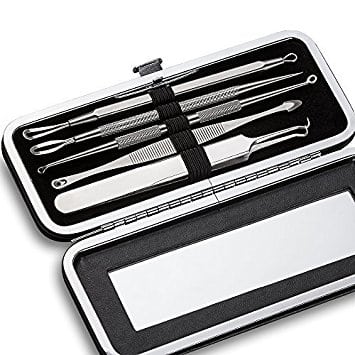 You will get five tools in this kit which you can use in pulling out ingrown hairs, pesky splinters and other blemishes on the skin. Each of the tools is made with high-quality surgical-grade stainless steel so that they can last long enough to keep your skin and tone intact. It has pointed needle popper and curved loops in different sizes for doing a great job and we love that each of them works effectively.
Pros:
Solves different skin problems
It gives ultra-sharp precision you need for preventing scars or bruising.
It is corrosion and stain free
Need no electricity or charging to power on
Very affordable and durable
It has a case with mirror that helps you stay organized
Cons:
It is not automatic like the electric tools so requires extra effort to do the job.
Verdict:
This Tweezer can be used anywhere and anytime. Requires no charging yet it does the job. The only downside to this tool is that you will have to make a little more effort using it than you would when using an electric tool. With that said, this is really a great machine that does a really fascinating job.
Read Also: BEST DEODORANT FOR WOMEN TO HELP YOU STAY FRESH AND COOL ALL DAY LONG
Conclusion:
Although these blackhead removers including tools and masks don't seem to work like a miracle that will treat acne or get rid of wrinkles in an instant, there are surely some great benefits to experience by using these products. People with skin problems have noticed improvement with them and those with acne scars have also experienced tremendous change on their skin. Cleaning of pores is also a fact with results being immediate using some of the products. Thus in our judgment, they are reliable removers that will deliver nothing short of a more youthful look after usage.