We all can agree that these days bar soaps seem retro while body wash seems to be everything as far as sud session goes. Apparently, because they are lighter and sink-in better for extra deep cleansing. They also do a good job of removing dead skin cells more effectively than bar soaps. When it comes to good fragrance and good lathering, most of them have got nothing on bar soaps. Their moisturizing effect on the skin, can't be overemphasized as well. So we decided to bring you the best body wash for women.
After hours of evaluating numerous body washes, examining the overall safety and effectiveness of a good number of them before compiling the list, we've selected the likes of Neutrogena Rainbath Refreshing Shower among five others below as the top-rated body wash products for women of all skin types.
Best Body Wash For Women
Neutrogena Rainbath Refreshing Shower and Bath Gel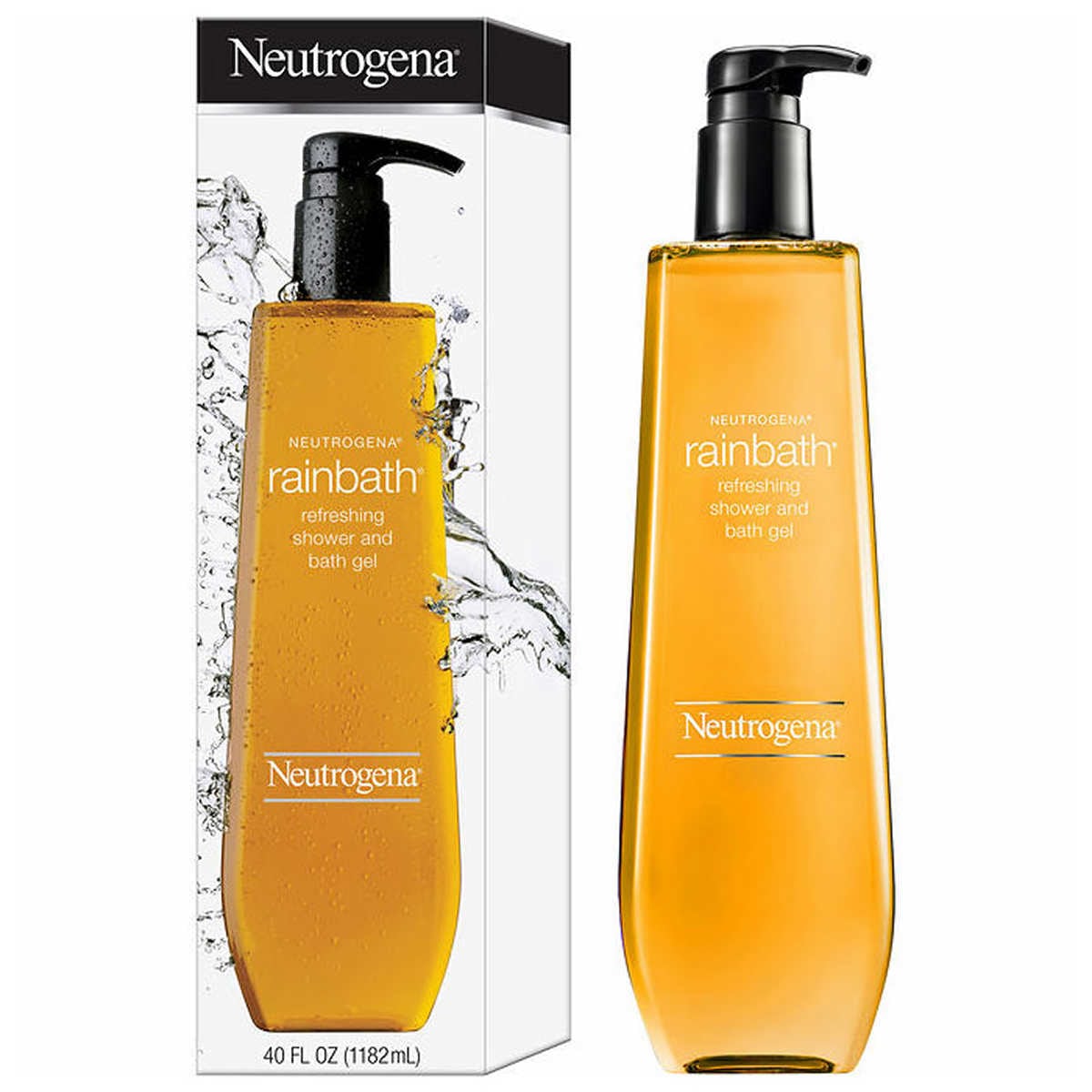 Neutrogena Rainbath Gel is a nice smelling formula that leaves skin feeling great after a shower. It is fully infused with a mix of amazing spices, herbs, and fruits which will not only remind you the smell of winter but also ensure you feel generally refreshed after a long day. Beyond that, the light shower gel cleanses and improves the texture of the skin without leaving dead cells and residues. In our test, Neutrogena Rainbath Gel gained a high score for the way it lathers and vigorously lifts the dirt off the skin despite being light.
The packaging is as well incredible with a pump-style dispenser that gives you complete control of the amount of liquid to press out, preventing wastage. Plus you don't need to pour a lot as we noticed that even a little of the bath goes a long way cleaning your skin effectively. All you need is to press out a little gel and then have your skin pampered. Despite its effectiveness, the bathing gel is gentle even on a sensitive skin only that you will be ready to spare a higher amount of cash getting it.
Pros:
It is soft and gentle on the skin
Smells great
It leaves your skin better
It lathers sufficiently for efficient cleanup
Cons:
Some may find the price slightly higher when compared to other gels
Verdict:
If you need a bath gel that has a good smell but not in the basic perfume or floral scents, then you might want to pick this. The clean-fresh burst of smell it gives is light but will keep you refreshed all day long. The gel also moisturizes the skin although you may still need to use moisturizer.
Le Petit Marseillais Extra Gentle Body Wash For Women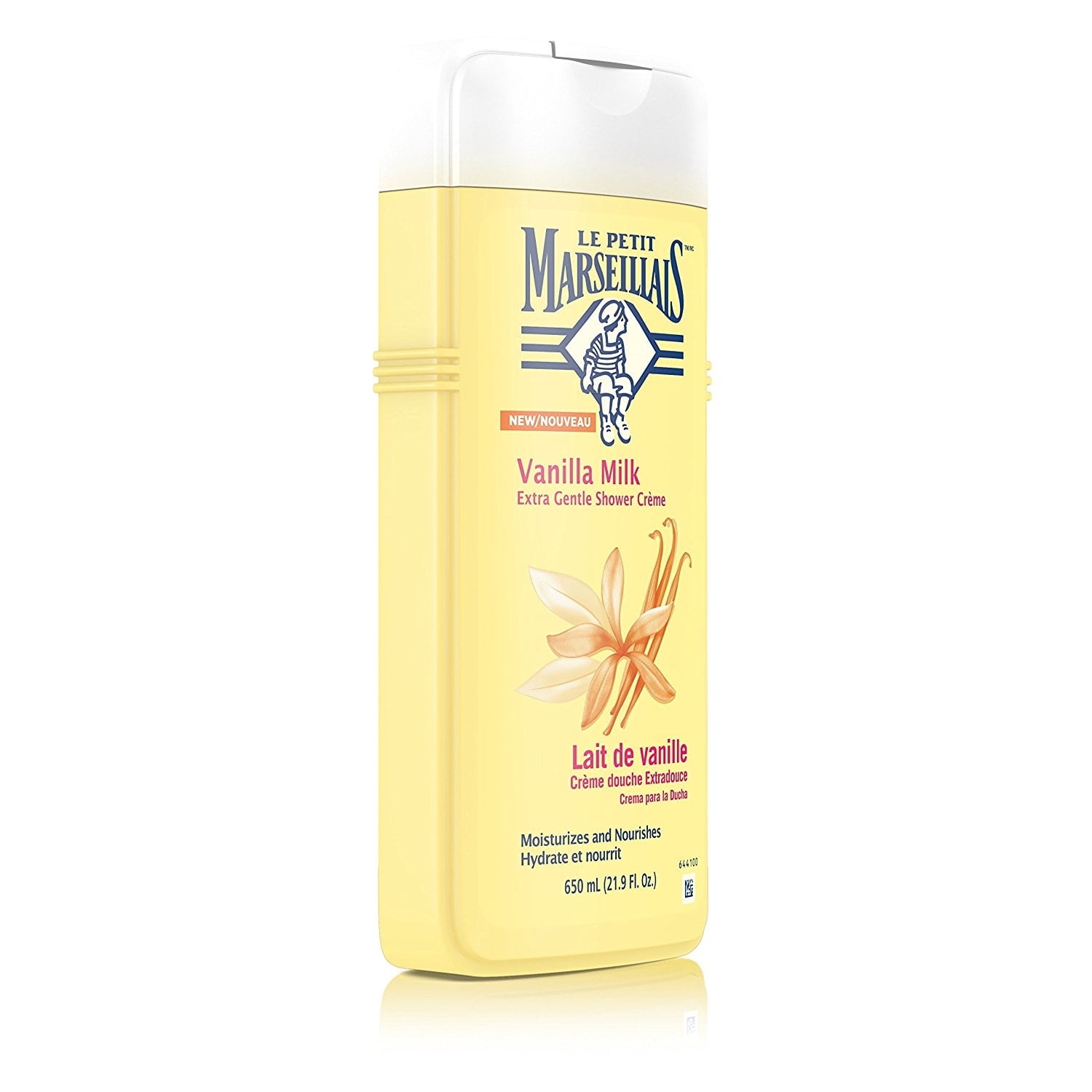 Le Petit Marseillais Body Wash harnesses a charming mix of sweet and floral fragrance. The top note of the body wash which is citrusy is something we think would match everybody. The one-of-a-kind gel also has citric acid as one of its ingredients which helps in enhancing the removal of dead cells as well as natural skin renewal process – a process that leaves skin soft and refreshed. Its refreshing effect makes a mere shower become a pampering spa experience. The major part is the exceptional moisturizers it supplies to the skin including glycerin and almond oil. Special ingredients that target dry skins ensuring they have enough moisture without being oily. Overall, it is a body wash to count on as long as pure cleansing and softening of skin texture goes. In addition, Le Petit is safe for all skin types especially people with dry skin. What's fun is that it creates a soft, non-drying lather during shower. It can also be dispensed into the water for a good time, soaking up in the bathtub. We didn't like that it does not come in a pump-style, though its well-designed cover that prevents wastage was very useful. Arguably the cheapest on the list, the shower cream sells at a price that is considered very cheap when compared to other products in its range.
Pros:
It keeps you stink free
It lathers for a sensory experience during shower
Smells good
Cleanses the body perfectly and does that very gently
Leaves skin soft, subtle and refreshed
The dispenser gives good control of the amount you get out at once
Cons:
May need more frequent replacement as it comes in 21oz (650ml) bottle.
No pump dispenser
Verdict:
Le Petite wash is a good way to enjoy your shower.  The enchanting blend leaves you fresh and captivating all day long. It works for all skin and controls oil more professionally than most body wash, which is why we recommend to women who are out to get the unwanted shine off their skin. The soothing feeling it gives to the skin would make you want to sleep in the shower. It comes in various lovely flavours such as lavender honey, orange blossom, cotton milk, white peach & nectarine, etc But you just have to be careful pressing out the quantity you need since it has no pump dispenser.
Read: Best Pore Minimizers to Help you Achieve Flawless Skin
Keeva Organics Best Anti-bacterial Body Wash For Women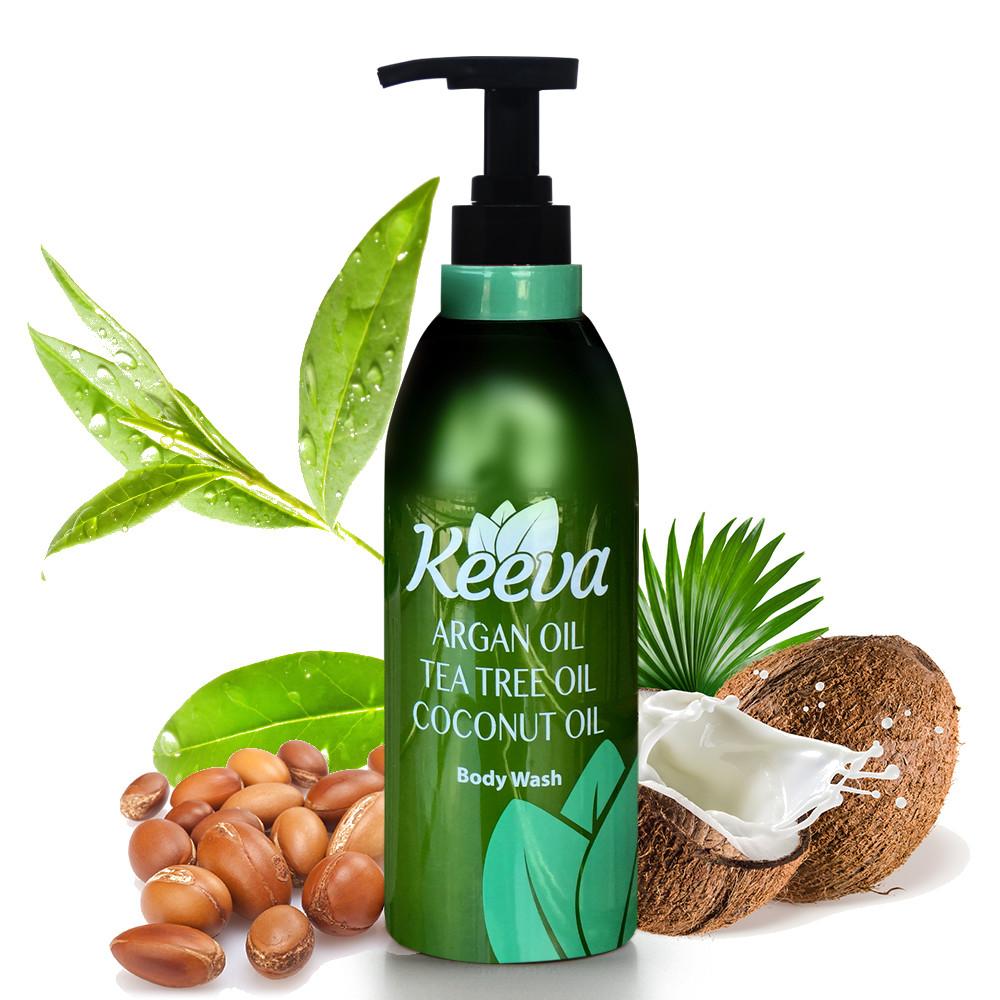 Keeva Organics is one of those top-quality products that you get to pay a little more buck for and then get a lot for it. The body wash is true to its name offering harmless blend with no parabens or other toxic chemicals, thus cleanses gently and effectively. The body soap makes use of three essential oils including argan oil, coconut oil and tea tree oil to bring healing to the skin which is a plus. The three oils help in preventing harmful bacteria and also lend your skin the moisture it needs all day long. Fortunately, the tea tree oil is carefully sourced from trusted Chinese steam distillation plants and this gives users access to the best quality and purest oil for the elimination of bacteria.
Due to the natural antiseptics and antimicrobial oils in it, you will be surprised at the super rapid result you will see in your skin a few days after use. Despite having plenty oil, the formula gives your skin the softness it needs without making it feel oily.
Pros:
It takes care of skin infections and irritations
Great for all skin type
Moisturizes the skin efficiently
 Bring a soothing relief to pain, itch, inflamed and dry skin
It provides softness to your skin
It has a nice smell and we love the way it lingers for long post-shower.
It lathers exceptionally with a little enough to go far in a single shower
Cons:
You may need to dig a little deeper into your pocket to get this product
Verdict:
If you want something more natural that works ideally for dry skin, this would be it. The blend is one of the fastest ways to get a dry skin stay refreshed, moisturized and cool for long after a good shower. We love that it lacks harmful chemicals that might irritate a sensitive skin. But you would be paying a little more money for it though we can assure that the product is worth it.
Related: Best Face Moisturizers that Guarantee Great Results
Pangea Organics Body Wash for Women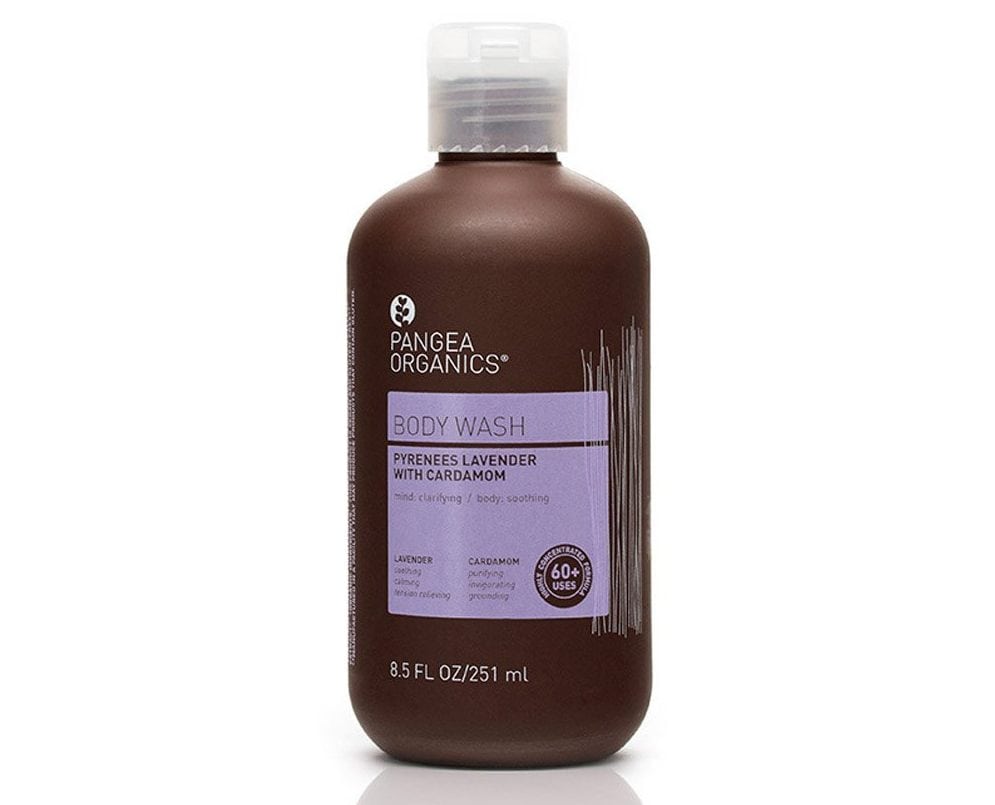 This is a hand-crafted formula made for sustainability and optimum quality. The soap helps prevent the causes of acne in various parts of the body including face, back, neck and more. The good part is how it handles body odour using some form of aromatic therapy as well as washing off bacteria that could possibly lead to that. While showering,  the soap ensures you get a spa-like experience by purifying, reviving and repairing your skin in every single shower. Featuring saponified oils and rich nutrients, the soap has a superior lather.  Just like Keeva organics and other natural products, Panga Organics has no sulphates or detergents, no synthetic preservatives or artificial dyes and scents. the only snag we noticed about this formula is its packaging. We didn't think the manufacturer of Pangea Organics body wash did the best job in terms of packaging when laid side by side with other products we've seen but then nobody cares more about packaging than the actual result so we would recommend this to women who need natural body wash that can repair and even out the skin complexion without having to embrace possible toxic chemicals.
Pros:
You need only a little to achieve a lot of result
It keeps the skin soft without a lot of shine
It is a high-quality formula
It aids in soothing dry, inflamed and itchy skin
It smells fine and lasts for long
It pampers and elevates your skin
Cons:
It does not have a pump dispenser
Sells at slightly high price compared to other body wash
The packaging is unappealing.
Verdict:
Here is a body wash that is undoubtedly rich in anti-oxidants for skin protection and restoration. We love how much a little drop lathers but we think the manufacturer could do better with its packaging.
See Also: Best Hyaluronic Acid Serum For Women
Ren Moroccan Rose Otto Women's Body Wash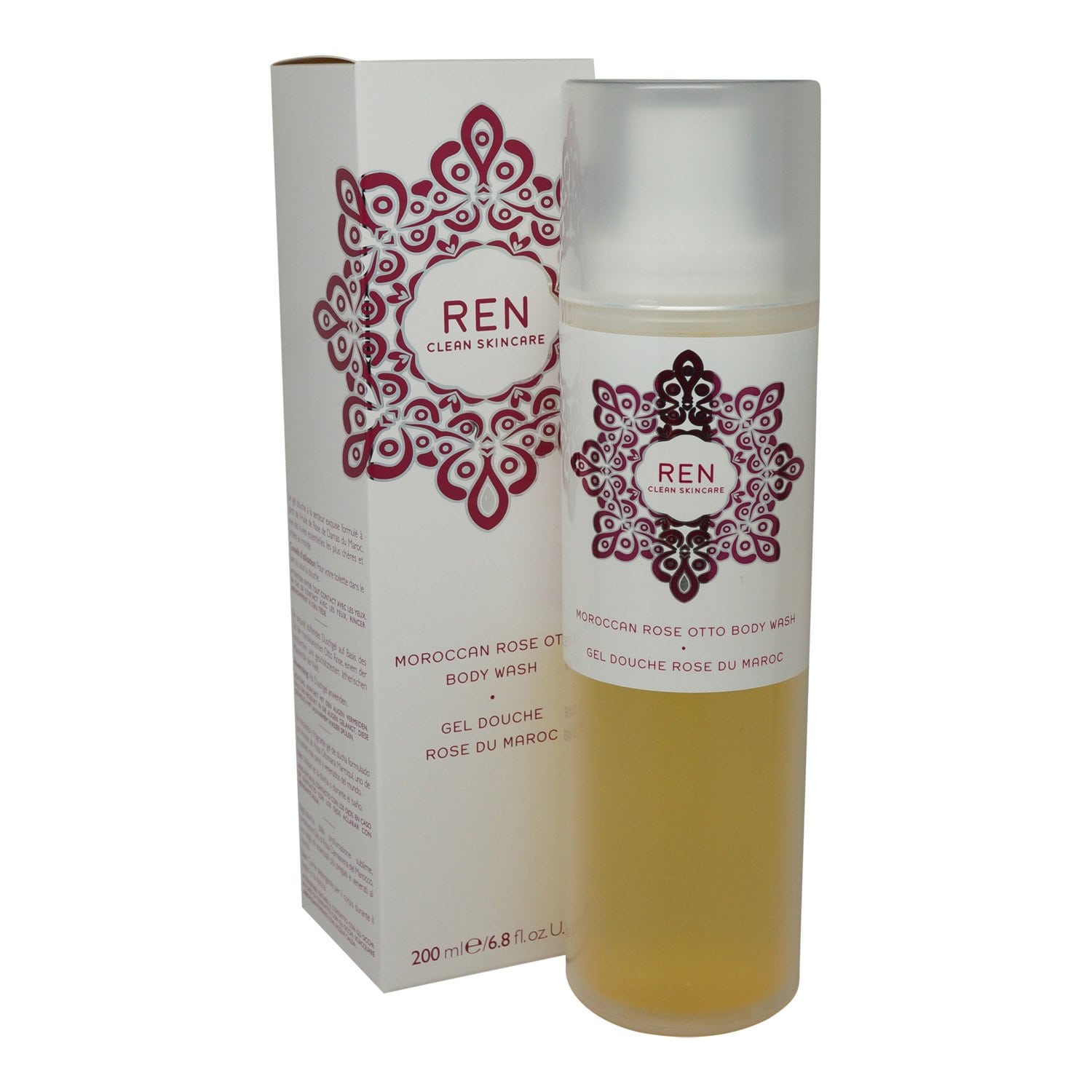 Ren Moroccan is a liquid wash formulated with rose otto known to be a great skin nourishing agent. The body wash removes dull and old skins while nurturing the new sparkling skin.
It further has a unique aroma of rose and offers a luxurious lather to make sure you stay clean all day. What's prime is the way it enhances and promotes skin natural nutrients, encouraging skin renewal and restoration. Although the body wash isn't really an exfoliating formula, it proves to be a good body cleaning agent. Again, it is light enough to easily vanish into the skin for better moisturizing and cleansing,  so that in the end, you are left with a skin that is soft and silky. On top of all these qualities, the soap does not leave a heavy residue after a shower even as it fulfils its promise of cleansing the skin.
Moreover, one would think that with all these features, the body wash will be brimming with toxic chemicals but no, it is safe for the skin, therefore does no harm to the skin. The fact that it works excellently for women with very dry skin who need something that does mild exfoliation for a softer, smoother finish is also a good edge for the body wash.
Pros:
Good value
Cleanses and moisturizes the skin
It has a smell that makes shower pleasant
It is gentle on skin
Usage is a bliss
Fine packaging and functional dispenser to control the quantity you need.
It delivers rich, creamy lather that pampers the skin
It is affordable yet cleanses the skin gently and effectively
Cons:
Not the cheapest on the list
It is a gentle exfoliant, thus can't do extreme exfoliation
Verdict:
If you have an extremely dry skin and haven't found anything that seems to work for you, then it is time to pamper yourself with the pretty fragrance of this Ren Moroccan that is bound to make your shower a pure moment of delight. More interestingly, it allows all kinds of skin types to enjoy fine the bubble bath it offers.  Though it sells at a considerably high price, it leaves your skin feeling properly cared for.
Puracy Natural Body Wash for Women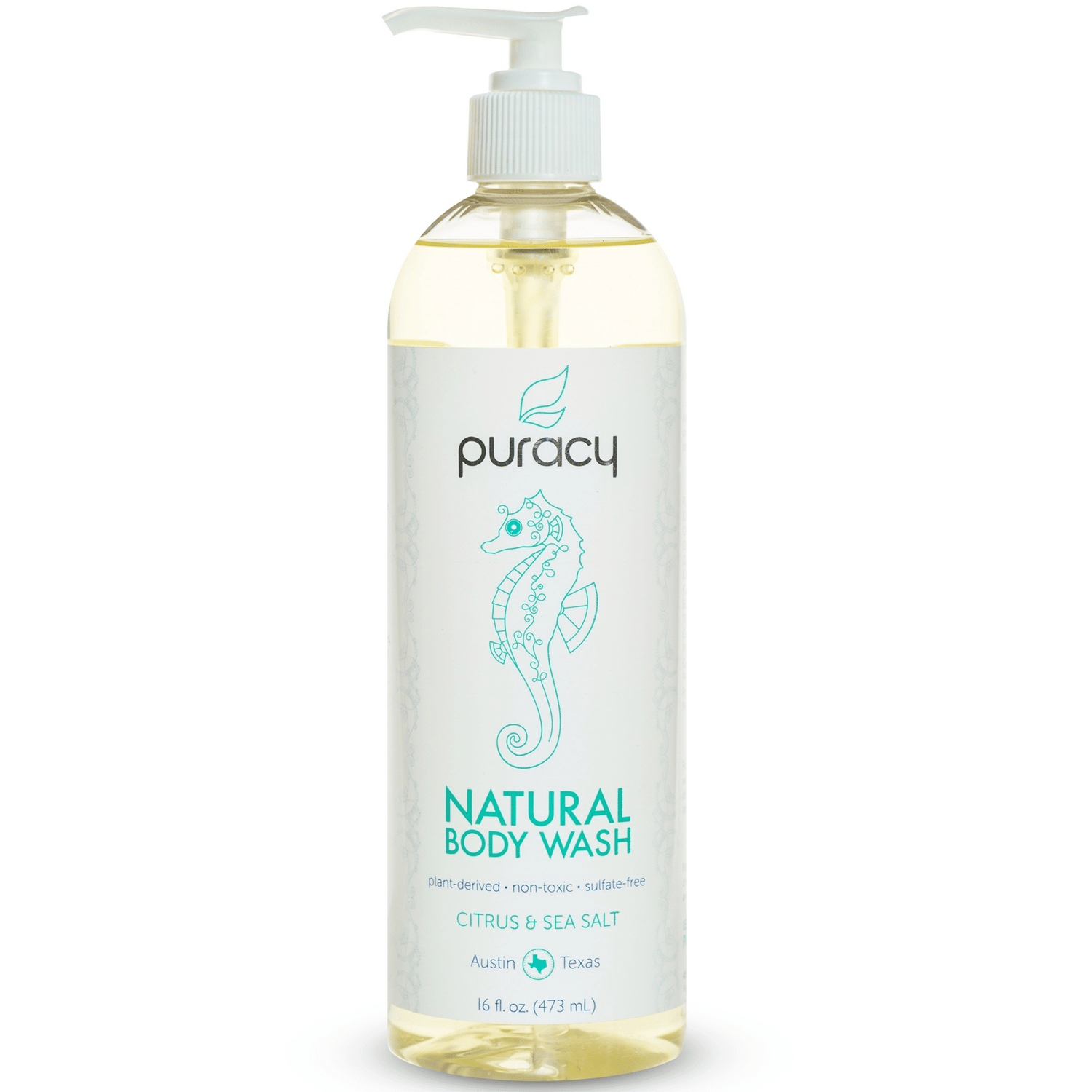 Puracy Natural Body Wash deep cleanses the skin with a fresh burst that will get your sense on the go. The thick gel combines emollient, bioflavonoids, fruit citrus and sea salt groves which provide the skin with a calm breeze of ocean air. These ingredients provide its users with a quality blend that cleanses and moisturizes the skin to prevent dryness, irritation and body odour. The coconut-based body wash actually stole our minds for its ability to hydrate and moisturize even the driest skin. Brimming with all natural ingredients Puracy lathers decently which purifies and cleanses skin efficiently. As for the aroma, it doesn't have a repulsive smell but we wouldn't say it is the nicest smelling body wash on the list.
When it comes to packaging, Puracy scores high as one of the coolest and most travel-friendly body wash. It comes in a transparent bottle and has a pump dispenser to give absolute control of the amount of liquid you need as well as prevent it from spillage. Again, it is one of the lightest body wash on the list yet lathers excellently.
Pros:
Leaves the skin feeling soft and supple throughout the day
No sticky or whitish residue after bath
It is not harsh on the skin
The body wash is gentle on skin which is good for daily uses
The smell isn't repulsive
Purifies the skin well
It can serve both men and women
It is affordable
Cons:
The fragrance may not be that impressive to many women
Not the biggest package we reviewed, thus may require steady replacement
Verdict:
For us, this will be a great choice for women who need a good body wash that can trigger rapid skin repair.  Only that you may not have the usual floral or perfume scent if that's what you want. The gel is made to suit all skin types thanks to its natural ingredients. Despite all the awesome features it delivers, it seels at a reasonable price that is obviously lower than what you can get for products in its class.
Don't Miss: Best Perfumes Women are Crazy About
Conclusion
All the products on our list have something unique to offer to your skin. They are tested and trusted products that can give your skin the soothing healing it needs. They are divine when it comes to delivering a liberating experience to the skin. Also, we love most of their scents. While most of them promise safe usage with no skin reaction, we advise you choose based on what your skin needs and what works for it.