For gym and fitness lovers, there's something about lacing up the right shoes, you instantly feel ready and equipped to tackle your fitness goals. Probably the most important fitness gear to get right is your shoe. Most gym lovers will tell it is a worthy investment. The problem is getting a hold of the right one particularly considering the many available options. But it all depends on your perspective and your purchasing capability since your decision should basically come down to performance, durability, and cost. To help, we have compiled a list of best cross training shoes for women breaking them down based on their performance, durability, and traction. Other features such as comfort, flexibility, support and design were also considered in making our selections. Products like Adidas Neo Women's Cloudfoam Xpression Casual Sneaker, ASICS Women's GEL-Fit Sana Cross-Training Shoes and RYKA Women's Influence Cross-Training Shoe passed these considerations to make it to our list of best six cross-training shoes for women. Check the full list below:
Best Cross Training Shoes For Women
Adidas NEO Cloudfoam Xpression Women's Cross Training Shoe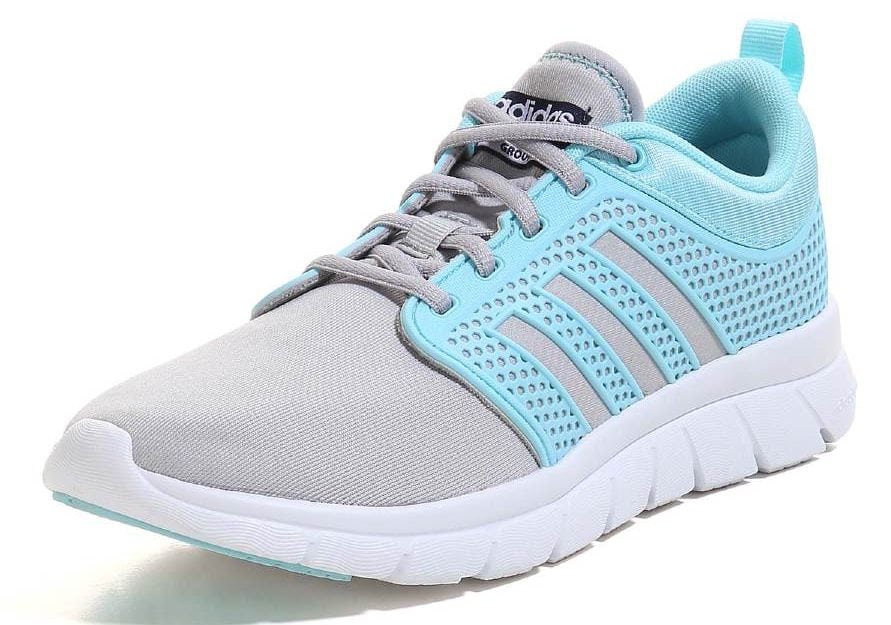 If there is anything to count on this Adidas Neo Cloudfoam Xpression Casual Sneaker it will be its lightweight and cushion.  Its revolutionary lightweight design and technical innovation will enable you to bring out the best during workouts. Apart from its weight, the shoe is a highly desirable item for its stability and structure. Another main benefit of the eye-catching cross-trainer is the fact that it has a dual profile, serving as a daily casual and also doubles as a cross-training shoe for women. For those who want a top-class performance, you will not only have to enjoy successful exercises but you will look great and strong doing it.  We love its lightweight textile and synthetic body which improves its functionality, flexibility, and appearance.
Its synthetic sole enhances its ability to absorb shock. In addition, it has a midfoot, featuring a mesh covering which allows you to change from one move to another with ease. We couldn't help but get fascinated by the bootee-style collar at the tongue which also has a mesh for longevity.
We can't easily forget its interior cushioning and soft footbed that is added to makes sure your foot is safe from sores or bruises and stays well cushioned during the workout. Overall, the sole is made in a way that will present your foot enough traction when working with it. The sneaker comes in various colours, socolorsis something for everybody.
Pros:
Allows you to stay comfortable all day
Protects your feet from injuries
It is lightweight yet durable
The design is sleek and classy
It is durable and long lasting
It can easily be cleaned
Cons:
It may easily be noticed when it gets dirty.
Verdict:
For those looking to get a cross-trainer that you can wear casually and for training, this would be it. With tongue made with a breathable mesh and its high-performing streak, you can depend on it for whatever use you need for. But we recommend this shoe if you have the time to keep it clean since keeping it clean may a little more effort.
ASICS GEL-Fit Sana Cross-Training Shoes for Women with Flat Feet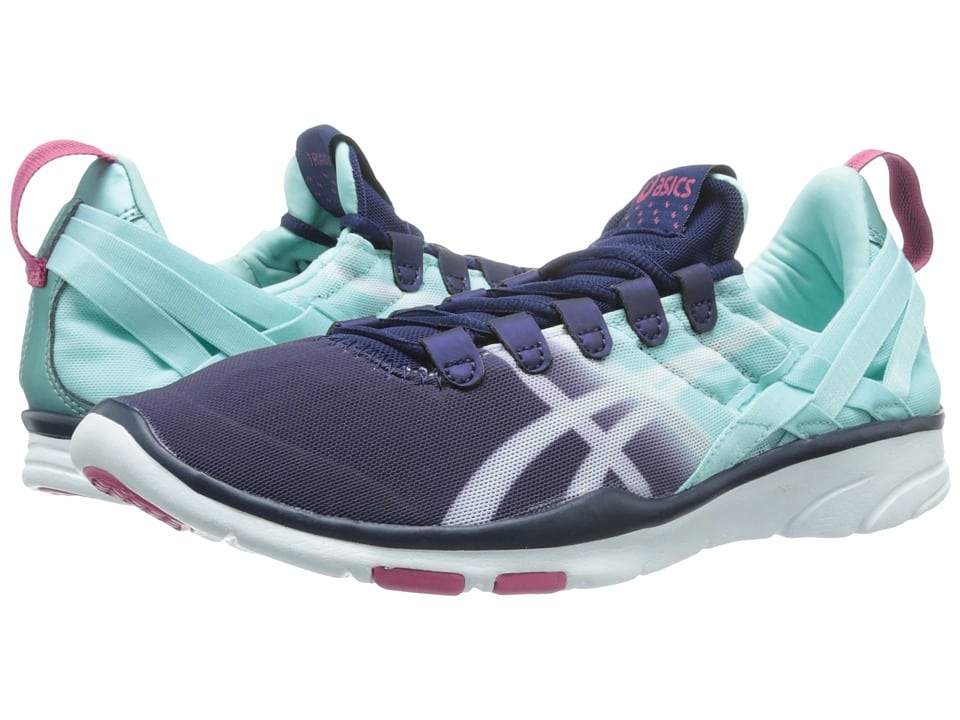 Your feet deserve some loving care and ASICS Women's Gel-Fit Sana Cross-trainers are a good way to give your feet that. It is comfortable, supportive and suitable to handle any kind of tough workout. To attain your workout goals without dealing with odour, there is a mesh covering that allows your feet to breath. With a fabric body and rubber sole, ASICs Gel_Fit Sana Cross-Training Shoes are among the lightest Cross-trainers in the market. Its rubber outsoles also help you workout with more intensity without slipping or feeling burdened for its traction. The shoe makes use of a stretchable Mono-Sock fit system for nice fit which means incredible arch support and increased workout regimen.  Its wide toe box accommodates huge feet, however, it seems to be stiff during exercise which didn't look great to us.
Other than that, our feet felt well-protected once they sunk into the shoes and we credit the shoes' rearfoot gel cushioning as one of the reasons for the ultra comfortable feeling. Moreso, the trainer look as nice as it feels with some visible stitches around the toe box and different colours to make your daily routine fun. The part we love most is the exterior lacing on the edges which seem like they are laced around the back. Overall ASICS GEL-Fit is a great choice if what you want is something that looks good and also very supportive or functional.
Pros:
It is comfortable to work it
Can withstand tough routines
Feels better and better over time
Comes in various vibrant mixed colours
Gives incredible flexibility
Fits excellently
It can be used for cross-training as well as strength training
Cons:
Takes a little more effort to slip on when compared to cross-training shoes with flexible tongue
We think it is basically a training shoe and not best when you need a running shoe
Verdict
If you are tired of your feet feeling beaten after your daily routine, this very comfortable cross-training shoe will help you come over that. Though it has a somewhat stiff tongue, it is durable and reliable. Plus you need something to work with for long since they have a way of shaping into the wearer's leg after a long time of wearing.
Reebok Nano 6.0 Women's Crossfit Training Shoe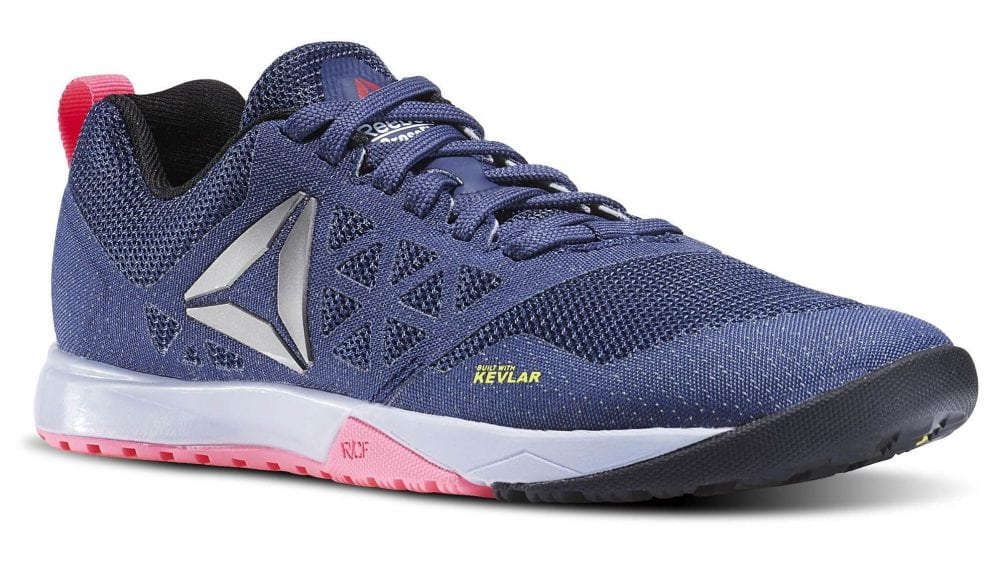 Reebok has been around for a very long time and for more than five decades of its existence, the manufacturer has remained one of the biggest leaders in the industry for its reliability and constant evolvement. This persistence improvement is seen in the Nano CrossFit collection.
Reebook 6.0 Crossfit training shoe is among the upgrades from the collection and works great even for women with flat feet. Constructed expertly with tri-blend foam fusion technology midsole, the shoe delivers the ultra support you need during training. The upper featuring softer Kevlar and mesh is another big win giving your feet a great and light feel once they slip-on. We love the RopePro feature which means better rope grabbing since it causes no disruption. As well, you can walk long distances in the shoe for the incredible soft cushioning it offers which sees that nothing hurts your feet without making the lift heavy. Another amazing feature is its outsole that makes training with them a breeze. Plus not most people like a stationary tongue that seem to be attached to the sole so the fact that Nano 6.0 training shoe has a tongue that is free to move and is thicker makes more flexible. The design although not the finest seems more advanced compared to others especially for the fact that you won't have to deal with bold logos. The is also crafted to feel more natural since it can easily adapt to the feet. The shape, in fact, lends it the ability to fit perfectly as if you are wearing a glove. Comfort is one thing that a good shoe manufacturer will never override, so we are not surprise that Reebok Nano is built to feel absolutely comfortable it offer almost a barefoot feel without compromising protection. But one snag, the shoe isn't for the faint-hearted since you need to dig deeper into your pocket to get it. But then for all these great features, however, you don't expect to have any regret afterward.
Pros:
It is versatile and can be used for different strength training
It is lightweight and supportive
Great traction for better grip during training
Out of the box comfort and fit
Gives a more natural stability and fit
Offers maximum support to the arch
You can choose from different blends of colour options.
Cons:
It is expensive
Not the finest design we've seen especially the tongue part.
Verdict:
You can consider Nano 6.0 when performance matters more to you than look. We love everything about the shoes although we didn't think it was the best-looking shoe compared to others we tested. However, they stand out in design especially for their Kevlar upper which has a sandpaper texture. Plus the shoes' flexible tongue allows you free movement and flexibility only that you may have to pay a little more to own it.
See Also: Best Running Shoes For Women
PUMA Tazon 6 Wn's FM Cross-Training Shoe for Women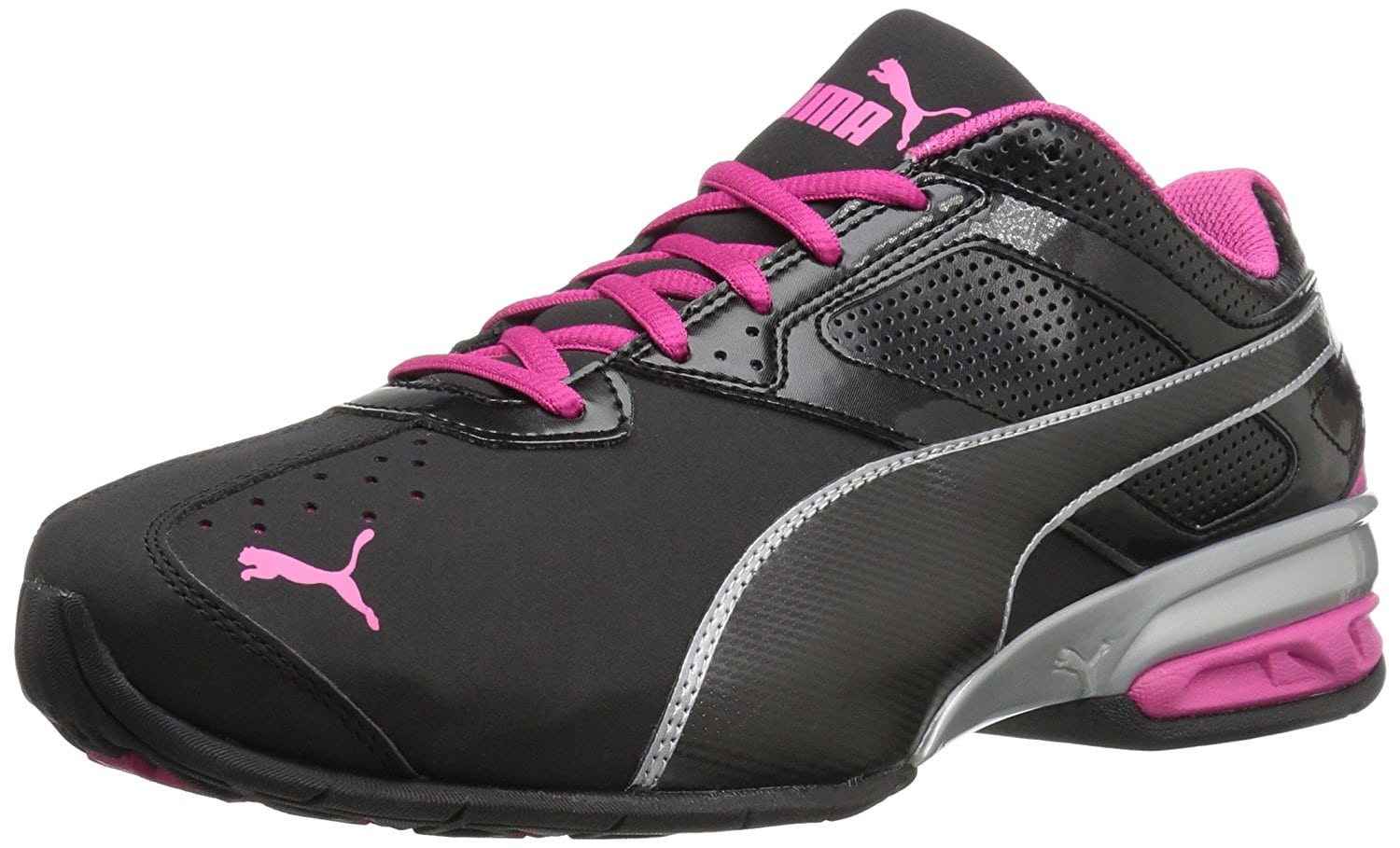 Generally known in the globe for their quality, Puma has countless good products to boast of and this Puma Tazon 6 Wn's FM trainer shoe is an example of what we mean.
The trainer offers many important components people look for in a cross-training shoe particularly nice sizing and fit; from a streamlined and chic silhouette to ultra-performance.
Rather than offering what everyone already produces, Puma Wn's Fm trainer shoes went for a different profile delivering a breathable design with leather upper, a midfoot saddle and shock-absorbing breathable EVA cushioning.  The best part is that it is shaped to align the feet to feel more natural as well as give quality arch support. Another thing that was obvious to notice in the shoes is how overwhelmingly comfortable it feels when worn thanks to its footbed cushioning. Conclusively, Puma Tazon 6 Wn's FM women's cross-trainer shoe works like a pro since it is an upgrade from the past series supplying more durability, flexibility, and versatility. Fortunately, you will have your choice of more than seven colours to choose from.
Pros:
Makes you feel stable during workouts
Nice fit and sizing
Flexible with well-sized toe box
Give more colour options
It is a top-quality shoe that will last long
The sole grips well even when you are doing lateral movements
It doesn't require much washing to be cleaned
Does not irritate the feet
Cons:
A little heavier than some shoes we tested such as ASICS Gel-fit Sana cross-training shoe for women
Price may be a bit high for some people
Verdict:
If you are shopping for a cross-trainer that is blissfully easy to work in, this might be your best choice. It is not just a training shoe but also a running shoe. The reason to invest in this shoe is that it is super comfortable although a little heavy.
Read Also: Best Smartwatches For Women With All The Useful Tech You Need
RYKA Women's Hydro Sport Water and Cross-Training Shoe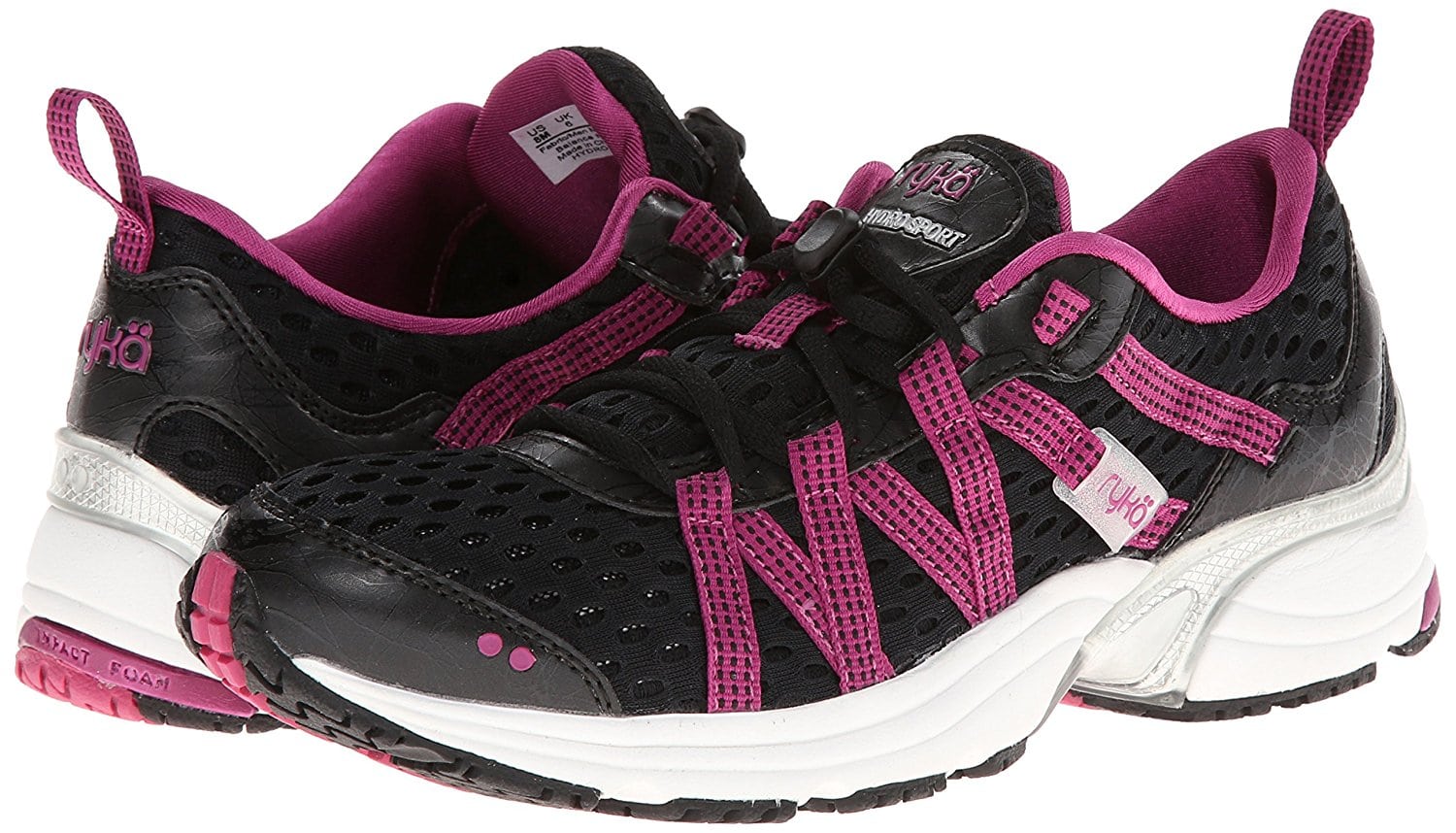 This is another simple but appealing looking shoe on the list. It is basically made for anyone looking to get her training goals in a simple-savvy fashion.  Packed full of amazing features, including an easy-grip rubber sole that offers better traction, RYKA cross-trainer, does the work excellently. The major feature is its aquatic-friendly feature which uses a detachable perforated Nitracel footbed and drainage ports insole to take out water from the training shoe.
This quality allows women reach their aquatic fitness goal. The training shoe is fully covered by a quick drying-mesh to prevent odour. With a memory foam insole and rubber outsole, they'll pamper your feet. As a matter of fact, they will treat your feet right while working out in the rain or at the beach, but they are also suitable for training at the gym or other non-aquatic areas. It also comes with distinctive colour patterns and the sole is designed to complement your everyday workout including hiking, running or hiking down the street. What more would you ask? Anyway, it doesn't end there. We found out that the shoe is made using chlorine resistant material which means the fabric won't experience irreparable damage or face detrimental effect when used in the pool. The webbing midfoot cage supplies you with lateral and medial support, for freedom during workouts. It also has air flow vents, for complete ventilation during a workout.
Pros:
It can safely go into chlorinated water without any adverse effect
It is flexible, thus suitable for gym use and rain workouts
Reasonable price point
Classic styling
It has great stability even under the rain
It is designed to last
It is lightweight yet high performing
Cons:
We didn't think the toe box would easily accommodate women with extremely wide feet.
Verdict:
You already know that countless cross-training shoes are out there waiting for a grab but when you are looking for the best Crossfit shoes, don't forget to consider one that delivers good results to everyone such as this RYKA Women's hydro sports water cross training shoe. It is ideal for intense workout and aerobics and you don't have to worry about it getting wet.
Read: Best Hiking Shoes For Women – Women's Hiking Shoes
RYKA Influence Cross Training Shoe for Women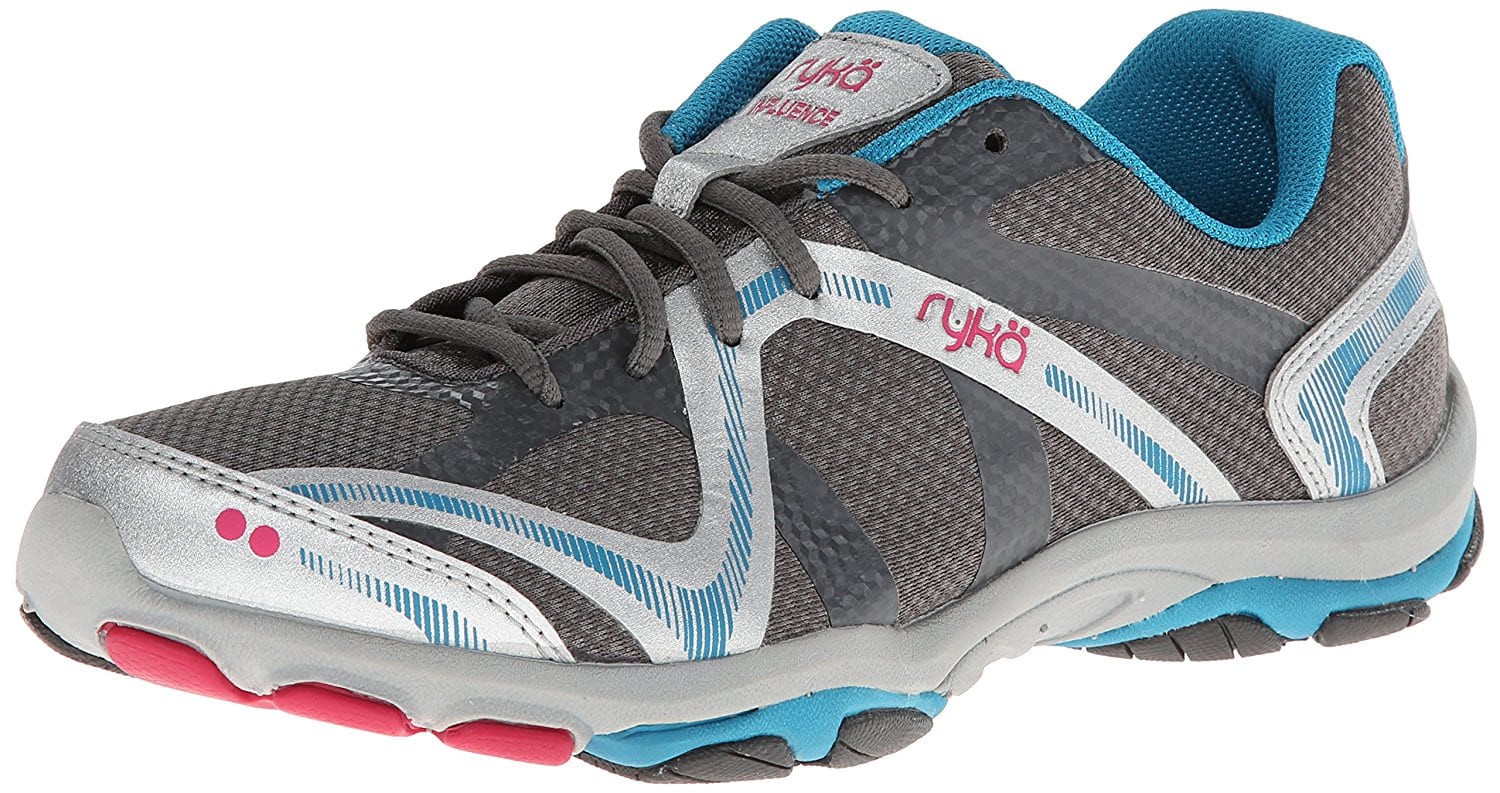 For decades, RYKA has remained one of the leading women sports brands for good quality women products to its name. This RYKA Women's Influence is one of such products. The first to notice about this cross-trainer is its attractive design featuring a textile lining, narrower heel, and wide forefront. It offers a comfort fit precise-return insole with a quality cushioning to keep you stable and pampered while training.
There is also a flex-foil and direct-fuse layers that give your feet ultimate support during linear and lateral movements while making the shoe weigh nothing. More arch support also comes from the medial post which is important for the dual foam midsole cushioning at vital pressure points. The outer part of the shoe is covered with a soft synthetic material so not to make it weighty. The collar and the tongue has a nice cushioning as well. The outsole has a feminine footprint design that can impress any woman. We were captured by the spin spot or pivot placed at the bottom of the shoe. The footbed also lends your feet more security and improves instep volume.
Pros:
Delivers more spacious forefront
Allows you to enjoy a more natural movement during the training
Good color varieties
High-impact absorber
Very comfortable and durable
Has a super cool design
Cons:
Some users with wider feet have complained of toe box space except when they opt for the next higher size
Verdict:
This is the most popular women sports brand out there. It provides sufficient features that will help a woman achieve their sporting goals. As for design, RYKA Women's Influence Cross-Training Shoe is a simple stylish way to up your training at the gym. While some women will fit perfectly in this shoe, some people with bigger feet have complained that the walls of the shoe rub against their skin during their workout routines.
Recommended: Best Yoga Mat Reviews
Verdict
To do fruitful cross fit exercises and look good doing so, you can rest assured one of these cross-training shoes will deliver that. Most of them have a lightweight synthetic body and improved breathability to making training a bliss. They are designed to absorb shock. Their sturdy bonded designs cradle and supports the foot perfectly so that you exhaust all your potentials during the workout. The risk of tripping your ankle is also reduced because of their deep flexibility. With most of them, you will stay comfortable and productive all day.