In a world where most women desire a glowy skin, it is easy to get sucked into different moisturizers, scrubs and facial cleansers promising quality skin improvement. While these products are cool you may need the best facial cleansing brush for more noticeable results. We have carried out thorough research to come up with really innovative gadgets to help you achieve great skin results considering many important factors such as brush texture, effectiveness, and durability. You don't want a facial cleansing brush that will hurt your skin or feel flimsy during cleaning. Also, we considered the skin type the brushes can work best with, their cleansing system, their ability to resist water, their prices, warranty and more. Following the examination, we concluded that Olay pro X cleaning brush is the best-selling brushes out there for its ability to produce results that can make you feel like you've managed to stop time. Yes, ageless! Pixnor P2017 which sells at a cheaper price is also a smart and well-built brush that can remove blemishes, blackheads, oil and makeup. It works wonders and gives you that youthful glow that everybody desires. In addition to these, Clarisonic cleansing brush and other brushes named here does the work wonderfully well. They are safe and seamlessly cleanse the skin for dewy shimmering skin.
Best Facial Cleansing Brushes for Women
LAVO Giro Facial Cleansing Brush with Brush Heads and Stand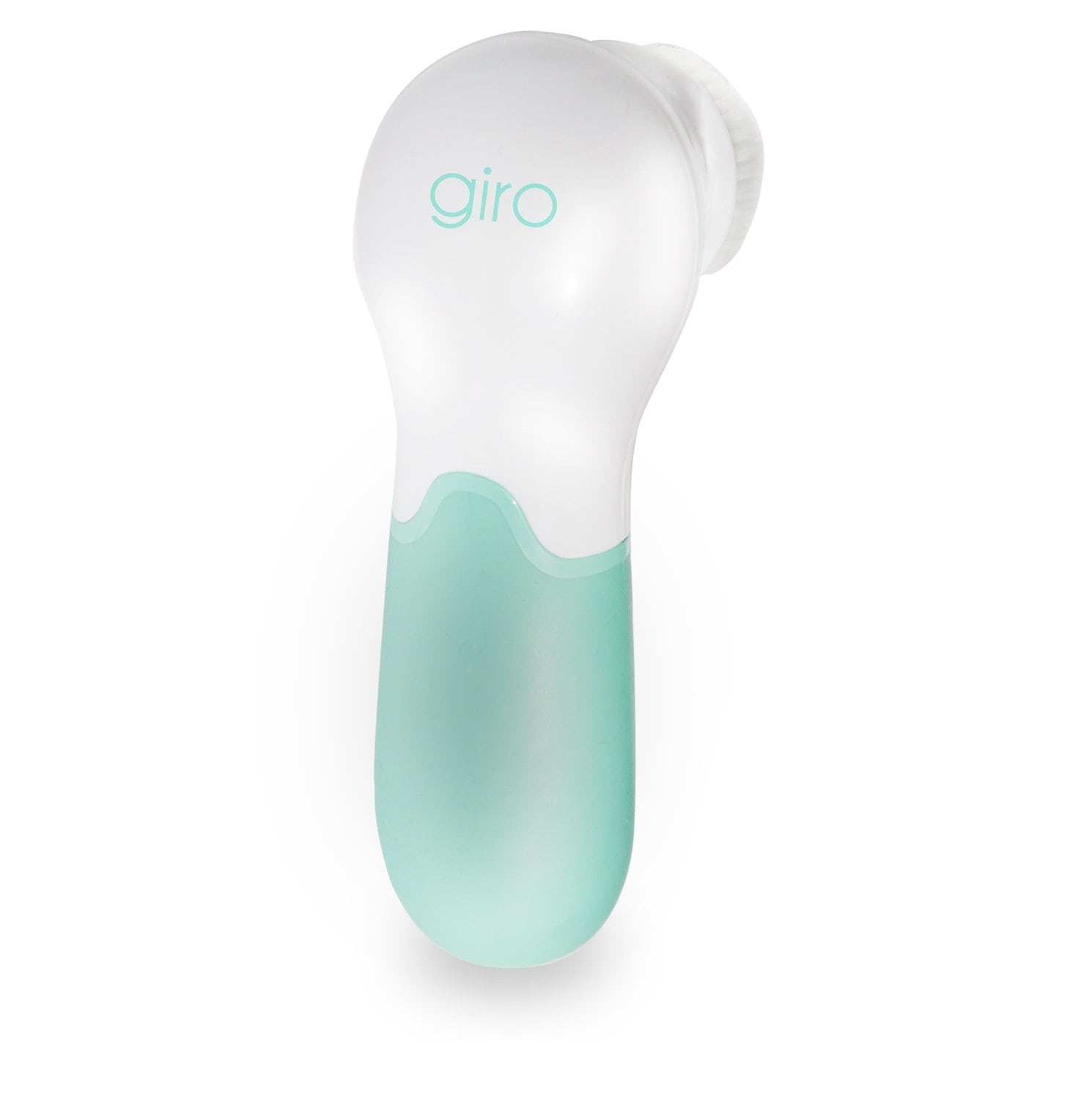 Lavo Giro Facial Cleansing brush is an elegant facial brush that smoothes and refines skin overnight. The brush head spins 360 degrees at two different speeds including low and high so you have a great cleansing time when you don't have extra time to spend on your skin and slower pace when you want a deeper level of care and attention your skin. The brush has a soft brush fibre that wouldn't cause harm even to a sensitive skin. But that doesn't mean the brush head isn't tough. It in fact tough enough to handle tough tasks. Giro is also portable and cordless which means you can fix your beauty routine no matter where you are.
The brush's handle also boasts a sleek design and boasts an ergonomic rubberized anti-slip handle. If you are a shower person, I mean love cleansing in the shower, you'll be happy to know that this is brush is IPX6 water-resistant. The sturdy ABS construction gives a unique feel and leaves your skin looking its best at all time.
Pros:
It cleanses pores, exfoliates dead and dry flaky skin, reduces pores and smooths bumpy skin.
It also removes acne scars  and leaves your skin brighter
It cleanse more than the hand
Dark spots and uneven skin tone
Enhances the quality of skin
It is easy to use
Handles fine lines wrinkles and cellulite
It uses 4 AA batteries, saves energy.
It is built to clean and not scratching you.
Cons:
Some has claimed that the bristles hold a lot of water
Verdict:
This not only takes out dirt, it also scrubs out dead skin, and oil leaving your skin even brighter. After usage, skin feels way smoother, cleaner and fresher.
Proactiv+ Deep Cleansing Brush for Women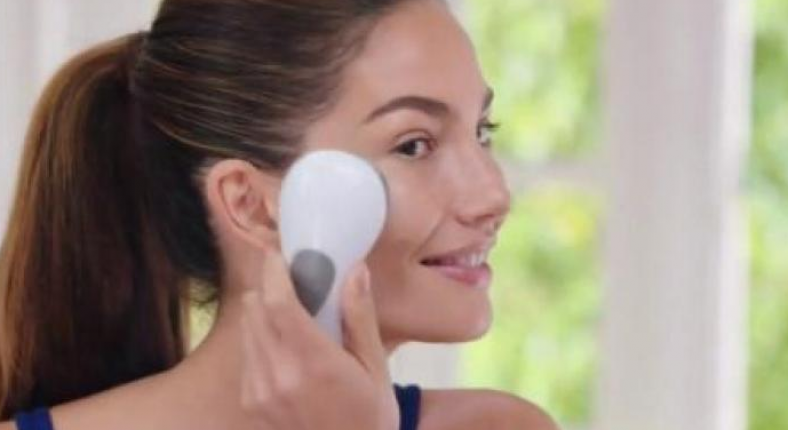 Proactive + Deep Cleansing Brush is a soft smooth brush that gives you a radiant glow through careful decongestion of pores. It exfoliates skin gently but effectively more than cleansing by hand. It is tender on the skin and can be used daily( like once) even on acne-prone or sensitive skin. Feel free to do the cleansing in the shower as this is resistant to water although you shouldn't immerse in water. The dual speed brush cleansing brush has a steady 360-degree rotation just like Lavo Giro and comes with two head attachments. The best part? It can be used daily for soft cleansing. I personally love micro-massage silicone head which helps to give a deeper clean. You can easily choose the speed you want with a single ON/OFF switch. Simply turn it on once for a low-speed rotation and again for a high-speed rotation.
Pros:
It is perfect for acne treatment
Leaves skin radiant, smoother and cleaner
It is easy to use
Gives a thorough cleansing
Can be used daily due to the softness of the brush.
It works on all skin types
It has a sleek design and works with AA batteries.
It gives more benefit than hand cleansing.
Cons:
You will need to change the batteries after some months.
Brush heads may be too large for cleansing around the nose areas.
Verdict:
If you need daily cleansing and something that can improve the texture of your skin, you should consider this brush.
Sirius Sonic Facial Cleansing Brush System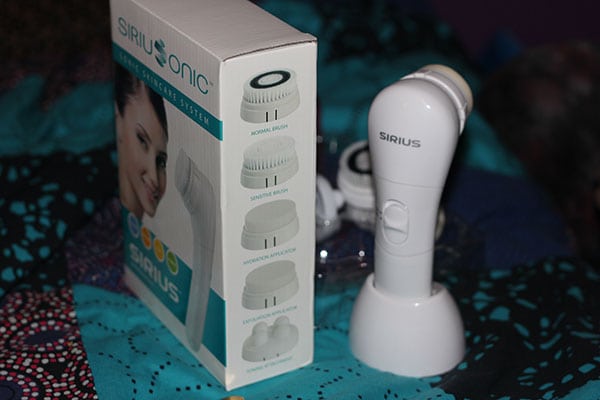 Sirius Sonic Skincare System is a water-resistant device with five interchangeable heads constructed to inflict no pain to the face. The brush doesn't just cleanse but also exfoliate, hydrate and tone the skin. It is a great tool that delivers instant result when paired with your favorite cleanser for a deeper clean than using fingers or pads. It doesn't cost much as well if you consider that you will have fresh and radiant skin in the end. The system uses sonic vibrations that pulse the bristles against your skin, scrubbing off dirt, oil and other debris clogging the pores. It comes with a storage cradle, five brushes for sensitive skin, normal skin, an exfoliation applicator, a toning attachment and a hydration applicator. You can go to the bath or shower with this cleansing brush for its waterproof quality. It runs on 2 AA batteries. The only thing we think is missing on this brush is a rotating feature. But the vibration you feel on your skin when you glide through the face which comes at a frequency of more than 300 motions per second while cleansing, compensates the loss. The back-and-forth oscillating motion cleans, clarifies and stimulates the skin. By the way, this brush works on any skin type, but we think someone with skin conditions like extreme sunburn, open wounds, pustular acne, and heightened skin allergies may not benefit from it.
Pros:
It delivers gentle cleansing, exfoliating, hydrating as well as toning
It helps you carry out different jobs at a particular time.
It gives you a professional result at home saving you the stress that comes with a spa treatment. It repairs
It repairs the skin and makes it look better
It cleanses six times more than traditional washing.
It can be used twice a day to cleanse and twice weekly to exfoliate.
Cons:
It doesn't spin, so might not suit someone who wants a rotating cleansing brush
Verdict:
This is a bang on if what you want is a cleanser that you can be in full control of. It is an easy way to carry out different skincare routines with a single powerful device. Good enough, it sells at an affordable price. Keep in mind that it does not spin and may not be the best choice for someone who wants a rotating brush.
Beaute La Royale Facial Cleansing Brush System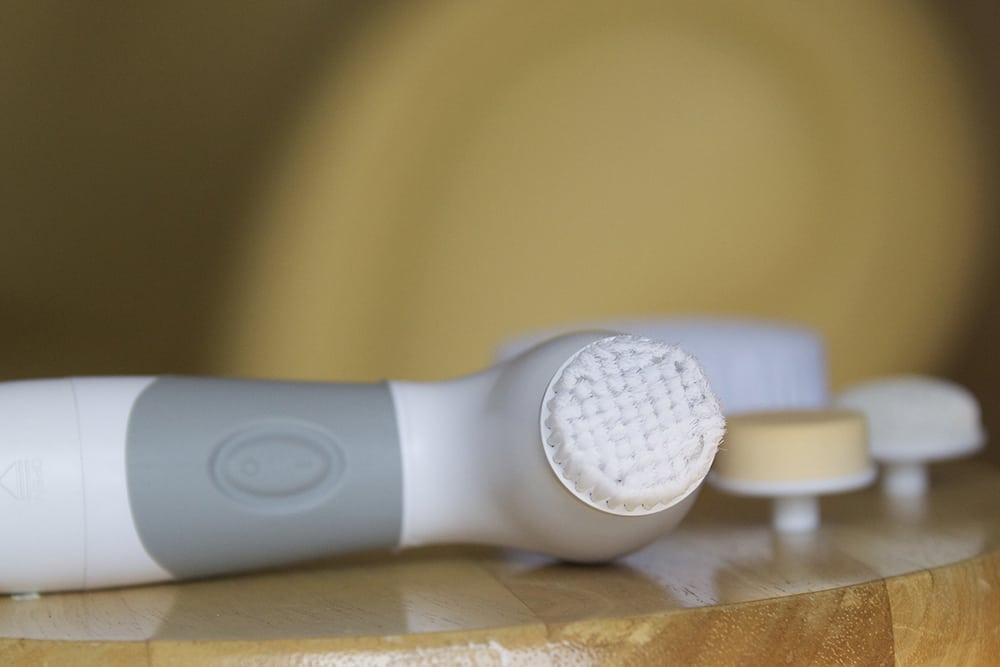 Beaute La Royale purifies the skin by removing dead skin cells, oil and makeup and also other unwanted materials from deep within the pores.  The waterproof set whisks away anything that will prevent your skin from looking younger and more radiant. It comes with hygienic bristles that dry up quite fast after deep cleansing.
It is cute and compact and comes with different adjustable heads including a large body brush, 1 pumice stone for the feet and 1 facial brush. It also comes with a spongy attachment that has the texture to a makeup sponge. This is supposed to be used for serum and moisturizer application.
This means the body gets a fix for even more radiant. The bigger benefit to this product is the warranty which lasts throughout its lifespan. It uses AA batteries which is apparently more convenient than having to wait for the rechargeable battery to charge up when it drains during cleansing. It delivers noticeable result in few days once your skin adjusts to the regimen.
Pros:
Storage is easy as it comes with a case.
Keeps skin free of blemishes  and absolutely clean
It is safe to use on any kind of skin; oily and dry skin, sensitive and normal skin.
The stone works great at removing dead callus cells
It cleans the skin 10 times more thoroughly and effectively than handwashing
It massages your skin and stimulates skin restoration, regeneration and repair.
It treats and prevents acne
No more blackheads, blemishes and pore congestion.
Cons:
Changing of the AA batteries adds to your cost.
Verdict:
If you want a cleansing body that will not only care for your face but also keep all of your skin clean, this Beaute La Royale Cleansing brush will be your best companion. It is also an ideal choice if you find some other brushes here like Clarisonic too mild to handle your daily routine. It comes with a stone that cleans the dead callus cell and feels good on the feet. Plus it does not come at a shocking price.
Clarisonic Facial Cleansing Brush for Women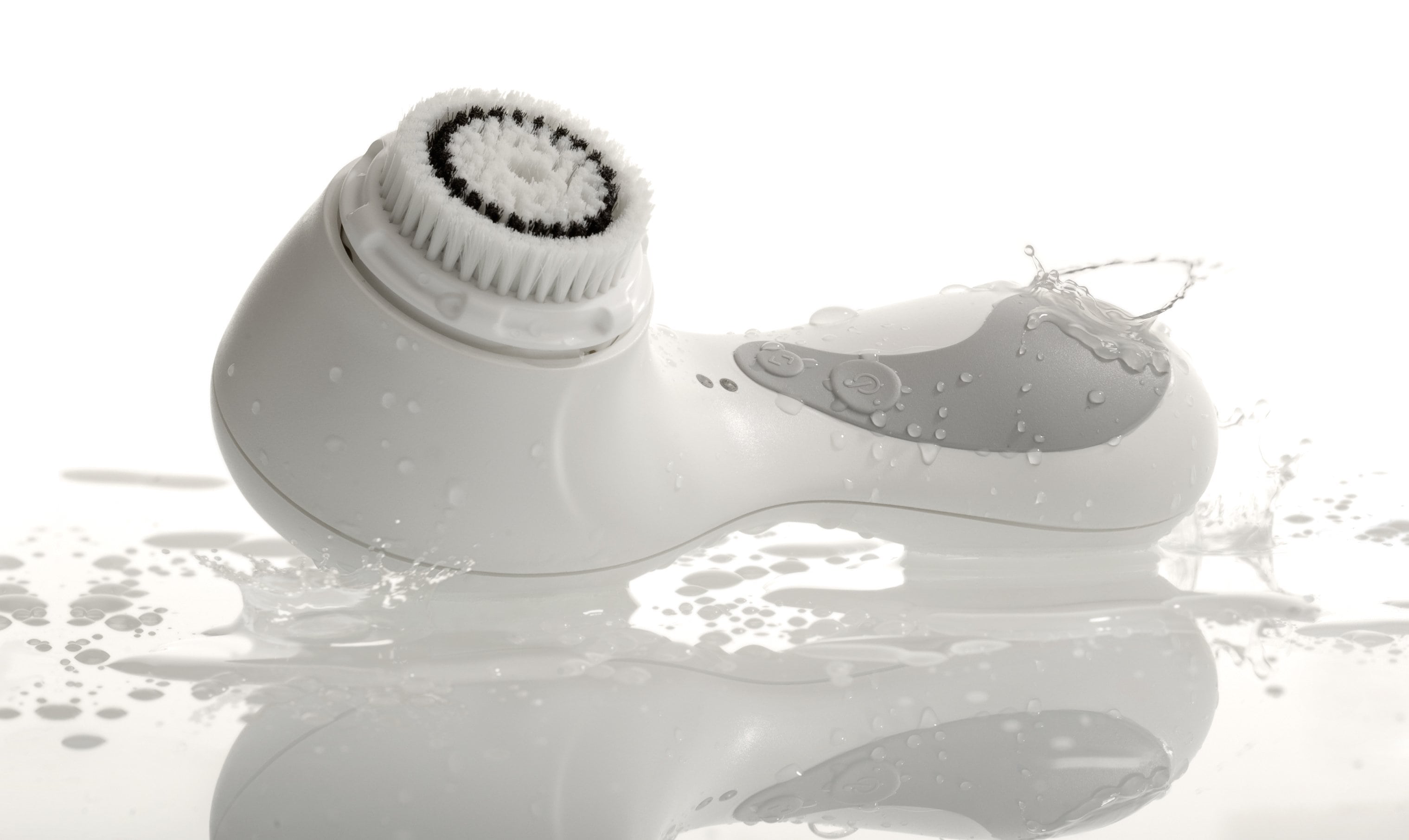 The Clarisonic Cleansing brush cleanses in a circular motion and has extra-plush bristles which to me result in a slightly stronger and effective cleansing. For an even result, the brush uses oscillation technology and fluid forces. Oscillation technology delivers 300 micro massage vibrations every second to make a remarkable difference in your skincare routine. Similarly, fluid forces flush pores clean using the water on the cleansing device. This procedure leaves the skin 6 times cleaner than traditional cleansing. Another cherry on the cake is that the brush works best for sensitive skin as the bristles seem very mild and won't stress out the epidermis. Also, the velvet-like bristle tips are thoroughly textured to deliver the most gentle cleansing on a sensitive or compromised skin. It also beeps to notify you when you to cleanse other parts of your face so you don't leave on one part for too long.
Pros:
It does work really well
Gives you six times better skin
It safe for acne-prone or compromised skin
It can work with Mia, Mia 2, Mia 3and Plus cleaning systems.
Soothes and softens the skin
It is lightweight yet functional
Best for uneven skin tone, enlarged pores, and sensitive skin.
Cons
Has one-speed setting.
It is not in everybody's price range.
Replacement heads are a bit expensive though it lasts long
Verdict:
We highly recommend this product to people who want a brush that can do various things at once. It is not just for the face but also for other parts of the body. I love that it delivers professional results without a visit to the spa. This is a great investment If you can spare the money.
Olay ProX Microdermabrasion Plus Advanced Facial Cleansing System.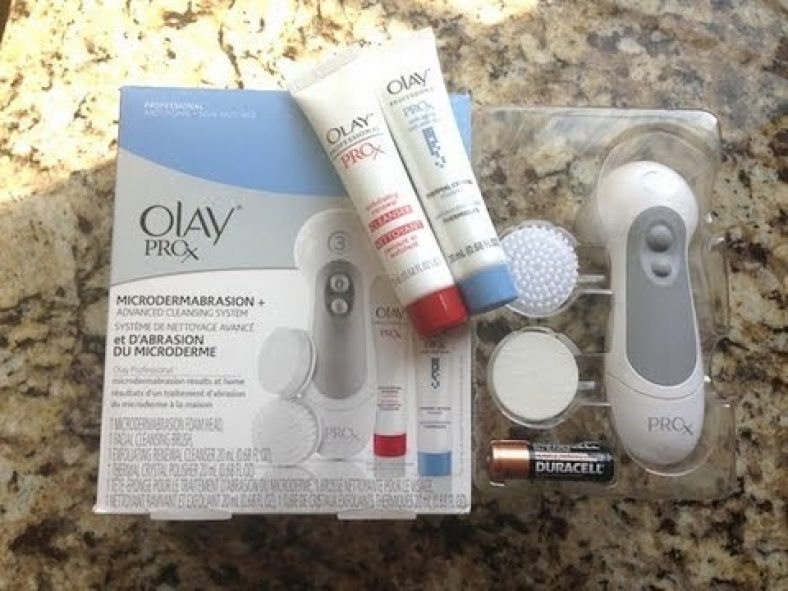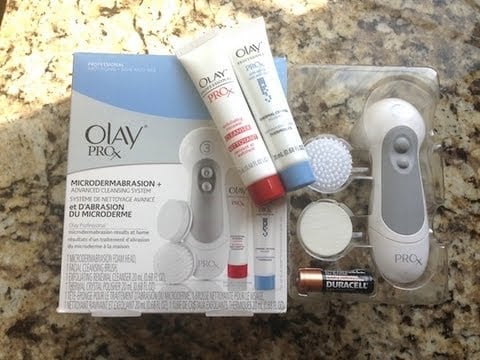 Olay ProX Microdermabrasion Plus Advanced Cleansing System is an elegant, safe, effective and easy-to-use cleansing device that delivers superior and smooth finish. It comes with everything you need including battery. The system works wonders when it comes to scrubbing, exfoliating 700 percent more than most regular scrubs which guarantees even results. It also cleans in a circular motion which appears to be very effective. It comes with a thermal crystal polisher which favors the skin. We love that the bristles are unbelievably soft with a tenderly touch you can imagine yet allows deep penetration while clearing off unwanted materials including dead skins. For the price, you won't have to break the bank to get this microdermabrasion system for use at home.
Just with any product that exfoliates your skin, be sure to wear a sunscreen after using the Pro-X system. Also, you may not want to use it in the sensitive parts of your face every single day. Again, it is safe to use twice weekly to avoid abusing your skin.
Pros:
It can be used in the shower for its waterproof feature.
It is easy to use and handle
It is safe and friendly on the face
It has three speeds setting which means you have total control.
Delivers noticeable results
It deeply cleanses and improves the immediate hydrating effectiveness of anti-ageing moisturizer.
Rotating head brush
Cons:
Verdict:
This is one cleansing brush to consider when you need a truly superior clean. The brush removes hard to remove makeup debris and gently exfoliates for a flawless finish. I love the affordability of this product despite all of its features.
PIXNOR P2017 Waterproof Facial Cleansing Brush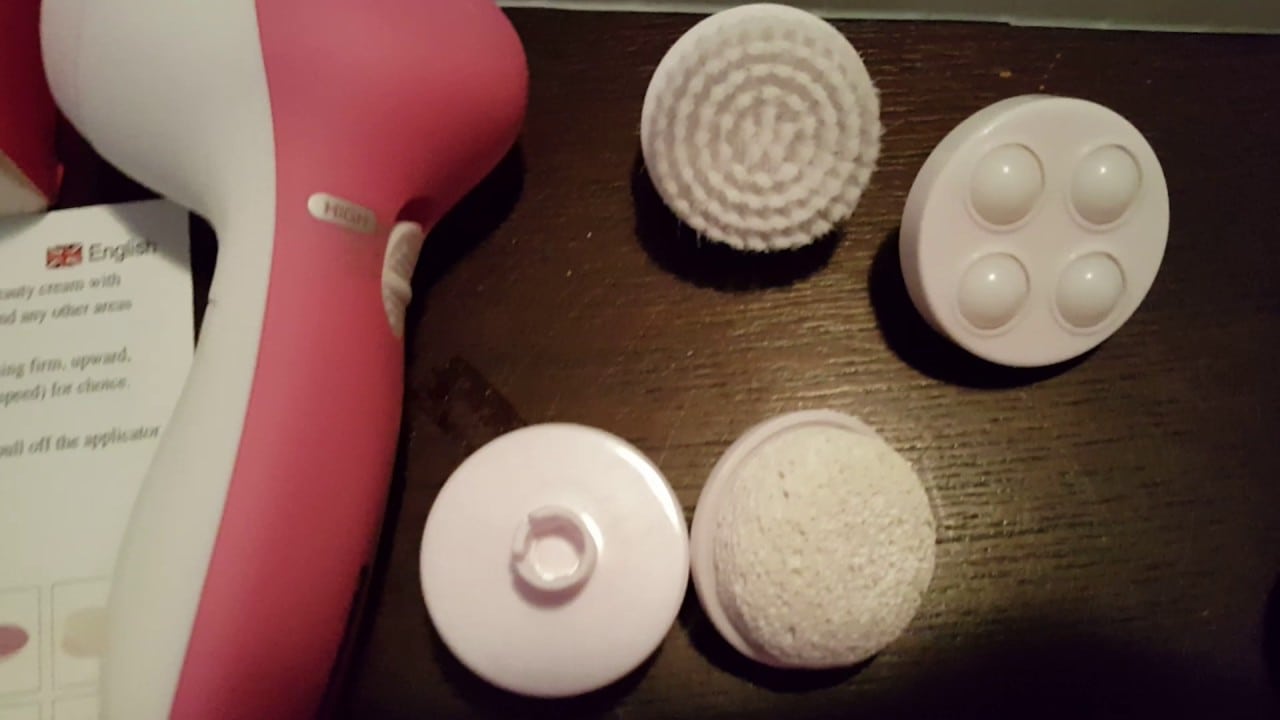 Facial massage helps blood circulation and is beneficial to your whole body. It puts both your mind and body to a better mood and restores the lost glow to your face. That's what you get from this cleansing system. The Pixnor cleansing brush has 7 different interchangeable heads including a full range of brushes, massaging head, exfoliating pads, and sponges. It is waterproof so can go into the shower safely. Cleaning is a bliss and means simply running them under warm water and air-drying. The long or short bristle brushes for deep cleansing and mild exfoliation. Makeup and surface oil can easily be removed with sponges. You can use the exfoliating head with facial cleanser to deep clean and gently exfoliate. It has two-speed settings for effective, gentle and smooth feelings.The pumice pad is also good and can serve people with rough calluses from feet and elbows. It does the work without going to the doctor or spa.
Pros:
It is lightweight and portable for home and travel use
It is a versatile tool that massages, removes blackheads and delivers better blood circulation, clears the scurf clings and microdermabrasion collagen cleanser.
It is easy to wash and clean them
The massaging ability improves blood circulation and helps the skin effectively.
It is of high quality
Can work with facial cleanser and essential oils
Storage is simple
Cons:
Verdict:
This works with all skin types, normal, sensitive, dry, oil. It can also serve men women and even teens. It gives you spa quality results at home.
The brushes put a great amount of strength yet gently polish away imperfections, blemishes, discoloration and dull patches.
Conclusion:
You can always rely on a quality facial cleansing brush for a smoother, brighter and even skin. We recommend not using them daily in as much as some are so soft that they can still be mild even when used twice daily. Fortunately, the prices are cheap, so you may never have to worry about that stubborn acne, blemishes or any other flaw that has refused to fade off.