Every beauty-conscious person knows that hair doesn't play second fiddle to anything on the priority list. They say, a man is only as good as his tools, and in the case of natural hair, the flat iron you use virtually solely determines your end look.
A good flat iron can do a whole lot of enviable tricks on your hair so long as you are familiar with how to use it: you can create elegantly styled weaves in no time with good flat irons but buying the wrong hair straightener can cause long term damage and breakage to your hair especially those with inconsistent heat regulation and distribution with poor quality heating surfaces; therefore the biggest challenge is getting the best flat iron that does all the tricks you will ever need when it comes to styling your hair while preserving the structure of your hair.
Best Flat Irons That Won't Damage Your Hair
To save you the hassle of having to find the perfect flat iron yourself, we did in-depth research of what the market has to offer and came up with this list of the 7 best flat irons.
Whether you are looking for an excellent fit for natural hair, thick, fine or curly hair, you can choose what you think chimes with your budget and preference and you will rest assured you are getting the best hair straightener.
1. Best Flat Iron For Damaged Hair: Remington S8700 T|Studio PROtect Hair Straightener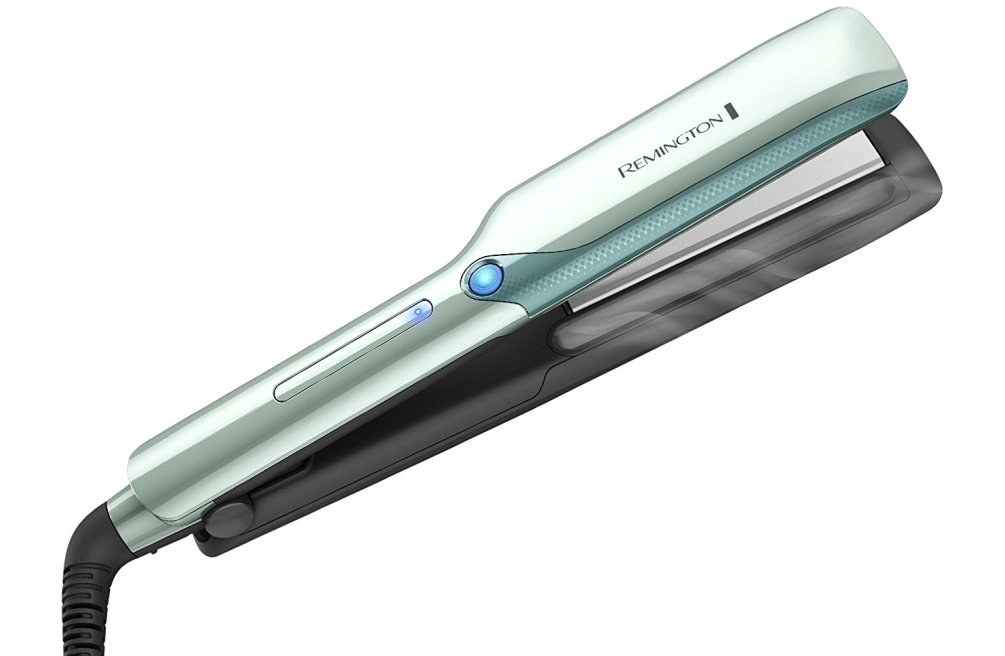 Dedicated to only straightening, and not curling or waving, the Remington S8700 offers perfection in its trade. It has one of the fastest heat-up periods (30 seconds) and offers a range of temperature settings giving you the option to choose the one that is perfect for any texture of hair.
What makes it even more desirable is the fact that the body remains cool through the temperature intensification and has quite an interesting way of ensuring your hair is protected during the process: just press the misting button to transform the water in the water compartment of the iron into a gentle mist, which will stand between individual hair strands and the plates to cut back on the damaging effect of direct contact.
You can also add a heat protectant in this compartment if you wish. The plates are made of ceramic which makes your hair smoother. It straightens hair quite fast and requires a minimal amount of swipes to get the job done and if you are the forgetful type, it is equipped with an automatic shut-off feature which will see the flat iron turn itself off if left to stand for more than 60 minutes.
2. Best Flat Iron For Curly Hair: BabylissPRO Nano Titanium-Plated  Wet-Dry Ultra-Thin Hair Straightener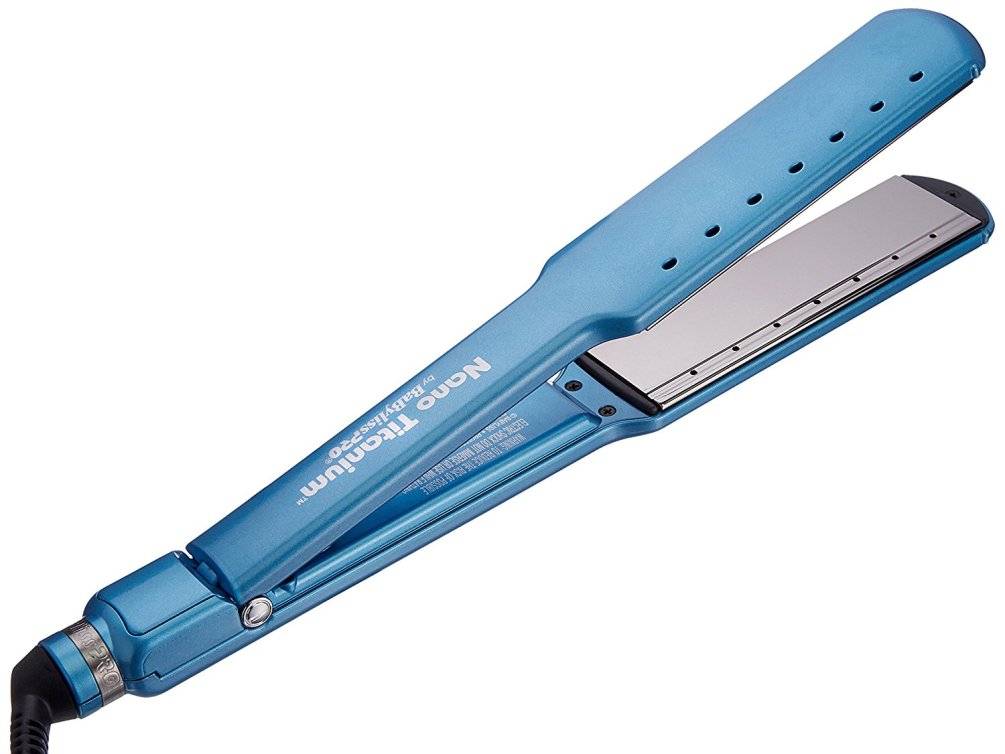 While this is not as fast as the Remington S8700 hair straightener, the Babyliss Pro-Nano can go from zero to 450 Fahrenheit in 40 seconds, and that's nothing to sniff at. How it works is something completely out of the future; it emits negative ions to give you less frizz while smoothing and conditioning damaged, dry, and color-treated hair.
If you're worried about the extreme temperatures of the ceramic plates, and the risk of getting burnt, the stay-cool Ryton housing has you covered and will suppress ultra-high degrees of heat for long periods of non-stop use.
It has an automatic shut-off system too which activates after 60 minutes and a long swivel cord that ensures your movements during styling are not interrupted.
Flaws but not deal-breaker:
What fails this otherwise 10/10 product is the positioning of the power and temperature buttons which you can easily press if you're not attentive during styling. On the whole, though, the Babyliss Pro-Nano is an amazing product for its price and is totally worth it.
3. Best Flat Iron For Fine Hair: OSIR Professional and Digital Nano-Titanium Wet & Dry Hair Straightener
For a flat iron that costs you less yet promises so much, you could be forgiven to think you are being lulled into a swindle. In actual fact, it is well worth every single cent you part with for it.
Our favorite features include the LED indicator which helps you keep track of the temperature status and the positioning of the (-) and (+) buttons on the handle, which enables temperature adjustment even in the process of styling. This helps you use just the right amount of heat you need for your hair. It also works very fast, and shininess and silkiness can all be attained in a matter of seconds with the Nano-Titanium iron plates.
4. Best Flat Iron for Black and African American Hair: VAV Professional Hair Straightener 1in 3D Floating Plate Ceramic

Cheap and amazing will hardly occur in the same sentence unless it is the VAV Professional Hair Straightener you're talking about. The flat iron is not only a thing of beauty but also the kind of tool that you would bank on to handle all textures of hair thanks to its wide temperature range and tourmaline ceramic plates.
Also, it's not limited to hair straightening only; you can use it to curl, flip or generate waves all with a single push of a button, and without necessarily forfeiting efficiency for flexibility. The 3D floating plates with temperature monitor heats up to 446 F in just 30s.
It is fitted with LED digital display screen that shows the temperature of operation and the temperature regulators are positioned in such a way that they can easily be controlled. We found this accessory especially useful to girls and even guys who are accustomed to transforming their hairstyle more often.
5. Best Flat Iron For Thin Hair: Xtava Pro-Satin Infrared Hair Straightener with Tourmaline Ceramic Plates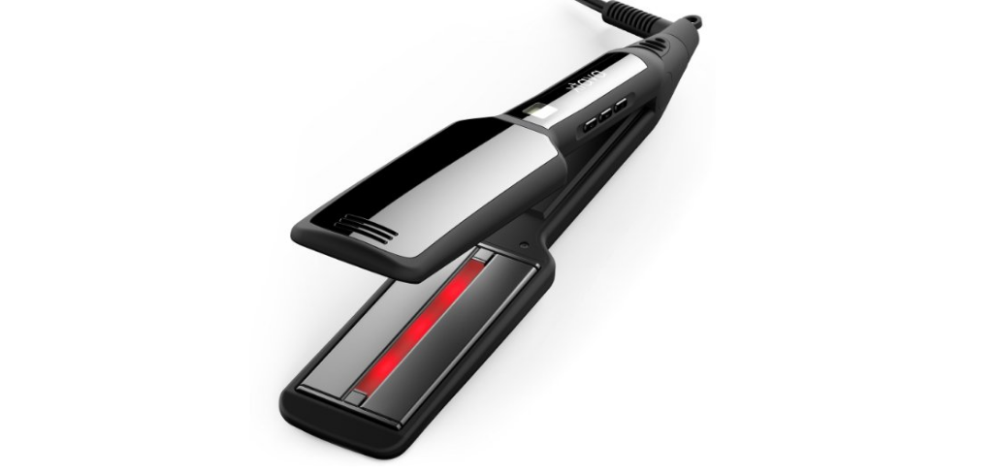 One major drawback for poor quality flat irons is their reputation for damaging the hair cuticle if overused. Thankfully, the Xtava Pro-Satin Infrared Straightener was built with the cynics in mind.
It is fitted with the latest heating technology and the safety of your scalp is officially one less problem to worry about. The plates are wider-than-normal for sufficient contact with the hair and the dual-plate technology facilitates heat retention for extended periods of time.
You can toggle between ten temperature scales with ease thanks to its built-in microprocessor. Xtava Pro-Satin Infrared Straightener heats up in 90 seconds and shuts itself off if left unattended.
6. Best Flat Iron For Thick Hair: Lanxim Pro Digital Tourmaline Ceramic Hair Straightener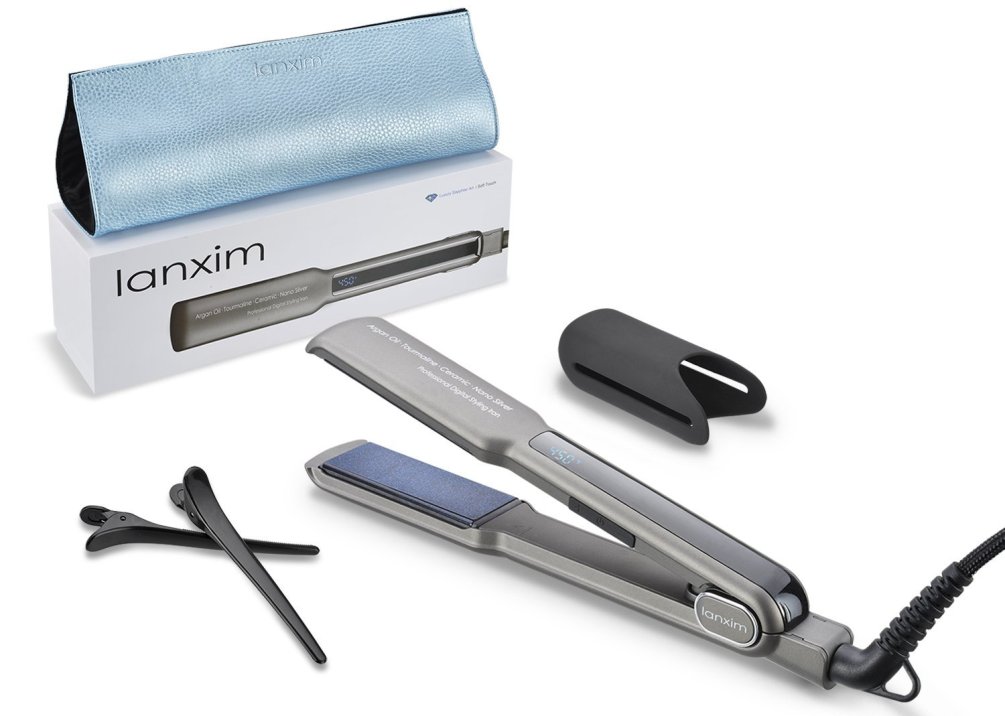 The Lanxim Pro Digital is probably the most texture and thickness-specific flat iron in the market. It can be adjusted into 11 different temperature settings between 265F and 450F, making it easy for you to find the precise temperature for your hair. It heats up in less than half a minute and can toggle between the temperatures with great ease.
For the high temperatures, which are a cause for concern for hair damage notoriety, the Pro Digital is equipped with a customized microprocessor that regulates heat as you swipe from the top to the end of your hair. The tourmaline ceramic floating plates it is equipped to easily straighten, flip, and curl your hair.
The even heat distribution also creates a shinier, silkier finish in lesser time. it comes with a 60-minute automatic shut-off if left unused while the 10 feet swivel cord can rotate 360 degrees to prevent any form of cord tangling. Whether you have thin or thick hair, this should come as nothing but a must-have accessory.
7. Best Flat Iron For Natural Hair: CHI PRO AIR 1″ Ceramic Flat Iron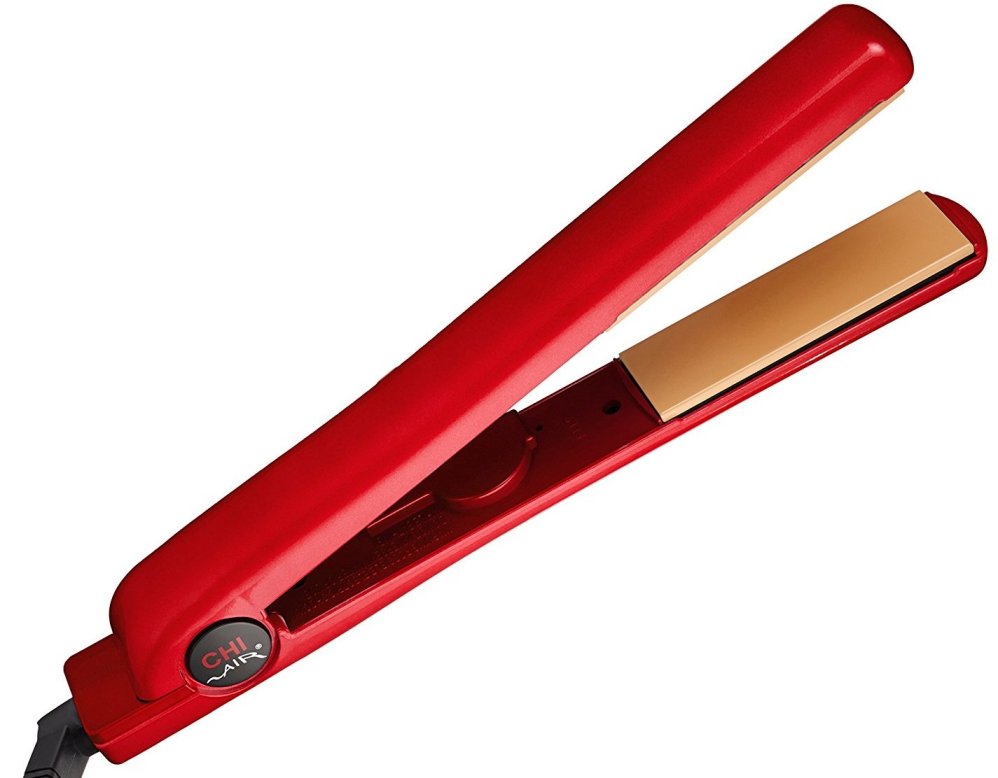 In the famous CHI ceramic flat irons line, the Chi Pro Air sits right at the top there, head and shoulders above the nearest insider. It is the most advanced among the multiple Chi versions and has right about all smart features that define state-of-the-art flat irons.
It has a faster heat-up than most of its rivals in the market and deliberately sports a miniature frame to harmonize with your inclination for frequent changes of hairstyles.
CHI Pro Air is fitted with classic tourmaline ceramic surfaces, utilizing the latest technology that combines Tourmaline Ceramic with even heat distribution on the hair. This flat iron is ideal for all types of hairstyling, including straightening, waving, curling, smoothing, and spiraling. It reduces frizz leaving your hair exceptionally shiny and silky so if comprehensiveness is what you're looking for, then this Chi product goes completely unopposed.