Nothing can make a woman's day than a good curly hair day, but it doesn't happen all the time, as this requires some effort, time, steps and materials to achieve, as well as one of the very best hair dryers for curly hair.
Materials like microfiber towels and curl creams go a long way. However, there are some reservations when it comes to using a blow-dryer on a curly hair since the direct heat can simply ruin the curls. That's why I rounded up these greatest hair dryers with nice diffusers to help you always save your day.
A good blow dryer is a life saver for me when I want my curl to look voluminous and shiny. It allows me to style my hair however I want. My dependence on these tools revealed interesting factors about today's best hair dryers and what we should always look out for when considering one. Things like a range of heat settings, speeds, attachments, additional features from ceramic and tourmaline components to ionic features that usually promote hair's moisture level as well as even drying.
We also rate tools that dry hair from inside out. We have made a list of these great reliable dryers considering these factors and nearly 40 of the top recommended hair dryers out there.
In addition, we consulted experts and other reviews from noteworthy companies that also test products before considering what people have to say about some of them to arrive at the conclusion that the RUSK Engineering W8less Professional 2000 Watt Dryer is the very best hair dryer for curly hair out there, although you may need to buy a diffuser for it. It delivers a soft, silky and smooth result that is less frizzy, dries faster and is quieter than most. MHD Hair Dryer, BaBylissPRO Porcelain Ceramic 2800 Dryer, and others on the list are also worthy of note.
Best Hair Dryer for Curly Hair
MHD Hair Dryer Professional Salon Blow Dryer for Curly Hair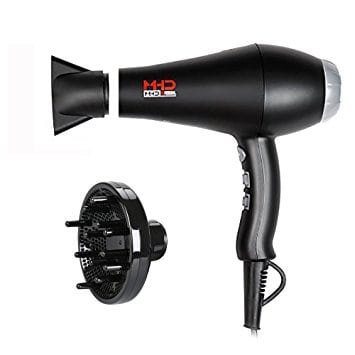 This 1875 Watt MHD Hair Dryer features a lightweight design which is lighter than most of the models we tested. The hair dryer comes with an AC motor that reduces drying time and works in a quieter mode. Two speed and three heat settings for controlled airflow and heat. The long 9ft cord ensures you have absolutely nothing to worry about the nearness of an outlet to the mirror. It uses Ionic Technology and Far-infrared heat for quick and easy drying time. It includes a concentration nozzle and a diffuser attachment – a great bonus that brings about that reduces frizz, adds volume to the curl and dries effectively. It uses stall-type air inlet which works to stop damage to the internal component. You can also get SUPRENT Nano Thermal Ceramic & Ionic Round Barrel Hair Brush for complete styling.
Pros:
Powerful enough to dry long, thick, wavy hair
It enhances hair shine, leaving a soft and silky feel
It is lightweight and comfortable to grip
It delivers salon-style results.
The heat settings give you the control you need.
Cons:
Some customers complained that its control buttons are positioned wrongly.
Verdict:
This is a great dryer when it comes to drying and styling all kinds of curly hair, no matter the thickness. I love that hair doesn't get caught in it and it sells at nearly a giveaway price. Some reviewers complain, however, that the buttons are positioned awkwardly but this is a common problem found in hand-held dryers.
Solano Supersolano 3500 Lite Professional Hair Dryer for Curly Hair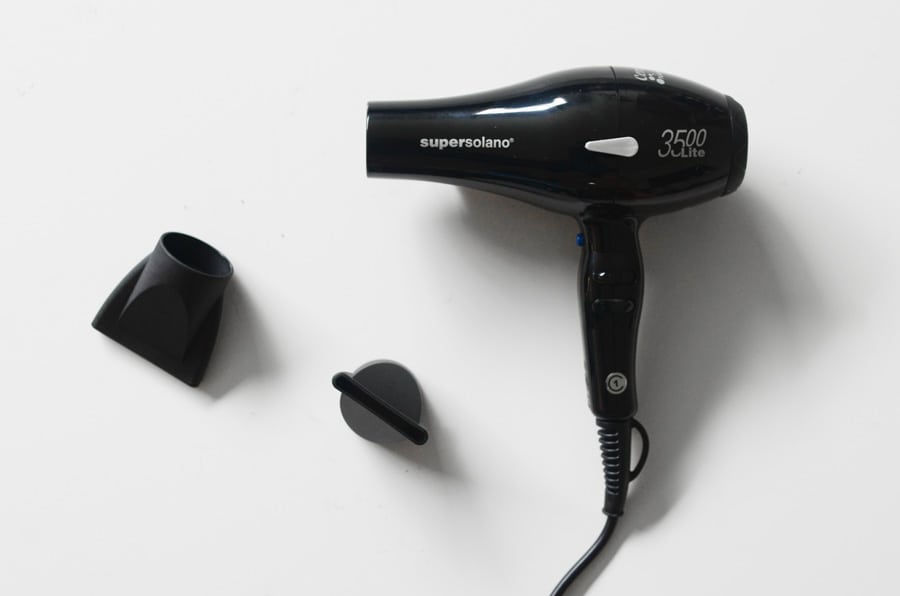 Very long and thick curly hair can often time take a century of time to dry and you don't want your hair to stay too long in the heat, right?
This strong and lightweight dryer by Solano Supersolano promises to reduce the drying time which repels long-term damages. It uses far infrared heat technology to ensure even dispersion of heat and air from the inside out, keeping curls and volume without frizz. Also the ceramic ensures even heat distribution that is healthy to the hair.
This dryer is used by experts in spas and hair salons. It is a 1800 watt dryer that is lightweight and strong. It discourages static electricity using its ionic system that promotes moisture in the hair.
You can also get Solano Universal finger Softstyler Diffuser for a more a quicker and more gentle drying time.
Pros:
Tourmaline disperses heat evenly giving your hair a shine and a bolder curl that stays in place.
Gives you salon result every day.
It is lightweight and easy to use.
Makes precision drying a lot easier.
Cons:
Verdict:
This dryer adds volume to the curls and defines them for a salon-like look. It does not disturb the hair wave or cause frizz while drying. It is expensive for the fact that you may want to buy the bigger diffuser but it is worth every penny you'd spend on it.
RUSK Engineering W8less Professional 2000 Watt Hair Dryer for Women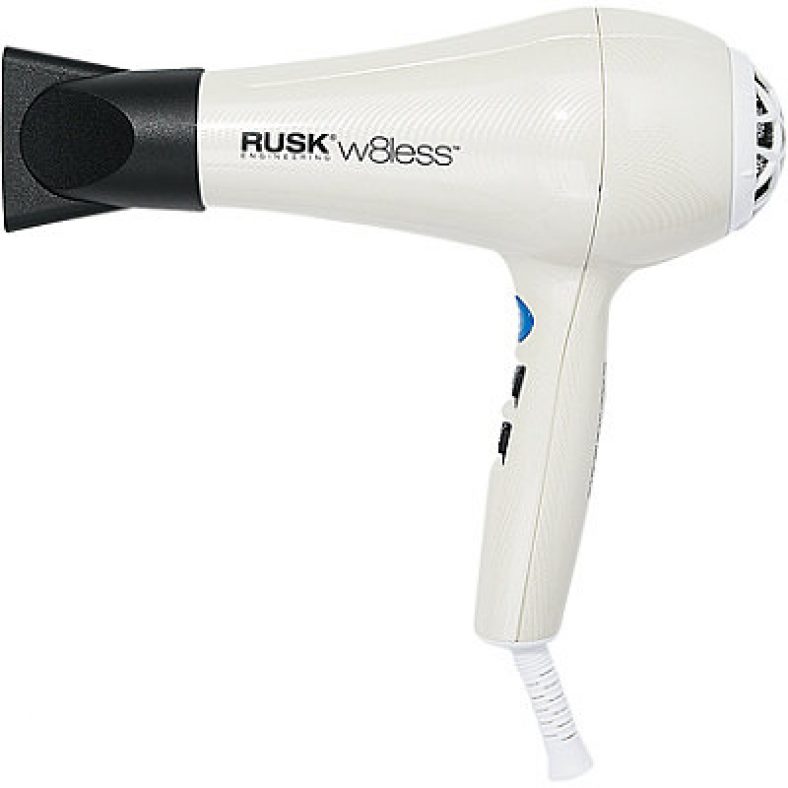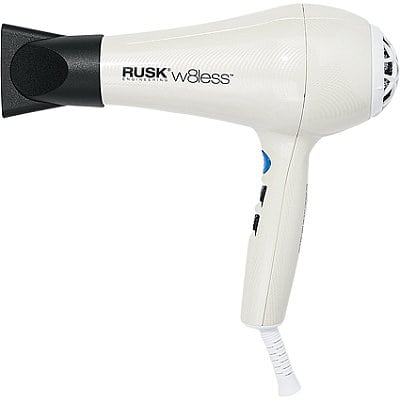 The first thing you'll notice about this very modern 2000-watt motor dryer is its sleek finish featuring ceramic and tourmaline. It feels good when you hold it, providing a more comfortable grip without much stress on the wrist.
That's not all. The dryer is rated high among many professionals and women who style their hair at home for its ability to dry from the inside out by penetrating the outer layer of the hair. Rusk emits far-infrared heat for faster drying and styling, which is easier on your hair. It also emits countless ions that control frizz.
Seven-speed settings and a cool shot button which function to dry the hair with cold air make this stand out.
Pros:
It is powerful yet not heavy
Great for any length of hair
It has a removable filter that makes cleaning a breeze.
It is affordable compared to the value it delivers.
It is not overly noisy when in use.
Eliminates static.
Cons:
The cool shot button is inconveniently placed.
Verdict:
If you need a non-slip dryer that will grants expert styling at home, you may want to consider this. It emits uniform heat and can be used on both thick hairs.
BaBylissPRO Porcelain Ceramic 2800 Dryer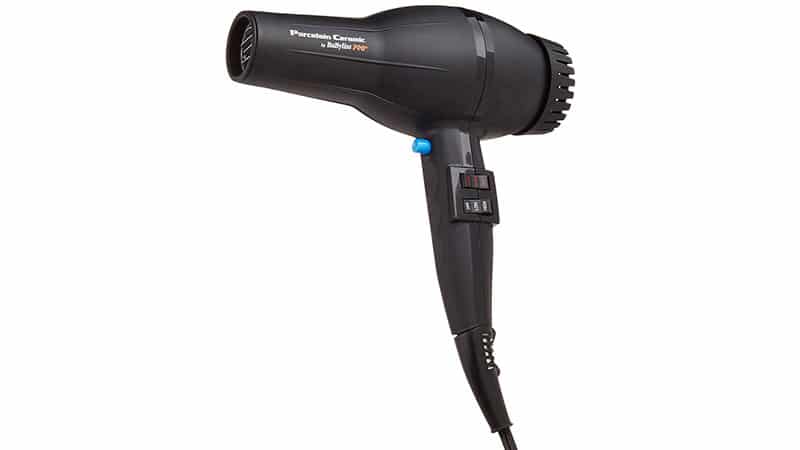 Built with Porcelain ceramic for durable, Babyliss Pro hair dryer is a standard hair dryer that creates a salon-quality result. It is a solid dryer specially made for handling thick and large curls. It is one of the improvements in styling, boasting of 2000 watt motor, increased air pressure and ionic technology which all together delivers high heat for rapid drying of thick locks.
Fortunately, short drying time protects the hair by discouraging heat damage to your curls. Also, the negative ion eliminates static which usually causes strands of hair to resist each other. It diminishes frizz and promotes shine. Other notable features include soft-touch rubberized shelter, 10″ power cord, removable filter, narrow concentrate nozzle, size heat or speed settings, and detachable filter.
Pros:
It offers your hair the shiny and smooth finish it needs.
It is compact.
Excellent craftsmanship.
It protects the hair by providing a gentle heat.
Delivers even frizzy hair.
It dries hair faster.
3-year warranty.
Cons:
It is a little on the heavy side.
Verdict:
This is a hit if static always strikes on your hair especially the thicker types. It is a great static management dryer that not only ramps up the shine but also keeps static in check.
John Frieda Full Volume Hair Dryer for Curly Hair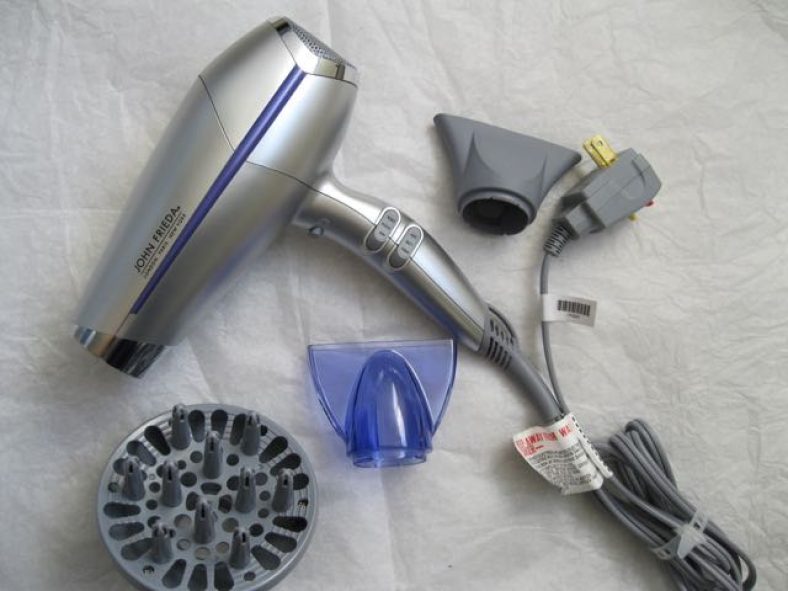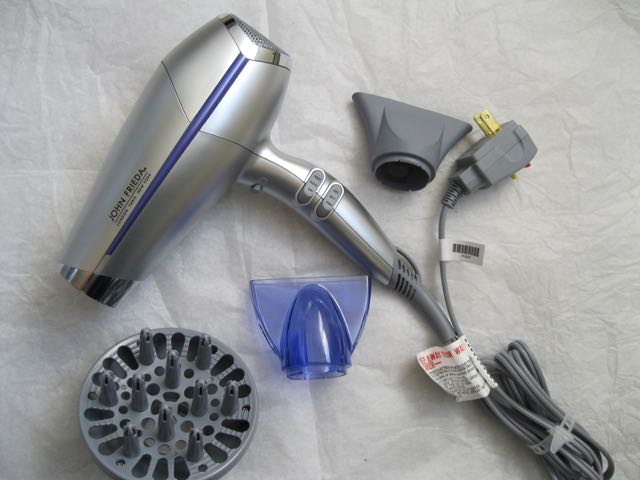 John Frieda Full Volume Hair Dryer is a premium quality dryer that provides an extra volume into your curl without frizz. It features a pioneering technology and sleek design that will impress most modern women. In addition, the 1875-watt styler has an ionic anti-frizz technology and true ceramic heat with LCD temperature control and auto power control which saves energy.
It is constructed with hard-wearing titanium ceramic plates barrels that extend its durability. Beyond that, it features a lightweight AC motor and advanced ionic generator. This allows you to dry fast and evenly without your hair forming small tight tufts. There are also two snap-on concentrators for custom targeted airflow. It has 3-heat and two-speed settings for one-touch operation. Once you're done blow drying, just use the cold shot button to set your style.
Pros:
It protects hair from damage.
Removable filter offers convenience in use.
It adds volume, shine and nice-looking bounce into the hair.
It is safe and delivers a long-lasting result.
Even heating and quick drying.
It is lightweight, so no straining your hand while drying.
Cons:
Some customers have complained about the placement of the button which is where the hand grips the dryer.
Verdict:
If you want to make every of your dream hair come true, this is the dryer to choose. For me, it is one of the best styling tools you can rely on for expert styling
JINRI 1875w Professional Salon Hair Dryer for Curly Hair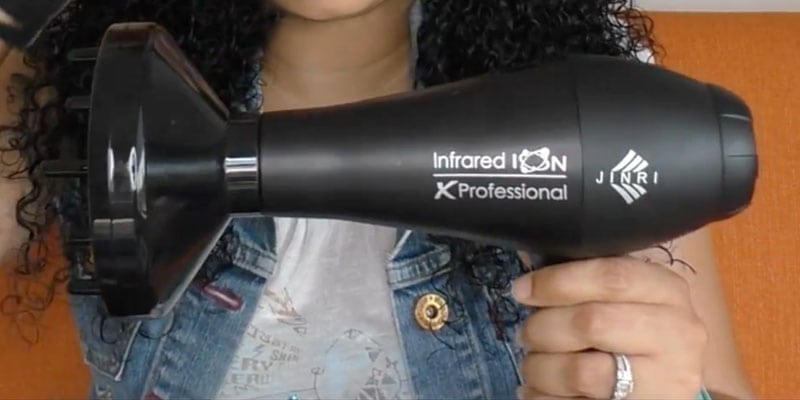 JINRI 1875w Professional Salon Hair Dryer is a 1875-watts triple baked ceramic dryer that holds a constant stream of heat on any kind of curly hair. It has dual heat and speed settings for full drying and styling flexibility.
There is also a cold shot button that gives off cool air to lock-in style. This dryer features ionic technology and infrared heat that smoothen the hair and lock in moisture while the infrared heat gently dries the hair from inside out. Its long-life AC motor makes it one of the most powerful dryers. Negative ion function protects the hair from possible damage. The dryer is uniquely none slip and comes with a short 9-foot cable and a hang loop for storage. It comes with a concentrator and a diffuser attachments for complete hair drying.
Also, the filter is removable, which makes cleaning easy. It has a dual safety net that prevents hair from being drawn into the duct which allows the dryer to work effectively. I suggest you buy alongside UPRENT Nano Round Barrel Hair Brush and Rioa 10 Pcs Professional Multicolor Plastic Duck Teeth Bows Hair Clips Hairdressing Salon Hair Grip for full styling and drying.
Pros:
It is comfortable and easy to use.
It is easy to clean.
It prevents frizz.
It is less noisy than most and lasts longer.
Creates silky hair.
Delivers super air flow.
It is durable which a great option.
Gentle and even drying.
Saves time.
Cons:
Some may find its cord a little too long.
Verdict:
This is another great option if you want a smooth and shiny hair without static frizz. It emits natural ions, which remove static charge from the hair.
Conclusion:
From now on, you don't want to always go to the salon to style your hair when you can use any of these hair dryers and save your valuable money. Of course, they deliver salon-style results and work effectively.