Whether it needs to be stirred, ground or whipped, the best hand mixer does the job more efficiently than laboriously turning with hand. For a thorough mixing, the hand mixer has to be relatively heavy for comfortable usage and enable you exercise enough control over the handle, the beater attachments, whisks and dough hooks should also be of good length to be able to work through the whole mixture in a short period of time using its varied speed options.
The best hand mixer comes with a variety of speed selections/options, efficient power wattage, compact size, simple design and easy to clean extra-long beaters. These features are will give you a hassle-free and pleasant mixing experience. As such, you will never hesitate to use your hand mixer any other time or recommend same to another person.
The durability of a product is also of prime importance as a consideration to be made in purchasing your chosen product. No one would find it funny to purchase an item that breaks down after a few less intense uses. Therefore, after a thorough review of the best hand mixers in the market, OXO On Digital Hand Mixer passed the benchmark with a wide margin as our recommended hand mixer. It is a smart and contemporary device no kitchen is complete without.
KitchenAid KHM512ER 5-Speed Ultra Power Hand Mixer and Cuisinart HM-70 Power are also good products that are worth their onion in view of the several beneficial features each product has.
Best Hand Mixers
KitchenAid KHM512ER 5-Speed Ultra Power Hand Mixer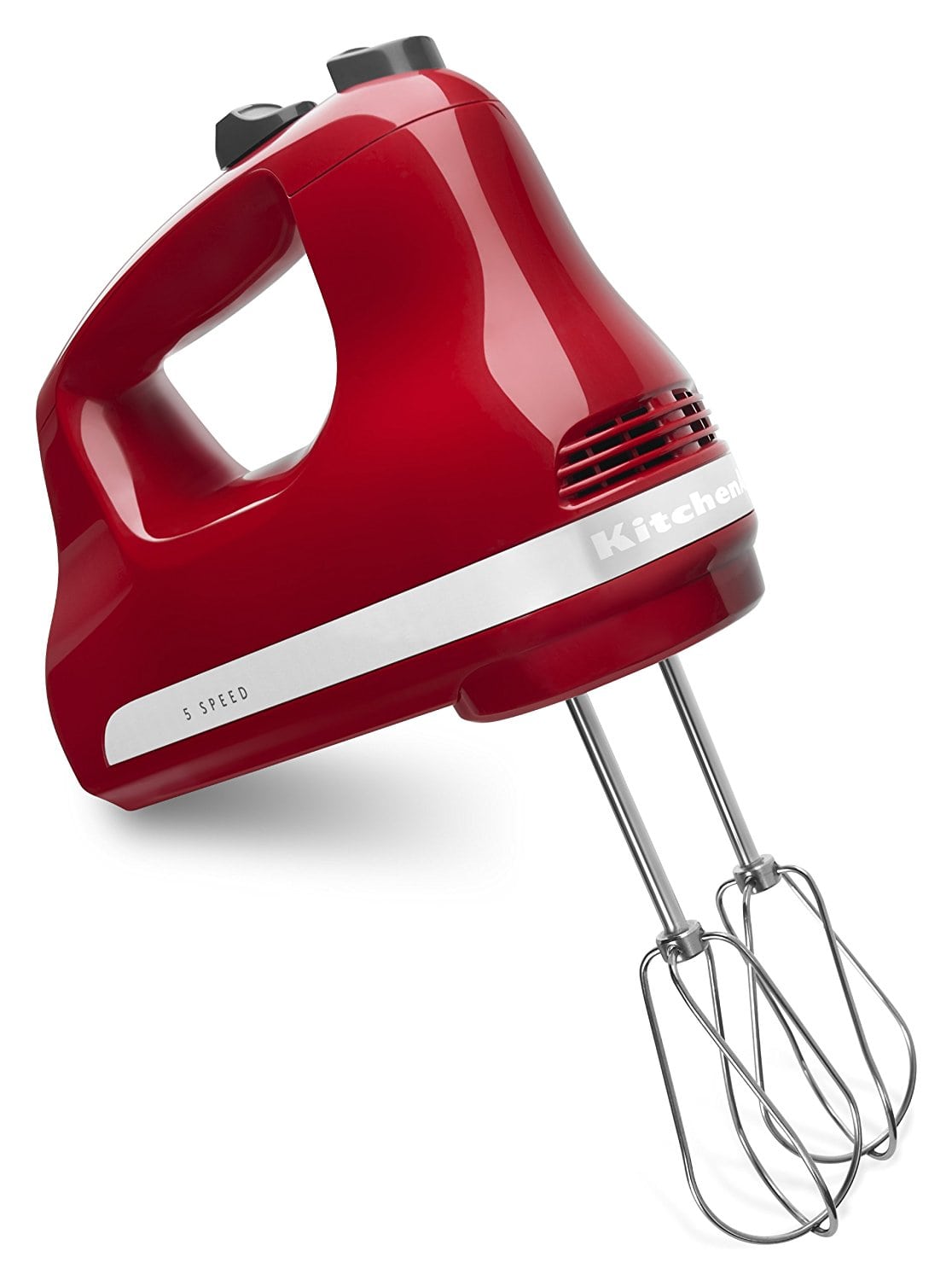 Coming in a variety of 12 colours, 325 watts, 5-speed settings from a slow stirring speed one for chunky chocolates, nuts and similar ingredients to a whipping speed 5 for egg whites and heavy creams. The compact and lightweight KitchenAid KHM512ER has a soft start feature to prevent ingredients from splattering, 2 stainless steel turbo beaters and a beater ejector button which enables you to easily change attached mixing accessories from the device. KitchenAid KHM512ER is great for your everyday mixing need.
Pros:
Dishwasher safe
Soft start button
Five-speed levels
Quick eject button
Lockable swivel cord
Cons:
Beaters might not fit properly if used roughly severally
Verdict:
The five-speed levels of this mixer are perfect for any basic kitchen mixing needs. We particularly like the fact that its two stainless steel turbo beaters were designed with no center post for thoroughly mixing ingredients with less batter accumulation.
Cuisinart HM-70 Power Handheld Mixer Reviews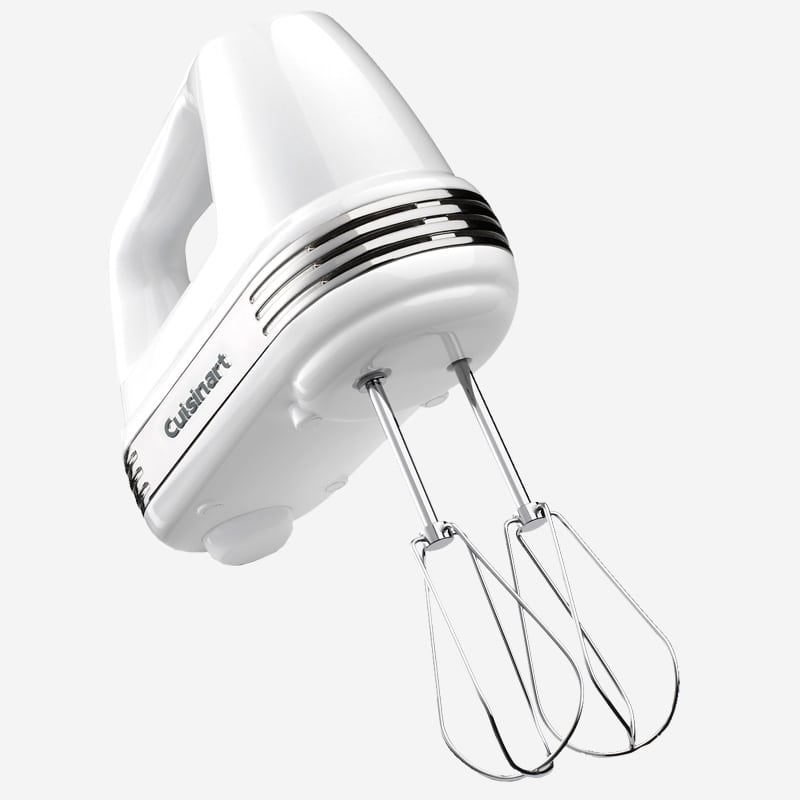 Cuisinart HM-70 Power hand-held mixer is made with a 220-watt motor, 7-speed levels/options with a slide control feature for easy speed shifts using a single button. You might get to feel you are operating a mini automobile when mixing with Cuisinart HM-70. 
The swivel cords are long and convenient to enable you to mix easily from the left or right angle, extra long beaters for thorough mixing and are also dishwasher safe.
Pros:
Beater ejector
Seven-speed levels
Self-cleaning beaters
One step power switch
Compact size for easy storage
White finish which blends with most kitchen appliances
Cons:
Costs slightly more than others but is well worth it
Verdict:
Cuisinart HM-70 Power hand mixer as a recommended hand mixer does not seem to exhibit the ozone odour typical of an electric motor. It is not noisy and a majority of people who have used Cuisinart HM-70 Power hand mixer didn't have any problem with it. It is, therefore, a top hand mixer.
OXO On Digital Hand Mixer Reviews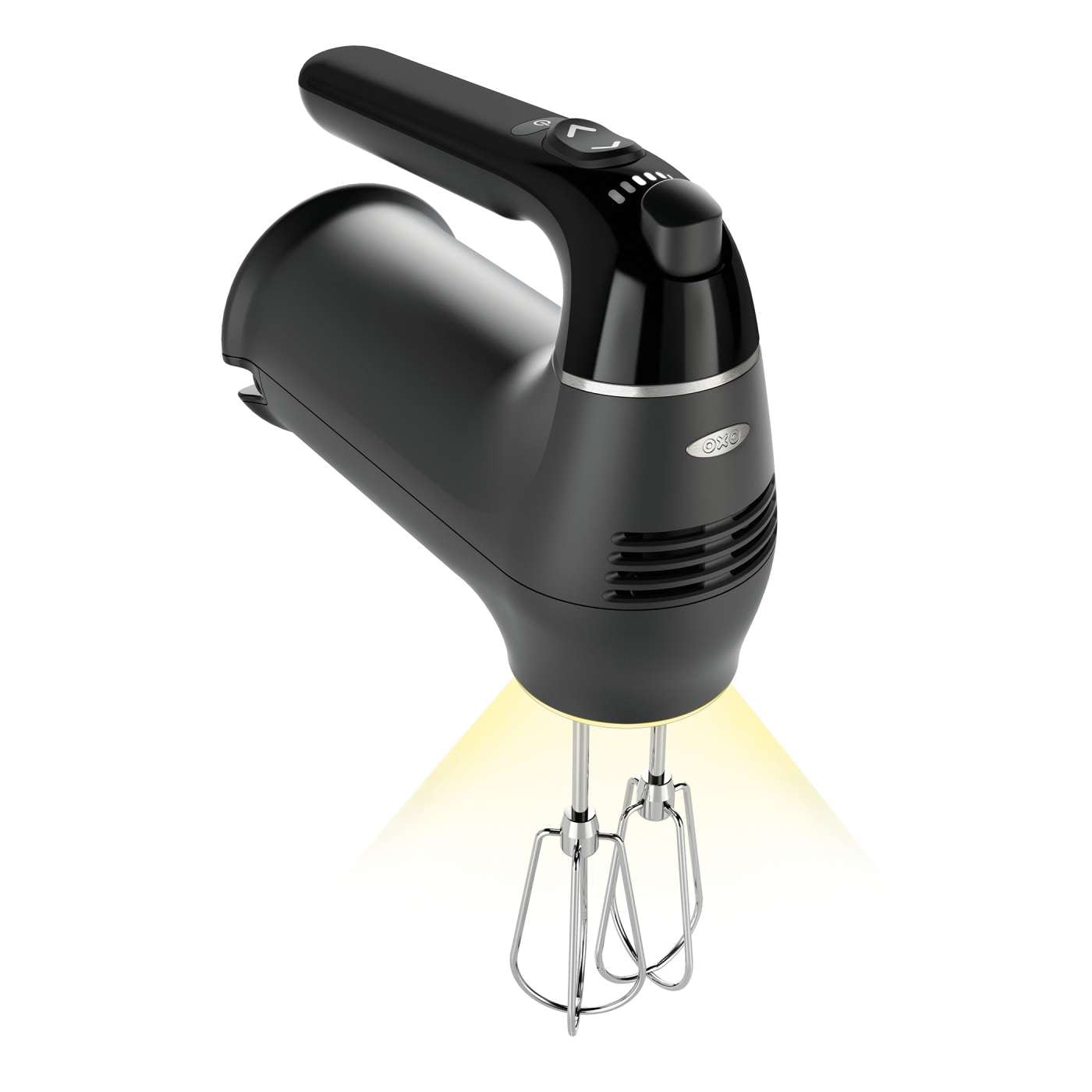 Compact and elegant with unique design is the classy Oxo On Digital Hand Mixer. Your foods will most likely taste better when you use Oxo to mix them through.
This is one of the very few hand mixers that comes with a soft glow led headlight to illuminate your bowl and monitor the batter consistently, as long as the mixer is running. The manufacturers must have put a lot of thought to add this simple, important yet highly neglected feature in the Oxo On Digital Hand Mixer. The speed indicators are also made digital and can be controlled with a soft touch button placed exactly where your thumb can reach it.
Pros:
Six-speed levels
Beater release button
Steady and quiet motor
Led speed level indicator
Led illuminating and speed light
Cord flip for right or left-hand use
Extra dough hooks for extra thick batter
Cons:
Verdict:
This is a hand mixer that goes beyond the regular kitchen hand mixers used for basic mixing and cooking needs. It was made with a keen detail of perfection being exemplified per inch of the product, the beaters store on the mixer's body while the cord wraps around the base for compact upright storage. The rarity and uniqueness of each feature of Oxo On Digital Hand Mixer make it a favourite pick as a reliable best hand mixer of value.
See Also: Best Crock Pots You Can Trust to Deliver all the Time
Hamilton Beach 62623 6-Speed Hand Mixer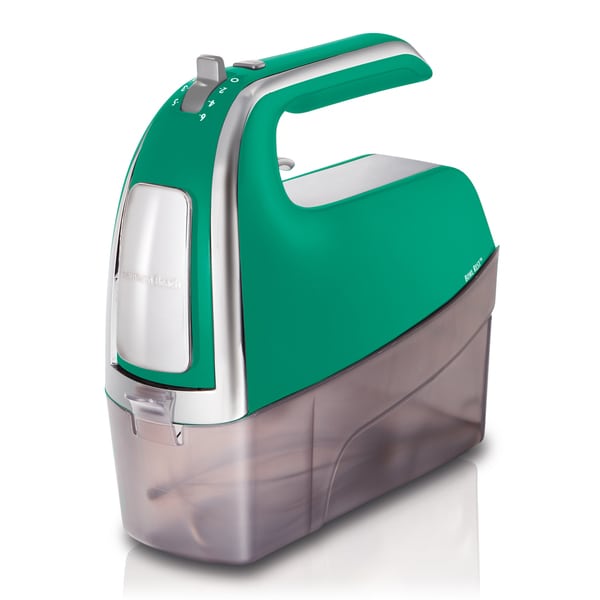 Versatility was the obvious consideration when this product was designed and manufactured. The handles are built to offer you a firm grip during use, while the snap-on storage case was attached for easy and safe storage of attachments like electric cords, beaters, wire beaters, whisks, dough hooks and milkshakes in one place. No single attachment will ever go missing, spoil or malfunction if you use this product in the right way.
On the technical side, Hamilton Beach 62623 6-Speed Hand Mixer comes with a bowl rest feature, 290 watts peak power with burst button, a pulse button, 6-speed levels and a convenient beat ejector.
Pros:
Six-speed levels
Six attachments
Extremely strong motor
Stainless steel attachments
Spacious snap-on storage box
Pulse function and a burst button
Easy access door of the storage box
Cons:
Two colour varieties
Might emit loud noise at high speeds
Verdict:
We particularly like things being done and kept orderly. Considering the fact that this hand mixer will further help to give a good account of where any or all of its attachments can be found at any time, gives this product an edge. The reliable and durable motor power, bowl rest, multipurpose beaters and strong handle of  Hamilton Beach 62623 6-Speed Hand Mixer merits a top spot on our list and is unarguably one of the best hand mixers to purchase. Moreover, It comes surprisingly cheap.
Recommended: Tasty Recipes that are Both Healthy and Delicious
VonShef RED 250W Hand Mixer Reviews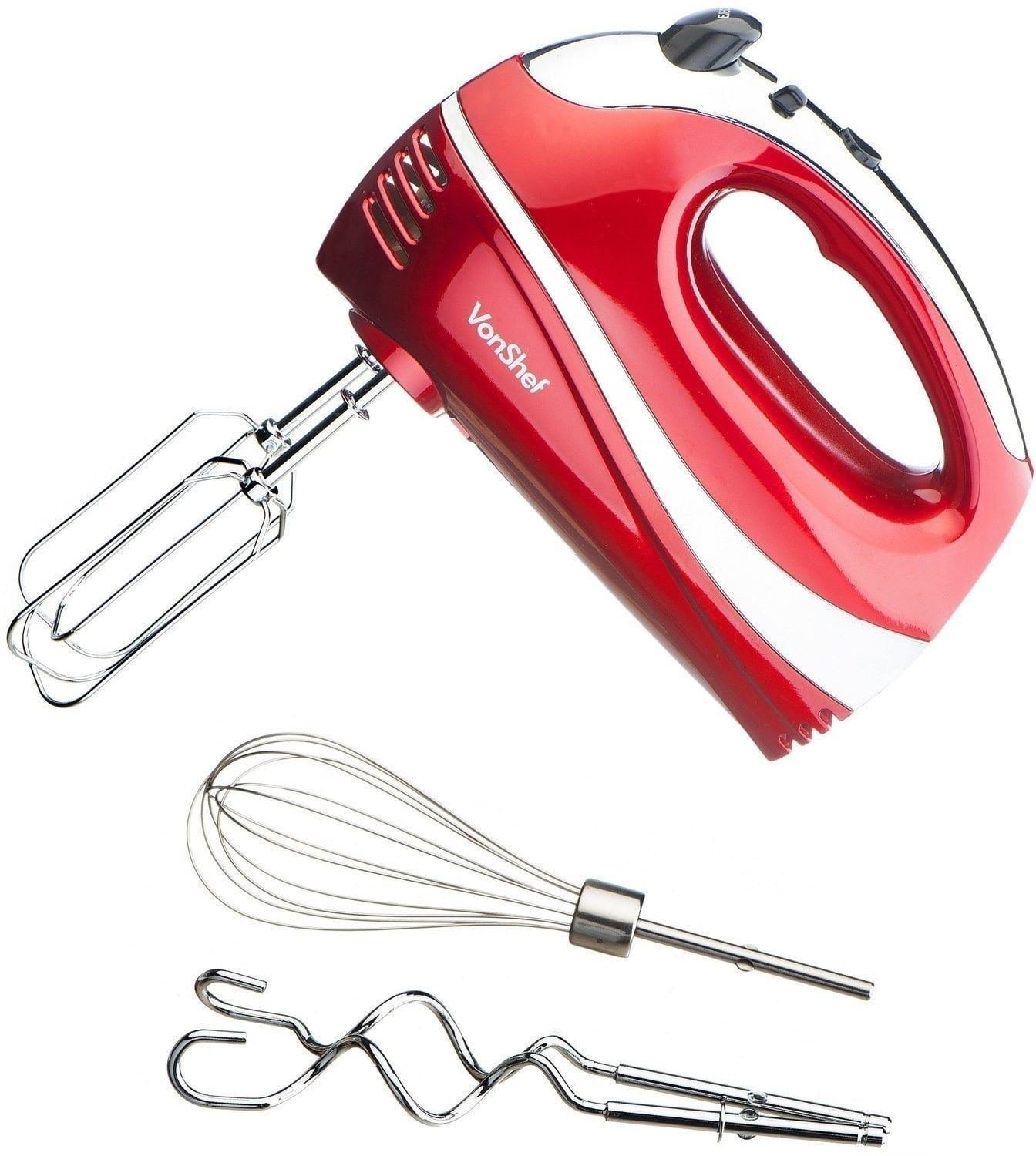 Stylish and sleek in a robust design available in two colours, a powerful 250 watts motor to whisk and mix, 5 different speed settings, a turbo function and quick eject button are all packed into the convenient and easy to use lightweight VonShef RED 250W Handheld Mixer. 
It has a flat end surface for standing, a non-skid surface and 5-meter long electric cord for easy mobility while using it. Whether it is a cake mix, cookies, mashed potatoes, pancakes or scrambled eggs, it works great for its price and will last you a reasonably long period of time for a 3 pounds weight hand mixer.
Pros:
Excellent price
5 steel attachments
Easy to clean beaters
5-speed levels for any purpose
Cons:
Available only in two colours
Verdict:
The impressive turbo and speed settings incorporated into this device guarantees to deliver high-quality result no matter the ingredient you put VonShef Hand Whisk to work on.
See Also: How To Cook Brown Rice in  a Rice Cooker
Conclusion
The best hand mixer worth spending your money are those that are lightweight yet firm on the hand, easy to control and versatile for varied mixing purposes no matter the frequency of use. Each product that has been reviewed here makes the mark to qualify as our top recommended best hand mixer.