Getting a new pair of the best hiking boots can be quite a tough task to embark on. Part of the reasons being that there are countless options out there to choose from, plenty of specialized languages and expressions used, and bold market claims, it is complex to determinedly decide which hiking boot will be best for you. On that note, if you are on a search for a pair of reliable boots it's okay to have some important things in mind. First of all consider what you are looking for such as leather, water-resistance, appearance, stiff, heavy, lightweight, durable, comfortable and of course, a cheap option within your budget. It is also good to consider how the boot fits and other features that may be of importance to you.
In a detailed and analytical way, we have rounded up six trusty boots after considering more than twenty-five most popular models, putting them into careful side by side test. After the thorough research, we concluded that Ahnu Women Hiking Shoe is a bang on in the hiking boots market right now. The boot provides solid traction on slippery paths and is truly comfortable mile after mile. Again boots like Lowa Women's Renegade GTX Mid Hiking Boot and Keen Women's Durand Mid WP as well as others on the list are as much dependable as Ahnu hiking boots. Scroll To See The Full List Below:
Best women's hiking boots
Lowa Renegade GTX Mid Hiking Boot for Women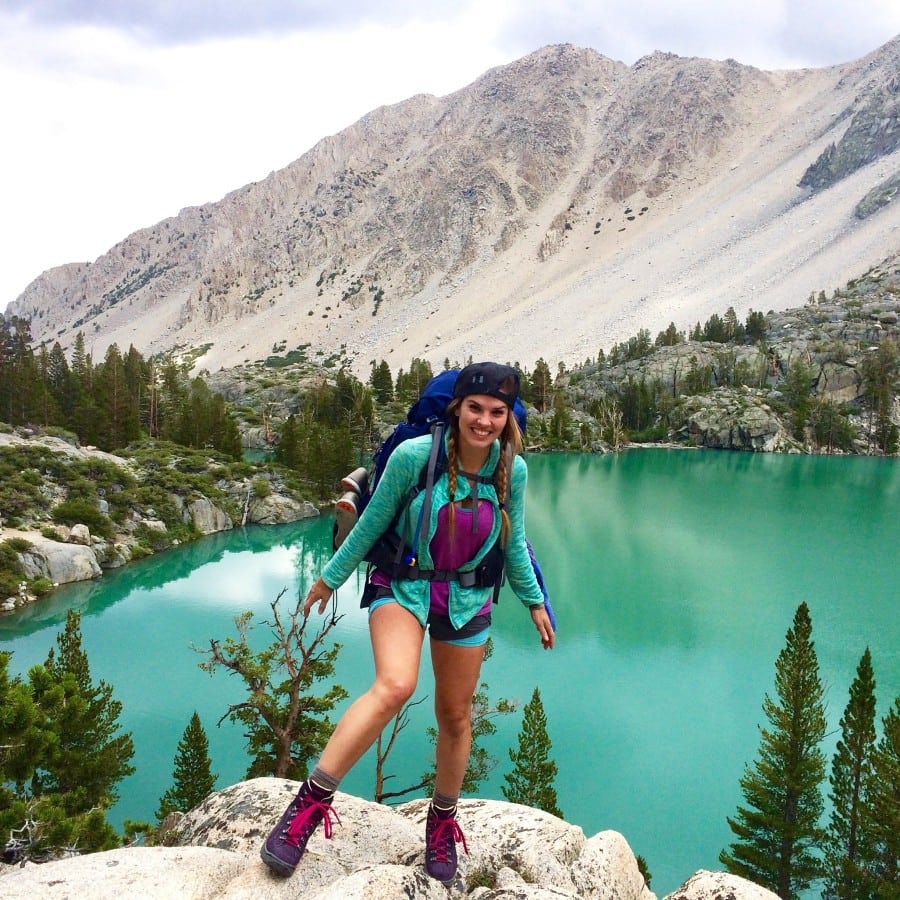 Lowa Women's Renegade GTX Mid Hiking Boot offers ease and comfort of a well-made boot as well as the toughness and all-weather technology of the material all at once. The shoe can stand any pressure it meets including from rock, dirt and whatever else particularly for its tough nubuck leather upper. It has corded lace-up vamp and speed lacing grommets at the top and additional ankle lock hooks. A higher cut keeps ankles secure and while the laces are a little of a fiddle, the shoe's Durby lacing system and gusseted tongue provide complete flexibility for both the foot and ankle.
Once you get the lacing right, it will go the distance with you through the rain and snow without any worry thanks to its GORE-TEX lining for waterproof protection. It weighs 1.93lb which wouldn't weigh down a serious hiker as well as an innovative sole including a midsole featuring double injection DuraPu technology which is way comfortable. Lowa Renegade GTX hiking shoe also has a Vibram Evo outsole that grips the earth for traction. There is also a full-length shank that strengthens the underfoot. The shoe is a versatile shoe that can serve different purposes yet excellently fit for hikes on groomed trails.
Pros:
Provides years of comfortable service
It is built specifically for women and based on women's last.
It is multi-functional, thus can serve different needs
It protects your feet from possible dangers such as blisters, etc.
Each foot strike is meant with comfort due to its soft cushioning.
It is tough and durable enough to withstand pressures from rock, and other obstacles you possibly meet.
It provides excellent waterproof protection and support
It has a breathable liner and polyester lining keeps your feet dry and also repels water.
Padded tongue and collar offer more comfort.
Cons
It is slightly expensive
Lacing is a bit of fiddle
Verdict:
You can never go wrong with Lowa hiking shoes if you are a woman and loves hiking miles. The shoe is the best when it comes to durability and water-resistance. Amazingly, it can perfectly fit different feet volumes although you will have to spare a little more money to own it.
Vasque Talus Trek UltraDry Women's Hiking Boot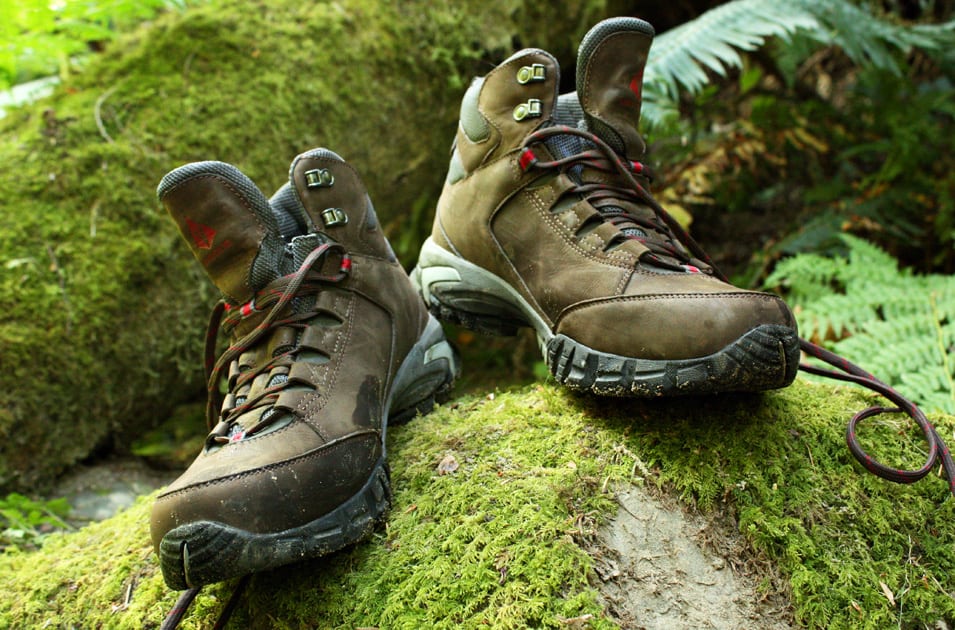 Vasque Women's Talus Hiking Shoe is a midheight shoe that delivers stability, comfort, and ultra-support, great for hiking miles. The shoe is sturdy and completely up to any terrain thrown at it. The shoe is a midweight one with a 2lbs 2oz weight yet it is as comfortable as tennis shoes rather than full-time hiking boots. This means that Vasque holds up better to longer hikes with heavy loads which is part of the many reasons it is absolutely comfortable include the shoe's wide size which can accommodate those with duck feet, but a bigger reason is the way it slides on the trails. Vasque Talus Trek UltraDry boot uses a Vibram Nuasi with XSTrek compound on the sole. The ultradry liner also keeps your feet dry during hiking on wet surfaces.
In addition, Vasque Women's talus shoe can easily be transitioned from a hiking shoe to shoes for technically challenging treks. We think it is great for general hiking, so can handle any terrain. It features a synthetic section at the top which is highly pliable and a cut-away cuff in the back to prevent it from digging into the ankle. However, the cuff may not give the same amount of support as it would if the leather went all the way on the top. It can be called on duty for a variety of needs and can suitably be used for hill walking, path and trails, travel, hiking, and treks. It has a well-made sole for sure-footed traction and a great padding for added comfort. Overall it delivers lightweight, waterproof performance which protects your feet during outdoor adventures.
Pros:
Provides comfort on any terrain
It requires a little break-in periods due to its supportive sole and upper.
It is a solid construction thus will serve for long
The sole has a solid traction and highly comfortable
Your toes wouldn't get hammered or beaten due to sizable toe box
It keeps the foot stable and protected even while maintaining a sleek profile
It delivers the best value for your money
It is as light as a sock with incredible airflow.
It uses a woman's specific last.
Cons:
Not the ideal shoe for a multi-day trip and hiking with a heavier pack.
The fabric groove which holds water by the tongue is short, which may let water in during very heavy downpours
Verdict:
For a well-made comfortable shoe, look no further. Vasque is a hiking shoe that won't beat your feet when you are backpacking. It is an ideal choice if you want a shoe for day hiking. It is a shoe you can trust on any kind of trail including the very steep ones.
Keen Durand Mid WP Women's Hiking Boot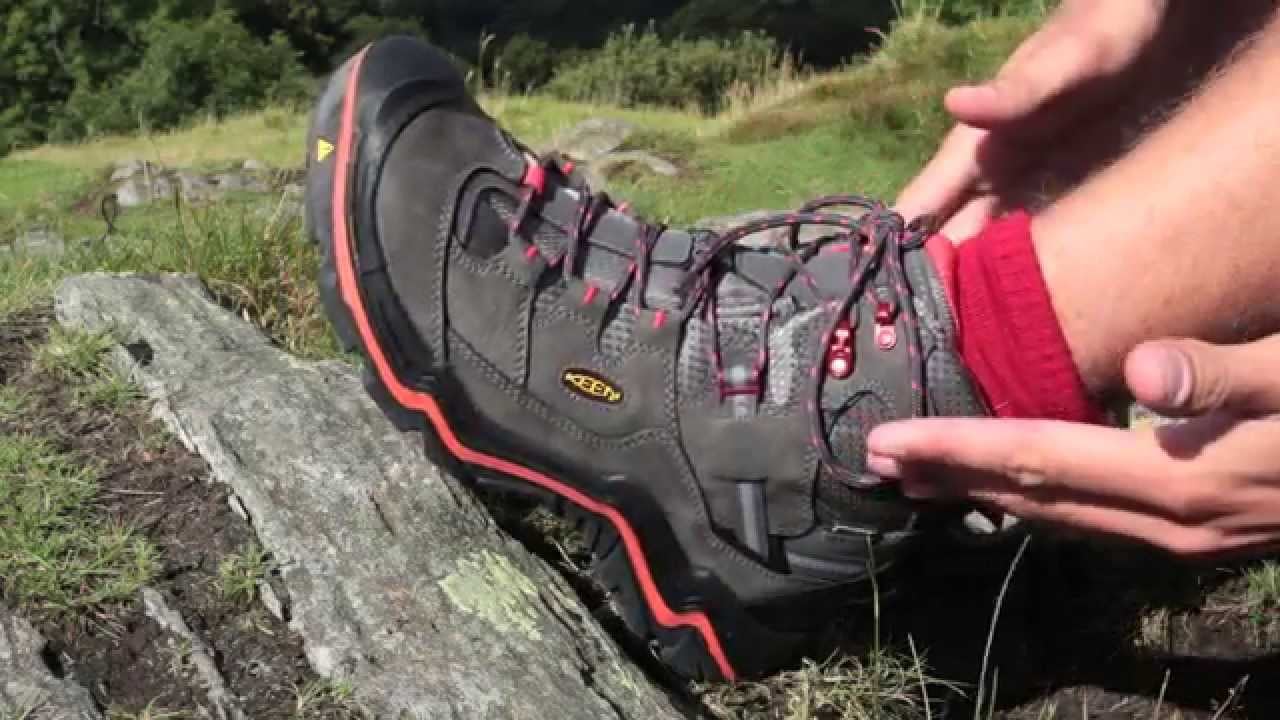 Keen Durand Mid WP boasts waterproof nubuck leather, breathable mesh upper,  integrated PU heel cushion and more. The Keen-Dry waterproof-breathable membranes keep feet dry and lively on rain-soaked trails while the integrated polyurethane heel cushions deliver the comfort you need. Breathable mesh also means more flexibility and functionality. The padding around the ankles makes for amazing comfort even when stepping on a rock. There is also a detachable metatomical dual density footbed, an internal support technology that outstandingly supports the arch. The mechanism also holds the natural contours of the foot gently and protectively. The boot has a TPU shank that provides stability and torsional control to the wearer. Direct attachment of PU midsole for support and outsoles made of dual compound rubber provide grip and durability. Among the many cool things about this hiking shoe is its the toebox which can fit those with seriously wide feet. Lacing it up is quite simple and involves a single pull to tighten everything, then hook and tie it around for extra security.
Pros:
Nice balance of support and flexibility
Pretty comfortable to hike in
Good traction
High-quality materials
Takes off vapour perfectly while preventing water from entering.
Unsurpassed durability
Suitable on terrains of all sorts including rocky ones.
Protective toe cover
Cons:
A little pricey
Cleaning may require some efforts
Verdict:
This Keen backpacking boot brings a balance between weight and protection. You can walk in this forever as it protects the feet excellently which means you won't feel a thing stepping on or kicking a rock. It is ideal for day, weekend or long hiking routines.
See Also: Hiking Shoes For Women Who Love Outdoors
Columbia Newton Ridge Plus Hiking Boot for Women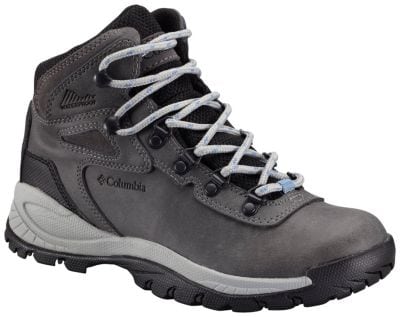 From beaches to mountains to city streets, Columbia women's Newton Ridge Plus hiking shoe typically understand that the outdoors is anyplace that has no ceiling. Featuring both full grain leather and suede, the Newton Ridge Plus Hiking boot fully understands what living a hybrid life is, that is serving different outdoor needs. The shoe is stiff enough to deliver the support you need without being inflexible. What we think is the coolest thing about the shoe is its Omni Grip non-marking rubber sole which not only does not leave marks on the floor, is thick, hardwearing and offers tons of grip. As we know, soles that leave marks on the floor can be damaging to floors. Superior cushioning and lightweight midsole also guarantee long-lasting comfort. Another peculiar thing about this Newton Ridge footwear is its design which is rather functional and frill-free in appearance. We love its sporty design with a tougher outer membrane that is quick to dry and suitable for various outdoor occasions. But it has a breathable mesh tongue for flexibility. In general, it is a quality-made, safe, waterproof and balanced boot that won't weigh down your feet.
Pros:
It is fully waterproof and comfy
It is lightweight and can serve different outdoor needs
Delivers high energy return
Cleaning is easy
It is super supportive without burdening your feet.
No arch pain
Cons:
Lacing involves requires some fiddling
No toe rand
Verdict:
Newton Ridge Plus II is a great choice for someone who is looking for a hiking boot with peculiar and simple style. Although it lacks unnecessary embellishment, the shoe still packs techie treats that any hiker needs. We think it is a  great choice for snowy days although it can serve even during the early fall on dry or rainy days.
Ahnu Sugarpine Women's Hiking Boot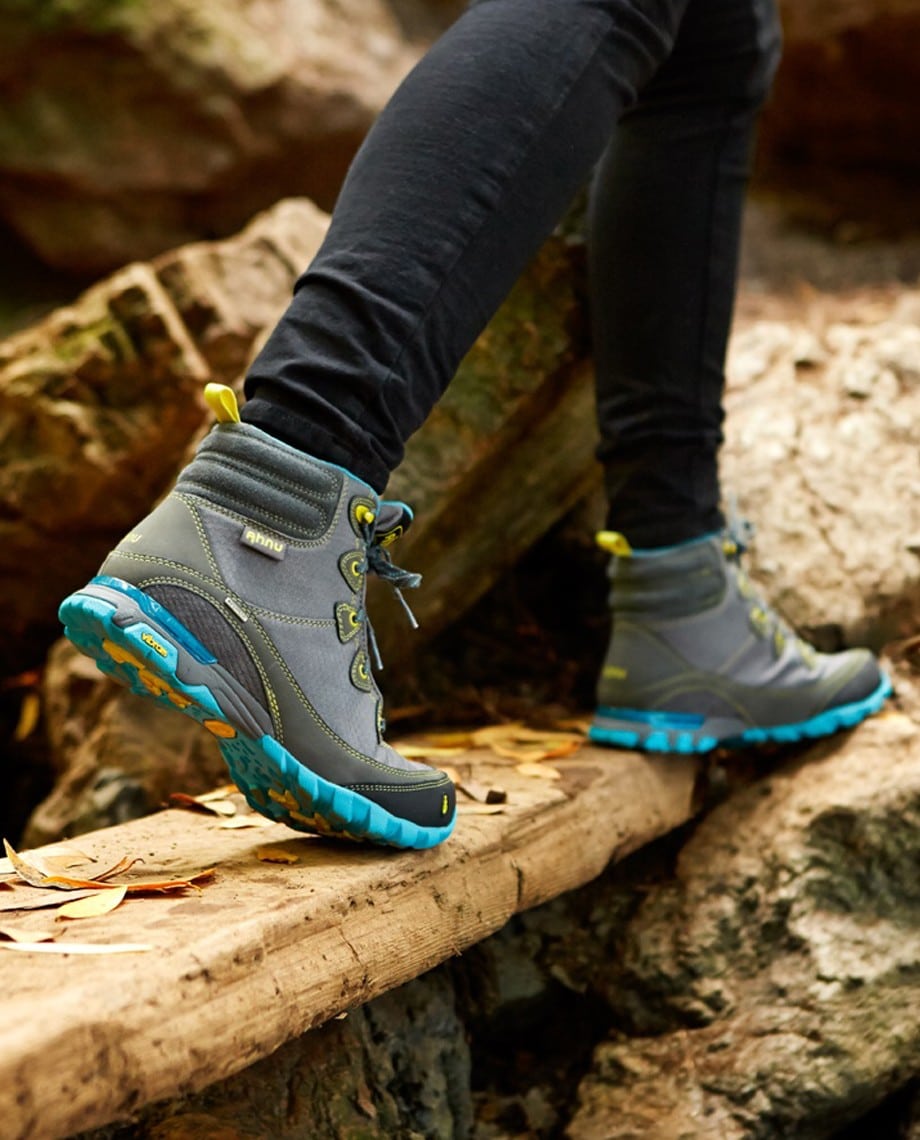 Ahnu Women's Sugarpine Hiking boots offer full waterproof protection and comfort for hiking as well as other weekend outdoor rambles. Built with a combination of leather and textile, the boot boasts of a rubber sole which not only extends lifespan but also protects the leg during outdoor adventures. It speaks of a regular lacing mechanism that lace-up vamp and cushy padded collar with a pull-on loop.  But what won our hearts the most was its ability to cover miles of trails without being a burden to your feet.
There are fiberglass arch shanks with EVA shock plates which are quite steady and supportive during use. Its gusseted tongue discourages dirt from sticking to it and the dual density Eva non-marking  Vibram sole has self-cleaning lugs. This means that you will only watch your trip mate as they struggle to clean off dirt at the end of the day. But Anhu Sugrapine Boot for women lacks a full rubber toe rand, even though the shock dispersal plate in forefront protects the leg from stone bruising. For us, the major selling point for this full height boot is the amazing colors it comes in and the waterproof quality of the surface featuring leather and suede which repels water excellently. On the downside, however, we didn't think the mesh felt as breathable as expected.
Pros:
delivers unmatched durability and water-resistance
It is stable and comfortable to hike in
Minimal break-in periods
Foot-hugging fit with no pinch point
great stability on nearly all terrains
Lightweight for how well protected it is
Can be used for  day hiking and backpacking
Provides neutral positioning for the foot.
It delivers more design options whether or not you are a girly person.
Cons:
Some may not like the lace closure system
The absence of full toe rand may make the toe area wear quickly.
It doesn't feel breathable as claimed.
Verdict:
The Sugarpine is a perfect choice for anyone looking for the support of a boot with the weight a trail runner.  This is particularly true for those who love exploring off-trail while also wanting a lighter boot that grants a less heavy-on-trail feel.
Merrell Moab 2 Mid Waterproof Women's Hiking Boot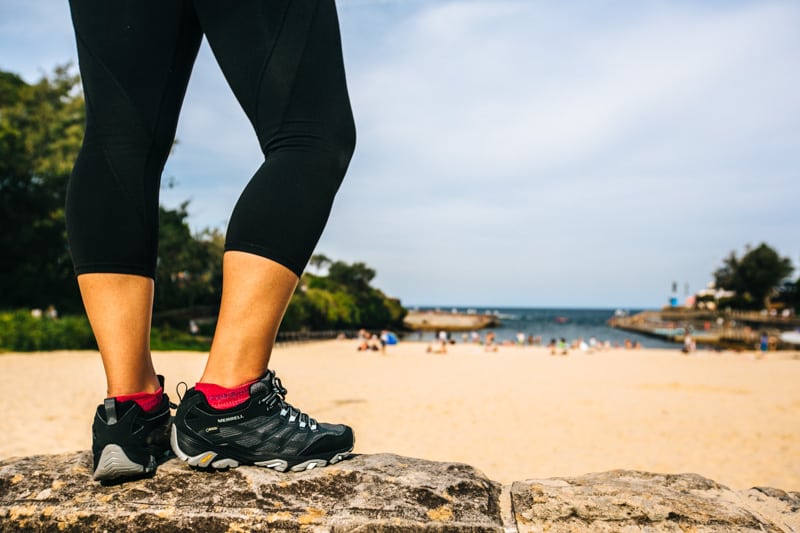 Hike through different terrain and weather conditions without any worry with this rugged-sporty boot for women. We love its tough-looking rubber sole and surface. Although cleaning may not be that easy when compared to Sugarpine boot, the closed-cell foam tongue also keeps moisture and dirt out. Plus it has a toe rand which offers great protection to the toe.  It features suede leather and upper mesh for breathability and comfort. The nylon arch shank also delivers superb support and flexibility. The shoe's best use will be for hiking, however, it can carry out other outdoor tasks thrown at it.  Merrell Moab is Mother-Of-All-Boots and many have testified to this fact. Molded nylon arch shank provides added stability. Other noteworthy features include durable leather, lace-up closure, supportive footbeds and Vibram traction.
Pros:
Great balance and stability for the foot
Highly comfortable
Nice traction
It is durable
Offers great toe feel
The under heel cushioning absorbs shock impact effectively
Ideal fit for everyone
Cons:
The design is not all that girly.
Not easy to clean
Verdict:
This is a high-tech hiking boot for all women who don't fancy girly looking boots. We also think it is a great deal if you want to invest in a boot that would last you the next decade.
Read: Smartwatches For Women who Keep up with Trends
Conclusion:
These are downright brilliant solid hiking boots for every woman. Some have Gore-Tex and Vibram soles which are handy to keep you warm and dry. They are far from heavy or clunky delivering decent-ankle support. Also, the butter-soft leather outers and fleece-lined inners of some will not burden on your feet while you hike. They are to a certain level pocket-friendly and surely luxe and durable options to invest in.