If you are a woman and you love biking just for pleasure, like I do, then you already know that the very best kind of bikes for pleasure ride are hybrid bikes. Hybrid bicycles, as you already know, blend characteristics from more specialized road bikes, touring bikes and mountain bikes, giving you the best of the biking worlds by combining great features of these different kinds of bikes. The resulting hybrid bike is more like an all-purpose bike that can tolerate a wide range of riding conditions and terrains. Hybrid bikes are known for, more than anything else, their stability, comfort, and ease of use.
Being an avid, experienced biker myself, I can tell you from experience, from research and testimonies of several other bikers, that the bikes on this list are the very best hybrid bikes for women on the market.
You don't want a bike that makes you work too hard at the pedals, and at the same time, you want to enjoy your ride. You want one with a good brake system as well as a fluid gear system.
With all these features in mind, following my research and my interaction with users – not to mention my personal experience – these are the very best hybrid bikes for women.
Best Hybrid Bikes for Women
Sixthreezero EVRYjourney Women's 7-Speed Touring Hybrid Bicycle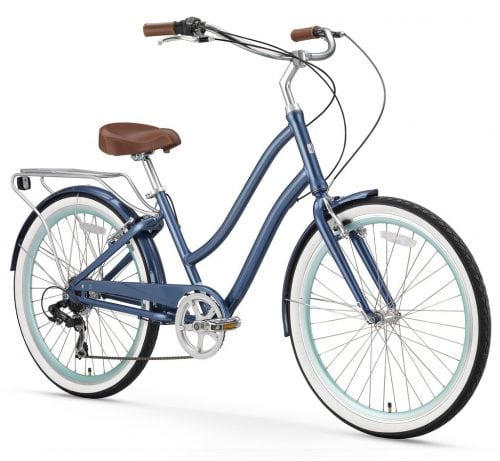 Known as one of the foremost thinking makers of hybrid bikes, sixthreezero really went all out in making this product, as it has been a hit with the market, especially with women.
Hybrid bikes hardly come better than the EVRYjourney's 26-inch wheels, coupled with its step-through aluminum city frame 7-speed system. It comes with full fenders, as well as front and rear handbrakes that allow for all kinds of riding, including city-wide touring.
Its saddle comes with leather cushioning, done in classic stitching, providing extra comfort for the rider. Also, the seat and pedal positioning makes it easier for women of all heights to put their feet flat on the floor, while still staying on the saddle.
Although it is quite pricey compared to other bikes on this list, it promises a very durable use, as it boasts all chrome components. So, if you have enough money for it, this bike is definitely worth it.
Pros
Aluminum Frame
Components made from all Chrome.
Includes both front and rear handbrakes
Fenders included
It's a one-size-fits-all bike
Cons
A little bit on the expensive side.
Verdict
This bike is a little more expensive than other hybrid bikes, but I think it deserves its price, so if you can spare a little more for unqualified quality, then this is the bike for you, as it delivers on its many promises.
Schwinn Discover Women's Hybrid Bike
The oldest name – and one of the trusted makers – in the bike industry, the Schwinn company offers a lifetime warranty for their bikes.
This bike, the Discover, is the little angel of hybrid bikes for women. Not only does it look good in all white colour – which means it goes with just about any clothes in your wardrobe – it is also durable and boasts of aluminum city frames. Its alloy crank and suspension forks are all Schwinn products – the very best.
This bike also comes fitted with a rear rack – which is strong enough to carry bags and groceries – as well as linear pull brakes of Promax alloy. Its saddle is padded and quite comfy. For its price, it really offers much more than many other bikes out there on the market.
Pros
Great for tall people, as it has a lot of room
It comes with Shimano TX-31 rear derailleur for shifting gears
21-speed SRAM gripshifters
Cons
Might be too tall for people below 5ft5In in height.
Verdict
Best for women on the taller side, this bike has all you want in a hybrid bike, and more. It is beautiful, and compliments everything you have in your wardrobe, casual or not. So, for a little more glitz to your riding, this bike is great.
Diamondback Bicycles 2016 Women's Vital 2 Complete Hybrid Bike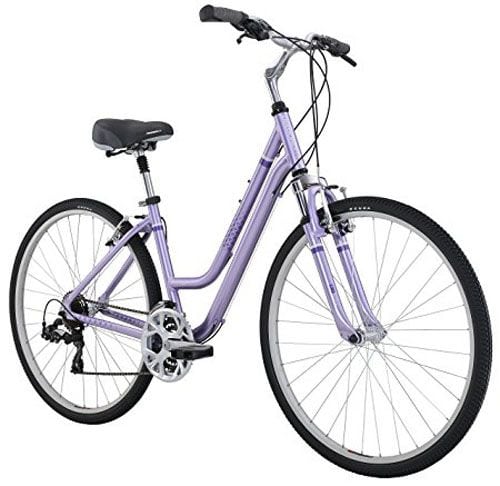 Versatility has never looked good on a hybrid bike, as it does on the Diamondback Bicycles. This bike is strong as well as flexible for both first time riders and bike maestros. Its tires are a cross between road tires and mountain tires.
Its saddle is designed with an upright geometry, which keeps you in an upright position without putting pressure on your back. It has up to 21 gearing options, and the shift is seamless.
However, you might need some help assembling it, as reviewers have mentioned time and again that it is quite complex, and takes time to put together. However, a video search on YouTube should be enough to deal with this.
Pros
This bike is definitely a great value for its price
The gear shift is seamless and easy
The saddle helps you remain upright, without adding pressure to your back
The ride is comfortable
Cons
Verdict
Everything about this bike is great. It is comfortable, the price is right, and the gears work smoothly. However, you might need to get an expert on bikes to assembly it, or you could get a tutorial video on YouTube for this. That said, this bike is excellent value for money, and it lasts long.
Critical Cycles Barron 21 Speed Lady's Hybrid Bike For Women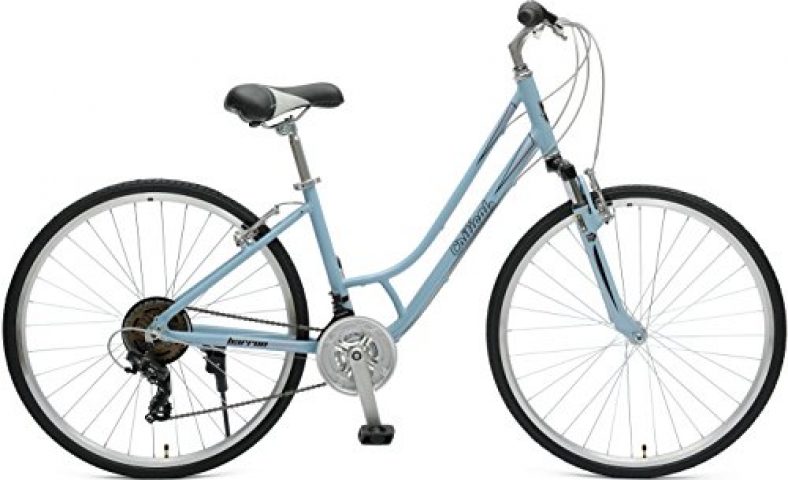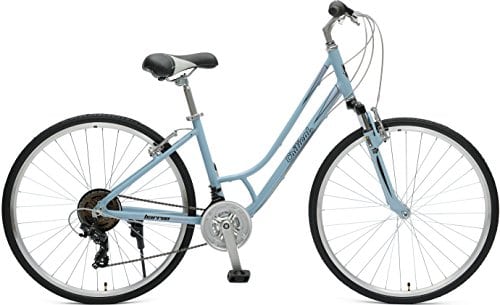 Made especially for women, the Critical Cycles Barron 21 comes with a light but strong aluminum frame, making it easier to maneuver without exerting much strength. Its tires are Kenda Kwest Commuter Tires, one of the very best and very strong, which are built to traverse a wide variety of terrains across all seasons.
It is the easiest to assemble on this list, as it is only slightly disassembled for shipping purposes. It offers a smooth ride, as its Zoom suspension fork takes all the heat from bumps on the road. That said, this bike doesn't come with fenders fitted to its tires, which might make it unsuitable for dirty and muddy roads to avoid stains on your clothes, but then the fenders can be bought and fitted for just a little extra cost. Also, it comes in just one colour: the powder blue.
Pros
Made specially with women in mind
Very light frame
Tires strong enough for all kinds of terrains
Comfortable saddle
Easy to put together
Cons
No fenders
Comes in just powder blue colour
Verdict
If you wouldn't mind buying an extra pair of fenders for the tires, this bike is worth its price, as it comes with the best of tires and the best of aluminum frames. Also, it is quite easy to put together.
Northwoods Ladies Crosstown 21 Speed Hybrid Bicycle For Women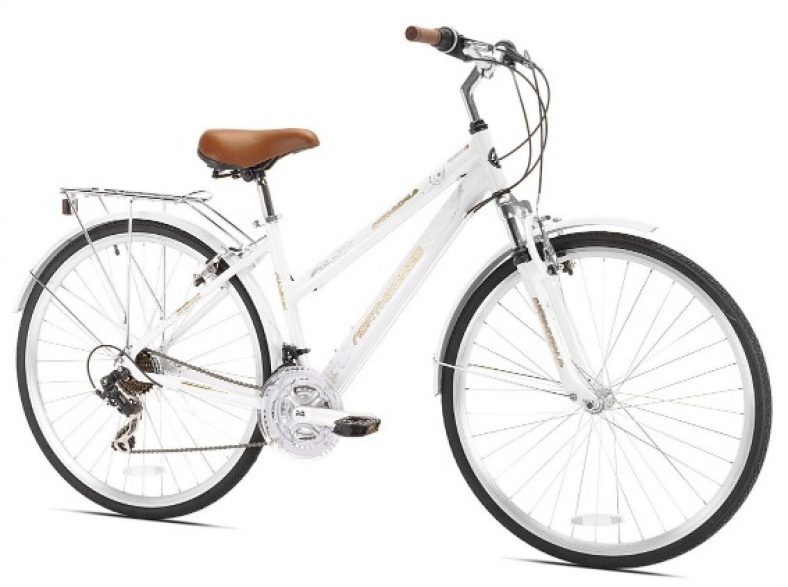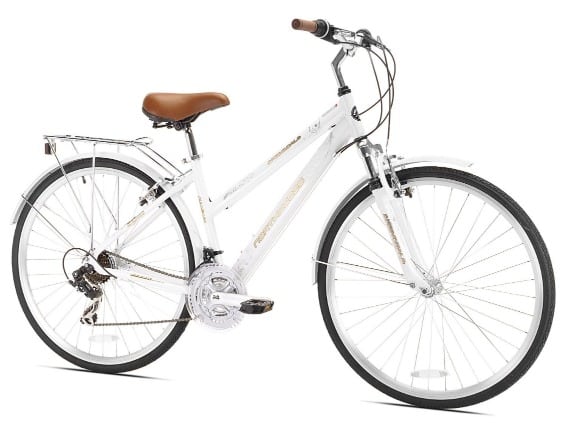 A little on the heavy side, at 44 pounds. It comes in only white colour, which gives it a beautiful appearance, and which also goes with whatever clothes you put on. This bike comes with linear pull brakes, boasts a 21 speed gear, and also comes with a rear rack attached.
This bike is tall, and might be best for taller ladies. The seat is comfy, it comes with alloy rims, and for all that beauty it is one of the most affordable and economical hybrid bikes on the market.
Pros
One of the most affordable and economical
Comes with a rear rack
Alloy rims
Comfortable saddle
Cons
Could be complex to assemble.
Verdict
If you want a bike that is pocket friendly as well as has most of the features of the pricey bikes, something that is durable, and offers a great ride, then this is your girl.
It doesn't get better than this.
You Might Also Like: Best BCAA For Women: Build Your Muscle Without Sores
Conclusion
Hybrid bikes are hybrids for a reason. You want to experience the comfort of a road bike, but you also want the ruggedness of a mountain bike. You want a bike you can feel comfortable riding at whatever pace you prefer, but which you can also take for that leisurely cruise in the weekend.
With these best hybrid bikes above, you won't go wrong. And you don't have to take my word for it. Go ahead. Check them out for yourself.