We all need a comfortable and reliable footwear every day of our lives to get us where we need to go. From shopping to clubbing, sports hangouts and more. But if you are like me who is a freak when it comes to running miles you are probably more concerned about lacing up the right running shoes than getting a clubbing shoe. Although my passion for fitness happens both at the gym and outdoor, I am more of outdoor than indoor. I personally could attribute my preference of sports including hiking, running and other outdoor adventures to my deep love for nature and fresh air. Given that the best part of my sports activities happens outside enclosures, I choose shoes that can withstand the pressures that come with it. There have been times I spent days and weeks surfing the web to get nothing but the best. While some failed at some point, I have come across some good shoes I'd love to share with women like me not just based on my personal experience but also experiences of my running mates, in-depth research as well as those of other women who run independently. They are best running shoes for women that effortlessly allow you to tear through any terrain with speeds. Although they are women's running shoes from industry leading brands like Nike, Adidas, ASICS, they come without the leading price tags. Check them out below:
The Best Running Shoes For Women
Nike Air Max Women's Running Shoe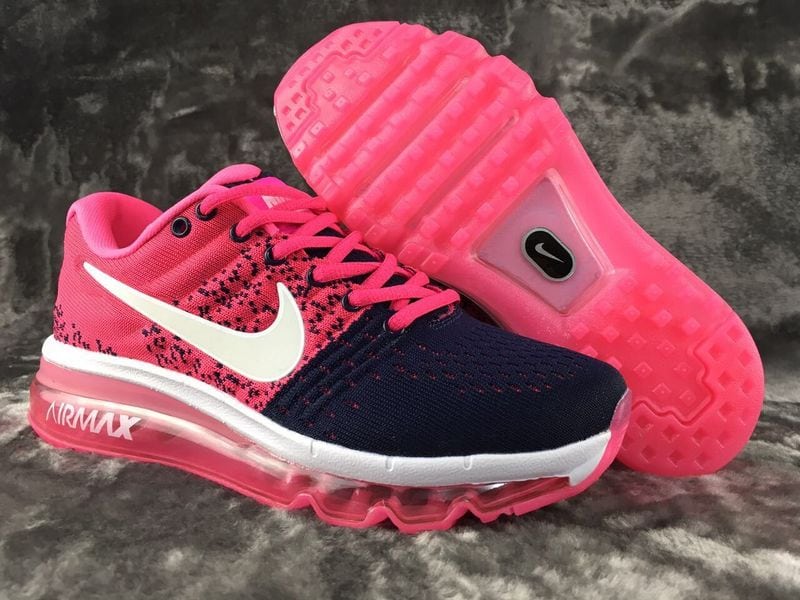 Nike is resolutely committed to its aim of combining performance and lifestyle with each release of the Air Max series. The manufacturer has been consistent with its aim of delivering reliable products and Nike Air Max is no different. This latest edition, in fact, improved slightly from the previous editions with a little more support, comfort, performance and sophisticated design. It also delivers a slightly more reflectivity for low-visibility running. However, not so much is changed though since you still get a cushioned soft rubber outsole. It is also made of a mesh and adaptive flywire cables for both support and ventilation that you need. Also with its cushioned insole and minimal stability qualities, you enjoy nothing short of an advanced and smooth foot motion. The cushioning also absorbs shock perfectly which gives you superior balance. It, in addition, gives you superior grip on any surface condition and stability for neutral and mild overpronation.
Pros:
There are various colour combinations to choose from
It provides ample support and plush comfort to runners.
It can serve as all-day wear, casual wear and of course a running footwear.
It is wear-resistant and has a sleek design.
It is lightweight and has a waffle lugs that top-notch multisurface traction as well as durability
Cons:
It comes at a slightly high price
Some find the cushioning too hard.
Verdict:
This Nike Air Max is a great choice if you've been dealing with hot feet while running since it is made of breathable fabric to grant cool running time. It is a lightweight running shoe yet solid pair for energy and strength running.
Adidas Performance Pureboost X Women's Running Shoe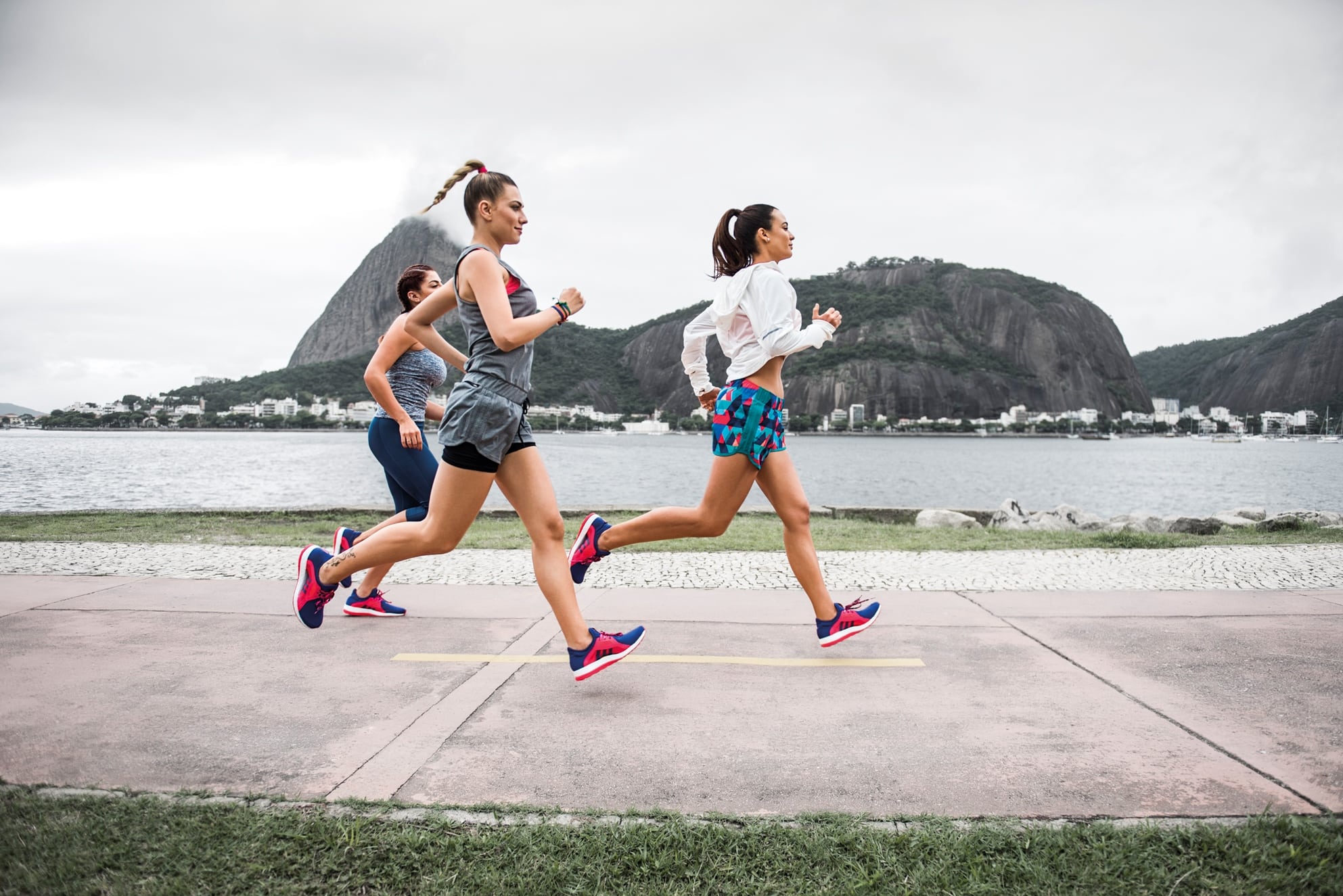 Adidas introduced something profound in the running world, ushering the first women-specific shoe known as Pureboost X running shoe. The shoe is special for its boost technology located in the mid-sole which is known for its energy return features. What this means is that you can run for a longer time than you used to without encountering any problem. Besides returning energy, the boost tech also takes care of cushioning and protection for the feet. There is also a floating sock-like arch that hugs your foot to give you a firm grip and ultra-support you need. The shoe is really lightweight and super comfortable to run in. The shoe also comes in different combinations of colours to fit every woman's sense of style. Just like Nike Air Max 2017, it has a breathable and soft fabric on its upper part.  I personally love that the shoe not only ensures you run in comfort it also ensures you run in style and elegance for its appealing design.
Pros:
It is super flexible  and nice
It gives you excellent support while running
It is lightweight
It looks great and has a fantastic design.
It fits perfectly as it is designed to follow the  shape of women's feet
It is durable and wear-resistant
Cons
Some runners say the heel section is a little bit high which may be irritating on a longer run
Verdict:
This is a pair of shoes made for women who have positive energy and are super active. It is a go to when you need a casual walk around, running jogging or whatever you may want to do with it. Fortunately, it is affordable and can take all the pressure you throw at it.
Read: Best Smartwatches Specially Made For Women
Under Armour, Charged Bandit 2 Running Shoes for Women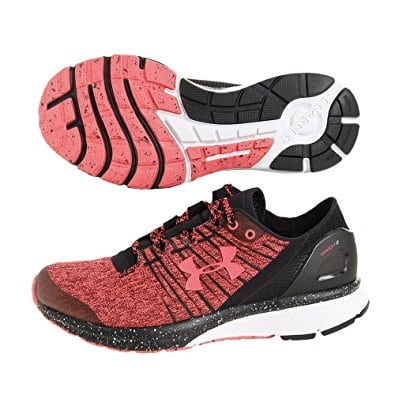 Being typical of its name, this Under Armour running shoe is engineered with some smart qualities for safer running. Teamed with great comfort and underfoot rubber cushioning, the shoe is a safe option for any budding runners. This doesn't mean you can't play other games with it. As a matter of fact, the shoe's outsole and flex grooves offer complete ground contact which is supportive in the sense of changing pace or direction quickly. On that basis, the neutral trainer can attain as many miles as you would want to cover. Additionally, it has a heathered upper featuring a soft-to-touch fabric that has the same feel as T-shirt which mixes amazing colours that most women will find appealing. The upper is also breathable although not really water-resistant. However, this one drawback only happens in one weather condition; rain. That said, the shoe remains lightweight and way comfortable for running despite the cushioning. I also fell for its sole which strongly put together with a two-piece charged cushioning which gets softer as you run towards the forefoot. Again the price and quality ratio if the shoe makes it a more excellent than some traditional shoes in the same category with it.
Pros:
It is breathable and stretchable
It provides a stable run
They are ideal for speed workouts on track and for marathon training.
It is durable and can withstand whatever that is thrown at it thanks to a high abrasion rubber added to the high wear areas on the heel.
It is versatile, so it is easy to put to different use
There is no issue with heel section
Perfect for long-distance running.
Cons:
The upper doesn't have a waterproof back
The outsole may not be the best for rainy concrete
Verdict:
Looking for a running shoe that not only allows smoother and quick ride but also perfect for running long miles, then you can sure go for this shoe. Its mid-sole features and nice-looking design add to its top-qualities. Plus it comes with a very affordable price which is a real value for the shoe. It also comes in varying colours to suit everybody's style.
ASICS Gel-Kayano 23 Women's Running Shoe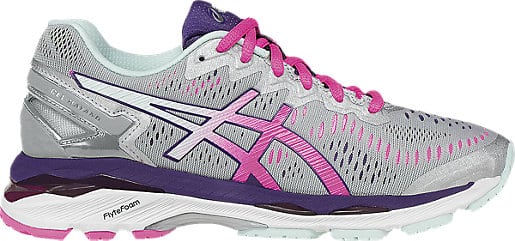 Another safe option for regular runners who want stability over everything else is this pair of shoes from ASICS. This is because it ensures no slipping or sliding with its rubber sole and heel clutching system technology which actually allows full stability and support throughout the running time. Also, it provides a comfy ride with good grip, using its trademark cushioning and seamless construction. That's not all. ASICS has an impact guidance system that helps the foot's natural movement from heel strike to toe-off, so you don't hurt yourself while trying to stay healthy. You will also feel a certain degree of bounce as you move which offers you additional energy – ASICS says this is credited to FluidRide Midsole Technology which uses it cushioning properties. It is a snug fit, thus holds your heels and the foot better than some running shoes delivering excellent toe spring. It comes in different classic colours and features enough tread that lends it great traction even in a harsh weather condition. The shoe sells at a little higher price than some shoes we tested, but for the value, it is worth every dime you would spend on it. The upper part also allows you to feel the wind on your toes reducing moisture and irritation.
Pros:
You feel stable as you run
It is durable and exceptionally lightweight
It is a snug fit and has shock-absorbing features.
It comes in different colour combinations which means you have more options to choose from.
It has a mesh that helps with foot support and security.
Delivers extra cushioning without adding more weight.
Cons:
It comes a little pricey compared to others on the list
Some say the toe box is somewhat on the narrow side
Some think it is a stiff shoe although it delivers flexibility at the mid-foot.
Verdict:
This is a stability running shoe for a firmer ride. As for distance, the shoe is specially made for long miles providing extra comfort which makes running really hassle-free.
See: Top 13 Techie Gifts For Moms in Tech
Brooks Glycerin 14 Women's Running Shoe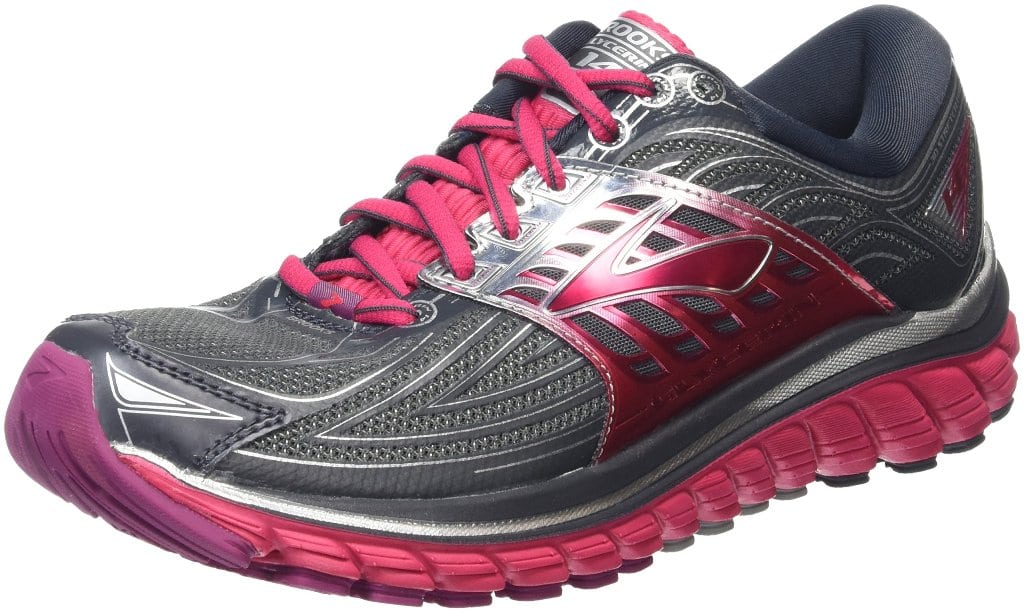 Brooks Women's Glycerin 14 running shoe stole our hearts not only for its super soft cushioning but also for providing virtually everything any runner would need to glide through the run no matter the terrain including a well-made rubber sole, highly cushioned midsole, sock-like fit and plush interior. Its weight which seems an ounce lighter than most running shoes also makes running supremely comfortable. It is designed for neutral foot, road or track surfaces and will suit all city dwellers. With great arch support and flexibility, this 14th edition of Glycerin can be a street casual for summer, a general gym shoe and a perfect running shoe. As for support, the shoe is springy, so you feel like you're bestowed with extra power when you run. No blisters after a long run but some users complained that the shoe is not well ventilated as they would want it to which means it can get a little damp after a long run.
Pros:
Responsive and adequate cushioning
It is a highly durable shoe that can stay longer than most shoes in the same category
Delivers superior support and stability
It comes in different colours
Has a great traction
It absorbs shock from your feet
Cons:
Some have experienced squeaking sound when running on certain surfaces
Verdict:
If you love clocking up the miles these are a safe option. The shoe has a near pillowy cushioning that gives you the support and flexibility you need for a blissful runtime.
New Balance Fresh Foam 1080v6 Running Shoe for Women
If you running ventures from roads, gyms or other different flat surfaces, this shoe is safe for you. New Balance women's running shoe just like the name implies brings balance between style and performance. The shoe is known for offering more comfort and flexibility much needed for cruising miles. I personally credit its fresh foam mid-sole and outsole grooves for the matchless comfort. The foam which runs from the heel down to forefoot makes for an effortless but responsive ride. Also, the interior Ortholite sock liner offers you comfort, breathability as well as anti-microbial quality to keep odour at bay. It also features supremely comfortable cushioning and breathable upper mesh which gives your feet enough space to move freely and equally.
Pros:
You can go all day without worrying about pains.
Has a spacious toe box to accommodate natural splaying of toes.
The underfoot is springy which lends more support during running.
It is efficient and dependable
It fits perfectly without being too tight or too loose.
Feels secure and comfortable when worn
It is affordable for its value
Cons:
Might be a bit stiff for some.
Verdict:
This is a solid shoe made based on data collected from runners like you. The interior is very comfortable specifically for the Ortholite sock liners which make running way effortless. The fresh foam line is also most suitable for neutral runners as well as runners with moderate overpronation.
Mizuno Wave Creation 18 Running Shoe for Women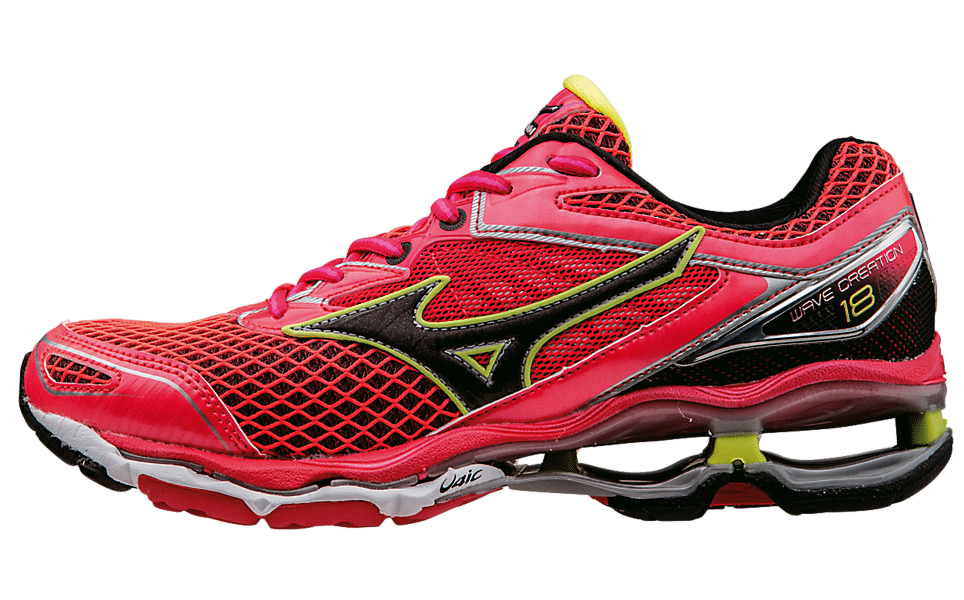 Mizuno Women's Wave Creation 18 Running Shoe is another noteworthy shoe which gives you a sole that can withstand ground pressure. The shoe although doesn't look quite feminine like some running shoes mentioned on this list, gives you full support and flexibility for a painless ride. For its U4ic mid-sole, Mizuno is a shoe to go miles with. It has a breathable mesh that gives your toes a roomy space for free movement. Its 3D reflectivity feature also gives it a twinkle. There is also EVA strobe  Outsole provides enough traction. Sock-liner makes it a snug fit. It reduces foot pains and blisters by removing impact away from your foot which increases stride efficiency and gives more power to the toe off.
Pros:
It is perfect for road run as well as everyday run.
It delivers advanced cushioning, support and durability
Removable insole makes it easy to clean
High energy return features.
It provides sufficient arch support
Cons:
Not the lightest running shoe on the list
Verdict:
This is an ideal shoe if you want something that serves both as a  neutral and high mileage running shoe. It is made for runners who have a thing for full cushioning shoes.
Conclusion:
Nothing feels better than a woman who wants a shoe and knows exactly what shoe to get against all odds. It saves you from the stress of fruitless hours-long search on different sites just to get a shoe that fits right, sizes perfectly, durable and performs exactly as expected. Fortunately, with the shoes on this list, you no longer have to worry about such stress. The round-up is carefully selected to satisfy even a beginner and a pro runner. Enjoy your next run!!!