If you are looking for the best travel hair dryers, you really don't have to trade quality at the altar of portability – well that is actually if you have the right information before heading off to the shopping mall.
Imagine having to Pack for vacation or a business and one of your most essential beauty equipment – the hair dryer couldn't get a space in your luggage that you had to keep eliminating necessities, and you also eventually took out your clunky hair dryer that took up almost half the space in your suitcase alone.
The above scenario will not happen if you have gotten yourself a handy hair dryer that will not take up all the space in your traveling suitcase. Well, this doesn't mean you should just grab the next hair dryer you see in the stores with the inscription travel hair dryer written on it, there are things to look out for in order to make a perfect choice and in return get value for your money.
And this is where we come in, this review, will educate you on what to look out and eventually guide you in selecting one of the best travel hair dryers available on the market.
The best Travel hair dryers are ones with the following features:
Comfortable handling and portability: The first thing that should come to mind while buying a travel hair dryer should be how handy it is. Portable enough to enter your suitcase without taking up much space, handy enough not to tire out your arm during a styling session.
Short drying time: you should also consider ones that will do the job in the shortest possible time. You wouldn't want to spend the whole day trying to try your hair, would you? I guess not, especially if you are on a business trip.
Lightweight: When shopping for travel hair dryers, you should also look out for one that isn't heavy, I am sure you wouldn't want your traveling luggage weighing heavier than necessary.
Convenient features and Variable settings: The buttons should be positioned where they're easy to reach, but difficult to hit by accident while their heat and airflow levels should be easy to adjust independently for maximum versatility.
Bearing these in mind and after a comprehensive survey and research, we have come up with our list of the top travel hair dryers in the market that you can select from, they are handy and will save you space.
Best Travel Hair Dryer
BaBylissPRO Nano Titanium Bambino Compact Travel Dryer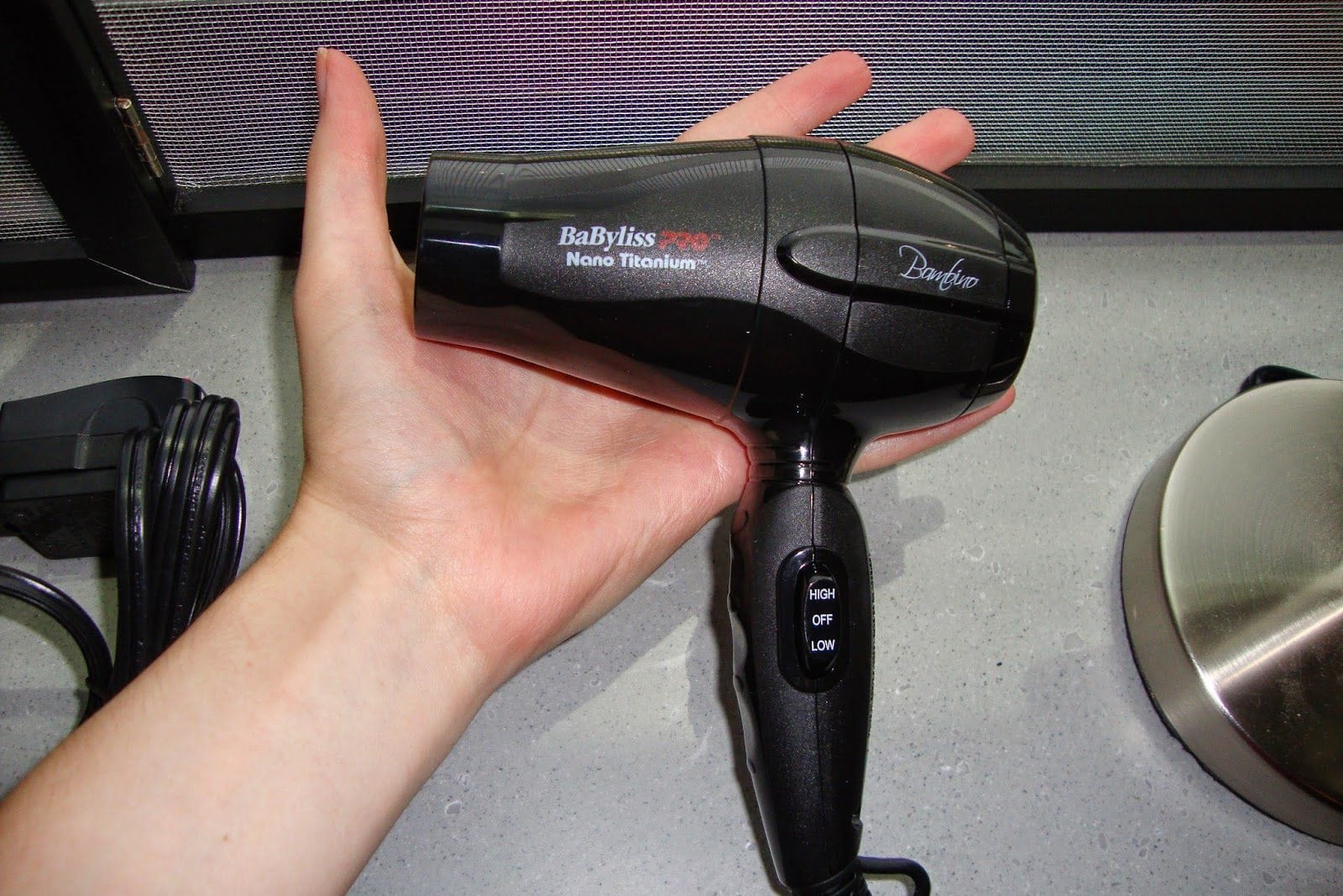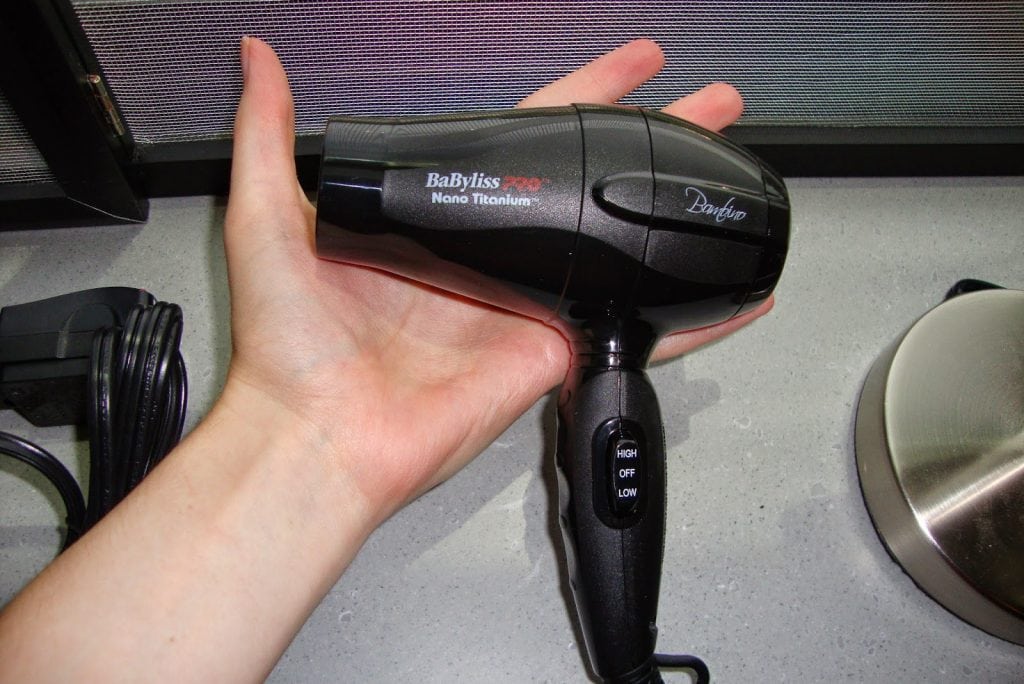 The first on our list is this amazing travel hair dryer by BaBylissPRO. This less heavy compact dryer made of plastic and titanium is not only handy for traveling but also ensures your arm is not fatigued while using it.
So people with arthritis, carpal tunnel, or other hand and arm issues have nothing to worry about as holding this hair dryer will not cause them any pain at all.
The BaBylissPRO Nano Titanium Bambino Compact Dryer comes with 1000 watts of power, two-speed options,  dual voltage for international travel. and a removable filter for cleaning – this makes sure your dryer's engine stays efficient and clean.
Pros
Very handy
Dual voltage switch
Lightweight
Cons
Doesn't fold
No cool shot button
Verdict
It is true that this hair dryer is small and doesn't take much space but it is a lot more powerful than you'd expect. With its combination of power and speed, this is a good choice.
Revlon 1875W Compact Travel Hair Dryer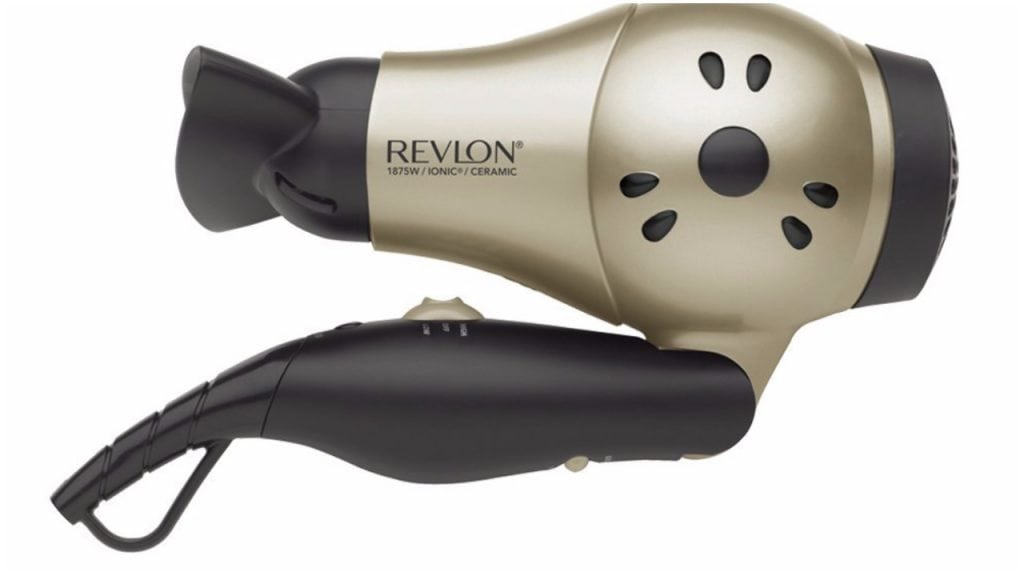 This compact design travel hair dryer from Revlon comes with a folding handle that can fit easily into your gym bag or carry-on luggage.
This blow dryer is also designed with Triple Ceramic and Ionic Technology to reduce hair damage and unwanted frizz and comes with a Worldwide Dual Voltage for traveling abroad.
Other features include two-speed setting as well as two heat settings for maximum style control and a smoothing concentrator attachment.
Pros
Fast dry
Various settings for all hair type
Folding handle
Handy
Doesn't require a voltage converter
Dual voltage
Cool air option
Cons
Verdict
This lightweight 1875 Watt Travel Hair Dryer from Revlon comes with Frizz fighting ions & Conditioning Minerals that will leave your hair feeling silky and smooth. So whether you desire to just dry your hair, or for a gorgeous blowout, big enviable waves, striking straight locks, or the perfect fashion accessory to complete the look, be sure to count on 1875W Compact Travel Hair Dryer.
Conair MiniPro Tourmaline Ceramic Travel-Sized Styler/Hair Dryer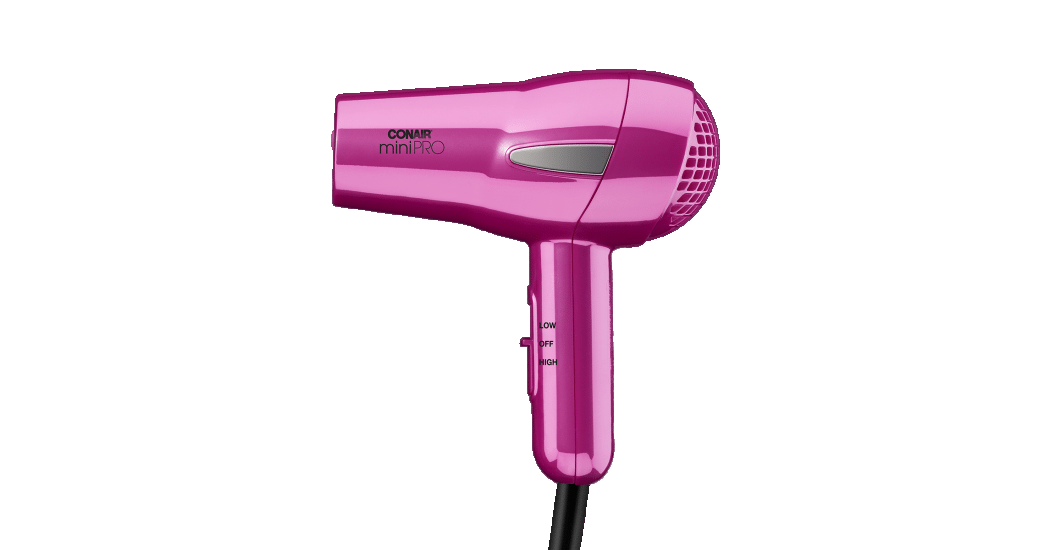 While looking for one of the best travel hair dryers to buy, Conair's MiniPro tourmaline Ceramic Styler/Hair Dryer model is no wimp.
This tiny looking dryer is powerful for its size and is perfect for travel, weighing in at just over half a pound. It also comes with its own zebra print carrying case with a diffuser,  concentrator and a dual voltage for worldwide travel.
However, the cord is a little short, though this may not pose much of a problem in a cramped hotel bathroom. There's no cool-shot button though, and some consumer testers thought this mini dryer sounded a bit "shrill.
Pros
Dual voltage

Lightweight
Not noisy
Dries hair fast
Easy to use
Affordable

2 Heat/Speed settings

Deluxe travel pouch
Cons
Short cord
No cool option
Doesn't fold
Verdict
In addition to being handy for your suitcase while traveling, Tourmaline dryer also emits natural ions to reduce static electricity and leaves your hair with brilliant shine.
Related: Best Hair Dryer For Curly Hair
Andis 1875-Watt Fold-N-Go Ionic Travel Hair Dryer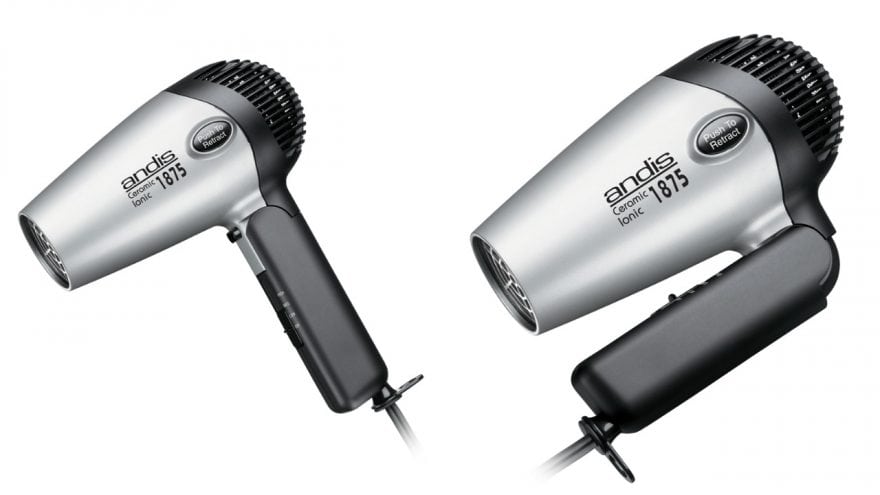 Andis Ionic Hair Dryer has become one of the best travel hair dryers in the market, and the reason is its amazing result and popularity around the world.
Equipped with the latest Ionic technology,  Andis hair dryer is also designed with a folding handle and retractable handle so it can be very easy to store and carry. It also comes with a three airspeeds/heat control for ultimate styling.
Pros
Convenient folding handle
Retractable Cord
3 Preset operating system
Ionic process that makes hair frizz free
Cool shot button
Cons
Verdict
The Andis Fold-N-Go hair dryer is uniquely designed for the traveler. The results achieved with the ionic dryer are so immediate and glaring for all to see.
BaBylissPRO Tourmaline Titanium Travel Hair Dryer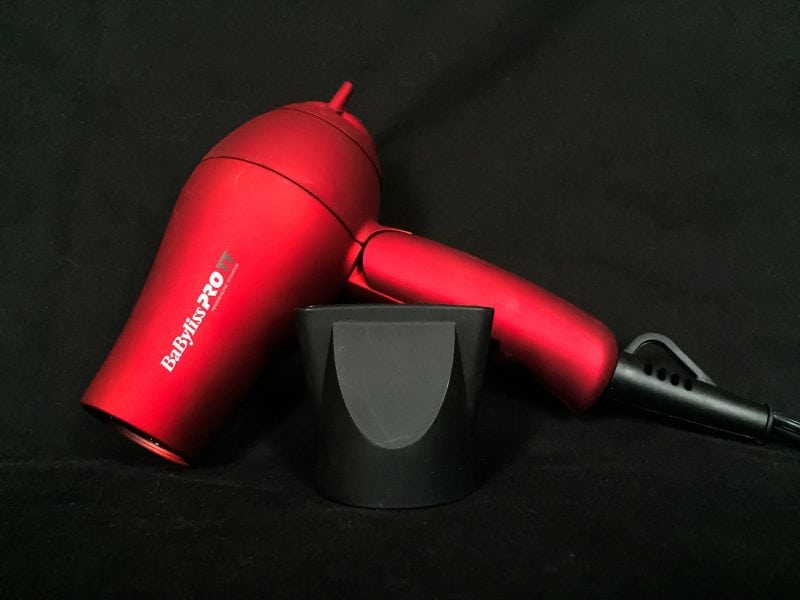 This compact 1000-watt dryer comes with dual voltage and a folding handle, making it perfect for travel. Infused with pure gemstone tourmaline crystals, it emits millions of natural ions to eliminate static electricity and leave hair shining.
The far-infrared heat dries hair faster, which protects it from heat damage. This powerful compact dryer is just the right size, lightweight, and easy to pack.
The filter is removable for easy cleaning and has a protective shield on it to keep hair from flying in. It comes with a five-foot-long cord so you have plenty of room to work with when outlets aren't always in the most convenient spots.
Pros
Lightweight
Foldable
1000 watts
Dual voltage
Cons
Verdict
This is an actual travel dryer for real travelers. This is not just like any other regular hair dryer with dual voltage added to it at a higher price in order to pretend it's for 'travel', it is in reality, a traveller's companion.
Related: Best Curling Wands
Amika Mighty Mini Travel Dryer Obliphica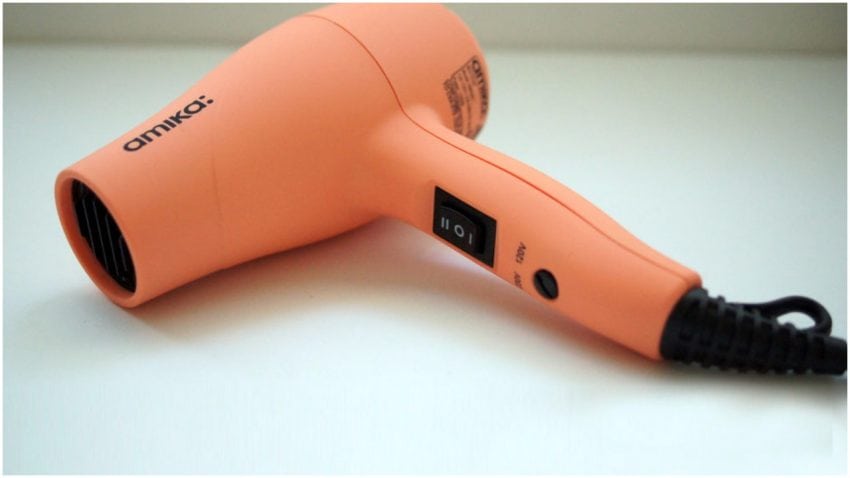 Just as the name implies, the Amika Might Mini Dryer is a tiny but powerful dryer from a trusted brand.
It uses ceramic and tourmaline technology for gentle, even drying that helps eliminate frizz and protects your hair. It is also packed with 1000 watts of power which is more than enough for a travel dryer.
Its dual-voltage is another reason you can take it with you all around the world. With a flip of a switch, you can go from 120 volts to 240.
Just be sure you have a universal plug adapter and only use the low setting when using 240 volts that goes for any hair dryer. It comes with a matching travel case, diffuser, and concentrator.
To create extra volume, simply turn head upside down while drying with the finger diffuser attachment. Position the airflow toward the roots for maximum lift. When hair is done drying, toss head back and gently brush hair into place.
The included finger diffuser delivers excellent results on curly, permed or fine hair.
Pros
Ceramic, tourmaline, and ionizing
Lightweight
Dual voltage
Easy to pack
Cons
No cool shot
Slightly expensive
Verdict
This pretty powerful 1200-watt, dual voltage tool for compact and international power is just your perfect companion for the gym bag or on-the-go. You will be amazed at the result of this little but might dryer.
Don't Miss: Best Hair Dryers for Fine Hair
Conair 1875 Watt Compact Travel Hair Dryer With Folding Handle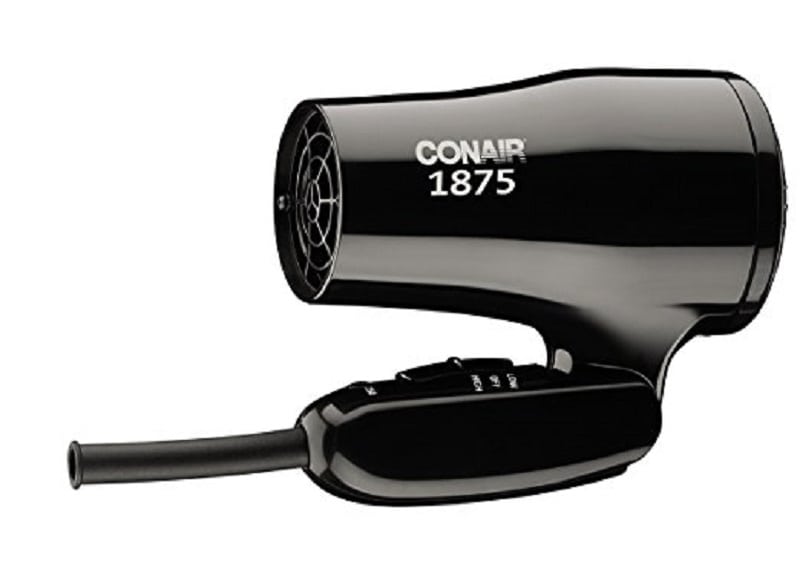 Here is another amazing product from Conair, one of the best travel hair dryers we recommend for you. This powerful little dryer is 4.7 x 9.1 x 3.2 inches with a foldable handle.  It comes with dual voltage – meaning you can use this dryer abroad.
The folding handle makes it easy to pack in a suitcase or store in a drawer. Weighing a single pound doesn't make it the lightest compact hair dryer on the market, but it is by no means is too heavy.
An interesting feature of Conair 1875 is having the strength of a full-size hair dryer. It also has an ionizer for negative ions to give your hair a smooth finish.
Pros
Lightweight and very portable

Cool shot button

2 heat/speed settings perfect for all hair type

Dual Voltage – great for travel

 5-foot power cord
Removable filter for easy maintenance and cleaning
Cons
Verdict
If you don't want to bring big bulky hair dryer that will take up to 1/2 of your suitcase when traveling, then Conair 1875 Watt Compact Hair Dryer is a sure deal for you – it is portable, lightweight, easy to use and ideal for your voyages.
Also See: Best Makeup Brushes To Get That Smooth, Even Finish Without A Hassle
Conclusion
With our list of best travel dryers above, you can see that you don't have to sacrifice quality for portability when selecting or investing in travel dryers
These dryers are small, lightweight, and powerful. Some are even foldable for easy packing and would have no trouble sitting snugly in a small overnight bag or train case for makeup, while still offering you all the features you love about your home dryer like being ionic, tourmaline, titanium, or ceramic.