Black boys' haircuts and hairstyles are some of the trendiest looks to go for. From sleek fades to braids, the black boy haircuts are the epitome of barbering skills and exquisite finesse.
If you're looking to step into this world of incredibly trendy looks, there are more than a few options for you. Herein are the best and trendiest black boy hairstyles under six different categories. While choosing black boys' haircuts, it is needful that you opt for styles that would make your kid look exceptionally good and feel cool as well.
Fade Haircut For Black Boys
There is no other haircut like a fade to freshen up your look. This hairstyle originated from the military and as of then, it has a minimal masculine look. But today, fade comes in several varieties to give you a cool and unique look. Below are different types of fade haircuts you can choose for your child.
1. Dreads with Fade Haircut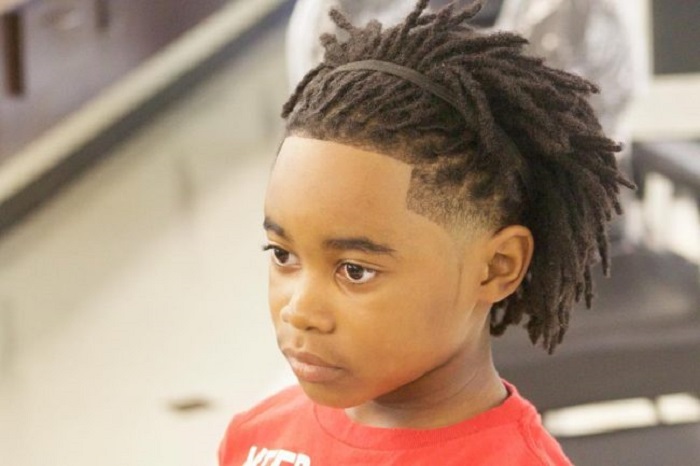 If you're not ready to give up your long dreads, a high fade can go a long way in freshening up your current appearance. The high fade shapes the look and centers the dreadlocks right on top of the head while keeping the rest of the head clean and crisply shaved. Ombre highlight helps in enhancing the appeal of the hairstyle.
2. Drop Fade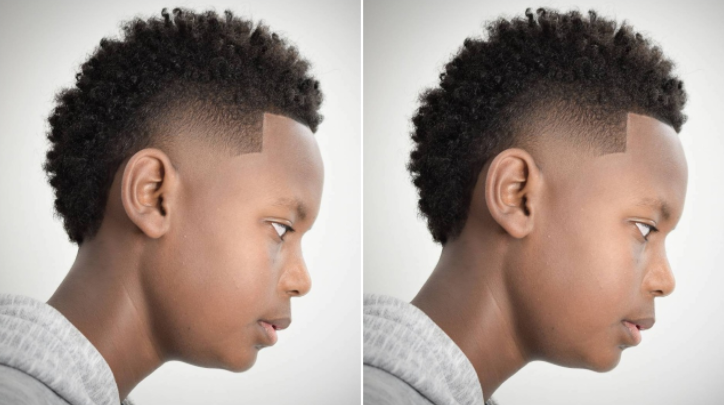 Drop fade will never go out of style. With stand-out arc effects by the sides, drop fade is still very popular and on-trend. Here, your barber keeps your hair slightly longer and makes the transitions to be more gradual. It looks particularly striking with the curved line by the sides. You can consider how cute it will look on your kid.
3. Temp Fade
While high tops are traditionally styled neat and afro-like, going for a wilder, more natural texture can be similarly appealing. Pairing the look with a cool high fade helps to shape things up and to accentuate the thick hair on top. It is a typical masculine style that looks sharper and doesn't necessarily require extra styling.
4. Skin Fade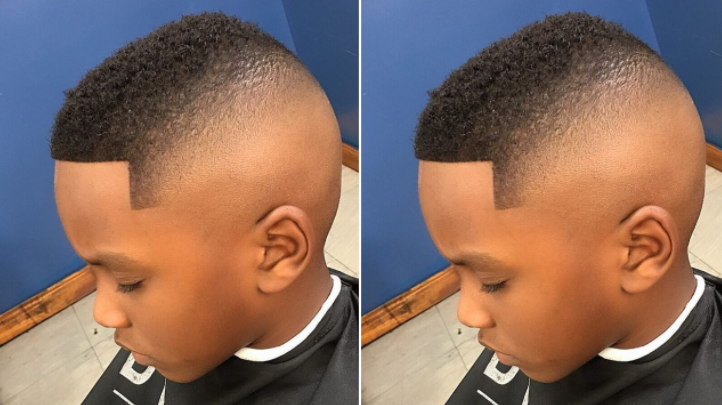 A skin fade is also known as bald fade and it is a striking and bold option. Paring a skin fade with a shape-up is also great for boys with afro-textured hair. The clean lines and definitions will make your kid look more masculine. Skin fade can also be contrasted with twists to give it more attitude and structure.
5. Trendy Outer Fade Haircut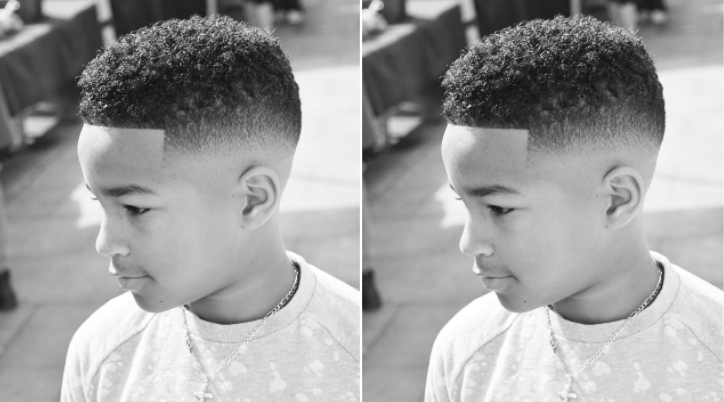 While most fades would normally focus on the whole side and back, you could go for a fainter yet similarly attractive fade. Trendy Outer Fade involves only the temples and the nape of the neck where it shapes off the look and helps to accentuate the top. It is a simple but professional job and the result is quite impressive.
6. Diagonal Fade Haircuts
Aside from giving short hair wavy textures to spice up the look, you can go for a diagonal fade instead of a regular straight edge fade. The Diagonal Fade shapes the look and also creates a stylish disconnect between the hair and the fade skin. For someone who likes a clean and minimalist look, a diagonal fade is ideal.
Curly Haircut for Black Boys
It is needful that you learn how to go about with your natural curls so that it will stop looking awkward and causing you inconveniences. Take a look at some of the best curly hairstyles for black boys. Here, you definitely require a professional barber to look neat and appealing.
7. Short Crops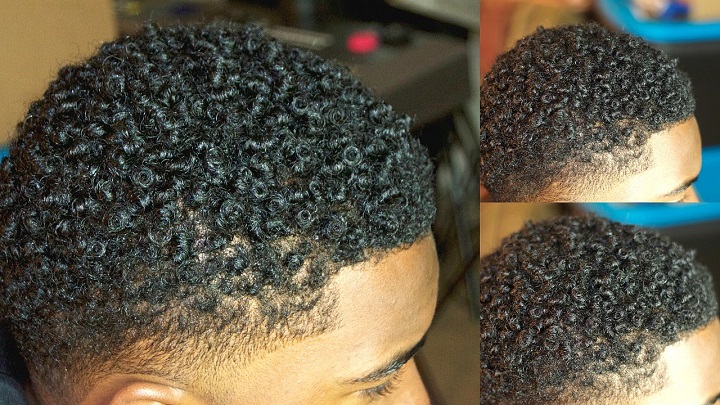 To keep your kid's kinky hair locked and tamed, you need to consider this particular short crop. Buzz cut the sides and leave the top a bit longer to show off the unique kinky texture. Also, a little highlight on your natural texture will make a very good solution.
8. Trendy Kinky Curls
One of the best ways to show off your naturally kinky hair is by cleaning up the sides with a smooth, tapering fade. Leave just enough buzz to create a crisp lineup at the temples and also to enhance the transition of the fade.
9. Undercut Curly Top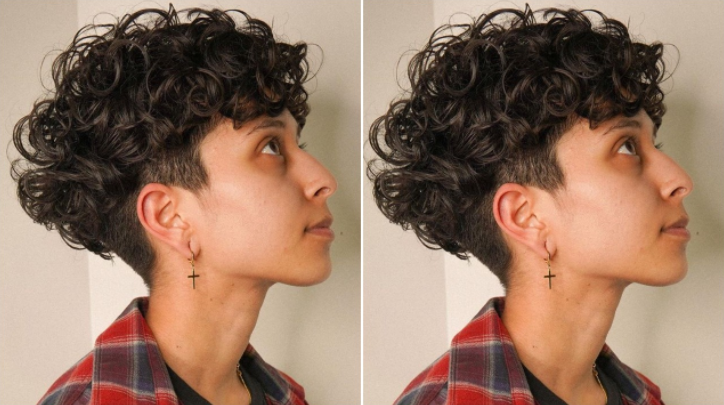 This kind of undercut is great for a curly hair top. It gives your kid a span and spick look as it removes a lot of hair from the backsides. It is a versatile style that you can adjust to any ambiance of your choice, from a high skin fade for summer holidays to a low shade for a school-decent look.
10. Short Curls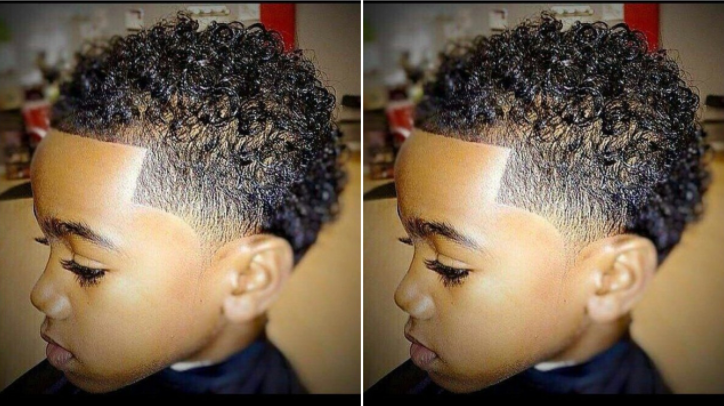 The short curly haircut is tapered on the top with the back and the sides having an undercut. Designs made on the hair can as well be customized but it all depends on the professionalism of your barber. The curls are made less voluminous and are rounded with shaping spikes.
Little Black Boy Haircuts
The best black boy haircut depends on your kid's hair type and style. Interestingly, there are so many cute hairstyles for your little black champ. In fact, your little boy can as well get any haircut of his choice that a black man can. From curly high tops to mohawks, we've got the best styles and cuts for black kids.
11. Creative Haircut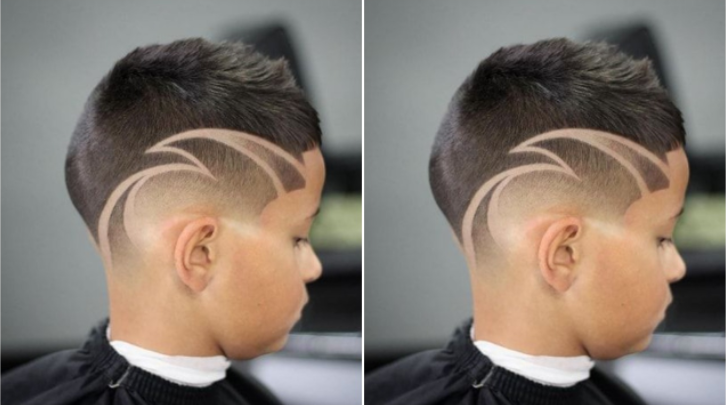 This is a freestyle haircut that gives a sophisticated look. It gives the soft touch of curly hair that extends back to the nape of the neck. The two sides are given skin fades that portray elegant boyish looks. Here, it doesn't matter if you are getting a haircut at a local barbershop or professional. The barber can put up a unique style that you can even rock together with your son.
12. Vintage High Top
Somewhat a replica of the pompadour hairstyle, the vintage high top involves leaving the front higher than the back to create some stylish asymmetry. A low fade significantly enhances the neatness of the high-top haircut. For something special, you can also choose to add a hair design part or line up.
13. Geometric Trendy Haircut
There is nothing as attractive as a crisp lineup done on neatly finished hair. Clearly, the work of a skillful barber, the haircut involves a neat afro top, flawlessly faded sides, and a geometric lineup that looks almost unreal.
14. Flat Top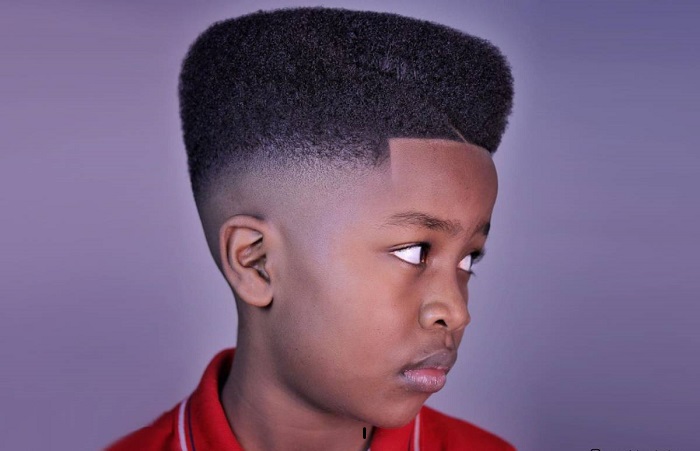 Flat Top is a creative style from the boys' haircut. It features a flat long top and a low fade back with a unique razor part that is professionally carved. It is a great style option for boys with matted hair.
15. Artistic Line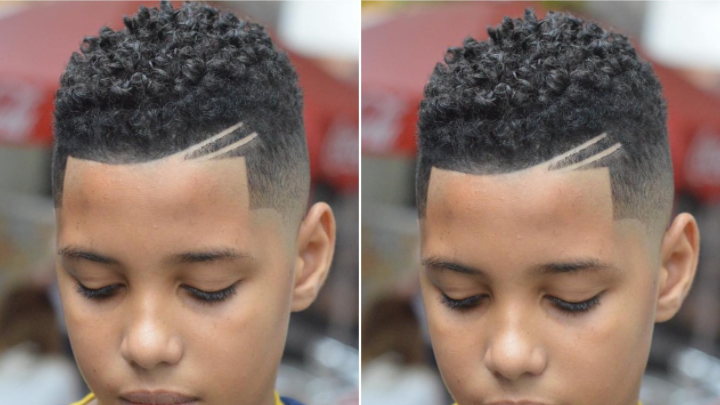 This is a buzz cut for black boys which has a classy look with a modern touch to it. It has an artistic surgical line and fits more for kids with oval faces.
16. High Top Trendy Haircut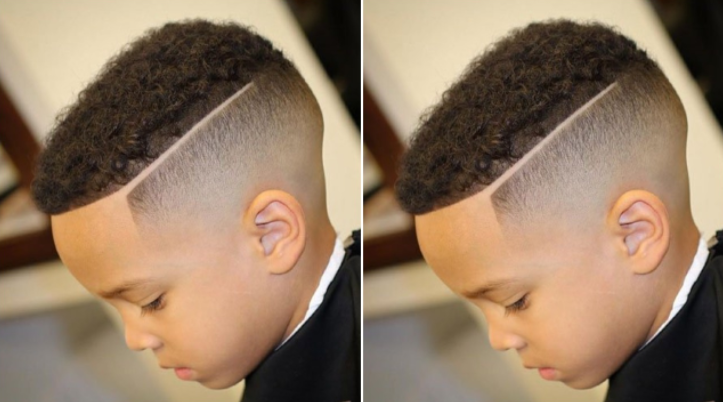 Another haircut you can choose for your little boy is a square-lined high top and throw in a fade. The top has little curls which give a little bit of ruggedness and also a stylish contrast between it and the smoothly tapered sides. Crisp lines are also carved out on the sides to give the look an eye-catching finish.
17. Sweet Afro
Simple and low-key afro haircuts are sometimes more than enough. This is an easy-go haircut for your baby boy if you do not have enough time on your side. It looks sweet and natural and allows your little champ to flaunt the beauty of his kinks.
18. Blurry Kid Fade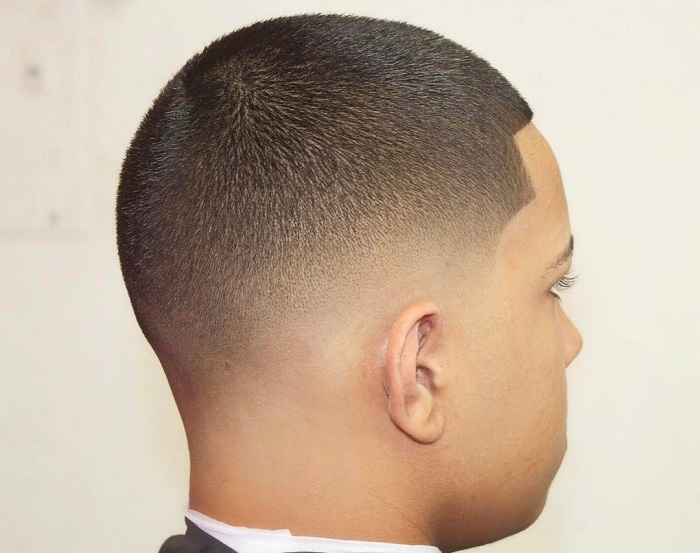 This is another black boys' haircut that creates a fresh look. The styler spots curly hair on top with faded back and sides. It features a sharp razor cut pattern alongside a well-defined outline to give the elegant look. We can say that this is the most simple and easy haircut you can choose for your little boy.
19. Gelled Skin Haircut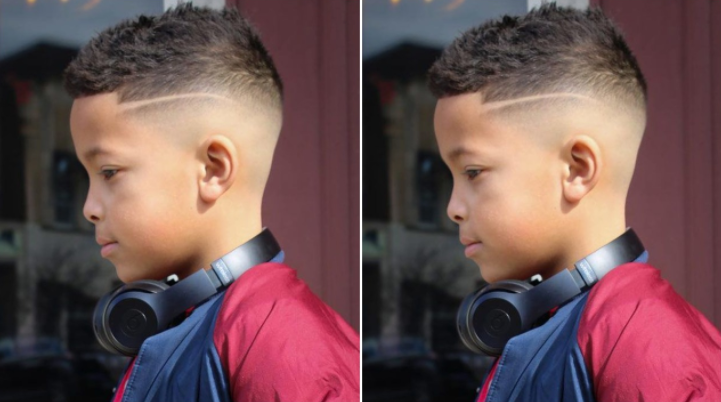 This is a natural black boys haircut that features a skin fade by the sides with a clean finish. It is given some gelled look that makes it look a little bit curly. It also features sharper lining with an edgy look.
20. High Top Mohawk
Kinky Mohawks are somehow way more appealing as the naturally curly texture of the hairstyles looks great when given a fade and a blonde highlight to the top. The buzz left on the sides is short enough to allow for a crisp line-up just at the end of the back head. Try out this haircut and see how unique it will look on him.
21. Thick and Rugged Haircuts
Neat may look good but rugged hair has an undeniably attractive appeal that neat cuts just don't measure up to. In addition to the exquisitely shaped form of the high-top haircut, it also features a flawless fade on the sides and a cool brown hue on the rugged top.
Short Haircuts For Black Boys
Short haircuts tend to be the most classic which creates a cool and crisp look. They make your face look smarter and younger. It is a great option for boys with square or round faces. Short haircuts need to be maintained more regularly to ensure they stay sharp and not overgrown.
22. Buzz Cut + Fade + Line Up
Believe it or not, a classy buzz cut with fade and lineup can never go out of style. This is a lowcut hairstyle with a triple threat, a blurry fade, a short buzz on top, and a sharp edge up. This haircut does not only look masculine and modern but is also versatile.
23. Clean Cut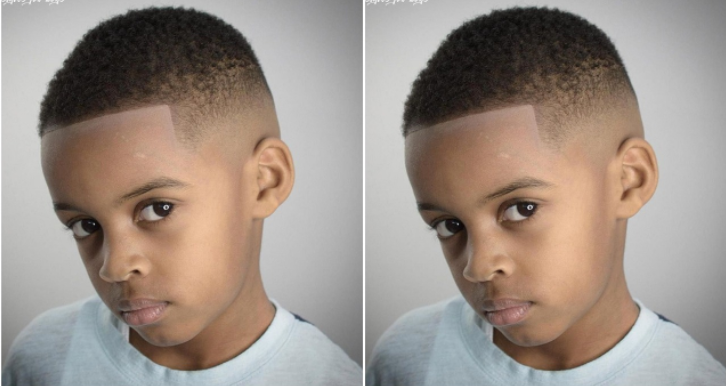 For a neutral, natural look, a clean-cut paired with a low fade is the right way to go. The haircut features a neatly combed top framed by a crisp outline. A low fade shapes the sides and leaves a dark buzz that allows for a stylish line to be carved in order to spice up the look.
24. Short and Wavy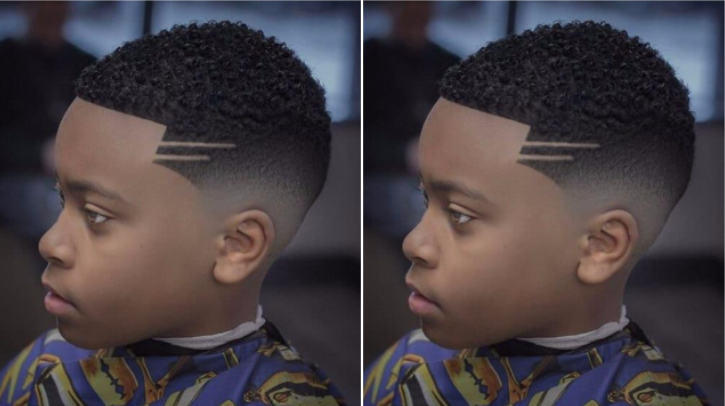 If you're working with short hair, short and wavy haircuts would be best. The cropped hair on top has also been embellished by getting a stylish, wavy texture and it allows you to show off the style clearly. It is clearly a style for your kid if you are looking for something more fun and casual.
Black Boy Hairstyles Braids
When choosing a braid style for your boy, you need them to be functional and stylish at the same time. With so many braid styles for black boys, you will definitely find one that will suit your choice. Meanwhile, watch the video below to see different hairstyle braids and how to achieve them on your boy's hair
25. Cornrows
This is a great style for teenage boys. It actually takes time to achieve this style but the end result looks so good and would make you forget all the hassle. The braided cornrows make your boy's hair versatile and allows you to play with texture, shape, and pattern.
26. Box Braids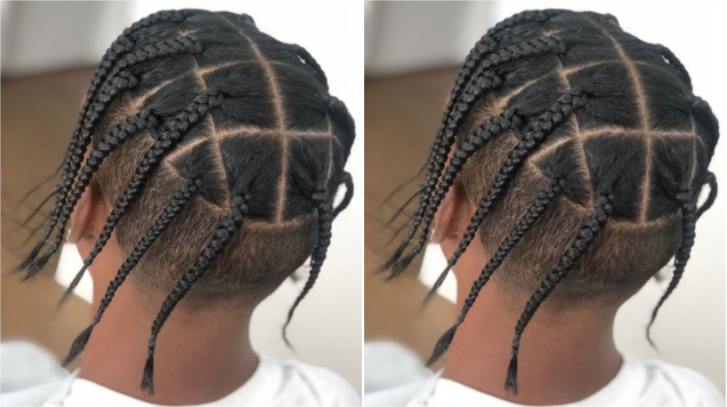 Box braid is a great hairstyle for black toddlers. It is perfect for keeping your kid's unruly locks tamed. With the trendy twist that comes down by the sides, you can never go wrong with this style. So, if you desire for your little mod to hop on the trend, then go for this style.
27. Spider Braids
Just as the name goes, the long braids hang down to the face like spider legs. In addition, there is a satisfying rectangular pattern on the head that highlights the braids. If you would like your kid on braided hair, you might like this edgy and hip style.
Black Boy Twist Hairstyles
28. Chunky Twists with Temple Fade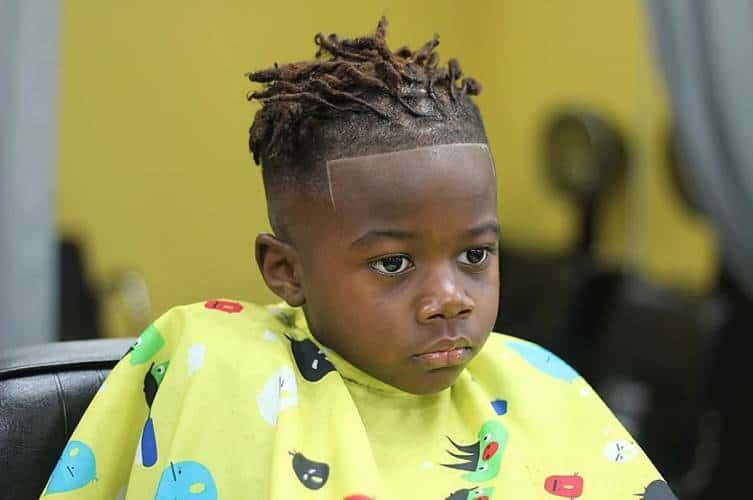 Combining two different textures in the same hairstyle remains one of the most popular ways to give your champ some flair look. This haircut features rugged twists on top and a smooth temple fade at the sides to shape up the look.
29. Twists and Fade
To spice up short hair, throwing in a few twists can give it a rougher, more rugged texture which will look good with any type of fade. A sleek temple fade and a crisp lineup with a side part round off the heavily bearded look.
30. Faux Hawk Twists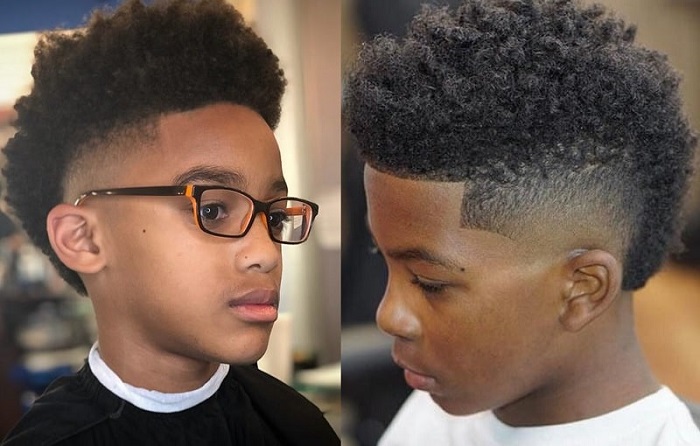 Faux Hawk Twists involves keeping the sides of your hair short, cropped, and entirely shaved off. The long middle section is styled up in a spiky shape coming down from the front of the head to the back. The twist gives the faux hawk a trendy and unique look.
Watch Black Boys Haircut Video Tutorial