Braided Mohawk hairstyles have quickly become a very unique and trendy style that people have come to love and the styles include updo, cornrow braids, crochet mohawk braids, and natural hair mohawk, mohawk box braids, and french braid mohawk. Braiding the sides of your hair instead of cutting them short is a great alternative that helps you achieve a unique version of the Mohawk hairstyle. What's more, you can apply several braiding techniques either to flatten the sides or to create a faux Mohawk.
Best Braided Mohawk Hairstyles You Should Try
These excellently braided Mohawk hairstyles show you how to combine the various styles of braid in different ways to create a unique look. Check out the mohawk hairstyles you can make and fold up neatly without letting any strand drop down freely, including some of the most alluring braided mohawk styles for black females.
1. Braided Mohawk Bun
As an embellishment to your braided Mohawk hairstyle, you can add a bold braided bun to make them look unique. The braided sides form a larger braid at the top that starts at the bun and runs all the way to the nape of the neck. This is a very common hairstyle that always looks good on any face type. It usually does not need any extra adornment. The neat cornrows and bun provide all the beauty you will need.
2. Braids With Twisted Ends
For this style, hair extension is needed to make the hair look its best. Using the extension, make stylish cornrows on each side of your head and finish them off as twists. Next, add the same extension and twist the hair in the middle of your head. After you are done, make a large bun by tying the hair up and leaving no strand hanging freely. Use a fanciful hairband to make the hair more beautiful and hold the bun in place. This hairstyle is common and looks good on all face types.
3. Ghana Weaving Mohawk Updo
This is eccentricity at its best! A combination of Ghana weaving and a proper low cut to an impeccable mohawk appearance. Simply cut your hair low, leaving some at the front towards the middle of your head. Make the portion left into fashionable Ghana weaving and roll it up neatly into a tight bun. You can explore different Ghana weaving styles to rock this hair better. This Mohawk hairdo is not very common and it fits oval and oblong faces the most.
4. Ghana Weaving With Rear Mohawk
A safe style for people who want to join the trend without necessarily screaming mohawk! Make Ghana weaving such that the weaving terminates around the middle and rear part of your head. Twist the free ends of the braids and make them into a beautiful rare mohawk.
You can also make a bun or buns (as you prefer) from the free ends of the braids. This hairdo is common, but people style the weaving and mohawk differently to suit their desire. Any face type will look good with this hairstyle.
5. Micro Braids Basket Mohawk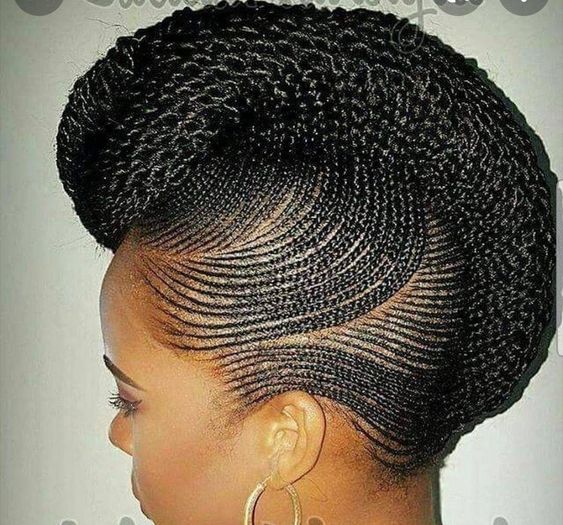 Tiny cornrows that look very attractive and last long. Braid the hair on both sides of your head into tiny cornrows and weave them into a large basket-like mohawk in the middle. You can make the hair even more interesting by using a hair extension that has a different color. For something even more dramatic, use two colors to make the basket-like mohawk look fine and colorful. This hairstyle is not common and it best fits oval and oblong faces.
Mohawk Cornrow Braids
Looking to rock cornrows with the mohawk fashion, below are possible options you can explore.
6. Twisted Braided Mohawk Braids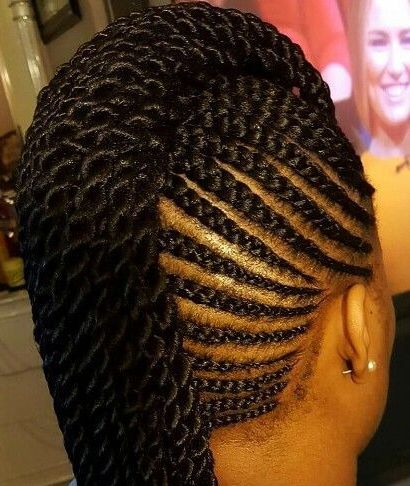 This hairstyle not only looks great but also offers multiple styling options. The cornrows on each side are made into long twists just as they reach the middle of the head. The easiest way to wear this style is to allow the long twists to fall to your back. If you want something more fashionable and elaborate, you can make the twists into a bun. You can also throw in some highlights as it suits you. This is a common mohawk braid that best fits oval and oblong faces.
7. Side-Braided Curly Mohawk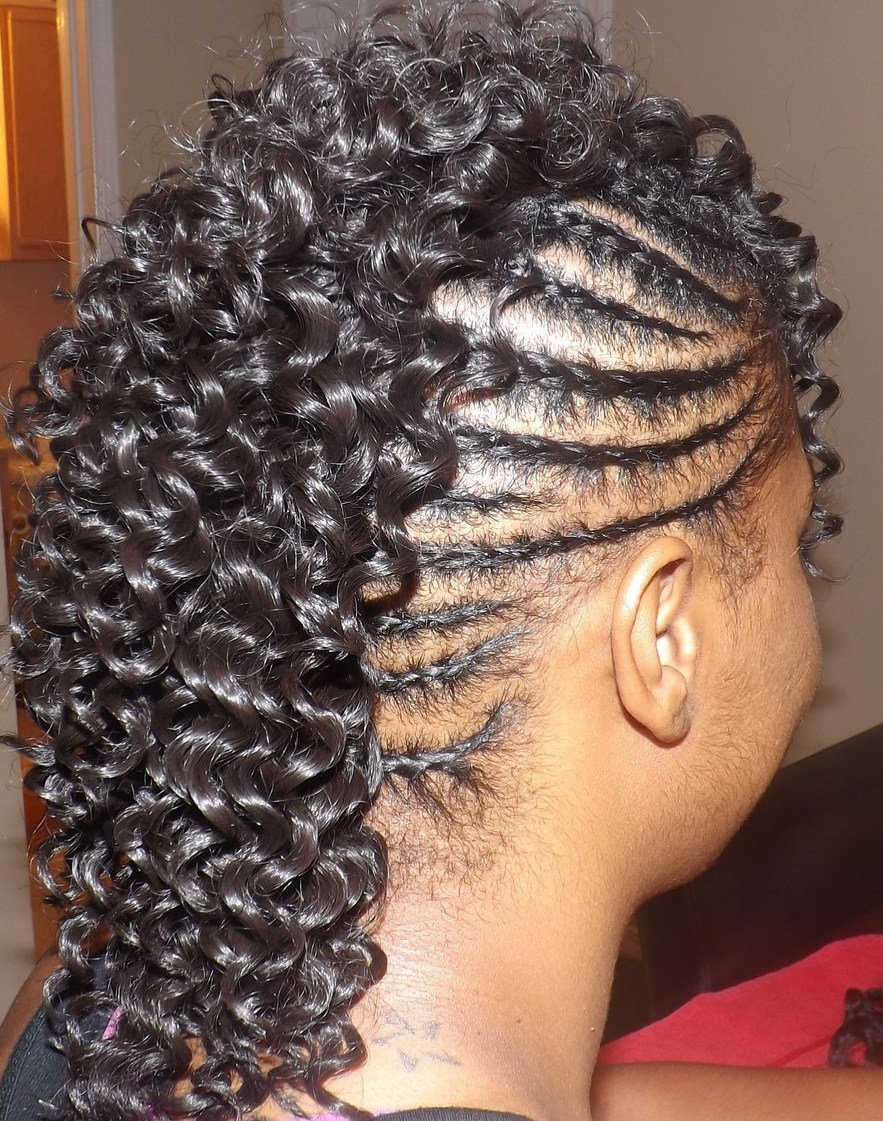 You can braid your hair and still flaunt your natural curls using this exquisite braided Mohawk hairstyle. The trick is to style the portion of hair at the top into messy curls and braid the sides neatly to make them seem flattened. This great faux mohawk can be done on medium-length hair. To add more highlights to the hair, you can use fancy pins to style the curls and make them look more attractive. Though not a very common style, this side-braided curly mohawk looks good on every face type.
8. Large and Small Cornrows Mohawk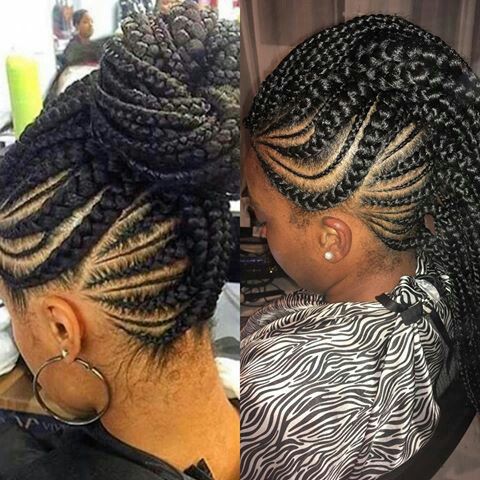 Making cornrows of different sizes in one hairstyle can leave a remarkable impact and unforgettable appearance. When these braids are made into a mohawk, the effect is doubled. The ends of the braids can be left to fall freely on your back, but for a better appearance, fold it into a bun or style it any other way you prefer. Making braids of different sizes has become trendy in recent times. Also, oblong and oval faces are the best fit for this hairstyle.
9. Four Super Braided Mohawk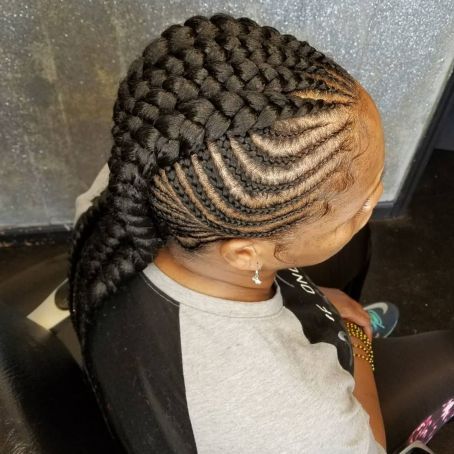 If you want your whole hair braided into cornrows, no worries. The four super braided mohawk is a good option for you. Begin by making the regular cornrows on each side of your head, then make the four super large cornrows in the middle of your head to give it the mohawk effect. The best part about this hairstyle is that you do not have to take time styling it everyday. It is not so common, but a beautiful style that can fit any face shape.
10. Fancy Cornrows and Massive Mohawk Braid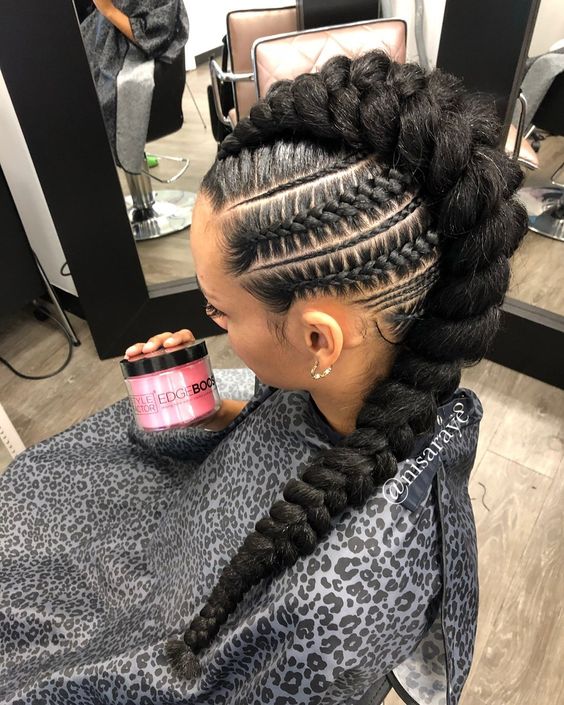 Here is another very fashionable mohawk hairdo. Make a few fancy cornrows to hold down each side of your hair, then use adequate hair extension to make a massive braid in the middle, with the cornrows on each side. Get the best out of this hair by styling it with beads to make it catchy. This is not a very common style because of its dramatic look. Nonetheless, it fits every face type.
Braided Mohawk With Twisted Bantu Knots
African ladies can rock their kinky hair in beautiful braided mohawk hairstyles with or without hair extensions. See the different styles below.
11. Braided Mohawk with Twisted Bantu Knots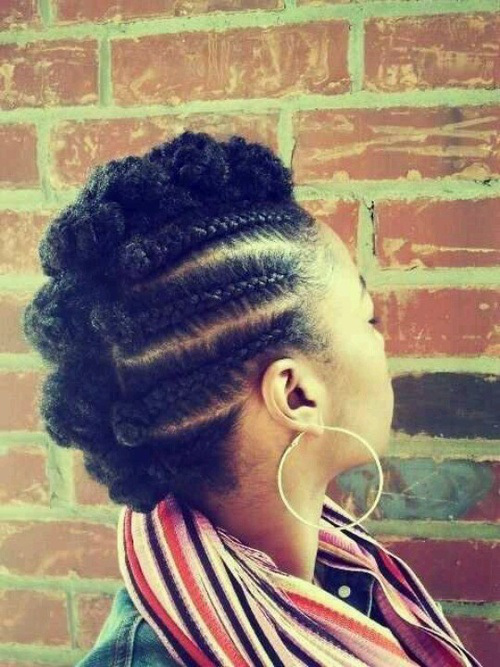 This unique hairstyle is an interesting variation of the Mohawk as it is made out of fashionably twisted Bantu knots on top of the head. The sides have been flattened by braiding in order to accentuate the bold centerpiece which is the thick Bantu knots. The kinky nature of the hair is what makes it beautiful. You can rock this style without extra adornment. It gives off a natural and African aura.
The best part of this hairdo is that you do not have to go through the stress of styling it everyday. It has a fixed style. Also, it is a very common style, especially among African ladies who do not have long hair. It fits almost all the different shapes of faces.
12. Curly Mohawk with Snaky Braids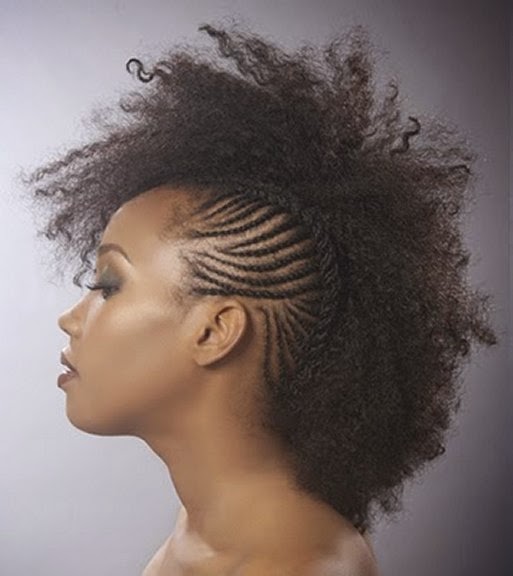 This trendy Mohawk features highlighted tresses that help to give the hair more depth and dimensions. The springy curls on top of the head are accentuated using snaky braids that round off the Mohawk in stylish fashion. The springy curls stylishly drop at the front and back to give off a carefree personality. This hairstyle is best won in a natural color and without extra adornment. This braid is common among African women and it fits almost every face shape, but it is best for oval faces.
13. Two Colored Massive Mohawk Braid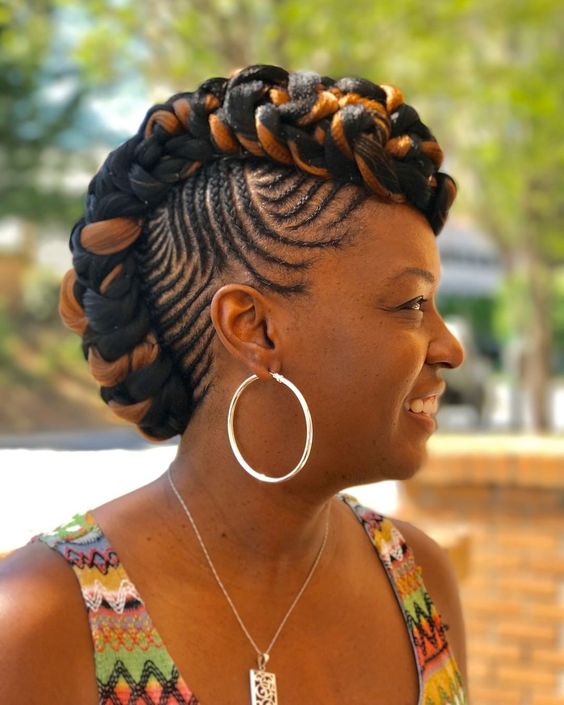 For the African woman who loves a touch of color in her look, this style will bring her personality to light. Make sided cornrows and a large braid of multiple colors for the mohawk. A dark and a light color always make a perfect combination and help to accentuate each other. With this, you do not need extra touching to make the hair look good. This is one of the uncommon mohawk hairstyles and can fit any face.
14. Cross Braided Mohawk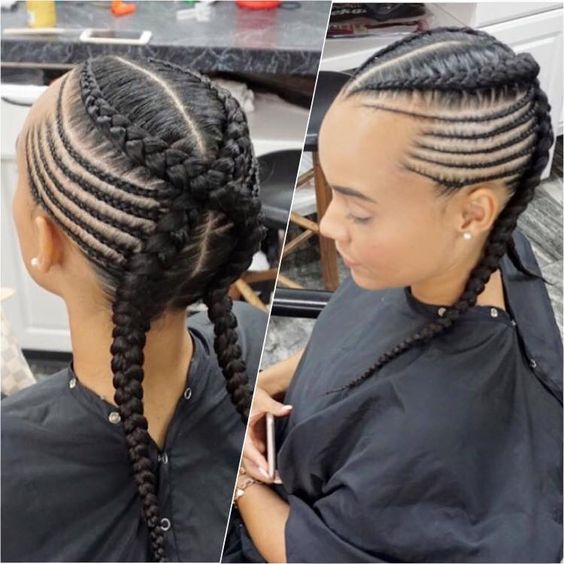 Stand out in the crowd with this unique mohawk braid that is by itself beautiful and attention-grabbing. Make two large braids that cross over each other in the middle and several tiny braids on the side. This style is simple but gorgeous. You can add hair bids on the large braids to make the hair even more beautiful. It is not a very common style and it can fit every face type.
Crochet Mohawk Braids
Below are different braided mohawk hairstyles you can make using any crochet pattern. These styles that have been carefully selected are suitable for both young and old and even those looking for something in-between.
15. Braids and Curly Mohawk Hairstyles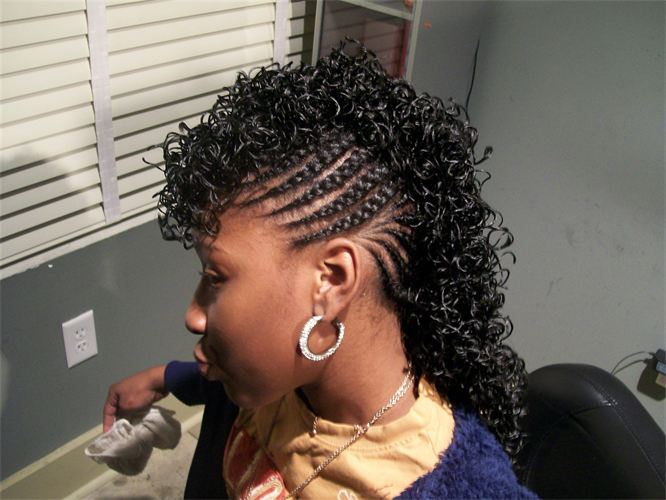 If you like adventurous hairstyles, spicing up a curly Mohawk hairstyle with braided sides and a bun is a great way to keep it fresh. The combination of the flowing tresses, the voluminous bun, and the plaited sides all work to make the hairstyle unique. You can pull this look off on medium-length hair. You can rock this hairstyle using a curly crochet extension that matches your natural hair color to give you a natural yet fantastic appearance. This hairdo is common, but it is styled in different ways. It fits oval, round, and oblong faces.
16. Red Braided Mohawk with Springy Curls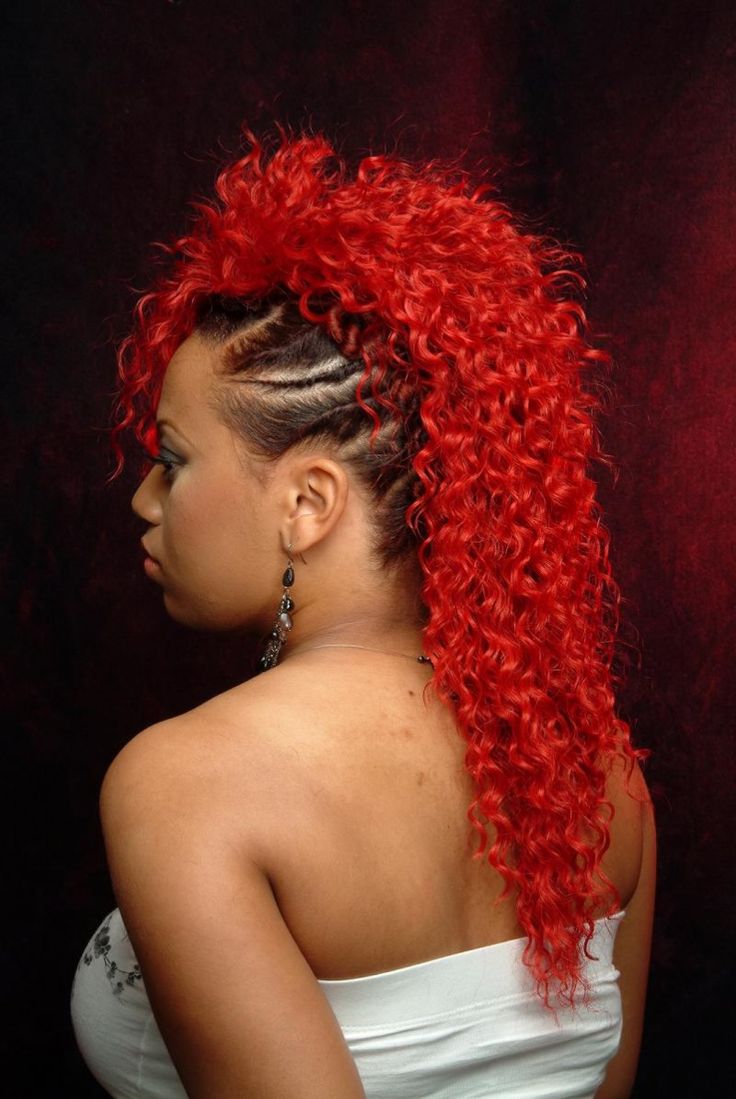 Giving your Mohawk a burst of color is a great way of incorporating your personality into the look. The coppery tresses on the head result in a fun look that is stylishly messy. The contrasting color of the braid and the mohawk is even more unique. You can rock this hairstyle with different colors, including purple, green, pink, etc. Just pick your favorite color and explore! This style is not rampant. It is mainly seen among people with loud personalities and it looks good on all face types.
17. Side Braided Afro Mohawk
This natural look consists of a moderately voluminous crown of frizzy curls done in a stylishly disheveled fashion. The sides have been braided to add some structure to the curly Mohawk hairstyle. Talk about something natural with a little bit of drama. It is best rocked as it is because any extra adornment can take away the intended fashion style. This Mohawk pattern is not very common among ladies and it best fits oblong oval and round faces.
18. Cornrows and Twisted Crochet Mohawk
Begin by braiding your hair into tiny and stylish cornrows. After that, fix your twisted crochets into the braids around the middle of your head so that they form a well-aligned mohawk. You can leave the crochet to fall freely on your back, or you can roll them into buns. The bun can be one as in this photo, or two if you so desire. You may also try out other fashionable styles that come to mind. This style is not very common, and it is best for oval, oblong, and round faces.
Natural Hair Mohawk Braids
If you love to go natural, here are a few mohawk braid hairstyles you should try out. The styles you will get here are endless and no matter what your face type is, you are sure to find a style that you will look glamorous in.
19. Natural Cornrow Mohawk Style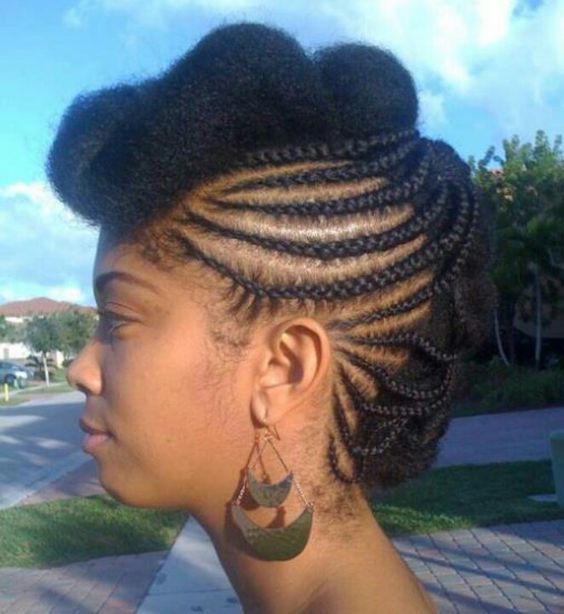 Going natural has become the new trend. Having a mohawk with clean side cornrows will make you look very modern and chic. The secret is in the kinky hair and the moderately sized cornrows. Permed hair may not give you a perfectly full mohawk as the kinky hair would. This style is common among ladies who have not permed their hair and have moderate or long hair length. This style does not work well with short hair. It perfects the beauty of any face type.
20. Gigantic Buns Mohawk
Not all mohawk styles require that you cut or braid your hair. You can rock beautiful mohawk styles with your natural hair. You are at an advantage if you have long and full kinky hair. Simply use "invisible" pins to hold down the sides of your hair, then make it into large fashionable buns. This hairdo is perfect for every lady no matter the shape of your face. However, it is common among people with long and full kinky hair. You do not need any adornments to enhance the look. This style is just perfect by itself.
21. Stylish Cornrows and Curly Mohawk
Short hair will not be left out of the trendy hairdo. Make stylish cornrows on each side of your head and roll the strands in the middle into beautiful curls. To rock this style better, tint the curly part with any color of your choice that contrasts the color of your hair. It will seem as though you made your hair using crochet. You can also style the curls fashionably using fancy hairpins. This hairstyle is common among ladies with short hair and it fits oblong, round, and oval faces better.
22. Multiple Bun Mohawk
This is another simple hairdo that you can try with your natural hair, no extension is needed. Simply comb your hair neatly, separate them into three or four sections and fold each section into a bun right in the middle of your head. Ensure that they align to form a perfect mohawk. Natural kinky hair is the best hair texture with which to rock this style. Multiple bun mohawk is a common hairstyle and it fits every face type.
French Braid Mohawk
Check out these stunning french braided mohawk hairstyles you can try out. You do not have to be French to rock these looks.
23. Butterfly Locks Mohawk Braid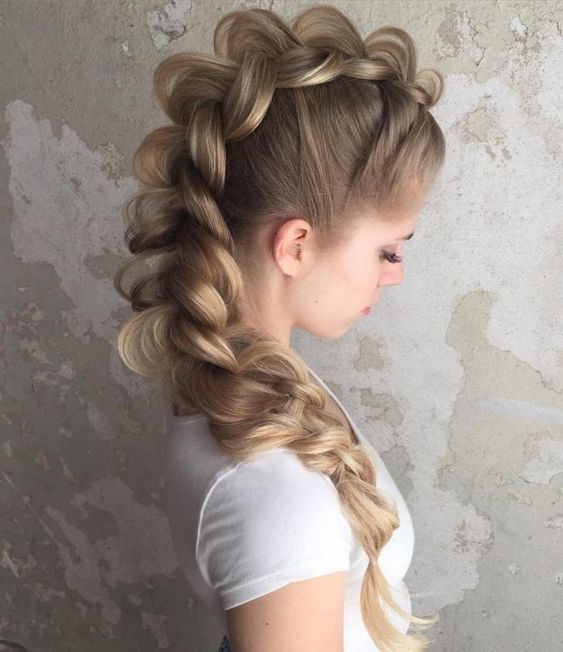 For this style, your hair is braided into a single mohawk and the braids are patterned in a loose form that gives them a butterfly-like appearance. It gives you a simple and yuppie look. This style is best for long hair as short hair will not give the perfect look of a butterfly. Using fancy hairpins to roll up the tail is an interesting way to rock this hairstyle. This butterfly locks mohawk braid is common among ladies with long hair and it fits every face type.
24. Twin Braid Mohawk With Ponytail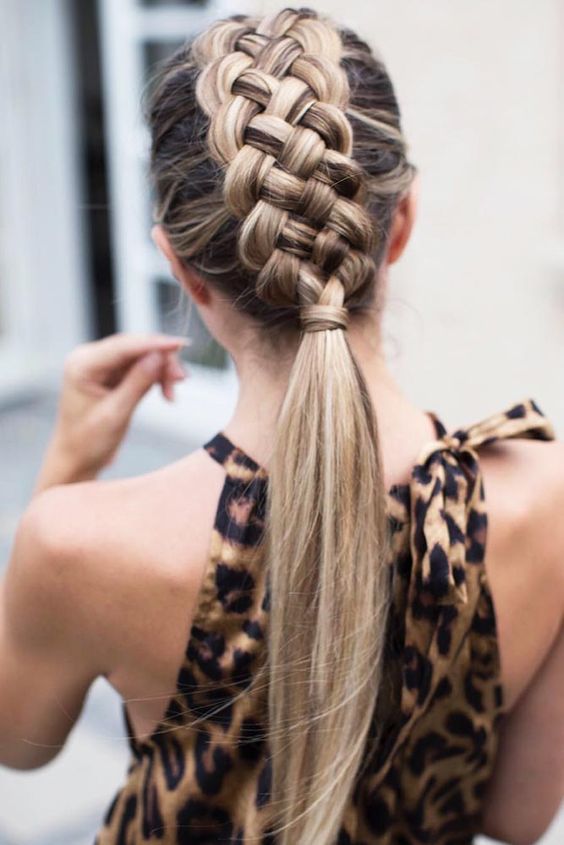 Complex looking mohawk pattern that will send heads turning. The whole hair is made into an interwoven mohawk twin braid that sits beautifully in the middle of your head. The end of the braid is tied into a neat ponytail and allowed to dance freely. Fancy pins on the side and a trendy hairband are simple additions that can make the hair even prettier. Not everyone can make twin braids. Hence, this style is not common. It best fits oblong, oval, and round faces.
25. Interlocked French Mohawk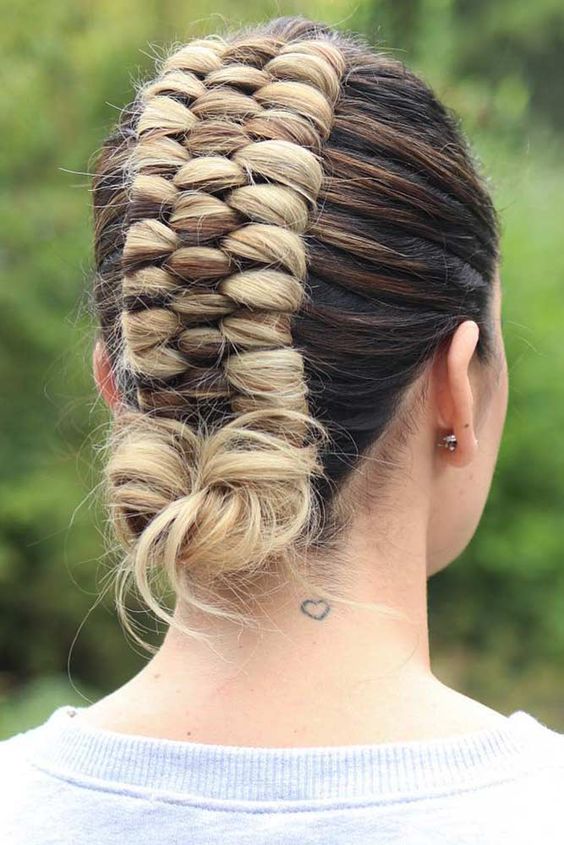 Get a combination of style and class with this unique mohawk pattern. This is a good option for moderate hair length as no hair is left to fall on the nape of the neck. Every strand is neatly tucked in to give it an almost invisible ending. The complex weaving makes the style reasonably elaborate, so you may not need extra adornment. This style is also not very common because of its seemingly complex pattern. Nonetheless, it looks good on any face type.
26. Simple French Mohawk With Backdrop
All you have to do is take a section of your hair in the middle and make it into a french mohawk braid. Leave the remaining strands to fall over your shoulder or neck depending on your hair length. Easy peasy! This is a very common style that most people make when they need something quick and simple. If you want to make the style more elaborate, you can make the remaining strands into cornrows or style them however you like. Anybody can wear this style.
27. Elaborate Bridal Mohawk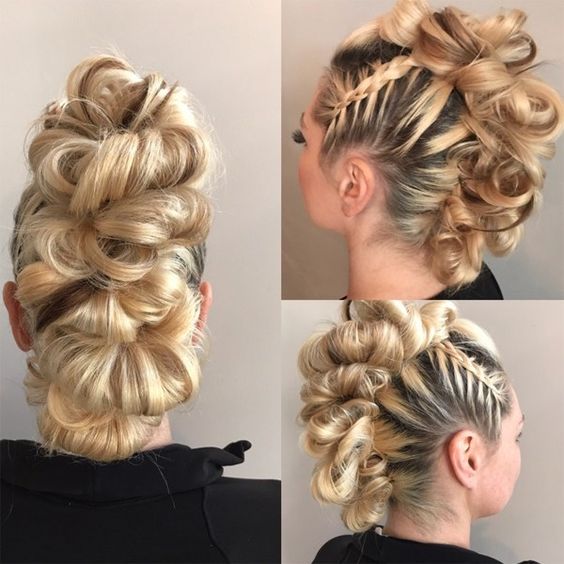 The name says it all. This is a good hairstyle for you if you wish to go with the mohawk trend on your wedding day. Very little braiding is done and the hair is folded into several buns that lie close together. Using hairpins and beads can make this hairstyle even more gorgeous. Although it is beautiful and can fit any face type, this type of french mohawk styling is not very common and is usually made for special occasions.
Mohawk Box Braids
Thinking of the best way to style your box braid? Try these amazing mohawk hairstyles. Mohawk box braids can be styled in different shapes and they all have a way of making you look attractive.
28. Simple Box-Braided Mohawk Hairstyles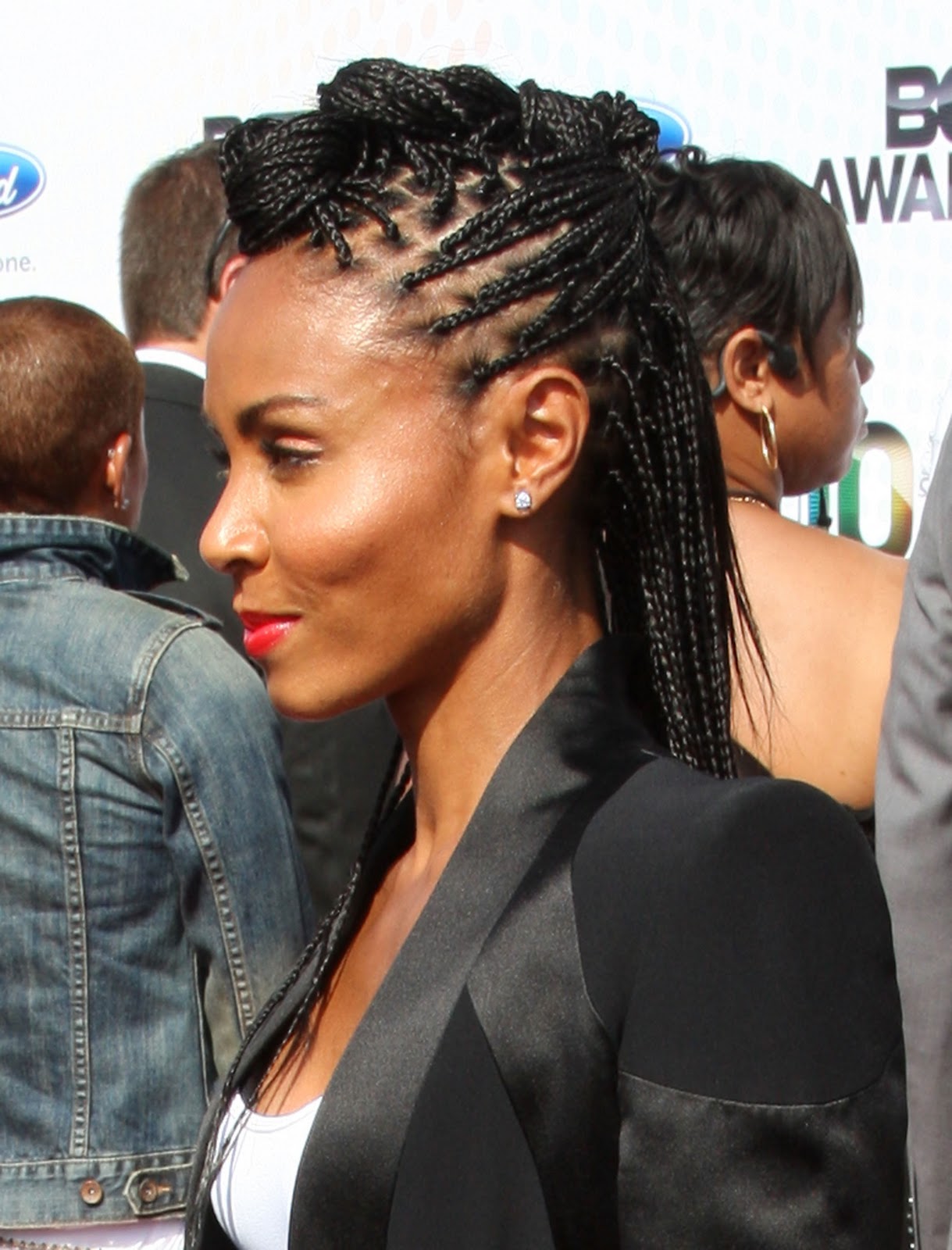 Jada Pinkett Smith shows us that simple can look just as good with this stylish version of the Mohawk hairdo. You can fashion your box braids into this Mohawk easily by making them into buns at the top and pushing the braids backward to leave the sides flat. Although it looks very simple and easy, not so many ladies get the inspiration to style their hair this way. If you are a lover of colors, you can make your box braids using any color of your choice and rock this mohawk pattern. This hairstyle is ideal for any face shape.
29. Box Braided Mohawk Bun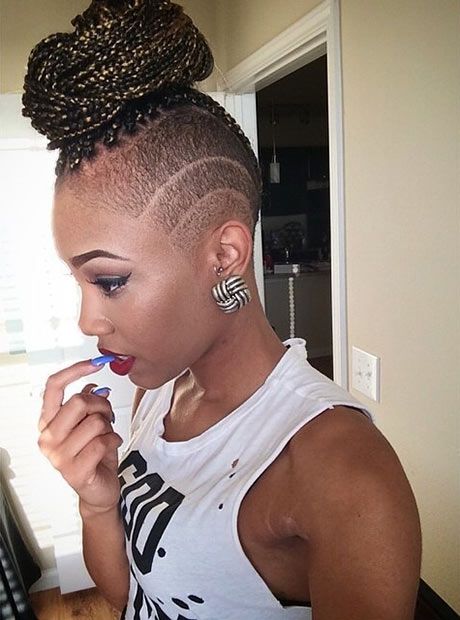 This style is a perfect fit if you are looking for something eccentric. You have to cut both sides of your hair and leave the middle to give the typical mohawk style. Then you make the remaining hair into box braids and roll them up into a beautiful bun. You can get the best out of this hairstyle by using hair extensions that are a bit off from your natural color. This hairstyle is pretty common among mohawk lovers and it fits any face type.
30. Mohawk Cornrows and Box Braid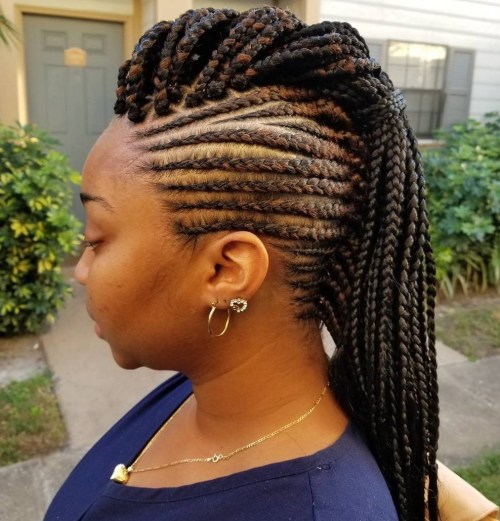 If you do not want to cut part of your hair, this hairstyle is a good option for you. The middle strands are made into box braids that give the mohawk style while the sides are braided into cornrows to accentuate the mohawk. You can leave the braids to fall freely on your back, but making them into a bun or any fashionable pattern will be a plus for your look. This hairstyle is common, but people style it differently to suit their personalities. It is also a good fit for any face shape.