Burgundy hair color varieties, including light and dark reds, dark purples, and maroons are some of the tried, and tested choices of shades of hair color to go with when it comes to embracing different hair colors. The rich reddish-purple hue offers different shades of colors with juicy appeals that are irresistible. Instead of trying traditional hues, it would be a great choice to update your locks with stunning burgundy shades that will give it full dimension.
Most women resort to these hair colors for their stylish low profile appeal and make a statement in the process. Others simply want something different and colorful at the same time that will cause them to stand out from the crowd. Regardless of your reasons, you can be sure to get your sense of confidence back by adding depth to your hair with these beautiful burgundy hair colors listed in this article.
Ideas For Light and Dark Burgundy Hair Colors
Want to change your hair but can't pick out the exact shade to try next? Here, we've got you covered with several brilliant burgundy hairstyles categorized into dark and light hair colors. These eye-catching hair colors might even make you take an immediate trip to the salon after glancing at them.
Dark Burgundy Hair Colors
These are the best styles for those who don't want a flashy look but still want to rock their colors but in a toned way.
1. Plum Burgundy Hair Color
For those that prefer a more subdued look, this plum burgundy hair color is a great choice. Plum color has similarities with burgundy as it is a brownish-purple hue that is incredibly flattering. It will help get your hair noticed. The plum color is perfect for women who wish to change their appearance, drawing attention to their haircut and texture. Though it will fade fast as artificial color, you can feel free to experiment with its intensity.
2. Burgundy Red Hair Color
Burgundy red hair color is a rich hue that looks gorgeous on different hair types. It's part of the reasons burgundy is trending at the moment. The popular hair color looks great and makes a statement at the same time. With this color, you can choose to go permanent dye option or semi-permanent hair coloring option. Whichever way, the color will make you stand out as it will give your hairstyle a chic look.
3. Burgundy Brown Hair Color
This hair color is ideal for ladies that want to update their hair with something fun and subdued. Brown hair is never boring and has been the best fit for most skin tones. Brown burgundy seamlessly blends with brown locks and is one of the most effortless hair coloring styles that can be done at home. You can also give the color a radiant look by pairing it with another subtle color that can create subtle lowlights.
4. Burgundy Dark Red Hair Color
A massive hair trend at the moment, burgundy has the ability to enhance curls and equally looks very striking on straight hair. Burgundy dark red hair color is an intense and bold hue that is incredibly versatile and will beautifully highlight your chosen cut and hair texture. The rich deep tone looks good on most skin tones. It can be incorporated into hair through coloring techniques such as balayage or highlights.
5. Dark Burgundy Hair Color
One good thing about burgundy hair color is that it suits everyone. So, feel free to try out this cool hair color on your next visit to the salon. With this color, you can opt to create a lovely bob-style or two-toned hairstyle that looks positively radiant. Dark burgundy color perfectly combines with darker roots and can give any hairstyle a magical touch. The hair color looks flattering on women with ebony and olive skin tones.
6. Burgundy Highlights on Black Hair
When it comes to burgundy hair color, there is a wide range of looks to try out. Interestingly, the color works well with diverse hairstyles and is perfect for a trendy combination of various hues and tones. Burgundy highlights on black hair is a pretty combination for women who love to have dark locks and experiment with colors. The combo is not hard to pull off and can be fun and yet glamorous at the same time.
7. Purple Burgundy Hair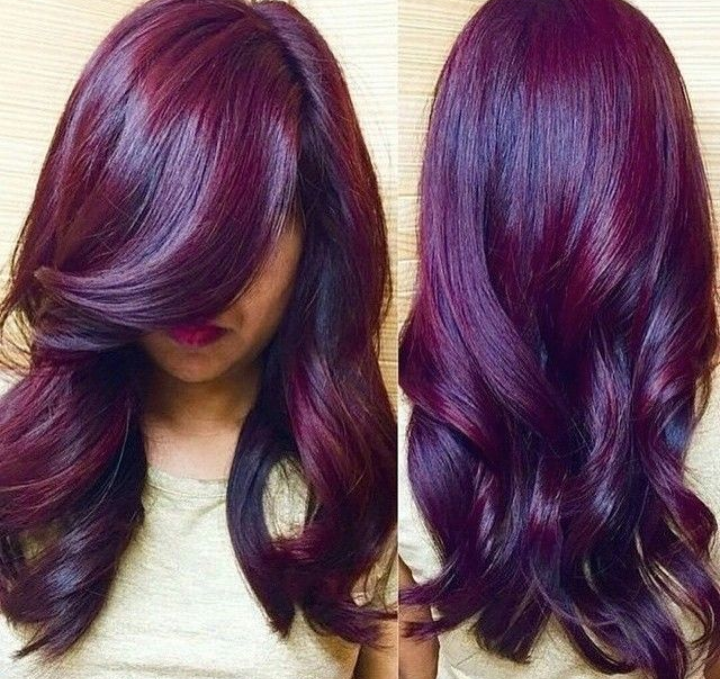 As burgundy color is a mixture of dark red and purple, this hair color would be a great option if you are looking for shades that play into the purple tones. The purple color is often associated with wealth and prestige. As such, it has been a favorite hair color for many. The color is bright and dazzling and can suit various hair lengths and textures. You can also choose to incorporate the warm color on your hair using the balayage technique.
8. Deep Burgundy Hair
This is a hair color that best suits those that want to make a statement. The deep and bold shade of burgundy outrightly demands attention. For a more subtle look, you can experiment with alternative shades that will brighten your look as a skilled hair colorist can easily adapt the color to suit your preference. The hair color greatly highlights haircuts and textures in a remarkable way. It looks good on ladies with fair skin tones or lighter complexions.
9. Burgundy Purple Color on a Straight Hair
Here is an amazing way to style your long straight hair using a rich shade of burgundy dark purple. A single layer of uniform color with random bright patches and dark spots makes the hairstyle look flawless and enticing. It is easy to wear and the hair color can also do wonders on curly hair, adding depth and volume.
10. Burgundy Curly Hair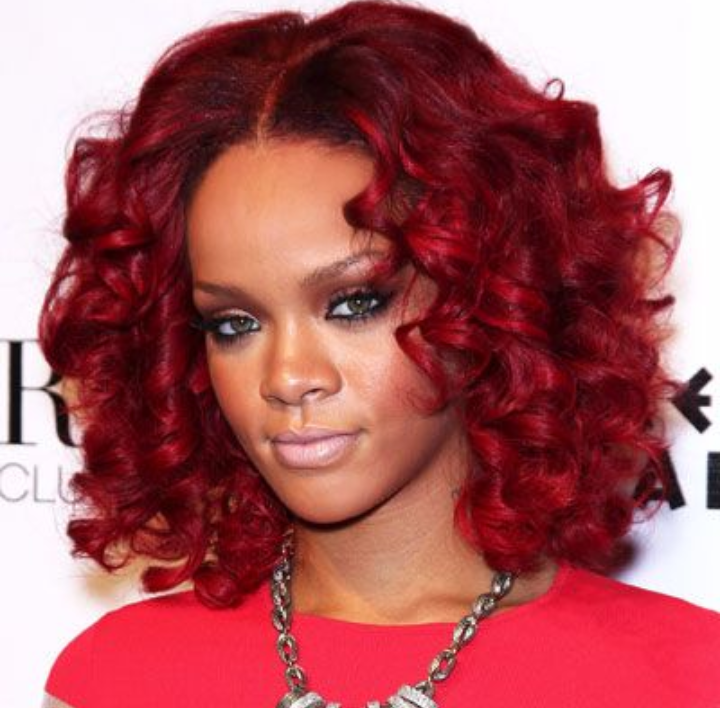 No matter the style; from curly to straight, burgundy hair colors look effortlessly cool and dazzling at the same time. There is a lot to love about curly burgundy hair as the natural volume and texture give it a chic appearance as seen here rocked by singer Rihanna. Incorporating various shades of burgundy on your hair is a great way to express your sense of creativity. You can also use curl-defining products to enhance your looks.
11. Burgundy Dark Maroon on Pixie Cut
Short hair looks great with vibrant colors. Spice up your boyish pixie cut by giving it a maroon dye job to add some flair to the look. Throwing in some stylish details such as lighter and darker patches will make it look even more attractive. The color looks great on women with balanced skin tones and can be styled in various ways other than pixie cut which includes bob hair cut and lob cut as well.
12. Burgundy Dark Red Color on Short Hair
Despite the shortness of the hairdo, this burgundy dark red color still looks amazing on this fringe-styled haircut, thanks to the natural textures. The fabulous hairstyle is easy to replicate if you have beautiful curls which will highlight the burgundy hair color. Depending on your complexion, don't be afraid to experiment with warmer or cooler burgundy red hair colors.
13. Purple Burgundy Highlights on Dark Hair
This is a flirty shade of burgundy on dark hair. Though having a low profile, the burgundy purple highlights are attractive enough to set you apart from the crowd. It is perfect for brunettes who are looking to do something a bit more interesting with their hair. The burgundy highlights tend to work well with balanced skin tones.
14. Ombre Inspired Hair Color
Brunettes can create fantastic color combinations by pairing their dark hair with a smooth but vibrant shade of burgundy red. Using the ombre technique for this results is a wonderful color gradient that leaves the hair looking nothing but stunning. You can also pair brunette hair with other bright and daring tones like burgundy purple.
15. Burgundy Dark Brown Bob
The smooth, glossy finish in this example is what makes burgundy dark brown bob worth a second look. It enhances the body of the short hair despite having a straight texture and equally gives it a very appealing radiance. Burgundy dark brown hair color is a fun and expressive color that still remains one of the favorite shades of burgundy with which you can beautifully transform your appearance.
16. Maroon Burgundy Balayage Hair
This sultry maroon burgundy hair makes use of the balayage technique to stylishly touch the curly edges while the roots remain dark. The resulting color transition is gorgeous and suitable for the long flowing locks. Depending on how dramatic you want the finish to be, there are other cooler burgundy shades you can try out this combination with such as deep burgundy hair color.
17. Short and Curly Burgundy Bob Hair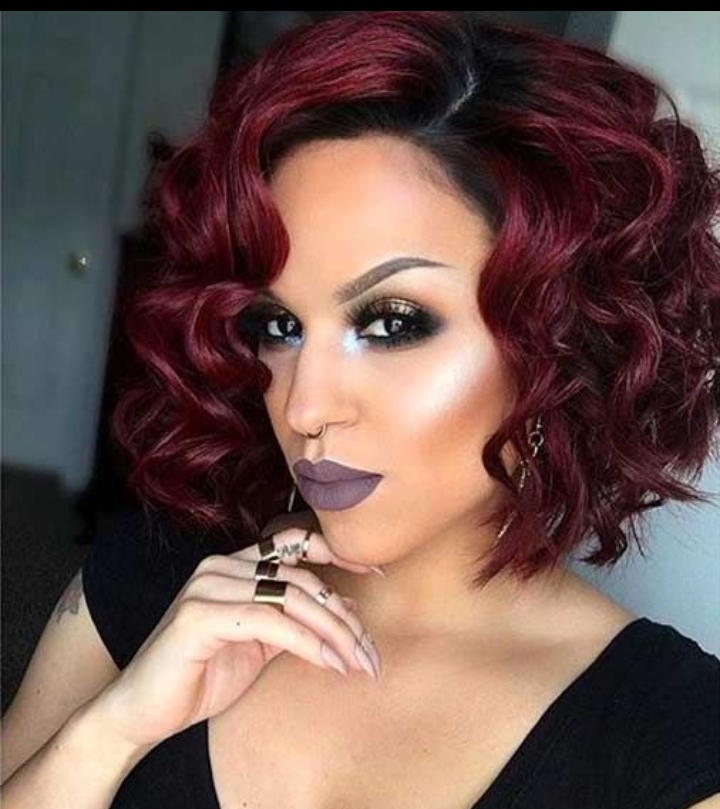 This seductively short and curly bob is not only amazingly textured and tousled but also features a delicate blend of darker base and intense burgundy hair color that have been expertly combined using the balayage dyeing technique. Though this is not a color designed to look natural, it looks great on most skin tones and is incredibly easy to wear.
18. Intense Maroon Burgundy Hair With a Dark Base
Simple yet stylish, maroon burgundy is a great color to go for when trying out ombre for darker hair colors. It blends well with brunettes and complements the darker roots by giving the hairstyle a bit of flair towards the ends. Burgundy shades tend to look more subtle and natural when combined with a darker base because it blends so well.
19. Magenta and Red Burgundy Hair
If you love having dark locks and experimenting with colors, then this magenta and red burgundy hair is an excellent option. When you dye your hair with the shades seen in this example, it will always look slightly different each time. This makes it a fun way to add dimension and volume to your hair. The combo creates an all-over burgundy vibe.
20. Burgundy Babylights on Dark Brown Hair
For those looking for ways to pair burgundy hair color with natural hair, burgundy babylights does unimaginable wonders on dark brown hair. Going for the highlighting technique is a colorful way to show off your locks. It looks fabulous on medium-length hair as it creates more opportunity for the complexity of the shade to glow.
21. Mahogany Burgundy Hair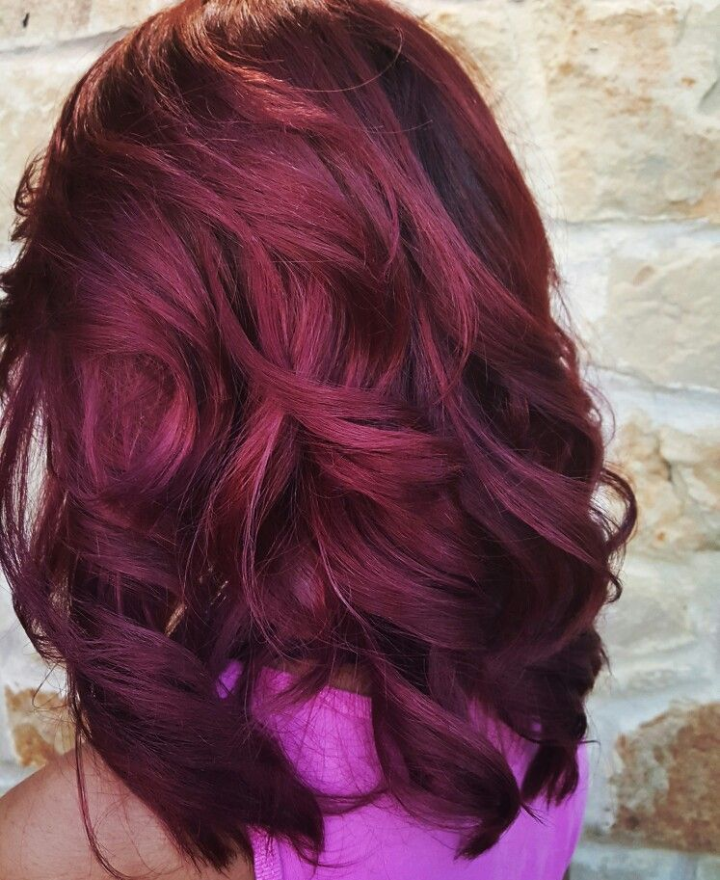 There are a few better combinations than mahogany and burgundy for an admirable look that will get your hair noticed. The soft pairing of mahogany and burgundy makes a statement as the colors are bold and vibrant. You can use this shade of burgundy to create a framing effect around your face, highlighting your features better. Unlike other vibrant hues, the deepness of this hair color makes it easier to wear and the color fits most women.
22. Burgundy Brown Balayage
There is no better look for those with light and ebony skin tones than this carefully swept burgundy brown balayage hair. The popular hair coloring technique creates a sun-kissed effect with natural colors. By featuring these similar tones, the style gives the hair a vibrant fair and instantly brings it to life. For those wanting a subtle but chic look, adding burgundy color to brown hair effortlessly achieves the result – a more natural chic appearance.
23. Maroon Burgundy Bob Hair
Maroon and burgundy tones are considered ideal for women who want to create a gorgeous, luxurious appearance with their hair. The two tones are very similar, though maroon is a shade darker than burgundy. The combo produces a beautiful hue that is flattering and easy to wear. It looks good on almost everyone as it fits most skin tones. It can be added to hair of all lengths. However, it seems to look more flattering on a bob haircut.
Light Burgundy Hair Colors
If you are not afraid of the attention that comes with bright hair colors, you can enjoy a lot of styles under this category.
24. Lavender and Burgundy Highlights
For those with a taste for bold and noticeable tones, this lavender and burgundy combo is solid yet flamboyant enough to get you noticed. It goes especially well with pale skin tones and features an ombre effect which adds some more detail to the look. The softness of the shades makes it a sought-after color for ladies desiring something a little bit different.
25. Burgundy Balayage Hair
For playful curls and tresses, burgundy balayage is an excellent option. Its sun-kissed appearance makes the hair unique and very attractive. The curls look even more stunning in a burgundy color and the tresses will frame and brighten your face nicely. The hair color best suits those with pale complexions.
26. Burgundy and Blonde Hair Color
Deciding to create a two-tone style with burgundy and blonde is usually a bold choice because of their color contrasts. When combined with light locks, burgundy's rich dark red shade gives a striking appearance. You can also try other shades of blonde such as strawberry blonde, platinum, or dirty blonde and they will all give a dramatic look, making you feel super confident. This look can be best achieved by a skilled colorist and not be done at home.
27. Short Burgundy Hair Color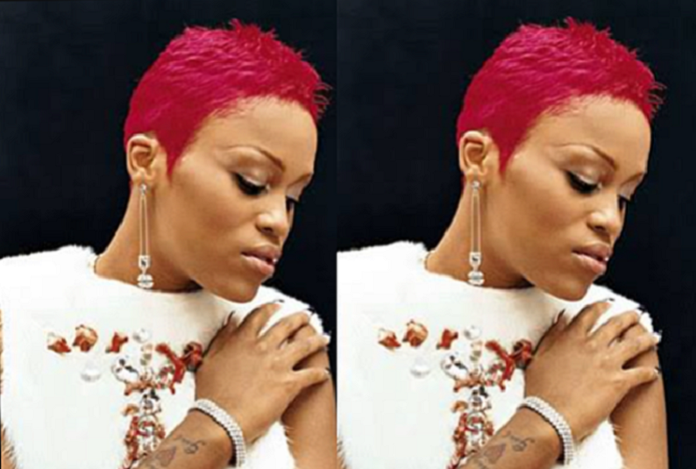 With burgundy hair color, there are various fun ways to transform your appearance. Dyeing the rich hue on short hair not only makes it flattering but can make one stand out from the crowd. You can choose to tone down the bright color by adding natural colors like dark brown to the hair. Besides this color worn by singer Eve, there is a variety of burgundy shades with which you can brighten your short hair.
28. Burgundy Hair with Caramel Highlights
This is a look that best fits ladies with lighter complexions. The hairstyle is rich and truly stunning. You can try it out if you want tresses that will brighten your face. Though caramel highlights blend perfectly with brown hair, it also works exceptionally well with burgundy hair as seen in this example. It creates chic and feminine looks that can be worn to date nights and special outings.
29. Ombre Burgundy Hair Color
There should be nothing stopping you from wearing this ombre burgundy hair. The ombre effect is always stunning as it sensationally blends two hues – one light and the other dark. It is a plus to dark hair base as it will give the locks a lift. Even though the two-tone used here have high contrast, they blend so well to achieve a warm and truly gorgeous appearance. It shows that the ombre effect can be achieved with burgundy color and not only with natural shades.
30. Balayage Hair With Burgundy Highlights
Instead of coloring your whole hair red, you can go for subtle reddish-purple highlights on bright balayage hair to create an appearance that is more subtle and less dramatic. The beautiful hand-painted hair is played up by these reddish hue highlights which work very well for the look. Lovely curls will further add vibrancy to the style, highlighting the hair colors even more.
31. Pink Hair with Burgundy Peekaboos
Every woman loves to make a subtle statement about their thoughts and feelings with their hair and with this shade of burgundy hair color, you can be sure to achieve that. Among the various takes of the burgundy hair trend is this incredible pink hair with burgundy peekaboos option. The burgundy is placed underneath the hair as though it's peeking through. The pink color is often associated with femininity and love and this style will definitely give you a gorgeous, feminine appearance.
32. Burgundy Orange Hair Color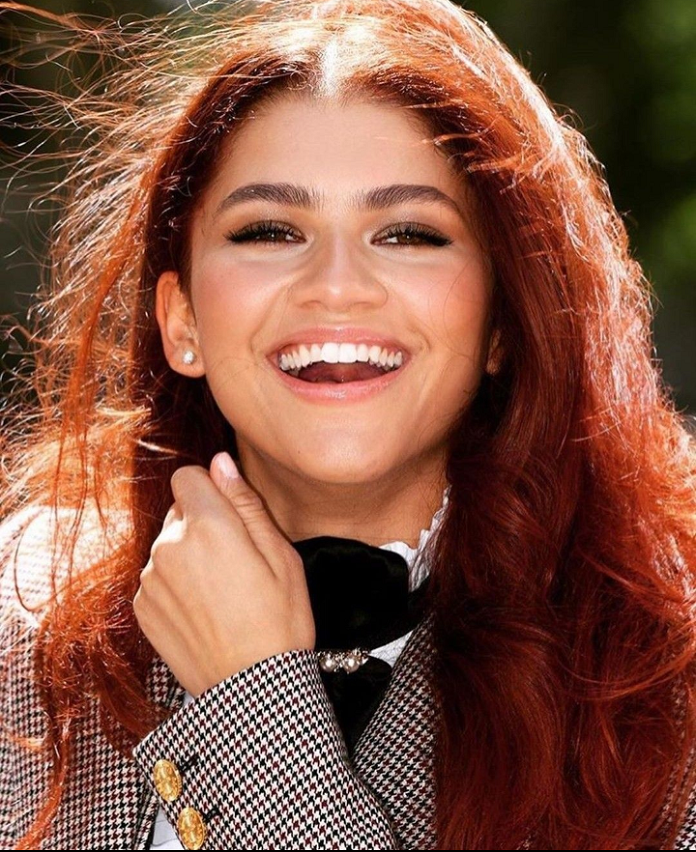 While some women prefer hair colors that are subtle and subdued, some others prefer to rock noticeable hair that instantly draws attention. This striking burgundy orange hair falls under the latter and the perfect blending of the colors will particularly draw attention to the hair texture and cut. The red and orange hues complement each other and thus, best fit those with fair skin tones or lighter complexions.
33. Warm Burgundy Red Color on Straight Hair
No matter the textures you're working with, warm burgundy red hair color is easy to rock. Straight hair looks so enticing when given a rich, warm red hue that leaves it radiant and boldly seductive, especially when they get really long. There are several different shades of this reddish-brown hue to choose from. You can however give your hair a balanced look by going for a warm and natural reddish hue.
34. Cayenne Skies
Thinking about rocking a new vibrant hair color? Burgundy offers classic shades which are often the go-to and cayenne skies features brighter and bolder hues loved by most young women. With hints of burgundy, gray, blue, orange, gray, and black all paired up in an edgy design, the hairstyle looks more like a work of art than an ordinary hair color transformation.
35. Reddish-Brown Burgundy Hair
This reddish-brown hair ideally encapsulates the burgundy hair color trend. It's a great way to make a statement as the tone is vibrant and subtle all at once. With this shade, you can be sure to add depth and dimension to your hair. It suits all hair lengths, types, and thicknesses. For a more intense and bold finish, you can opt for dip dye or ombre coloring technique.
Is Burgundy a Natural Hair Color?
Gotten from a mixture of reddish color and cooler purple color, no, burgundy is not a natural hair color. No one is born with the color naturally, rather, it is achieved through the dyeing of hair. Hence, it is a man-made hair color. It is noteworthy that there are natural redheads with copper and mahogany tones.
How To Dye Black Hair Burgundy Without Bleach
In recent times, many people have been avoiding the use of bleach to dye their hair for safety reasons as the strong chemicals contained in bleach can cause scalp irritation. It can also damage hair locks by making them become dry and brittle. Hence, you can dye your black hair into a burgundy color without bleach by making use of temporary hair color made for a dark base. These hair colors are specifically designed to function best on dark hair.
How To Remove Burgundy Hair Color
It's one thing to color your hair with shades of burgundy dye kits that come in semi-permanent and permanent options and it's another to know how to remove the hair color. For a newly dyed burgundy hair, you can only fade it down to auburn or chestnut and cannot completely remove the color. Then after three days, it will be more difficult to remove the color as it must have set well on the hair. The hair color removal steps are as follows:
STEP 1: Wash the hair with a clarifying shampoo or decent dandruff shampoo.
STEP 2: Use a hair color remover like L'Oreal or Clairol color removal products.
STEP 3: Re-dye your hair a new color that will tone down the reddish-purple hue, if not completely removed.
Conclusion
Shades of burgundy color are trendy and need to be tried by every woman at least once. It is a great choice of hair color to rock as it can be played around to achieve a look that reflects your personality, as well as your sense of creativity. While some women prefer to dye their entire hair a reddish-purple shade, others prefer to go with burgundy highlights.
Whichever way, burgundy hair color creates a sleek appearance that oozes positive vibes. The beauty of the hair color is in the versatility as there are a variety of burgundy shades that every woman, who wants to make a bold statement with their hair, can choose from.