Carrie Underwood is among the fraction of people that American Idol picked from the place of limbo and made them thriving stars. What's more is she is not letting this fame grow dim. For more than a decade now, she keeps using her vocal talent to make it last and evolve. She has grown into one of the most memorable and most successful American Idol winners having won numerous awards such as Grammy, Billboard, academy country music, American music award, eight country music association award, Teen Choice Awards and host of others. Let's take a look at her humble beginning.
Bio, Age
Carrie Underwoods spent her early childhood in Oklahoma by birth and upbringing. She was born on March 10, 1983. She attended Checotah High School and completed her studies there in 2001 as salutatorian.
Her parents, Carole Shatwell and Steve Underwood had two more girls besides Carrie named Shanna and Stephenie. But it was Carrie who showed an interest in arts. She began performing as a child, one of her performances was at Robbins Memorial Talent show. She also sang in local gatherings such as Old Settler's Day and the Lion Club. Members of her local church, First Free Will Baptist Church also got to enjoy her singing performance those days.
Around this time, she won the heart of a local fan who was forced to organize her trip to Nashville at age 14 to audition for Capitol Records. The company loved her performance and was about to sign her to their team. However, the deal couldn't be finalized before the company changed management.
Disappointed and sad, Carrie had to focus on school, finishing her high school education and immediately joined Northeastern State University. While in Uni, the singer almost gave up her musical career but her passion for singing refused to fade away. She took up side jobs (serving as a waitress, and later as a zoo worker, etc) to make a living. Yet she felt unsatisfied with herself. To put her mind at rest, Carrie began competing in several beauty pageants and also performed in the Downtown show in Tahlequah which was organized by Northeastern State University. In 2004, she was picked as Miss NSU runner-up and that year, she auditioned for American Idol. She was named the winner of the talent show the following year after singing Rascal Flatts on "Bless the Broken Road.
In 2005, before she could finish uni, she released her first single titled "Inside Your Heaven". The song was massively successful and further solidified the admirable impression she had made during the singing competition. Similarly, other songs in her debut album Some Hearts were also a hit.
In 2006, she graduated magna cum laude with a degree in mass communication. After her graduation, she fully placed her gaze on singing, dropping her second album Carnival Ride the following year. The album earned her huge commercial success, winning her numerous awards and nominations.
To date, she has about five gainful albums. In addition, the singer has confidently bagged over 60 different awards and has been nominated countless times for her works. Her vocal talents have also won the philanthropist numerous product endorsements and acting roles that have grown her wealth from almost zero dollars while in school to $85 million according to a 2017 report.
Read Also: Tarek and Christina El Moussa: Marriage, Kids, Divorce, Ethnicity, Religion
Her Husband, Son? Is She Divorced?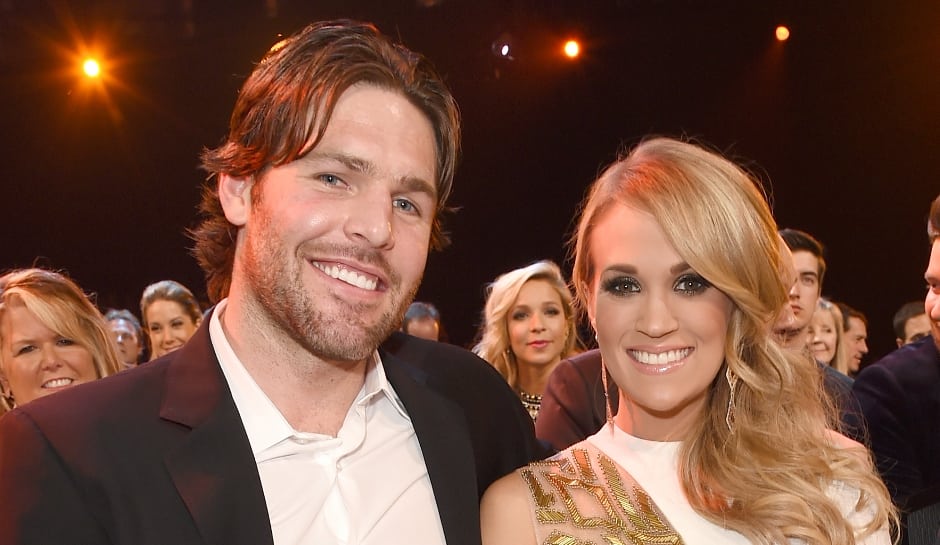 Even though Carrie is quiet when it comes to spilling things about her marriage, her love story is one that is adorably inspiring and can't be overlooked. The country singer has been known with one man since 2008 and that man is Canadian NHL player Mike Fisher famous for his bold style of play. She met the 6ft 1 inches Hockey player for the first time in 2008 at one of her concerts. They started dating shortly after their first meeting. Having fallen deeply in love with her, Fisher proposed the following year. Before the end of that year, they were already planning their wedding and by 2010 they wedded in the presence of 250 guests at The Ritz-Carlton Lodge Reynolds Plantation in Georgia. They welcomed their first child, a son on February 27, 2015. In August 2008, the couple announced that they are expecting their second baby.
Just like many celebrity marriages, Underwood and Fisher's marriage has had its fair share of divorce rumours. Stories of consistent arguments between the two surfaced early 2018 and they claim Underwood didn't like that Fisher was returning to playing for Nashville Predators after he announced his retirement in late 2017. This decision almost damaged what they share since Carrie thought Fisher's retirement from the National Hockey League would give them quality time to work on making their family stronger. According to the different sources, they have hardly spent enough time together since their marriage due to their careers. But after Carrie had a devasting accident that required 40 stitches and stayed low-key for months, she realized there was no point fighting for nothing. She understood why Fisher had to go back to work and supported his decision. Thankfully, Fisher who debuted his career playing for Ottawa Senators before joining Nashville Predators has finally retired from ice hockey. And from the look of things, the family remains strong together.