Cool hairstyles are haircuts that generally make a good first impression, appeal to a great majority of people, and leave you with a feeling of awesomeness.
There are many hairstyles for men today that have the "cool factor." and we have put together a few cool men's hairstyles that are sure to be a perfect fit and get you noticed whenever you step out to an event or even just to the store to get some supplies.
People often think that how good a man looks depends on how expensive the things he wears are, while those may contribute, how cool a guy looks is not all about the clothes on his body and shoes on his feet. As many women and even fashion experts would tell you, it starts from the haircut because there is nothing better than wearing the best clothing items and having a perfectly styled haircut to go with it, so, here are the coolest hairstyles for men trending right now.
Best Cowlick Styles for Men
1. Short Trimmed Haircut with Spikes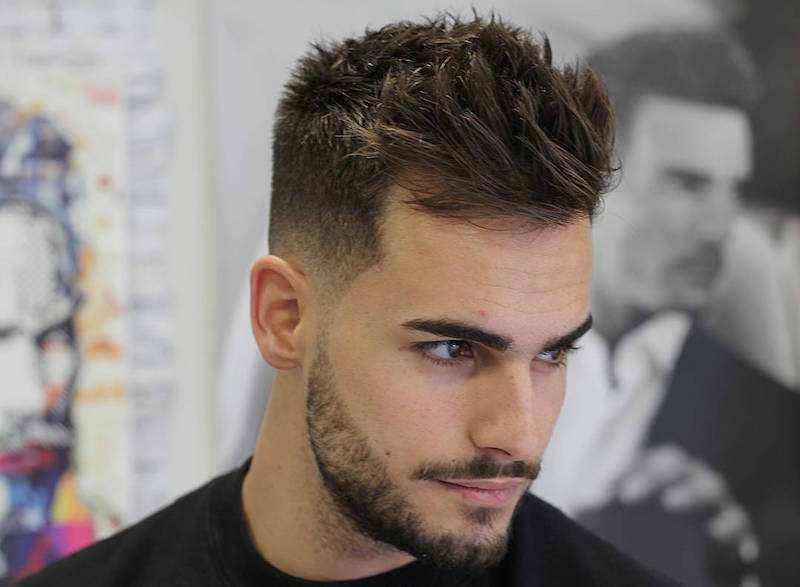 Many men prefer to go with the short trimmed haircut. There are many variations, like this one with a cowlicked spiked top. Are you concerned about it being a match with your dressing? You do not have to worry about this hairstyle as it compliments anything you choose to wear. It also does not matter whether you have beards or not; this hairstyle is guaranteed to get you looking better than the next man around you.
2. Slicked Back Undercut Hairstyle for Men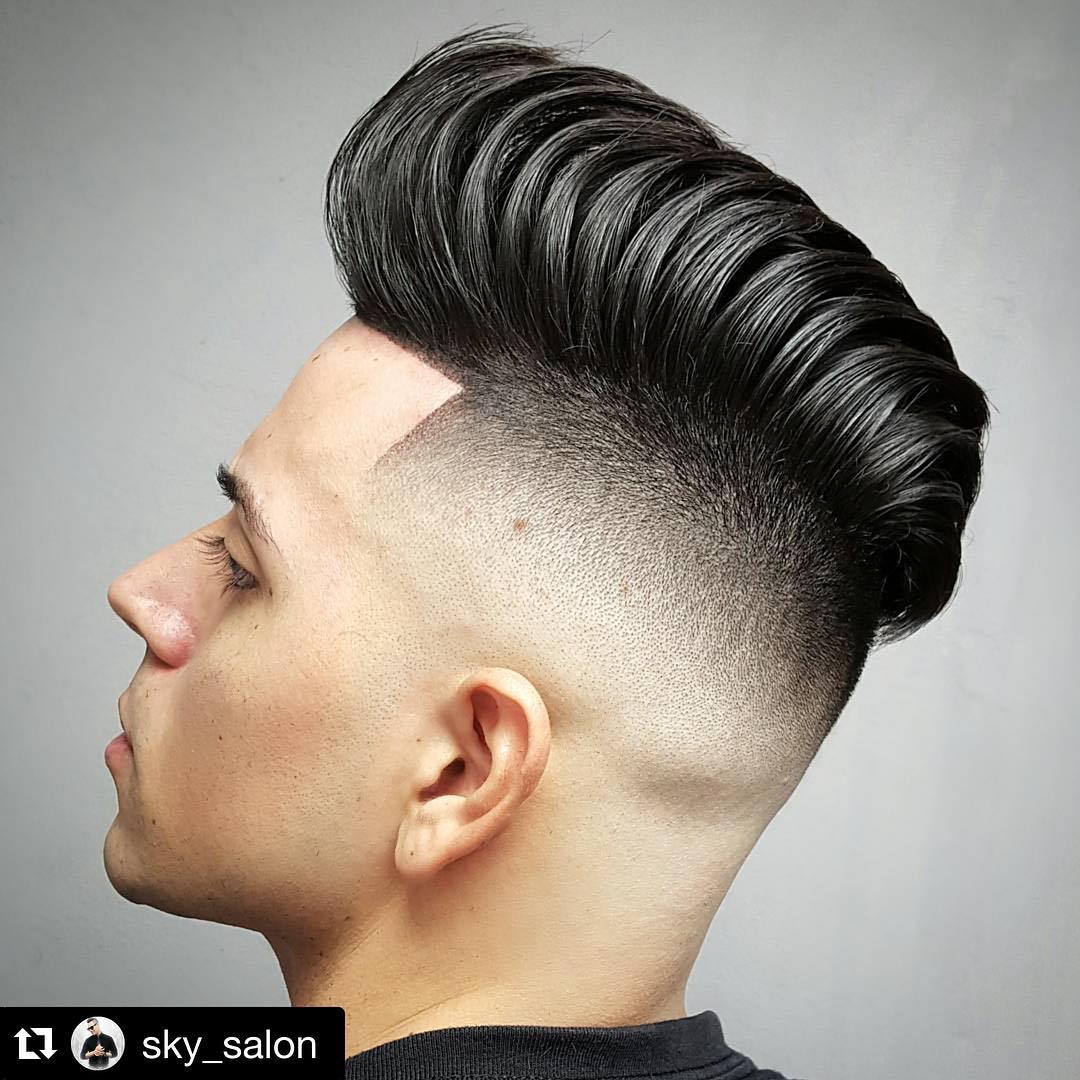 When it comes to cool haircuts for men, this modern take on the traditional undercut is a show stopper. You would, however, need to grow out your hair to be able to rock a slicked back undercut. There should be a significant length of hair (usually between 4 and 6 inches) at the top that would be able to cover the top towards the back when combed. Ensure that the sides are properly shaved and you are ready to go.
3. Short Textured Men's Hairstyle With Low Skin Fade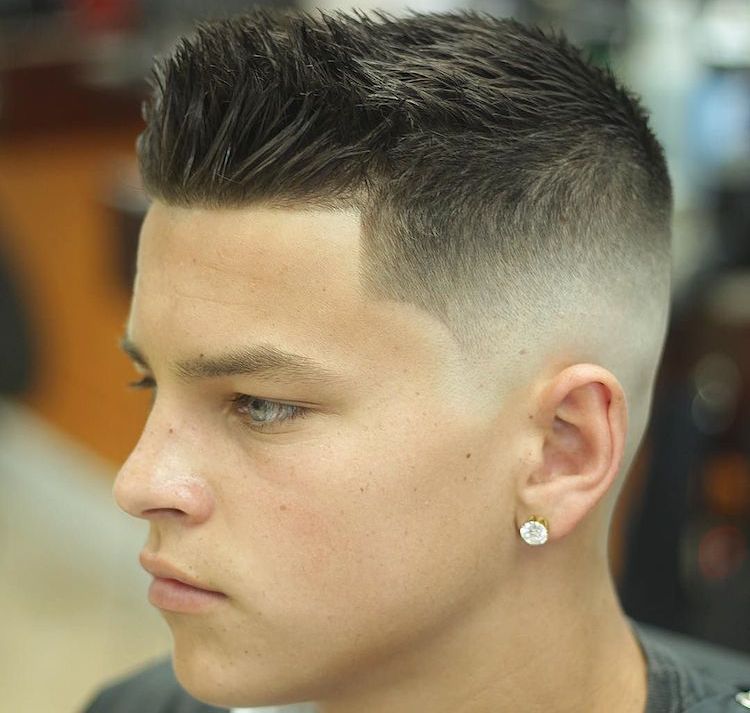 Many pop stars over the years have been pictured wearing this hairstyle. It borders between simple and celebrity. It seems to fit everybody because it can be adapted to any face shape. Hairstylists have, however, noted that it looks better on oblong, square, or rectangular-shaped faces. 
4. Multi-colored Phoenix with Fade and Design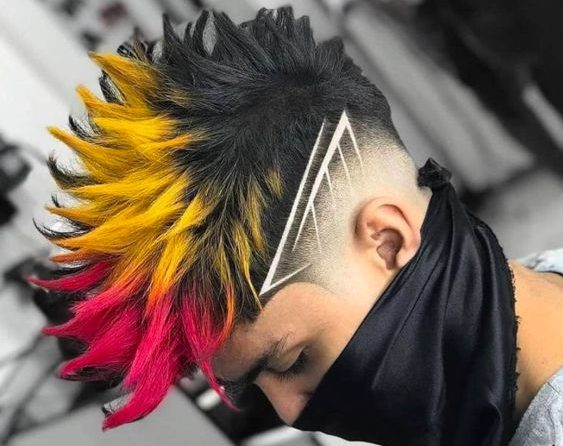 This cowlicked hairstyle for men is perfect for a guy with a full head of hair. You can choose to have any type of three colors on the top part of the hair that is spiked. As it is already, the hairstyle will be a thing of beauty to anybody who sees it as you appear like a phoenix rising from the ashes. However, you will be going a step further to add designs to the fade. Depending on the design chosen, you have something that will grab the attention of onlookers.
5. Quiff Hairstyle With Low Fade
This short, spiked, and perfectly faded haircut is nothing but the way to look sexy. The front lift accentuates your facial structures as it is similar to hawk spikes. Rock this haircut, and you will be sure to get some nice compliments.
6. French Crop Cowlick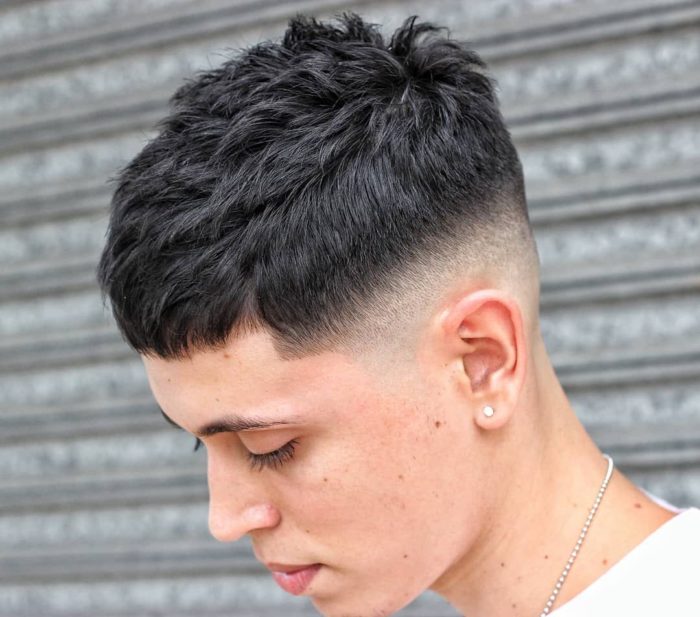 For the French crop cowlick hairstyle, the top part is to be kept long while the hair on the back and the sides will be cut short. The hair on top can now either be combed forward over the forehead or pushed to the side. It all depends on your preference and the length of the hair.
7. Tousled Hair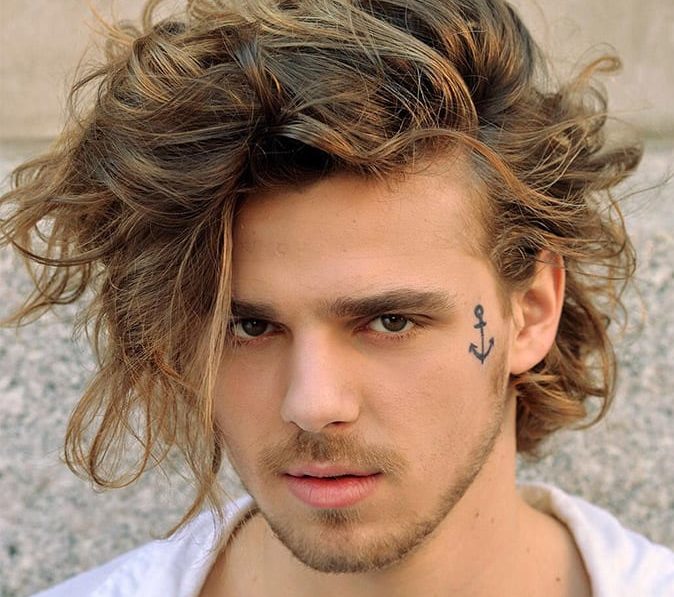 The perfect tousled hair is always supposed to look like you just got up from bed. It should appear messy, windblown, and unkempt. This makes it appear as if it has cowlicks. The ideal hair length for this style is mid-length. If it is short or long, it will be quite tasking to make it look messy always. Its main advantage is that it is versatile and doesn't take long to style. It is also relatively easy to maintain.
8. Blonde Quiff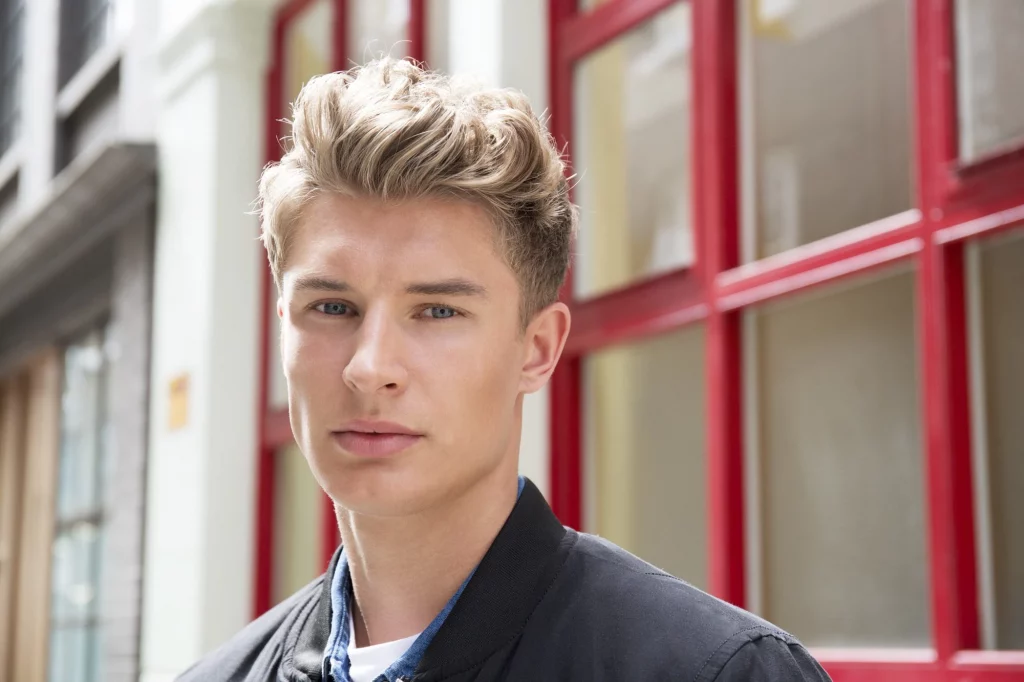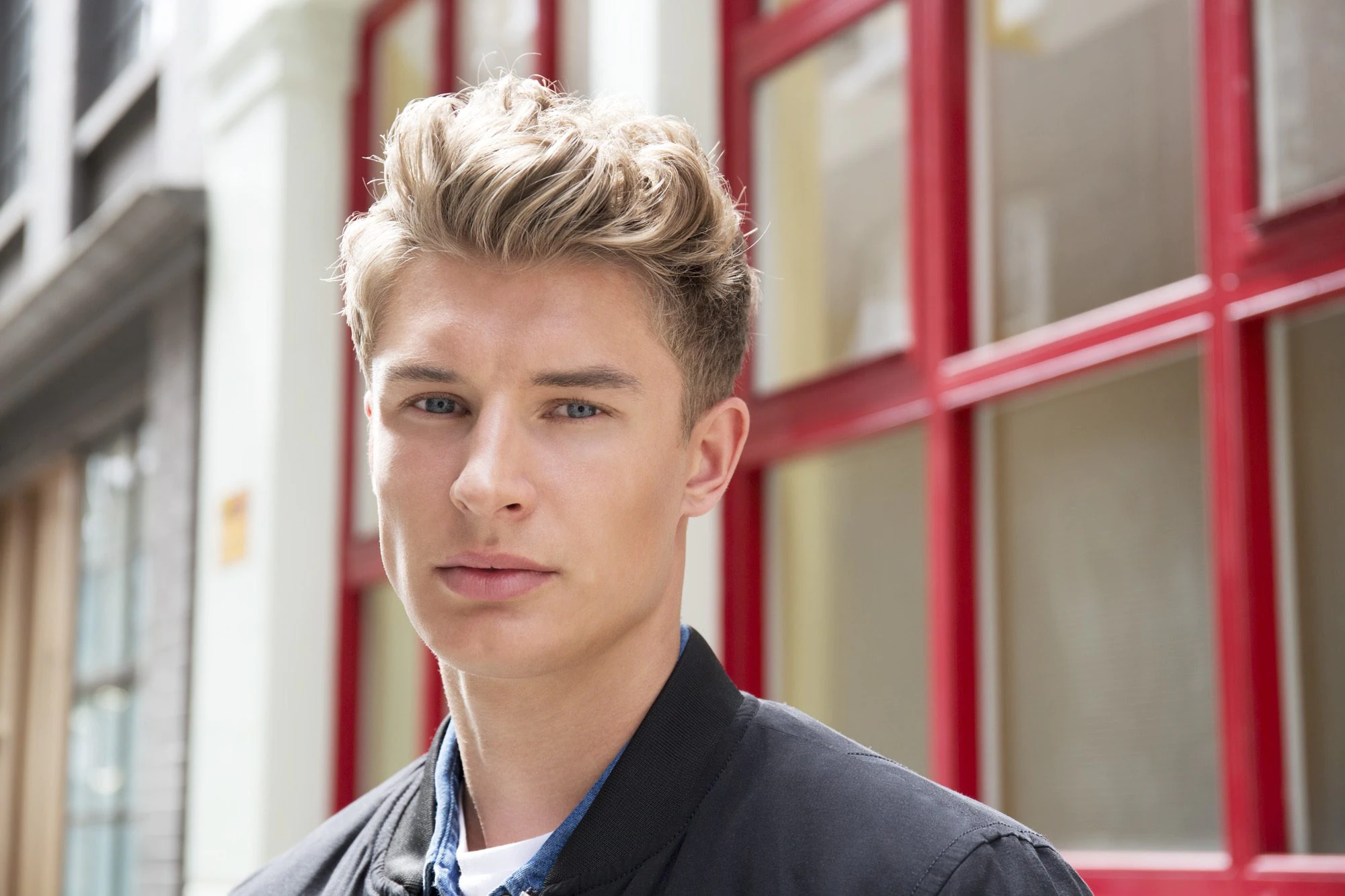 As the name suggests, this hairstyle is better suited to men with blonde(ish) hair. It is one that screams, look at me as it can grab attention from those far away from you. It is a short haircut with cowlicks that resemble and combine that of a pompadour, the flat top, and Mohawk.
Trendy Designed Hairstyles for Men
9. Curly Feather Designed Faux Hawk
We've all seen our favorite soccer star rock this hairstyle or a variation of it on our TV screens. It is not for someone who is not looking to catch the attention of everyone when they step out. The super-cool feather design on the sides and the color you choose to spray the curly top are particularly what everyone notices.
10. Faded Mohawk With Surgical Part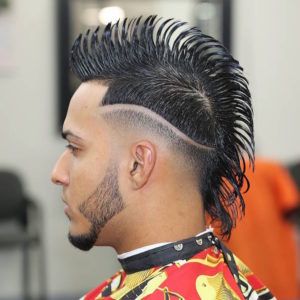 While many haircuts have been in existence for a long time, the mohawk might be one of the oldest. It has undergone many transitions over time, but the fundamental concept of it has remained – having a strip of hair in the middle while the sides are shaved. The middle strip of hair can vary in length, width, and texture. Designs can further be added to the fade to make it appear different.
11. Man Bun with Braided Top Hair and Designed Sides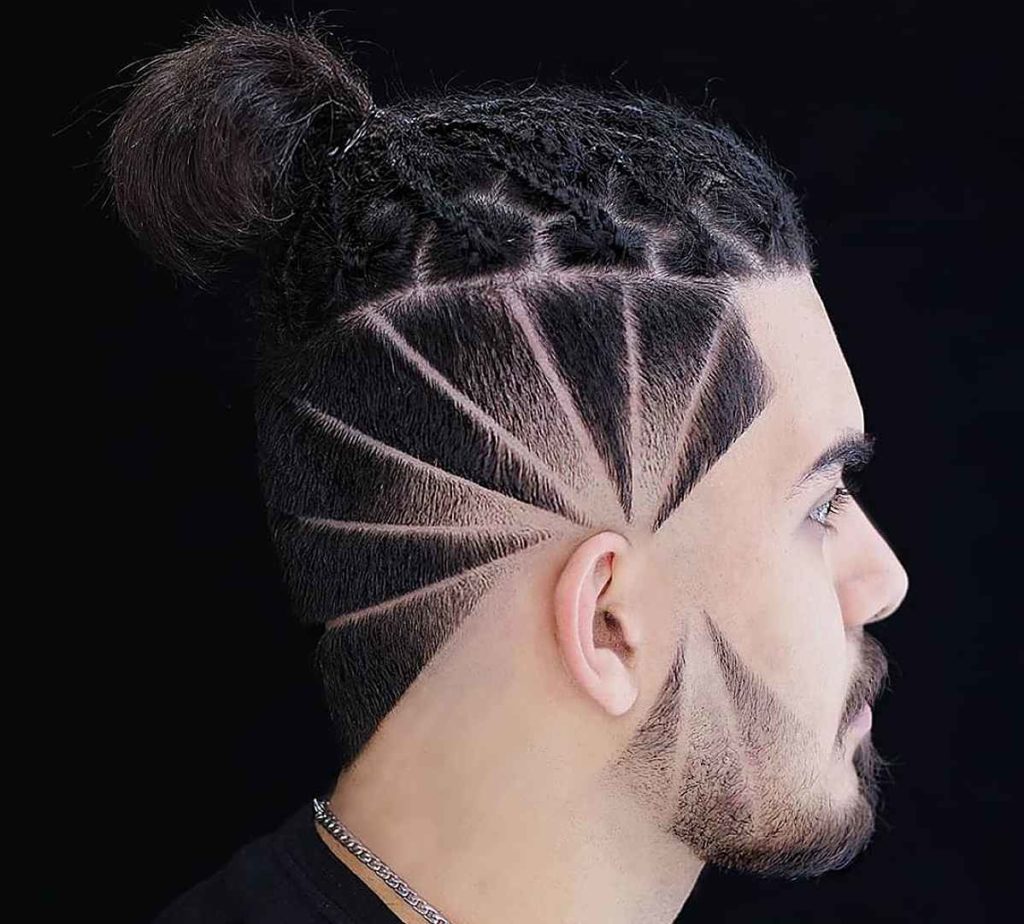 This style right here is a show stopper. Having a man bun alone is attractive, but a braided top hair with a man bun takes it to another level. However, having a braided man bun with the sides of the hair that should be faded cut in a wavy kind of way ensures that you are the center of attraction wherever you go. The designs on the fade can also be easily changed as the hair grows out.
12. Cube Design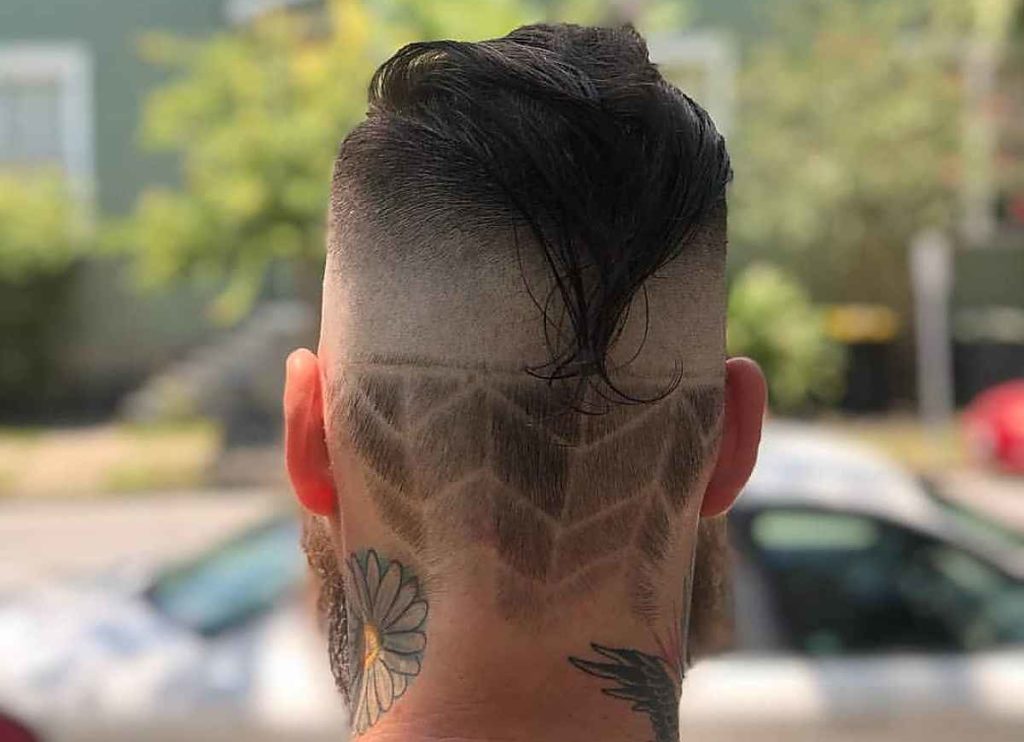 With the cube design, you can choose to have any hairstyle at the top. Where you can make it trendy is with the hair at the nape of the neck. You can choose to have cubes, diamonds, and any other intricate kind of work done around there. If there are any imperfections or flaws with your hairline, this hairstyle also helps you to hide them.
13. Arches Added To Fade and Beard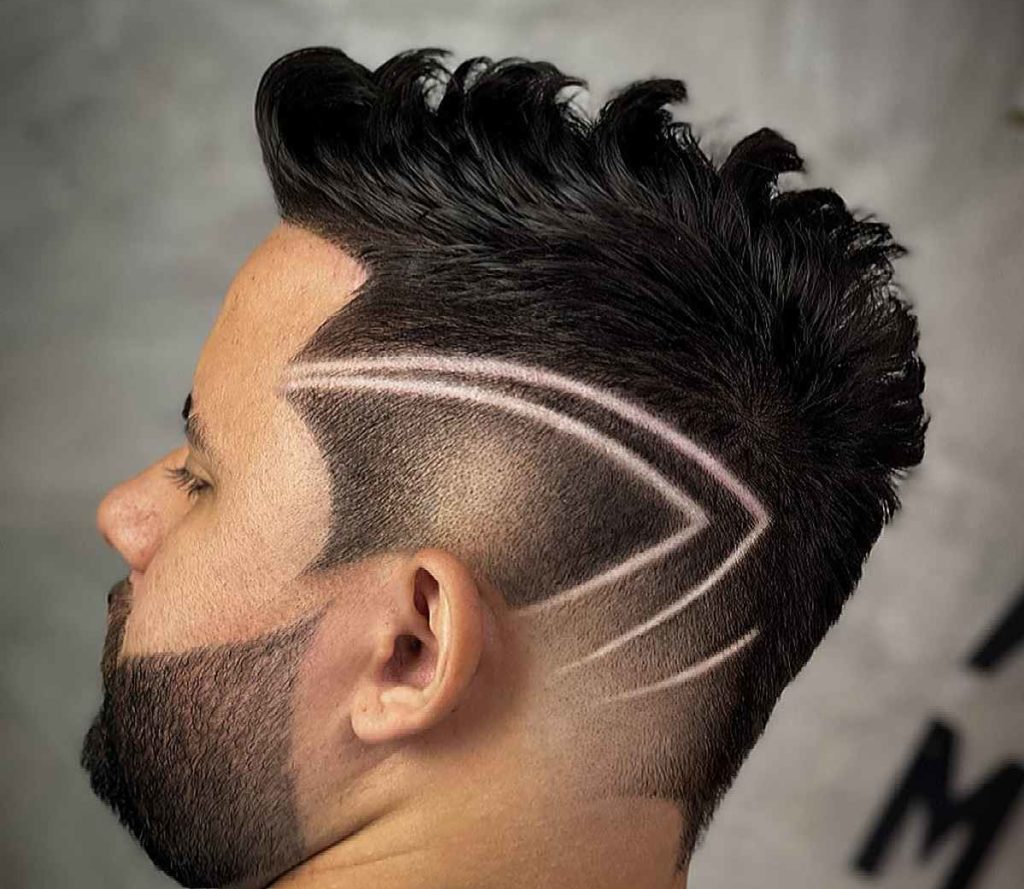 If you are trying to get a new funky look, adding arches as a design to your hair will do the trick. It is a fun style that reflects what type of personality you may have. It is also quite easy to do, so you do not need to visit the very best barbershop in town to get it done. If you have facial hair, these arches can also be added to it, with the sideburns not connecting but made to overlap each other from top to bottom.
14. Faux Hawk with 3D Hair Design Effect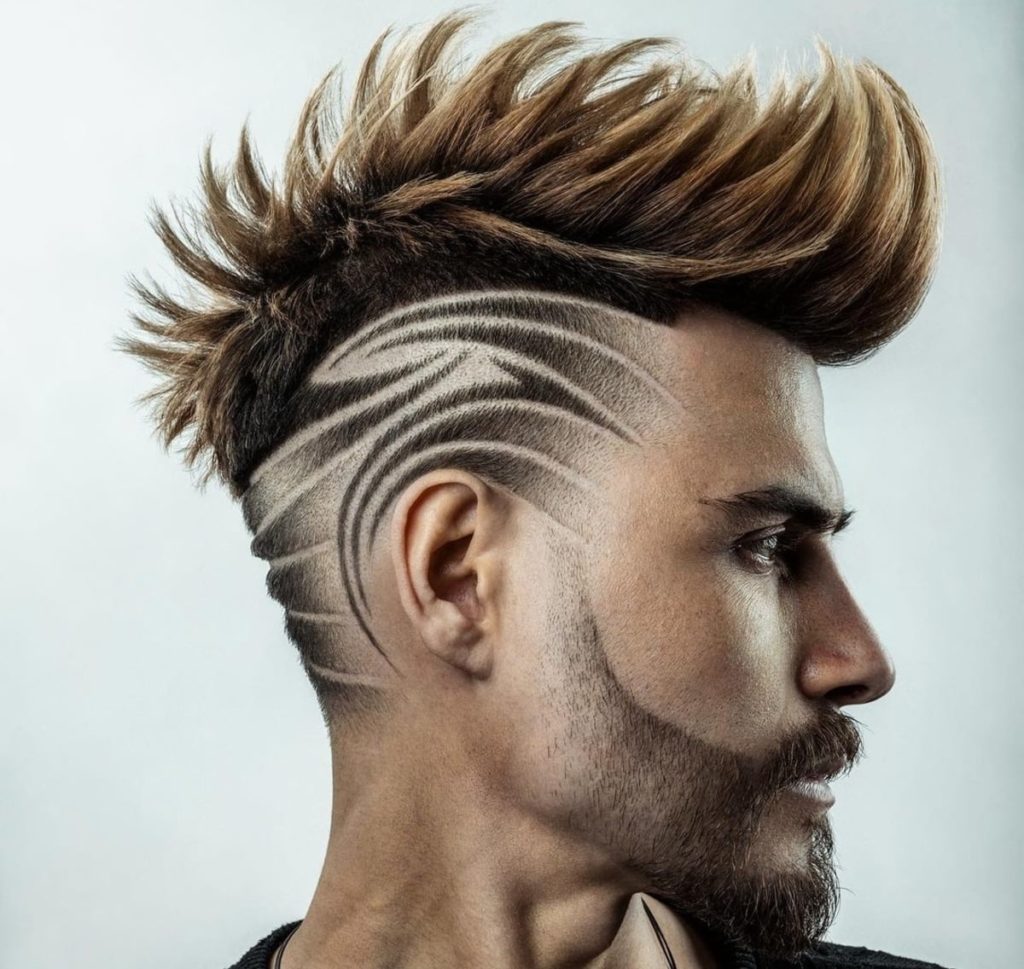 Everyone can carry a faux hawk, but what differentiates this artistic hairstyle from others is its style and design. The top is cowlicked to be spiky. The spikes are then lightly sprayed gold to get the desired colored definition. The 3D effect now comes in with the design of the fade. It must be pointed out that this should be done by a professional hairstylist who is very good with straight razors and hair clippers. While taking note of hair density and growth patterns, the clippers are used to fade the length longer, while the straight razor is used to etch the design.
15. Cornrows with Treble Clef Design Fade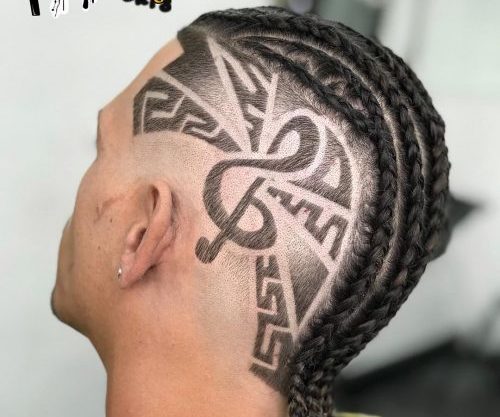 This is a statement hairstyle. If you are a musician looking to tell the world that you have style, we highly recommend getting this. Most of it (the cornrows in the middle) is quite simple to do. It only gets tricky when you want to get the treble clef design on the fade. Ensure that your hairstylist can get it done to appear like a tattoo. If they cannot do so, we suggest finding someone else who can get it done.
16. Clean Cut With Temple Fade
The clean-cut will never go out of style. It is a classic look that can be rocked by any man of any age to any event or occasion worldwide. Some women even wear the hairstyle and, dare I say, wear it better than men. It is one of those styles that does not bother what type/texture of hair you may have for you to be able to pull it off. It can also be worn with any outfit.
17. Skin Fade With Waves
Like the clean-cut, the skin fade with waves is one hairstyle that stays trendy. Not everyone is blessed with the genes to have enough hair to do something elaborate. Not everyone is also willing to have something dramatic done to their head that would have them sitting for so long at the saloon. It is the perfect trendy cut for introverted people with short hair. It does not matter if you have a round face, long face, or keep beards. What would qualify for elaborate with this hairstyle is the waves that can easily be achieved with your everyday wave products.
18. Rose Design On Hair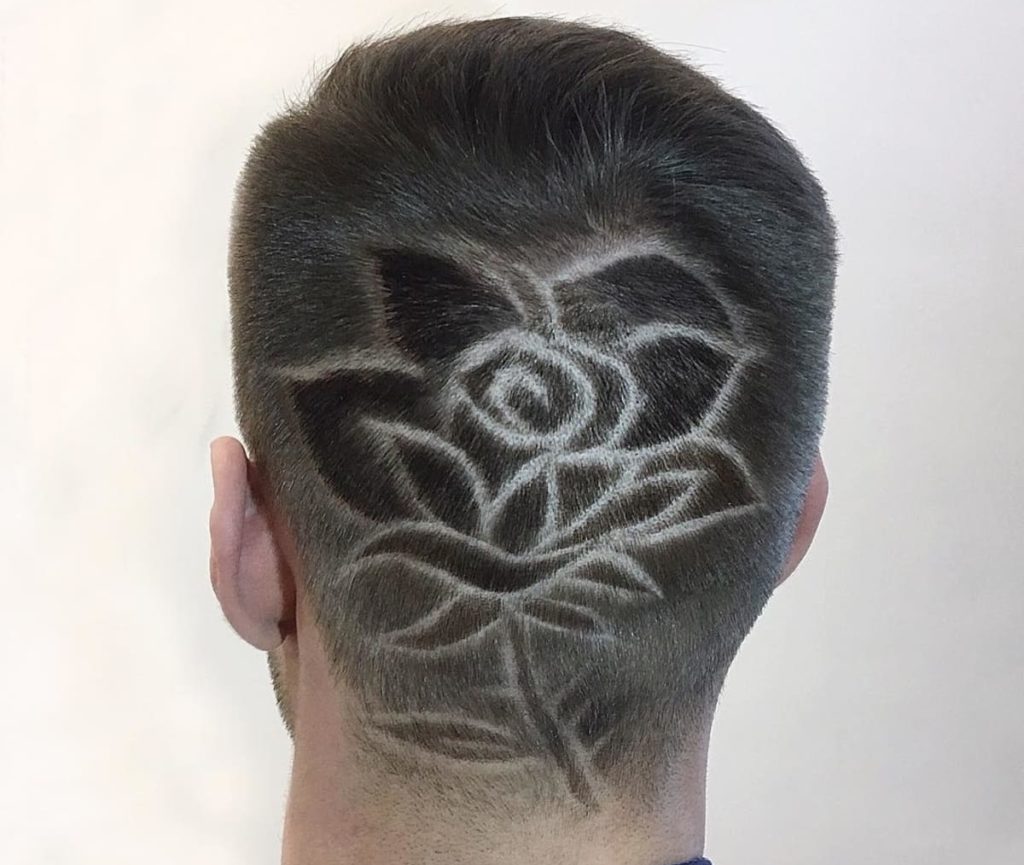 While there are different types of roses that mean different things, the flower is generally a symbol of love and passion. The red rose symbolizes romance, love, beauty, and courage, while a yellow rose symbolizes friendship, joy, and new beginnings. On the other hand, orange roses symbolize fascination, desire, and sensuality. Getting a rose designed on your head definitely says something about you regarding the meaning of the rose flower. Unless you want to get your hair sprayed a particular color after getting the design, we will assume that you want to tell the world you are a passionate person. It is, however, an intricate style to get done, so be sure to visit an experienced barber who knows what they are doing.
19. Pattern Star Design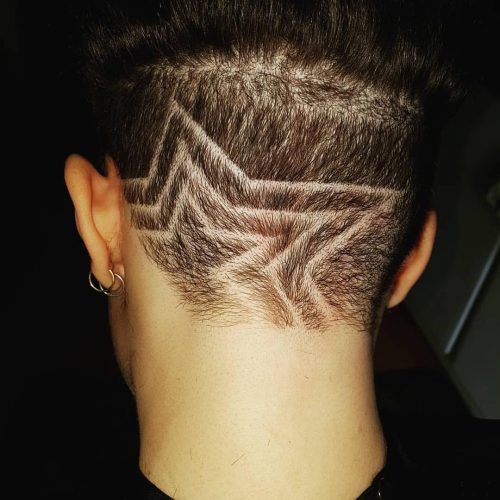 There are many ways to get the star design done on your head. You can choose to go for something flamboyant and intricate or just a plain old simple star. We recommend choosing something in between – the pattern of stars pictured above. This design can be combined with different hair cuts and doesn't need much expertise.
20. Shaved Abstract Design With High Fade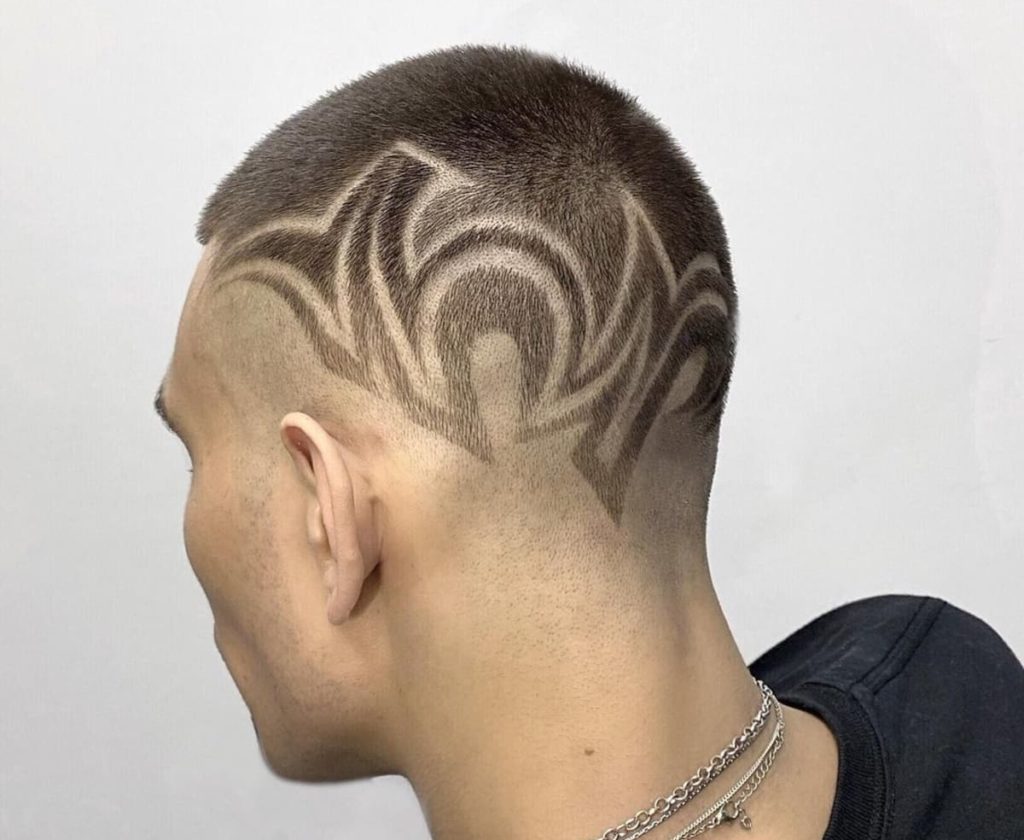 For this style that is sure to attract attention, the back and sides of the head are shaved with a pattern. The hair on the head should have grown a little bit for the extraordinary style to come out sharp. The clarity of the cut will last for a couple of weeks, so you will need to visit the barbershop often to keep it tidy.
Short Cut with Side Parting for Men
21. Smart Combover Men's Haircut
Balding men in Japan often went for the combover hairstyle because it could cover the balding part of the hair. They grew their hair and used the longer hair to cover where necessary. The hairstyle has since become popular for all men, and there is no doubt that it looks even more awesome than it did years back. With visible comb lines, side parting, and the use of gel, this style is here to stay for anyone brave enough to rock it.
22. Pompadour Haircut With Parting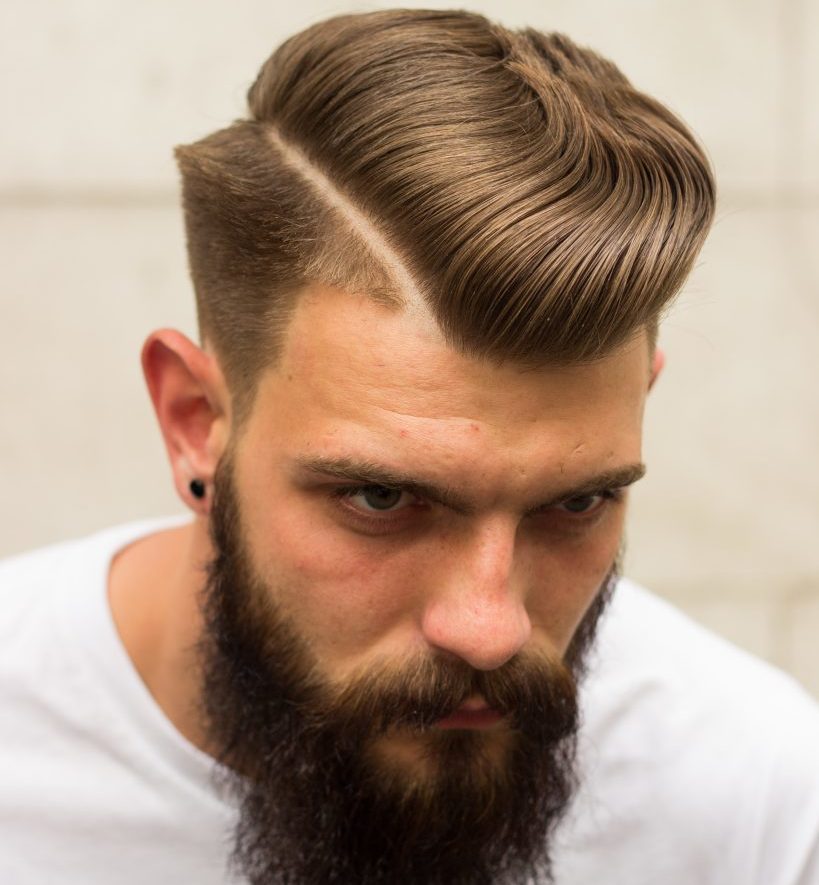 Made famous by Elvis Presley, the pompadour haircut features a lot of hair at the top while the sides are short and slicked back. Since the style became famous, there have been different variations to it. The sides are either faded, tapered, or undercut. What, however, remains constant is the volume and length of hair at the top.
The Pompadour has recently come back in style, and one way you can choose to rock it is by adding a side parting to it. This cut will be perfect with smart-casual dressing.
23. Hard Part Men's Haircut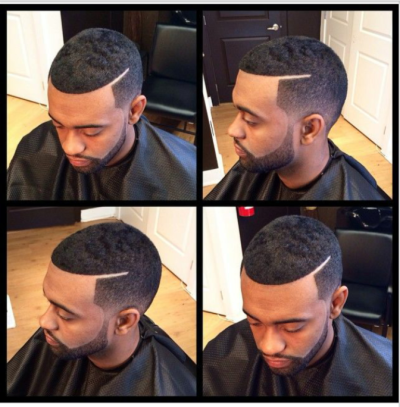 Above the regular side, the part haircut is the hard part style that gives a much more defined look. The hard part is well accentuated, and it is best suited to fades, undercuts, and combovers. The only setback to a hard part haircut is that it would need regular maintenance. This happens as the hair begins to regrow in that area.
24. Men's Faded Pompadour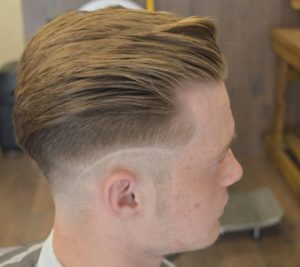 Unlike regular Pompadour, a faded pompadour haircut gradually blends into the skin. It does not have a sharp contrast of long and short hair on the sides and back. An upward arching part line can be added to the temple area, bringing a whole new meaning to the haircut.
25. Low Fade Hairstyle With Curved Part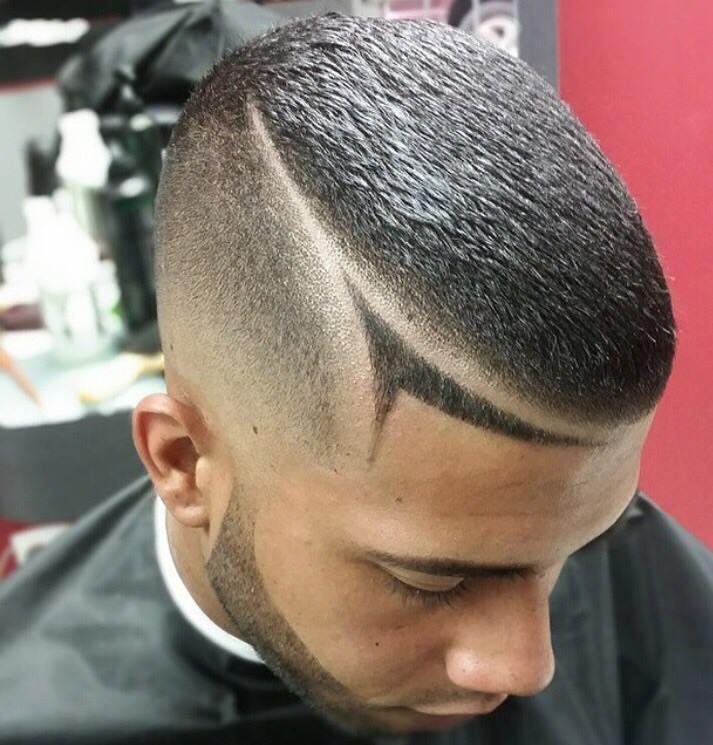 The fade haircut is one hairstyle that never goes out of trend. This is because you can incorporate it with many styles, like a parting, to create an entirely new style. It does not matter if you choose to go for a straight, curved, or double lined parting.
26. Quiff Haircut With Side Parting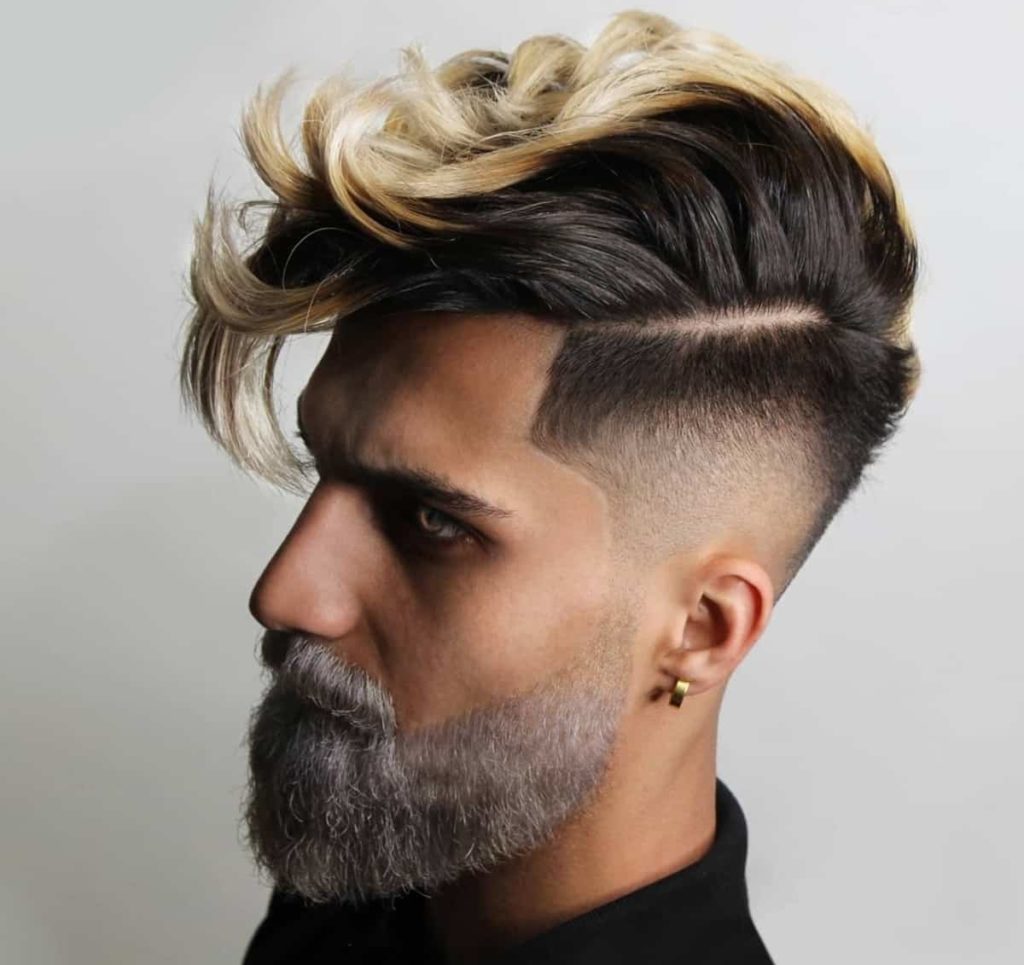 The quiff hairstyle has been around for a while, and it has different variations. Adding the side parting to it is an innovative way to rock it. The parting can be styled in any direction that you choose. To avoid the quiff turning into a comb-over style when styling, ensure that you part the side and life and shape the bangs.
27. The Classic Side Part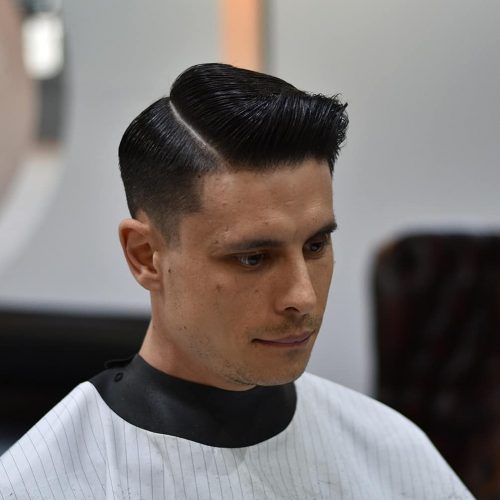 The classic side parting haircut is stylish, timeless, and looks good on any gentleman wearing it. It is, however, better suited to those with thick hair. Choosing which side of the hair to part if left to whoever is wearing it. Note that the parting on the left makes a person look competent and masculine, while having it on the right makes them look warm and feminine.
28. Messy Side Part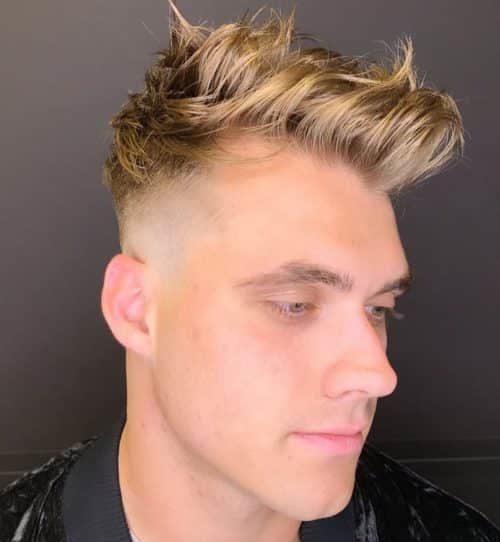 There is always that one person who loves a messy haircut and can't seem to do anything else with their hair. Thankfully, a side-parting can go with almost any men's hairstyle, including the messy ones. All that is needed to be done is a thick parting that is visible when the hair is scattered in any direction.
29. Wavy Hair With Side Parting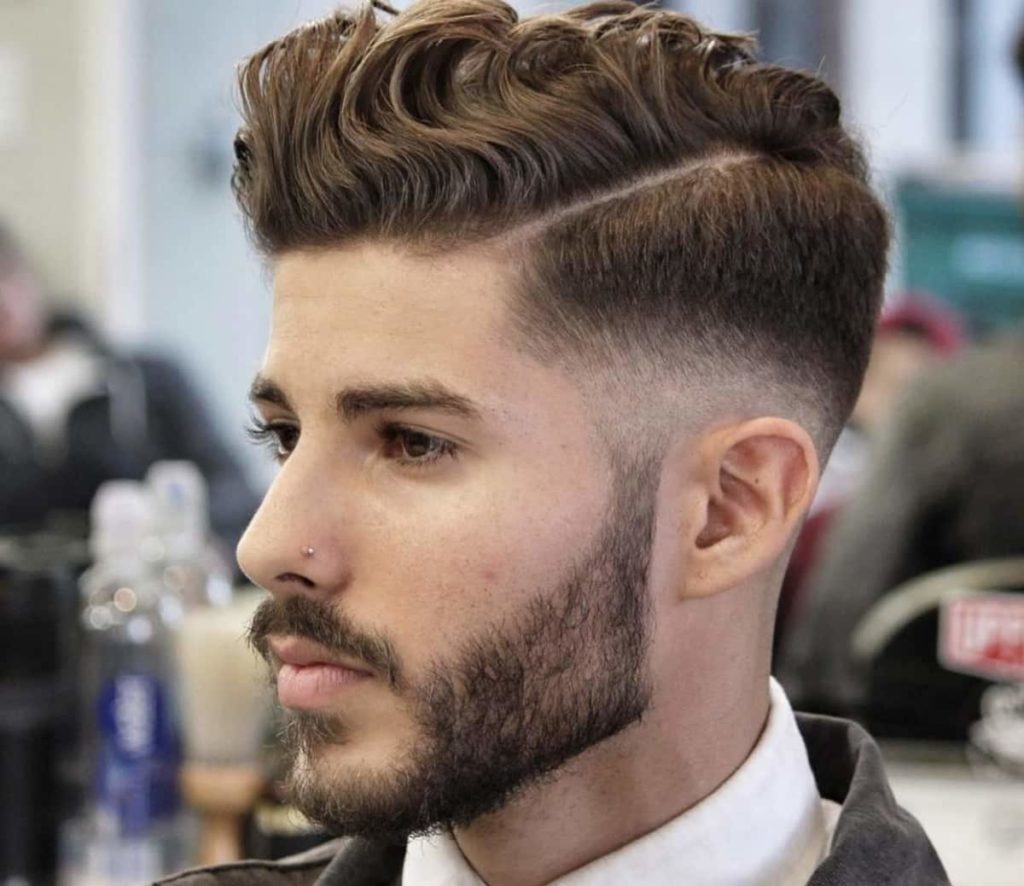 Wavy hair is an asset for all short haircuts. Add a fade that allows more hair to be left at the top/crown area and side parting to the equation, and there is something special for everyone to see.
30. Side Parting on Asymmetrical Fringe Hair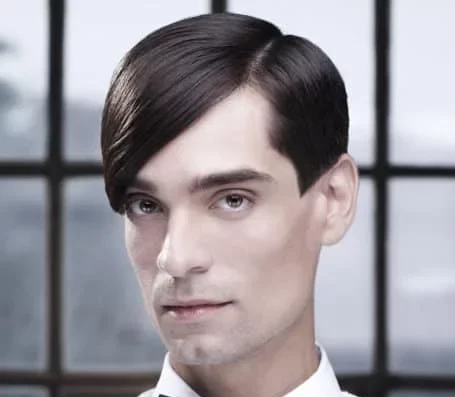 Unlike other short male hairstyles, the fringe allows hair to fall down naturally. With it being asymmetrical, it becomes irregular as it is now characterized by an almost diagonal line that starts at the forehead and finishes level with the eye. Add a side parting to it, and you are the freshest person around, looking like a not-so-average rockstar.
Short Curly Styles for Men
30. Long Curly Hair With Side Parting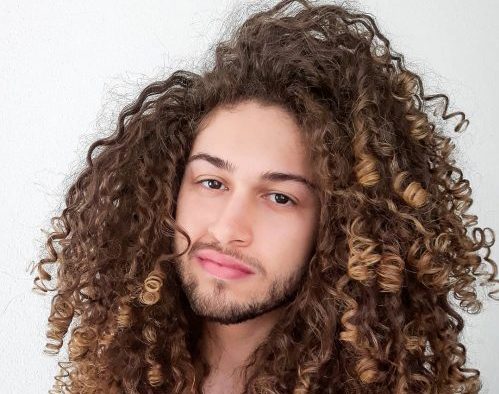 Who said that men with a full head of curly hair can't get side parting? It can be achieved, and the look is pretty decent, as seen in the picture above. Add a twist to it by putting some highlights on the curls.
31. Short Curly Hair With Surgical Line Design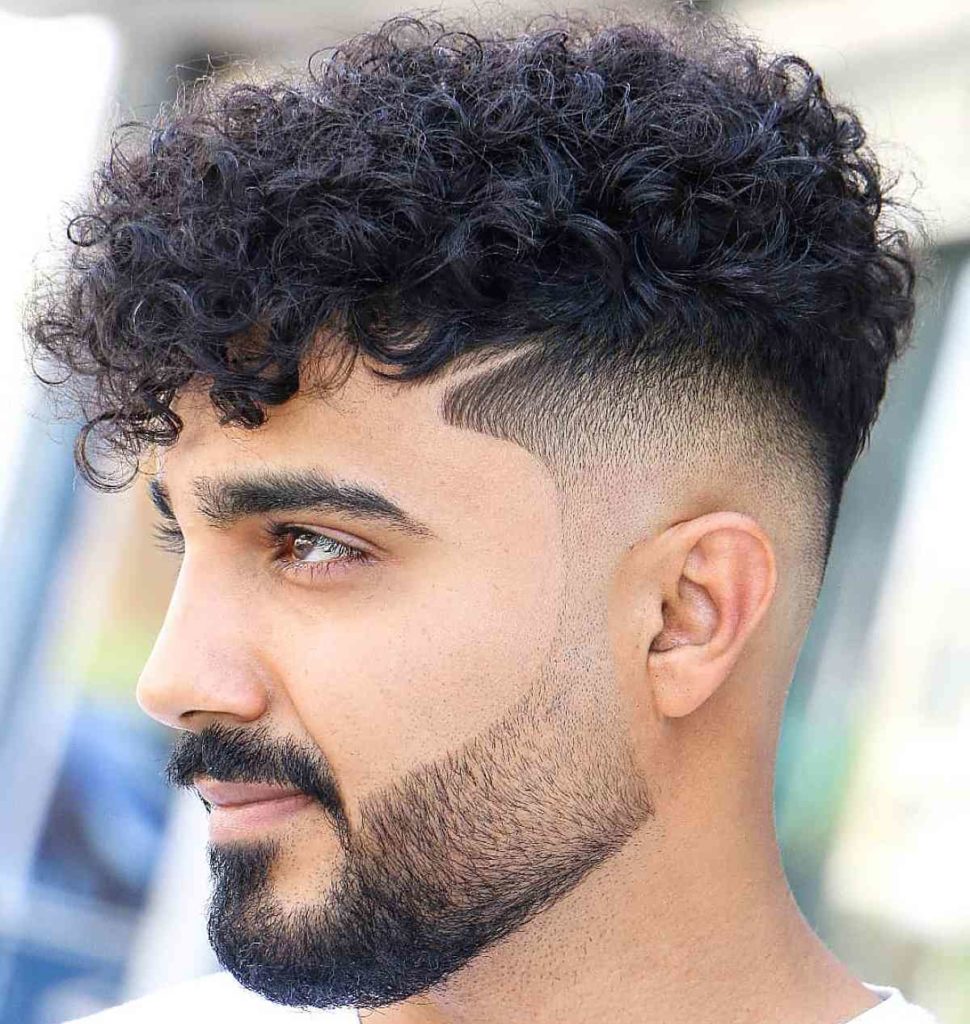 This is a great option for any guy with short curly hair. It is an innocent look that almost anyone with any kind of face can pull off. Depending on how free you are, you may choose to spice the style up with a mid fade and a sharp, surgical line design on either side.
32. Long Messy Curls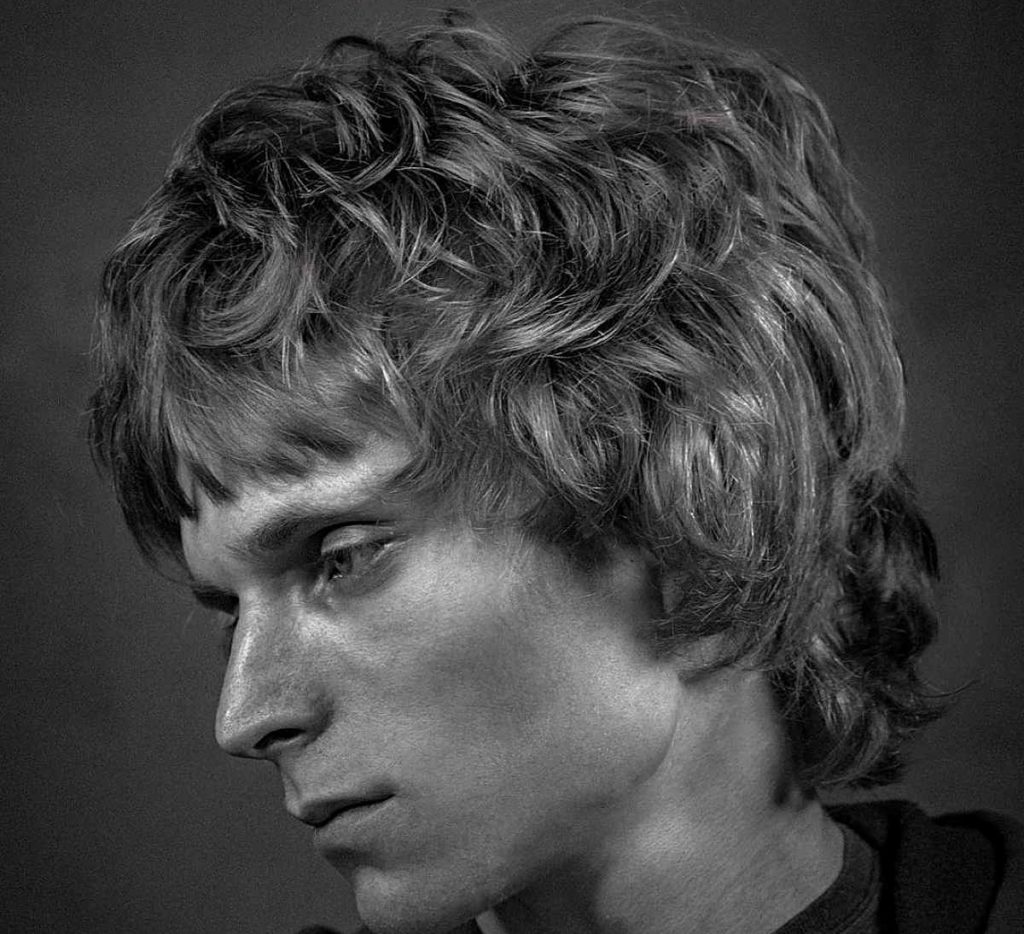 Many women find it super hot when a man is rocking the just-out-of-bed long messy hairstyle. For some reason, men with this hairstyle are seen as having a relaxed, easy-going nature. However, for this particular style, there should be rounded curls with volume and texture at the top. The hair is cut in layers across the face to achieve the look.
33. Curly Undercut with Zero High Fade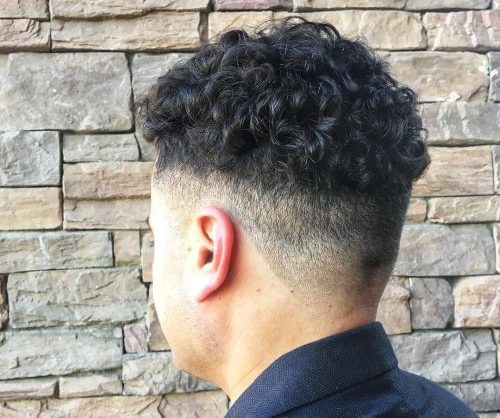 We are all familiar with the undercut. This style is simply that with a little more: the undercut is curly and has a disconnected fade. You may also choose to go for the long top instead of the disconnected fade, and it will work. If either option is done properly, you will get a clean, modern, and professional look to enhance the natural hair texture.
34. Slicked Back Curly Hair With Low Fade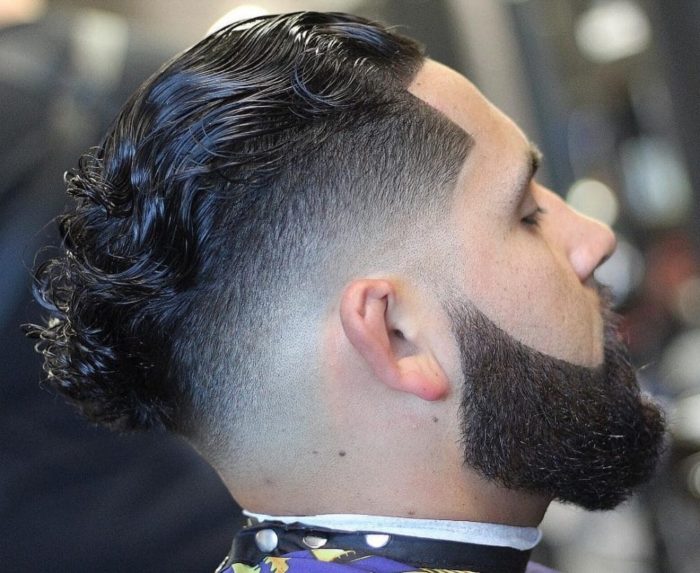 Curly hairstyles for men have versatility, and this is one of the options that prove so. Your favorite sportsman probably rocks this hairstyle with a tight low fade with long curls and slicked-back hair because of this versatility. It gives a refined look, and the curls can be easily loosened up for a night out. A variation of the classic pompadour, this style is better suited to people with medium to coarse hair textures and those with medium to high-density hair. Having nicely trimmed and lined facial hair will make them look better.
35. Cool Curls With Side Part
Generally, women's hair gets the most attention, but it looks awesome when a man's hair stands out. If you are looking for that curly hairstyle that would distinguish you from everyone else, this is it. These curls are nothing but a breath of fresh air standing firm at the top of your hair. Rocking this style will get you all the attention you need.
36. Men's Temple Fade Haircut With Curls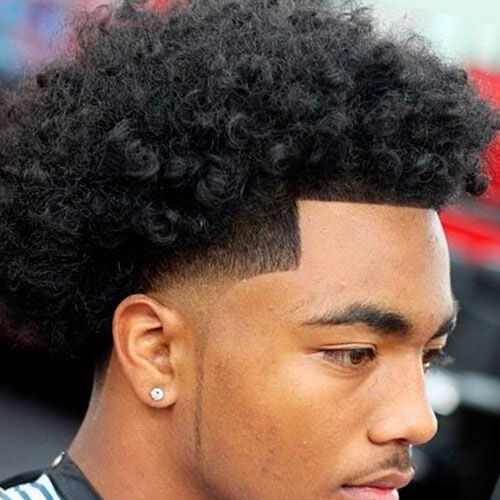 Another curly hairstyle for men with a full head of hair. This is a look that not many men want to wear because it may require more maintenance than usual. However, if you do not mind making more frequent trips to the salon or barbershop to ensure that the temple fade remains good-looking, then it is for you.
37. Short Flat Curly Top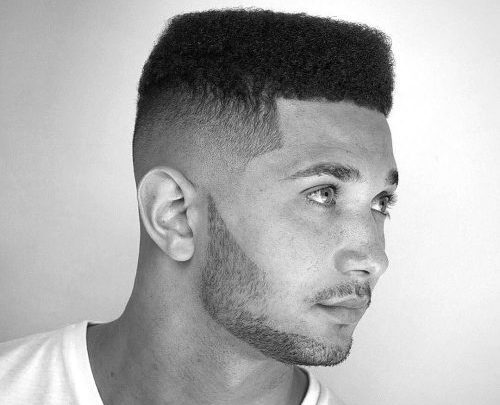 An adaptation of the classic flat-top fro that was a go-to hairstyle for men in the 20th century. It is a short hairstyle where the hair on the top of the head is left to stand upright with a flat base at the top. For this short flat, curly top hairstyle, however, you would be using curls to soften up the high top fade.
38. Curly Drop Fade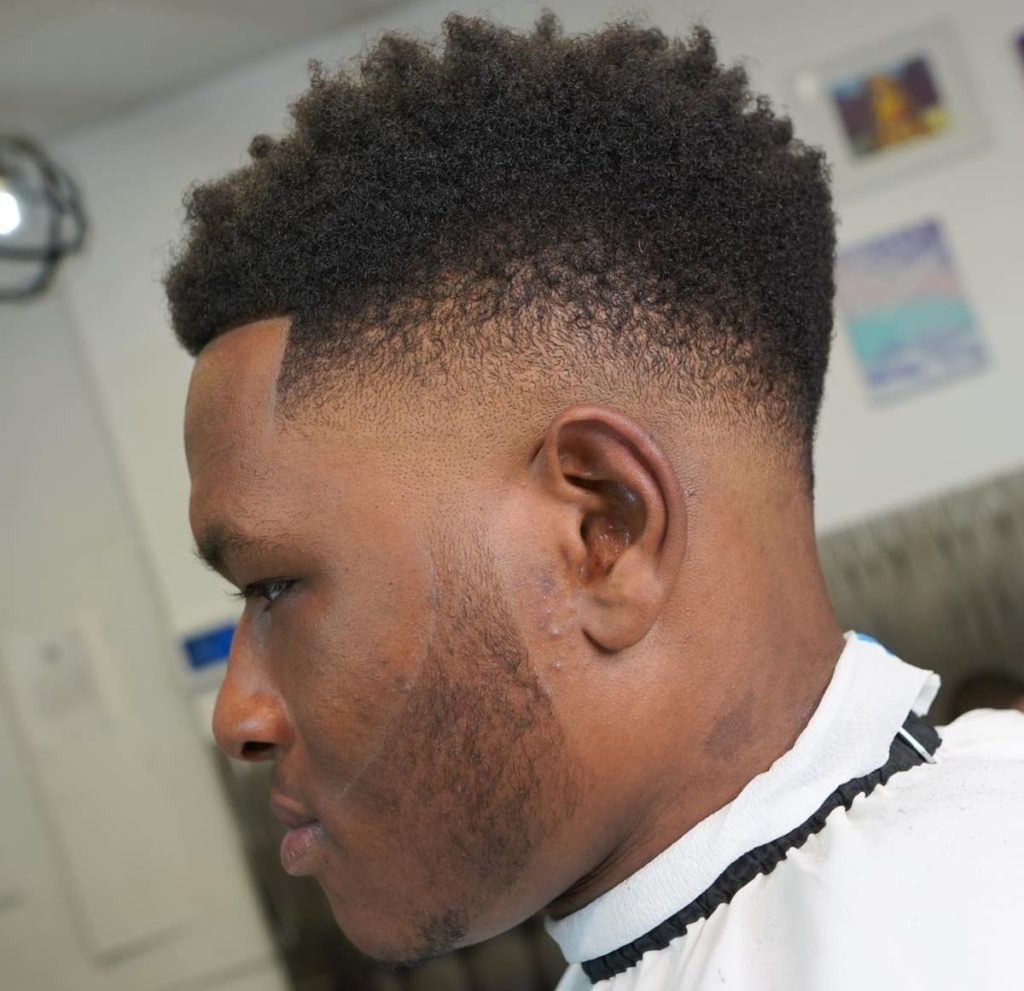 A twist to the traditional fade, the curly drop fade is a more stylish haircut for a man looking to make things different. It is a get-up-and-go type of cut that all is needed for you to achieve it in the morning is a curl sponge. When visiting the barbers, ensure that the fade at the back is not left to go too high as this will ruin the style completely.
39. Modern Curled Mullet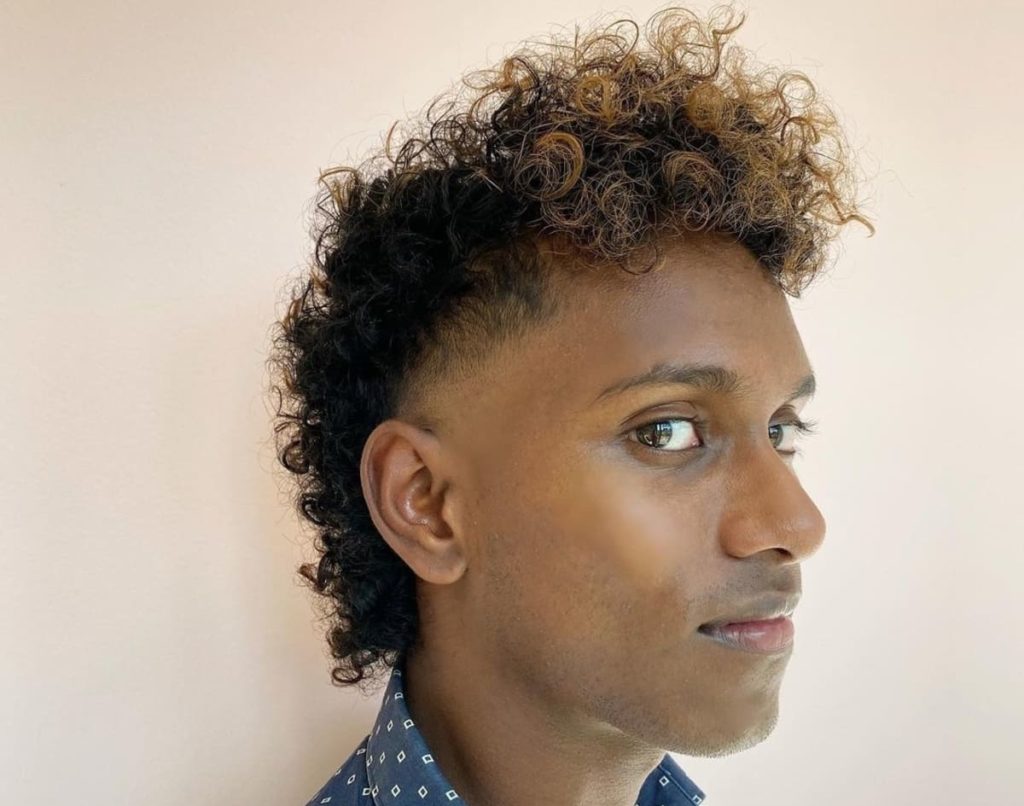 One of the many hairstyles of the 20th century that is making a comeback is the mullet. This is a hairstyle in which the hair is cut short at the front and sides but is left to grow out at the back. However, many guys are considering getting this trendy hairstyle with a modern twist. The hair is cut short with taper faded sides and a little bit of longer hair at the back, not as long as the traditional hairstyle. The top of the hair is then curled to bring out the edginess in you.
40. Shaggy Curls and Waves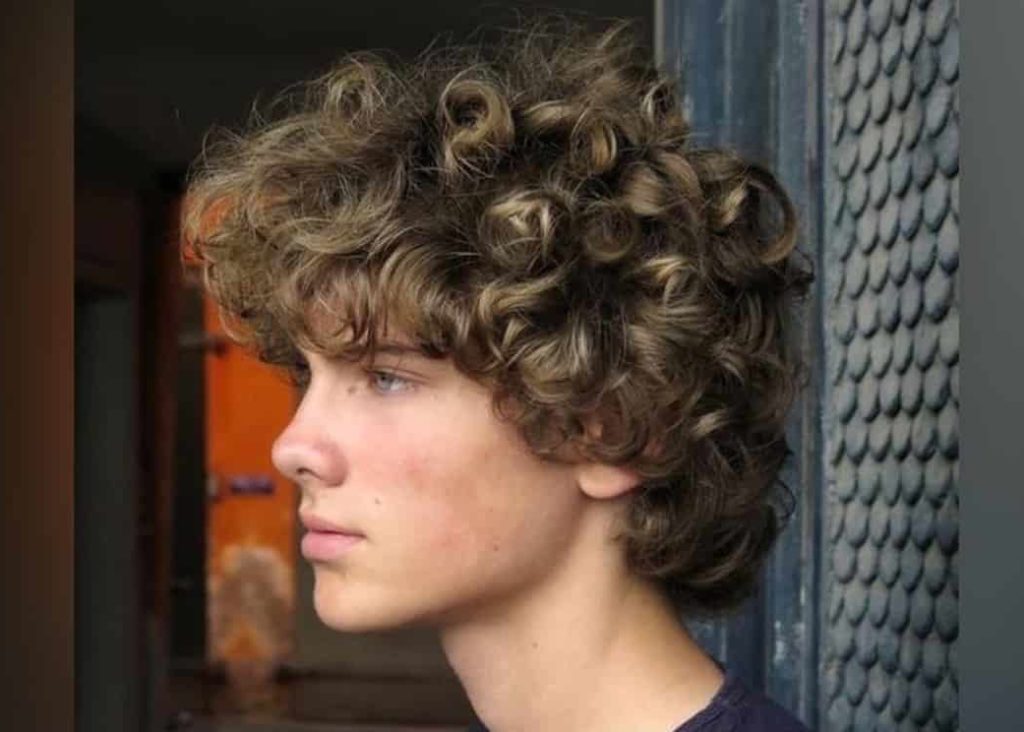 One of the more low-maintenance hairstyles for men in the curly hair category is the shaggy curls and waves hairstyle. It is a cool style worth considering for men with long hair. While both those with long and short hair can rock the hairstyle as it can be styled with any type of hair, it comes out better when men with long hair go for it because the extra length of hair highlights the intricacy of the curls.