Music legend, DJ Khaled is always flaunting his son, Asahd Tuck Khaled everywhere on social media platforms, the Record producer is also known to be open about his personal life. But he hardly talks about his adorable wife Nicole Tuck.
So, who is Nicole Tuck? Well, she is not a model, singer or an actress like many celebrity wives but she is a hardworking woman who supports her husband's career. The mother-of-one has been loving and caring for her man since his career emergence up till now. Find out more facts about the duo below.
Who Is DJ Khaled's Wife, Partner or Spouse – Nicole Tuck?
DJ Khaled was born Khaled Mohamed Khaled on November 26, 1975. He grew up in New Orleans, Louisiana in the care of his Palestinian immigrant parents. Khaled caught interest in music at an early age as his parents were also famous musicians. He began working in a local record store called Odyssey. Around this time, the talented DJ got to meet then-upcoming acts like Lil Wayne, and Birdman.
Khaled began DJing under the name Arab Attacks as well as producing records. In 2004, he teamed up with a group named Terror squad whose members included Fat Joe and Fabulous. Two years later, Khaled dropped his debut album "Listennn… the Album" and it featured many rappers he has done producing jobs for. The album broke records, winning him many endorsements that saw his fortune grow to $7million, putting him on Forbes money list that year.
In 2016, he dropped another hit that raked $15 million within a year. Likewise, it drew endorsements from Apple, Bang & Olufsen headphones, Zappos, Champ Sports, among others. To date, the famous DJ has released at least 10 successful studio albums including "Major Key" and "Grateful". He has also become one of the richest hip-hop stars with Forbes naming him the 9th highest paid in 2017 earning $24 million.
His wife, Nicole Tucker was born on December 7, 1975, they were both born the same year. She, alongside her two siblings, spent their childhood in New York. According to her Facebook page which is now inactive, she has a bachelor's degree in fine arts and a Master's in education from Fordham University. The following are the things one ought to know about her.
5 Facts You Must Know About Nicole 
1. Her Relationship With DJ Khaled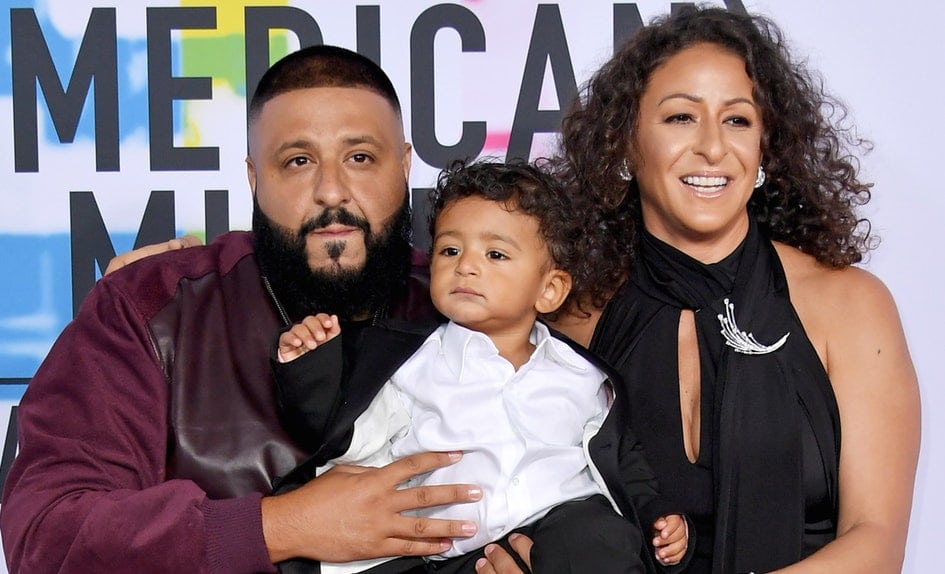 A happy couple is the first thing you notice when you see Tuck and DJ Khaled picture. It is not known how they met but it is known that they stayed close friends for almost a decade before their engagement in 2016. Also, they have encountered some drama but stayed together nonetheless. One instance was when Khaled publicly proposed to a fellow entertainer, Nicki Minaj in 2013. Fortunately, it turned out to be a publicity stunt for the duo's new album.
2. Nicole Tuck Lives For Her Family
Tuck is a woman who loves her extended family dearly. Through her Instagram account, she has displayed her love for her parents. She also made her mother's dream of going to Amsterdam come alive, visiting Europe in September 2015 with Pauline Vitale who lives in Florida. Apart from putting smiles on the face of her New Jersey-born mom, Tuck also takes pride in sharing photos of her dad. On Father's Day 2017, she uploaded a pic of her dad accompanied by a heartwarming epistle.
3. The Birth of Her Son Was A Snapchat Affair
In 2016, Khaled opened up to OK Magazine about Tuck's pregnancy with their first child. Bursting with joy, he noted that having kids has always been one of his dreams and that they would have more. The same year, DJ Khaled and Tuck welcomed their son named Asahd which means "lion" in Arab.
Fans were thrilled by the update of Asahd's delivery process, which Tuck allowed her heartthrob to document live on Snapchat. The videos he captured showed the entire delivery moment including when Tuck clenched her teeth through contractions, their talks with the doctor and finally the arrival of their son. It also showed the earliest moments of the little bundle of joy who weighed 7 lb (14oz) and measured 21.5 inches long. Since his birth, both DJ Khaled and Tuck takes pride in showing him off to the world.
4. ABU Apparel Is Her Clothing Line
The hard-working stunner launched her own clothing line ABU Apparel in 2010, way before her engagement to the musician. It is said that the clothing line was inspired by hip-hop streetwear of the two cities she has lived in – New York and Miami. The business crumbled but Tuck immediately got busy managing his beau's career and has been doing great at it.
Read Also: Josh Duggar Bio, Wife – Anna Duggar, Net Worth, Children, Scandal, Where is He now
5. Her Managerial Duties and Net Worth
Nicole Tuck represents DJ Khaled as unofficial manager and plays an important role in the running of the business part of his music empire. She also promotes her man's music through her social media account as well as her charitable movement Hope for Harvest. Her net worth is not known but her man's net worth is estimated at $20 million.