According to Andrew Tate, he has kids who all "adore" him. While the exact number of kids he has is unknown, it is believed that they are between 10 and 12 in number. 
Social media and internet personality Andrew Tate has caused a lot of online storm for his controversial and misogynistic views, which have led to his ban from all major social media sites, including Facebook, YouTube, Twitter, and TikTok. However, very little is known about his private life, including his kids, even though he has made a few disclosures in numerous media appearances. Find out what he has revealed about his children here.
How Many Kids Does Andrew Tate Have? 
Andrew Tate has children; however, his actual number of children is unknown, as he has refused to let the public in on that fact. The former kickboxer only said that he has between 10 and 12 kids and also shared his intention to father up to 20 kids. He made the revelation while talking on stream with Adin Ross, the American live streamer and YouTuber.
During their conversation, Adin asked Tate about the number of kids he had, and in response, Tate said if he guessed the number correctly, he'd tell him. Adin guessed two and then five, and in response, Tate said, "You think I'm some bitch?". Guessing further, he said ten (and Tate said "closer"). He went on to mention 12, and in response, Tate said the number of his kids was around that.
In another interview with Hugo Rifkind of The Times in September 2022, Tate said he wouldn't disclose the number of children he has. However, he claimed that they all loved and idolized him. Speaking further, he stated that he was sure he would have more children than 99.9 percent of the population of the Western world and used the term "double-digit children." This suggests that he is still going to have more kids in addition to whatever number of them he has now. 
Andrew Tate's Children Were Birthed by Different Women
In the same interview with The Times, the social media sensation made it known that he had his children by multiple 'baby mommas' when he said that, "the women who have my children see me as a hero."
He also confirmed it while talking on stream with Adin Ross, explaining why he chose to have his kids with more than one woman using an analogy. Tate went on to erroneously conflate Islam permitting four wives to prove the validity of his own misogynistic philosophy of life while showing no regard for the birthing process.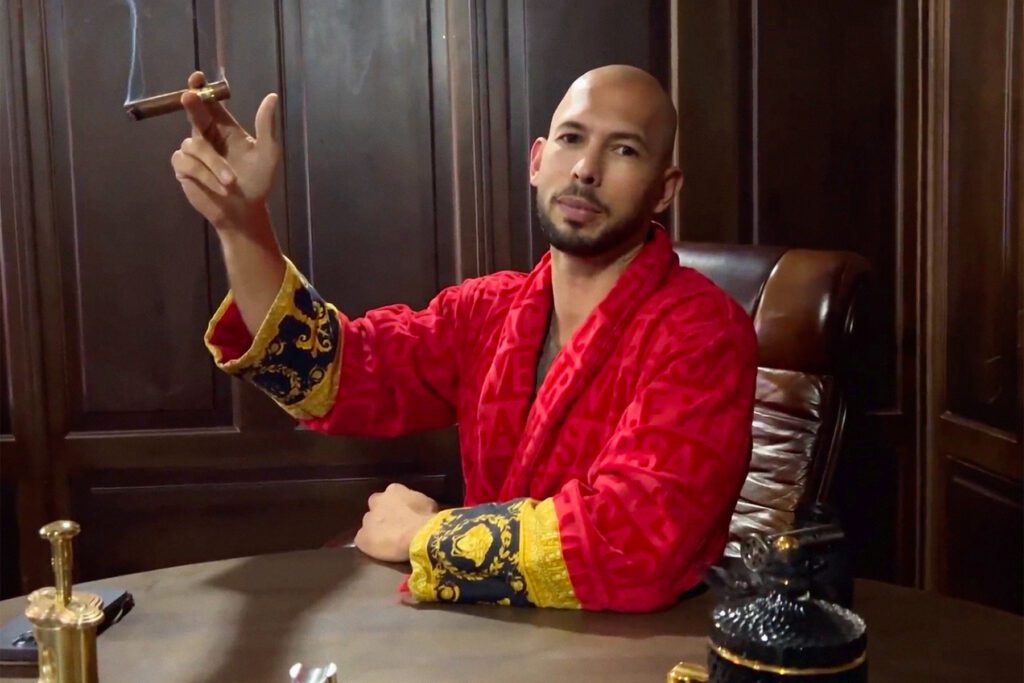 According to him, there's been a few ovens to bake the bread. He continued by saying that women are slow, adding that just like he says all the time, he does not have a problem having kids with just one woman. However, he said, if a woman is going to take nine months to grow one single, simple baby, "then you're just messing about and that's your problem."
He went on to say that if a woman will grow a baby in two weeks and get her "act together and be faster," then there won't be a need for him to have his kids by multiple women. "But if you're gonna take nine months and mess about then, I need 20 [kids], so you know, I have no choice but to have four wives as Allah intended."
Although it is known that Andrew Tate has multiple baby mamas, nothing is known about any of these women.
Does Andrew Tate Have A Son?
While it is believed that Andrew has children, going by what he has said, it is not known if he has a son, as he has not revealed anything about his kids, including their sex. However, considering the fact that he has many children, it might not be wrong to assume that Andrew Tate has at least one son or even several.
Does Andrew Tate Have a Daughter?
Andrew Tate probably has many daughters, but we only know about one. He took to Twitter in April 2023 to share something about a little daughter of his, as seen below:
My daughter got in trouble at nursery for hitting a little boy in the face with a toy car when he tried to hug her.

….

😏

— Andrew Tate (@Cobratate) April 26, 2023
Responding to the Tweet, one of Tate's followers, @AltcoinGordon, asked, "Did she KO him?" In response, Tate said, "She better have or no dinner tonight."
Meanwhile, during the time Andrew Tate and his brother, Tristan Tate, were in prison, a view of Andrew playing with a little girl in a pool went viral, and reports had it that the child was his daughter. However, we do not know if he was talking about the same daughter in the tweet.