Renowned actress Natalia Dyer has been open about her diagnosis with attention-deficit/hyperactivity disorder (ADHD), a condition known to affect various aspects of a person's life, such as self-esteem and interpersonal relationships. Despite public speculation, it is important to note that ADHD does not have a direct correlation to weight loss or the development of eating disorders. As of the current understanding, Natalia Dyer has not publicly discussed suffering from any eating disorders.
Many reports have suggested that Natalia Dyer is battling with anorexia, but no proof has been provided to substantiate the claim. The 28 year-old American actress has appeared visibly skinny in recent times, but she has not publicly stated that she suffers from any eating disorder or health condition that makes people obsessed with their weight and diet.
The Truth About Natalia Dyer's Eating Disorder Rumors
Reports that Natalia Dyer was suffering from an eating disorder began circulating in 2022. This was after the release of the first part of the fourth season of the Netflix science-fiction drama series Stranger Things.
Dyer gained public recognition in 2016 when she started playing the leading role of Nancy Wheeler in the show. Years later, on the same show that brought her to the spotlight, fans noticed that the star actress was visibly thinner than usual, even though she still managed to look good.
She did not only look leaner but appeared to be weaker too. Her visibly low body weight had people speculating about her health, with rumors about her possibly suffering from anorexia taking center stage.
In the previous seasons of the show, the actress appeared healthy and had an average body weight. This ruled out weight loss being a requirement of her role on the show. However, it could be a case of her preparing to take on another role as the actress has been busy working on other projects, like Chestnut and All Fun and Games, whose release dates are yet to be determined.
For example, Natalia Dyer, in my opinion has something going on and it may or may not be anorexia. But she looks very sick this last season of Stranger Things. It could be medical, I don't know. But it's not healthy. pic.twitter.com/PQ1Xz8Xor5

— Aly Drummond (@realfemsapien) February 27, 2023
Is Natalia Dyer Anorexic?
There have been speculations that Natalia Dyer suffers from anorexia, but the actress has not yet confirmed anything in this regard.
Anorexia is an eating disorder that causes people to obsess about what they weigh and what they eat. People suffering from this mental condition are always conscious of keeping their weight as low as possible by either not eating enough food or exercising too much.
Rumors of the Nashville, Tennessee native suffering from anorexia are yet to die down, as both the actress's fans and people, in general, are eager to know more about what caused her to visibly lose weight.
Why Does Natalia Dyer Look Skinny?
Natalia Dyer has never had weight issues in her life. She has always maintained a slender look but has never appeared to be as skinny as she currently is. As a child, the actress had a few health challenges that may have caused her not to put on weight. She is reported to have grown up suffering from asthma and pneumonia, among other ailments, which made her regularly miss school and possibly hindered her from adding on weight.
This is probably why she has appeared slender all these years. However, why she now looks skinnier than usual is not known. Whether or not it is for a pending movie role or she is actually battling a health condition is yet to be determined.
Natalia Dyer's Weight and Height
Natalia Dyer is 5 feet 4 inches (163 cm or 1.63 m) tall and weighs 48 kg (105 lbs).
The actress's weight appears to have been reducing over the years as she was initially listed to weigh 52 kg but is now reported to be 48 kg (105 lbs). This means she is severely underweight, as the average American woman 20 years old and up should weigh at least 75 kg (170 lbs).
Calculating the actress's Body Mass Index with her height of 5 feet 4 inches, there is no doubt that Natalia Dyer is underweight since her BMI is 18.0. Underweight on the BMI scale is <18.5, while normal weight is 18.5–24.9, overweight is 25–29.9, and obesity is 30 or greater.
Natalia Dyer Then and Now
As earlier mentioned, Natalia Dyer had always maintained a slender body. This is evident in the previous seasons of Stranger Things, where she became a fan favorite with her role. She clearly looked healthy in her weight, as it was not a concern for anyone.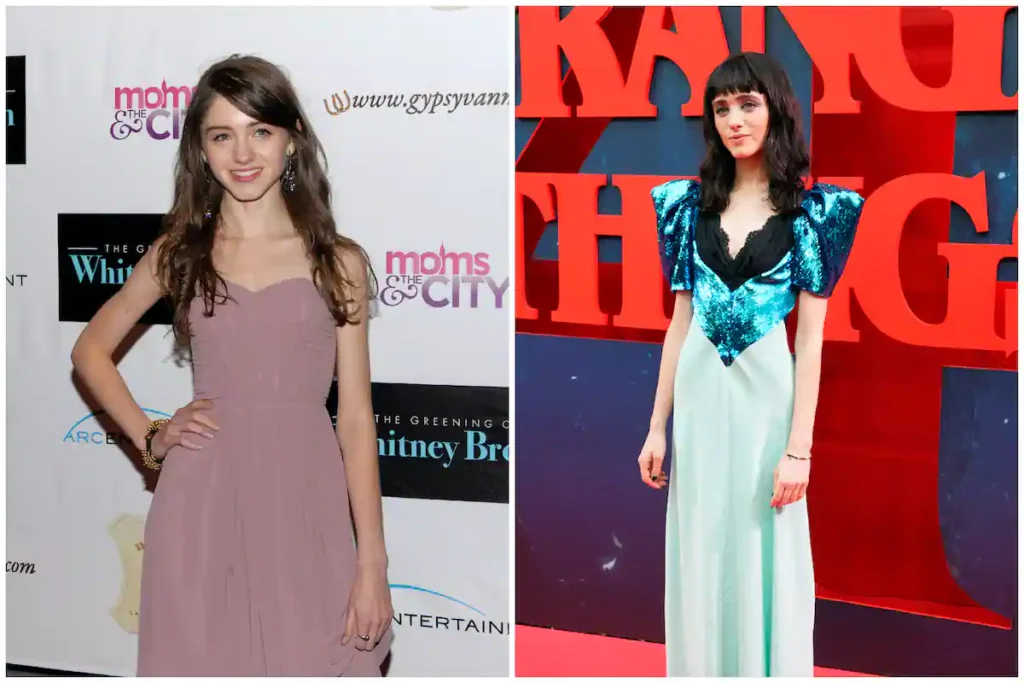 Now, however, the actress can be mistaken for someone suffering from an ailment because of the way she looks. As it stands, Natalia Dyer has not come out to clarify the air on when or not she is battling anorexia or lost weight for a new role. Whatever the situation is, we hope she is fine and can take up more roles that will entertain moviegoers.