There is just so much to say about Ellie Kemper especially when it comes to her incredible film resume. You might know her as that nerdy receptionist who played in the NBC comedy program The Office but generally, she is famous as a talented comic actress and an author. And over the years she continues to bless us with her exceptionally good performances as seen in some shows such as the Netflix drama series Unbreakable Kimmy Schmidt. Well, we all know that her career is amazing that is why for once we would love to look beyond her career achievements to focus on her personal life, height, and financial accomplishments.
Ellie Kemper's  Age, Bio
Kemper was born and named Elizabeth Claire Kemper on May 2, 1980, in Kansas City Missouri. She is of multiple races including Italian English French and German. The actress attended Conway Elementary School in Ladu. She had her high school education at John Burroughs School and finished from Princeton University in 2002, obtaining a Bachelor's of Arts degree in English. She also pursued a graduate degree in English Worcester College, one of the colleges affiliated to the University of Oxford.
Ellie Kemper picked interest in improv comedy and theatre while in high school. She became part of the school's drama group and played in the their productions. She also took part in other activities in the school besides drama but in 1999 she decided to focus on theatre. That year she took up her first role as Veiled Prophet Queen of Love and Beauty in a yearly dance that usually happens every December in St. Louis, Missouri known as Veiled Prophet Ball. In 2006 she started her career professionally appearing as Cindy on the TV series Sexual Intercourse: American Style and shortly after that she began appearing in comedy sketches on Late Night with Conan O'Brien.
Today, she has numerous movies to her name. Some of them are Mystery Team, Get Him To The Greek (2010), Somewhere (2010), Bridesmaid (2011), 21 Jump Street (2012), among others. The actress has also lent her voice in a lot of films such as the Lego Batman Movie (2017), The Secrets Life of Pets 1 ( she is also expected to voice the part 2 that will be produced in 2019), and Smurfs: The Lost village (2017).
So far, she has been rewarded amazingly with notable awards including Golden Nymph Awards for Outstanding Actress in comedy series, Webby Awards for the Best Actress amongst others. the actress has also been nominated for the Primetime Emmy Award for Outstanding Lead Actress in comedy series twice.
Family, Sister
Ellie Kemper comes from a large and wealthy household. She is the second child of her parents' (Dorothy Ann Jannarone and David Woods Kemper) four children. Her father's family is known to be very rich and was rated the wealthiest in Missouri. Apart from his family, David himself also served as the chairman and chief executive officer of what is known today as Commerce Bancshares, a bank holding company established by the Kemper family.
While many would expect David's children to toe towards banking career considering the family holdings, half of them chose showbiz instead. They are none other than Ellie and her younger sister Carrie Kemper. Carrie is equally successful and famous though hasn't achieved much compared to her older sister. She is famously known as a talented TV writer and has worked as a staff writer on the NBC sitcom The Office. 
She also played a significant role in the writing and production of the TV sitcom Silicon Valley. Carrie was also among the writers of season 4 of Nathan For You, and several others. The sisters co-wrote a yet-to-be-published novel titled Monday Sessions.
Husband, Son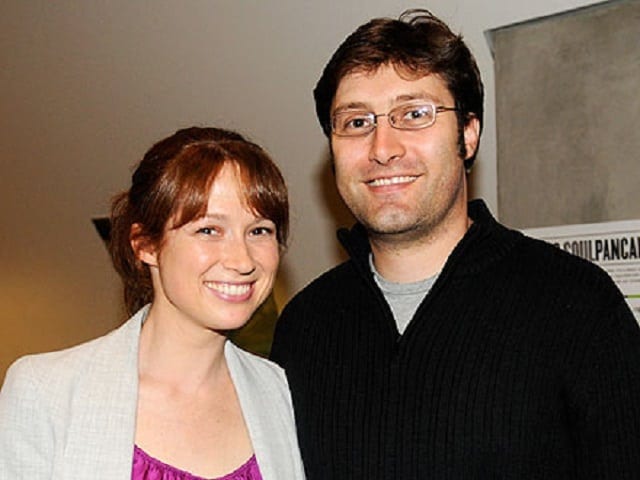 It is hard to stay away from relationship dramas when you're a star. But a few celebrities have been able to swiftly achieve this and Kemper is among them. She has been married to Michael Koman, a famous writer who just like her sister has worked on Saturday Night Live and Late Night With Conan O'Brien since 2012. The two dated for a while and became engaged the same day they walked down the aisle. They have both built a beautiful and peaceful home together and share a son together named James born in 2016.
Read Also: Julia Roberts Kids, Husband, Brother, Sister, Niece, Family, Divorce
Net Worth 
Ellie has worked hard over the years and has had a successful career, no doubt. Good enough, she has gotten a fair prize for her efforts. Her net worth is estimated at $4 million. This may not be such a staggering amount of money but it is not terribly poor compared to other celebrities in her class. In addition, Ellie Kemper will definitely make a boatload of money in the future given the many endorsements and commercial deals (for brands such as Apple's iPhone, Garnier, Kmart, and others) under her belt.
Ellie Kemper's Height
Ellie Kemper can't be described as a giant or very tall woman. She is 5 ft 5 inches, an inch taller than average American women height which still puts her in the right place where height matters. She weighs 57kg or 126 pounds. Her other body measurements (bust, hips, and waist) are 34, 24, and 34 inches respectively. She wears US dress size 2 or 32 (EU) and shoe size 9 or 39.5(EU). Her bra size is 32B.