Ghana braids are African hairstyles platted with the technique of adding hair as you go along. Ghana braids are sometimes also referred to as invisible cornrows, pencil braids, cherokee braids, straight backs, or banana braids. The hairstyle originated from African and has been around for a while now.
The increasingly popular hairstyle is favored by people with a sassy sense of style or those looking for something simple, stylish, and low maintenance. However, it can be said that the protective nature of the style—it prevents hair breakage and is a great way to grow out your hair naturally—is the reason why so many people find comfort in it. The best part is that there are hundreds of Ghana braids styles you can go for to keep your look fresh.
The only hitch when it comes to Ghana braids is that it can take quite some time to get the braids done. If you're willing to overlook that however, here are the most fantastic Ghana braids styles you can try for a change.
Beautiful Ghana Braids Styles
1. Lemonade Ghana Braids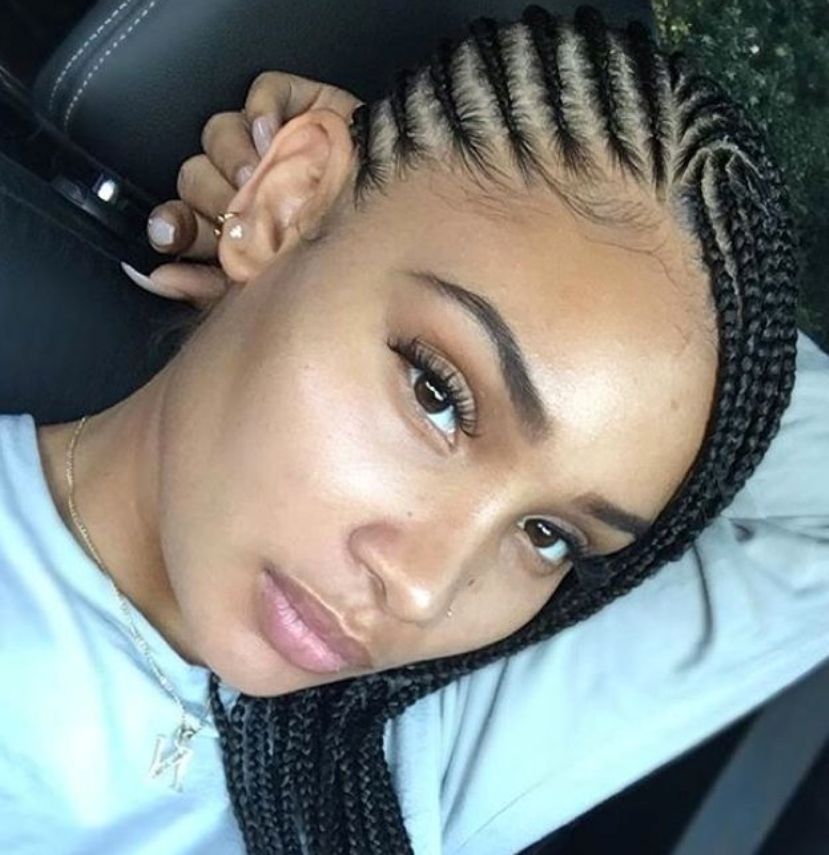 If you're looking for the latest and greatest offering from the Ghana braids department, lemonade braids are what you should get. Inspired by Beyoncé's hit album Lemonade, these braids are simple but incredibly sexy. The braids go way past the shoulders as they gradually taper towards the ends. This Ghana braids style is a great way to rock longer braids without having to worry about the weight.
2. Zigzag Cornrows + Ghana Braids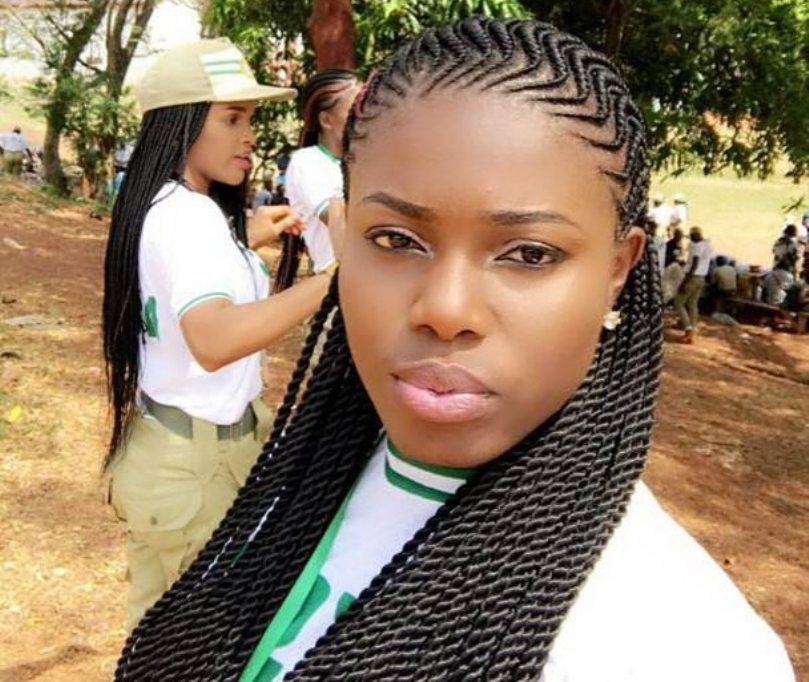 This very flattering look is absolutely flawless from the zigzagging cornrows to the perfectly laid out black braids. This Ghana braids style shows that simple can be very classy. Make sure the thickness is perfect for your hair since heavier braids can lead to hair breakage. As low maintenance as the look is, spraying on a bit of moisturizer gives it the perfect glossy finish.
Read: 15 Beautiful Crochet Braids Classy Women
3. Jumbo Ghana Braids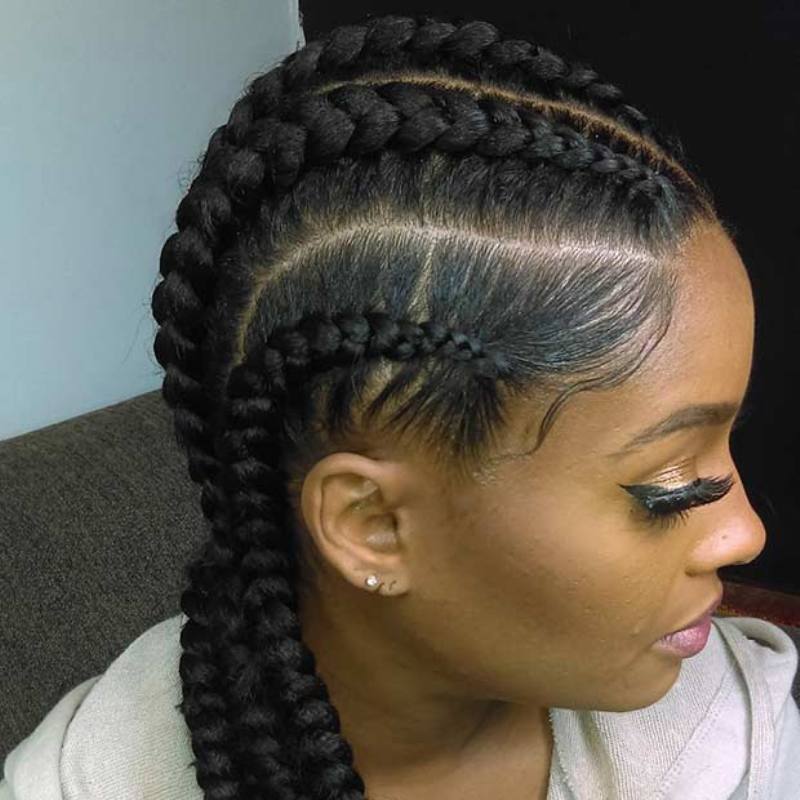 Jumbo Ghana braids have always been a bold fashion statement that let women show off their confidence and sassy style. For this look, you can try mixing things up by throwing a few thin braids on the sides while keeping the thickest braids on top to create a unique braided Mohawk design. For jumbo braids, it is advisable that you keep the length short to avoid making them too heavy, which is bad for your hair.
4. Extra Long Goddess Ghana Braids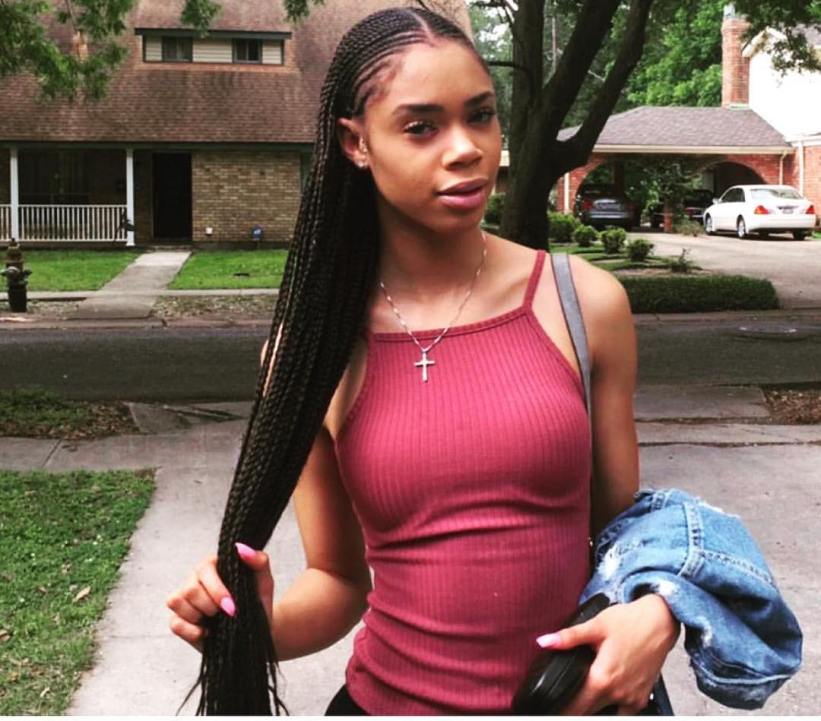 For a stunning feminine look, try out some extra-long Ghana braids. In addition to making them as thin as you can, you can also keep the style simple or go for some more flair by adding some unique cornrows. This look is especially flattering to oval-shaped faces since it gives them that A-line frame. As for the length, you can go as high as mid-back or as low as beyond the small of your back.
5. Stylish Ghana Braids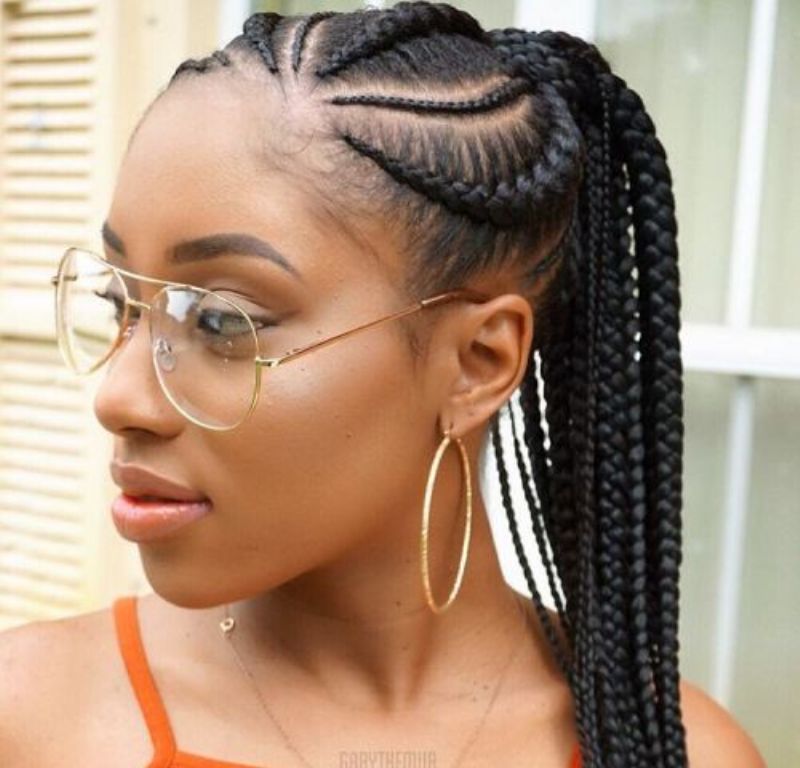 Women who want something a bit less common can choose to make the cornrows the focus of style in their looks. This can be achieved using braiding techniques that create stunning patterns such as these swirls. Mixing thick and thin Ghana braids creates a more intricate look which is ultimately more unique and a lot classier than some of the more common styles.
Check out these 14 Stunning Tree Braids Styles
6. Stunning Feed-in Ghana Braids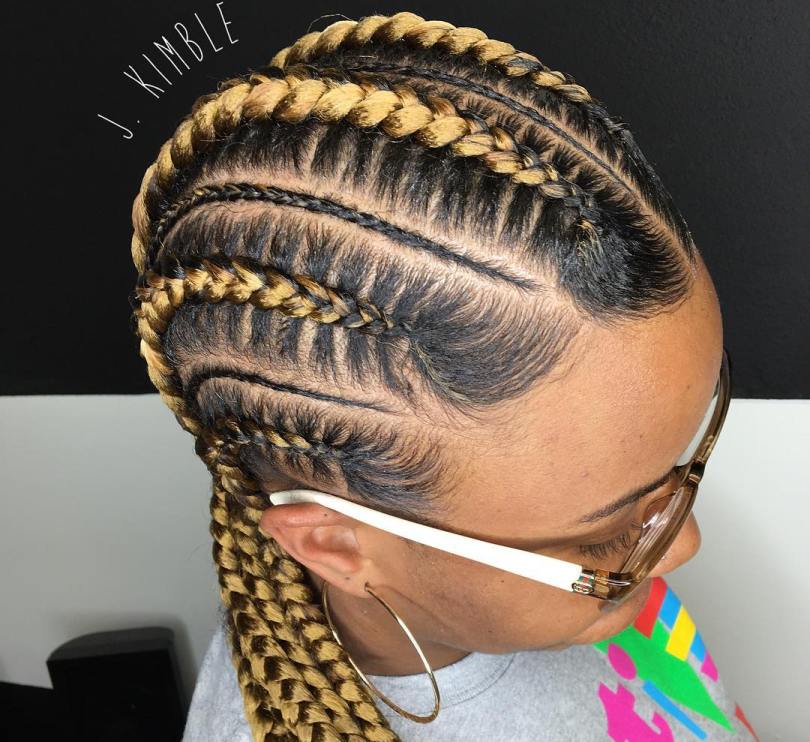 Feed-in braids are irresistibly cute especially when done right. They consist of alternating thick and thin Ghana braids that have been styled into intricate cornrows before being joined at the back in a loose ponytail. The thicker braids give the look more character and sass, making it perfect for women of all ages.
7. Ghana Braids Updo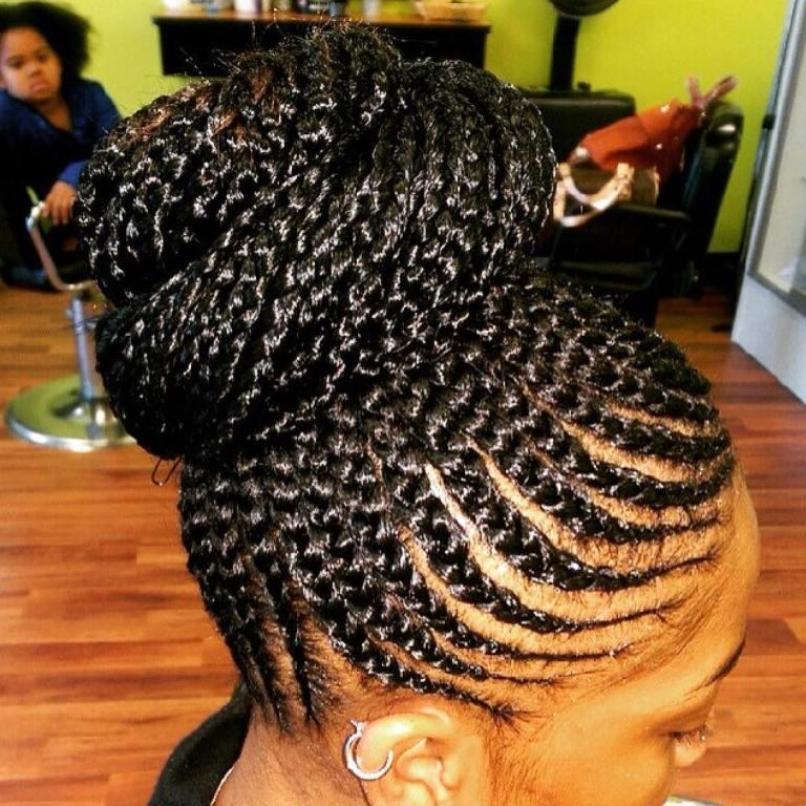 If you want a look that will last longer and is a lot easier to maintain, a Ghana braid updo hairstyle will not disappoint. The look is very simple but not without class which makes it both casual and formal enough to rock to fancy events. Thicker braids give it more sizzle while the simple top bun adds the perfect touch of sophistication to it.
8. Elegant Jumbo Ghana Braids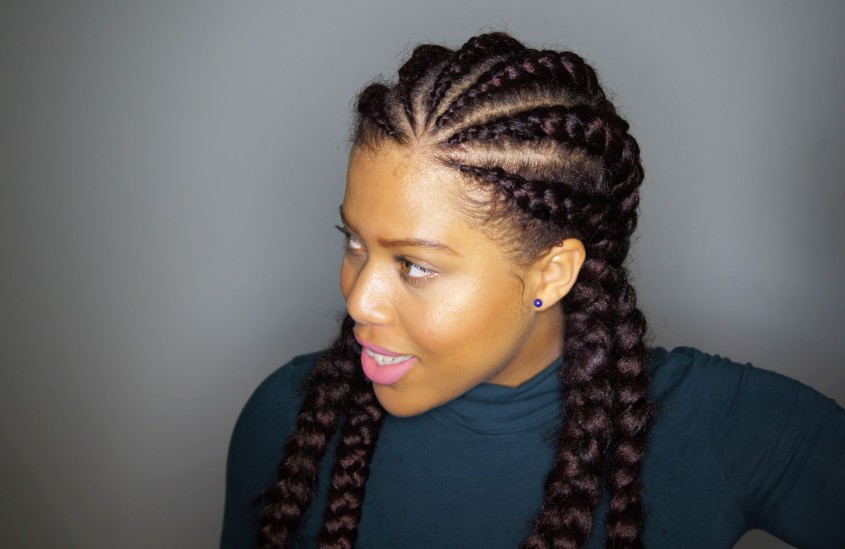 The allure of thicker braids lies in the perfectly spaced patterns they allow you to create. Jumbo braids look fantastic even if they're fewer than five. It all depends on how well the cornrows have been spaced and styled. You can always add a little pizzazz to the look by throwing in some unique braiding patterns to make your cornrows stand out even more.
9. Thick Zigzag Ghana Braids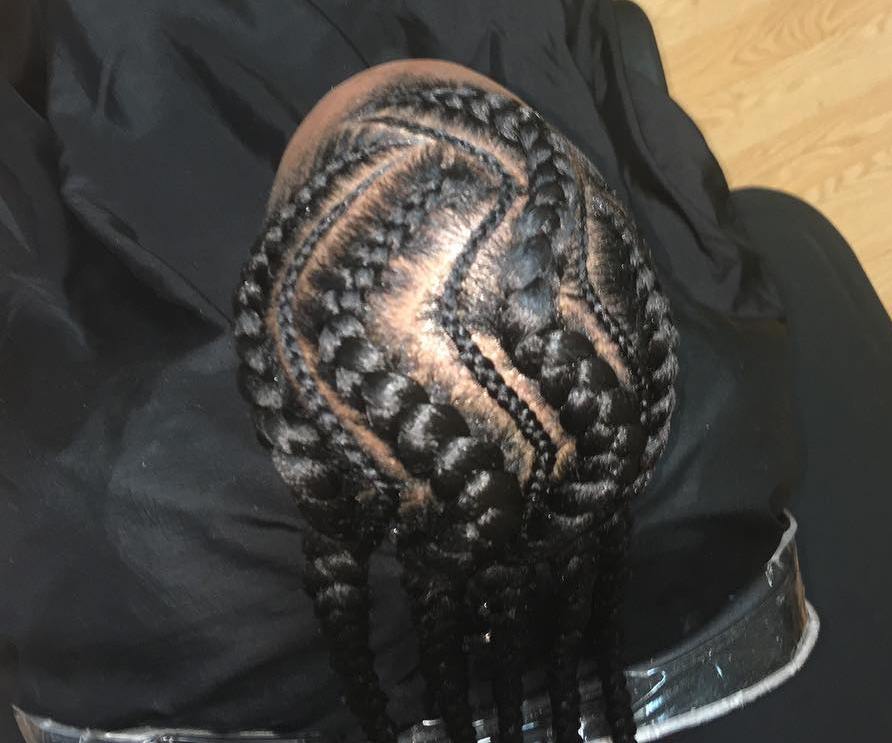 If what you're looking for is something flashy when it comes to your cornrows, thicker braids will do the trick. Zigzag cornrows haven't been played out yet and if you add a few thin braids between the jumbo braids, you create a stunning look that is a lot less time-consuming and easier to keep well-maintained.
10. Ghana Braids Ponytail Updo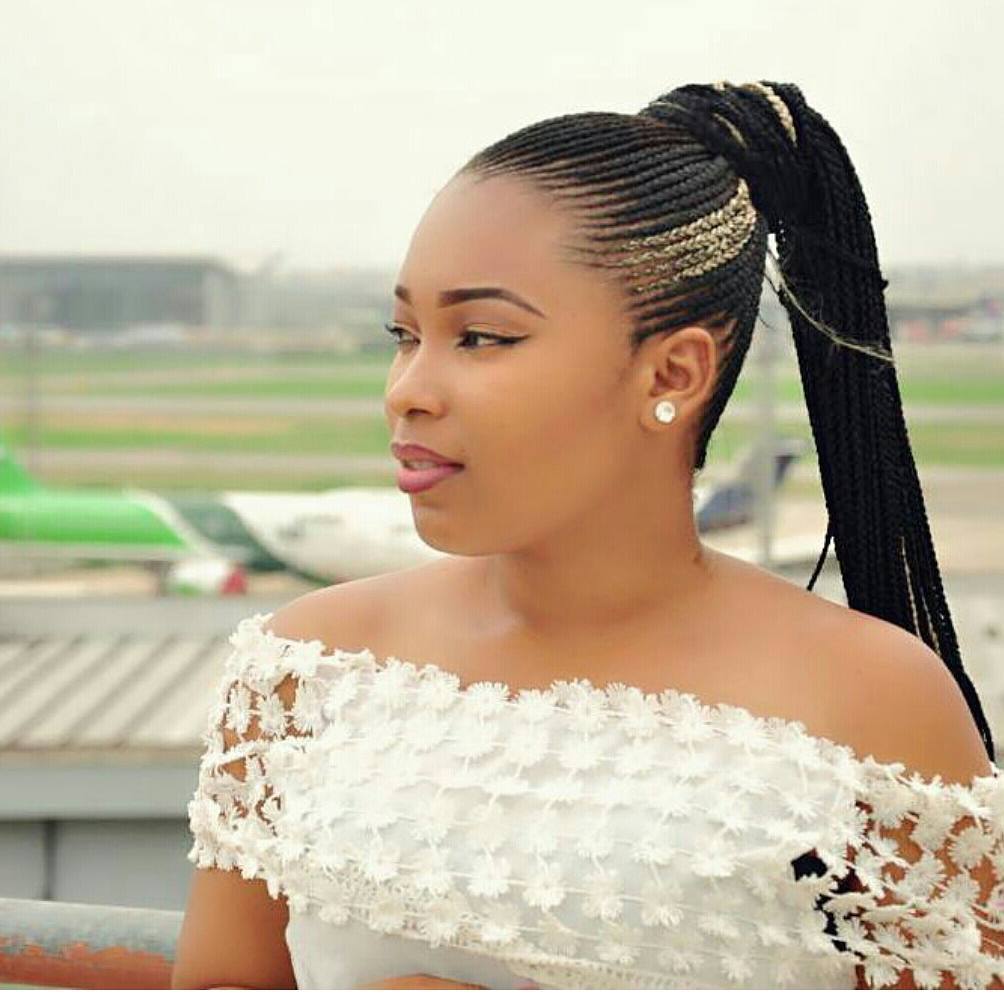 This is a look that exudes feminine elegance and sophistication despite being as simple as it is. The ponytail updo features thin, neat braids that have been excellently spread out in a tight cornrow. A few blonde braids give it some sizzle and break the monotony of the black braids. The ponytail updo is simple and very practical—something that will not take a lot of time to style.
11. Intricately Ghana Braided Updo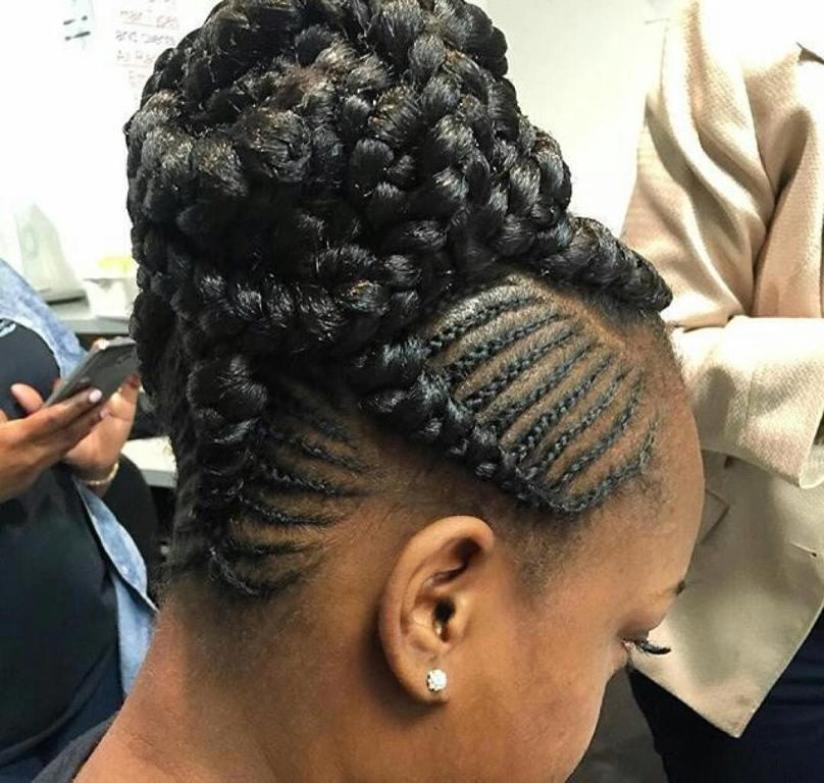 For prom nights or even a fancy gala event, a braided updo will do the trick. Thicker braids are ideal since they show a lot more detail when fashioned into an updo. To keep the look from being bland, experiment with a few cornrow braiding styles to make it more interesting.
12. Cross-Braided Jumbo Ghana Braids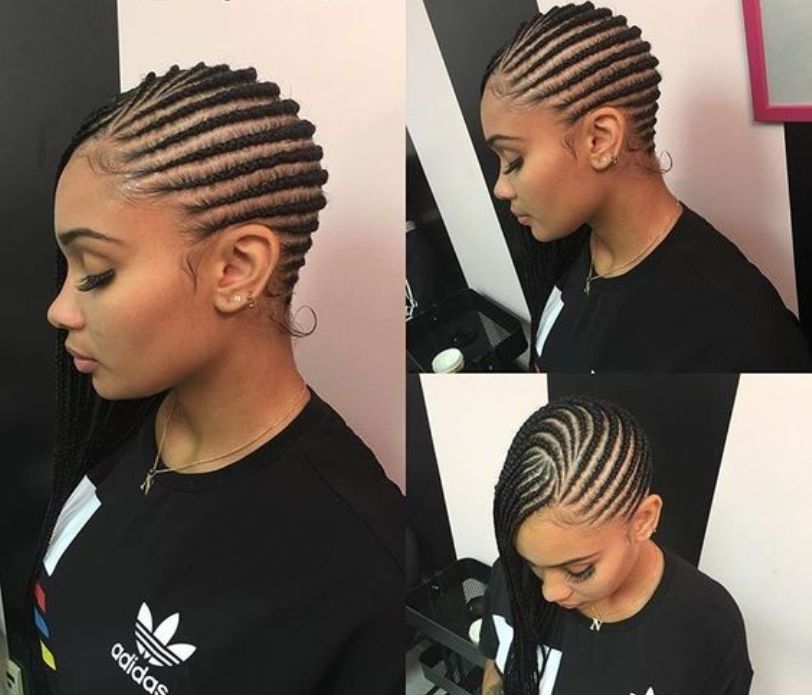 Spice things up with a unique braiding pattern to end up with this fancy number. The excellently braided Ghana braids run from the side through the back to the other side instead of the usual front to back. In addition to making the look unique, you also get a stylishly asymmetrical braided hairstyle that sets you apart from the crowd.
13. Edgy Feed-In Ghana Braids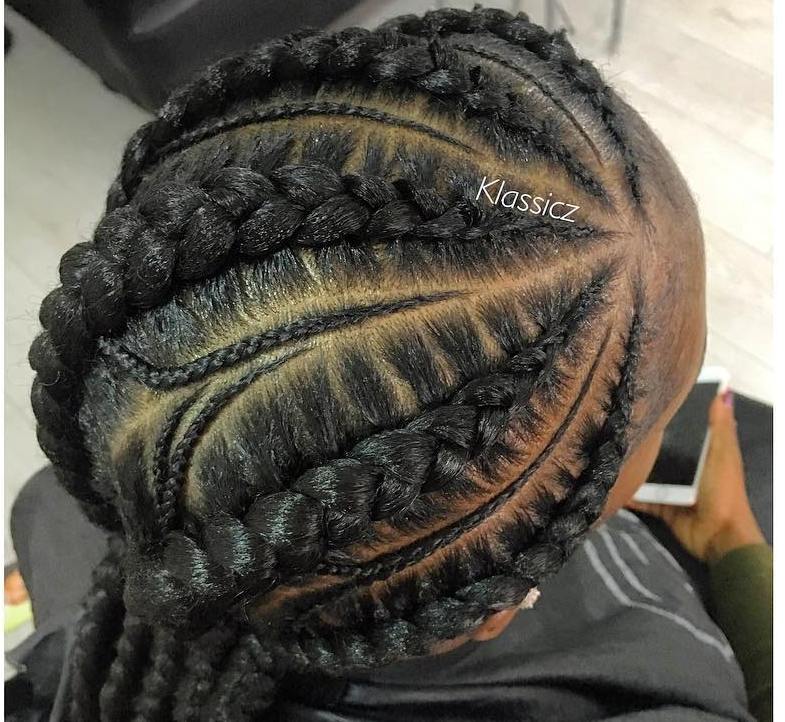 With feed-in braids, there are endless styling options when it comes to the cornrows you want to match your braids with. They can be relatively simple or as intricate as these well-spaced cornrows that use both thick and thin braids to create a gorgeous braided hairstyle.
14. Angled Ghana Braid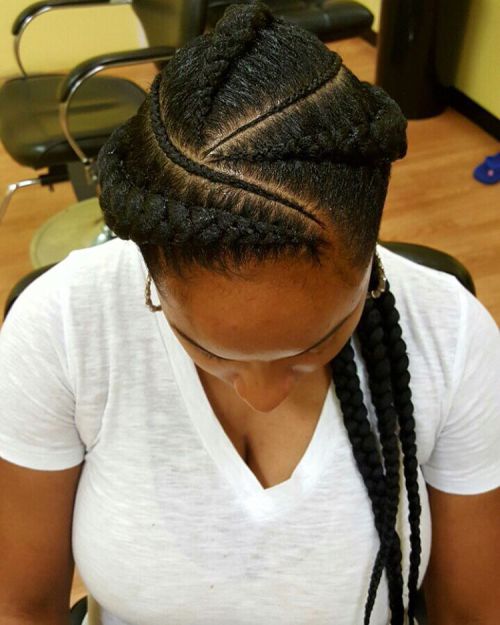 This playful number is simple, practical, and very fun—a perfect braided look for fun-loving women. It involves a long, thick braid that spirals from the front to the back and ends as a long braid draped over one shoulder. The cute angled cornrows have been glammed up to make the look even neater.
15. Maroon Ghana Braids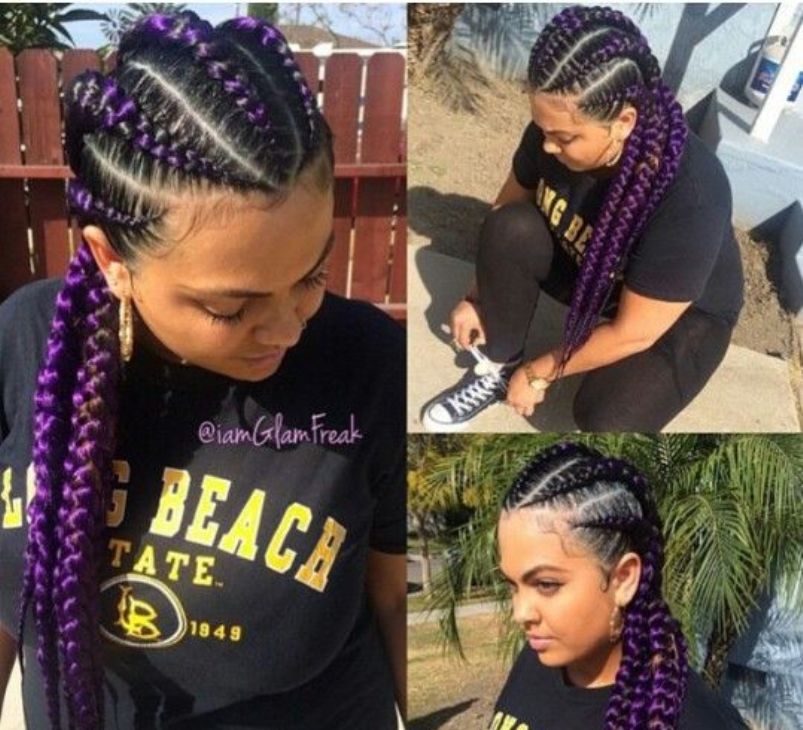 A bit of color never goes amiss even when it comes to Ghana braids. If you're feeling adventurous then you should definitely go for colored braids. These thin maroon Ghana braids are perfect because of their length, thickness and of course, stunning color. Always make sure the hair color flatters your skin tone, however.
How Long Can You Wear Ghana Braids?
Expert stylists say that the type of hair you use to make your Ghana braids usually determines how long they will last. As such, they recommend spending at least $5 on hair, the most popular being Rasta Fri hair.
With the right kind of maintenance, Ghana braids can last beyond two weeks although stylists do not recommend keeping them for longer than that period. To make them last that long, a satin headscarf should be used to keep the braids intact while sleeping. Alternatively, satin pillowcases should do the trick.
How to do Ghana Braids
The video tutorial below is a quick guide on how to do Ghana braids.