Greaser hairstyle is a type of men's haircut where the sides are cut short and the front is brushed back and kept in shape with lots of gel, pomade or wax. The hairstyle can be achieved with an undercut, rolled, cowlick, wavy, or parted hair.
Greaser hairstyles are one of the classic men's hairstyles that is attributed to wealth, influence, and maturity. The 1950s hairstyle originated haircut is today seen from a different angle. It is mostly used to showcase bad boys, tough and rebellious characters in movies. The hairstyle on the other hand never lost its uniqueness as it has undergone a lot of style upgrades. Previously, the hairstyle was achieved through the use of hair cream and gel. Greaser hairstyle subjected the elites in the then society to having their combs in their pockets always as the hairstyle needs constant shaping.
Today the sophisticated style lives on in some of the most stylish new and old designs. If you're looking to get a haircut that oozes sophistication, check out these greaser haircuts.
Undercut Greaser Hairstyles
The following undercut greaser hairstyles rocked in the 1950s still maintain the classy and cute look:
1. The Short Roll-Up Undercut Greaser
A lot of the greaser hairstyles ended in a stylish roll-up towards the front. This example features a short, conservative roll-up that matches the mannish appeal of the thick and voluminous greaser hairstyle. The look is neat all-around, aided by lots of pomades, and could just as easily be worn informally as it could formally.
2. The Wavy Pompadour Undercut Greaser Hairstyles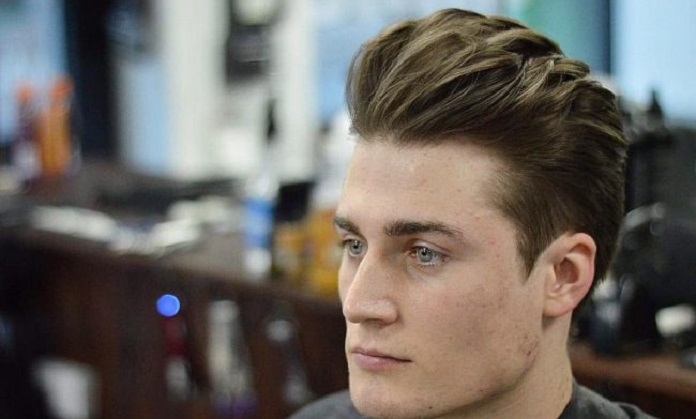 One of the most sought-after rebel looks involved wearing a high pompadour haircut with a tastefully wavy texture to create a fancy masculine look. Modern variations borrow from this and include tapered sides and ribbons of color through the thick locks. Some guys prefer directing the wavy hair to the side while others take it backward. Celebrities known for this hairstyle are Chuck Berry, Tony Curtis, and Sonu Nigam.
3. Short Upturned Top Undercut Greaser Hairstyles
A simple greaser hairstyle that was reserved for the sophisticated elite involved heavily greased hair with an upturned tip. The texture was generally wavy with a sleek hard part at the side to give it a crisper finish. The top section of hair was often thicker than the rest. A celebrity that loves rocking this style is Elvis Presley.
4. The Sleek Short Pomade Undercut Greaser Hairstyles
One of the reasons the greaser haircut was so popular was because of its compatibility with all types of hair. Extra short hair benefited from a crisp, clean side part, which helped to give it a sharper edge, especially if it had been styled slick using pomade or hair gel. Joe Jonas is a celebrity that rocks this hairstyle.
5. Short and Simple Greaser Hair
Greaser cuts heavily relied on hard side parts to add a bit of distinction and class to any look. Here, the short neatly slicked locks benefited from a diagonal side part which helped to accentuate the short hair on top and also to give it a stylish asymmetrical finish. Justin Timberlake is a celebrity that looks stunning in this hairstyle.
6. Frosted Tips Greaser Hair
https://www.instagram.com/p/CXephMqsMSK/
This hairstyle has inspired many recent variations. Frosted tips is a popular style among many young people, especially those involved in hardcore scenes because they are considered to create an attractive image that shows you are totally individual and bold. Eddie Guerrero, Justin Berfield, Lance Bass, Steven Bradbury, Aaron Carter, Zac Efron, Guy Fieri, and Mark MacGrath are celebrities that cannot do without the frosted tips greasers hair.
7. Ivy League Haircut
Also known as Princeton or Harvard clip, this is a short haircut characterized by a particular type of three-section (top, sides, and back) style. It is one of the most popular military haircuts. The hair on the top front of the head is long enough to be styled with a side part. The crown on the top of the head must be square with the hair slightly longer on top than elsewhere around the sides and in the back. Matt Damon is one movie star who always keeps it classy with this hairstyle.
Greaser Hairstyle With Parting
Below are the greaser hairstyles with a parting that gives you a cute, handsome, and classy appearance:
8. Side Part and Volume
This side part hairstyle is a combination of a classic side part with a high volume finish. To get the style right, part the hair on one side of your head from ear to ear, push the top portion of your hair over to one side, and secure it in place with a comb. Work some volumizing dry shampoo into the roots of the hair and lift up as much hair as possible. Brush through the top section and gently pull it back away from your face. Finish by styling with strong hold gel. Lance Bass is a celebrity that looks unique in this hairstyle.
9. Classic Side Part
A classic side part has been a sign of style and sophistication for decades. It can be worn in both a casual and a formal context, and still remain as relevant now as it was back then. To achieve this look, simply make a part down the middle of your head and comb one side over, leaving the other to fall naturally. Side parts can be worn as a formal look for an important business meeting, celebratory event, or paired with your favorite tee and jeans for a more laid-back vibe. Eddie Murphy was spotted with this hairstyle in one of his movies.
10. Side Part and Disconnected Undercut
To pull off the side part with a disconnected undercut hairstyle, start by asking your stylist to use a regular or hard part. Then, make an undercut beneath the hair on top, leaving the length on your crown significantly longer. With some blow-drying, you'll be able to style it into controlled messiness and finish with pomade. This is best done with a comb-over or side bangs to hide the hairline on the sides of your head. This hairstyle is perfect for both formal and casual settings, making it ideal for any contemporary man. This hairstyle has been known to look perfect on Mark MacGrath.
11. Side Part with Quiff
When creating the Quiff hairstyle, it is important to keep the hair on top of the head at an angle. The side parting should be positioned in a way that allows you to tease the hair just off-center and then swept back and upward. This style is best paired with a medium to long length fringe. The Quiff is perfect for any occasion, and if you wish to keep it simple you can use a matte pomade or gel. However, if you enjoy changing your look, add some color to your hair. It looks great with red and brown tones. Tony Curtis is known to have a completely vintage look in this hairstyle.
12. Hard Part and Burst Fade
This edgy hairstyle ends with a hard part and burst fade. In the hair industry, we have several different terms for parts, including hard part, soft part, and baldie. However, the burst fade typically begins behind the ear and breaks outwards into a soft fade upwards. Justin Timberland looks unique on this hairstyle.
13. Fauxhawk with Side Part
This style is akin to the rebellious nature of the hard part and burst fade hairstyles. The fauxhawk is ideal for men who want to attract a little attention without going too extreme. A fauxhawk is a hairstyle that includes short sides with longer hair on top. To create the look, part your hair on the side and shape the remaining hair into an upward spike. Use pomade or gel to keep the hair in place all day. The celebrities that have been spotted with the fauxhawk style with parting are Rick Martins, Carlos Alvarez, Jamie McCarthy.
14. Glossy Hair With Side Part
For those with curly hair, a side part is a perfect way to show off your locks. The side part is a flattering look for anyone with curly hair, whether it's naturally kinky or needs a bit of help from a curling iron. Use a volumizing mousse to create extra volume and a smooth, glossy finish. Adam Levine is one celebrity that loves rocking this hairstyle.
Rolled Greaser Hairstyles
The following rolled greaser hairstyles cant go wrong in giving you that masculine and outstanding look you desire:
15. Greaser Mullet
For a hairstyle with impact, this classic greaser look will do the trick. Trim the hair in front of the ears for a tidy finish. A greaser haircut, with its sleek and tidy look, has been making a comeback of late. To add to this look, have the hair above your ears shaved in a small portion. This hairstyle is best for men with a big face and a round-shaped hairline. George Clooney is known to have appeared smart with this hairstyle.
16. Pomp Combover Roller Greaser Hairstyle
The throwback pomp combover style has the lift needed to give you the volume you crave. Gently curl the bangs using a round brush. However, with plenty of lift to the hair to give it some volume and a round brush to give bangs a delicious curl. Alex Turner is one celebrity that stands out boldly in this hairstyle.
17. Stylish Cowlick Roller Greaser Hairstyle
When it's wet, a cowlick can be styled on the forehead to look amazing. Just let one strand fall down your forehead and curl it a little. Make sure your hair is mussed up a bit with some hair gel. Ricky Nelson was a fan of this hairstyle.
18. Windblown Roller Hairstyle
https://www.instagram.com/p/CXetLf2srXN/
The windblown is an easy hairstyle made possible with the use of hair gel. It serves as an excellent symbol of masculinity and represents a cool style that's perfect for greasers. After washing off the grease, you're back to being a nice guy once again. Steven Seagal is one movie actor that has been spotted with this hairstyle.
19. Fohawk Rolled Greaser Hairstyle
This voluminous fohawk rolled greaser style has the hair very high and stiff. Ask your hairstylist to leave you enough hair so that the fohawk can be done right. If done correctly, hair gel is not necessary. Tom Brady looks unique in this hairstyle.
20. Volume On Top Roller Greaser Hairstyle
This hairstyle is an innovative way to style a greaser's hair, requiring little to no hair gel to keep it non-messy and resistant to the wind. This haircut will display your unique personality and make you stand out from the crowd. Will Smith is a celebrity that will give a perfect look having this hairstyle.
21. Diminishing Roller Pompadour  
A pompadour looks similar to a mohawk as both styles feature hair that is swept upwards, but a pompadour has a wider central section than a mohawk, giving it more height in the front and less at the back. Grease a thick central section of hair up to create the pompadour's characteristic look. Corbin Bleu always looks classy on this hairstyle.
Greaser Hairstyles With A Cowlick
The following are greaser hairstyles with a cowlick that keeps one on the go:
22. Angular Fringe Cowlick Greaser Hairstyle
The fringe of a curly hairstyle is left hanging over the forehead. It is cut at an angle to give it a unique texture and appearance. The fringe is ideal for men with round faces since it can add some length to the face. The hair is perfect for men with a cowlick. Zac Efron is a celebrity with this type of cowlick hairstyle and looks classy on it.
23. French Crop Cowlicks Hairstyle
The French crop cowlicks is a hairstyle that involves cutting the hair short on the back and sides, leaving the top longer. You can either brush it forward over the forehead or push it to the side; this largely depends on preference. Chris Hemsworth looks perfect with his French crop cowlick hairstyle.
24. Crop and Cowlick Greaser Hairstyle
The undercut comb-over is a hairstyle that uses the length and volume at the top to conceal the shaved sides. An undercut comb-over can be done on men with medium hair, but it is most effective on those with longer hair. Leonardo Dicaprio may not look better outside this cowlick hairstyle.
25. Vertical Cowlick Brush Up Style
Men with curly hair can style their hair in the pompadour hairstyle by brushing their hair upward and backward while using wax or pomade to maintain the shape. Robert Pattinson looks good on this hairstyle.
26. Cowlick And The Fringe
The cowlick and fringe is a popular men's haircut because it suits a variety of face shapes, ranging from heart-shaped, square, or round. The hair on top of the head is combed forward to conceal the forehead. Chris Hemsworth knows how to keep it masculine and smart on this style.
27. Modern Cowlick Brushed up
The hair on the top of the head is styled upwards into a short, tapered cut. To achieve this hairstyle, the hair at the back and sides must be trimmed. With a comb, the hair will always appear arranged and smart. Matthew Wolf looks great with this style.
28. Spiky Cowlick Hairstyle
For guys with cowlicks, spiky haircuts are the way to go. Their styling gel should be on point, particularly the product that adds height to the hair. Tom Hardy is a celebrity always found with the hairstyle.
Wavy Greaser Hairstyles
Wavy greaser hairstyles help men maintain the gentleman's look, and organization needed. The following are greaser hairstyles to keep you smart:
29. Duck Tail Rock and Roll Hairstyle
The hair is parted to one side and combed over to the other, with the sides combed back to meet in the middle. Pomade will help keep the style in shape. This is a contemporary and traditional hairstyle. Elvis Presley is known for this hairstyle.
30. Taper Fade Spiky Wavy Hairstyle
The hair on the crown has been fashioned into spikes resembling a rockabilly style. Music stars and icons such as Zayn Malik have been rocking this unique hairstyle.
31. Wavy Brushed Back Front Greaser Hairstyle
This hairstyle is for men with long hair, who back-comb it from the front, using a gel to keep it in shape, and who then fade the sides very much to form a contrast. A side part can also be achieved by slicking the hair back or parting it on the side. Miguel is a celebrity with this perfect look.
32. Wavy Textured Mid Top Greaser Hairstyle
This short haircut is perfect for men who have curly hair. It will define the curls and make them look good. Guys in school or the workplace can wear this look, even though it might be considered a little too stylish for some of them, because of the mid-top style. David Beckham is known for this unique hairstyle.
33. Messy Wavy Greaser Hairstyle
This is one strong and mean-looking hairstyle. It takes a greaser combing style, which demands that the hair be combed backward. It doesn't need to be perfectly combed together. The style is perfect with a long beard and a warrior outfit, giving you a Vikings look. Russell Brand with his kooky facial expressions on this style still has a classy attachment to the hairstyle.
34. Wavy Quiff
To create this vintage-inspired hairstyle, forget your comb, and instead rub some pomade on your hands. Rub the pomade between your palms before running your hands through hair to distribute it evenly. Then, use your fingertips to shape and mold the hair into a rockabilly quiff. Simon Baker has a perfect look on this hairstyle.
35. Wavy Pompadour Undercut
This pompadour with an undercut creates a full volume and has a mature, sophisticated look. It is a great style to try if you have naturally wavy hair. Sendhil Ramamurthy is a character in 'Heroes' with this wavy undercut.
The Greaser Pompadour
The hairstyle is associated with having a large volume of hair towards the face, creating a heap over the forehead. Most times the heap can be swept towards the sides and even towards the back. In 1950, the greaser pompadour was known as quiff, jell roll, ducktail, rocker, or the Elvis cut.
During the 1980s, the hairstyle became popular among individuals who looked back to the rockabilly culture of the late 1950s and early 1960s, including those who were fans of antique cars, hot rods, muscle cars, American folk music, Elvis Presley impersonators, and greasers.
The hairstyle has become popular among members of elite society, especially within New York and New Jersey. The hairstyle is often mocked by television programs like The Sopranos or Jersey Shore, which portray negatively stereotyped characters—especially Silvio Dante. Notable gangsters like John Gotti have been known to have the hairstyle.
In the Psychobilly subculture, some fans and musicians wear a modified pompadour hairstyle called a quiff. Psychobilly Wedge hairstyles are mixtures between Mohawks and Pompadours. With the hair on one side of the head shaved and the middle slicked back and standing up like a pompadour, Psychobilly Wedges are worn by fans of the music genre Psychobilly.
Recently, the pompadour hairstyle has been worn by celebrities, including Conan O'Brien, Bruno Mars, Morrissey, David Beckham, Drake Bell, Zac Efron, Zayn Malik, Alex Turner of Arctic Monkeys, and Justin Timberlake.
FAQs About Greaser Hairstyles
What is The Rockabilly Hairstyle?
The pompadour and quiff hairstyles are typical of the rockabilly subculture date back to the 1950s. They are characterized by extra hair on top, slicked back with styling products such as pomade. Modern interpretations of the rockabilly style are both masculine and dapper, giving the wearer a distinctive look.
How Can I Create A Rockabilly Hairstyle?
Have a good-looking haircut.
Have your hair washed then use the towel until the hair is damp.
Make use of wax or pomade on the locks on your hair.
Rub the cream in a direction that comes from the back to the front.
Make use of the comb to apply a style.
Get a voluminous wedge through a constant combing of the hair upward and backward.
The final stage is the application of hairspray.
How Do I Do The Greaser Hairstyle
To style your hair in a greaser or quiff style, start by using a pomade or wax to smooth down any stray hair on your sides.
Next, use a comb to brush your hair in the direction and shape you want.
If you're going for a style like this, use a blow-dryer to add volume before using the comb to shape your hair.
Smooth down any stray hair on your sides, and finish with a coat of hairspray if required.
What Is A Cowlick?
The name cowlick is attributed to the swirling pattern of hair that remains after cows lick their young. In humans, a cowlick is a small section of hair that grows at a different angle than the rest of the hair on your head. A cowlick may be located in the middle of the crown of your head, or at the hairline near the forehead.
How Can One Hide A Cowlick?
To hide or add style to your cowlick, below are the required steps to take:
Blow Towards The Opposite Direction 
To create extra volume, blow-dry your cowlick in the opposite direction from the one that it naturally grows. If your hair naturally grows straight up, for instance, then try blow-drying it downwards.
To keep your hair firmly in place, use cool-temperature heat for a few seconds at the end of styling. Follow with a few spritzes of hair spray and you are ready to go.
Make Use Of Products That Has A Sticky Effect
If you have a cowlick, use styling products with strong holding power. Pat your hair down to keep it from sticking straight up.
Use A Clip To Hold it Down
After you finish heat styling, use a small hair clip to hold your cowlick in place. The longer you hold the hair down and train it in place, the more long-lasting the effect will be.
If you want your cowlick to be less noticeable from the front, try switching up your part. Experiment with a middle part or a deep side part to see what works best for you.
Mind The Hairstyle You Choose
Don't be afraid to experiment with your look! Try different hairstyles to see what works best for you. The cowlicks most likely won't be noticeable at all if you have curly or wavy hair. For a more polished style, a perm would work beautifully on loose curls.