A high fade is one of the boldest haircuts for smart men, featuring a cut that starts to fade into the skin just above the temples. It has a short back and sides, and the length of hair gets gradually shorter as it fades. Also, the top of the haircut can be styled with other lovely cuts such as buzz cut, a pompadour, crew cut, mohawk, and french crop. As a result, there exists a variety of high fade haircuts that look very cute and fit almost all face types.
No matter your ethnicity, sleek and stylish high fade haircuts will look incredibly awesome on you. In case you're still wondering which high fade haircut to opt for, here's a list of cuts that'll look stunning on you. We've covered all the latest high fade hairstyles to ensure that you get a wide range of options to choose from.
Men's High Fade Haircuts
High fade haircuts are classified into different groups depending on the additional styles given to them. They include high-top fade haircuts, high skin fade haircuts, short hair high fade haircuts, high bald fade haircuts, high and tight fade haircuts, high taper fade haircuts, high fade haircuts for curly hair, and high temp fade haircuts. These haircuts are worth trying out and will make you look your best any time, any day.
High Top Fade Haircuts
The high top haircut is a gem of the 1980s and the early 1990s. A notable symbol of the golden hip-hop era, the cut is now given a modern look with a sleek high fade along the sides and back of the head. It's highly recommended for men that wish to stand out from the crowd. It normally comes in great options like having a flat top, braided top, dread, or pompadour style. The hairstyle looks very neat and clean and allows the unruly locks of dread to be kept in place.
1. Classic High Top Fade Hairstyle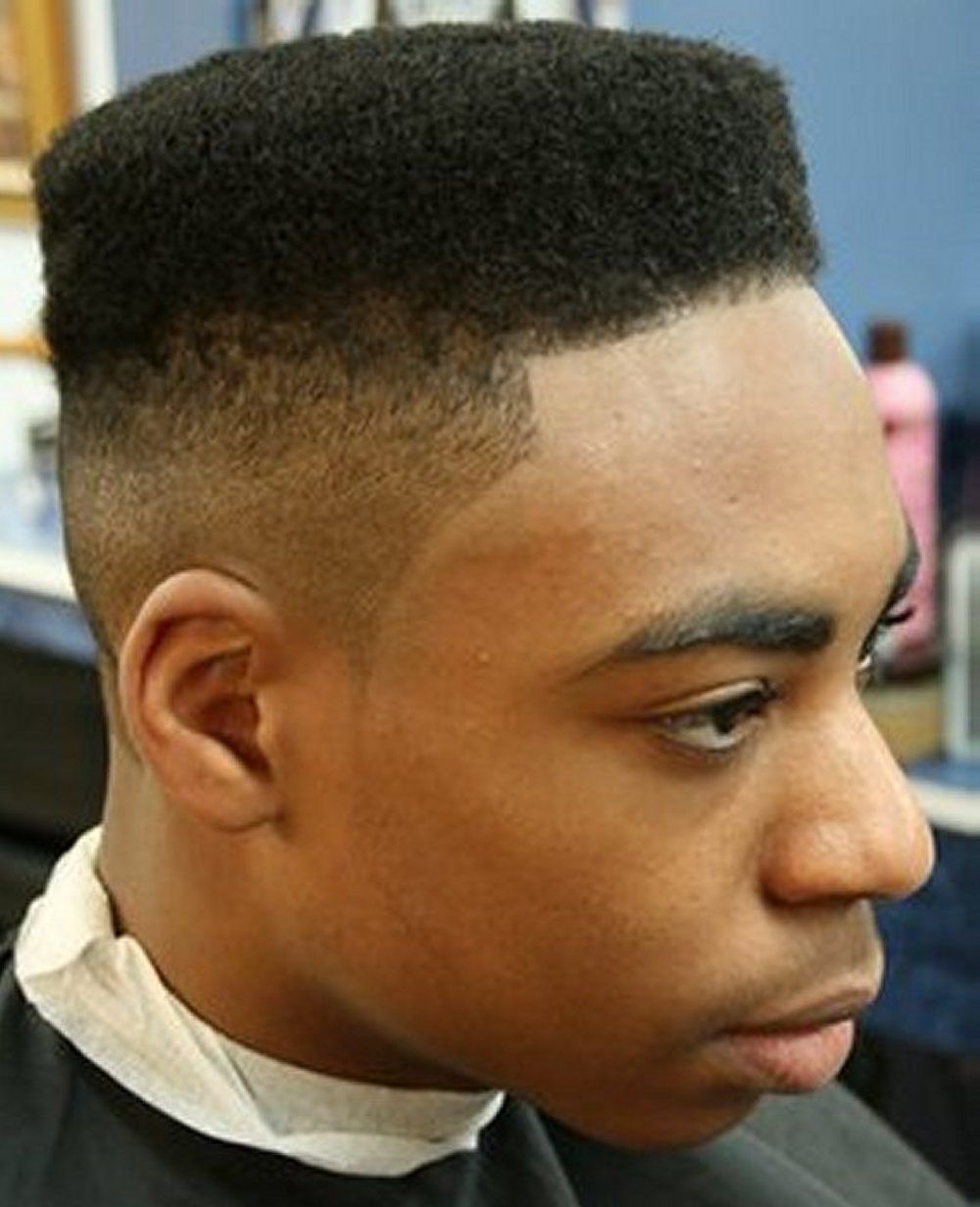 For men seeking to look and feel cool, this neat and sharp cut provides the answer. The high top fade hairstyle looks best on black boys and men with long or medium-length hair. It also results in a great style for those having thick hair textures and fits all face shapes. You can frequently brush the mini afro haircut on top for more sassiness while maintaining it with good hair products.
2. Dread High Top Fade
If you are looking for something that'll back up your coolness, this high top fade combined with dreadlocks can be the perfect option. You can also achieve this look with a low fade or mid-fade cut. However, incorporating high fade to dreadlock style provides that extra stylish edge for the timeless hairstyle. It perfectly fits those with oblong, oval, or rectangular face types.
3. High Top Fade + Hard Part
Combining a modern high top fade haircut with a hard part is the way to the top as it provides an extra edge when it comes to style. The trendy cut is professional and will provide an instant update to your appearance by breathing new life into your hair. The cut is ideal for those with medium-length hair and all face types, though men with round, oval, or oblong-shaped faces are considered the best fit.
4. High Top Fade With Design
As one of the boldest men's haircuts, a clean high fade with design can make a difference. Not only does the style look great on all men regardless of age, but it creates noticeable effects when dyed with bright hair color, as seen in this example. It is an amazing style for those seeking a bold statement haircut that will showcase their personal style.
High Skin Fade Haircuts
High skin fade haircuts are interchangeable with high bald fade haircuts as they have an almost similar look. Ordinary skin fade cut starts almost right down to the skin at the back of the neck and then gradually tapers to the longer hair on top as the clipper works up the head. Then, on the contrary, high skin fade haircuts almost get to the crown of the head before it tapers to the longer hair. This smart yet striking style results in a lot of skin getting exposed.
5. High Skin Fade Undercut on Long Hair
This is the latest modern variant of the popular high skin fade haircut. Team up your undercut high fade hairstyle with a slicked-back look for a cute and laid-back appearance. This style is specifically meant for younger boys and men. The simple, understated style is professional while remaining on-trend. It suits those with oblong face type, square face, and oval face shapes.
6. High Skin Fade on Colored Hair
If you seek to maintain a stylish appearance, this high skin fade-on colored hair may be excellent. While the high skin fade flatters the buzzed sides, the longer colored hair on top creates fullness and depth. The head can also be shaved up to a high point using a razor blade or number 0 clipper size.
7. Fringe High Skin Fade
The fringe hairstyle is another stunning style that can be rocked with a high skin fade. It helps to maintain the best of both worlds by keeping the locks long and closely shaved on the sides of the head. Fringe remains a timeless hairstyle as it always provides that extra stylish edge needed to make one stand out. It looks best on rectangular or oblong-shaped faces.
8. High Skin Fade With Design
In addition to combining high skin fade with a buzz cut in this amazing style, it is elevated with a stylish design to give an elegant and tight finish. The cut offers plenty of contrast which beautifully accentuates the hairstyle on top. The style can also work well with medium-length hair. It is a popular hair trend for men which extends around the world.
Short Hair High Fade Haircuts
Short hair high fade haircut is quite similar to traditional high fade cut. It features a short back and sides and begins to fade just above the temples. The lower the cut goes, the shorter the length of the hair gradually gets. The style's distinctive feature is that it fades to short hair on top, unlike other high fade styles that fade to longer hair on top. The haircut is one of the coolest styles to rock.
9. High Fade + Buzz Cut
A high fade cut with short hair on top is a simple haircut that is easy to cut and style. Interestingly, the buzz cut is one of those haircuts that will always make you look super elegant. By combining both high fade and buzz cut, the result is universally a sexy, trendy style. Also, the elegant-looking haircut is both easy to maintain and style. It looks best on those with oval, diamond, or square-shaped faces.
10. High Fade + Crew Cut
High fade paired with crew cut can be a great bet if you're someone with short hair. It is popular with footballers, and here, former football player Sergio Aguero dons this classy look. You, too, can look equally cool if you get it shaped the right way. Style your short hair with this charming high fade cut, and it'll appear as if you were born with this cool style.
11. High Fade Military Haircut
This is one of the coolest and most trending high fade hairstyles for men. It has a high and tight look that can be sported by any face type and still give a classic yet effortlessly stylish look. The haircut isn't difficult to pull off and can work well with bead or head design. Team it up with your classic apparel to look like a perfect gentleman.
12. French Crop High Fade Haircut
Feel free to showcase the versatility of a high fade cut by opting for this amazing haircut that perfectly compliments the hairstyle. As French crop often involves taper fade alongside a sharp, high fade, the style usually draws admirers. You can even pair the impressive fade art with a hipster beard to complete the freshest look!
High Bald Fade Haircuts
Ranking among today's most popular men's hairstyles is the high bald fade haircut. It features wholly cropped sides and back that reduce right down to the skin level with a longer length on top. This brings about a smooth transition between the various lengths with plenty of contrast. The style has various options to choose from; thus, one is advised to go for a version that suits his taste and face type.
13. Buzz Cut + High Bald Fade 
High bald fade haircut is an awesome style for men. The haircut is easily identified by a smooth range of hair around the scalp. It is fresh and clean-cut, often trimmed super short by the sides to get a stunning look. You can further show off your sense of creativity by grooming your beard to show off your jawline in a stylish manner. The style best fits those with oblong or oval face types.
14. High Bald Fade Pompadour
This sexy and fashionable pompadour offers a stylish way to rock a high fade haircut. The hairstyle garnered popularity in the 1950s and 1960s. It has recently seen a resurgence as it's been given a modern and sophisticated look with sharp, high fade lines. The classic look breathes new life to hair of medium or long length while showcasing the fantastic texture and volume of the hair.
15. Full High Bald Fade 
Full high bald fade paired with taper cut is usually edgy and looks good on most young men. The high taper fade on the sides creates a much-desired contrast to give the haircut a classic and stylish appearance. For a masculine finish, you can add a full beard to enhance the cut. Those who prefer to leave longer hair on top can make their hair thicker by styling it with matte products.
16. High Bald Fade + Braided Hair
Despite being considered a non-professional cut for those with strict dress code rules at work, a high bald fade haircut incorporated into a braided hairstyle looks classy and often has a dazzling effect. The high skin fade provides a new and unique way to style braids while keeping them off the shoulders. Hence, transforming the style into a sculptural, modern hairstyle.
High and Tight Fade Haircut
The high and tight fade haircut is simply a type of high fade style that creates a remarkable bold contrast between the back, the top, and the sides of the head. The style quickly transitions from longer hair on top to very short sides and back. It is considered a simple hairstyle and doesn't necessarily need a styling product for maintenance. As such, the haircut is a great option for men who are busy and don't have enough time to spend on styling their hair.
17. Classic High and Tight Fade Haircut
Yes. You can always get a classic high and tight style when you go for a high fade haircut. This will add elegance to your haircut while retaining a masculine appeal. The shaved line makes the buzzed sides appear cool and bold. To get the hair on top looking more dapper and tight, you may opt for good hair styling products.
18. High and Tight Fade + Flat Top
How you wish to wear the hair on top of your head plays a key role in deciding which high and tight fade hairstyle to go for. For an easy and simple option, you can create a flat top look. The length should be just enough to show off the natural texture of your hair and the practical short sides as well. The amazing combination is easily manageable and has a sleek appearance.
19. High and Tight Fade + Straight Hair
A high and tight fade cut is sometimes considered a military haircut for its sharp and clean look. However, the hairstyle looks particularly polished on straight hair, thanks to the natural straight strands that enhance the look. This haircut is an excellent option for those whose locks are free from waves, kinks, and curls, as it will give a dapper look.
20. High and Tight + Hard Part
One of the amazing things about high and tight fade haircuts is that it works well for all hair types. You can add a positive vibe and excitement to the sharp style by incorporating a hard part to your cut. Even if your hair is not long enough to give a charming appearance, the shaved line will give the illusion of a stylish side part. The style suits almost all face types.
High Taper Fade Haircut
Combining taper cut with high fade often looks elegant, thanks to its clean lines—the gorgeous style results in a high contrast tight look. The cut starts near the top of the head and slowly tapers down the sides. The high fade cut usually blends the hair on top easily, and this can be achieved with a number 0, 1, 2, or 3 clipper size. The classy haircut is versatile and instantly recognizable as it typically features a gradual fade to the skin from almost the top of the head.
21. High Taper Fade Haircut with Long Hair on Top
When combined with a high fade, Taper cut oozes a sophisticated look loved by gents seeking to make a statement with their haircut. Amazingly, the cut is versatile as it works with various styles on top. The haircut here is perfect for men with medium to long hair. It looks cool and retains a masculine look at the same time. The tapered cut keeps the hair sleek and stylish.
22. High Taper Fade + Curly Top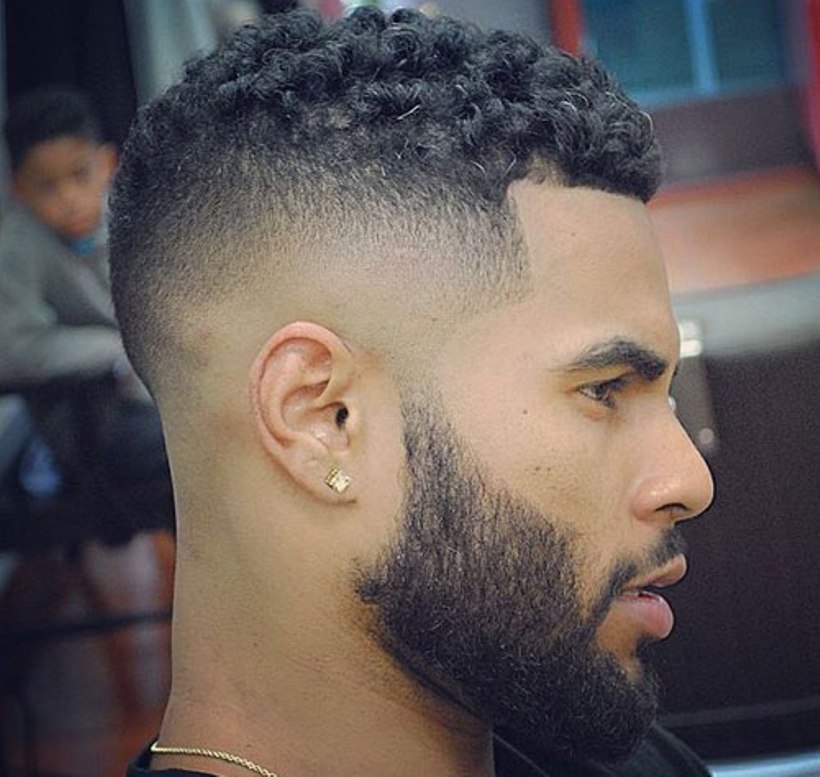 If you're looking for a high fade haircut that fits curly hair, add a taper cut to your style to give it the best look. This haircut offers curls some structure, and minimal time will be required for styling the curls. It specifically suits men with oblong shape, oval, or square shape face types. To update your overall appearance, you can groom your beard to a long or medium length.
23. Brush Back High Taper Fade 
Who says you can't do brush-back hair in style? Well, you can always do so with the high taper fade cut meant for men of all ages with textured hair. The haircut seamlessly blends with a voluminous hairstyle on top like brush back, a pompadour, or mohawk. However, it requires styling products for neat maintenance. The style creates a classic yet incredibly sexy look.
24. High Taper Fade + Mohawk
One of the easiest ways to get a mohawk look is with a high taper fade. Not only does the cut act as a subtle frame for your face, but it also gives an intense effect. As one of the most traditional cuts for men, mohawk has a classic and timeless appeal. It looks sharper when paired with a high taper fade.
High Fade Haircut For Curly Hair
If you are looking for a haircut that gives the coolest looks to all types of curls, then you should opt for high fade styles when next you visit a barbershop. The sharp and classy cut creates a soft fade down the neck and a shorter length on the side that smoothly fades into the textured curly hair on top. This can be achieved with high taper fade, high skin fade, high top fade, or high bald fade.
25. High Skin Fade Curly Hair
We all know that styling curly hair can be somewhat challenging, but giving the hair a high skin fade cut makes the curls easier to style and work with. High skin fade curly haircuts with a shape-up hairline are usually classy, professional, and flattering. The high fade cut accentuates the curls on top, creating an edgy hairstyle with tons of visual contrast.
26. High Taper Fade + Curly Blowout
Curly blowout is an effortlessly cool hairstyle for gentlemen looking for a classic, professional cut that can be worn on any occasion. Combining it with a high taper fade further compliment the style, focusing attention on the curls. The sleek and clean haircut is one of the best ways to style curly hair, giving it a sophisticated appearance. You can use good hair products like pomade and light hold cream to tame and shape the curls.
27. High Top Fade on Curly Hair
Pairing curly hair with a high top fade provides a modern and masculine appearance with a touch of flair. The stylish haircut allows men to trim their curly hair short or even leave some length. The visual contrast it creates beautifully emphasizes the style on top, and this has made the cut to be trendy in recent years. The haircut best suits those with oval, oblong, heart-shaped, or diamond-shaped faces.
28. Curly High Fade With Hard Part
Feel free to experiment with your natural curls by defining them with a smart side part added to the high fade cut. Interestingly, the style works with all hair lengths and textures. To create a more appealing look, you can add a shape up along the hairline to create sharp, crisp lines. The haircut suits all face types.
High Temp Fade
Also referred to as temple fade, temp fade is an excellent haircut for smart men. With high temp fade, the fading reaches almost the crown of the head before getting longer on top. It gets its unique and stylish look by featuring a cool taper fade around the temples. The hairstyle is ideal for men who wish to incorporate a high fade into their appearance without dramatically thinning their hair. Though mostly combined with shape-up, the hairstyle now has many variations to select from.
29. Textured Crop High Temp Fade
It's not new that high temp fade gives textured hair a fresh new look. So if you are looking for a cool high fade cut that will make you look sharp and stylish, this haircut has the answer. It adds a polished twist to your natural locks while sensationally showcasing the texture and volume of your hair. The haircut normally creates a sleek appearance.
30. High Temp Fade With Fauxhawk
You can give your style a great boost with a high temp fade paired with a fauxhawk, as seen in this example rocked by Maroon 5 member Adam Levine, who offers a more dramatic take on the fade cut. Fauxhawk, which is a more subtle version of a mohawk, works well with a nice taper. Thus, making the style an eye-catching and awesome hairstyle for gents. It looks best on those with oval, square, or oblong-shaped face types.
31. High Top Temp Fade 
Symbolizing a golden-era hip-hop haircut is the high top temp fade. The flat-top cut is a masculine and athletic style popular in the '80s and '90s. Combining it with a high temp fade takes the style from retro to modern. Men worldwide come back to the style year after year because it looks so smart and stylish.
32. High Temp Fade + Mini Afro 
You can have the best of both worlds by pairing high temp fade with a mini afro style. High temp fade is a good choice for men with a mini afro. Framing the face with the fade cut makes the facial features look sharper. The haircut is quite popular, and interestingly, it perfectly fits all face types. Its maintenance is less challenging compared to the full afro style.
Conclusion
High fade haircuts are one of the boldest men's hairstyle trends. It has various fade cuts to choose from that can instantly update your overall appearance. Not only do the hairstyles give that much-needed extra edge, but they rank as low maintenance cuts that hardly require barber visits for upkeep.
Additionally, the classic and sleek haircuts offer men the opportunity to try out tons of modern hairstyles, ranging from high top to brush back, a pompadour, or a faux hawk. A clean high fade cut can make all the difference that you so much desire!