Although several pieces of information suggest Brittney Griner could be transgender, it might interest you to know that she is not, and neither is she a man; instead, she is a lesbian, and proudly so.
Even though the athlete had not kept her sexual orientation under wraps in the past, she came out publicly as a lesbian in 2013. The revelation not only cleared the air about her gender identification but also ended debates about whether she was a man or a woman.
So Is Brittney Griner Trans?
Brittney Griner is not transgender. Several people previously raised questions about her gender due to several irregularities about her personality, such as her unusual physique. Griner's intimidating build can be more comfortably compared to that of male basketball players than her female counterparts.
While it is not something out of the ordinary to see female basketball players who stand 6 feet tall, Brittney's height of 2.0 meters (6 feet 9 inches) makes her one of the tallest female basketball players in America.
On the international scene, there are only three female players who surpass her in height: the late Margo Dydek- 7 feet 2 inches, Bernadett Határ- 6 feet 10.5 inches, and Han Xu- 6 feet 10 inches. She also dwarfs a decent number of male players.
In addition to her 'outrageous' height, the Women's National Basketball Association (WNBA) also has an 88-inch wingspan, which is not usually seen among females. As if that isn't enough, she also wears men's size 17 shoes.
The issue of Brittney Griner's gender identity was one that left many completely puzzled and perplexed while trying to demystify it. However, the basketballer came to the rescue in 2013.
She Came Out Publicly as a Lesbian in 2013
Although she never kept her sexual identity a secret, it was in the course of an interview with SI.com on February 11, 2013, that Brittney publicly accepted she was gay for the first time.
Responding to a question about how hard it was for her to come out because she was a famous athlete, she said it was not too difficult. "I wouldn't say I was hiding or anything like that. I've always been open about who I am and my sexuality. So, it wasn't hard at all," she said.
The Phoenix Mercury center further explained that if she could show that she was out and that she's fine, hopefully, the younger generation of gay people would also understand that it was okay to come out. Meanwhile, Griner first came out to her mother, Sandra, during her first year in high school.
But even though she was a daddy's girl as she once described herself, she couldn't bring herself to tell her father, so she hid her sexuality from him until her senior year. Sadly, when he eventually found out, he threw her out, and as a result, she had to stay with her assistant coach for about six weeks.
However, speaking of the experience, according to a report on Aljazeera America, Brittney said it made her a tough person. "It made me just have a hard outer shell. He definitely prepared me for life because people aren't always nice," she added. Thankfully, the father and daughter now have a good relationship.
Brittney Griner is a Texas Native
Born Brittney Yevette Griner on October 18, 1990, in Houston, Texas, the athlete is of black ethnicity and an American citizen by virtue of her place of birth. She is the daughter of Raymond Griner and Sandra Griner.
While it is known that her father is a Marine veteran of the Vietnam war, where he served in 1968 and 1969 and was also a sheriff under Harris County in Texas, there is nothing known about her mother beside her name.
Brittney is the youngest of her parent's children. She has three older siblings named Shkera, Pier, and Decarlo but other than their names and the fact that they are biologically related to the WNBA star, there is virtually no information about them on the internet.
What Was Brittney Griner As A Kid?
Brittney had a normal childhood as she grew up in a stable home surrounded by her parents and siblings. She enjoyed several memorable moments with her family, and among these memories were the times she spent sewing with her mother. Details of her elementary education are unavailable, which probably means that those years went by without any particularly notable event(s).
Things, nevertheless, took a different turn when Griner's body started changing after she got into middle high school. During the time, she was head and shoulders above her classmates. The same was the case when she got into Nimitz High School in Houston.
Her size and signature masculine voice made her the subject of teasing in school. As she told Aljazeera America in 2014, she was called a freak for being different, and that was her worst nightmare because she desperately wanted to fit in. "I mean, what child doesn't want to fit in?" Brittney asked.
Confirming what the basketball center went through in high school, her friend Kimberly Barnes who she met in seventh grade and became close friends with in their junior year of high school, said she knew what Brittney went through because she was there.
"I really felt for her," Barnes said. According to her, Brittney is a woman, irrespective of how you look at it. Unfortunately, she said, nobody wants to hear that. "And I know somewhere deep inside it hurt her."
The taunting became so bad that Griner got tired of living and considered committing suicide. However, she was able to pull through that phase of her life. "I don't know how I did it on my own; looking back, I definitely couldn't have went through it again," she said.
Is Brittney Griner Married?
Brittney Griner is married to Cherelle Griner. As a matter of fact, her current marriage is her second, as she was previously married to Glory Johnson. Her first marriage crashed even before it started, but it appears she has left everything about it behind her and is now enjoying a more stable union with her current wife.
The NBA Star Got Married The First Time in 2015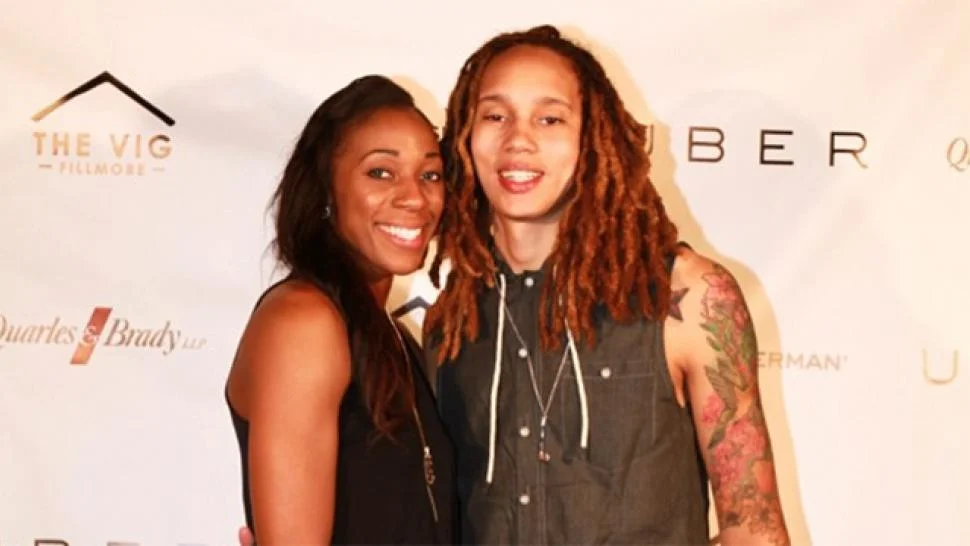 Brittney Griner's first marriage was to her fellow basketball player Glory Johnson. Owing to the fact they are both NBA players, it might not be wrong to assume that they met within the basketball circle.
Griner announced her engagement to Glory on August 14, 2014. Surprisingly, eight months after the announcement, both of the women got involved in a heated physical fight in their suburban home in Phoenix, Arizona. The police arrested and charged them with assault and disorderly conduct.
The incident notwithstanding, the couple tied the knot barely one month later, precisely on May 8, 2015, in Phoenix. The following month (on June 4, 2015), they announced that Glory was expecting twins.
Shockingly, the very next day, Griner filed for the union to be annulled, citing fraud and duress. However, she was denied. They subsequently finalized their divorce in June 2016, about eight months after Glory gave birth to their twin daughters.
Brittney Griner's Second Wife is a Law School Graduate
Not long after her marriage to Glory ended, Brittney got involved with her current wife, Cherelle Griner (nee Watson). Born on July 10, 1992, Cherelle studied Political Science and Government (major), Family and Child Studies (minor) at Baylor University, Texas, from 2010 to 2014.
In August 2019, she enrolled in North Carolina Central University School of Law and graduated in May 2022. Brittney and Cherelle met for the first time as undergraduates at Baylor University. Still, they only became an item after reconnecting years later following Brittney's crashed marriage to her first wife.
Revealing how they met again, Brittney, in an Instagram post, wrote, "I will never forget the day I met you at Baylor in the sub-area! You tapped me on my shoulder and told me I took your milkshake (still up for debate, lol), and I was immediately blown away at your beauty!"
She further disclosed that she immediately knew that Cherelle was the one for her. The ladies subsequently started dating, and in August 2018, Brittney popped the question. On June 18, 2019, they got married. Since then, the couple has remained together.