Jackson Mahomes is straight and not gay. He is not married and does not have a girlfriend currently.
Social media personality, Jackson Mahomes, is focusing on growing his presence on TikTok and registering his name among major social media influencers. Thanks to his viral sideline dances during the Chiefs' 2020 Super Bowl run, which launched him into the limelight, he has earned millions of fans. However, his popularity has not been void of controversies.
He has come under fire for what fans described as a disrespectful attitude and has also been trolled by online bullies over rumors about his gender and sexuality. All these and more got him so irritated that he couldn't help but take to his Instagram story in March 2022 to declare his hate for the media, which according to him, was destroying his life.
Is Jackson Mahomes Gay or Straight?
Jackson Mahomes is straight and not gay, as believed by some people. The TikTok personality made the revelation in his first YouTube video, which he posted on his self-named channel on May 15, 2020, saying, "I am not gay, I am attracted to girls…".
In the video, he said he gets a lot of questions regarding his sexuality due to his voice, which most people think sounds feminine, and also because of his dances on TikTok.
According to him, his voice is his major insecurity, and he hates hearing it. "…I got so much hate from it. I get so much judgment for my voice. Everyone automatically assumes, as soon as I start talking, Are you gay?"
Jackson stated that he feels hurt when people ask him questions of that nature. He also explained that such a judgmental assumption, in his opinion, was disrespectful.
The TikToker is a Constant Victim of Homophobic Abuse
Despite making it clear that he is straight, many people have refused to let go of their belief that Jackson isn't gay. As a result, they usually use that as an excuse to hurl insults at him both online and offline. Whenever he makes a post on Instagram or Twitter, most of these people would quickly go to the comment section to type "gay," while others would throw all kinds of abuse at him.
As bad a situation as this is, Jackson Mahomes has had to live with it for years. In 2020, when his older brother, NFL quarterback Patrick Mahomes, won the Super Bowl, many disgruntled people unleashed their anger on him (Jackson), throwing homophobic insults at him.
Unable to stay calm any longer, he decided to respond. Along the line, he revealed that in addition to the public comments, thousands of people also sent him insulting messages privately. He further disclosed that he was thinking of writing to the employees of his haters and sharing the messages he received with them.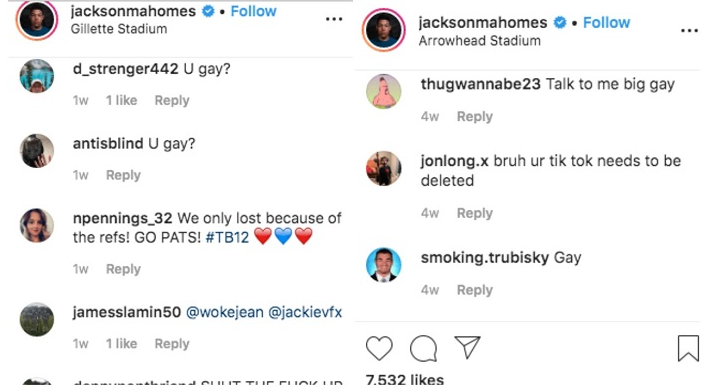 Two years have passed since then, and Jackson Mahomes still suffers homophobic abuse once in a while. For example, he was on the sideline recording his TikTok videos during a Kansas City Chief game in March 2022 when a fan whose identity is unknown decided to hurl homophobic abuses at him using a 
Is Jackson Mahomes Transgender? 
Jackson Mahomes is not transgender; he was born a male and is still a male. Any rumors about him being transgender may originate from the fact that he possesses some features common to women. For example, the way he strikes his poses for pictures and the way he smiles has some feminine aura which can easily make anyone assume he was probably born female but later transitioned to male.
Additionally, people may conclude that Jackson is transgender judging by his dances on TikTok videos, which usually look girly, and also because of his voice, which sounds feminine, according to most people.
Does Jackson Mahomes Have A Wife?
Jackson Mahomes does not have a wife. He is not and has never been married. However, his older brother, Patrick, is. The NFL star tied the knot with his high school lover on March 12, 2022, in Hawaii, and Jackson was among the groomsmen.
Who is Jackson Mahomes' Girlfriend?
The identity of whoever Jackson's girlfriend is, if any, remains unknown. It is possible that he is not involved with anyone at the moment, and it is also possible that he has a girlfriend but has chosen to keep her away from the spotlight. Whatever the case, we are yet to know who the t TikToker is dating.
However, he has been romantically linked to a few women in the past. In March 2022, it was rumored that he was romantically involved with another TikToker named Dayna Marie. The speculations started making the rounds after the popular tabloid website TMZ shared a short video of them kissing. Nevertheless, neither of the duo has confirmed if they are/were dating.
There have also been speculations that Jackson might be dating Amaya Ward, who he says is his best friend. They truly share a very close relationship, judging by their activities on social media, and they usually retweet each other's posts on Twitter. On one occasion, Jackson tweeted that he was missing her, but knowing she would be back in a week made him happy.
Really missing MY best friend right about now, and knowing she about to be home in a like a week makes me happyyy pic.twitter.com/9cAJMhOQjy

— Jackson Mahomes (@jacksonmahomes) September 11, 2018
Naturally, such closeness is bound to raise suspicions that the duo may be dating, but so far, there is nothing to prove this.
Is Jackson Mahomes Dating Emma Herrington?
Jackson Mahomes is not dating Emma Herrington. He can't even date her if he wants to because they are biologically related and are first cousins. However, we are yet to know which of their parents are siblings.
Although they are not siblings, Jackson and Emma share a very close relationship, and it's been that way since they were little. We see their love for each other in the many pictures of them they post on their social media accounts.
Celebrating Jackson's 21st birthday in 2021, Emma described him as her "best friend for life," adding that she wouldn't know what to do without him. She went on to say that their parents would not have been able to deal with them if they were siblings, so God decided to make them cousins.