Jaden Smith (born July 8, 1998) is 25 years old now, but he has already achieved and experienced what many people will not be capable of achieving in several lifetimes. Thanks to his heritage as the son of two acclaimed actors, Smith dabbled into showbiz quite early and has made the best of it.
Jaden Smith was 12 years old when he featured in The Karate Kid in 2010 and 15 years old when he featured in After Earth
From movies to music, Jaden Smith has left footprints that will make any parents proud. He has become an iconic figure in the fashion world thanks to his willingness to breach boundaries and barriers.
Apart from entertainment, Jaden Smith also joins the battle to save the planet and has a sustainable water company to his name. Though there have been controversial moments over the years, no one can take away what this young fellow has achieved in such a short time too.
Summary of Jaden Smith's Biography
Full name: Jaden Christopher Syre Smith
Date of birth: 8th of July 1998
Age: 25 years old
Birthplace: Malibu, California
Nationality: American
Ethnicity: African-American
Father: Will Smith
Mother: Jada Pinkett Smith
Siblings: Trey Smith and Willow Smith
Occupation: Actor, fashion designer, and musician
Net worth: $8 million
Height: 5 feet 8 and a half inches (1.74m)
Weight: 65kg (143 lbs)
Hair color: Brown
Eye color: Brown
The 25-Year-Old Jaden Smith is the Son of Acclaimed Actors, Will Smith and Jada Pinkett Smith
Jaden Smith was born on the 8th day of July 1998 in Malibu Beach, California. He has grown up to be an all-around entertainer, and this is due to the influence of his own parents, Will Smith, and Jada Pinkett Smith. As at the time that Jaden was born, his father had already tried his hands at rap music before becoming a household name thanks to his leading role on the NBC TV series, The Fresh Prince of Bel-Air.
He then successfully transitioned from TV to films and had numerous blockbusters, such as Independence Day and Men in Black, to his name even before Jaden was born. He will go on to accumulate other blockbusters to his name and now has his own production company.
Jaden's mom, Jada Pinkett Smith, has never headlined blockbusters, but she is also accomplished. She first garnered attention for landing a string of minor roles in several movies and TV series in the 90s.
Following Jaden's birth, she resumed her career at full force and would go on to appear in popular movies such as The Matrix Reloaded, The Matrix Revolutions, and Gotham. Jada Pinkett has also tried her hands at music with a heavy metal band known as Wicked Wisdom. Her present exploit is the Emmy-winning talk show, Red Table Talk, which has attracted the crème de la crème in entertainment and pop culture.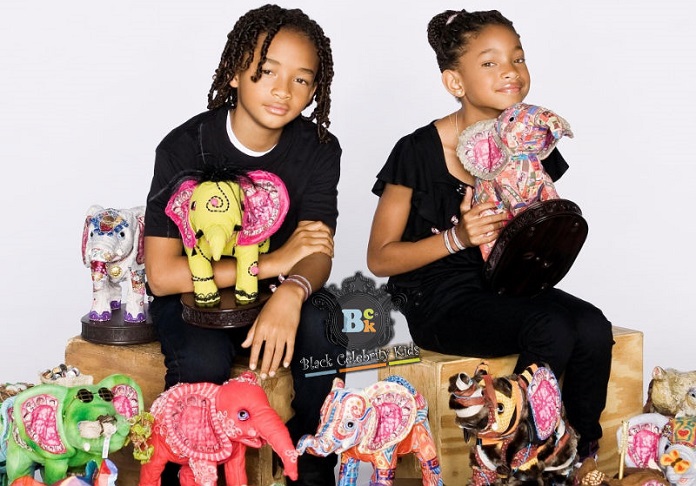 He Grew Up In Calabasas and Attended the New Village Leadership Academy Founded By His Parents
Jaden Smith grew up in places such as Malibu and Calabasas, which is home to numerous Hollywood celebrities. His childhood home was probably a glitzy mansion, and he regularly accompanied his parents to red-carpet events. Despite all these perks, Jaden Smith still had a pretty lonely childhood.
The fact that his parents were quite popular meant that people found it hard to behave normally around him. They were inevitably star-struck, and the young boy soon found himself questioning if he was actually normal. He would carry these heavy feelings all throughout his childhood years, and school did nothing to help.
Rather than attending a regular public school or even an elite private school, Jaden was home-schooled up until the age of nine when his parents now founded their own private school known as The New Village Leadership Academy.
The school combined several innovative teaching methods and was aimed at making the learning environment a fun one for the kids. Despite these noble objectives, it was mired in controversy as a result of its link to the Church of Scientology. It was eventually shut down in 2013, and a 15-year-old Jaden resumed homeschooling with his parents.
This marked the end of his enrollment in formal schools, and it doesn't seem he ever got his diploma. The actor/singer has since come out to encourage people to drop out of school as it is a brainwashing tool. He has also claimed in tweets that if everybody in the world dropped out of school, we would have a more intelligent society. This has predictably fetched him lots of criticism.
Jaden Smith Began Acting at Age 5, and by Age 8, He Starred Alongside His Dad in the Movie, The Pursuit of Happyness
Having grown up with parents who were multitalented entertainers, Jaden Smith had brushes with showbiz at an early age. If he wasn't accompanying his parents to red-carpet movie premiers, he was visiting them on movie sets. He was also recruited by some non-profit organizations to help them champion many worthy initiatives.
Jaden practically grew up in the spotlight, and it wasn't long before he started harboring thoughts about doing some showbiz work of his own. Luckily his parents were there and offered him a small role in the TV series they had created, All of Us. This was in 2003, and a five-year-old Jaden Smith made his professional debut by portraying a little boy named Reggie on the series. He appeared in a total of seven episodes of the show from 2003 to 2006.
Smith's family background also helped him land his first movie role in the 2006 movie, The Pursuit of Happyness. The Pursuit of Happyness focused on a father-son duo, Christopher and Christopher Jr., and the directors believed that it wasn't a bad idea to get a real-life father and son to portray the role.
They hired Jaden's father, Will, and soon enough, the young boy was also cast as Christopher Jr. Jaden was about eight years at that time and a bit older than the real-life Christopher Jr., but he nevertheless gave an overwhelmingly winning performance, and this fetched him several awards including the Teen Choice Award for choice movie chemistry and the MTV Movie Award for breakthrough performance.
He was also nominated for a slew of other awards, such as the NAACP Image Award for outstanding supporting actor in a motion picture and the Black Reel Award for best breakthrough performance.
Some of Jaden Smith's Most Notable Movies include Karate Kid and The Day the Earth Stood Still
Most people have to toil for years to get a breakthrough in Hollywood but this was not the case with Jaden Smith as his famous parents lent him a helping hand in the early stages. He has now gone on to prove that he is a talented actor appearing in several movies and TV series such as The Get Down, Neo Yokio, Life In A Year, Skate Kitchen, After Earth, and Karate Kid. 2010's Karate Kid is a remake of a popular movie of the same title.
In it, Smith plays the lead role of Dre Parker, a 12-year-old who relocates to Beijing and has to deal with local bullies. Helping him out is an aging maintenance man and Kung Fu master who teaches him martial arts. Jaden was about 12 years old when he featured in Karate Kid, and it was a perfect way to shrug off any accusations of nepotism that may have dogged his career.
The movie received good reviews and made $359.1 million on a budget of $40 million. It also fetched him a slew of award nominations, including nominations for the BET Award for YoungStars, the Young Artist Award for the best leading young actor in a feature, and the Teen Choice Award for the choice summer movie star. Another notable work of Jaden Smith that has also fetched him an award is the 2008 sci-fi movie, The Day the Earth Stood Still.
In it, an eight-year-old Jaden plays the role of Jacob, the stepson of a scientist working to prevent the destruction of the human race by aliens. Jacob's relationship with his stepmother was an important part of the storyline, and Jaden Smith portrayed the role so well that he won the Saturn Award for best performance by a young actor, which ranks amongst the highest awards that he has received to date.
List of Jaden Smith's Movies and his Age at The Time of Filming:
Jaden Smith's Movies:
The Pursuit of Happyness (2006) – 8 years old.
The Day the Earth Stood Still (2008) – 10 years old.
The Karate Kid (2010) – 12 years old.
Justin Bieber: Never Say Never (2011) – 13 years old.
After Earth (2013) – 15 years old.
Skate Kitchen (2018) – 20 years old.
Justin Bieber: Seasons (2020) – 22 years old.
Impractical Jokers: The Movie (2020) – 22 years old.
Life in a Year (2020) – 22 years old.
A Man Named Scott (2021) – 23 years old.
Jaden Smith's TV Shows:
All of Us (2003-2006) –  Between 5 and 8 years old.
The Suite Life of Zack & Cody (2008) – 10 years old.
The Get Down (2016-2017) – Between 18 and 19 years old.
Neo Yokio (2017) – 19 years old.
Nashville (2017) – 19 years old.
The Proud Family: Louder and Prouder (2022) – 24 years old.
Entergalactic (2022) – 24 years old.
Jaden Smith's Career Awards
2006 Teen Choice Award for choice movie chemistry
2006 MTV Movie Award for breakthrough performance
2006 Broadcast Film Critics Association Award for the best young actor
2008 Saturn Award for best performance by a young actor
2013 MTV Movie Award for Summer's biggest teen badass star
Jaden Smith Dropped His Debut Album, Syre, at the Age of 16
Just like his parents before him, Jaden Smith is not restricting his career to just acting but has also spread his wings to the music world. He provided some cool rap lyrics for Justin Beiber's song, Never Say Never, in the year 2010. He was only about 12 at that time, and his youthful voice helped to make the song a monster hit single. It reached No. 8 on the Billboard Hot 100 and sold about five million copies. Jaden Smith has since released multiple mixtapes. He also has three albums, namely Syre, Erys, and CTV3: Cool Tape Vol. 3.
Jaden Smith dropped his first album, Syre, at the age of 18 in 2016. It featured tracks such as Fallen, Batman, Watch Me, Falcon, and Icon and reached 24 on the Billboard Top 200 albums charts. It also sold about 20, 000 copies. Smith performed a bit better with his second studio album, Erys, which he dropped at the age of 21 in 2019. It was a combination of hip-hop, trap, and punk rock and reached No. 12 on the US Billboard Top 200 albums charts. It also sold about 24,000 copies.
The Award-Winning Actor is a Fashion Icon and Has His Own Clothing Brand
Asides from music and movies, Jaden Smith has gone a step beyond to establish himself as a fashion icon in Hollywood. Smith first showed signs of his forward-thinking style when he wore a white Batman suit to Kim and Kanye's wedding in 2014. The look stunned many, but he did not care one bit as he felt like Batman and wanted to protect the guests there. Since then, the actor has maintained a gender-fluid style and has no qualms about wearing skirts or other traditional female wear. He wore a black blazer, a black tunic, and a white skirt while attending prom with actress Amandla Stenberg in 2015. In 2016, he wore a skirt while modeling womenswear by Louis Vuitton.
Beyond wearing other people's clothes, Jaden Smith is also putting his own stamp on fashion by creating his own clothing line. Back in 2013, he launched his streetwear brand known as MSFTSrep. It features contemporary and eclectic hoodies, t-shirts, trousers, vests, etc, and continues to make waves to date. Asides from MSFTSrep, Smith joined hands with G-Star Raw to launch his own denim brand in 2018. Beyond the profits that he made from it, the most important thing about the collaboration for Smith was that it yielded a line of sustainable jeans.
Jaden Smith's Sustainable Water Brand, Just Water, is Valued at $100 Million
Sustainability is not just a fad for Jaden Smith. The actor and musical artist is deeply concerned about the state of our planet and is committed to doing his bit to help out. For one, he is a vegetarian. He has also co-founded a sustainable water company known as Just Water.
Just Water was inspired by Smith's desire to battle the plastic pollution that is clogging our oceans and choking the marine life there. He, therefore, established the company as an eco-conscious brand in 2015, and they remain committed to that ideal to date. Just Water comes in a carton that is 90% derived from plants. The plants utilized are Brazilian sugar cane trees which don't need much to sustain themselves naturally.
The water itself is ethically sourced from Glen Falls, New York, in such a way that the company does not have any negative impact on the community water draw. Despite the fact that it is a bit expensive, Just Water has proven attractive to ethical buyers.
It is available in a dozen countries around the world and now has a natural flavor-infused water line. Just Water now has a valuation of $100 million, and they have plowed back some of their profits into society. For instance, the company has assisted several American cities facing water crises with the so-called water boxes that can provide them with clean drinking water.
Jaden Smith Could Potentially End Up as Successful as his Parents in the Nearest Future
With several movies, awards, and music albums to his name, Jaden Smith is every inch a success, but he is not yet as successful as his parents. Let's take Dad, Will Smith, for instance. He has constantly ranked amongst the highest-paid movie stars in the world and has featured in several blockbuster movies.
In fact, he holds the record as the only actor to have eight consecutive films gross over $100 million each at the U.S. box office. He has also been nominated multiple times for prestigious awards, such as the Oscars and the Golden Globes.
Even beyond movies, Will Smith owns a thriving production company known as Westbrook Studios that has several projects, including a dramatic adaptation of The Fresh Prince of Bel-Air. All these have enabled him to acquire a net worth of $350 million, which dwarfs Jaden's net worth of $8 million.
Another person whose net worth is far more than Jaden's is his mother, Jada Pinkett Smith. Even though Jada Pinkett never reached the heights of her husband's movie career, she has maintained steady work over the years. She is now making waves with her controversial albeit interesting Red Table Talk Show. She has been able to gather a net worth of $50 million.
Jaden Smith is still lagging behind his parents in terms of achievement, but he could possibly surpass them someday, given how early he started out. He was already a big star by the time he was ten, unlike his parents, who had to toil into their 30s before getting their big break. Then again, Hollywood is littered with several child stars who have not gone on to fulfill their potential. Therefore, only time will tell if Jaden Smith will ever be as successful as his parents.