Eric Marlon Bishop, popularly known as Jamie Foxx is 5ft 9 or 175.3 cm tall and is an academy award-winning actor, comedian, and singer.
Jamie Foxx was born on 13 December 1969, making him 53 years old, however, growing up, Jamie Foxx had hoped to become a professional American football player but you might argue that it was because he did not have the height to play the sports at a professional level, he chose to focus on other things. But if that was the case, Foxx would not have opted to go into a career in showbiz as the height of the average actor in Hollywood is 5 feet 10 inches.
Foxx has obviously been shorter than most of the people he has worked with, but that has not hindered him from winning major awards for his work.
Jamie Foxx's Height and How It Affected His Career
Jamie Foxx is 5 feet 9 inches (1.75 m) tall. His height (or lack of it) has not in any way affected his career, seeing that he has received wide recognition for his work. In 2004, he received critical acclaim for his portrayal of Ray Charles in a biographical film about the blind music legend. Foxx's performance saw him become the second actor to win all five major lead actor awards (Academy Award, BAFTA, Screen Actors Guild Award, Critics' Choice Movie Award, and Golden Globe Award) for the same performance.
Other film projects that have garnered him wide acclaim include Jarhead (2005), Dreamgirls (2006), Django Unchained (2012), Annie (2014), Baby Driver (2017), and Just Mercy (2019). Clearly, Foxx's height has not hindered him from getting any roles in Hollywood, even though most men in the industry are taller than he is. It has been a long time such a thing was an issue in Hollywood as directors have found ways to make sure that talented people get to play major roles and are not hindered from doing so because they do not fit the stereotypical height expectations of the audience.
Tricky camera angles and boxes for actors to stand on are some of the techniques employed when shooting movies with shorter actors to make them appear taller. Regarding his other careers as a comedian and musician, his height has in no shape or form contributed or affected his success. As you would soon see, many others, both taller and shorter than him, have had better and worse careers than him.
Jamie Foxx's Height Compared To The Height Of Other Entertainers
Jamie Foxx's Height is about 7 inches Taller Than Kevin Hart Who Is 5 feet 2 ½ inches Tall
For the past decade, Kevin Hart has outrightly been the biggest comedian in the world. Also, a triple threat entertainer like Foxx, he has dabbled into acting and music but has been more successful in the former than in the latter. Hart began his career in comedy in the 2000s. After taking some time to develop his comedic style, he grew a fan base and started going on comedic tours. These tours were later documented and released as either documentaries or features in movie theatres.
The first one released in 2009 was titled I'm a Grown Little Man. After that, he put out Seriously Funny in 2010, Laugh at My Pain in 2011, Let Me Explain in 2013, and Kevin Hart: What Now? in 2015. In movies, Kevin Hart has appeared in several box office hits. They include Think Like a Man (2012) and its 2014 sequel, Grudge Match (2013), Ride Along (2014) and its 2016 sequel, Central Intelligence (2016), and Jumanji: Welcome to the Jungle (2017), among others.
As a musician, Hart hasn't enjoyed as much success as he would have hoped. He has released a couple of songs that featured artists like Trey Songz and T.I., but his career on that front did not quite take off. With Hart being hugely successful in his career, it is clear to see that only his talent and not his height has played a role in his success. He is 5 feet 2 ½ inches (158.8 cm) tall, about 7 inches shorter than Jamie Foxx.
Jamie Foxx's Height is 7 inches Shorter than Dwayne Johnson's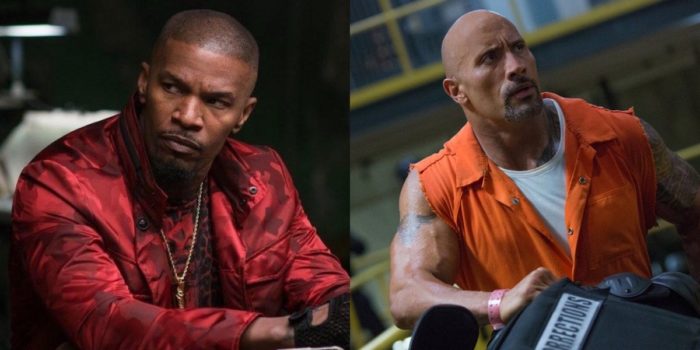 Jamie Fox and Dwayne Johnson have not appeared in any projects together. However, if they ever get to work together and appear in the same scene, Foxx would need more than camera angles and boxes to appear as tall as his colleague. Johnson, who also goes by the name The Rock from his wrestling days, stands at 6 feet 5 inches (196 cm) tall, 7 inches more than Foxx.
However, when comparing their careers, there isn't so much of a gap as there is in their height. While Johnson's movies have performed very well in the box office, making him one of the world's highest-grossing and highest-paid actors, he hasn't received any notable award/recognition from his peers for his work. On the other hand, Foxx has taken home all the awards from the major award-giving bodies.
How Tall is Jamie Foxx Compared to Denzel Washington?
Denzel Washington is taller than Jamie Foxx, albeit by about four inches. He is listed to be 6 feet 1 inch (185 cm) tall. Denzel has been in the movie business ever since the 1970s. He started his acting career in theatre before gaining prominence in the TV series St. Elsewhere (1982-1988). Washington has since then starred in many critically acclaimed movies like Glory (1989), Malcolm X (1992), Training Day (2001), American Gangster (2007), and Flight (2012), among others.
His performance in these projects and others not listed have earned him various awards, including two Academy Awards, three Golden Globe Awards, and a Tony Award. The New York Times in 2020 further named him the greatest actor of the twenty-first century. As earlier mentioned, Foxx has won himself a couple of awards that ensures he will forever be noted as one of the great actors of his time. However, he has a couple of more things he would need to check off his list before he can be compared to the likes of Denzel.
Jamie Foxx's Height Makes Him Slightly Taller Than Kanye West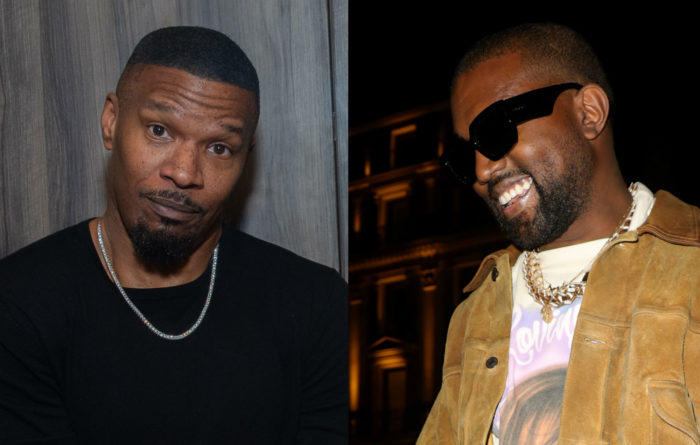 Jamie Foxx and Kanye West, who now legally goes by the name Ye, have been frequent collaborators. Both musicians, along with rapper Twista, got their first number one hit in 2004 when they came together to work on the song "Slow Jamz." The song, which was nominated for Best Rap/Sung Collaboration at the Grammy Awards in 2005, and Best Collaboration at the BET Awards in 2004, was released as Ye's second single from his debut album The College Dropout and the lead single from Twista's fourth studio album, Kamikaze.
Slow Jamz further enjoyed huge commercial success that Ye and Foxx would come back together in a few years to release another huge hit. Their next effort was titled "Gold Digger," and it was released as the second single from Ye's second studio album, Late Registration, in 2005. Gold Digger topped different charts across the globe and won several awards, including the Grammy Award for Best Rap Solo Performance and the BET Award for Best Collaboration.
Over the years, Foxx and Ye have had many collaborations; while one contributes melodic vocals, the other rhyming words. It is a toss-up on who has had a better career between the two. However, when it comes to their height, Foxx edges out Ye by one inch as he is 5 feet 8 inches tall.
Is Jamie Foxx The Tallest Member Of His Family?
We can't tell for sure if Jamie Foxx is the odd one out in his family regarding his height. This is because none of them are in the spotlight. The entertainer had very little contact with his biological parents as a child. They were not a part of his upbringing as Foxx was raised by his mother's adoptive parents, Estelle Marie (Nelson) and Mark Talley, who adopted him shortly after his birth.
But while Foxx may not have family (parents or a wife) that we can compare his height to, he has two kids, one of whom is in the spotlight. In 1994, Foxx had a daughter named Corinne with a woman identified as Connie Kline. Connie has maintained a life away from the limelight, but her daughter with the superstar actor and singer, has followed in her father's footsteps. Corinne started as a model before going into acting and then television production. She has represented brands such as Ralph Lauren and Dolce & Gabbana and has featured in films like 47 Meters Down: Uncaged (2019) and Safety (2020).
As a producer, she was credited with the role in the TV series Dad Stop Embarrassing Me! (2021). Corrine has a long way to go to catch up with her dad. She appears to come from good stock, talent-wise and physically, as she is reported to be 5 feet 7 inches (1.70 m) tall. More than Jamie, Connie may have contributed to her being taller than the average American woman (5 feet 4 inches), but since details about her are not readily available, we may never know.
The person who has come closest to becoming Jamie Foxx's wife is actress Katie Holmes. You might remember Holmes as Joey Potter on the TV series Dawson's Creek (1998–2003). She has featured in many other projects but perhaps her marriage to Tom Cruise from 2006 to 2012 is something that people will remember her for.
Following their divorce, Holmes entered into a long-term relationship with Foxx. The pair kept things private throughout their time together, something Holmes did not get when she was with Cruise. Unfortunately for the duo, they broke up in 2019 for unknown reasons. There was no height difference between the pair as Katie stood at 5 feet 9 inches (175 cm) tall.
Jamie Foxx's Weight
Jamie Foxx's weight is about 85 kg (186 lbs), but this weight is by no means a coincidence as he has had to work very hard for it. Foxx watches his diet and does plenty of exercises.
How Does He Maintain His Physique?
To start his day, he usually has egg whites, turkey sausage, a slice of toast, and orange juice. During lunchtime, he does not hold back as he goes all-in on protein-based meals, including bacon, salmon, brussels sprouts, and rice.
While Foxx has admitted that he snacks a lot in between meals, eating blackberries and other fruits or even less-healthy options like salt and vinegar chips, he says he makes sure to work out more on such occasions. At dinner time, his meals largely consist of steak and vegetables. Regarding what exercises he does, Foxx revealed that he does not do too much and does not even employ the services of a personal trainer due to the years of experience he has had working out.
He does most of his gym work in the morning, and his routine includes 20 pull-ups, 25 dips, 50 push-ups, 100 sit-ups, and about 20 to 30 back extensions. The result of this is a chiseled and well-sculpted silhouette with a ripped core, ultra-big biceps, and leg triceps.
The Truth About Jamie Foxx's Rumored Hair Transplant
With a life in the limelight and so much money at hand to do whatever they want, celebrities do not shy away from going under the knife to get themselves to look better so they can be more confident. We have heard about male and female stars doing liposuction and facelifts to remain "fabulous." For Jamie Foxx, word has gone around that he had a hair transplant. This is when hair is moved from one scalp area to another area where hair is thinner or non-existent. Scars from the procedure are usually extended and prominent.
In the mid-2000s, it was noticed that Foxx's hairline, which had always been very prominent, was beginning to rescind. However, by 2007, fans noticed that the hairline of the actor who was in his forties suddenly grew back and moved up. While discussions on the matter continued to go around in the media, Foxx never addressed it, so it only remained only a rumor as it is with other cases of cosmetic work by celebrities. Things, however, changed when he was pictured with a tattoo on his head. The tribal crown tattoo that extends from ear to ear appears to cover the area where it is believed that if a person were to have had a hair transplant, there would be a scar there.
What Does Jamie Foxx's Tattoo Mean?
When asked about the tattoo and its meaning, Jamie only said it was a birthday gift to himself. He has not spoken about it ever since then, and since he now sports a full head of hair, the topic seems to have died down.