Jeon Jungkook (born: 1st September 1997) is only 26 years old, but he has undoubtedly achieved a lot in his lifetime. Asides from his incredible voice, Jeon Jungkook is also known for his sexy physique and abs, which never fails to whip fans into a frenzy
As a member of one of the greatest boy bands that the world has ever seen, BTS, he has dropped several chart-topping albums.These albums have, in turn, spurned numerous hit singles such as Dynamite, Savage Love, Life Goes On, Butter, and Permission to Dance.
Jungkook and his bandmates have sold more than 20 million albums worldwide. They have also gone on to win numerous awards and have gained global acclaim, collaborating with institutions such as the United Nations.
BTS is simply one of the most famous music acts globally, and Jungkook and his bandmates boast of a legion of fans known literally as The Army. The Army hangs on to everything their faves do, including obsessing over Jungkook's looks. The singer/dancer/rapper is handsome and boasts of an insane physique, including killer abs. He occasionally deploys this to whip his fans into a frenzy during their public performances.

Jeon Jungkook's Profile Summary
Full name: Jeon Jung-Kook
Nickname: Jungkook
Gender: Male
Date of birth: 1st September 1997
Jungkook's Age: 26 years old
Ethnicity: Korean
Nationality: South Korean
Zodiac Sign: Virgo
Sexual Orientation: Straight
Marital Status: Single
Jungkook's Height in Inches: 5 feet 10 inches
Jungkook's Height in Centimetres: 178 cm
Jungkook's Weight: 65kg (143lbs)
Body measurements in inches: 34 – 26 – 35 inches
Body measurements in centimeters: 86 – 66 – 88 cm
Jungkook's Net worth: $20 million
Famous for: Member of BTS
Jungkook's Instagram: @abcdefghi__lmnopqrstuvwxyz
Jeon Jungkook is The Youngest Member of BTS
Before he became one of the most famous singers in the world, Jeon Jungkook was a little boy born on 1st September 1997. His birthplace is South Korea's second-most populous city, known as Busan.
He hails from a family of four, including his parents and an elder brother. Jungkook had a relatively ordinary childhood and aspired to be a badminton player at some point. However, that dream derailed after watching several performances of a famous South Korean rapper and singer, G-Dragon.
Jungkook was mesmerized by what he saw that he was inspired to become a singer. He began honing his skills in earnest. At the age of 14, he auditioned for the South Korean talent show Superstar K. He did not make it to the show finals but did enough to impress several entertainment companies who courted him to sign with them.
Jeon Jungkook eventually signed on to Big Hit Entertainment and, after a series of dancing and singing training, he debuted as a member of BTS in 2013. This was at the age of 17, and he was the youngest member of the band. This unnerved him, but he nevertheless went on to pull his weight.
His singing and dancing contributions to the group have helped them become the global sensation they are today. BTS has topped the Billboard charts on several occasions and won nine Billboard music awards. They also count hundreds of millions of fans globally. Their fans are collectively known as The Army, and they obsessively follow whatever the group does.
They have also been known to embark on various acts of kindness and charity in the group's name. Asides from his collective work with BTS, Jungkook has sung three solo songs. He is also known for dropping beautiful covers of songs by other artists.
He has Stolen the Hearts of Fans with his Lean Physique and Eight-Pack Abs
It isn't easy standing out in a group of seven individuals, but Jeon Jungkook has managed to do just that. A major factor has been his incredible singing and dancing skills. It also doesn't hurt that he boasts of cute good looks and appearance.
The singer is 5 feet 10 inches (1.78m) tall, while his weight is listed as 65 kg (143 lbs.). This makes for a lean, tall physique, and it is further complemented by a chest, waist, and biceps size of 38, 30, and 13 inches, respectively. Asides from his tall, lean physique, another thing that has Jeon Jungkook has going for him is his killer abs.
The singer has developed an eight-pack over the course of several years, and this elicits various steamy comments from fans whenever he lets them have a glimpse. One of the first times that fans caught a good look at Jungkook's abs was when he debuted with BTS in 2013.
At that time, he was only about 16 years old, and his abs weren't so defined. It, therefore, caught only some small attention. Jungkook's abs will cause some stir again in 2016 after he was captured, showing them off to a group of fans who had come to support him and his bandmates at the Idol Stars Athletics Championship 2016.
Between 2016 and 2018, Jungkook mostly hid his abs from fans but continued working on them. After that, he debuted an eight-pack during the video for their 2018 single, Fake Love. Since then, he has regularly shown them off, much to the admiration of the fans.
For instance, when he and his bandmates performed at the May 2018 edition of the Billboard Music Awards, his cropped top generously showed off his abs. This inspired a lot of online comments, and the moment was recorded as one of the 13 best moments at the award ceremony.
Fast-forward to 2020, Jeon Jungook and his bandmates took part in an online concert in October 2020. During the concert, he wore a leather jacket with no shirt underneath, showing off his eight pack in all its glory.
This equally inspired several online comments. Some joked that they could do their laundry on his abs, while others stated that thinking about them had deprived them of sleep. Yet others commented that there was no way Jungkook's abs and physique could be ignored.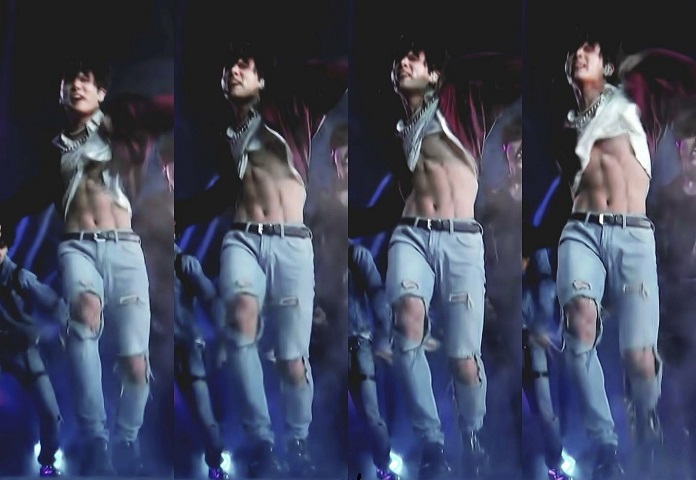 Another occasion when Jungkook's abs dominated the conversation was when BTS performed at the Sofi Stadium in Los Angeles in November 2021. Fans gushed over their super energetic performance and their looks, with Jungkook getting particular attention. One fan stated, "JUNGKOOK WAS SO HOT OMGGGG," while another wrote, "WHAT ARE YOU FUCKING HOTTT JUNGKOOK!?". Yet another wrote, "JUNGKOOK IS FULL OF SEXINESS," while another comment had it that "He flashed his abs so many times already but it still does things to me."
Damn#PTD_ON_STAGE_LA pic.twitter.com/fZsJDNeCR9

— JJK⁷ (@_jeonjk97_) November 29, 2021
A Look at Jungkook's Workout Routines and Diet Plans
Jeon Jungkook didn't just come about his lean physique and eight-pack abs by luck but had to work hard for them. In the early days of his career, he was cute with chubby cheeks. He later transformed into a sexy idol thanks to his combination of a diet and workout plan.
Regarding diet, the BTS member loves food and eats three times a day. He, however, makes sure to follow a healthy diet plan. His meals comprise of options such as omelet, whole grain toast, juice, salad, vegetable soup, and chicken breast. For his abs, he consumes a large portion of protein.
When it comes to his workout routines, Jungkook frequents the gym with his exercise of choice involving squats, push-ups, jump squats, shoulder exercises, plank shoulder blades, leg raises, crunches, and super raises. He also indulges in activities such as weight lifting, kickboxing, and boxing. For instance, in January 2022, he shared a short clip of himself going up against a trainer. He showed off some incredible punches, which attracted his bandmates' reactions. The video was also liked more than nine million times.
Jeon Jungkook Loves Tattoos and has Several of Them
Asides from his abs, Jungkook also attracts attention with his tattoos. The singer has several all over his body, including the word Army, across his knuckle. He also has a 0613 on his thumb, which signifies the day that BTS debuted. Jungkook also has the song lyrics, Rather be dead than cool, on his right arm and "the most beautiful moment in life" in Chinese on his body.
The singer is proud of his ink and regularly shows them off in his photos. His fans love them, and his pictures have even been used by politicians to advocate for the legalization of tattoos and tattoo artists in South Korea. His fans are none too happy with this and accused the politician of taking advantage of Jungkook for political purposes.