Kellyanne Conway is an American pollster, political consultant, and pundit best known as a serving counselor to the President, under the government of President Donald J Trump.
Conway who is a native of New Jersey is a political activist and has served as the first female campaign manager for the Republican party. Her activities in the political scene have helped her gain Trump's trust and that was why he made her his advisor and strategist on political matters. Outside of her political career, Kellyanne Conway is a wife and mother. She has been able to balance these two roles successfully. Here's all we know about "the Trump whisperer."
Kellyanne Conway Bio
Born as Kellyanne Elizabeth Fitzpatrick on January 20, 1967, Kellyanne is the daughter to Diane Fitzpatrick who is of Italian descent and her father John Fitzpatrick, who belong to an Irish ancestry. She was raised in Atco, New Jersey, a town not far from the Atlantic City, by her mother and grandmother after her parents divorced when she was just three.
Talking about her education, Kellyanne is highly educated. She went to St. Joseph High School where she was a part of the school's choir and hockey game. She was also a cheerleader and she graduated in 1985. She then attended Trinity College in Washington, D.C. where she earned a degree in political science before moving to George Washington University Law School to pursue a degree in law. Conway refers to herself as a "fully recovered" attorney.
As per her career, it all started with a polling business which she joined while still at law school. Then, she was working as a research assistant for a Republican polling firm, Wirthlin Group but she established her own polling Company in 1995. The company operates as a consultant on consumer trends, especially trends regarding women. She has seen brands like American Express, Hasbro and Vaseline, as among her clients. She is believed to have made over a thousand TV appearances in the 90s. Her company is also known for working with Republican candidates. Kellyanne herself is known for her continuous attacks on the Clintons.
Kellyanne Conway was hired by Donald Trump to serve as his senior advisor on his presidential campaign on July 1, 2016, after she left the "Keep the Promise I," a political action committee in support of Ted Cruz in the 2016 Republican presidential primaries. 
Conway has known Trump for about one decade before her political appointment. She lived in his condo Unit in 2006 and even served as one of the condo board for the Trump World Tower in Manhattan. When Trump hired her as his advisor on the Presidential campaign, one of her main works was to advise him on the best way to appeal to female voters. On August 19 of the same year, she was announced as Trump's third campaign manager, after Paul Manafort resigned. Upon her new position, Conway became not just the first woman in America to run a Republican general election presidential campaign, but also the first woman to run an American presidential campaign successfully. Following her advisory roles in different platforms, Conway was able to write a book titled What Women Really Want.
Her Salary and Net Worth
Conway's major earnings come from her advisory role to America's 45th President alongside her polling business. She, however, sold her business of about 5 million stakes and in  April 2017, it was reported that she had assets that were worth between $11 and $44 million with an annual salary of about $179, 700. Her net worth is believed to stand around $40 million.  Kellyanne bought a mansion worth $8 million in 2017. The house is located in the Massachusetts Avenue Heights neighborhood.
Prior to her business venture as well as her political career, Kellyanne Conway was a former pageant winner. She won the New Jersey Blueberry Princess pageant in 1982 and was named the World Champion Blueberry Packer after she spent eight summers picking blueberries on a farm.
Married, Husband, Children
Kellyanne is not just a wife, but a mother to four children as well. She was married to George T. Conway III who became her husband after they tied the knot on April 28, 2001.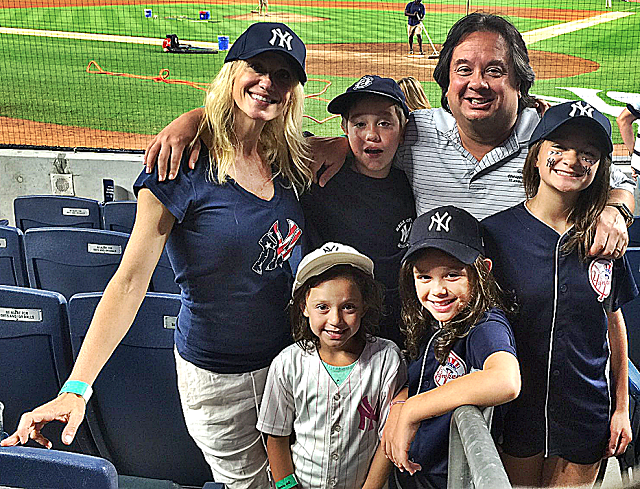 George Conway whose middle name is Thomas is an American attorney who obtained his Juris Doctor (J.D.) degree from Yale Law School and served Judge Ralph K. Winter, Jr. as his law clerk between 1987 and 1988. Conway was on March 17, 2017, reportedly nominated as Assistant Attorney General to head the Civil Division at the U.S. Department of Justice, but on June 2, 2017, he announced his decline to take up the post. He is known for being a strong critic of Donald Trump whom his wife Kellyanne is working for. What a contrast!
See Also: Ali Wong Husband (Justin Hakuta), Sister, Daughter, Family, Height
George and Kellyanne are blessed with four children including twins Claudia and George IV, Vanessa and Charlotte. The family lives in Washington D.C.
Her Family
Aside from her immediate family which she shares with George Conwell, Kellyanne Conwell has as her father John Fitzpatrick who had a small trucking company and her mother Diane who worked at a bank. As her father abandoned her after divorcing her mother, Kellyanne was raised by her mother, grandmother and two aunts. She also has a cousin whose name is Mark DeMarco. All the members of her family are Roman Catholics.