Kellyanne Conway's husband is George Conway, an American conservative lawyer, pundit, and writer, who has worked for several prestigious law firms in the past. He was born on September 2, 1963, and so is 60 years old. George and Kellyanne married in 2001 and have four children together. They are Claudia Conway, Charlotte Conway, Vanessa Conway, and George Conway.
Conway formerly confined his activities to the private sector but assumed more visibility after his wife's appointment in the Trump presidency. This visibility reached a whole new level when he became a vocal critic of Trump. Such a daring move led to Twitter spats with the former president himself and caused serious troubles in his marriage. Conway refuses to back down and remains committed to salvaging the country that he dearly believes in.
George Conway's Profile Summary
Full name: George Thomas Conway III
Gender: Male
Date of birth: 2nd of September 1963
Age: 60 years old
Ethnicity: American-Filipino
Nationality: American
Zodiac Sign: Virgo
Sexual Orientation: Straight
Religion: Christian
Marital Status: married
George Conway's Wife: Kellyanne Conway
Children: four namely Claudia, George IV, Vanessa, and Charlotte
Parents: George Conway II
George Conway's Height in Inches: 5 feet 7 inches
Height in Centimetres: 170
Weight: 84 kg (184.4lbs)
George Conway's Net worth: $39 million (joint)
Famous for: Kellyanne Conway husband
Twitter: @gtconway3d
George Conway is Half American and Half Filipino
George Thomas Conway III was born on the 2nd of September 1963 in Boston, Massachusetts. His father, George Conway II has Caucasian roots and is an engineer. His mother, on the other hand, is from the Philippines and is an organic chemist by profession.
It, therefore, means that George Conway is half Filipino. Conway spent his formative years in Marlborough, Massachusetts, and completed his high school diploma at the local high school. He thereafter attended Harvard and obtained a BA in biochemistry.
Conway further attended the prestigious Yale Law School and qualified as a lawyer. During his school days there, he was an editor of the Yale Law Journal. He additionally served as the president of the school's chapter of the Federalist Society. This is an organization of conservatives and libertarians that is dedicated to a literal/ordinary interpretation of the American Constitution.
George Conway and Kellyanne Conway Began Dating in 1999 and Wed Two Years Later
The turbulent love story between George Conway and Kellyanne Conway commenced in 1999. At that time, Conway was already a partner in the law firm where he worked while Kellyanne had managed to set up her own pollster company in a male-dominated industry. She often appeared on TV networks such as CNN and Conway regularly watched her.
He was attracted by her bubbly nature, as well as all she had achieved, and asked a mutual pal, conservative pundit, Ann Coulter, for an introduction.
Coulter obliged him and as fate would have it, Kellyanne was amenable to his overtures. They got talking and hit it off. They later started dating and got married in an elaborate ceremony in 2001.
Following the nuptials, the couple settled down in the New Jersey suburb of Closter. They welcomed multiple children. They also continued progressing in their respective careers. The couple was able to amass a joint fortune of $39 million with which they gave their kids a good life.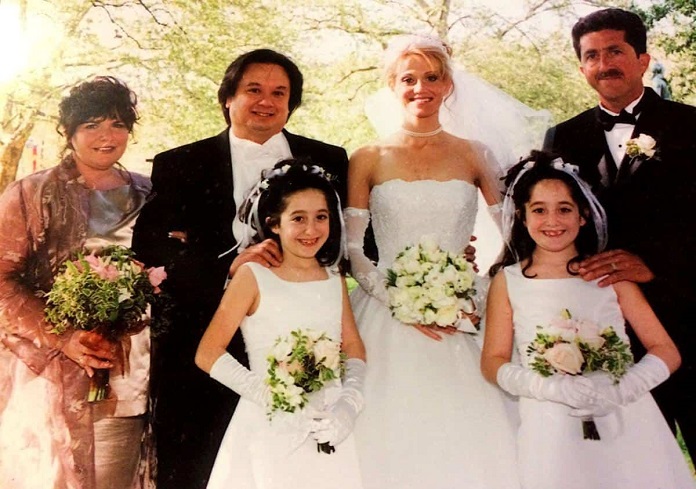 The Couple Was Pitted Against Each Other During the Trump Presidency
George Conway and Kellyanne Conway have been married for 22 years and have enjoyed a relatively scandal-free union. One major issue that has however rocked the foundation of their marriage is their differing politics during the Trump presidency. At the initial stage, both Conway and Kellyanne loathed Trump and instead supported Ted Cruz.
When Trump won the GOP presidential nomination and asked Kellyanne to be his campaign manager, the couple decided to give him the benefit of the doubt. Kellyanne strongly promoted his candidacy and he emerged president against all odds.
This unexpected victory saw Kellyanne Conway make history as the first female campaign manager to achieve such a feat and she and George basked in the glory of it all. He celebrated her and even threw his hat into the ring for a position in the Trump presidency. It was all blissful for the first two years of the presidency but things soured in 2018.
George Conway was disgruntled by many of Trump's actions and utterances and became a vocal critic of the president. He tweeted several scathing remarks about Trump and also appeared on several TV stations to criticize him. He also penned several damming articles about the then-president, including one where he declared him mentally unfit.
President Trump didn't take this lying low. He dubbed George "Mr. Kellyanne Conway" and accused him of being disgruntled because he was passed up for an appointment. He also declared that the attorney was jealous of his wife's success and labeled him a "stone-cold loser" and "husband from hell". Kellyanne was caught up in the middle of the whole thing and later sided with the president.
Many writers predicted that the couple may end up getting divorced but that didn't happen. Though they did not publicly speak about it, it seems that they both decided to walk away from politics and work on their family. On the 23rd of August 2020, Kellyanne resigned from the White House while George also stepped away from a PAC that he had co-founded aimed at defeating Trump (the Lincoln Project).
George Conway and Kellyanne Conway Have Four Children Together
The couple has four children together. They include twins, Claudia and George IV, who was born in 2005. There are also two younger daughters namely Charlotte and Vanessa. The couple keeps their family out of the public eye but their kids have been dragged back into it as a result of politics.
Claudia Conway
Date of birth: 2005
Age: 18
The most popular of George Conway's four children is the oldest daughter, Claudia Conway, and this is because of her active political views. Claudia identifies as liberal and leftist and accordingly supports causes such as Black Lives Matter, and abortion rights. She is also a vocal Trump critic and has openly referred to him as a racist. Claudia promotes her views on her Tik Tok account and has amassed more than a million followers. As you can imagine, this has led to a fractured relationship with her mom but she doesn't seem to care.
She has previously stated that her parents' marriage has failed. She has also accused her mom of physical, mental, and emotional abuse. The young lady also went to the extent of seeking emancipation in 2020 but later abandoned it. In January 2021, Claudia's topless photos were shared on her mom's Twitter account and she came out to accuse her mom of being responsible. She later withdrew her allegations though. Claudia is now taking some time off social media and is working on her relationship with her mom.
Georgia Conway IV
Date of birth: 2005
Age: 18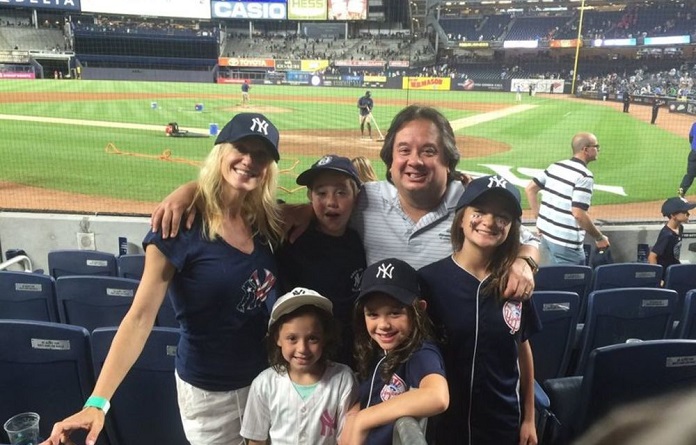 George Conway's second child and only son is George Conway IV. George IV is Claudia's twin but in stark contrast to her, he stays away from the spotlight and avoids talking about his political beliefs. George previously attended the exclusive private school, Elisabeth Morrow School in Englewood, New Jersey. He however changed schools following his family's relocation to Washington D.C. in the wake of their mom working for the Trump administration.

Charlotte Conway
Date of birth: N/A
Age: N/A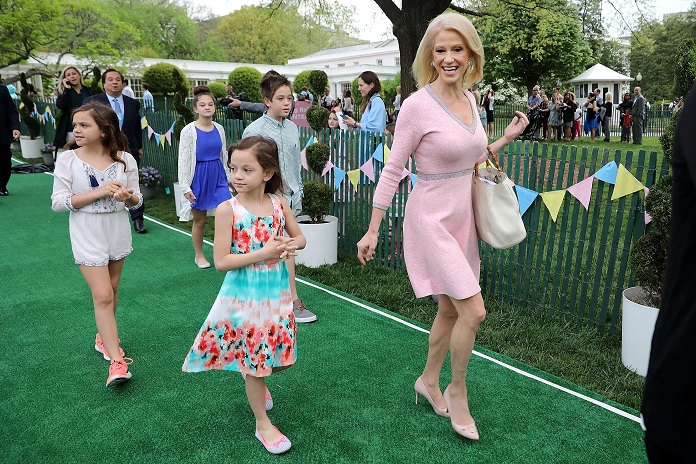 Another Conway child that is staying well away from the spotlight is Charlotte Conway. Charlotte grew up with the rest of her family in New Jersey before they later relocated to Washington D.C. This made her change schools and at first, it was hard to get a school that would take her and her siblings as many institutions frowned at her mom's political beliefs. This was later sorted out though and the young lady is forging ahead
Vanessa Conway
Date of birth: 2009
Age: 14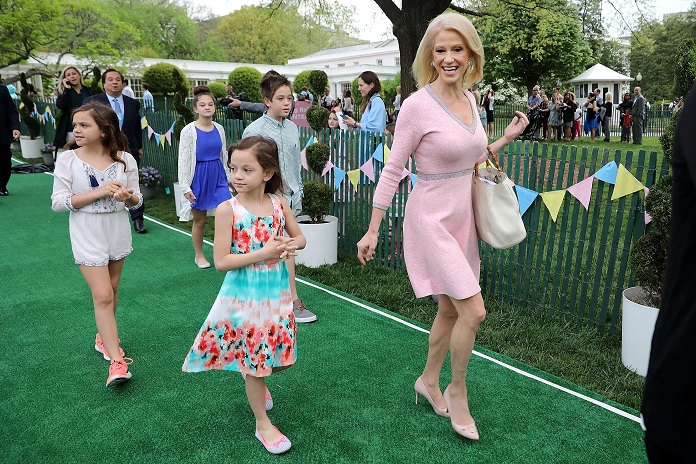 The last of George Conway's four children is Vanessa Conway. Vanessa was born in 2009 and is presently 14 years old. She is presently in the second year of middle school or the first year of junior high school. Vanessa previously attended the Elisabeth Morrow School in New Jersey but changed schools after her family relocated to D.C.
He is a Conservative Lawyer, Columnist, and Political Commentator
George Conway kick-started his career by clerking for a Second Circuit Court of Appeals judge, Ralph Winter Jr. in 1987/1988. He thereafter joined the New York-based law firm of Wachtell, Lipton, Rosen & Katz. The firm specialized in corporate law and he spent several years with them during which he focused on litigating relating to securities, M&A, antitrust. He was quite good at his job and rose to become a partner in an impressive period of time.
In the course of his legal career, George Conway has emerged victorious in several high-profile cases. One of them was the 2010 case of Morrison v National Australia Bank where the Supreme Court curbed the extraterritorial application of U.S. Securities Law. Another was the 90s case that a former Arkansas civil servant, Paula Jones instituted against Bill Clinton for sexual harassment. Asides from his attorney work, George Conway has emerged as a formidable political pundit and has been interviewed by several channels such as CNN, and MSNBC. He has also penned op-eds for the Washington Post, the New York Times, etc.