Aside from Kristen Stewart's amazing acting skills, one other thing that stands her out from the crowd is her hot and sexy hairstyle. When Kristen first went on short hair, many attributed it to a film role but was the big chop really for a role?
From a child actress to a teen icon playing the role of Bella Swan in the Twilight series, a role which catapulted her into an overnight star, Kristen Stewart has repeatedly taken centerfold in a variety of other mega-budget TV shows and romance films such as 'Snow White and Huntsman' and 'Camp X-ray.' She now ranks as one of the highest-paid film professionals in the world.
What Is Kristen Stewart's Natural Hair Color? 
Since her big chop, Kristen has worn different hairstyles and hair colors from brunette to red, blonde, and it is sometimes hard to remember the original color of her hair. Well, Stewart's natural hair color is dirty blonde. This can be seen when she featured in her first high-profile movie, "Panic Room" in which she starred with Jodie Foster in 2002. She was only twelve years old at the time.
She has worn different shades of blonde at different times over the years, and most recently, she went purely blonde for her new role-playing Princess Diana in the biopic movie Spencer which is set to be released in 2022. But that look was just for the screen, as she soon replaced it with an orange mane that one will forget she is playing Princess Diana.
While it's unclear what may have inspired the actress's latest hairstyle and the sudden switch from the blond coif she's been sporting to portray the late Princess of Wales; she doesn't need to offer any explanations. Isn't that why she is called "the queen of hair transformation"?
Does Kristen Stewart's Hair Evolution Have Anything To Do With Her Sexual Orientation?  
Fans got used to Kristen Stewart sporting conservative regular hairstyles, so it was unusual that when she debuted hot and very sexy short hair, it raised some questions that we have supplied answers to. Although hairstyles have not been suggestive of someone's sexual orientation, at least not every gay and lesbian has their bleached or wearing undercut. However, new research has shown that it has begun forming part of the new queer semiotics recently.
When Kristen Stewart acquired tom-boyish looks, the new haircut set tongues wagging. One of the major rumors and speculations that went around to explain her possible reason for doing that was that it could be connected to her sexual orientation or be her way of announcing it. Other reasons for the rumors and speculations, asides from the fact that hairstyles are beginning to form part of the new queer semiotics, guess that may be due to the way Kristen handled it, turning what many would have considered a masculine hairstyle into a feminine object of sexiness.
After all, it is not every day that we see a popular Hollywood actress shaving off her hair and looking all smoky hot, and sexy. But, hey, don't get the whole thing twisted because Kristen had other reasons for going undercut, and it had nothing to do with her sexual identity.
Her Decision To Go Undercut Was Purely Personal 
After years of sporting long locks, which fans got familiar with watching the Twilight series, Stewart decided to go on low cut to the amazement of many. When Kristen first debuted her pixie cut in July 2014 at the Chanel Autumn/Winter couture show, many speculated and attributed to her role in the movie Ultra. Still, contrary to the speculations flying around at the time, the former child actress didn't get the cut for a movie role as she would later reveal her reason to be purely personal.
With the big chop, Kristen morphed from the conservative-cute-girl-next door look we all know her into some gorgeously-devilish looking villain. However, her first signs of 'rebellion' against conservative hairstyles first manifested in 2012 when her famously long mane was trimmed by almost half. The reason she gave at the time for the cut was that she would still want to look smoky sexy regardless of whatever hairstyle she chose to wear.
Despite Mixed Reactions, She Has No Regrets about Making The Big Hairstyle Switch
There were different reactions by fans to Stewart's new hairstyle and looks. While some fans were excited for her for stripping herself off the stereotypical look, her character in the  Twilight series gave her, others would do anything to have her maintain the looks they had gotten used to; although she loves her fans, there was no going back to her old hairstyles and looks.
Explaining in an interview with Marie Claire US. the actress revealed that her hair was such a crutch and that as soon as she didn't have all that hair, she had to let her face hang out and felt more confident than she had in a long time. "And it felt really good," she said excitedly. "Maybe to most people long hair is prettier. But then what? Is your main goal in life to be desired? That is boring as fuck," she added.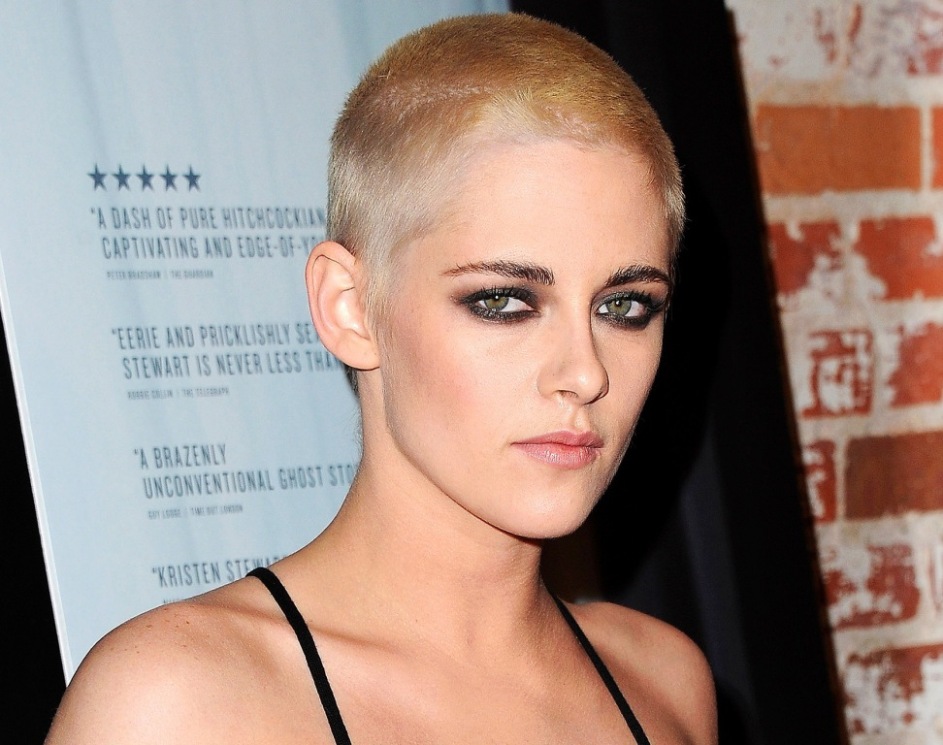 Kristen Stewart Finally Revealed Her Sexual Identity In 2017
Stewart revealed her sexual identity to be lesbian for the first time in an explosive interview on Saturday Night Live. On the show, she also admitted to having dated both men and women in the past. Kristen also said that she does not see herself as 'confused' as far as her sexual preferences are concerned. "You're not confused if you're bisexual. It's not confusing at all. For me, it's quite the opposite," which were her exact words when she made the big reveal in 2017. But two years before then, the actress didn't feel would be true for her, saying, 'I'm coming out!" adding that she chooses to remain vague about her sexual orientation because she doesn't feel she has the "perspective."
In 2019, Kristen Stewart talked about the perceived impact her sexuality has had on the success of her career, saying that she has been warned on several occasions by several people not to be public with her girlfriend so that it doesn't cost her roles in the mainstream but she stated categorically that she wouldn't want to work with people who don't accept her sexual orientation.
Kristen has been in several relationships since she was fifteen years old. From 2005 to early 2009, the actress was in a relationship with her Speak co-star Michael Angarano. She dated her Twilight co-star Robert Pattinson for four years before they called it quits after Stewart was photographed with her Snow White and the Huntsman director, Rupert Sanders, in July 2012, revealing an affair. The duo admitted and tendered a public apology. In October of the same year, Kristen and Pattinson reconciled but later went their separate ways in May 2013.
She also dated visual effects producer Alicia Cargile from mid-2013 to the fall of 2016 and 2016 and with New Zealand model Stella Maxwell from 2016 to 2018. The actress has been dating screenwriter Dylan Meyer since 2019. Kristen Stewart revealed that she and Meyer are engaged and that the wedding bells may be ringing very soon.
Kristen Stewart's Parents Set The Ball Rolling For Her In Hollywood At An Early Age
Kristen Jaymes Stewart was born in Los Angeles, California, on April 9, 1990, to a Hollywood scriptwriter mother, Jules, and a Hollywood stage manager, producer, and director father, John. With father and mother who were full-time in Hollywood, it was almost impossible for little Kristen to escape a career in the movie industry.
She made her first TV appearance in 1998 at the age of eight in a grade school Christmas play, after her performance, she caught the eye of a talent scout, and shortly after, she landed a bit role in the Disney Channel movie titled The Thirteenth Year (1999), and that has been the beginning of her rise to fame and stardom, and she hasn't looked back ever since.
She has starred in other blockbuster movies and series, including Twilight. Her role in the series not only gave her the center stage and spotlight every actor craves, but it has also overshadowed other projects she had been involved in before and while filming the series. She recently landed a role to play Princess Diana in the biopic movie Spencer.