Kylie Jenner, the multimillionaire half-sister of Kim Kardashian, is the youngest daughter of Kris and Caitlyn Jenner. However, being the youngest in the Jenner Kardashian clan has not stalled her meteoric rise to fame and fortune. The young lady has shown her prowess as a model, TV personality, writer, and businesswoman with a whopping net worth of $700 million. She was once the sole owner of Kylie Cosmetics, a position which earned her the title – America's youngest self-made billionaire with a net worth of $1 billion as of 2019, but this victory was short-lived. Nonetheless, she still stands as the second-richest Kardashian/Jenner behind older half-sister Kim. Let's explore her rise to the status and the controversies surrounding her fortune.
Kylie's Net Worth and Fortune Revolves Around KUWTK and Her Personal Business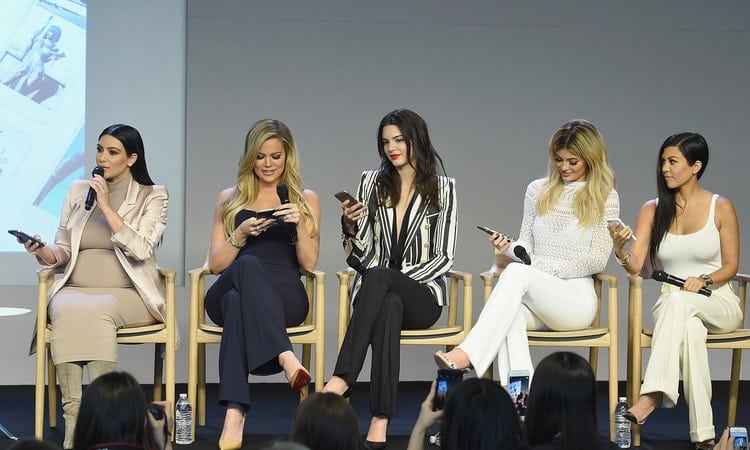 Comments about Kylie Jenner's financial achievements would be incomplete if we fail to mention her appearance in the longest reality TV series Keeping up with the Kardashians. This show had her life on display alongside other members of her family from 2007 until 2021, but it was for a good cause as it has earned her both fortune and fame – the KUWTK star boasts having over 300 million followers on Instagram.
Kylie would then go on to kick-off as a model for the Sears clothing line "crush your style', and she has been featured in several photoshoots for publications like OK! Magazine and Teen Vogue. In September 2011, she made her catwalk debut in the presence of family members at the New York Fashion Week, dressed in a black ballerina-style dress by Abbey Dawn. For a rising star in the modeling industry, her performance was impressive and it, in turn, landed her more gigs.
Being a popular face on TV, she and her sister Kendall, hosted red-carpet events for Glee: The 3D Concert Movie and The Twilight Saga: Breaking Dawn – Part 1 in Los Angeles. They also did an interview in the Bing Box at The Hunger Games premiere on March 12, 2012. More so, with the guidance of her mother, she started making money from make-up and several endorsement deals for top-notch brands. Her first-ever product endorsement deal was for the Nicole by OPI nail polish brand, receiving $100,000 for her acceptance in 2013.
In 2014, Kylie, alongside her sister Kendall, released a science fiction novel, 'Rebels: City of Indra' which is about two girls with superpowers who embark on a journey. The pair also co-hosted the 2014 Much Music Video Awards, and Kylie finally made her acting debut in a promo for the show.
The Launch Of Kylie Cosmetics Has Contributed Greatly to Her Huge Net Worth
The notable Kylie Cosmetics actually began by turning around what was a scandal into a business opportunity. Her insecurities with her lips led to a 'viral fad', where people inserted their lips into a shot glass and then sucked out the air.
In May 2015, she admitted to her insecurity, saying that she did use temporary lip fillers while announcing that she used $250,000 out of her earnings to pay for the production of 15,000 lip kits. She and Kendall also launched a clothing line with British fashion retailer Topshop in the month of June. In November of the same year, after spending months to advertise her kits, she finally sold them at $29 per kit. They all sold out in less than a minute. The kit was called "Kylie lip kit".
Kris Jenner, identifying the business opportunity for what it truly was, brought in the e-commerce platform Shopify, run by billionaire Canadian entrepreneur Tobi Lutke, the next month – December. The next year, the business was finally renamed to be "Kylie Cosmetics", and not too long, they landed a deal with Puma (Pumsy), where Kylie was announced as the new face of Puma. Kylie lip kits, summing up to a total of 500,000, in six different shades/ the buildup and traffic on the website were massive, the numbers kept on increasing, as over $19 million worth of orders were recorded in 24 hours after the launch.
Towards the end of 2016, Jenner began to explore some physical retail outlets, brick-and-mortar retail, with a limited Topshop run and pop-ups in New York, Los Angeles, and San Francisco that attracted a long queue (A total of 25,000 customers in 14 days)
At 19 years old, Kylie had successfully amassed wealth up to a total of $41 million annually, which placed her as one of the highest-paid celebrities in the world. More so, in 2017, she, alongside Quay Australia made new sunglasses that earned her millions of dollars. She has also launched a website and an app for Kylie Cosmetics.
Kylie Jenner's Real Estate and Luxurious Acquisitions
With a keen interest in real estate, Kylie at age 17 had already bought her first home: a $2.6 million property consisting of a nearly 5,000-square-foot home in Calabasas, California, and sold it in 2017 for $3.15 million. She also bought another place for $6 million in Hidden Hills, California, and another close to her first home. She later sold both for $12 million.
Over the years, she has bought and sold a number of houses around Southern California. Her current primary residence is an eight-bedroom, 13,200-square-foot, 11-bathroom Cape Code style mansion in Hidden Hills, California, which she bought in 2016 for $12 million; a lot in a La Quinta, California, golf community; and a $36-million, 15,350- square-foot property in Holmby Hills, California – "a resort compound."
Adverts & Endorsements
The family reality TV show that ran for close to 14 years attracted several sponsors, hence, she also earned from advertisements. Moreover, she has raked in a lot from endorsement deals from the likes of the skincare company Nip + Fab, Adidas, Quay Australia amongst several other big shots.
Recap of the ways Kylie Jenner makes her money:
Keeping up with the Kardashians
Kylie Jenner Official App
Sales from The Kylie Shop
Book series and TV programs
Kylie Cosmetics
Partnerships and endorsements from brands like Adidas, Quay Australia, etc.
Real Estate
Is Kylie Jenner A Billionaire? 
In November 2019, Forbes named her a billionaire. This followed news of the sales of 51% of her company to Coty Inc. This was first prized at $600 million, which placed the company at $1.2 billion as a whole. However, on the 29th of May 2020, Forbes retracted the title, as they found out that the whole thing was an exaggeration, it was made up by Kylie's accountants.
Net Worth Milestones
2011 —- $300,000
2013 —- $2,000,000
2014 —- $4,000,000
2016 —- $10,000,000
2017 —- $50,000,000
2018 —- $200,000,000
2019 —- $300,000,000
2020 —- $700,000,000
The Hierarchy of Wealth for the Kardashian/Jenner Family
With the meteoric rise in fame and fortune, can't help but wonder if Kylie is the richest in the Kardashian/Jenner clan. Below are the estimated net worths for the rest of the Kardashian/Jenner clan, starting from her parents:
Kris Jenner – $170 million
Caitlyn Jenner – $100 million
Her siblings:
Kim Kardashian – $1.4 billion
Kourtney Kardashian – $65 million
Khloe Kardashian – $50 million
Kendall Jenner – $45 million
Robert Kardashian Jr. – $10 million
Brody Jenner – $10 million
Brandon Jenner – $1 million
This hereby leaves Kylie as the second richest in her family behind Kim Kardashian.
What Charity is Kylie Jenner Involved In?
Jenner in partnership with the Charity Smile Train has donated almost half a million dollars, for the treatment of 1,800 children born with clefts, according to Charity Smile Train's website. In 2016, Jenner created a special lip kit, where 100% of the money was sent to Smile Train.
During the wildfire spread in Australia, Jenner donated $1 million towards aid. Kylie has also donated $750,000 to Nest of Love (Women's empowerment Organisation) to help mentor young women in low-income areas.
In 2017, for her 20th birthday, Jenner donated a day's worth of Kylie Cosmetics proceeds to Teen Cancer America, an organization dedicated to supporting cancer research and oncology care for young people. More so, at the onset of the COVID-19 pandemic, Jenner donated $1 million to Hospitals in Los Angeles for the purchase of protective equipment.