Life should definitely be easier than rushing back home in the evening to prepare dinner or trying to warm what you made in the morning. It is this ease that the best crock pots are set to offer.
There is hardly anything as easy as preparing your dinner in the morning, only to come back to meet it done and hot as you want it in the evening.
The most common problem is definitely how to get the top quality crock pot that would deliver what is expected of slow cookers. It is a problem because there are many that promise all only to deliver nothing. For this reason, we are taking a look at the best crock pots on the market which live beyond its expectations.
Best crock pots
Crock-Pot WeMo Smart Slow Cooker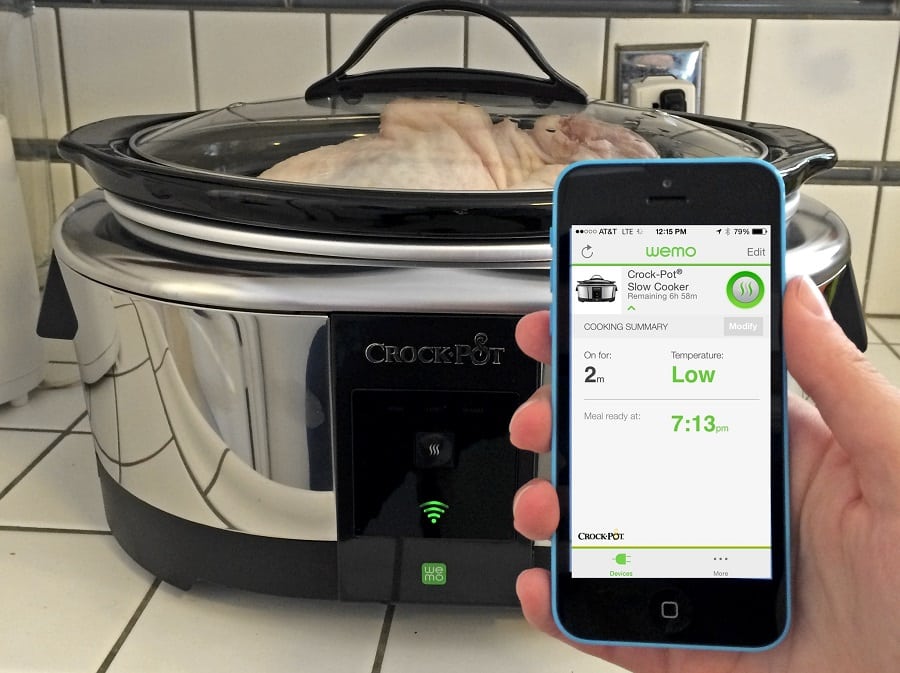 You are not the only one with the fears of having to step out and leave something cooking. It's such fears that this slow cooker takes care of.
Designed as a smart piece, the cooker comes with many capabilities that make the kitchen a fun place like never before. From anywhere you may be, you can easily control your cooking temperature and timer setting straight from your phone.
You can schedule what you want to prepare, monitor as it gets done, adjust cooking time, and get different notifications with the slow cooker through its app that works on both iOS and Android devices.
This may top other Crock Pots because it combines all the smart technology with good performance as a pot.
Pros
Has 6-quart capacity.
It is a very smart pot with 3 adjustment levels.
It reaches very high cooking temperature and still manages not to over cook
Very versatile (serves as a slow cooker, pressure cooker, steamer, warmer, rice cooker, and yogurt maker)
Comes with delayed start time and keep-warm functionality
Cons
Price is a bit on the high side.
Verdict
Recommended for someone looking for convenience and functionality.
Cuisinart Cook Central 3-in-1 Multicooker MSC-600 Crock Pot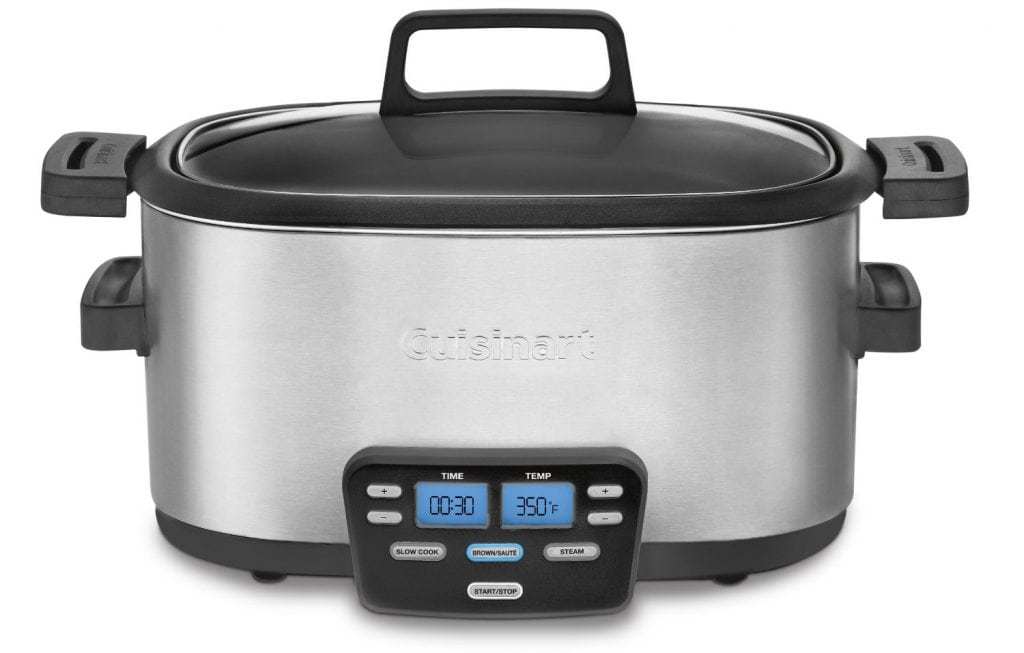 This multicooker crock pot is not exactly the programmable one you may want but it gets the job done whether you are looking to steam, brown/sauté, or slow cook.
What is more is that you can give it any kitchen task and you will still end up with nice dinner. Doesn't it get better to know that it is easy to maintain?
I love this because its warm time is as much as 8 hours starting from when your food is cooked. More so, it gives you an option of choosing between 4, 6, and 7 quarts.
Pros
Very versatile as it cooks almost everything.
It is very easy to use and keep clean.
It can be set to cook for up to 24 hours.
Cons
If only it came with a delay timer!
Verdict
This may be at the peak when it comes to versatility when you are looking at best crock pots in that category. It handles almost anything you throw its way.
Read: Homemade Salad Dressing: Lemon, Caesar, Italian, Mustard, Yogurt, etc
The Instant Pot Duo 7-in-1 Crock Pot
What is better than the Cuisinart Cook Central 3-in-1 Multicooker MSC-600 in multi-functionality definitely has to be the Instant Pot Duo 7-in-1.
Personally, I don't see any reason why I shouldn't go for a piece that is a slow cooker and six more things at the same time. It comes as a pressure cooker, rice cooker, and steamer, among other things that include yogurt maker.
Using it as a slow cooker is very easy and convenient as you can set it to work just as you want. It comes with dual pressure settings and adjustable temperature settings.
The problem I have come to observe over the years, and I know I am not the only one, is that most multi-functional appliances especially those made for kitchen use are usually developed with the aim of performing one or 2 main functions excellently well and the rest would be low to average performance. It is different with this piece and that is how it made it this far.
Pros
A very valuable piece
Brings together 7 kitchen appliances in 1
Great app that comes with control and personal recipes.
Very good features.
Very good programmability for the slow cooker.
Cons
Because of the many things strapped to the neck of this piece, it may slack in some aspect like the pressure cooker.
Verdict
There are hardly many stuff in the market that would beat this multi-functional piece. It saves a lot of space in the kitchen and the cost of getting 7 different appliances.
KitchenAid Slow Cooker with Easy Serve Glass Lid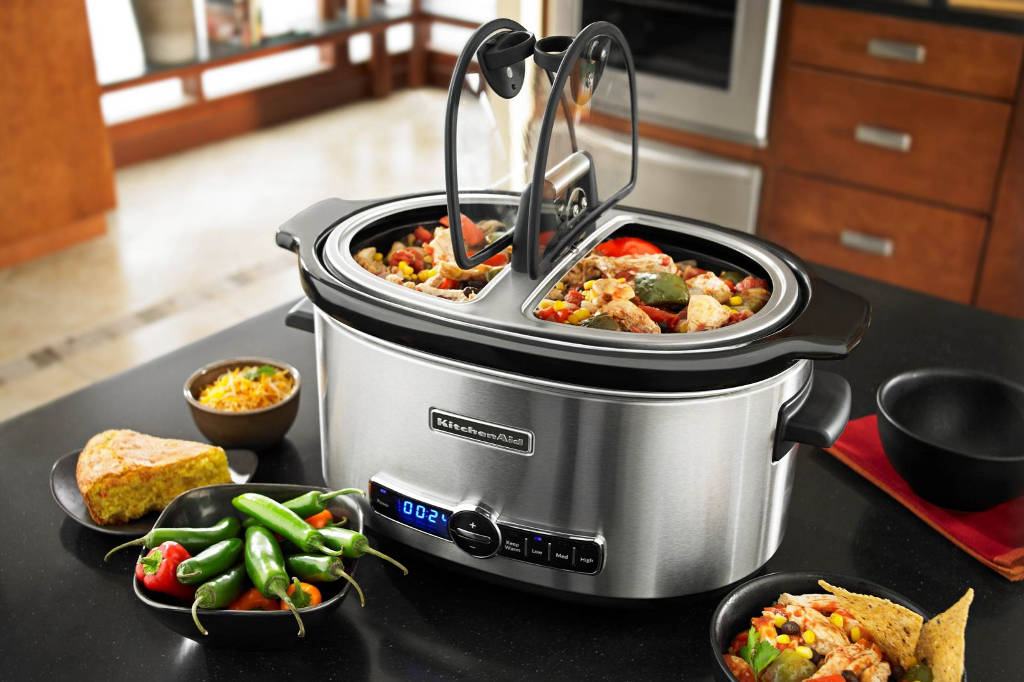 This is a crock pot that comes with great usability and programmability of up to 24 hours. More so, it helps keep food warm for as much as 4 hours after cooking.
It is one of those slow cookers that have everything well thought of in the design and functionality. From the setting up to its programming, cooking and keeping warm, serving and cleaning, it's all clean and straightforward with this piece.
A six-quart slow cooker, it is very easy to use and it keeps food well covered and comes with a glass cover that can be opened from two sides.
Pros
Great programmability.
You can see how much time is left for your food before it is done.
The cooking performance is top notch.
Cons
Verdict
Best for someone looking for a very good programmable slow cooker that cooks excellently well and keeps food warm for hours.
See Also: 20 Paleo Recipes and Snacks for a Tasty Super Bowl Party Menu
All-Clad SD700450 Programmable Oval-Shaped Crock Pot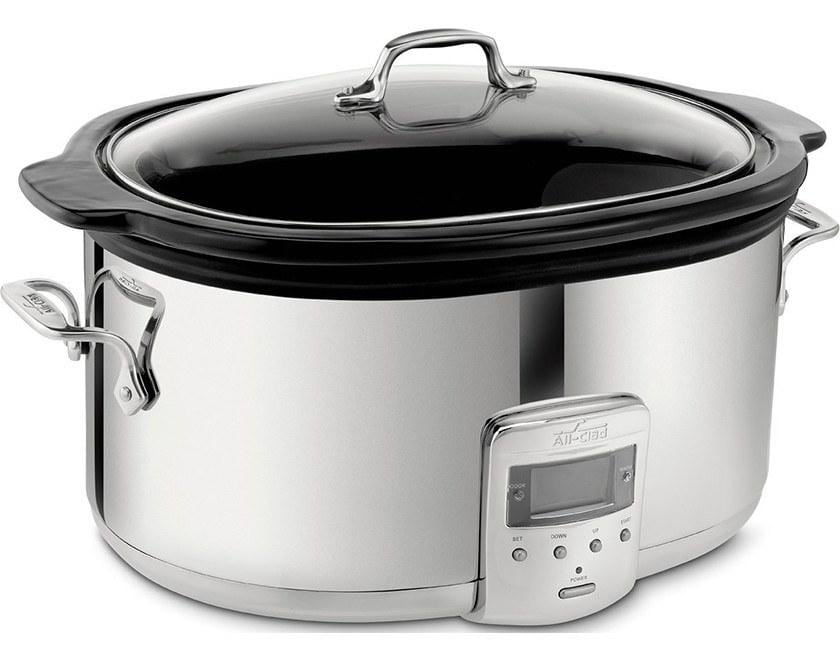 The one to handle almost any size of people is this piece.
For the programmability, while most others give a generous 24 hours of timing, this makes it even better with 26 hours.
Another interesting thing that I refuse not to mention is the quality of the slow cooker. It is not one to leave out. It has a stainless steel body that is very durable, ceramic insert, and a glass lid that is safe to wash in a dish washer.
Pros
26 hours programmability
Very good build
Food doesn't stick and it cooks evenly
Cons
Although the insert is great, it may not last forever. It will serve its time though.
Verdict
The All-Clad SD700450 Programmable Oval-Shaped Slow Cooker may just be it for a kitchen that is adventurous enough to try cooking everything under the sun. More so, it is strong enough to survive a careless hand. Just don't push it too far.
Cuisinart PSC-650 Stainless Steel 6-1/2-Quart Programmable Crock Pot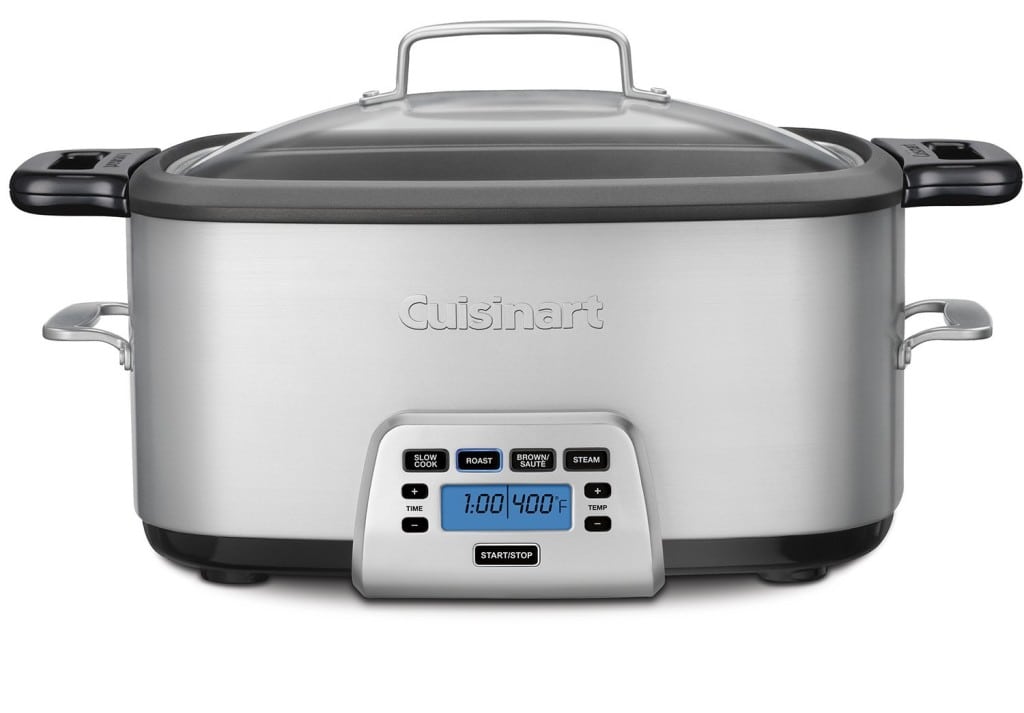 This is the one I am currently using. I settled for it without even thinking twice because it fared fair in price and does very good in programmability and general performance. It also cooks very well.
With a 24-hour programmable countdown timer, the cooker offers what you get with some others, but it beats it because it adds great features to it such as the auto keep warm among other features.
In size, this bigger than life piece is actually big enough for a large family. As such you are covered with the large pieces of chicken, lamb, pork, even if it is turkey for Thanksgiving.
Pros
The pricing is good
Comes with good features
Good programmability.
Once the programmed schedule for 24 hours has elapsed, it automatically switches to keep warm for up to 8 hours after the 24 hours.
Cons
It is rather big for a smaller family.
Verdict
Okay, there are a lot of things for this that as verdict I will say it is good enough to have a place in any kitchen.
Crock-Pot Programmable Slow Cooker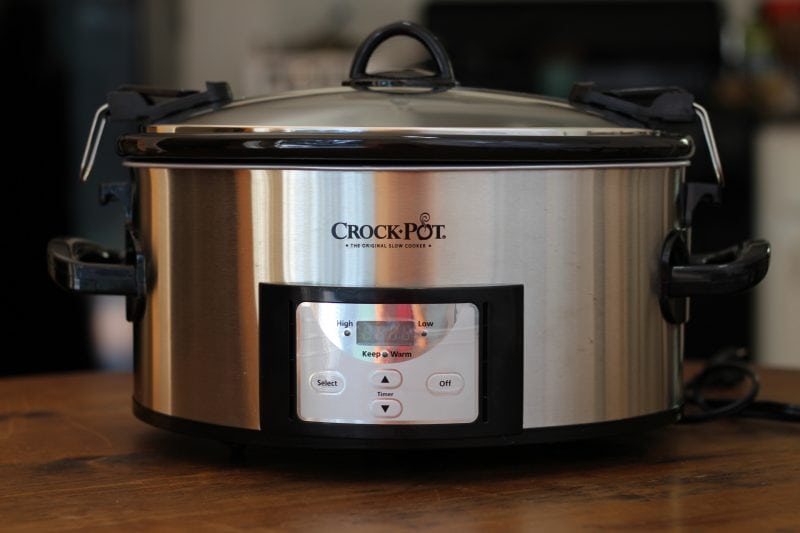 If you are looking for something that is both cheap and easy to keep clean, my bet is that the Crock-Pot Programmable Slow Cooker may just be the best crock pots for you.
What makes it very clean is its easy-to-lock lid which keeps whatever you are making.
When looking at the programmability of the cooker, you can set it to run from 30 minutes to as high as 20 hours. This is not bad considering the cost.
See Also: Best Item Organizers and How to Declutter Your Home
Another interesting thing about this is that it has a removable insert which can be used in the microwave and oven.
Pros
Not the messy type
It can serve as much as 7 people
The cooking performance is good.
Not hard to use.
Cons
Not the strongest on the list.
Verdict
This is the best pick for someone on a budget looking for something easy to clean and for a large family.