Low fade haircuts are one of those hairstyles that fit most men with short hair. It is a classic hairstyle that has captured many men's interest, which explains why most men are rocking it in various ways. However, this doesn't mean that those who have long hair can't wear this style. In fact, there are various styles that are coming up and these styles are made solely for men with long hair.
Gone are the days when men didn't seem to have hairstyles that look different from one another. One of the greatest misconceptions is assuming that men's hairstyles are quite similar. Below are the most trendy and handsome looking men's low fade haircuts:
Sophisticated Low Fade 
As the name implies, the low fade haircut can be classy and make a bold fashion statement if you choose to style it as such. Below are some cool low fade haircuts for curly hair.
1. Low Fade Curly Hair
Instead of going down to the skin, the shadow fades out as the cut gets closer to the neck. This gives a fantastic crop with a lot of fringe for curly hair. The hair is also carved around the edges to define the haircut and give it a clean finish. This hairstyle can be rocked by guys of all face structures but its most suitable for oval-shaped faces.
2. Low Fade with Design
This style is a classic curly hair fade hairstyle that will never go out of style. The hair fades swiftly around the temples and neckline while keeping a natural line behind the ear. You can also go ahead to make any design of your choice at the side or back of your head. It is an ideal haircut for guys of all face shapes.
3. Low Fade Combover 
This high fade and short hair mix is a classic and handsome alternative for men with short hair. Begin by parting your hair into a hard part and combing it to one side. If you have a cowlick, smooth the stray hairs in the direction that the cowlick naturally follows. Don't be hesitant to use a pomade to enhance the texture of your hair; it will give it more volume.
This hairstyle is appropriate for those who work in an office setting, but it's also edgy enough to wear to a bar or club and it suits a wide range of facial structures.
4. Low Fade Comb Over Without Part 
For this style, the mid fade begins halfway up your neck, striking the perfect balance between the high and low fades. The mid fade, like the taper, features a hair gradient that leads to the long hair on top. Keep the top length short and apply gel to keep it in place for a low-maintenance look. You can grow it out, add texture with pomade, and add a hard part for a vintage edge if you want something a little more involved.
5. Buzz Cut Low Fade
Right now, the buzz cut is all the rage. It's not a military cut, but rather a high-fashion rendition. A blurry fade, whether cut as near to the scalp as possible or a little longer, gives elegance to the utilitarian look. For optimum impact with minimal hair length, add texture and/or a distinct lineup. Alternatively, swap the fade for a taper.
6. Low Fade Mohawk 
The low mohawk fade is a very popular haircut and to give yourself a facelift, you can grow bears that can be well-trimmed to frame your face and flatter your unique facial features. Although giving yourself a fade and lining up a beard is doable, it will take a lot of work to get to this level. Visit the barber before special occasions to get the best of both worlds, and keep the cut in between.
7. Taper Fade with Slick Back
If you're lucky enough to have thick hair, show it off with a blowout that involves stroking damp hair while drying. If your hair is prone to frizz, a diffuser can be used in conjunction with the dryer.
8. Low Fade Short Hair
Haircuts with short hair can be elegant, easy to keep, and go well with little or no facial hair. Ask your stylist to thin hair beneath the temples for such a low fade haircut, and use a holding gel to keep things looking on point throughout the day.
Youthful Low Fade Haircuts
If you want to exhibit a playful and youthful appearance, some low fade haircuts can help you achieve that. Check the list below and select your next low fade haircut:
9. Short Hair Undercut Fade
The short hair undercut fade is a simple, low-maintenance hairstyle that's nevertheless stylish and appealing. A short fading undercut provides the perfect contrast to a buzz cut, crew cut, French crop top, or any other short hairdo.
10. Low Fade Undercut
With long hair on top, you'll frequently see an undercut fade. Hairstyles with short sides and long tops provide the most styling freedom and flow. Consider the comb over, quiff, slick back, pompadour, faux hawk, mohawk, and messy style to take advantage of the hottest men's hair trends. A heavier styling product is required for a long fade undercut haircut. Apply wax or clay for a textured finish that adds volume and flow. A high hold pomade, on the other hand, may provide just the appropriate amount of shine and control.
11. Low Fade Afro
Do you want to give your afro a makeover? Consider adding a fade. This will give your hair more structure and definition, as well as a more current appearance. In addition, haircuts with shorter sides flatter all face shapes. Pair your natural Afro with a bald fade for a stunning style that lengthens your face, or a low fade for a subtly contoured look.
12. Taper Low Fade Afro
The combination of a high taper and a higher neckline gives the impression of a low fade. This style gives the appearance of a diagonal line running around the back of the head. Whether the afro is dressed with roughness or smooth, it concentrates the volume of hair above the ears.
13. Low Fade Man Bun Haircut with Design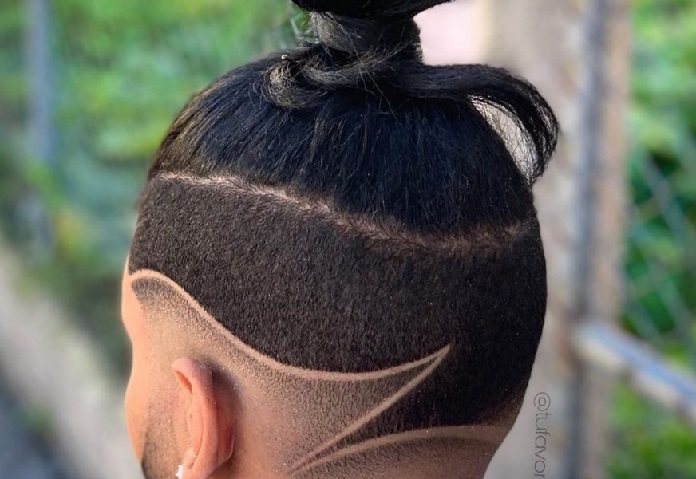 What's the nicest part about a fade with a man bun hairstyle? It'll be a lot easier to style and maintain because you'll be buzzing or snipping away the majority of your long or medium-length hair. The creation of some designs on the head also makes this hairstyle an easygoing one.
Low Fade With Hair On Top 
A low fade haircut can be paired with hair on top of the head. This hair can be short, long, curly, or long. Simply select the appearance that best suits you. See the list below:
14. Low Fade Long Top
A low fade blowout can be an absolutely interesting hairstyle option if you're not scared to attempt something a bit different. Because of the short sides, which quickly transition from barely-there to a large explosion of hair on top, the distinctive style works well. This elongating hairstyle may also be just what you need to slim the appearance of your face in style if you have a broad or round face.
15. Low Fade Long Hair
If your hair is very long, you might want to try braiding it into single braids and pair it with your low fade haircut. The results will definitely flatter your facial features and it will suit all face shapes.
16. Mohawk Fade Haircut with Color
This gorgeous hawk hairstyle is finished with a dash of color on top. If you wish, designs can also be added to the sides of the head to make it very eye-catching. This haircut is perfect if you want to make a statement with your hair and it suits all types of face shapes.
17. Mohawk Natural Curls Low Fade
The mohawk fade is a great trend for curly hair of all types. It adds volume and natural structure. Pairing a low fade with curly long hair is one of the best ways to wear it. A curly long hair has a lot of sophistication attached to it and the shaved sides that fade down towards the neck enhance this hairstyle to give it a more dramatic look. This hair suits all face shapes.
18. Low Fade with Design
For those who choose to keep their hair short, the perfect tapered-style cut is ideal. The hair does not take a lot to maintain, and you can still turn it into a trendy style by adding designs at the back. The design is on the back of the neck and fades sharply.
19. Mullet with Tapered Sides and Design 
Mullet is a fantastic hairstyle since it only has hair in the middle of the head. Both shaved and faded sides are possible. The sides are faded with a design on the left side of the head in this haircut. The look is great, but bear in mind that mullets need to have the right length and texture.
Short Low Fade Haircut
No matter how short your hair is, there is always a low fade hairstyle that will suit it. Below is a list of short low fade haircuts that will flatter any short hair:
20. Low Fade Military Haircut
The military fade is a popular side and back haircut for men, delivering a sharp and trendy style that will boost your appearance. The fade haircut involves gradually tapering the hair along the sides, moving from long to short. There are a variety of fades to choose from, including low, mid, and high fades. Guys might go bald or have their skin faded for an edgier look. Some men prefer a low fade to their military cut for a soft and adaptable look, while others choose a mid or high fade for a more manly appeal.
21. Regulation Cut
The regulation cut is a lengthier army haircut that has become a popular barbershop choice for businessmen. A standard haircut begins with a taper fade on the sides and back, followed by a short crop on top that allows men to wear their hair in a side part. This military-style is simple to maintain, stylish, and appropriate for a variety of occasions. For control and volume, use a medium to strong hair product, resulting in an attractive and clean-cut look.
22. Flat Top
The flat top is a short hairstyle in which the top hair is trimmed flat and groomed vertically. The flat-top haircut is an edgy military style with a fade on the sides and back that looks excellent with thick, straight hair. To keep your hair spiked all day, you'll need a powerful style product. Guys should use a matte pomade or gel for a softer, more natural look.
23. Buzz Cut Low Fade
The buzz cut fade is a trending short men's hairstyle with short hair on top and fading sides. A buzzed cut can be paired with a variety of fade hairstyles. To begin, establish where the tapering begins so you can choose between a high, mid, or low fade. A buzz cut with a low fade begins tapering just above the ears and stays close to the neckline in the back; on the other hand, a mid fade begins in the middle of the head and a high fade effectively becomes a high and tight. It suits a wide range of facial structures.
24. Skin Fade Buzz Cut
Because the sides are trimmed short enough to create contrast for the buzzed top, a buzz cut with a skin fade is one of the most popular haircut types. The hair on the sides and back of a skin fade haircut is tapered down to the skin. Guys can have a low, medium, or high bald fade and top it off with number 1, 2, or 3 haircuts from their barber. A skin fade buzz cut is a trendy and beautiful hairdo that looks even better with some facial hair for a sexier look.
25. Crop Top Low Fade
Another look that makes dynamic use of a grown-out-roots look. Some of the rough spikes fall into a tiny fringe on the forehead, while others are shaved clean off the hairline, giving the look an asymmetrical, avant-garde vibe. The addition of a discordant shaved design above a clean burst fade adds panache to this crop low fade haircut or French crop fade hairstyle.
26. Low Fade Slick Back
The smooth and gentle shapes of this slick back are one of our favorites. It's also not very long, which makes washing and styling a breeze.
Edgy Low Fade Haircuts
If you want to pull off an edgy look and draw a lot of attention for your haircut, the following low fade haircuts are best for you. See the list below for low-fade haircuts that will definitely make heads turn whenever you walk by.
27. Slicked Back Hipster Low Fade Pixie
The slicked-back cut is a hipster favorite since it's a little more daring than other dull haircuts. To enhance your look, you can decide to rock this hairstyle with well-trimmed beards.
28. Low Fade Blowout 
The blowout taper could be the ideal haircut for business workers who want to look polished and contemporary. The taper haircut, like the fade, merges the sides and back into shorter hair. Tapered styles, on the other hand, leave more length for a more conservative look.
29. Low Fade Straight Hair
This is a lovely illustration of how a fade haircut draws attention to the rest of the hair and makes it appear thicker. The sides of this haircut are fairly short, but the sideburns are barely shaved to the skin. This haircut also has mid fades to allow for some length around the crown and to get more dramatic impact, take a more angular line. This is a stylish short haircut for men that will take you from the office to the gym and the club. It suits a wide range of facial structures.
30. Curly Low Fade Hairstyle
This style is achieved by cutting the hair in the traditional taper fade style with short hair on the sides and back. The taper fade is also done in such a way that it gradually fades off as it gets closer to the neck region. It is an ideal hairstyle for oblong or long face shapes.
31. Low Fade with Waves
A clean, fresh look is achieved by using a temp fade with waves. This low temple fade haircut starts high on the head and is accented by a line along the hairline. Grow a thick beard to complete the look for a more macho look. This low temp fade and 360 wave combination are sexy and trendy, and it will look great on any face shape.
32. Low Fade Man Bun Haircut
Is a man bun hairstyle with a fade appropriate for more formal occasions? This on-trend haircut may be as professional as you want it to be with the appropriate pomade. You can actually rock it to formal events and other sophisticated functions.
33. Low Fade Messy Top
This messy drop fade style is a fashionable alternative whether you have straight, curly, or even coiled hair. The contrast between the untamed top and the immaculate sides provides a new dimension to the classic undercut technique.
34. Crew Cut Low Fade
This hair cut is quite similar to a Buzzcut but its low fade is very visible towards the lower part of the head where a good chunk of hair is removed. At the top, a handle of hairs will be left which can be curled or styled as desired.
35. Thin Fade Hair cut
This haircut involves an intense fading of hair at the back of the head while some hair is left in the middle. It is suitable for all sorts of faces and it is quite easy to maintain because of its short length.