Natasha Obama, commonly referred to as Sasha, is the second daughter of former American President – Barack Obama. It is safe to say that she is one of the most famous teens in the world.
Her father was elected into office in 2009 when Sasha was just 8 years old and her elder sister, Malia, was 10. Since then, Sasha and Malia have grown up in the public eye and under media scrutiny which can be a lot to handle for anyone, but they handled it with grace and poise.
Natasha Obama Biography: Who Is Sasha Obama?
Natasha Obama was born on the 10th of June, 2001 in Chicago, Illinois to Barack and Michelle Obama. As previously mentioned, Sasha has an older sister named Malia, who is also her best friend.
Sasha and Malia both had a unique upbringing being the 'first daughters' of the United States of America. While their father was in office, they both attended the well-known prestigious Sidwell Friends School in Washington D.C where other presidential kids like Archibald Roosevelt, Tricia Nixon Cox and Chelsea Clinton also attended. Prior to relocating to Washington, Sasha and her sister attended the University of Chicago Laboratory School.
Sasha also has a close relationship with Joe Biden's granddaughter, Maisy Biden, who also attended Sidwell Friends School. The two girls played basketball, loved soccer and have even vacationed in Miami together.
Sasha's hobbies include cheerleading, playing basketball, attending concerts and playing tennis.
5 Lesser Known Facts You Need To Know About Natasha Obama
As a famous kid who has spent most of her life under the public eye, one would think you already know all there is to know about Natasha Obama. Here are five lesser facts you probably didn't know about her:
1. She Got A Summer Job
You would think that as a president's daughter, Natasha Obama would be overly pampered but you'd be wrong to assume that. While living in the White House, Sasha and her sister did chores themselves and their parents made the effort to keep their materialism down to a minimum.
In the summer of 2016, Sasha got herself a part-time job at Nancy's Seafood Restaurant where she worked as a server, bus girl and hostess.
2. Sasha Once Had Meningitis
According to her father's recount in a campaign video, Sasha got meningitis when she was three months old. It was, without a doubt, a terrifying moment for the family, especially because they feared they would lose her. Fortunately, Sasha survived and has been in excellent health ever since.
3. A Family Friend Delivered Her As A Baby
Natasha Obama, who was born in 2001, was delivered by Dr Anita Blanchard – an OB/GYN and a family friend who works at the University of Chicago Medical Center. Dr Anita Blanchard is also Michelle Obama's best friend. The good doctor also helped deliver Malia too.
Read Also: Skyler Samuels: 5 Facts You Need To Know About The Actress
4.  She Has Been Involved With Several Charity Events
Sasha has been shown to have a very compassionate facet to her. In 2016, Sasha, Malia, Michelle and her maternal grandmother – Marian Shields Robinson, paid a visit to Liberia to promote the 'Let Girls Learn' initiative. They also visited Morocco and donated a sizable sum for the purpose of providing educational support to 62 million Moroccan girls.
Natasha Obama was named as one of the 25 Most Influential Teens of 2014 by Times Magazine, it's good to see her using her influence for good.
5. Ryan Reynolds Is Her Celeb Crush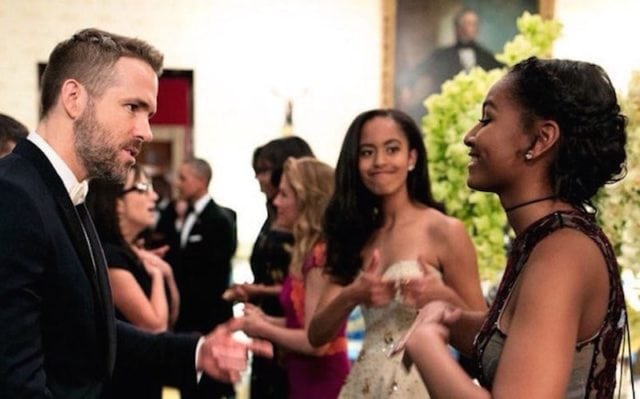 We all have our celebrity crushes and Sasha's celeb crush is none other than the incredibly talented Ryan Reynolds. We can't say we blame her though, it's completely understandable; Ryan Reynolds is attractive, charitable and hilarious. Ryan is an actor best known for his roles in The Proposal, the Deadpool franchise, The Hitman's Bodyguard, X-Men Origins: Wolverine and Green Lantern.
However, the actor is presently off the market as he is happily married to Blake Lively, an American actress.
Luckily, Sasha had a chance to meet Ryan when he visited the White House in 2016; she even asked her sister, Malia for advice on how to approach the Hollywood star. Thankfully, their meeting went graciously well.
Besides Ryan Reynolds, Natasha Obama is also a fan of Drake, The Jonas Brothers, One Direction and hip-hop sensation, Cardi B.