Natural curly hairstyles are fabulous on long and short hair, however, they require hard work and dedication to maintain. While some people prefer to relax their natural hair to reduce the curls, there are times when you'd want to rock a naturally curly hairstyle and if you are stylish enough, you will get your natural hair to the point where it looks just as good as any other enviable style out there.
Show off your superb curls boldly with these natural curly hairstyles that only require a bit of twisting, knotting, or color to look gorgeous.
Easy Hairstyles For Naturally Curly Hair
Check out these fantastic naturally curly hairstyles.
1. Natural Kinky Curly Hair
For a head full of resilient curls that just won't stay straight, this is a solution that offers easy maintenance and elegant style. Style your kinky curls into this twisty updo and accent it with a hair accessory of your choice. You can also opt for knots for something more permanent and distinct.
2. Springy Natural Curly Hairstyle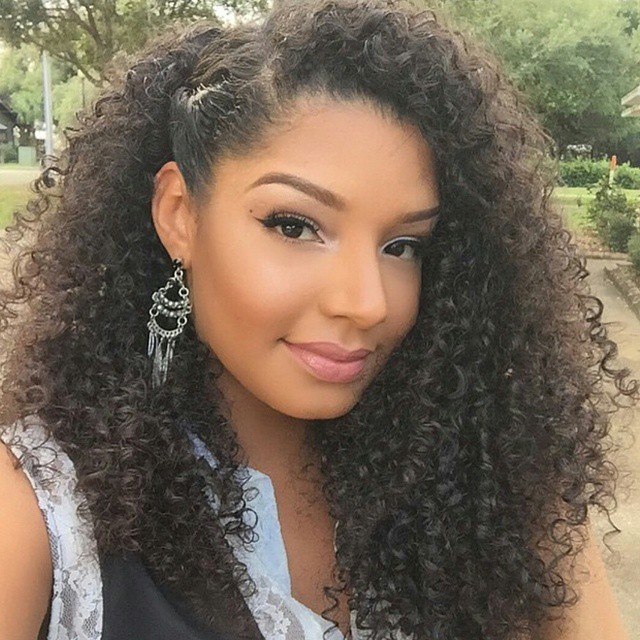 Show off long the natural curly hairstyle by simply letting it down. The springy curls help to frame the face in a way that shows off your features. The longer the locks, the better your hair will look when you let it down. However, you should always go for volume when your hair is naturally curly.
3. Sophisticated Braid Updo
For the nimble fingered, use your skills to turn your naturally curly hair into something exquisite. Long hair is the best for experimenting with new styles. Thick cornrow braids line the sides while the top has been fashioned into a voluminous updo that emphasizes the boldness of the look.
4. Bohemian Beach Hairstyle for Natural Curly Hair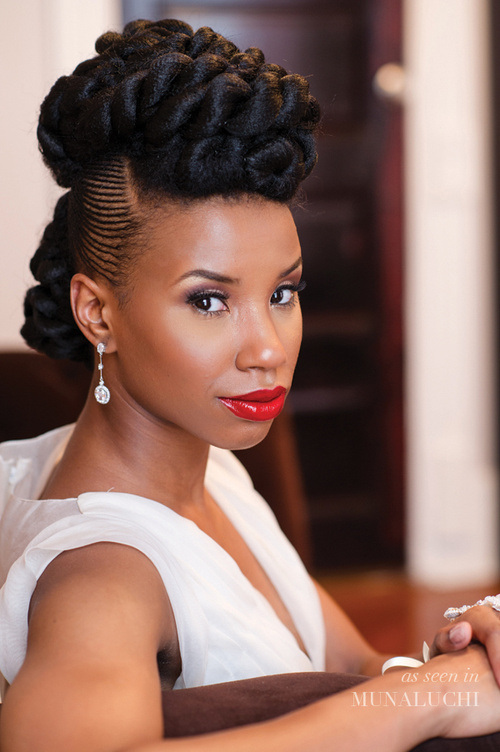 If you're all about the carefree life, here is the look for you. The long updo curly hair has been given a distinctly bohemian touch with the inclusion of tiny dutch braid that runs through it. The textured locks look even sexier thanks to their windswept appearance.
5. Side Swept Naturally Bouncy Curly Hairstyle
Go for some sexy asymmetry by sweeping you natural, bouncy curls to one side of the head. The more voluminous, the better, as this creates an audacious asymmetry which is very attractive. You can use braids to stylishly flatten the other side so that more emphasis is put on the curls.
6. Curly Mohawk Natural Hair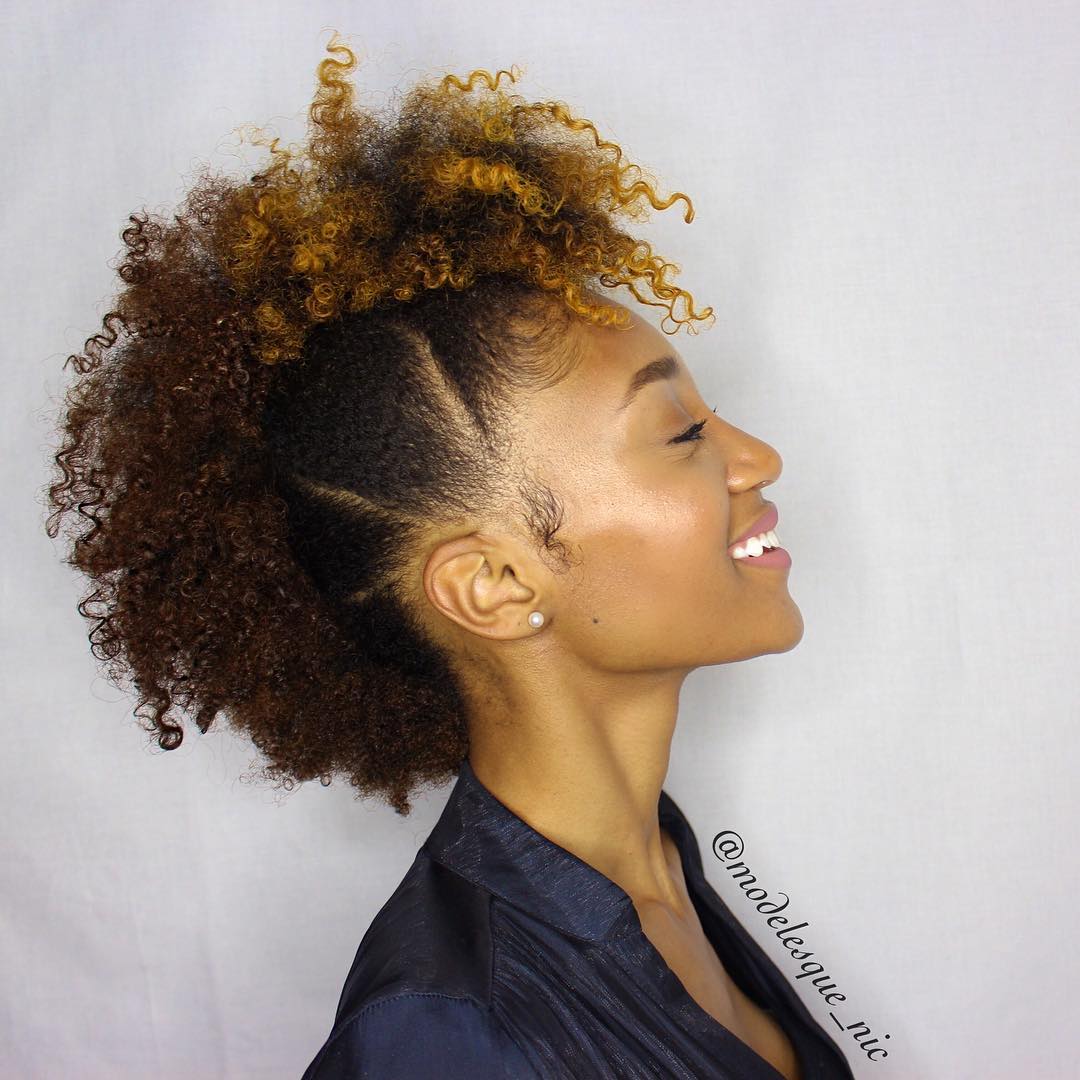 A faux Mohawk, springy curls and delightfully blonde highlights is what it takes to rock this sunny look. Keep the length of your curls moderately long to get that volume. Ideally, you can chop the sides a bit if you are not afraid to commit to the scissors.
7. Bob and Waterfall Braid
Accenting your natural curls with some intricate braiding is one of the best ways to stylishly rock natural curly hairstyles. The waterfall braid adds a touch of femininity to enhance the short curls with radiant touches of ombre.
8. Messy Natural Curls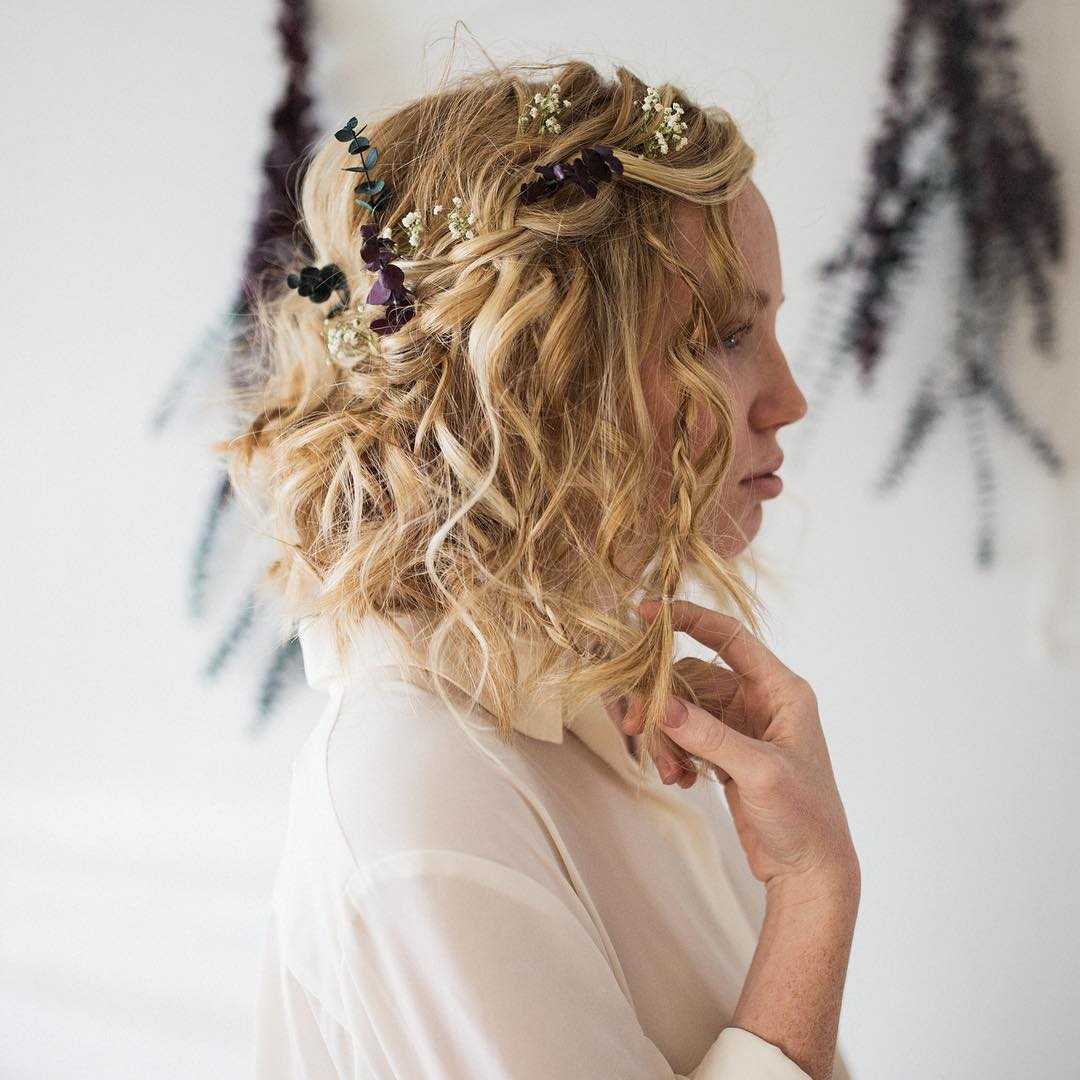 Short and medium-length hair will always look good when worn wild. The curly locks in this example show just how much tousling you can get away with while still managing to look exquisite. Throw in some girly hair accessories to finish off the look with a bang.
9. Easy Braided Royal Crown For Natural Curly Hair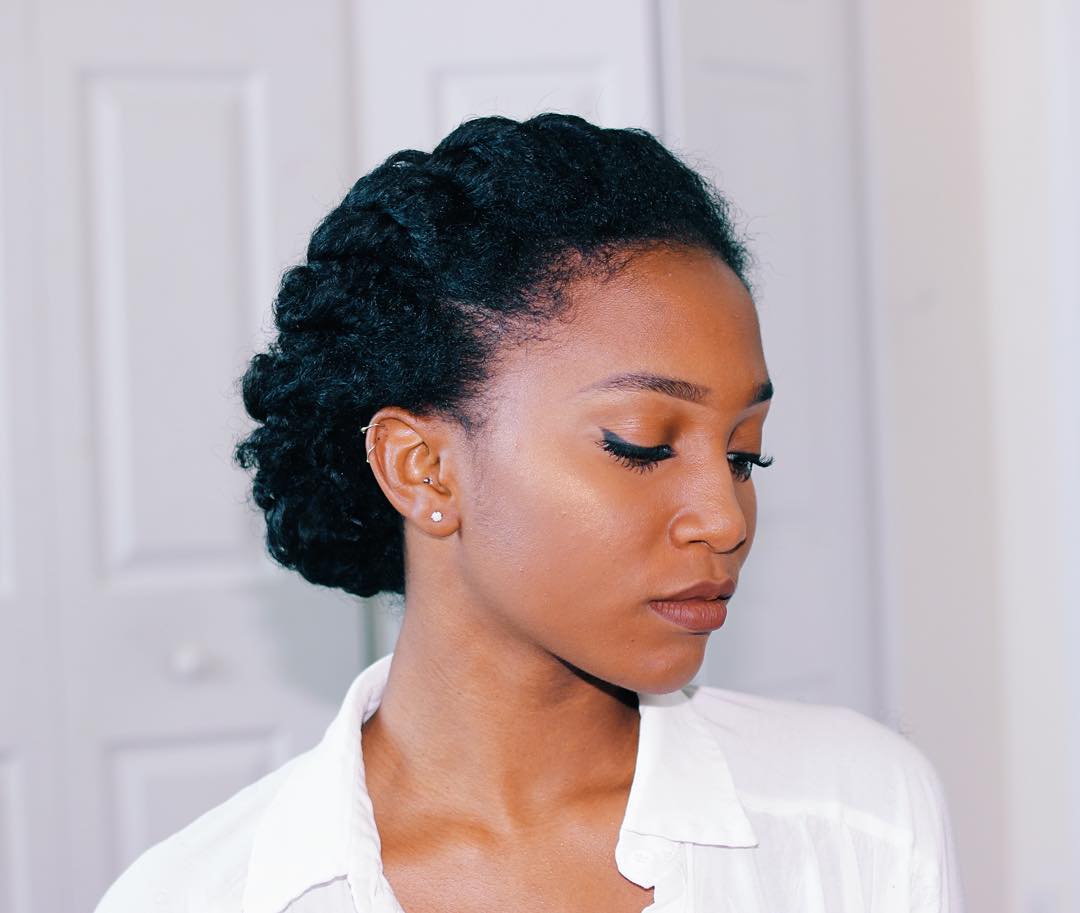 Although it may look complex, this look is not that hard to pull off. Take a few minutes to style your kinky curls into firm braids wrapped around your head in a sophisticated crown. The look is low-key but not boring, and is very easy to maintain.
10. Fiery Accents Natural Long Curly Hair
Curls may be fun and all but nothing gets a look going better than some color to bring it to life. The smooth, baby hair curls in this example have been fashioned into a simple bun. Radiant auburn highlights help it get a sun-kissed finish.
11. Natural Curly Hairstyle With Side Swept Tresses
Use a mixture of braids and bouncy tresses to create something fresh and fun. You can style the bigger portion of your hair into thick cornrows and leave a small section of the naturally curly hair at the side to accent the look.
12. Natural Curly Hair with Side Bangs
Warm highlights go well with many skin tones. Partition your hair into sections and style it into simple braids or cornrows while leaving a bouncy fringe hanging over the forehead to finish the look. The radiant copper highlights complement the skin tone nicely.
13. Low Maintenance Medium Length Naturally Curly Hairstyles with Purple and Teal Highlights
Simple, all natural and very colorful, all you need to pull off this funky look is a bit of color in your hair. You can opt for some rich dyeing or use bright laces to achieve the vibrant color combination seen in this example.
14. Natural Curly Hair for Black Woman
If your curls are too short to be let down, go for volume and let them give you that bold, afro shape that exudes confidence and class. Giving them a nice, glossy sheen is a good way to make them look more sophisticated.
15. Headband Braids for Curly Hair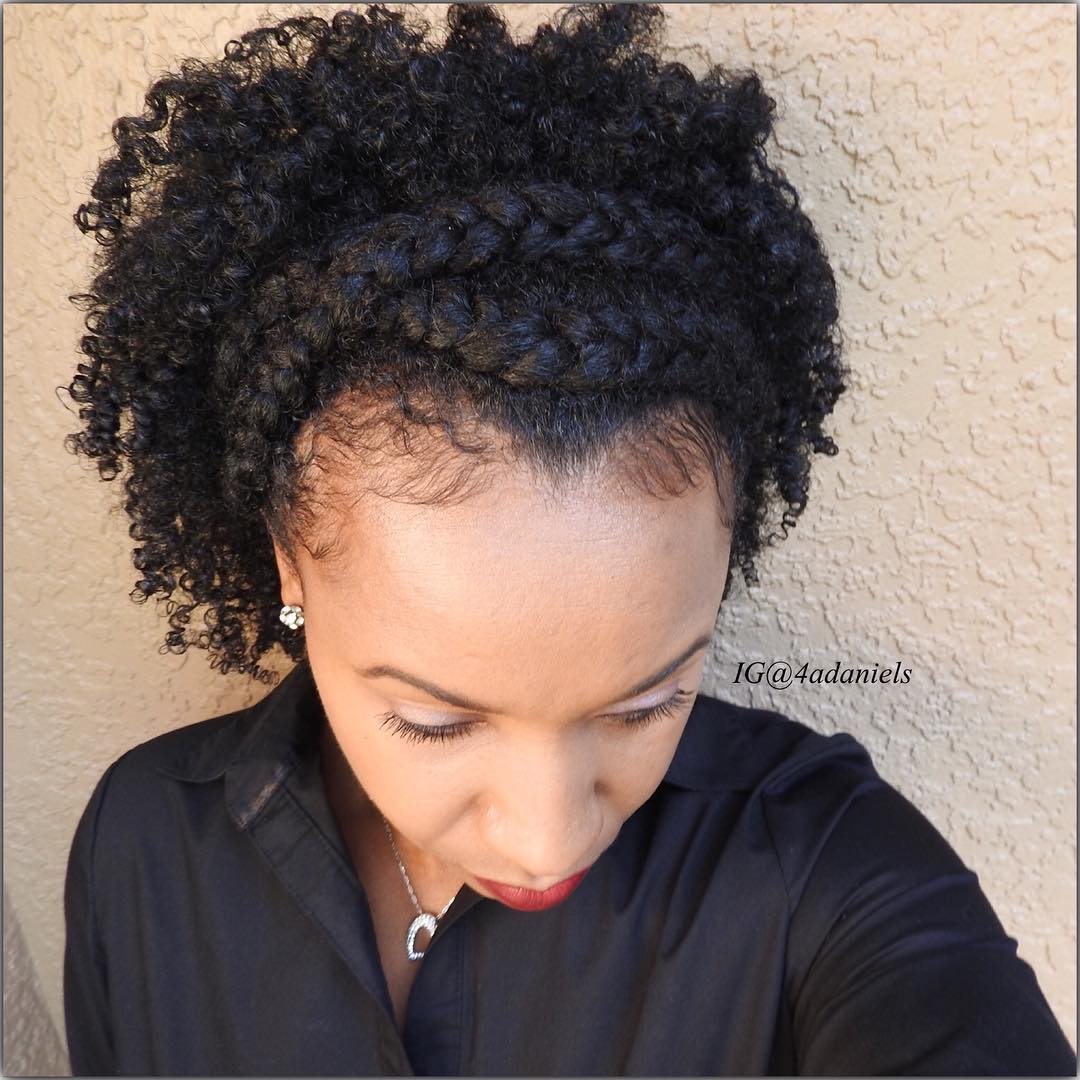 Headband braids go across the head, usually from one side to another. They are a great way to accent your natural curls as they add some measure of intricacy into the natural look. Use two to get a bolder effect and to make your curls stand out even more.