Odell Beckham Jr height is 5 feet 11 inches, and while Odell Beckham Jr. can't be called short, he is far from being the tallest person in his profession, regardless, the athlete has been able to stand out in everything he does.
Because of Odell Beckham Jr's talent and skill, he has been in the headlines ever since he was a college athlete. Turning pro in 2014 amplified this as the wide receiver became one of the most popular players in the National Football League (NFL). While he went on to receive the Offensive Rookie of the Year award and set various other records, he was better known to the public for his flamboyant hairstyles that many have speculated he uses to make himself appear taller. Whether this is his intention or not, Odell's height (or lack of it) has not been a hindrance to his success.
How Odell Beckham Jr's Height Has Helped His Career
As earlier mentioned, Odell Beckham Jr's height is listed at 5 feet 11 inches (1.80 m). With this, he is most likely not to be the tallest person in a room with other players in the NFL as the height of the average athlete in the league is 6 feet 2 inches (1.88 m). He is, however, taller than the average American who according to the CDC is 5 feet 9 inches tall.
In American football, physical attributes like height are a major factor that enables one to excel and be effective in playing in their position. Take for example offensive and defensive linemen who are usually very tall, with some being as tall as 6 feet 8 inches to enable them to knock down passes with their outstretched arms. Because of this, quarterbacks are expected to also be tall so that it is easier for them to see over the heads of large offensive and defensive linemen. When it comes to wide receivers, however, the story is different because both short and tall players in this position have their advantages.
The average height of a wide receiver in the NFL is 6 feet 1 inch. This makes Odell one of the shortest players in the position. Tall wide receivers have the ability to reach way higher than their typically shorter defenders to catch highly thrown passes. They also tend to play further to the outside and run deep more often even though they are normally not as agile or lack overall speed or strength. Shorter wide receivers, on the other hand, tend to play inside and run more routes underneath the top of the defense. They can also contort their body quicker than others after making a catch, allowing them to avoid getting hit and possibly scoring a touchdown.
Odell has clearly excelled as one of the shorter wide receivers in the league. This is evident in the fact that he was the fastest player in NFL history to reach both 200 career receptions and 4,000 career receiving yards. He is also the only player in NFL history to have at least 1,300 receiving yards while playing in 12 or fewer games in a season.
Odell Beckham Jr's Height Compared To Other NFL Wide Receivers
Odell Beckham Jr's Height Vs Donovan Peoples-Jones'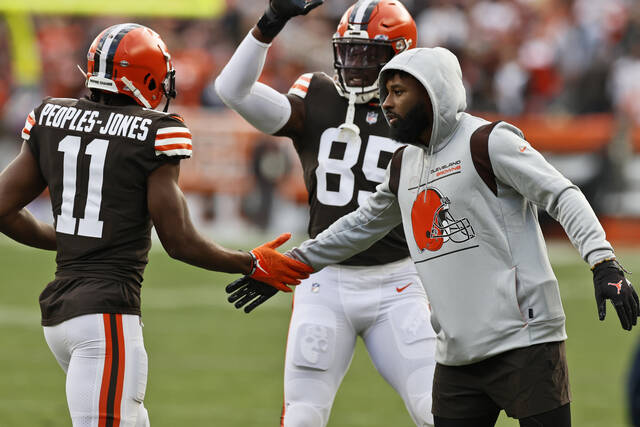 With a listed height of 6 feet 2 inches, Donovan Peoples-Jones is at least three inches taller than Odell Beckham Jr. Still in his early years as a professional, Peoples-Jones entered the NFL in 2020 after being selected with the 187th overall pick by the Cleveland Browns. At the time, Odell was a player for the Browns, and the two spent that year as teammates.
Odell started 7 games before he suffered a torn ACL that ended his season. In that time, he recorded 23 catches for 319 yards and three receiving touchdowns plus three rushes for 72 yards and a rushing touchdown. Peoples-Jones on the other hand played in 12 games but only managed 2 starts. At the end of the season, he recorded 14 catches for 304 yards and two receiving touchdowns. While Odell would later end his relationship with the Browns in 2021, Peoples-Jones appears to have grown into his own player with improved statistics across the board.
Odell Beckham Jr's Height Compared to Mike Evans'
You could argue that Mike Evans and Odell Backham Jr are rivals who always look to see what the other person is up to. The two players were drafted in the same year (2014), with Evans being selected a few places before Beckham. He was picked 7th overall by the Tampa Bay Buccaneers while Beckham was the 12th pick by the New York Giants. The two players made the 2014 PFWA All-Rookie Team but Odell topped his rival by bagging the NFL Offensive Rookie of the Year award. In their sophomore years, the two kept up their performances but Odell always seemed to outperform Evans. The Buccaneers wide receiver ranked third in receiving yards, behind Odell and another 2014 draftee, Allen Robinson.
With Odell's performances having dropped in his later years in the league, Evans has maintained progress. He has set a few Buccaneers franchise records, and some NFL records along the way. He has also won the biggest prize available, the Super Bowl. Evans can now certainly have a claim of having had a better career than Odell. He also towers over his rival as his height is listed at 6 feet 5 inches.
How Tall Is Odell Beckham Jr Compared to Cooper Kupp?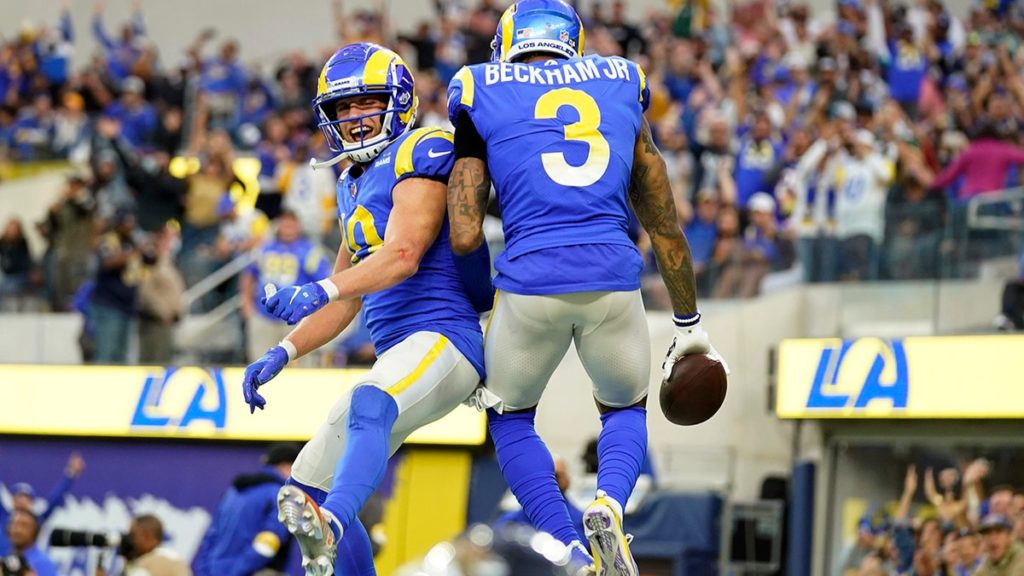 Cooper Kupp is currently a teammate of Odell Beckham Jr. at the Los Angeles Rams. With a height of 6 feet 2 inches, he is one of those who would tower over Beckham at the training ground.
Kupp has been with the Rams ever since he was drafted in 2017 with the 69th overall pick. He earned All-Rookie Team honors after his first year and has continued to impress. 2021 certainly appears to be his best year yet and he hopes to crown it with a Super Bowl victory. As a result of his performances in the year (145 catches, 1,947 yards, and 16 touchdowns to make him the leader in all three categories in the NFL), many have argued that he is the No. 1 receiver in the league. He received unanimous selections to the 2021 NFL First-Team All-Pro team.
How Tall Is Odell Beckham Jr Compared To His Teammates?
Odell Beckham Jr may be short when compared to the average NFL player, however, he has probably never been the shortest player on any of the teams he has played for. His current team the Los Angeles Rams have a few players who are shorter than Odell's listed height of 5 feet 11 inches. These players include running back Cam Akers (5 feet 10 inches), running back Jake Funk (5 feet 10 inches), running back Raymond Calais (5 feet 9 inches), and wide receiver Chatarius Atwell (5 feet 9 inches).
Others are cornerback Darious Williams (5 feet 9 inches), cornerback Donte Deayon (5 feet 9 inches), cornerback Grant Haley (5 feet 9 inches), wide receiver Brandon Powell (5 feet 8 inches), and running back Darell Henderson (5 feet 8 inches).
Odell Beckham Jr Height Vs His Partner Lauren Wood
Odell was notorious for dating quite a number of women after he entered the league. He appears to have since settled down as he is in a relationship with Lauren Wood, a model and fitness trainer famous for having appeared on the MTV improv comedy show, Wild 'N Out.
The pair are reported to have gotten involved with each other in the summer of 2019 when they exchanged flirty comments on their posts. Wood was subsequently seen attending his games. The relationship was believed to have become official after photos of Wood with Odell's mother circulated online. In 2021, the pair announced they were expecting their first child.
As per reports online, Lauren Woods is 5 feet 7 inches tall. This makes her 4 inches shorter than her pro-athlete partner.
Odell Beckham Jr's Other Body Statistics
With Odell being a pro-athlete, it is no surprise that he maintains a very fit physique with ripped abs. His weight is listed at 90 kg (198 lbs) and he maintains it all by watching what he eats and by working out.
Odell takes his health very seriously as he reportedly spends over $300,000 on his body during the off-season. In the gym, he does strength training, yoga, and extreme footwork drills and exercises that help him improve his reflexes and build strength. At home, he is on a proper diet regimen and has a personal chef that prepares all the meals he eats. He further partners with the sports performance and nutrition company EXOS and consumes everything from multi-vitamins to protein powders on a regular basis.
With his main job being to catch the ball as a wide receiver, Odell has strong and powerful hands. Research has shown that the average size of a male's hand is about seven and a half inches – perfect for holding a pint glass. However, Odell's hand measures an incredible ten inches, the reason why he has been able to make so many one-handed catches to defy imagination.
Odell Beckham Jr's Hairstyle and How It Affects His Height
Athletes at the highest levels of their career are known for their high fashion style, tattoos, and a general flamboyant lifestyle that many fans obsess about. Odell Backham Jr checks all these boxes but sets himself apart from others by having flashy hairstyles. Over the years, even since he was in college, he has worn different hairstyles but he is better known for the two-toned, black and blond, frohawk hairstyle.
Odell's hairstyle was so famous and eye-catching in his rookie years that it earned him an endorsement deal as the new face (or hair) of the Head & Shoulders shampoo brand. It was also copied by lots of his fans who have always paid attention to the evolution of his unique fashion on hairstyles.
With the frohawk being a hairstyle that requires the wearer to have some hair, preferably more than an inch length at the top of the head like the mohawk, there is no doubt that Odell's hairstyle made him look much taller than he actually was. Whether this was a conscious effort by him or not, only he can tell us. However, we must note that the athlete has never been shy to rock short hairstyles.
Variations of Odell Beckham Jr's Hair Styles
Odell Beckham Jr's Frohawk Burst Fade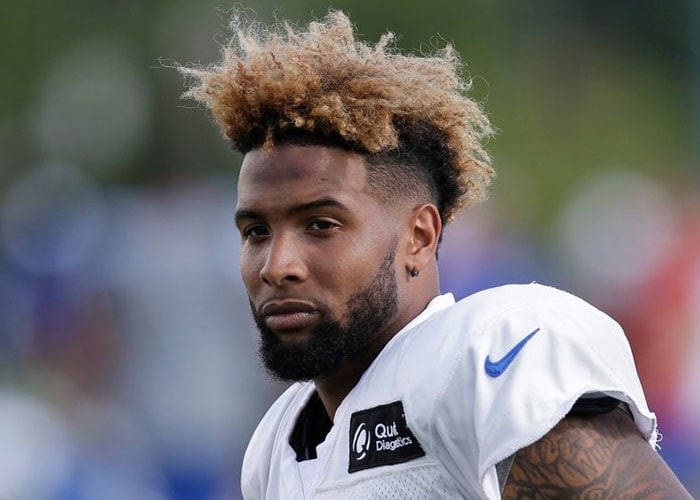 Most of all of Odell Beckham Jr's hairstyles have been styled into the frohawk. It is like the mohawk but with an afro combined together, resulting in a unique, innovative, and amazing hairstyle deemed to be one of the best among people of color. The frohawk is relatively wider at the front of the head and proportionally becomes thinner at the back.
To get this style done well, his burst fade is done to curve around the ear before dropping down, leaving hair longer at his neck. The top of his hair is colored either blonde, brown, or orange. The blonde hairstyle is one that has become quite synonymous with him and is widely regarded as the Odell Beckham Jr. hairstyle.
Odell Beckham Jr Undercut With Blonde Curls
Another one of Odell Beckham Jr's popular hairstyles is the undercut with blonde curls. The light-colored curls, which are probably extensions that he adds to the top of the hair, are offset by his darker/natural hair underneath on the back and sides of the head. This makes it look very unique and eye-catching.
Odell Beckham Jr Curly Fade
With different types of colored curls, Odell Beckham Jr. has also been seen rocking this incredibly adaptable hairstyle. To achieve it, the fade is started around the temples and tapers down. He then pairs it with short curls and a shape up along the hairline that allows the cut to look sharp and crisp.
Odell Beckham Jr Drop Fade
While the drop fade is quite similar to the regular fade he rocks with curly hair, his hair here gradually lowers at the back of the head and around the front hairline. The style gets its name from the fact that the fade drops as it passes behind the ear.
Odell Beckham Jr High Top Afro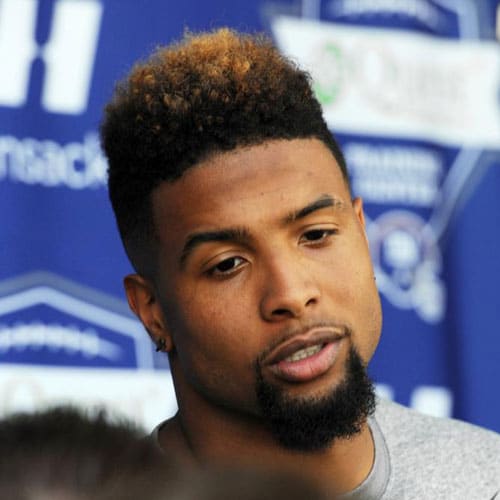 Mostly pictured two-toned, with the top part of the hair blond or any other color he chooses, the high-top afro is one hairstyle Odell wears when he has let his hair grow out. Instead of cutting it all off, he opts to get the sides faded. Sometimes, remnants of the curls that used to be visible are still present.
Odell Beckham Jr Buzz Cut With Mid Fade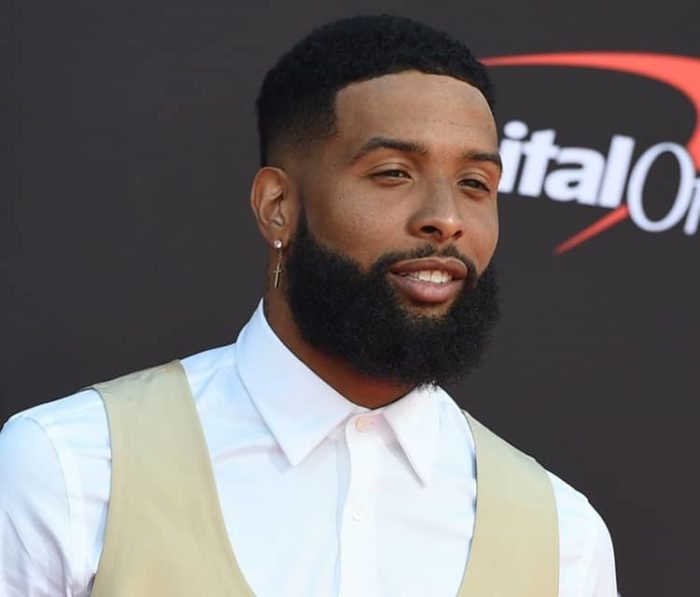 Odell has in recent times been spotted rocking the buzz cut hairstyle with a fade. Sometimes he chooses to dye the hair blonde while other times he carries it with his natural hair color. With this hairstyle being one that requires him not to have so much hair, maybe Odell has never had the intention to misrepresent his actual height. You could also argue that he has grown up since then and has embraced his true height.