Finally, brunettes have something to be excited about! Introducing the Oil slick hair color trend, a hair dyeing technique made exclusively for people with dark hair. The trend has already taken Instagram by storm and is slowly seeping into the limelight via our favorite brunette celebrity icons. If this is the first you're hearing of this fantastic new hair trend for brunettes, worry not because we have everything you need to know about it (including the ultimate oil slick hair tutorial!).
What is Oil Slick Hair?
Introduced by the Sally Hershberger Salon's celebrity colorist Aura Friedman, the "oil slick" technique basically mimics the iridescent rainbow effect that appears when oil comes in contact with water. The result is a swirly mess of inky yet stunningly placed jewel tones such as emerald, violet, purple, and sometimes for a touch of flair; magenta.
Beautiful Oil Slick Hair Color Ideas and Examples
Herein are some incredible examples of the oil slick dyeing technique done perfectly to create dreamlike swirls of green, blue, and purple on dark hair.
1. Subtle Oil Slick Curls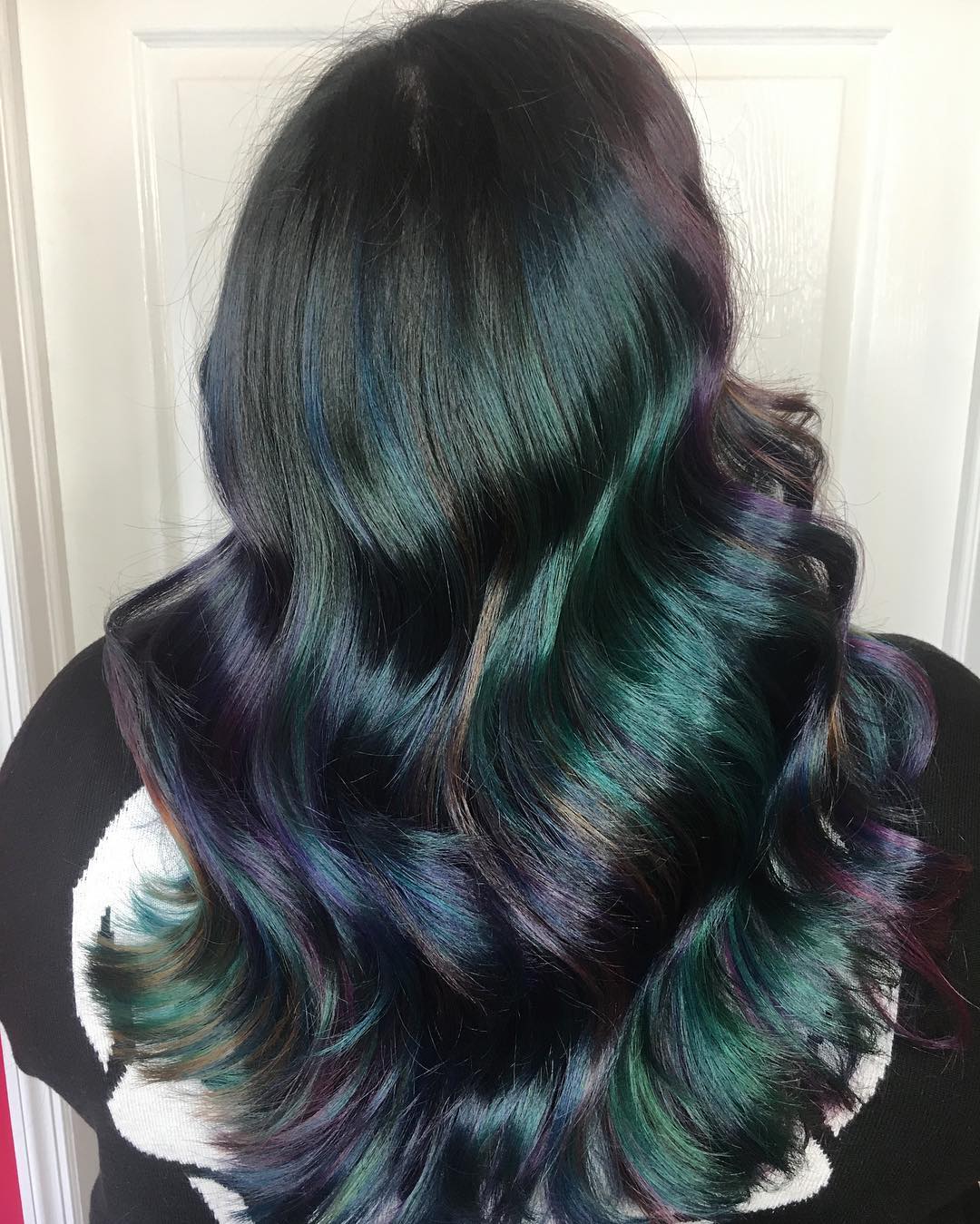 The cooler the colors, the more subtle the style. But because this is oil slick hair, the iridescent blues, greens, and purples will make for a stunning color show once you step into the light. The idea is to keep the base as dark as possible and to streak in the colors gently and as naturally as possible. In many ways, subtle versions of the oil slick hair rely on the smooth color transitions of the balayage technique. And speaking of color transitions, use the darker colors such as blues and purples on the roots and let your ends steal the show with the livelier greens and violets.
2. Straight Oil Slick Hair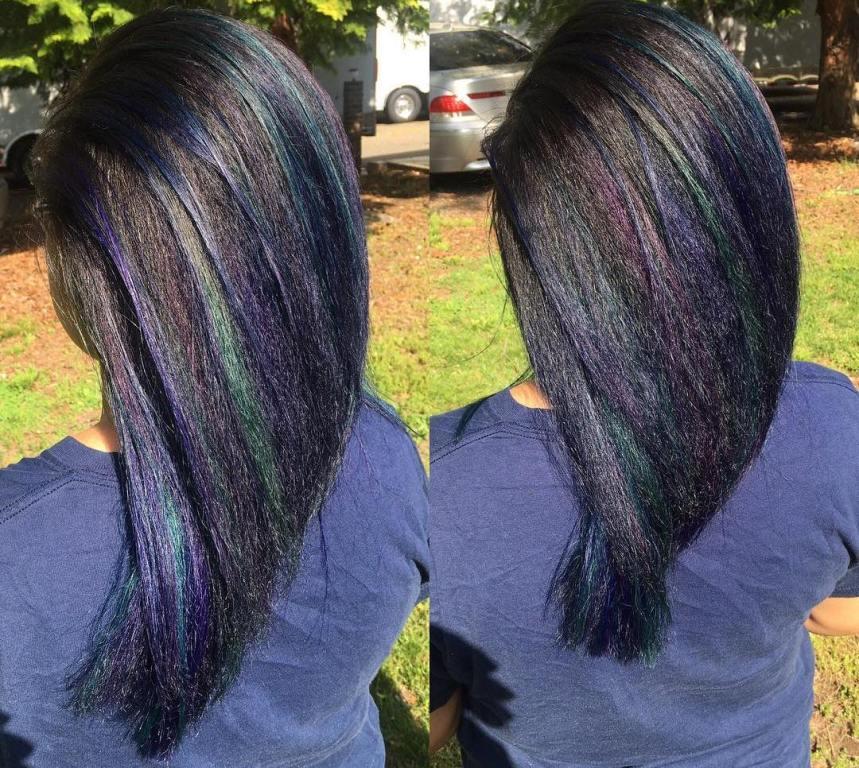 If you have trouble getting the curls going, the oil slick technique works just as perfectly on straight hair. This is the perfect example to use to show that you don't have to be a master colorist to pull it off. Diagonally sectioned layers of straight hair have been touched with iridescent shades of blue, green, and purple to give it that beautiful, low-profile rainbow finish that makes having dark hair the best thing that can happen to you today.
3. Going Pink Oil Slick Hair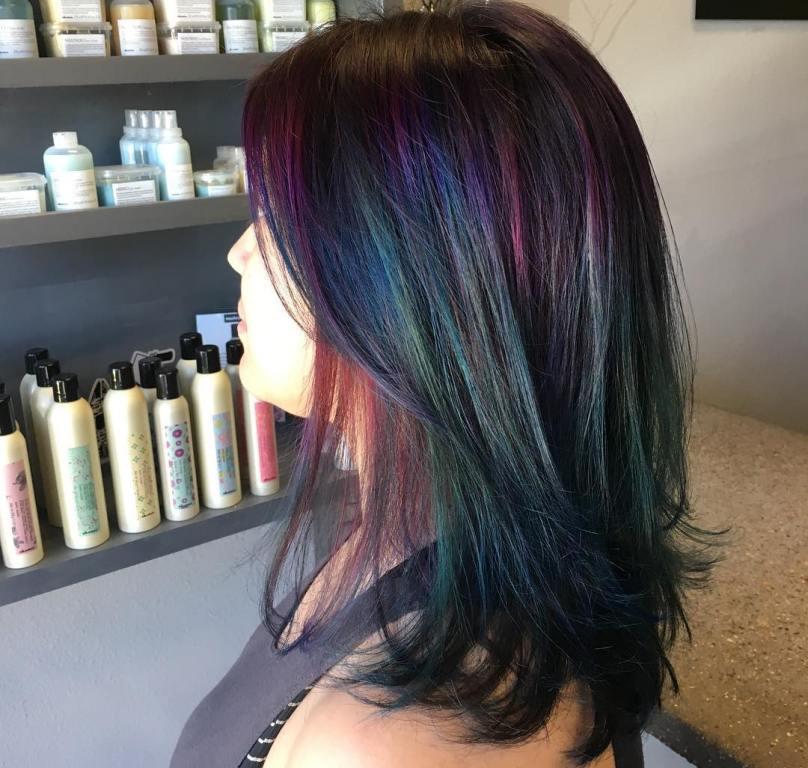 As much as the main colors in oil slick hair should be blue, green, and purple, going a few shades lighter on some sections of your hair can result in quite the stunning finish. The perfectly placed colors—green, purple, violet, blue, aqua, and a touch of pink—complement each other to create a look that is as vibrant as it is calm. To strike this awesome balance, the roots have been left dark and most of the touches of color have been focused on the mid-shaft and not the ends.
4. Hidden Oil Slick Hair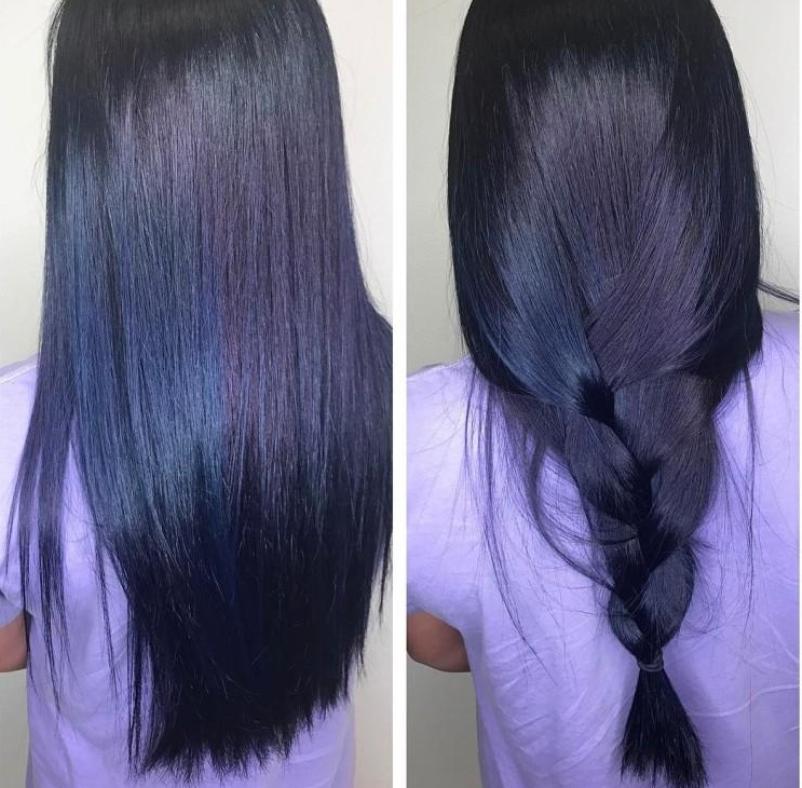 Of course, you can always customize your oil slick hair to match your personal tastes. In this particular case, skipping the greens and the violets and sticking with the deep blues and purples gives dark hair a mesmerizingly radiant yet subdued finish. This will definitely make for a stunning gleam when the hair is hit by direct light especially since the dark colors hide so well and blend spectacularly with the naturally dark hair.
5. Layers and Curls Oil Slick Hair Color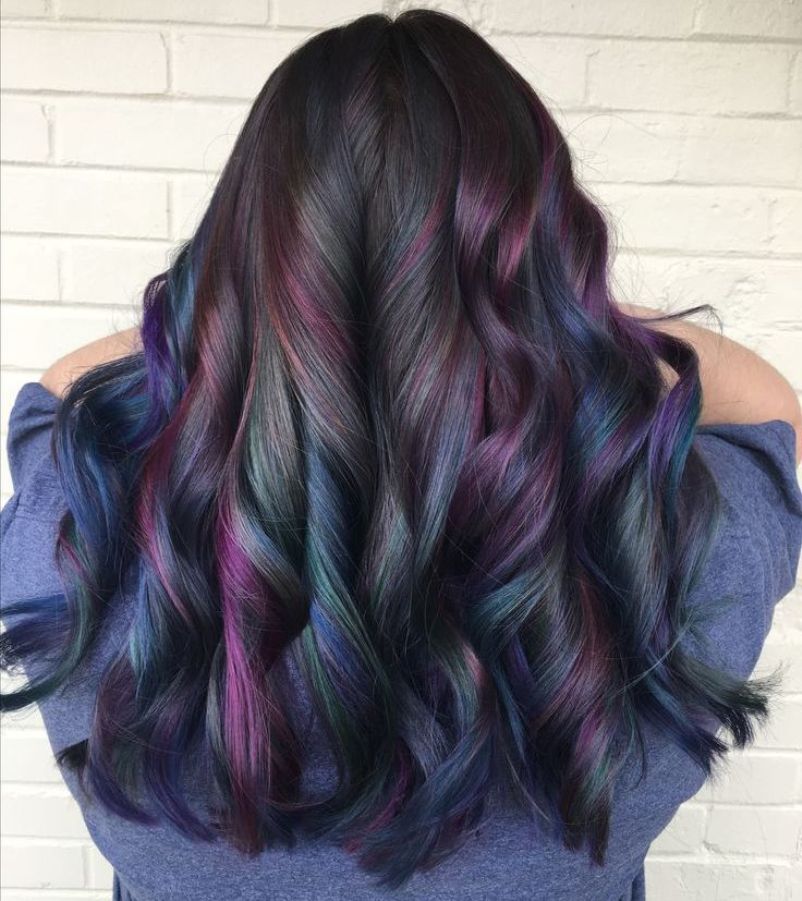 Brunettes can finally rock their short dark hair in style with the oil slick technique now quickly becoming mainstream. Bouncy curls and a beautiful texture are not the only things to marvel about on this cute wavy bob; the subtle placement of green, blue, and purple highlights randomly on the layered curls is what gives it character and spunk. Keeping everything nice and shiny wraps up the look splendidly by leaving it with an attractive sheen.
6. Stunning Oil Slick Hair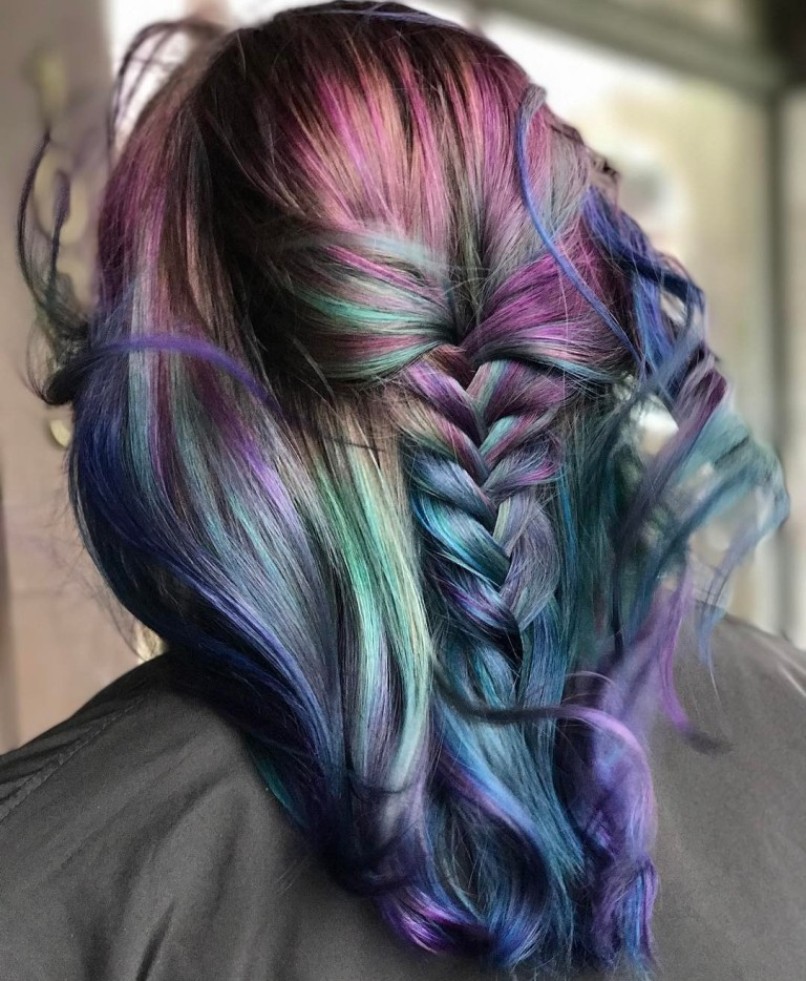 This is an example of the oil slick hair technique executed to perfection. The mesmerizing combination of colors ranging from aqua to pink shows us that even dark hair can look absolutely stunning when the right technique is used. The braided finish adds a lot of intricacy and sophistication to the hairdo, making it even more irresistible in a lot of ways.
7. Glossy Peacock Oil Slick Hair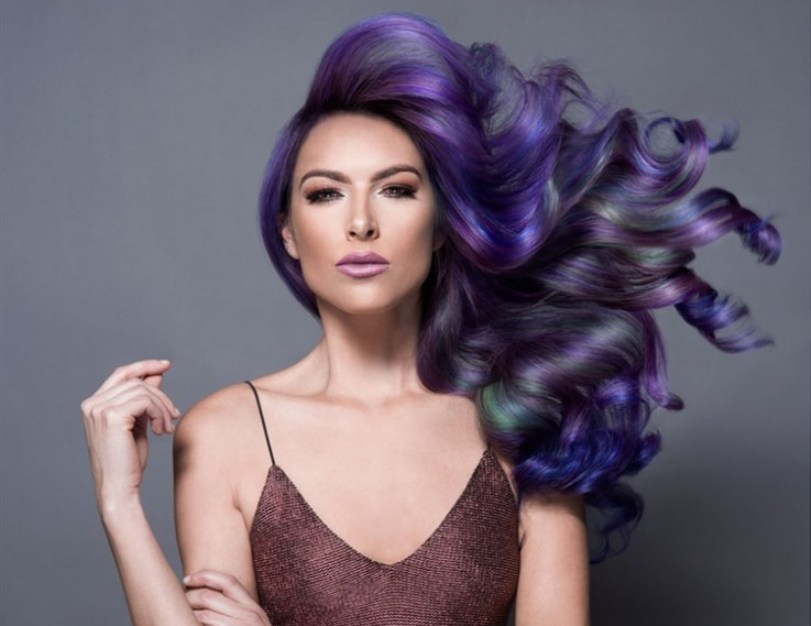 Simple enough yet absolutely stylish, the oil slick technique has opened a lot of doors to creative variations of the look. This look features beautifully blended shades of luminous blue, purple, and pink which, coupled with the glossiness of the gorgeous dark curls, make for a hauntingly beautiful oil slick hairdo that is as low-profile as it is an absolute show-stopper.
Feeling inspired yet? If yes, then you'll be happy to learn that you can recreate any of these stunning oil slick hairstyles from the comfort of your home.
How to do Oil Slick Hair
For this tutorial, you will need:
A hair lightener and toner.
Shine treatment (optional).
Black dye.
Hair color (the experts recommend Manic Panic and Pravana; also, stick to the jewel tones only).
A comb.
A color brush for each color option.
A mixing bowl for each color option.
Sheets of plastic wrap or tin foil.
Gloves.
Step 1: Sectioning your hair
Depending on the natural level of your hair, you can section it into three or four parts while it is still dry. Use hair clips to keep the different sections separate.
Step 2: Lightening
Using a combination of hair lightener and toner, proceed to lighten the different sections of your hair. When lightening your hair, the experts recommend that you stick to the balayage technique your hair is already familiar with. Naturally, you should keep the roots (the base) darker and focus on lightening the mid-shaft through to the ends, combing through using a brush, a comb, and your gloved hands. After lightening each layer, covering it with plastic wrap will help speed things up. After 30 minutes or so, shampoo and rinse your hair.
Step 3: Drying and sectioning your hair again
Blow dry your hair after rinsing out the lightener and ensure it is at least 90% dry. You can apply the shine treatment before you section your hair again and separate the levels using hair clips.
Step 4: Adding in the hair dye
Experiment with a few color combinations and basically trust your artistic side to deliver good results. Alternatively, you can mimic a style you like. To give the colors that distinctly "oily" appearance, squirt a tiny blob of black dye on all the colors you're planning to apply. This darkens them superbly and makes the oil slick effect even more realistic.
As mentioned before, keep the roots darker and let the ends pop by giving them the brighter colors. Since the goal is to make hair appear iridescent, there is no distinct pattern you should follow. Experiment with different color combinations to achieve different results.
Cover every painted strand with a layer of plastic wrap to keep the colors crisp and distinct. Also, you should make a point of really saturating the painted strands with as much color as possible. This way, the iridescent effect will be more noticeable. Once you're done painting and wrapping up individual strands of hair, cover everything up with another layer of plastic wrap and wait for about 40 minutes.
Step 5: Rinse with ice-cold water
Remove the plastic wraps and rinse your hair with cold water. Cooler is better in this instance since warm water will wash out the colors.
Step 6: Dry and style your hair
The process is complete! You can now dry your stunning oil slick hair and style it any way you like.
How to oil slick your hair – Video Tutorial