Anyone who is fond of the ABC News channel should know Paula Faris, one of the channel's most popular news anchors. She is best known for co-anchoring ABC's shows like America This Morning and World News Now.
The award-winning journalist has successfully reported on a good number of memorable events like the Royal Wedding in Windsor, England, the 2017 Annual Academy Awards, and America's 45th Presidential inauguration that ushered in Donald Trump, to mention a few. Little wonder she was made the Senior National Correspondent.
With over two decades of experience as a journalist, Paula Faris, a native of Jackson, Michigan is now a prominent figure, thanks to her skills, extremely charming looks and of course, her killer smile. Let's find out more about the TV personality.
Biography (Age) Who is Paula Faris?
The American TV presenter is the daughter of Carol and Edward Faris. She was born on October 26, 1975, in Michigan, where she was a student of Jackson Christian School. She also attended Cedarville University (OH) where she earned a degree in broadcasting, majoring in television production. Paula was raised in a Christian home, she is an American citizen but her ethnicity is Lebanese.
Paula did not waste much time in venturing into her career as a journalist. She sought for and joined communication companies that were related to what she studied at the University but as there were limited TV opportunities, she took up operations position at Mills/James Productions before landing at radio sales. Luckily, she found a job as a production assistant at WKEF/WRGT where she worked for about a year before diving into news reporting and programme anchoring.
Between 2000 and 2010, Paula worked for WCPO-TV's weekdays and weekend sports as an anchor. After her contract with the company expired, she moved to WMAQ-TV, an NBC affiliate which was located in Chicago. There, she worked as their sports anchor as well as a reporter. She joined the ABC News in 2011 and started as their anchor for America This Morning and World News Now. While doing that, she also appeared occasionally as a fill-in on the news channel's Good Morning America. As of July 18, 2018, the gorgeous TV star left two shows she was anchoring (The View and Good Morning America) in order to take up new ones. Her last appearance on Good Morning America was on September 29, 2018.
Her Net Worth
With a career that is running into many decades, Paula Faris has earned for herself several awards and enviable fortunes. The TV personality earns an annual salary of about $600,000 which places her on the list of the highest-paid TV personalities in America. Her net worth is estimated at $1 million.
She has been nominated for Daytime Emmy Award three times with the latest being for an Outstanding Entertainment Talk Show Host, 2018. One of the good proof of Paula's career success is the 2,500 square feet mansion in Larchmont, New York which she bought for her family. The cozy mansion has four bedrooms with two bathrooms.
Paula Faris is well dedicated to her career in the communication sector. She is, in fact, labeled one of the finest and hardworking staff of ABC.
Paula's Husband
The American Tv star married her University sweetheart John Krueger in 2000. Kruger was two years below Faris in terms of their educational gap. He played basketball while Faris joined the University's broadcast team. They both graduated from the  University with a degree in broadcasting.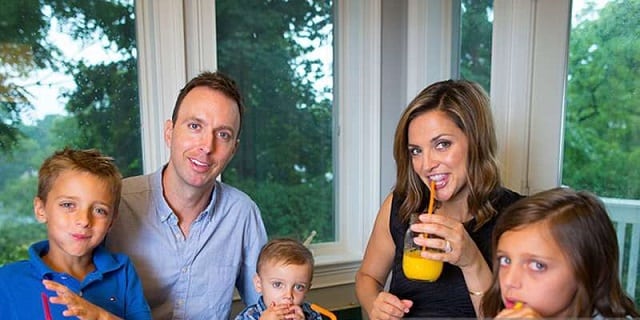 Faris has on several occasion commended her husband for his role towards ensuring the success of their marriage as well as her career. The couple has three children; Caroline, their firstborn was born in 2007, John Jr the couple's second child and first son arrived in 2009 while Landon was born in January 2014.
Paula and her husband are raising their children in the Christian faith. The family is often spotted on their way to their worship center, Hillsong church where the children are active members of the children ministry.
See Also: Jill Duggar Kids, Husband (Derick Dillard), Siblings, Family, Net worth
Height, Weight, and Body Measurements
Faris is fond of wearing body fitted dresses that expose her curvaceous measurements of 37-26-37 inches. The ABC star has an hourglass figure that weighs about 129 pounds (59 kg). Her height is 5 feet 4 inch (163 cm).